The 15-Second Exercise Trick That Can Change Your Life, Says Science
Why now's a better time than ever to try your hand at the emerging trend of "exercise snacking."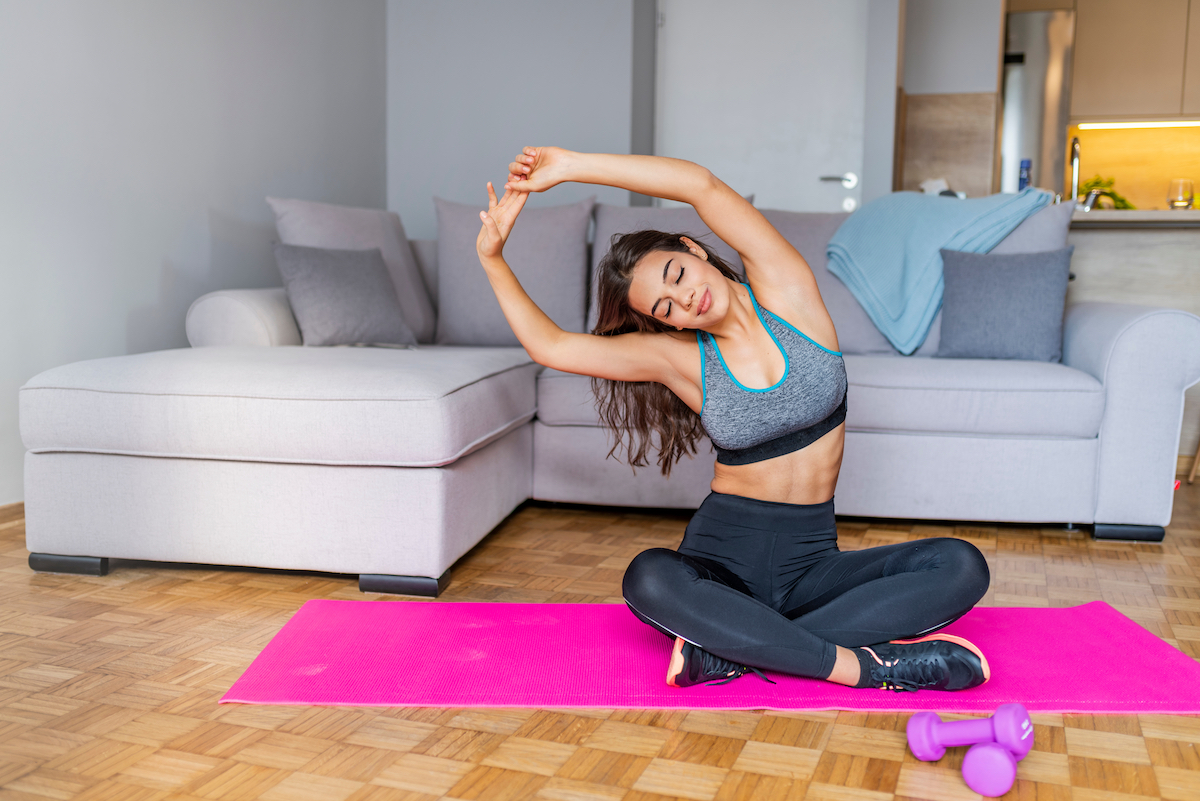 It's hardly news that millions of Americans have found the last year a particularly trying one for their physiques. After all, the mass closure of gyms, the evaporation of daily commutes, and the accumulated effects of restricted movement have no doubt taken a toll on all of our bodies. According to an article published last month in Glamour, "pandemic posture" isn't just a thing—it's an entirely secondary epidemic. (For the record, pandemic posture is defined as slouching all-day in front of a computer screen with rounded shoulders "in dining room chairs that would have chiropractors screaming.")
While sitting too much every day can certainly do a number on your posture and your physique, it can really damage your health in the long-term. When you sit too much every day, the side effects include everything from weight gain to terrible sleep to an even greater risk of heart disease and early death down the road. Not only that, but all of that sedentary behavior can affect your mind, too. A new study published in the International Journal of Obesity found that sitting too much every day diminishes your cognitive function and leaves you much more vulnerable to distraction.
But according an emerging body of research, perhaps the easiest way to counter the harmful effects of sitting—which you can realistically do anywhere, given our current circumstances—is to adopt a surging trend in fitness circles known as "exercise snacking," which is defined as doing micro-bouts of exercise throughout your day that don't take much time but on the whole constitute a great workout. Read on for more about what it is—and how you can do it, too. And for more on exercising better and more efficiently every day, see why This Super-Quick Workout Is Scientifically Proven to Work, Says The Mayo Clinic.
How to Do Exercise Snacking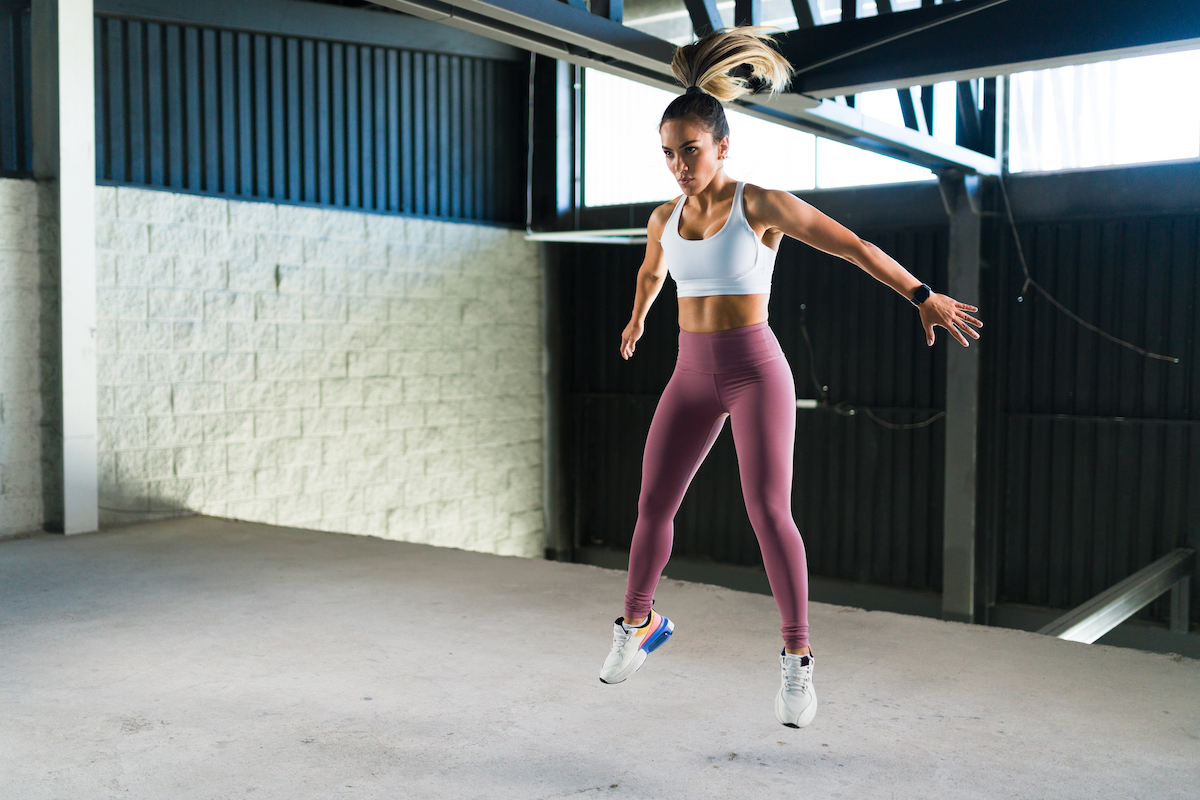 Micro-workouts, first popularized by Chris Jordan, MS, C.S.C.S, the director of exercise physiology at the Johnson & Johnson Human Performance Institute and creator of the famous "7-Minute Workout," are all the rage. But scientists are learning more and more about the benefits of exercising in an entirely different way, and with much shorter bouts of exercise. In exercise snacking, you don't exercise in one go as you would traditionally. You use little moments of exercise to break up your day, and utilize the entire day.
For example, you could climb your stairs as quickly as possible in your home once every hour for just 20 seconds. Or you could take a single jog around your block several times a day. Or you could do a lightning round of burpees for just 15 seconds every other hour. The science shows that these micro-exercise routines, when done consistently throughout your day, can add up to produce a number of positive health effects.
According to a study published earlier this year in the Journal of Applied Physiology, performing a two-minute walk—or doing a quick set of exercises such as squats—can offset the effects of a half-hour of sitting.
"These studies are a reminder of the value of brief bouts of vigorous effort, including simple activities that do not require equipment and 'old-school' exercises," Martin Gibala, Ph.D., a professor of kinesiology at McMaster University, explained to Shape. "It is a message that seems to resonate with many individuals, given the current reality of stay-at-home orders, and limited access to fitness facilities."
Why You Should Climb Your Stairs During the Day
In the first big study to reveal the benefits of exercise snacking, which was published in 2017 in the journal Medicine & Science in Sports & Exercise, the researchers focused on stair-climbing. The research showed that otherwise sedentary women who climbed stairs for just 20 seconds at a time, with rest, boosted their fitness levels by 12% in six weeks. And for more great exercise advice, don't miss The One Major Side Effect of Walking Every Day, According to Science.6254a4d1642c605c54bf1cab17d50f1e
It Could Take As Little As 4 Seconds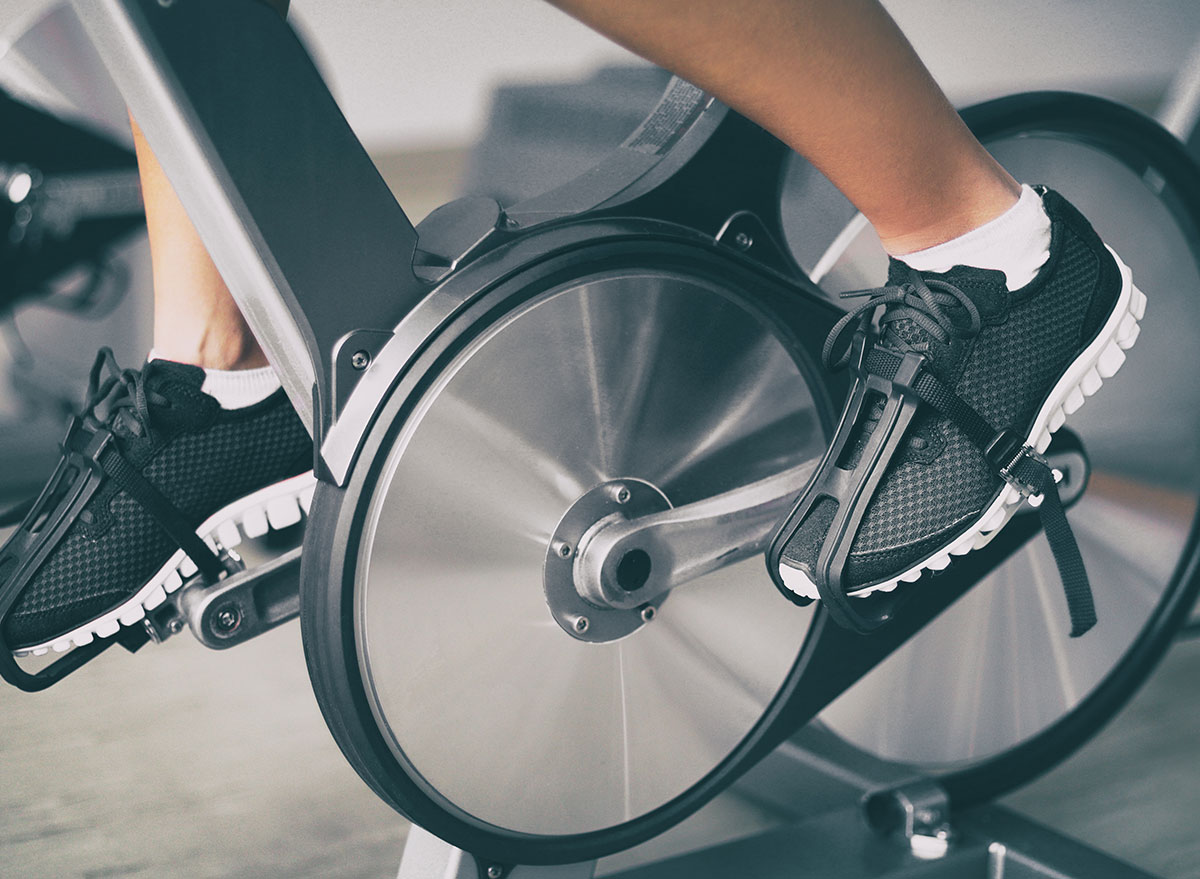 More recent research published in the journal Medicine & Science in Sports & Exercise found that going hard for just four seconds may significantly increase your cardiovascular fitness levels and increased muscle mass. For the study, which was conducted by researchers at the Human Performance Laboratory at the University of Texas at Austin, both male and female participants in their 50s and 60s tried an exercise routine that required them to do four seconds of maximum effort on a Power Cycle (essentially, a stationary bike with a large flywheel that provides resistance), followed by either 15 or 30 seconds of rest between reps.
"The results suggest that breaking up sitting with frequent, intense and extremely abbreviated exercise 'can undo' some of the adverse effects of being sedentary," writes The New York Times.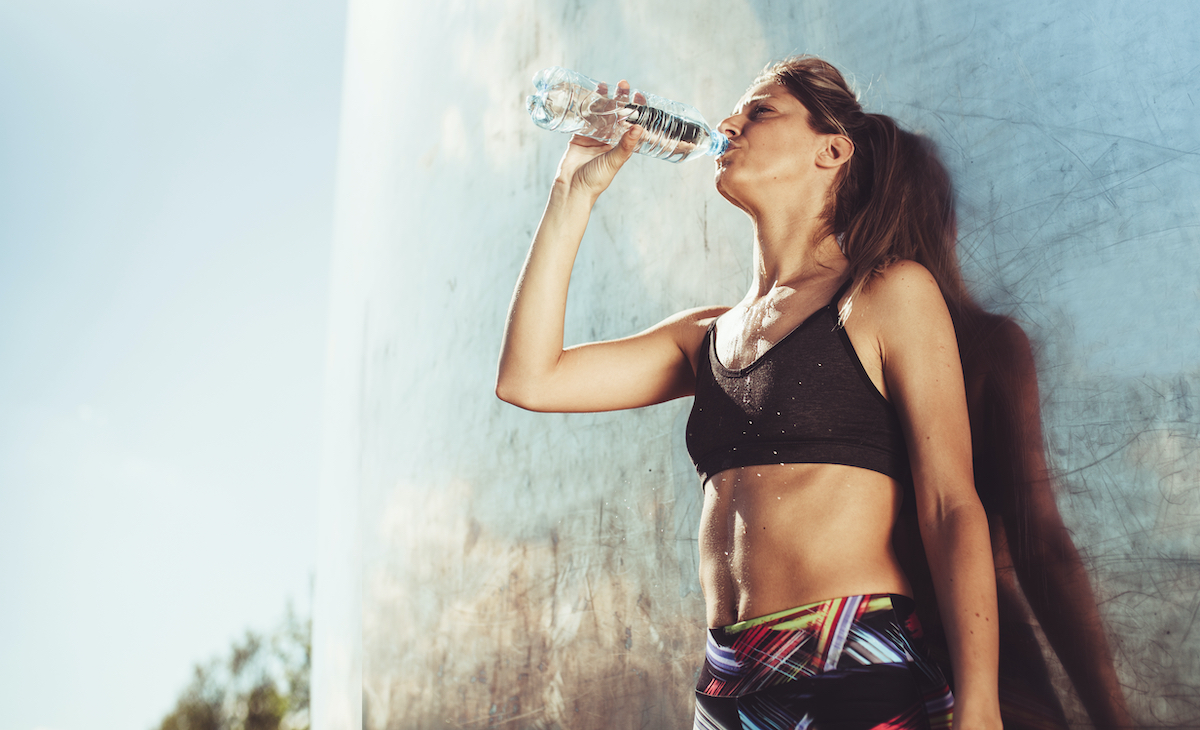 "When we're sedentary for several hours during the workday, our muscles are not used and our metabolic rate is reduced," Jonathan Little, Ph.D., M.Sc., a professor and expert in exercise science at the University of British Columbia, explained to Men's Journal. "The result is that we can become insulin-resistant. But even as little as one 15-second exercise snack an hour appears to boost sensitivity to insulin such that the muscles and other body tissues can process nutrients more efficiently and our metabolism is improved." For some great routines you can do super quickly, see how This Easy 7-Minute Workout Will Help You Burn Fat Faster, According to Science.
William Mayle
William Mayle is a UK-based writer who specializes in science, health, fitness, and other lifestyle topics.
Read more about William