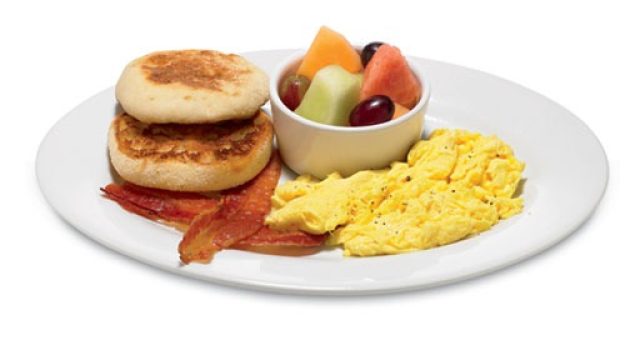 At least Denny's deserves kudos for giving its calorically overleveraged breakfasts descriptive names that alert us to their dangers. The Lumberjack Slam will hit you with the force of 1,000 calories, and while the Peanut Butter Cup Pancake Breakfast may boast 1,500 calories, at least no one can claim they didn't see that one coming. Fortunately, Denny's offers a small Fit Fare menu with calorie counts under 600.<<
Eat This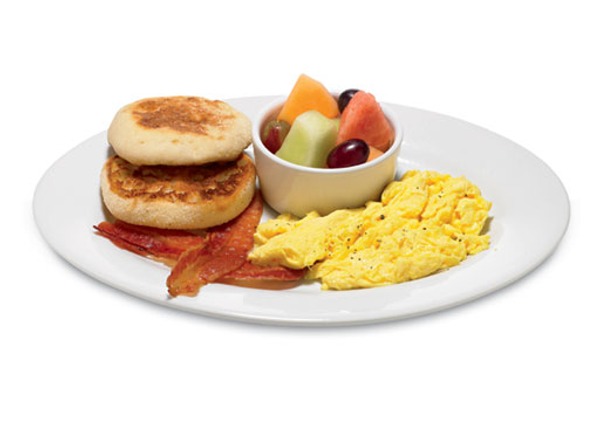 Grand Slam with 2 Eggs, 2 Strips of Turkey Bacon, an English Muffin, and Seasonal Fruit
| | |
| --- | --- |
| Calories | 510 |
| Fat | 26 g |
| Saturated fat | 6 g |
| Trans fat | N/A |
| Sodium | 822 mg |
Not That!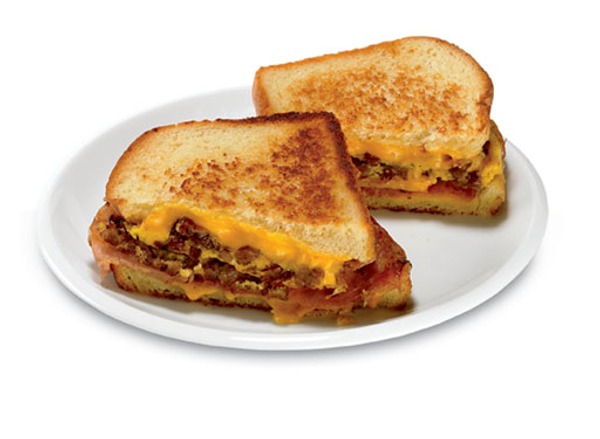 The Grand Slamwich with Hash Browns
| | |
| --- | --- |
| Calories | 1,340 |
| Fat | 89 g |
| Saturated fat | 28 g |
| Trans fat | 1 g |
| Sodium | 3,390 mg |
Eggs, bacon, and fruit is a sensible way to start the morning anywhere you eat. It's when you buy into some sort of fancy barbarian breakfast behemoth that things go awry. Rule: If it has a clever name, it's not a clever choice. A healthy diet means no more than 65 g fat and 2,400 g sodium in a day. But starting off your morning with a Slamwich puts you out over your nutritional skis before you even finish your morning coffee. It may well be the worst breakfast sandwich in the country, and the single worst way to start your day.
ALL NEW FOR 2015! Enjoy All Your Favorite Foods—And Watch the Pounds Disappear! Click here to buy the new Eat This, Not That! book, the authoritative guide to all your favorite restaurant and supermarket foods.
Inspired by
The New York Times
best-selling book series,
Eat This, Not That!
is a brand that's comprised of an award-winning team of journalists and board-certified experts, doctors, nutritionists, chefs, personal trainers, and dietitians who work together to bring you accurate, timely, informative, and actionable content on food, nutrition, dieting, weight loss, health, wellness, and more.
Read more