15 Things Walmart Won't Be Bringing Back
This beloved retailer has made quite a few changes to keep customers and employees safe.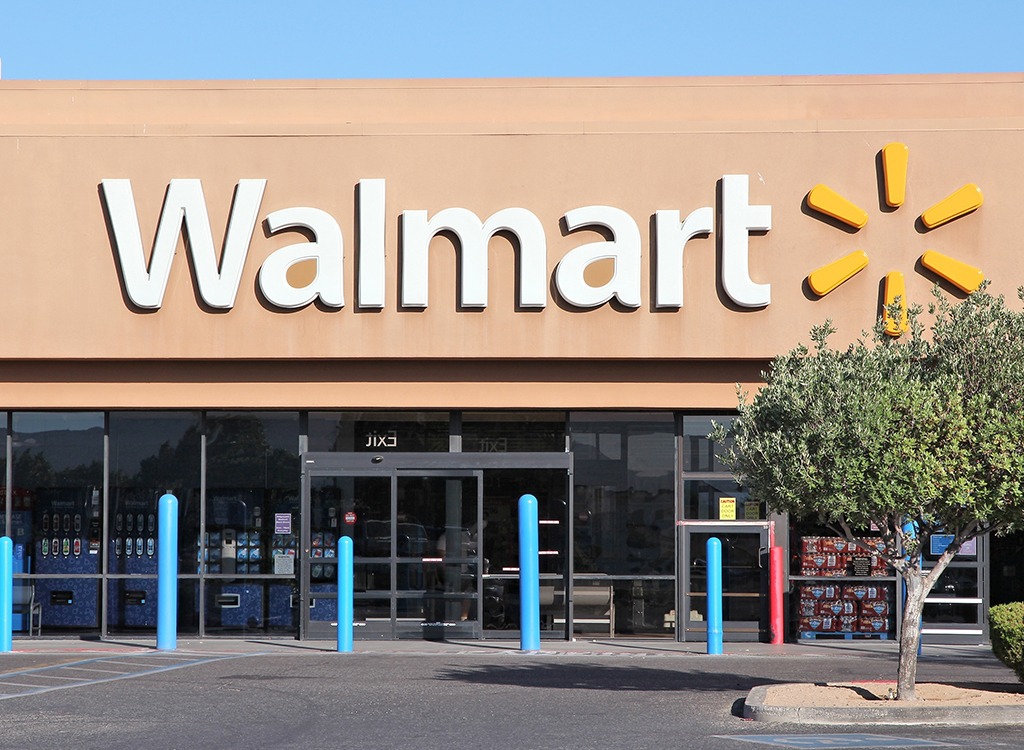 Numerous chain retailers have made significant changes to their store policies and rules to ensure the safety of employees and customers across the country. From restaurants enforcing social distancing guidelines and grocery stores implementing strategies to keep shoppers safe, a lot of these famous retailers will likely never look the same way again. Because Walmart is one of the most frequented retailers for customers to go to, there have been quite a few changes to the store's guidelines. And without a vaccine, it's likely that Walmart won't bring back a lot of these things we once experienced in this beloved store.
Here are a few things that you likely won't ever see in Walmart again, because there are currently no signs to bring them back. And for more news on Walmart and other grocery store restrictions, be sure to sign up for our newsletter.
Employees without masks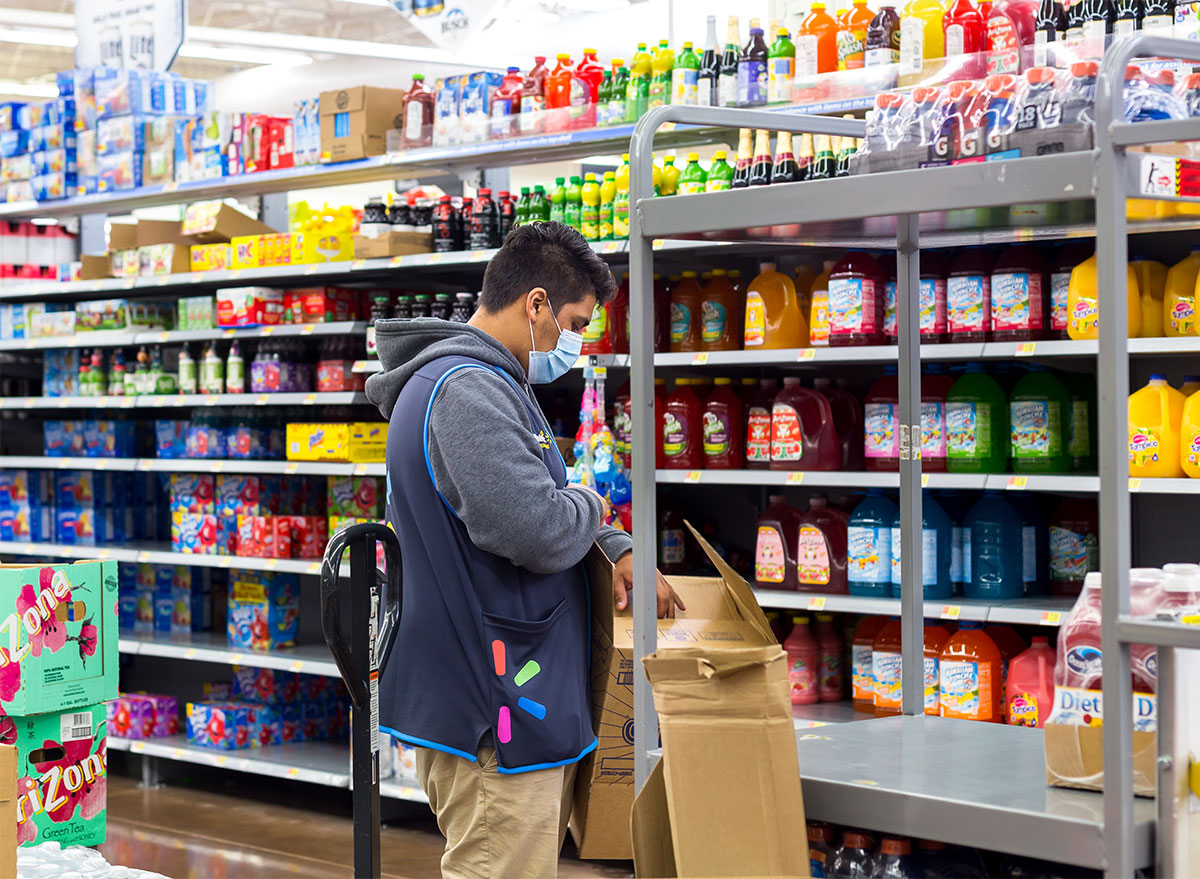 Walmart recently enforced wearing face masks within their stores, and there's no sign of this enforcement to slow down any time soon. It's one of the many establishments now requiring customers to wear masks. So if you take a trip to Walmart, bring your mask!
People shopping for fun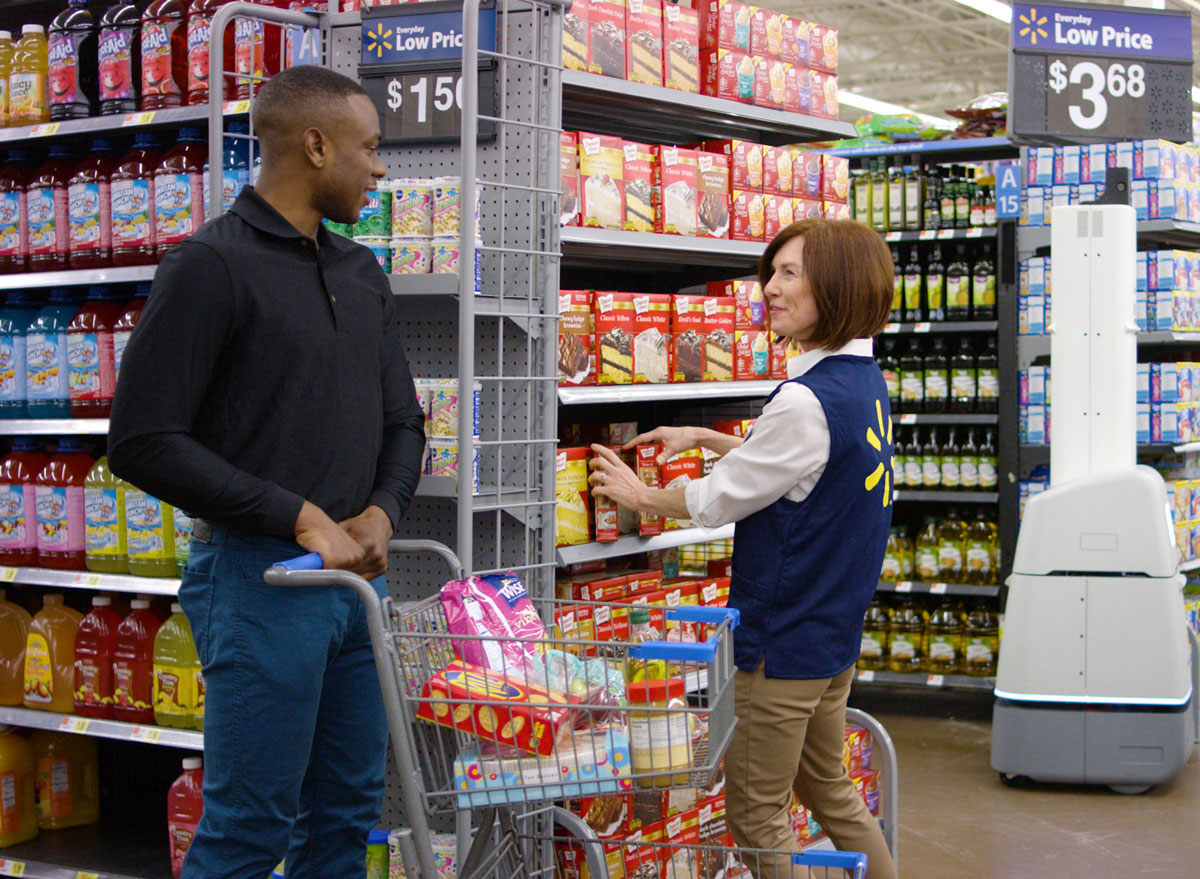 Before the pandemic hit, going shopping for fun was a pretty standard activity. Who doesn't enjoy taking a leisurely stroll through the aisles of Target or Walmart? But thanks to the coronavirus, shopping is more of an in-and-out endeavor, done sparingly, to prevent the spread of the virus. It will likely be a long time before that mindset changes.
Shoppers with lots of children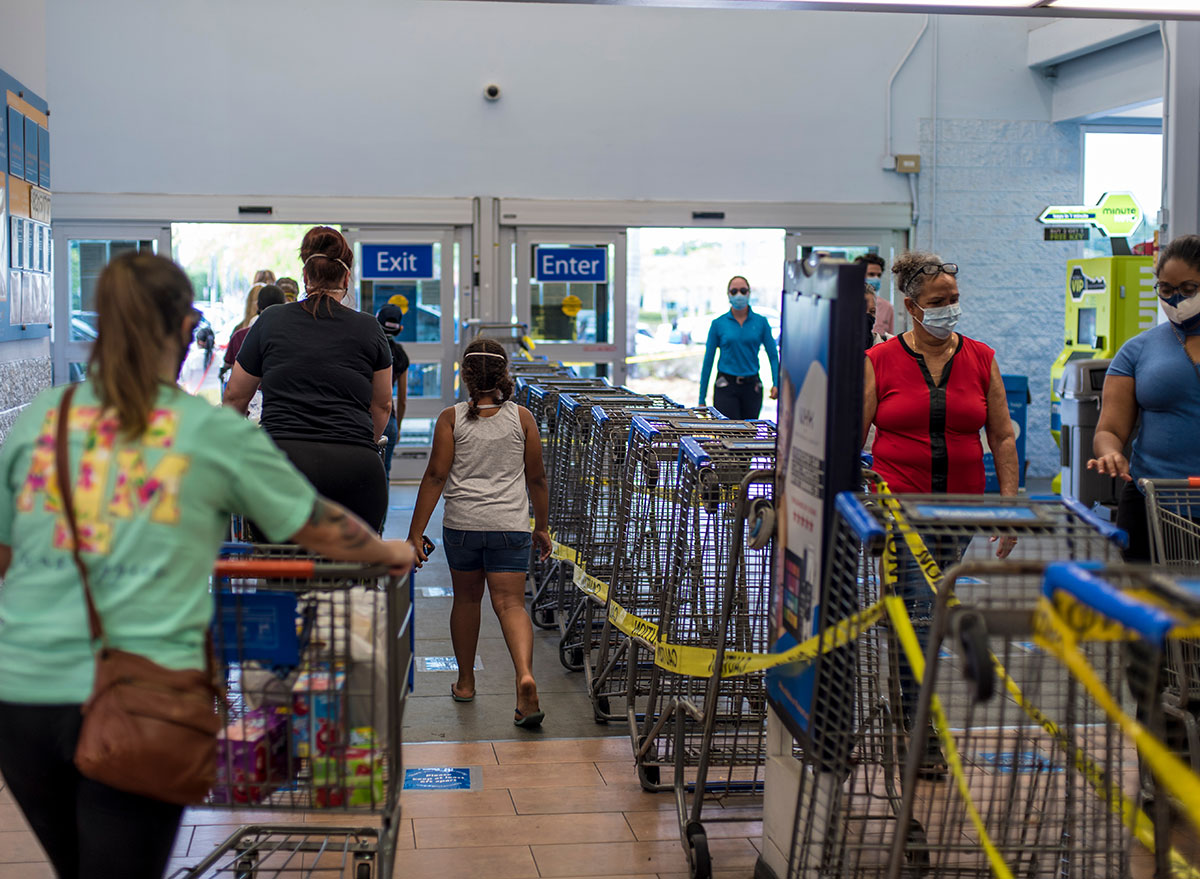 Similarly, you're less likely to see larger families enter a Walmart together right now. While trips to Walmart or Costco may once have been standard family activities, people are leaving their kids at home when possible to reduce the spread of the virus and stop in-store congestion.
Traditional payment methods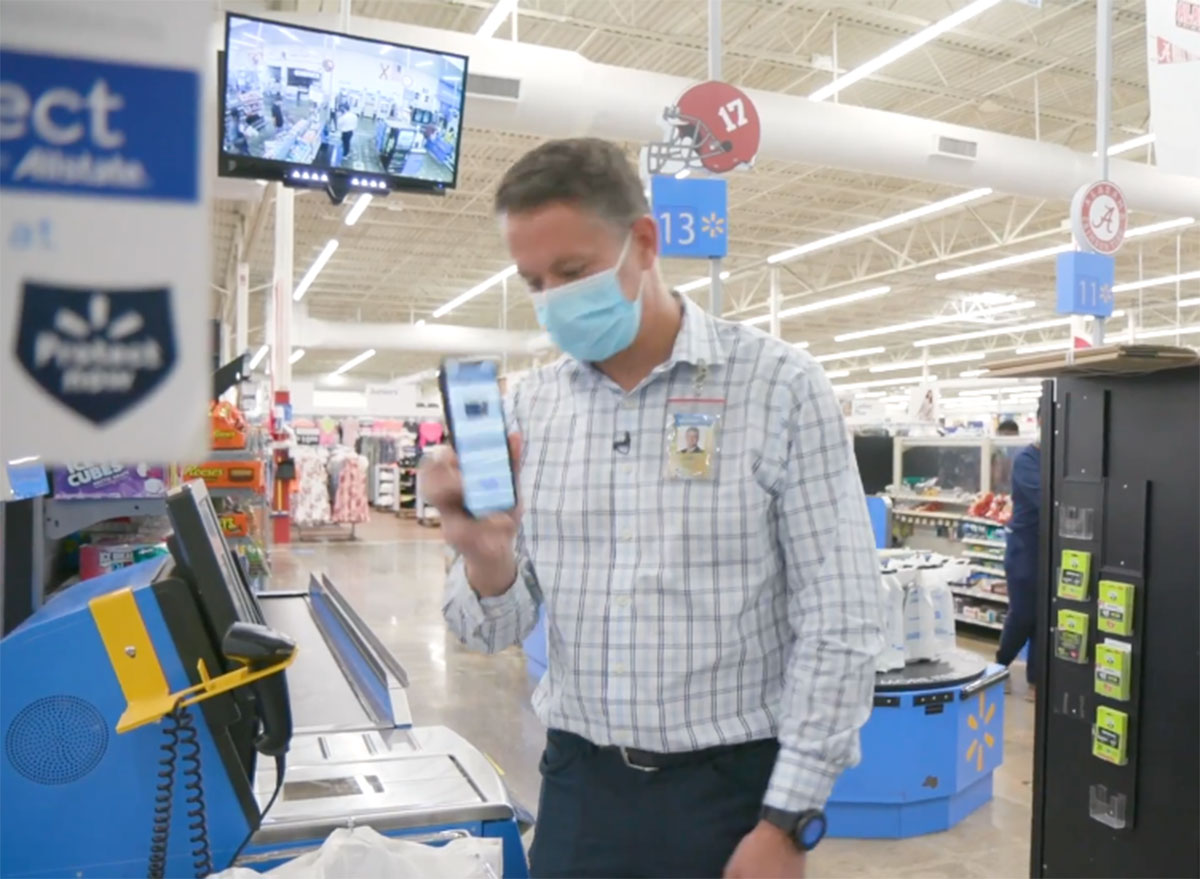 While paying with your credit card and a touchpad is still an option, you'll likely see more people paying with the Walmart app in the coming months. Paying with your phone allows for contactless payment, and not having to touch the touchpad is one less germ-ridden surface to worry about.
Stockpiling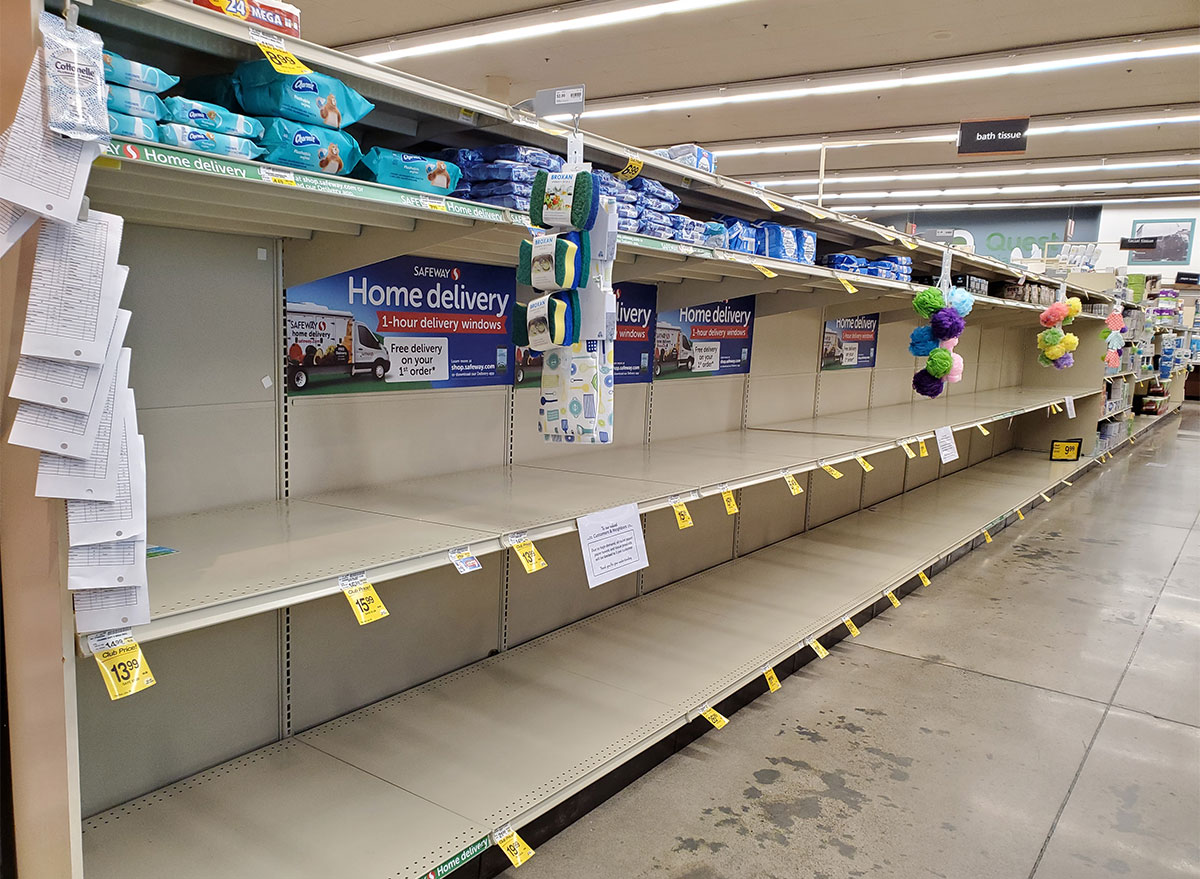 At the beginning of the pandemic, people seemed to be hoarding toilet paper and hand sanitizer left and right. But Walmart's coronavirus policy encourages customers to "buy everything you need for you and your family while leaving enough for others too." Even if there aren't purchase limits being enforced for every item, hopefully, customers are taking that directive to heart.
Cashiers without a plexiglass barrier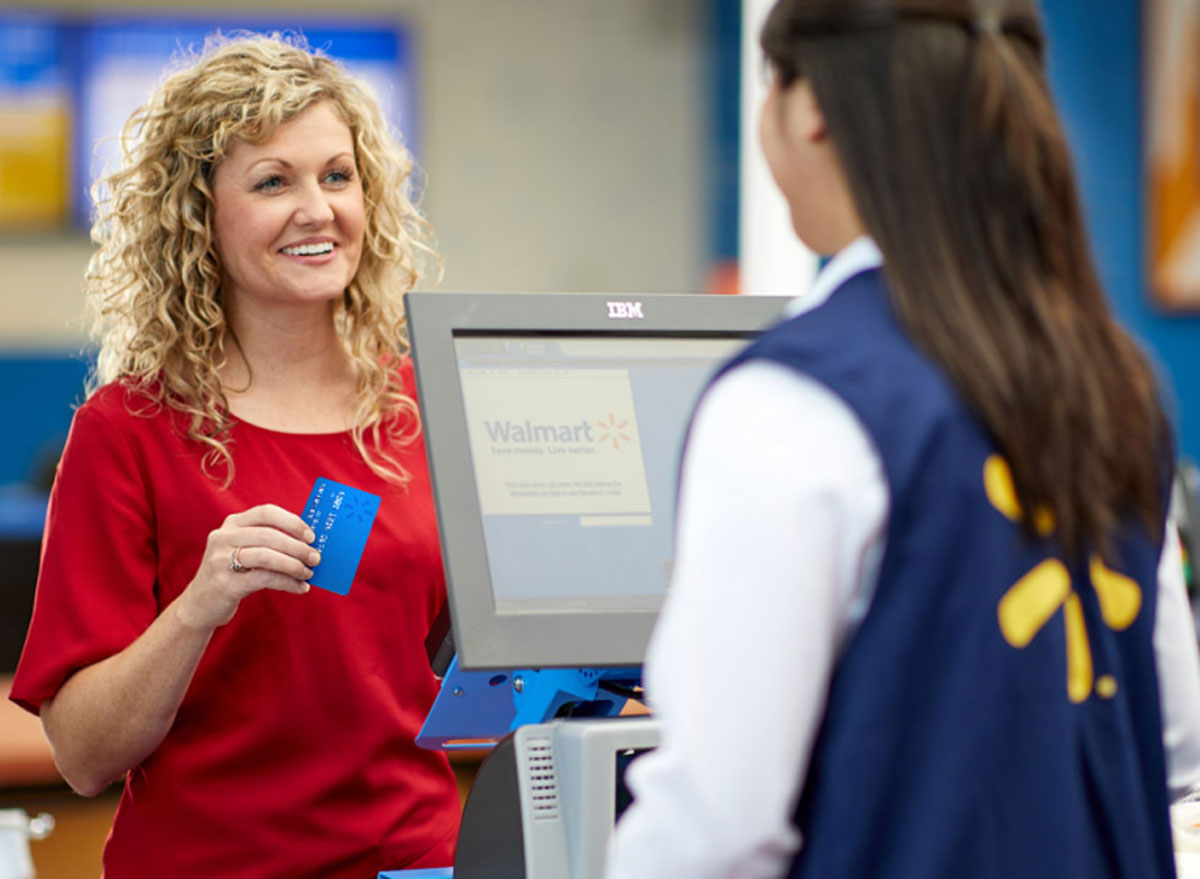 Don't be surprised to see a divider between you and the employees in the Walmart checkout, as well as the checkout lanes at other grocery stores. It's there to keep both you and the cashier safe!
Large crowds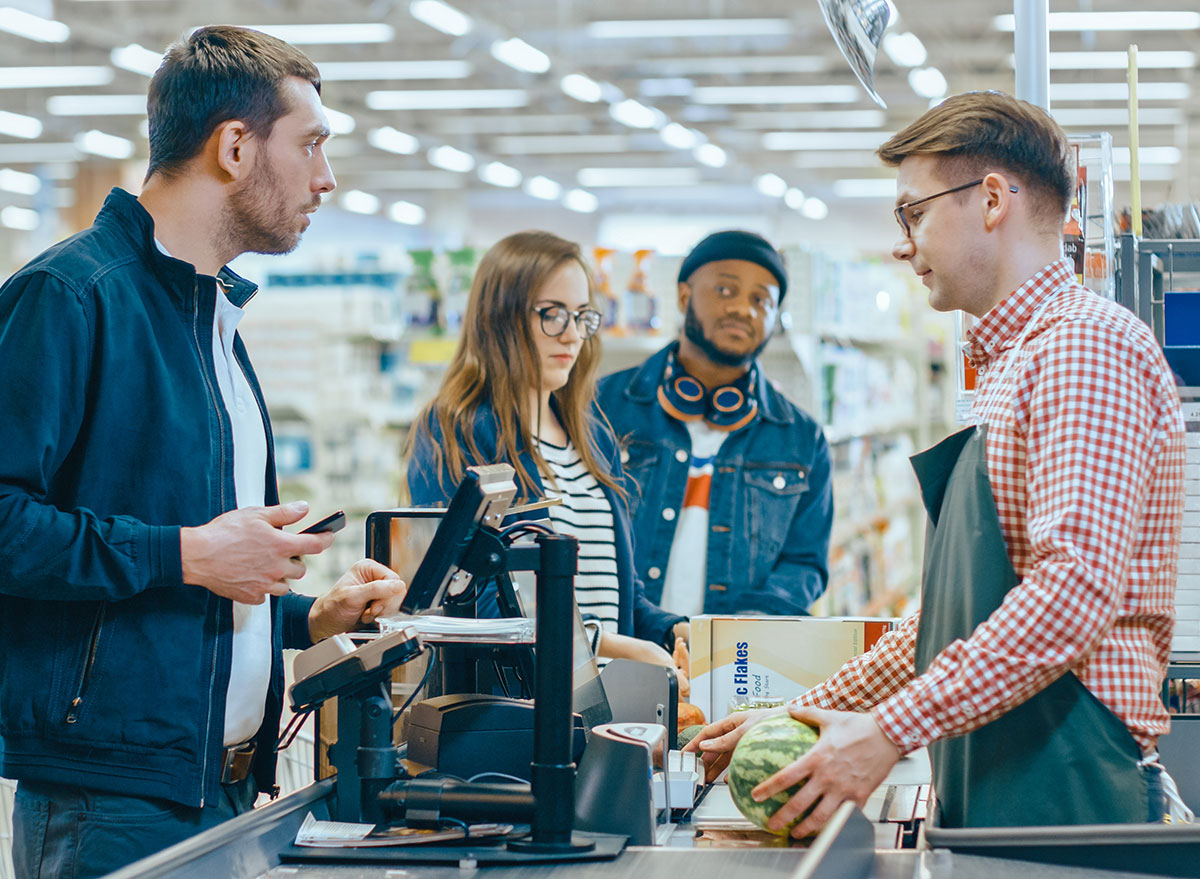 Walmart's policy of limiting the number of customers allowed in their store at a time is still in effect. The current rule allows no more than five customers for each 1,000 square feet at a given time, or roughly 20 percent of a store's capacity. It will be a while before you see a crowded Walmart again.
Lines without social distancing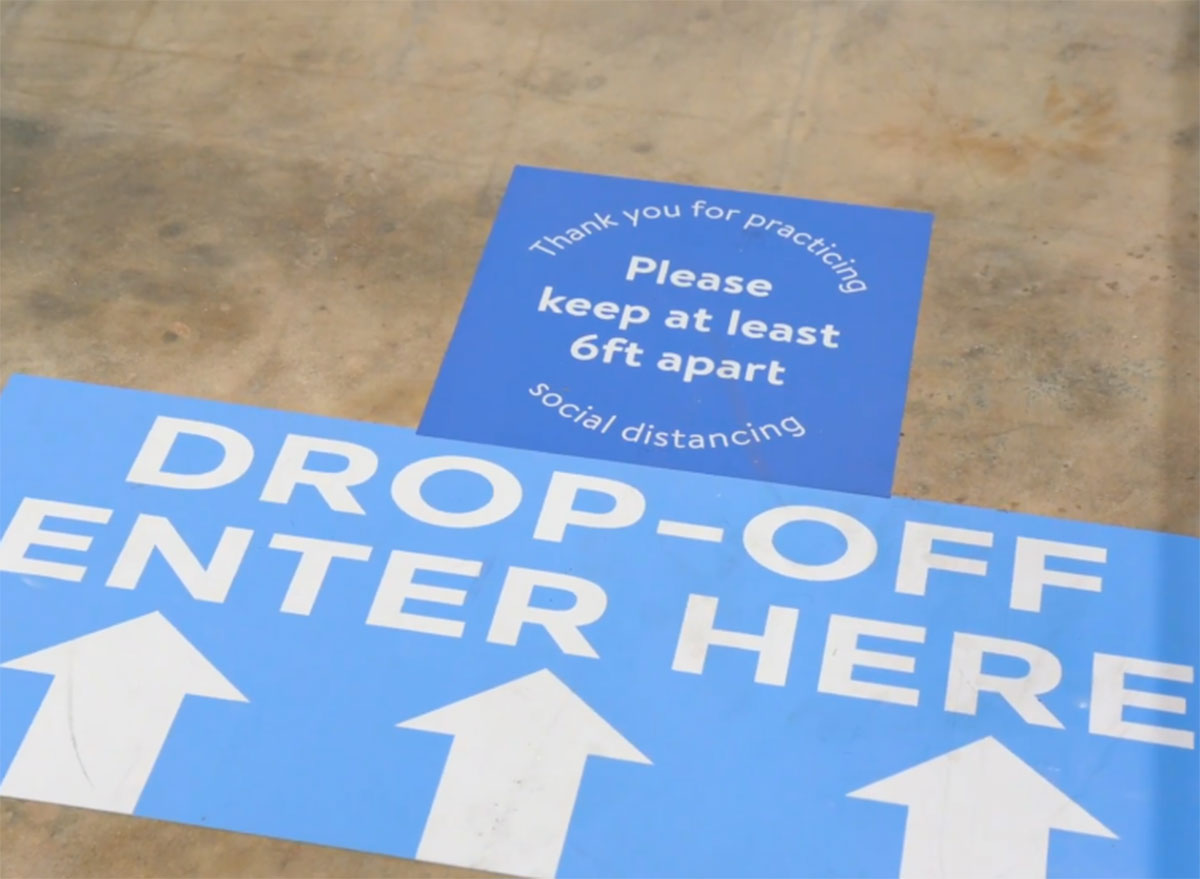 Walmart has been using floor decals to instruct customers on best social distancing practices. Those blue stickers showing you how far apart from the other person you should be standing at the checkout aisle, and which direction you should be pushing your cart in the grocery aisles, are going to be around for a while.
Regular store hours
In fact, even the hours have changed for certain Walmart locations in order to give associates more time to clean the store properly and restock the shelves. Neighborhood Markets have limited their hours of operation and are only open from 7 a.m. to 8:30 p.m. Keep that in mind when you plan your next shopping trip.6254a4d1642c605c54bf1cab17d50f1e
Employees behind sneeze guards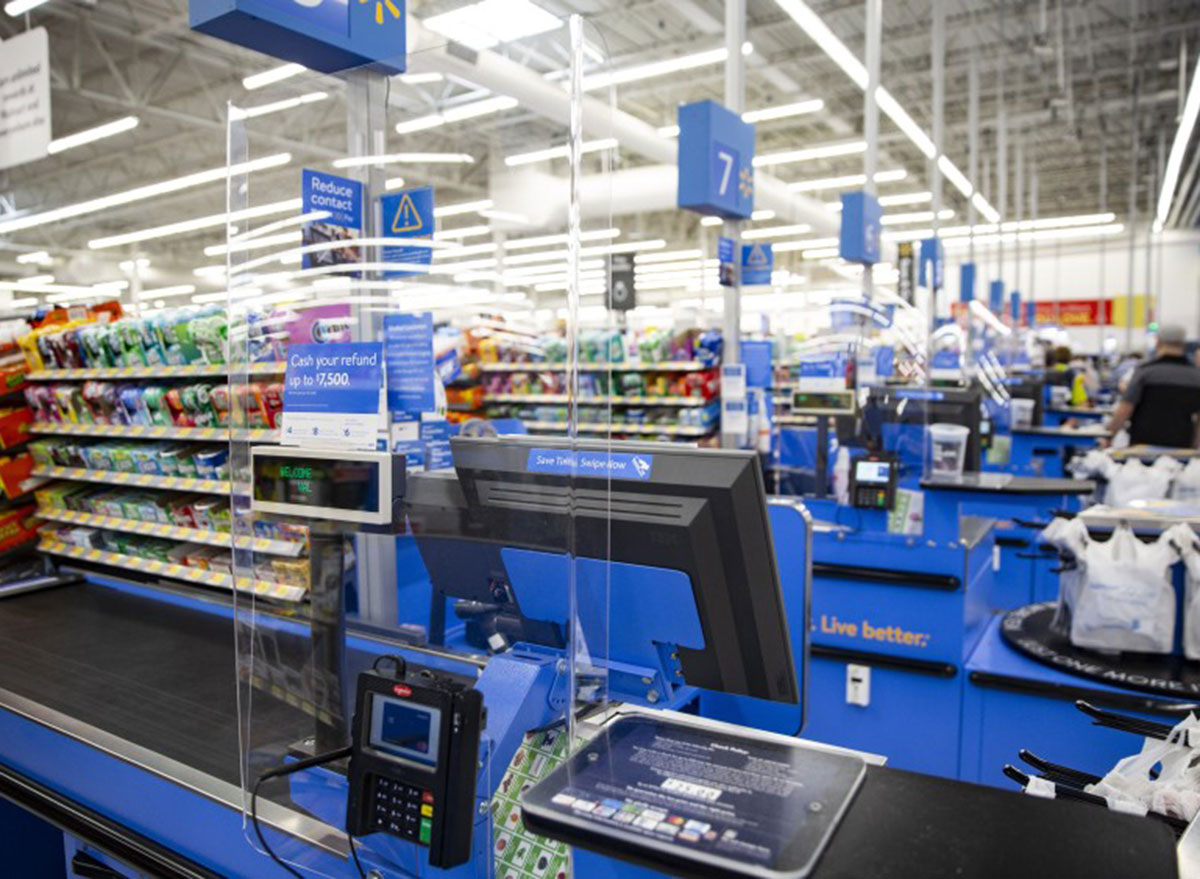 "Sneeze guards" is just a fancy way of saying plexiglass barriers, but in any case, Walmart has added them to any areas where Walmart employees have to converse with customers—like register lanes and pharmacy areas.
Traditional checkout stations
In June, Walmart took contactless checkout even further and announced they would consider replacing all register lanes with self-checkout counters. While this isn't a new concept for Walmart, the idea of completely eliminating human cashiers is. The company started with a limited trial run at locations in Fayetteville, Arkansas. If the experiment is deemed successful, this could be a nationwide change at all Walmart stores.
Normal hours without restrictions
At the height of the pandemic in March, Walmart rolled out senior shopping hours in an effort to protect those most vulnerable to coronavirus. These special hours are still very much in place at all locations, and they take place on a weekday (usually Tuesdays), an hour before the store's regular opening hours. Pharmacies and vision centers are part of senior hours too, so customers aged 60 and older can have a safer and more pleasant shopping experience.
Roaming around the store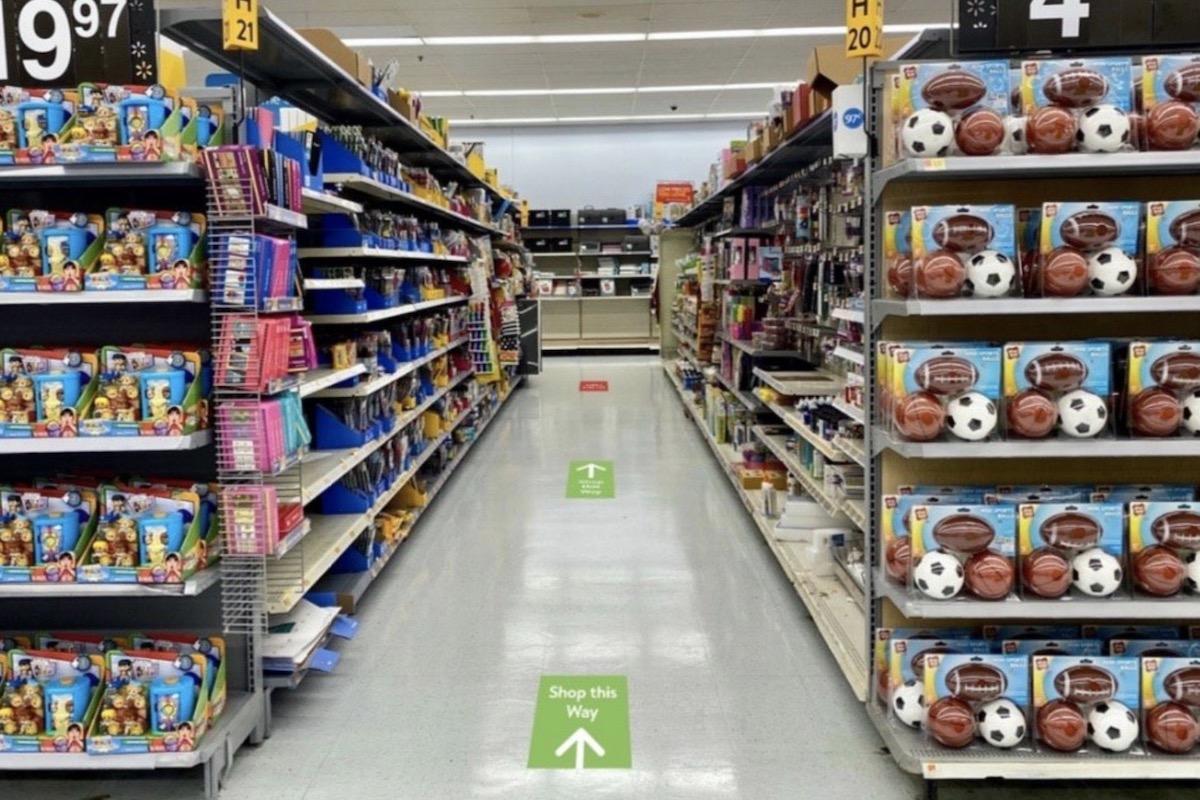 Along with the social-distancing guidelines at checkout, Walmart has implemented signs within the store aisles to direct traffic. This means that customers won't be able to roam freely throughout the store, and will have to follow the specific directions that Walmart has set in order to keep everyone safe. Especially because a cough can travel quite a distance in the store.
Multiple entrances
Even as cities start to open back up, Walmart continues to implement restrictions on their entrances at multiple locations. Customers enter and exit through specific doors, helping Walmart to calculate how many customers are going in and out. For now, all other entrances to the stores are shuttered.
Greeters inside
The Walmart greeter certainly is the brightest part of the entire store, putting smiles on customers' faces the moment they walk through the entrance. But due to health restrictions, greeters have not been standing inside the entrances as usual. As of now, greeters are standing outside the entrances—if that Walmart location even agrees on having greeters at all. Until a vaccine has been created and all employees and customers are deemed safe, it seems this simple pleasure of the Walmart experience will have to be put on a stand-still.
Eat This, Not That!
Inspired by The New York Times best-selling book series, Eat This, Not That! is a brand that's comprised of an award-winning team of journalists and board-certified experts, doctors, nutritionists, chefs, personal trainers, and dietitians who work together to bring you accurate, timely, informative, and actionable content on food, nutrition, dieting, weight loss, health, wellness, and more.
Read more about Eat This