This One Herb Can Block Fat, New Study Says
it's got a funky name, but its weight-loss powers are strong, researchers have found.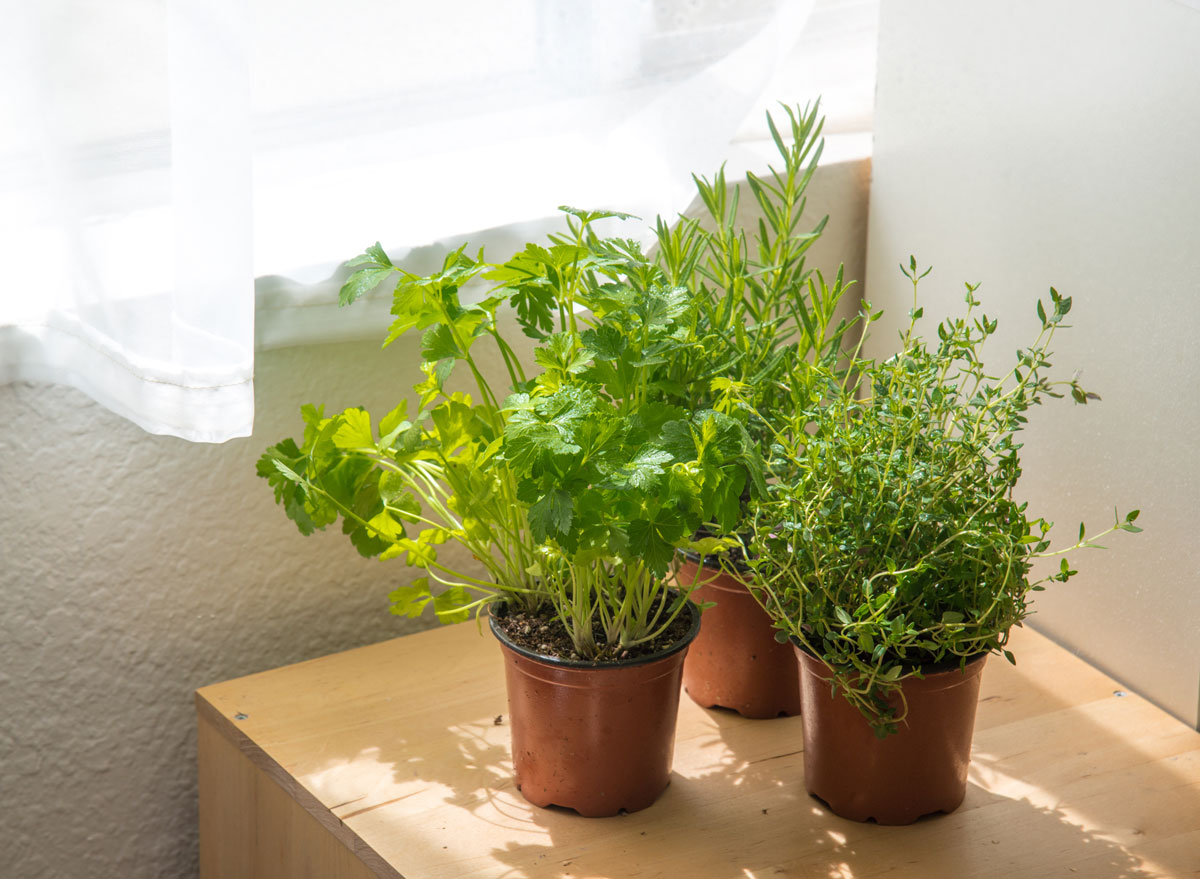 We all know that washing down a Burger King Triple Whopper with a Diet Coke does nothing to erase the fat and calories your fast-food indulgence is packing. But what if washing it down with a nice cup of stinging nettle tea could actually neutralize the fat bomb's fat-packing effects? A recent study published in the scientific journal Nutrients appears to suggest that may be the case. And as you'll see, it actually makes a good bit of sense. 
Stinging nettle is a springtime flowering plant that grows abundantly all around the world, including in the U.S. Its extract is used in various dietary supplements, although there's little evidence to suggest the extract has any real benefits. The leaves, however, which are known to be rich in a number of nutrients, including vitamins, minerals, amino acids, and carotenoids, can be used as a safe and effective diuretic, as well as to support milk production in nursing women. Now, a group of scientists out of the University of Maryland has demonstrated that those leaves could end up becoming a powerful tool in the fight against diet-induced obesity. (Related: 21 Best Healthy Cooking Hacks of All Time.)
Based on their own prior research, which showed that stinging nettle extract could improve blood sugar metabolism in mice, the scientists, led by Dr. Diane N. Obanda, had reason to believe that feeding mice the leaves from the stinging nettle plant might actually prevent the mice from gaining weight—even while being fed a high-fat diet. 
To test their theory, Dr. Obanda's team divided 36 male mice into four cohorts:
The first group of 9 was fed a low-fat diet for 12 weeks

The second group of 9 was fed a high-fat diet for 12 weeks

The third group of 9 was fed a high-fat diet that also included stinging nettle for 12 weeks

The fourth group of 9 was fed a high-fat diet for six weeks, and then for the six weeks after that had stinging nettle added to their diet. 
As expected, the low-fat diet resulted in significantly less weight gain and body fat accumulation than the high-fat diet. But, the addition of stinging nettle in the third group resulted in significantly less weight gain and body fat accumulation. In the fourth group, the weight gain and body fat accumulation slowed significantly after stinging nettle was incorporated into the diet. 
Dr. Obanda and her team were, therefore, able to conclude that stinging nettle, when consumed as an herb (as opposed to an extract), has a positive effect on metabolism (although they were not able to say precisely why; that will have to wait for further research). And because of the similarities between mice and humans in terms of anatomy, physiology, and genetics, there is reason to hope these results will carry over to human subjects. However, that too will require additional research.6254a4d1642c605c54bf1cab17d50f1e
For now, the 40 best fat burning foods can pick up the slack. Want to stay on top of this story as it develops?  Sign up for our newsletter and get all the latest health and diet news delivered straight to your inbox every day.
Lauren Cahn
Lauren Cahn is a food, health, and culture writer whose work has appeared online and in print for Reader's Digest as well as Health Digest, Huffington Post, Taste of Home, and others.
Read more about Lauren