Tony Hawk Tells Us the Diet & Supplements He Swears By To Stay Fit at 54
In an exclusive interview, pro skater Tony Hawk shares his secrets to living a healthy lifestyle.
For Tony Hawk, it's all about hydration and moderation. Hawk can run circles around people half his age—or, more to the point, skate circles around them. Granted, as arguably the best skateboarder of all time and a guy who has been at the sport since he was a teen, Hawk has had plenty of time to hone his skills. But at age 54, the fact that he is still so on top of his physical game is impressive, to put it mildly.
Hawk stays fit and healthy thanks to four practices: He's rigorous when it comes to hydration, he's mindful of his diet, he gets plenty of vigorous exercise, and he takes the supplements he knows will benefit his body as he continues to age. When it comes to supplements, Hawk puts so much trust in them that he has even become an official brand ambassador for Qunol, a nutritional supplement and wellness brand the products of which he had already been using for years.
Eat This, Not That! sat down with Tony Hawk (remotely, of course) to talk supplements, hydration, joint pain, Ritz crackers, and more. Mostly, we wanted to know how this skating legend is still crushing it with zero signs of stopping as he approaches age 55, an age at which others in his position might be considering early retirement.
Hawk stays hydrated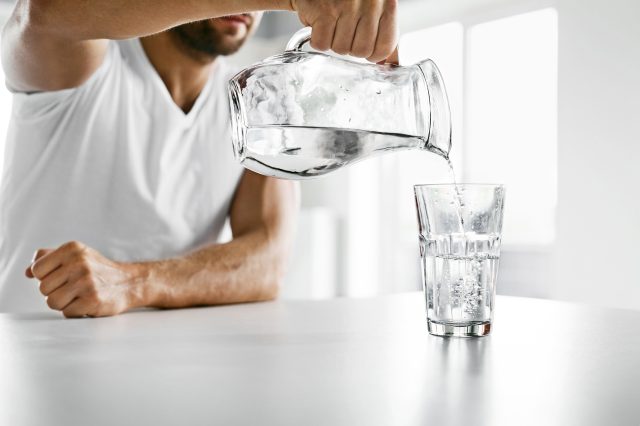 One key tactic Tony Hawk uses to support his overall health and wellness is that he makes sure to never reach a state of dehydration. Staying hydrated is the most essential thing for human health writ large, and is especially important while exercising.
"I drink plenty of water throughout the day," Hawk tells Eat This, Not That! "I make sure that when I am going to be active, that I have water nearby, so that when I'm skating—which is my workout, for the most part—that I am hydrating during my session, not just after."
Despite having a collective awareness about the importance of keeping hydrated, proper hydration is something most of us have to learn—and Hawk is no exception.
"I think my mistake when I was younger is I thought that I needed all my energy, all my focus, on skating when I was doing it," says Hawk. "I would get very dehydrated and then end up drinking a ton of water afterwards. Now, I've learned to do it as I go."
He follows a healthy simple diet—but allows for 'cheat' snacks
Tony Hawk is hardly a Spartan in his approach to eating. He mostly sticks with healthy, nutritious foods, and tends to stick to the same routine diet.
"Every day, I am usually eating oatmeal for breakfast," says Hawk. "I try to veer away from too many fatty foods or sugar, but I can't say that I avoid them completely."
So, what does Hawk like to nosh on between meals and grinding on the next half-pipe?
"I don't know if it's a cheat, this snack: I love to eat Ritz [crackers] with the Happy Cow cheese and little salami nuggets," he tells us. "That's my go-to, in-between snack; sometimes that's just my lunch."
He relies on certain supplements every day
Tony Hawk take a few supplements regularly, and he truly believes they have helped him stay healthier and avoid injuries.
"I take Qunol CoQ10 because I take a statin for cholesterol," says Hawk. "Because that statin depletes my levels, I take that [CoQ10] to even it out."
"I also take the turmeric gummies for my joint inflammation because, well, I skate, and because I am coming off of a broken femur. So that helped to keep the swelling down while I was in recovery," he continues. "I think the Qunol turmeric gummies could be helpful at any age, especially for joints. Even when you're young, your joints can hurt. I know from experience," adds Hawk.
He is mindful of heart health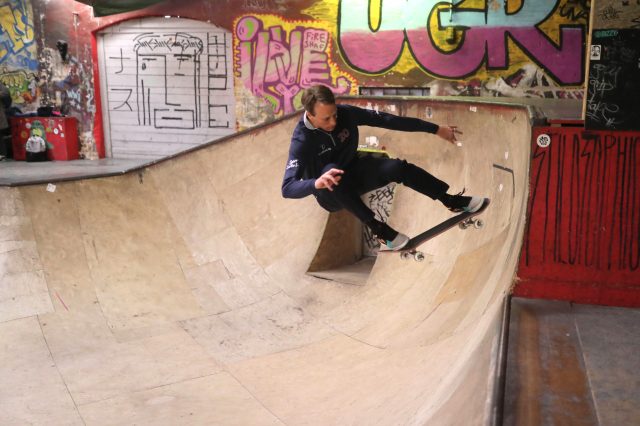 Because February is also Heart Health Month, Hawk gave us his take on the importance of maintaining habits that can promote your cardiovascular health. To Hawk, heart health is a matter that hits quite close to home.6254a4d1642c605c54bf1cab17d50f1e
"As I got older, I started to learn that I inherited a lot of these traits from my dad in terms of cholesterol," Hawk shares. "He had two heart attacks by the time he was my age. I [wanted] to be able to change that narrative, because he didn't. He didn't do anything about it—and so I had that example to not go by."
His approach to eating has evolved over time
Hawk took a very different approach to health and wellness during the early years of his life and career. However, the wisdom that often comes with experience and age has changed Hawk's views on nutrition and how he approaches his diet today.
"I think that I thought I was somewhat invincible when I was a kid. I was eating whatever anytime, anywhere and not really considering the health consequences of that," Hawk tells us. "As I've gotten older, I've seen how it affects my stamina; how it feels and affects my overall health. I realized that I can feel just as young, if I'm willing to do the work and take the supplements and just go at it with a more careful attitude."
Steven John
Steven John is a freelancer writer for
Eat This, Not That!
based just outside New York City.
Read more about Steven