Trader Joe's Just Revealed 6 Exciting New Products
These items are so new that Trader Joe's "rigorous tasting panel" has yet to even try them.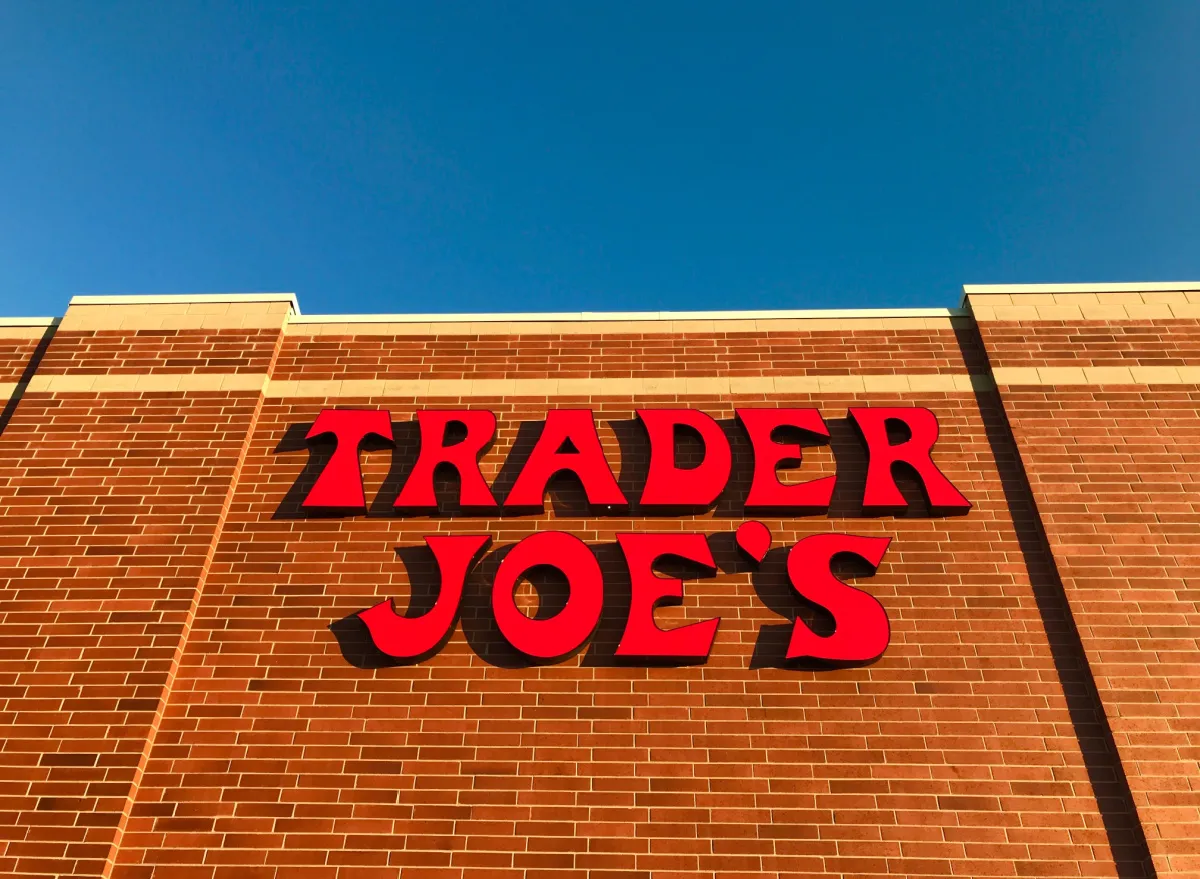 Half the fun of a Trader Joe's run is sweeping the aisles for any new products that have debuted since your last visit.
The grocery chain has already scored a couple of fan-approved hits this year with its Squiggly Knife Cut Style Noodles that were first spotted in January and the Strawberries & Cream Gelato.
More good news for Trader Joe's fans: the retailer recently unveiled a handful of new sweet and savory food products that could potentially hit store shelves in the future.
On an episode of the "Inside Trader Joe's" podcast released on Feb. 27, hosts Tara Miller and Matt Sloan brought in a group of students involved in Trader Joe's clubs at their respective high schools to let them try a lineup of potential new products.
It is not guaranteed that these products will go on to actually hit Trader Joe's shelves, since they have yet to go before the retailer's "rigorous tasting panel," which gives the final green light on new products. But if the panel members ultimately approve of the items, these six new products could debut at Trader Joe's stores in the future.
Peanut Brittle
This classic confection needs no introduction. Peanut brittle typically entails shards of hard, sugary candy studded with peanuts. When the high school club members tasted Trader Joe's iteration, they gave it a generally positive review. One complimented the balance of flavors, while another said that the aftertaste of peanut butter was "so amazing."
Australian Licorice
From strawberry Twizzlers to the more traditional black licorice, this candy is yet another well-known confection that Trader Joe's has set its eye on. The grocery chain's version takes inspiration from Australia, where Sloan said licorice is a "big deal."
The high school students sampled two green apple and raspberry flavors filled with what Sloan described as "sherbet fizz" and seemed very pleased with the product.
"The raspberry is so good. Both were good, but the raspberry was really, really good," one student said.
Banana Mousse Cakes
Trader Joe's fans have been delighted by the Raspberry Mousse Cakes—which feature vanilla cake, raspberry mousse, and a sweet coating—that debuted earlier this year. The high school students got to try and review a new banana version they said was shaped like an actual banana.
This was another popular offering among the students, with one saying it was "probably one of my favorite things that we've tried so far."
But one student believed there was room for improvement with the sweet coating, which they described as "almost waxy." On the other hand, that student noted that the inside of the mousse had a good taste and texture.
Brookie Clusters
Whoever invented the Brookie was definitely onto something. This mash-up of a treat is 50% brownie, 50% chocolate chip cookie, and 100% delicious.
But the high school students said that naming these new Trader Joe's confections Brookie Clusters, which Sloan admitted is a working title, was a little "misleading."
"Like this is not a Brookie Cluster [because] you're getting caramel, you're getting a crunch, but there's no like brownie," one student said.
Others said the treat reminded them of turtles, another candy confection made of chocolate, caramel and pecans. Regardless, the students thought the product was delicious, with one raving, "I would eat like a whole bag of these in one sitting."
Shrimp Pops
Out of all products on this list, the fifth member of the lineup remains the most obscure. The podcast hosts did not offer many details on the new Shrimp Pops, apart from saying they came on edible sugar cane sticks and are an appetizer-type of dish from Vietnam.
Only one student weighed in on the product, simply saying it was "good."
Triangle-Shaped "Shrimp Dumpling-y Spring Rolls"
The sixth and final new product that Trader Joe's unveiled also followed the shrimp theme. And like the Brookie Clusters, Trader Joe's doesn't seem to have landed on an official name for what Miller described as a "shrimp dumpling-y spring roll in a triangle form."6254a4d1642c605c54bf1cab17d50f1e
The students, however, did not need the product to have a name in order to give it rave reviews.
One student went so far as to liken eating the item to "growing up."
Zoe Strozewski
Zoe Strozewski is a News Writer for Eat This, Not That! A Chicago native who now lives in New Jersey, she graduated from Kean University in 2020 with a bachelor's degree in journalism.
Read more about Zoe