Are Trader Joe's Employees Instructed To Flirt With Shoppers? Here's What We Know
Trader Joe's executives finally addressed the rumor in a new podcast episode.
Trader Joe's has some of the most famously friendly employees out of any major grocery chain. They're so friendly, in fact, that customers believe it goes beyond good customer service. Rumors have circulated on social media for years that Trader Joe's actually instructs its employees to flirt with shoppers—and the chain finally settled the rumors once and for all in a new episode of the Inside Trader Joe's podcast.
Trader Joe's marketing executives Tara Miller and Matt Sloan typically release a new podcast episode every month to share insider details about the popular chain and announce new product launches. In a new episode released this week, they brought on Trader Joe's CEO Bryan Palbaum and Jon Basalone—vice CEO and president—as guests to help put several prominent rumors about the chain to bed.
RELATED: 7 Best Sauces at Trader Joe's, According to Customers6254a4d1642c605c54bf1cab17d50f1e
When Miller asked Palbaum whether the longstanding suspicion that employees are trained to flirt was true, the executive responded: "Definitively, no."
However, the podcasters did note that Trader Joe's encourages its employees to be genuine and friendly when interacting with guests. Palbaum acknowledged that it would be easy for customers to construe that kindness as flirting.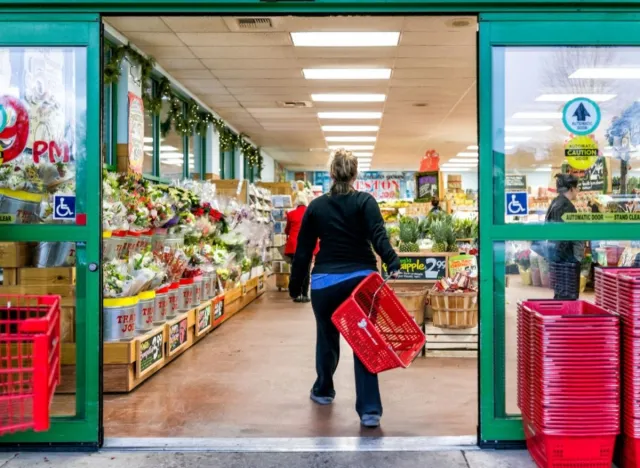 "Well, I think we just have such a unique environment in our stores that, to go into a Trader Joe's store and feel that everyone is genuinely interested in whether or not you are having a good day, compared to maybe perhaps other retailers, I could see how that might be misinterpreted," Palbaum said.
"Bryan's right," Basalone chimed in. "I mean, you go through this world, and you run into so many people that aren't genuine, that aren't kind to you, that when you walk into a place when that's happening, it feels like, whoa, okay, I think they're flirting with me when actually, yeah, that's just what niceness feels like, you know?"
So if any Trader Joe's customers do notice that an employee is being particularly kind, it could just be stellar customer service. And if a shopper is 100% positive that an employee is flirting, it's not because the retailer instructs its employees to do so.
The podcasters also addressed a rumor that Trader Joe's plans to add self-checkout services to its stores. Both Palbaum and Basalone confirmed that that claim was indeed "false."
The reason? Basalone said it's because Trader Joe's believes in people and they don't want to get rid of crew members for the sake of efficiency. 
The executives also denied that Trader Joe's is planning to add in-store eateries with in-aisle waiting areas, so customers shouldn't plan on grabbing a hot meal from the grocer anytime soon.
Zoe Strozewski
Zoe Strozewski is a News Writer for Eat This, Not That! A Chicago native who now lives in New Jersey, she graduated from Kean University in 2020 with a bachelor's degree in journalism.
Read more about Zoe