We Tasted 4 Plant-Based Burgers, And This Was The Best
Between Impossible, Beyond, LightLife, and Trader Joe's, this plant-based burger is the one that reigns supreme.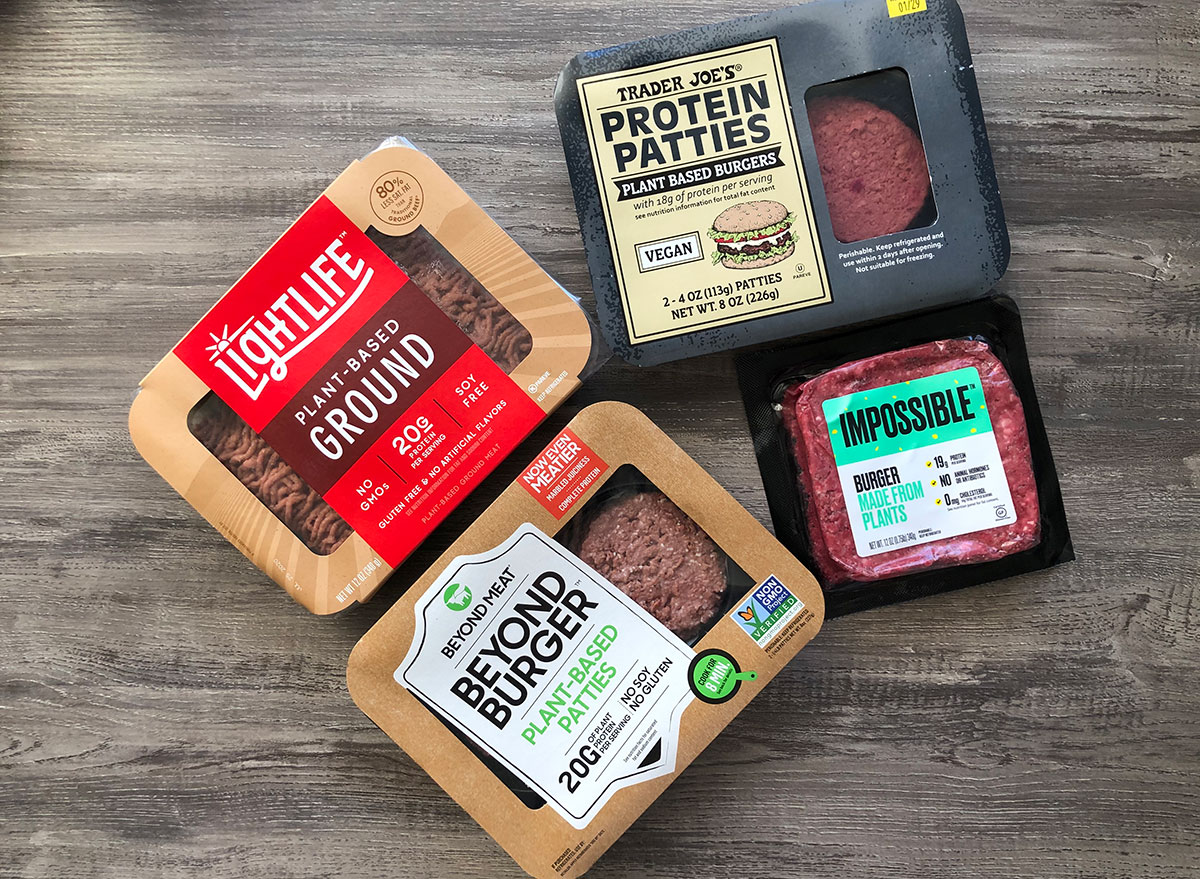 The meat substitute space has continued to grow in the past several years, and arguably the biggest category in the space is plant-based burgers. In comparison to the veggie burgers already sold in stores, plant-based burgers do their best to imitate the look, feel, texture, and taste of meat. Rather than living in the frozen food aisle, these faux burgers are found in the deli section or even side-by-side with ground beef in the meat section.
A category that started with just two major players—Impossible Foods and Beyond Meat—has now expanded to over a dozen brands getting in on the vegan meat action. One of those brands is Lightlife, a company that has been producing meat substitutes for over 40 years. Other plant-based burgers include Dr. Praeger's Perfect Burger, Sweet Earth's Awesome Burger, Gardein's Ultimate Burger, Before the Butcher's Uncut Burger, Meatless Farm Meat-Free Burgers, and the list goes on… Another less-likely player is Trader Joe's. (When Trader Joe's starts manufacturing their own private label version of a food, you know it's popular.)
So how do all these plant-based burgers stack up? We put them to the test to see how they performed. Here are how four different plant-based patties stacked up against each other, ranked from worst to best.
Worst: Lightlife Plant-Based Ground
Per 4 oz
: 270 calories, 17 g fat (2.5 g saturated fat, 0 g trans fat, 4 g polyunsaturated fat, 9 g monounsaturated fat), 530 mg sodium, 10 g carbs (2 g fiber, 1 g sugar), 20 g protein
I wasn't too impressed with the LightLife option. The flavor was definitely lacking in comparison to the other three burgers. Like Trader Joe's patty, this one doesn't char too much and it stays truer to the raw red color instead of turning brown. Despite cooking it thoroughly, the inner texture was on the mushier side and less juicy than other choices.
STAY INFORMED: Sign up for our daily newsletter to get the latest food news delivered straight to your inbox.
Trader Joe's Protein Patties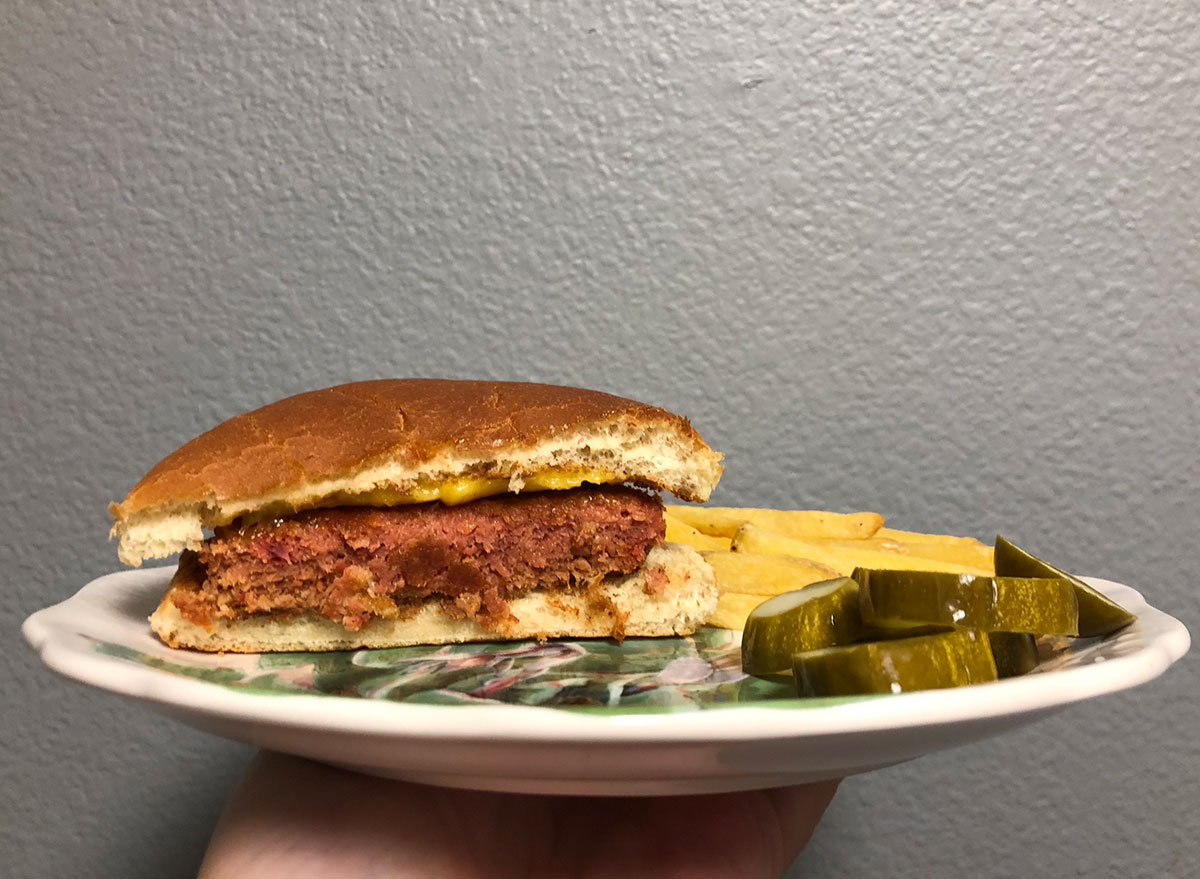 Per 4 oz
: 290 calories, 20 g fat (3 g saturated fat, 0 g trans fat), 450 mg sodium, 11 g carbs (5 g fiber, less than 1 g sugar), 18 g protein
Though Trader Joe's burger browned a bit on each side, the patties didn't get the distinctive "crust" you might expect from cooking real meat or even some plant-based alternatives. The color stays relatively pink throughout the cooking process, and you may even spot some flecks of beet as you're enjoying the burger.
Pea protein is what packs 18 grams of protein in each patty, while a blend of sunflower oil and seasonings "beef" up the flavor. The taste is great, though not necessarily as nuanced or "beefy" as Beyond or Impossible. This is definitely a great, low-cost alternative to other meat substitutes which may be on the pricier side or more difficult to access.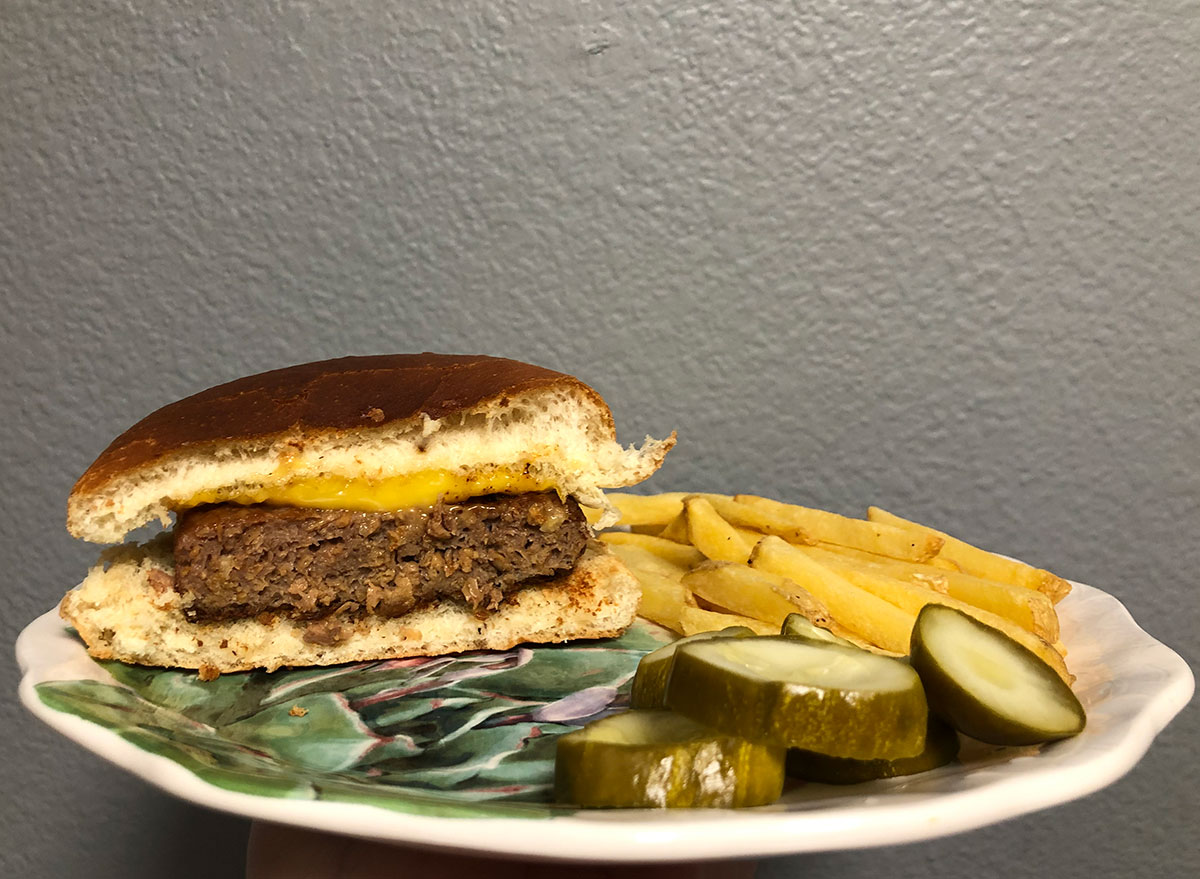 Per 4 oz
: 250 calories, 18 g fat (6 g saturated fat, 0 g trans fat), 390 mg sodium, 3 g carbs (2 g fiber, 0 g sugar), 20 g protein
Like the TJ's Protein Patties, Beyond Burgers are made with a pea protein, though the cooking process and the texture is very different. The company recently reformulated their product, which is now "meatier" and made with a blend of peas, mung beans, and rice to better mimic the chew of real beef. Also like the Trader Joe's patties, the flavor is close (if not closer) to real beef, but the texture is what sets it apart. You'll get a very realistic char on your burger whether you choose to fire up the grill or stick to your stove to cook it, making the resemblance to meat almost uncanny.6254a4d1642c605c54bf1cab17d50f1e
The option from the grocery chain has some flecks of beet throughout the burgers, though they don't do much to add to the texture. In the Beyond Burger option, you'll notice white specks made with coconut oil and cocoa butter which create a "marbled" effect, similar to a real juicy burger.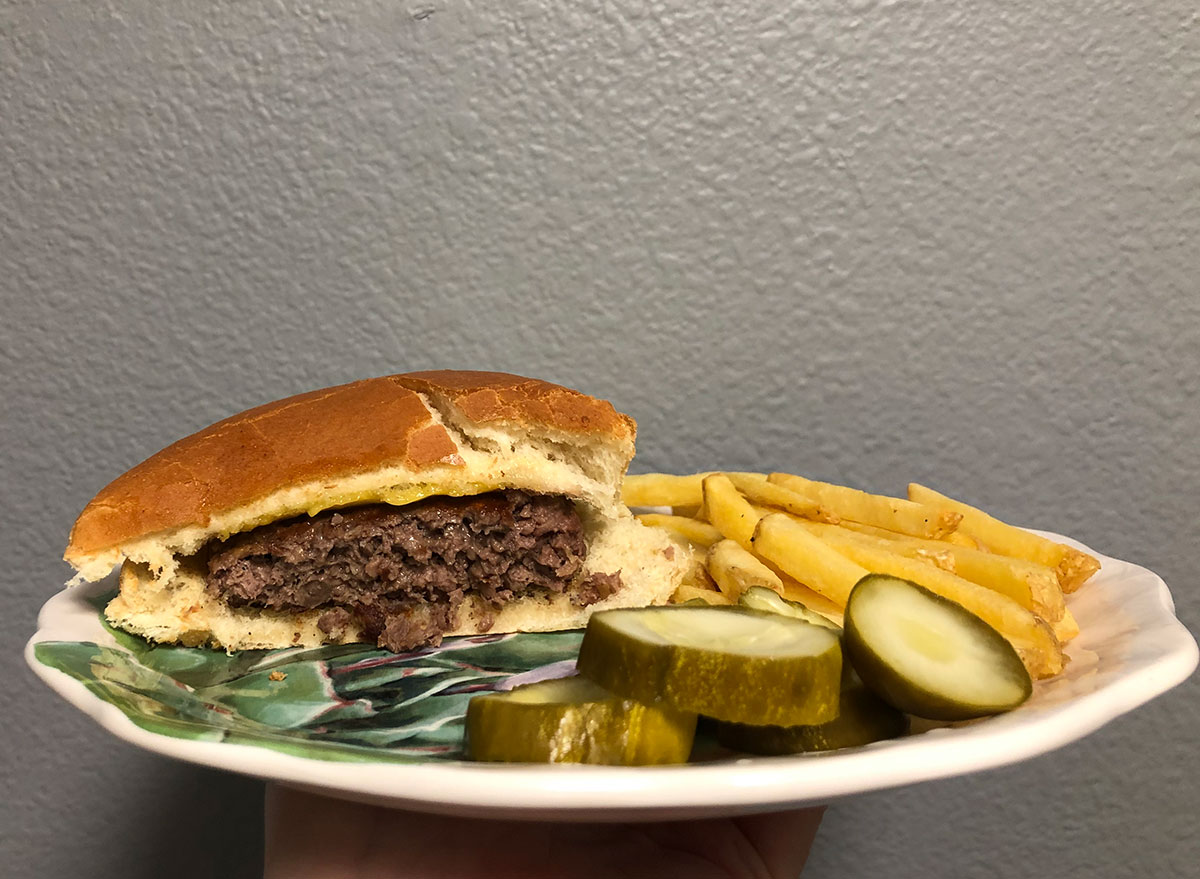 Per 4 oz
: 240 calories, 14 g fat (8 g saturated fat, 0 g trans fat), 370 mg sodium, 9 g carbs (3 g fiber, <1 g sugar), 19 g protein
Another popular plant-based burger option is the Impossible Burger, which only recently became available for purchase in-stores after only being in restaurants for some time in the past. Like the Trader Joe's patties, Impossible meat uses sunflower oil, but the coconut oil—also used in Beyond Burgers—really takes it over the edge to make a juicy and meaty burger.
The cooking process and the texture are nearly identical to the Beyond Burger, and that of real meat, as well. You'll see visible white speckles throughout the red "meat" to pack an even more savory punch, but unlike other available options this uses soy protein, so beware if you have an allergy.
Whichever plant-based option you go with, there are plenty of alternative burgers to choose from. And while it's hard to hold up to the standards set by Beyond and Impossible, TJ's is a great option, too.
Jacqueline Weiss
Jacqueline is a blogger and writer, passionate about making healthy eating and cooking accessible to all.
Read more about Jacqueline