The Latest Trendy Dessert Ingredient Will Shock You
You are not going to believe what people are putting in dessert these days…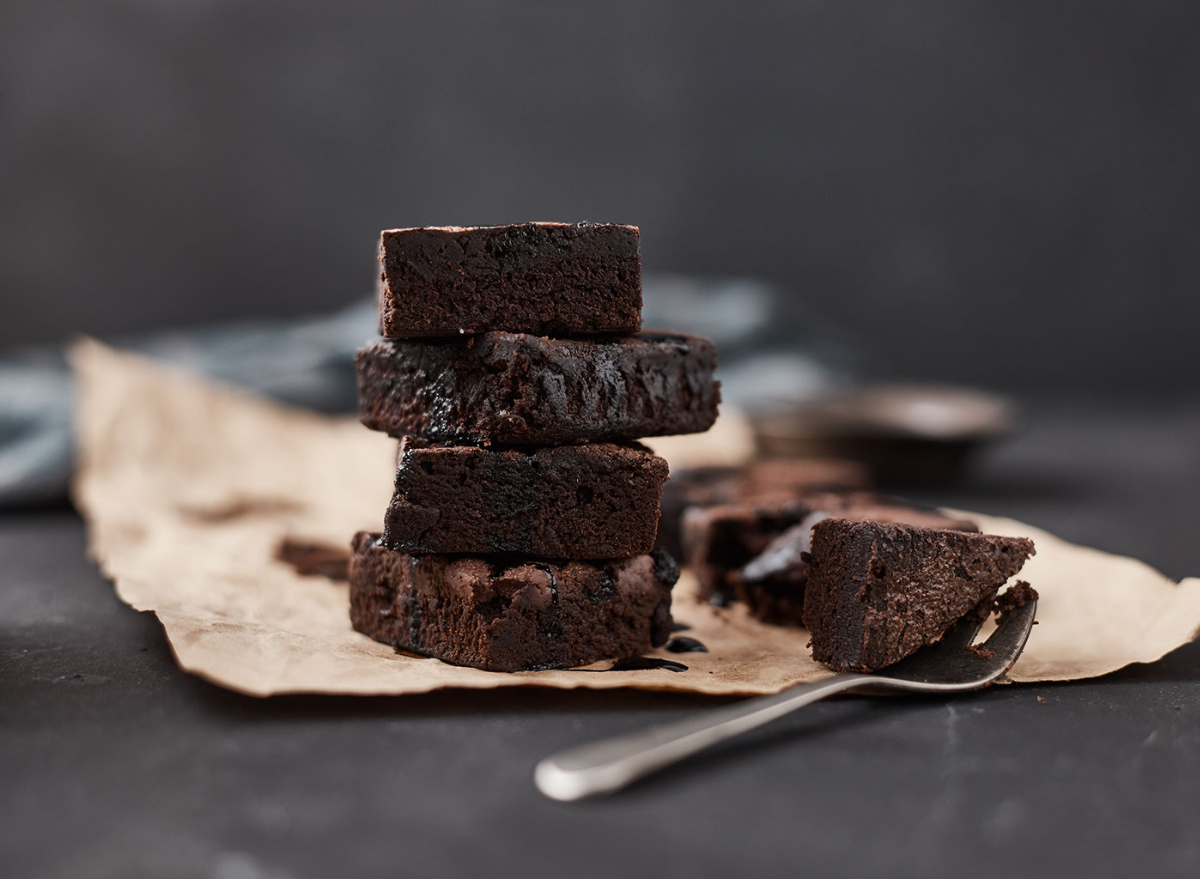 It's common to see some vegetables baked in desserts. Zucchini is frequently used in bread. Carrot is used in cake. And now, brownies are made with…potatoes?
Yes, it's true. According to Food Business News, in a virtual event called ShIFT20—produced by the Institute of Food Technologists in Chicago—new food innovations were discussed, including the use of potatoes in baked goods and even sports drinks. The shocking dessert ingredient trend was announced by representatives of Potatoes USA.
"The benefits of formulating with potato products are pretty much endless," says RJ Harvey, executive chef and director of culinary for Potatoes USA, to Food Business News. "They can be used to extend shelf-life, especially when we're talking about dehydrated potatoes. They can be used to improve texture and flavor in various baked goods, as well as enhancing the browning or coloring of those various baked goods."6254a4d1642c605c54bf1cab17d50f1e
Speaking of dessert, don't you think these 15 Classic American Desserts Deserve a Comeback?
Why potatoes in dessert?
Potatoes are naturally gluten-free, making it another easy starchy alternative to flours that don't sit well with people who suffer from celiac disease or even gluten intolerance.
One of the common desserts talked about was a flourless purple potato brownie, which features purple potatoes, almond butter, cashew butter, eggs, honey, and cocoa powder. The potatoes in this recipe are boiled and diced, plus additional thin slices that are fried for the top.
Food Business News also says that potatoes can be blended up with chickpeas and spices to make plant-based patties that are free of eggs, soy, and gluten.
The use of potatoes was also discussed in response to sports performance nutrition. Harvey explained that potato ingredients (specifically a base of hydrolyzed potato flakes) can be used as workout fuel for sports drinks and gels. It's a cleaner alternative to other sports enhancements (especially protein powders, which can be loaded with toxins) and full of natural potassium.
Plus, with boiled potatoes being one of the best appetite suppressants—according to the Satiety Index of Common Foods—having potatoes in your food (especially dessert) not only boosts the nutritional element, but could also help you to feel full.
What kinds of desserts can you make with potatoes?
While it isn't uncommon to see sweet potatoes in dessert (like sweet potato pie), the use of regular potatoes in desserts—and even sports drinks—does seem unique. Although potatoes are used for the chocolate Idaho Potato Cake, the dessert isn't as commonly known across the country.
Nonetheless, Potatoes USA is leaning hard into these potato dessert recipes on their website. You can find all kinds of potato dessert recipes including cookies, cake pops, funnel cake, lemon bars, truffles, cheesecake, and even donuts.
So will potatoes in dessert become a new craze over the next year—like sourdough bread or whipped coffee? Don't be surprised if you start to see dessert recipes slowly pop up that call for boiled potatoes—or even mashed potatoes—as one of the ingredients.
And while we may not have dessert recipes with potatoes quite yet, we do have these 13 Creative Ways to Use Potatoes if you're looking for ways to start using up those potatoes right now.