Lean Turkey Swedish Meatballs Recipe
Say goodbye to the veal and all those extra calories.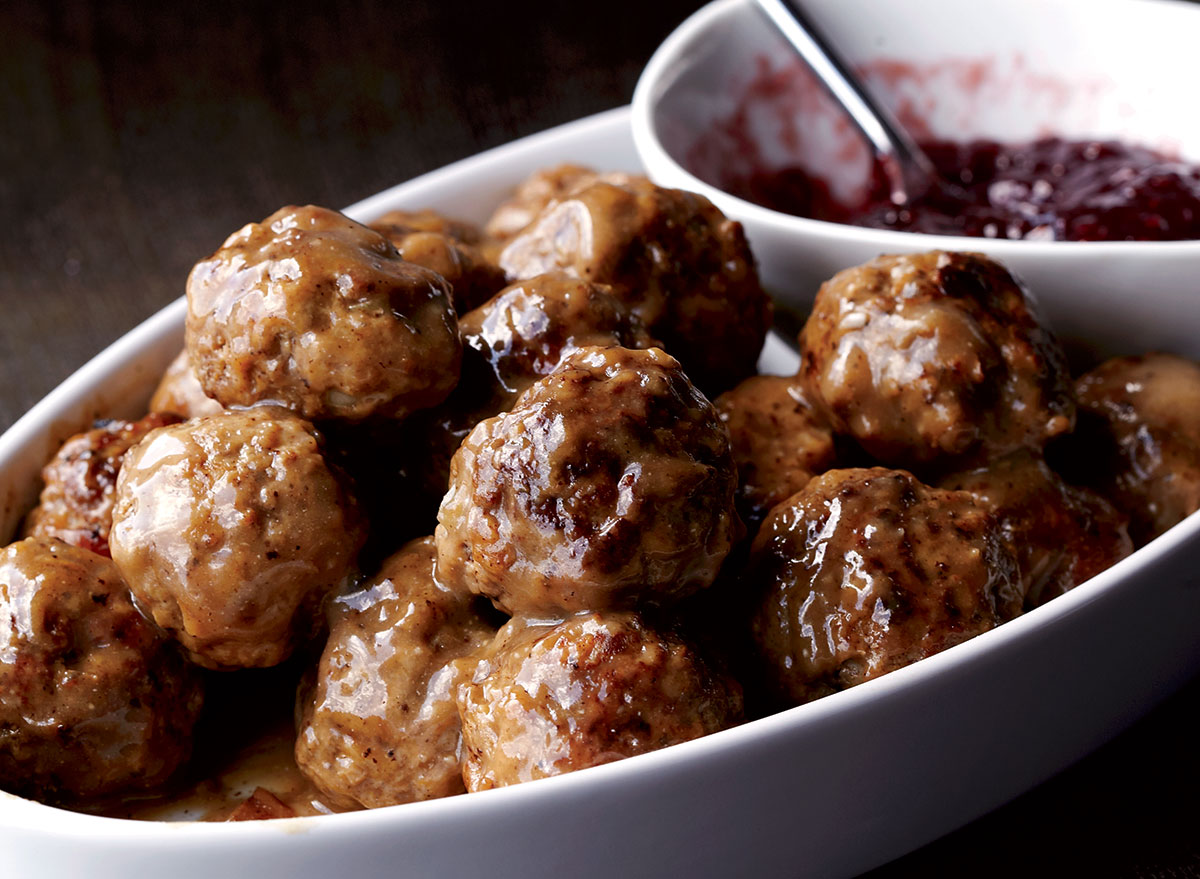 We're used to our meatballs coming in a vat of bubbling red sauce, but that's a very narrow definition of food so diversely interpreted throughout the world. Swedes have been forming spheres of beef and veal and covering them in sauce for hundreds of years, and when Scandinavian immigrants landed in the Midwest, they brought this taste of home with them. Don't get us wrong, we're grateful, but we thought we'd cook up a Swedish meatballs recipe that cuts some of the calories. This version of the Swedish meatball cuts the beef with turkey, which is tender and light like veal, but considerably leaner. You'll save on calories, but you'll gain considerably on taste!
Nutrition: 280 calories, 15 g fat (6 g saturated), 700 mg sodium
Serves 4
You'll Need
2 slices white bread, torn into tiny pieces
1⁄2 cup 2% milk
12 oz ground chuck
12 oz ground turkey
1 small onion, minced
2 cloves garlic, minced
1⁄2 tsp ground nutmeg
1 tsp salt
1⁄4 tsp black pepper
1 Tbsp butter
2 Tbsp flour
1 1⁄2 cups low-sodium beef stock
1 Tbsp Greek yogurt
Cranberry or raspberry marmalade for serving (optional)
How to Make It
Combine the bread and 1⁄4 cup of the milk in a bowl and soak for 5 minutes.
Drain and use your hands to squeeze out some of the liquid absorbed by the bread (you want it to be moist, not sopping).
In a mixing bowl, combine the bread with the beef, turkey, onion, garlic, nutmeg, salt, and pepper.
Gently mix, then form into golf ball-sized meatballs.
Heat the butter in a large nonstick sauté pan or skillet over medium heat.
Add the meatballs and cook, turning occasionally, for about 10 minutes, until nicely browned on all sides and cooked through.
Remove the meatballs to a plate and reserve.
Add the flour to the pan, stirring with a whisk or a wooden spoon to incorporate evenly into the remaining fat.
Add the stock slowly, stirring frequently to keep lumps from forming.
Add the remaining 1⁄4 cup milk and simmer for about 3 minutes, until the flour begins to thicken the liquid.
Stir in the yogurt, then return the meatballs to the pan, cooking for about 10 minutes longer, until the sauce clings tightly to the meatballs.
Serve by themselves, or with boiled potatoes or lightly buttered noodles. Pass the marmalade at the table, if using.