9 Surprising Fast-Food Lawsuits You Won't Believe Are Real
America is famous for its cheap, convenient eats and mind-boggling legal dramas—sometimes both at once.
Would you like a side of fries with that? Or, maybe you would prefer some legal action instead? No matter the industry, companies both large and small get hit with lawsuits all the time. But, with so many locations, franchises, and unpredictable employees to keep track of, fast-food chains definitely see their fair share of legal drama.
Some of these fast-food lawsuits hold up in court, while others are just plain (hold the cheese, lettuce, and tomato) ridiculous. Restaurants like McDonald's, Wendy's, and Burger King have been sued for making people overweight and additionally for serving food that doesn't perfectly match up with the mouthwatering cuisine depicted in their advertisements. And you're probably all too familiar with the multiple cases of customers angry about their hot coffee (emphasis on hot) being "too hot."
While these cases have certainly made for some eye-catching headlines, they don't hold a candle to some of the other lawsuits we have seen in more recent fast-food history. Here are several of the craziest fast-food lawsuits you won't believe were actually filed.
The Popeyes Spork Incident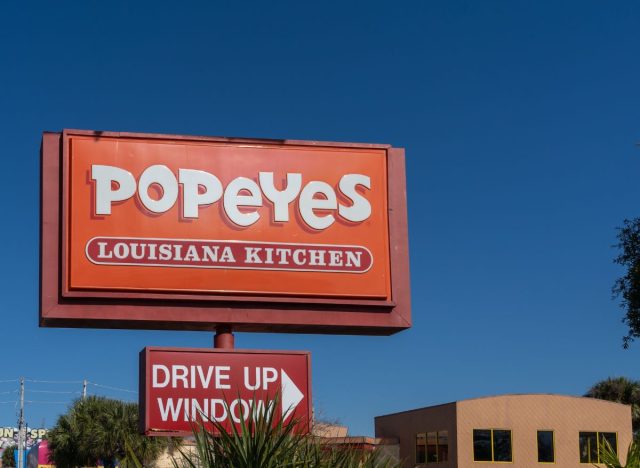 Eating with that flimsy plastic silverware you get at the drive-thru can be frustrating. But, one man, who happens to be a Mississippi attorney, took it to the next level. Back in 2015, Paul Newton Jr. claimed to have choked on a piece of Popeyes' fried chicken after the fast-food chain failed to give him a knife to cut it, according to the Associated Press. He was only given a spork—that is, a spoon/fork mashup, for those who are unfamiliar—which resulted in him using his hands to eat the greasy, breaded chicken instead.
He was later forced to have emergency surgery to dislodge a chunk of chicken from his throat, and he sued Popeyes in order to receive financial compensation and damages. The lawsuit was eventually dropped after the man and his family received "extreme comments," but it's clear he won't be loving that chicken from Popeyes again anytime soon.
A Different Kind of Meat at Arby's
Arby's does claim to "have the meats," but this probably isn't what the company meant. As he was enjoying his chicken sandwich from one of the chain's Ohio locations, David Scheiding allegedly discovered a surprise topping: a slice of human skin almost one inch long. It turns out the restaurant's manager had cut off a piece of his thumb while chopping lettuce, and instead of throwing out the tub of greens, proceeded to slap it on sandwiches and serve it to unassuming customers. Because of this incident, the fast-food restaurant found itself facing a hefty $50,000 lawsuit, according to NBC News.6254a4d1642c605c54bf1cab17d50f1e
Who Really Invented the Doritos Loco Taco?
In 2012, the Doritos Locos Taco landed on the Taco Bell menu. The item is a hard-shell taco, but the catch is that the shell is essentially just a large Dorito–a simple yet genius idea that a prisoner from Colorado accused the chain of stealing from him. Gary Cole, who was serving a 25-year sentence, claims he sent the proposal for "Tacos [sic] shells of all flavors (made of Doritos)," in a document to his lawyer back in 2006, along with plans for several other innovations. Cole believed the letter was somehow intercepted and sent to Taco Bell, or PepsiCo Frito-Lay, owner of the Doritos brand.
In a statement to ABC News at the time, a spokesperson for Taco Bell said that these claims were "completely without merit" and "as a policy [Taco Bell does] not accept unsolicited ideas, period." Here's to hoping Cole used his remaining time in prison to cook up another money-making idea.
A Cutting Edge Development at Subway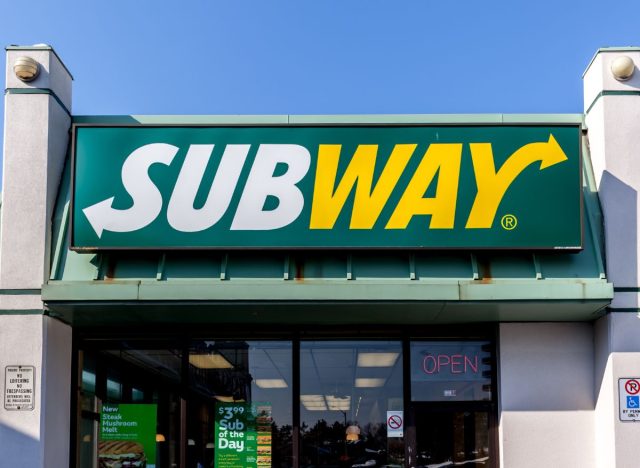 It's always fun when your food comes complete with a toy or special prize, but a serrated knife? That's not the kind of thing you want to find in your bag of takeout. Unfortunately, this is the surprise one New Yorker allegedly got as he bit into his foot-long Subway sandwich in 2008. He claimed the seven-inch-long serrated blade was baked into his sub, and later he faced severe stomach issues and pain, which he blamed on food poisoning from coming in contact with the knife. The man reportedly sued Subway for $1 million, but ended up walking away with $20,000.
Team Building Gone Wild at Panda Express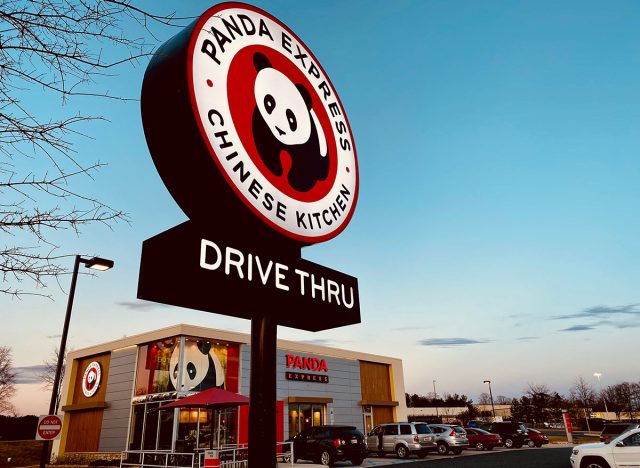 In 2021, Panda Express faced allegations completely unrelated to its cuisine or food-quality practices. NBC News reported that 23-year-old Jennifer Spargifiore claimed to be forced into some shady trust-building exercises as part of a company seminar. According to her lawsuit, Spargifiore was pressured to remove her clothes in front of a group of co-workers and even hug a male employee who had also stripped down to his underwear. She claimed it was understood that participation in and performance during these seminars was "a prerequisite to promotion," which Panda Express later denied.
The company argued that participating in these seminars was not required for employees to move up in the company. The fast food chain did, however, seek to distance itself from the third-party seminar company Alive Seminars following the incident.
A Harrowing Tail at Chick-fil-A[/slide-title]

Shutterstock
The popular slogan at Chick-fil-A is "Eat Mor Chikin"—not "Eat Mor Rodent." But, allegedly, this nearly happened to a woman at one of the fast-food chain's Pennsylvania locations back in 2016, according to CBS News. As she began to eat her chicken sandwich, Ellen Manfalouti reportedly noticed the bottom of her bun wasn't quite right, initially thinking it had just been burnt accidentally. But, the reality was much worse. She claimed that a small rat had been baked right into bread. Manfalouti ended up suing the restaurant, seeking damages for medical bills, PTSD, and  emotional distress.
[slidetitle num="7"]Spiked Soda at McDonald's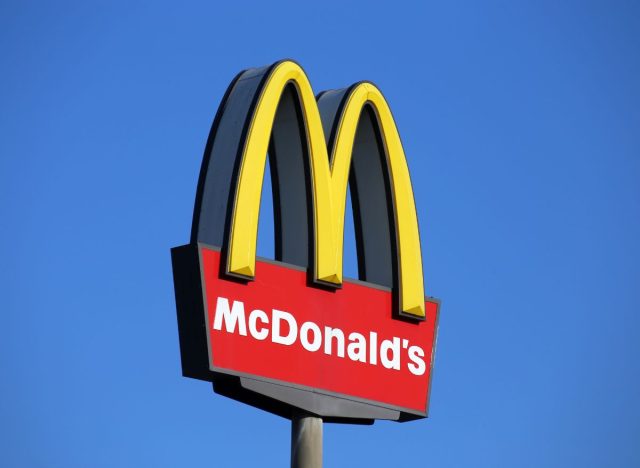 As the world's largest fast-food chain, McDonald's has certainly faced its fair share of lawsuits—most famously, the highly publicized 1992 hot-coffee incident. But, this one is even wilder, if you can believe it: According to Business Insider, Utah resident Trevor Walker took a trip to his local Golden Arches with his wife and kids for afternoon refreshments, but allegedly ended up with much more than he bargained for. After blacking out and collapsing, Walker was rushed to the hospital where it was discovered that his Diet Coke had been spiked with the drug buprenorphine—a medication used to treat addictions to opioids like heroin.
Walker blamed one of the McDonald's employees, "a known drug user," although the worker never faced charges due to a lack of evidence. Walker sued McDonald's, Coca-Cola, and even Swire Coca-Cola, the soda's local distributor.
Headbangers vs. Burger King
It's not often that you hear about a well-known rock band having beef with a fast-food restaurant. But, that's what unfolded between Burger King and the heavy metal group Slipknot in the early 2000s. The band, which famously turned heads with its anarchic performances and Halloween-like masks and ensembles, sued for copyright infringement following the debut of Burger King's own heavy metal group Coq Roq. The comically named band's sole purpose was to promote the chain's infamous chicken fries and its members appeared in several advertisements squawking a few different songs.
Slipknot didn't have a problem with Coq Roq's content or the chain's chicken fries. Rather, the group claimed that Burger King's promotional act, which included scary-looking chicken masks, ripped off the real metal band's own unique look—sooo not rock n' roll. Burger King countered, saying Coq Roq emulated a whole musical genre and many other artists, such as legendary hard rock band Kiss. Slipknot eventually dropped its lawsuit and returned to raising its usual ruckus instead.
The Infamous Tainted Chili Scam at Wendy's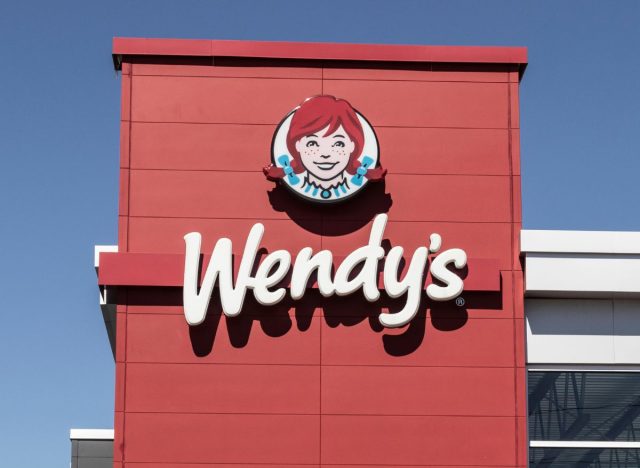 Maybe the most infamous fast-food imbroglio since the McDonald's coffee suit involved Wendy's chili. According to NBC News, a woman named Anna Ayala threw some serious allegations at the Ohio-based chain in 2005. She claimed that while eating her bowl of beans, tomatoes, and ground beef, she horrifically bit into a real human finger. She promptly sued the Wendy's franchise owner.
But, the truth soon began to unravel after it was made clear that the finger did not belong to any of the Wendy's employees. Authorities later found out that Ayala had planted the digit there herself after her husband purchased it from a coworker who had previously lost it in an industrial accident. We've heard of an arms deal, but a finger deal? Needless to say, Ayala and her husband both ended up facing charges, jail time, and a lifetime's worth of finger-related digs.