The #1 Unhealthiest Order at 12 Major Breakfast Chains
Dietitians urge you to beware of these breakfast orders loaded with mounds of sugar, calories, and fat.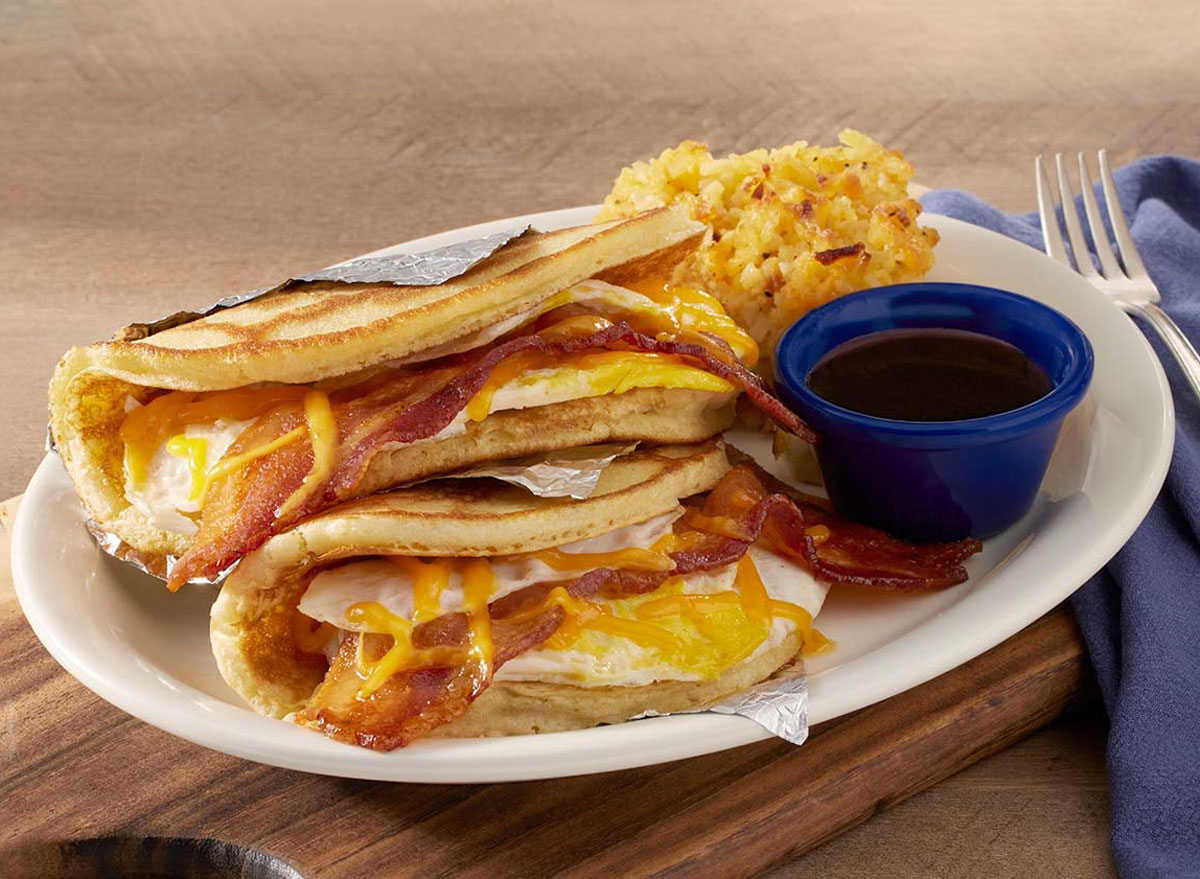 When you're not in the mood to make yourself an early morning meal, then you might choose to hop out and grab a bite to eat at a popular breakfast chain. While this also gives you an opportunity to indulge in a tasty treat and perhaps try something that you're not able to whip up at home, you may still want to avoid orders that are simply too unhealthy. Frankly, opting for an unhealthy breakfast might end up wreaking havoc on your body.
"A healthy breakfast incorporates a healthy protein source, fruits/vegetables, and a complex carbohydrate for long-lasting energy and fiber," Kayla Abella, RDN, a registered dietitian based in New Jersey, tells Eat This, Not That! If these are missing from your potential meal, then you should probably consider looking for another option.
At the same time, you can keep an eye out for dishes that contain things you don't want in your food. Abella explains that "an unhealthy breakfast could be too high in sugar such as sugary cereals or pancakes filled with chocolate or extra sweets, unhealthy fats such as fried pork roll or bacon, and something that is unbalanced and leans heavily on one component like a carbohydrate-rich breakfast with no protein or fruit/vegetable option."
For instance, check out the following which are the #1 unhealthiest orders at a few of the most popular breakfast chains in the country. Read on, and for more on how to make the most of your morning meal, don't miss 6 Fast-Food Chains That Serve the Healthiest Breakfasts.
Waffle House: All-Star Special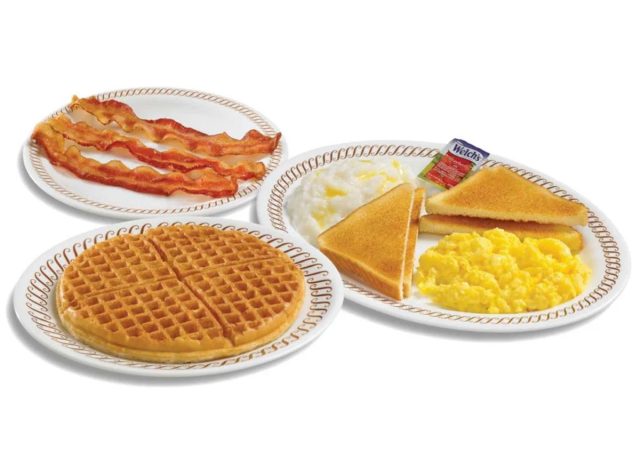 Per order
: 1,420 calories, 79 g fat (38.5 g saturated fat), 2,640 mg sodium, 121 g carbs (5 g fiber, 18 g sugar), 38 g protein
A restaurant that's been around since 1955, the Waffle House tempts diners with everything from scrambled eggs to sirloin steak. Of course, there are also plenty of waffle-based dishes. Unfortunately, some of the menu options include combinations that are ultimately bad for your body. "Ordering meals such as the All-Star Special which contains eggs, toast, waffles, and breakfast meat may be too high in cholesterol, unhealthy fats, and sugar," says Abella. "I would also avoid adding the chocolate chips to your waffles in order to better manage sugar intake."
"A better option on the menu would be an omelet (the fiesta one contains vegetables), egg breakfast, or a plain/pecan waffle," Abella tells us.
Denny's: Premium Bacon-Loaded Pancake Breakfast
Per order
: 1,250 calories, 68 g fat (22 g saturated fat), 3,610 mg sodium, 106 g carbs (3 g fiber, 25 g sugar), 46 g protein
"Unfortunately, there are quite a few unhealthy options on Denny's breakfast menu," says Abella. For instance, she points to "the premium bacon-loaded pancake breakfast and the triple bacon sampler." As for why you might want to avoid these meals, Abella says that "both contain a great deal of high-cholesterol foods."
Bob Evans: Double Meat Farmer's Choice Breakfast
Per order
: 2,010 calories, 940 g fat (34.5 g saturated fat), 3,310 mg sodium, 204 g carbs (9 g fiber, 29 g sugar), 64 g protein
"The Double Meat Farmer's Choice Breakfast option seems to take the cake for the most unhealthy option at Bob Evans," says Abella. When you order this particular meal, you'll end up with a plate filled with three hotcakes or two slices of Brioche French toast, as well as multiple pieces of sausage and hardwood-smoked bacon along with two eggs, and either hash browns, home fries, or fresh-cut fruit.6254a4d1642c605c54bf1cab17d50f1e
Not only is that quite a bit of food, but Abella explains that "the high cholesterol meat choices along with a sugary pancake stack is what makes this not the best choice to start your day."
Cracker Barrel: Pancake Tacos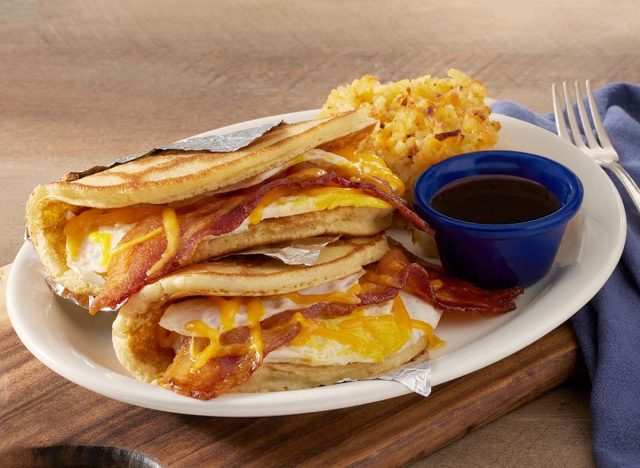 Per order
: 1,570 calories, 73 g fat (31 g saturated fat), 4,400 mg sodium, 180 g carbs (<1 g fiber, 40 g sugar), 49 g protein
Cracker Barrel's menu may be based on traditional Southern food, however, they're willing to indulge in variations of their classic meals. For instance, you may have tried their Pancake Tacos. Featuring buttermilk pancakes (as the taco's shell), they're filled with thick-sliced bacon, a fried egg, and Colby cheese. On top of that, it's served with syrup and the choice of a side which could be relatively high-calorie options like loaded hashbrown casserole (350 calories) or additional pancakes (530 calories). That's not even mentioning drinks that can accompany the food like the French toast latté (280 calories).
Although this meal may sound like a tasty option, "the combination of high cholesterol bacon and high sugar pancakes as well as the lack of fruit or vegetable is what makes this not the best choice on the menu," Abella tells us.
IHOP: Cinn-a-stack Pancakes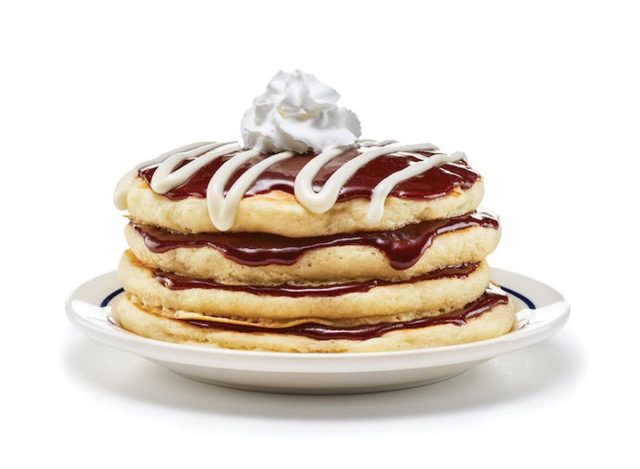 Per order
: 870 calories, 29 g fat (12 g saturated fat), 2,260 mg sodium, 136 g carbs (6 g fiber, 66 g sugar), 17 g protein
When you peruse IHOP's menu, you'll find everything from classics like their buttermilk pancakes to new items like Bourbon Bacon Jam Eggs Benedict. As for the iffiest choice you'll find, "in terms of pancakes, the cinn-a-stack pancakes are the highest in sugar on the menu making them the most unhealthy choice for breakfast," says Abella. Although cinnamon-flavored pancakes don't seem too bad, these happen to have cinnamon roll filling spread between each layer of the pancakes which takes the sugar content up to a dicey degree.
First Watch: Strawberry Tres Leches French Toast
Per order
: 935 calories, 23 g fat (10 g saturated fat), 847 mg sodium, 160 g carbs (n/a g fiber, 102 g sugar), 20 g protein
"The strawberry tres leches french toast is the most unhealthy option on the menu with a sugar content of 102 grams!" Abella notes. This is due to the fact that the breakfast chain uses thick-cut challah bread that's been dipped in custard and has strawberries, sweetened condensed milk, dulce de leche, whipped cream, and cinnamon streusel on top.
Village Inn: Ultimate Skillet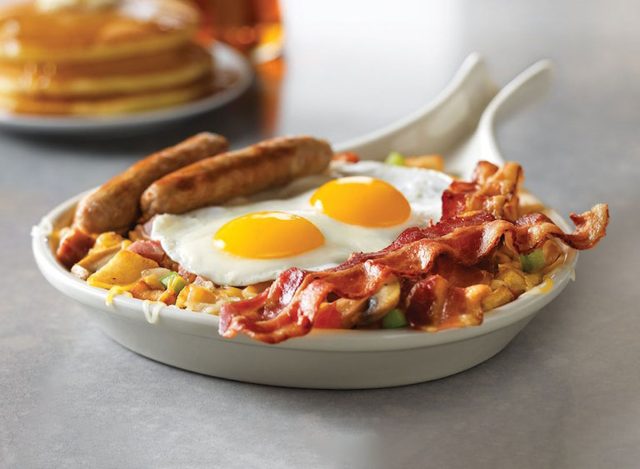 Per order
: 1,700 calories, 113 g fat (35.5 g saturated fat), 3,100 mg sodium, 119 g carbs (7 g fiber, 20 g sugar), 67 g protein
"The ultimate skillet with a side stack of pancakes would be the highest in calories, cholesterol, and a great deal of sugar on the menu, making it the least healthy option," Abella says. In order to make this meal as "ultimate" as the name suggests, it offers diners two bacon strips, two sausage links, and diced ham as well as green peppers, mushrooms, onions, tomatoes, and cheese. That's not to mention the pancakes which add 300 more calories to this meal.
Huddle House: Bacon Sausage & Sausage Gravy Stuffed Hashbrowns
Per order
: 1,290 calories, 71 g fat (34 g saturated fat), 1,960 mg sodium, 110 g carbs (8 g fiber, 0 g sugar), 56 g protein
Stuffed hashbrowns may sound like a delicious way to start your day. Unfortunately, Huddle House stuffs its hashbrowns with an iffy combination of ingredients including smoked bacon, sausage, scrambled eggs, and cheese. The breakfast chain also tops it off—or rather "smothers"—with creamy country sausage gravy and serves with buttered toast or a biscuit on the side. "The bacon sausage and sausage stuffed hashbrowns would be the least healthy option on this menu due to its high cholesterol content and high sodium," Abella tells us.
Perkins: Boston Cream Pancake Platter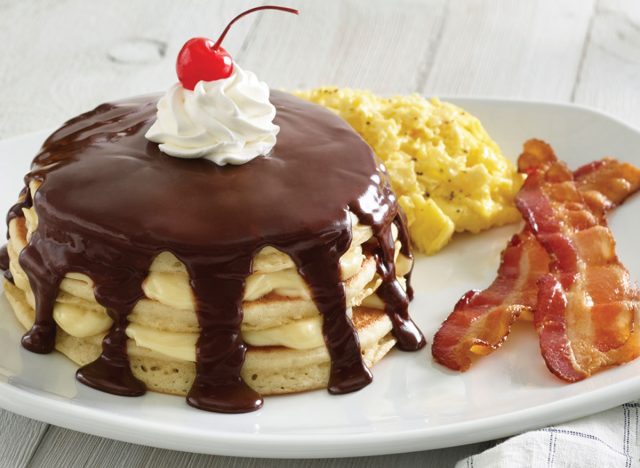 Per platter
: 1,630 calories, 79 g fat (28 g saturated fat), 2,440 mg sodium, 190 g carbs (2 g fiber, 113 g sugar), 38 g protein
"The Boston Cream Pancake Platter is loaded with excess sugar and comes served with eggs and breakfast meat which adds a great deal of unhealthy fats to the mix making it the most unhealthy item on the breakfast menu," says Abella. As indulgent as the name implies, the platter includes two eggs and either two pieces of Applewood smoked bacon strips or two sausage links. It also boasts three buttermilk pancakes with Bavarian cream in between each layer. This breakfast tower is finished off with milk chocolate icing, whipped topping, and a sweet maraschino cherry. It definitely seems like a dessert item as opposed to something that you should be eating for breakfast.
The Original Pancake House: Three Little Pigs In A Blanket & the Bacon-Filled Pancakes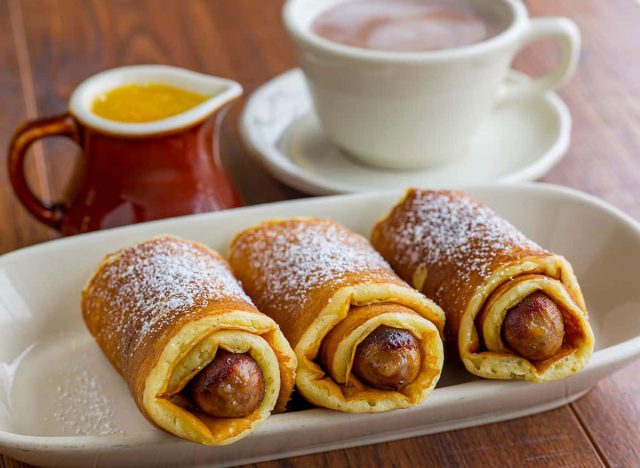 The Original Pancake House does not provide nutrition information, but based on the ingredients listed on the menu, Abella says that two orders stand out from the rest when it comes to healthfulness.
"The most unhealthy items on this breakfast menu would come to a tie between the three little pigs in a blanket, which is composed of pancake-wrapped sausage links, and the bacon-filled pancakes," Abella explains. "Both items incorporate a great deal of sodium, cholesterol, and sugar." When it comes to the pigs in a blanket, the chain happens to opt for buttermilk pancakes with powdered sugar along with tropical syrup and whipped butter which all help to take this meal over the top in a way that's definitely not healthy.
Dunkin': Sausage Egg & Cheese Croissant
Per sandwich
: 680 calories, 34 g fat (12 g saturated fat), 1,500 mg sodium, 68 g carbs (5 g fiber, 8 g sugar), 4 g protein
Donuts aren't exactly a healthy breakfast choice, however, Dunkin' offers much more than their famous fried treats these days. "Besides a donut for breakfast (which is very high in sugar and cholesterol) the sausage, egg, and cheese on a croissant would be the most unhealthy item on the menu due to its high sodium and cholesterol content," Abella explains.
Marie Callender's: Banana Cream Pie Pancake Platter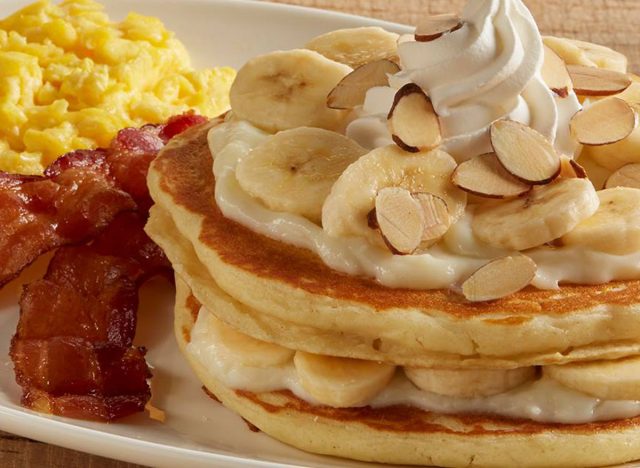 Per platter with 2 sausages and 2 eggs
: 1,700 calories, 75 g fat (28 g saturated fat), 2,490 mg sodium, 204 g carbs (9 g fiber, 91 g sugar), 50 g protein
If you want to enjoy a banana cream pie, maybe you should do just that instead of ordering a banana cream pie pancake platter for breakfast when you visit this breakfast chain. Although you can customize this meal at Marie Callender's by choosing from a range of meat, styles of egg preparation, and condiments such as ketchup, mustard, and mayonnaise, Abella says, "The banana cream pie pancake platter would be the most unhealthy item on this menu due to its high sugar content and when served with sides of breakfast meats and eggs, it contains a great deal of unhealthy fats as well."
Desirée O
Desirée O is a freelance writer who covers lifestyle, food, and nutrition news among other topics.
Read more about Desirée