6 Breakfast Chains Where Chefs Actually Eat
Find out exactly where food experts like to grab an early morning bite.
Pancakes, waffles, omelets—breakfast foods are not only delicious, but also comforting. And they're even better when you don't have to make them yourself. Whether you like to pick up breakfast sandwiches from a drive-thru or sit down for a proper meal at a pancake house, the best breakfast chains offer quick and tasty morning fuel without the messy kitchen cleanup.
You may have your own list of popular breakfast spots you like to frequent, but where do the experts like to go when they're not at home crafting their own culinary creations?
From nationwide restaurants that have been whipping up delicious breakfast dishes for decades to regional chains that people rave about, here are six breakfast restaurants where the experts actually eat:
And if you love fast-food breakfast, Here Are the Breakfast Hours at Every Major Fast-Food Chain.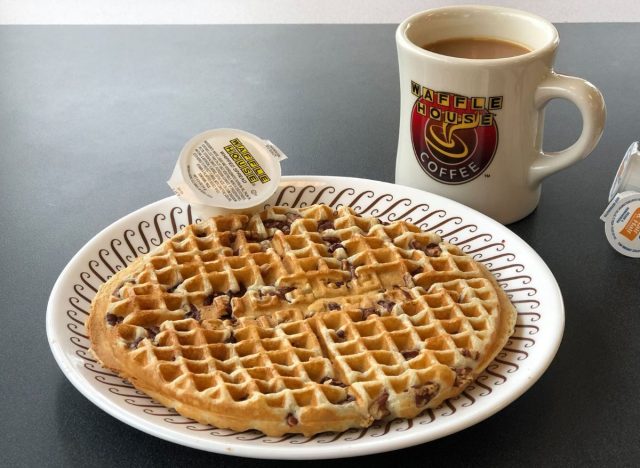 Sean Ferraro, chef and owner of Madison Avenue Pizza in Dunedin, FL shares that Waffle House is one of his favorite spots to go to if he's not picking up breakfast from a local restaurant. The chain, which currently has over 2,000 locations in 25 states, has been making tasty breakfast dishes since the 1920s.6254a4d1642c605c54bf1cab17d50f1e
"I'm from Florida, and Waffle House is a southern cultural icon," says Ferraro. "They're everywhere, open 24 hours a day, and there's something about sitting at that counter and watching the cook make your breakfast right in front of you that is truly beautiful."
Ferraro explains that if you aren't familiar with Waffle House, the kitchen is often in the middle of the dining room and the flat top is pretty much out in the open.
"There's nothing to hide, everything is made fresh to order right in front of you, and the food is consistently good," he says. "Plus who doesn't want a hot fresh waffle with your eggs when you're eating breakfast at 2am?"
Waffle House is also a top pick for Kyle Jones, head chef at Craft Wood Fired Catering.
"I love them because they serve classic American breakfast dishes that are always cooked to perfection," he shares. Jones' go-to meal when he's there is the pecan waffles.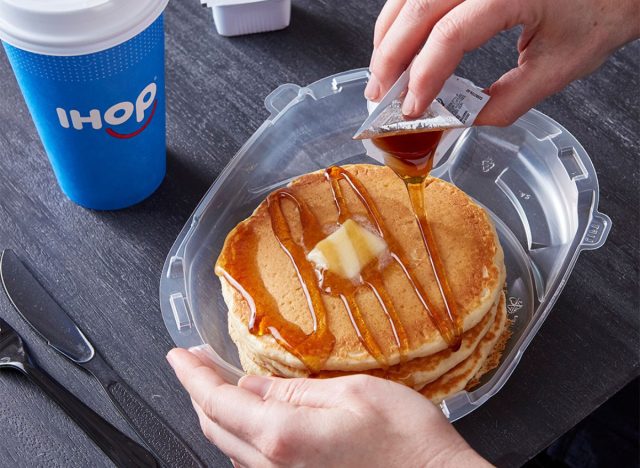 Another must-have for Jones is IHOP, the iconic breakfast restaurant that started in Los Angeles in the 1950s. For decades, IHOP has been serving up fluffy pancakes, warm waffles, filling egg dishes, and even plant-based options, to countless customers each year.
Jones' go-to order is usually pancakes and waffles, although he points out that the eggs are pretty good, too. "Their pancakes and waffles are especially delicious, always light and fluffy," he says. "Both IHOP and Waffle House also have great omelets and egg dishes that are made with fresh ingredients."
Besides fantastic food, Jones shares that IHOP also has exceptional service. "Their service is always friendly and efficient which is an added bonus!" he says.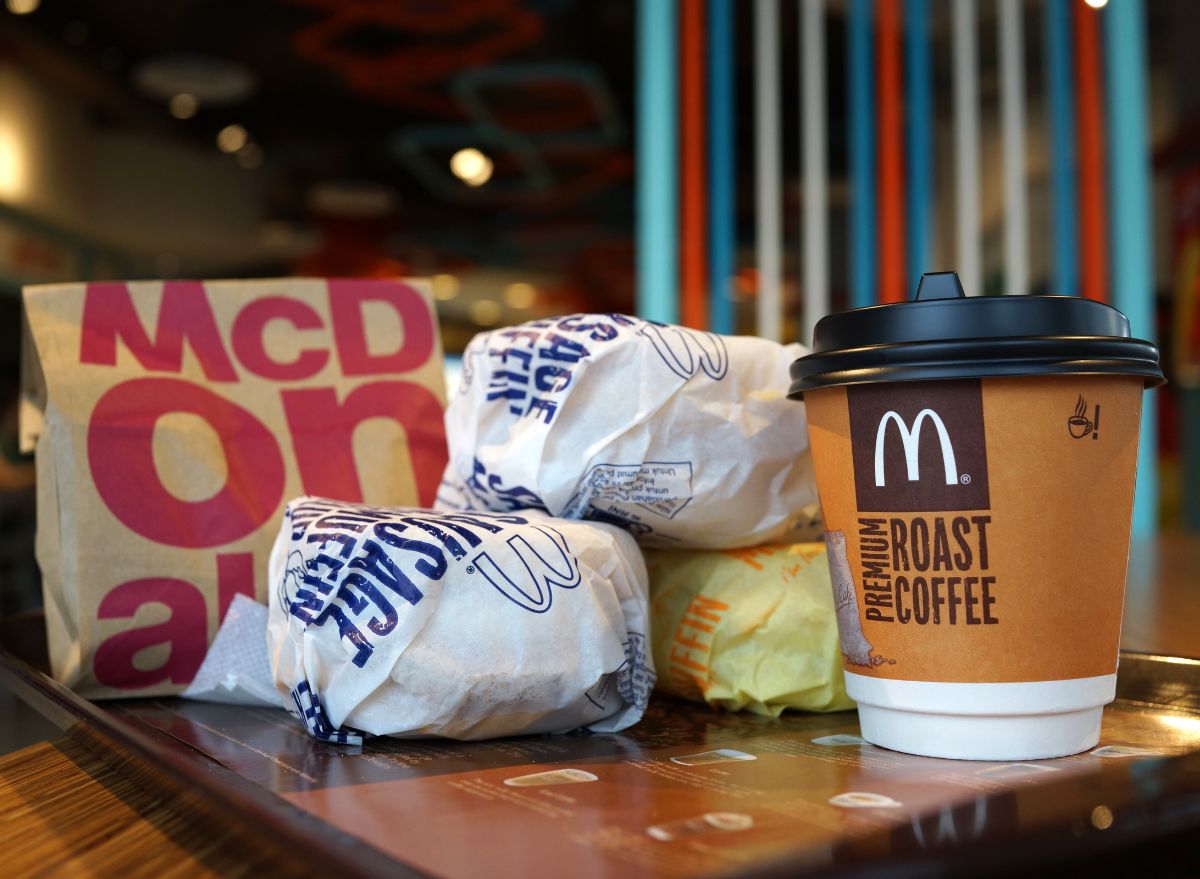 When the experts are on the go, they like a breakfast that is both delicious and convenient, so what better place to visit than McDonald's?
"When I am on a road trip with an early start, I always try to stop at McDonald's to feed my family in the morning," says Jessica Randhawa, head chef, recipe creator, photographer, and writer at The Forked Spoon. "I know the line will move fast so I can get back on the road quicker, and get tasty breakfast sandwiches that my whole family will devour."
If you're interested in picking up McDonald's for breakfast, be sure to remember that the fast food chain usually serves it only until 11 am daily. During this time you can pick up classic McDonald's breakfast favorites, including Bacon and Egg McMuffins and Bacon, Egg, and Cheese McGriddles.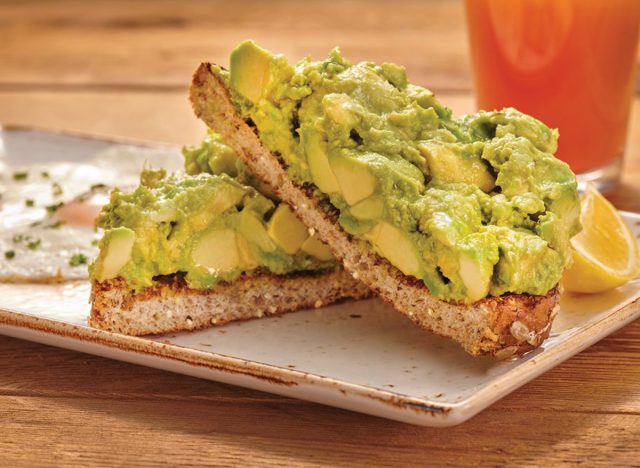 First Watch, the beloved breakfast chain that has hundreds of locations throughout the country, is a favorite of Zach Preece, executive chef at Josephine in Jacksonville, FL. Preece appreciates First Watch's dedication to using seasonal produce and its focus on fresh ingredients. "You don't often see a fast-casual spot that does this or has a menu that evolves throughout the year," Preece says.
When Preece dines there he usually gets avocado toast with hash browns, instead of eggs. "The avocado is excellent quality, and the toast holds up really well," Preece adds.
Preece isn't the only one who enjoys First Watch—Poorvi Chordia, tea sommelier, beverage curator, and founder of Herbs & Kettles, also highly recommends the restaurant.
"The main reason I love First Watch is that the chain specializes in healthy, made-to-order dishes using fresh ingredients, and doesn't use deep-fat fryers or heat lamps in its kitchens," shares Chordia. Chordia also likes that their menu is designed keeping those with dietary restrictions in mind, that every ingredient is listed out, that there is an array of vegetarian options available, and that the food is consistently delicious.
"My favorite items include the Triple Berry Acai Bowl, the Power Breakfast Granola Bowl, and, for my two daughters, the Half Waffle," Chordia adds.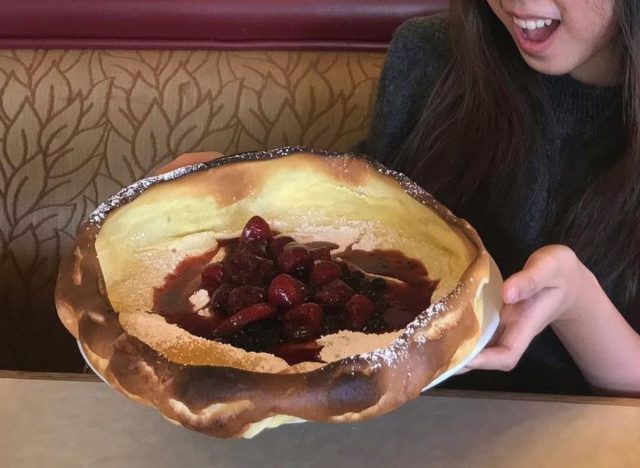 One of chef and author Allen Bixby's favorite restaurants to get breakfast at is Elmer's, the popular Northwest pancake house that has been serving customers since the 1960s.
"We have a regional chain here, Elmer's, that does a really good job and serves breakfast all day," shares Bixby. "I like their use of high quality regional brands that I am familiar with—Tillamook cheese, Zenner's sausage, and Daly's bacon. It's always a pleasure to see support for our local bounty, especially from a group that puts out a good product in their own right."
Bixby's usual order is a couple over-easy eggs, sausage, and an English muffin, but he says that they also serve delicious potato pancakes, filled with bacon and cheese, that are definitely worth a try.
"Beyond my own selfish food items, they are unique in offering a classic German pancake that fills a plate, and they make a pretty good eggs Benedict," Bixby adds. " I have never been disappointed when I go there. It is by no means a fancy place, but always clean and bright and well maintained so you feel comfortable dining there."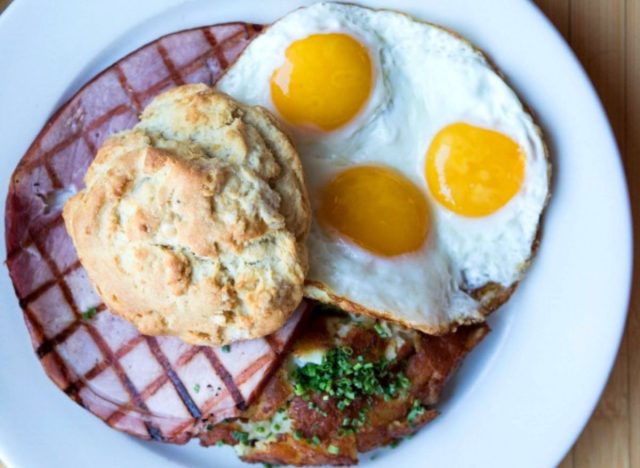 Although Clinton St. Baking Co. has fewer locations, it is still a breakfast restaurant that chefs love visiting time and time again. Started in 2001, the popular spot has a few locations in New York City and Tokyo.
"Clinton St. Baking Co. is a Lower East Side quintessential place for brunch!" says Hemant Bhagwani, chef and owner of upcoming Goa New York in New York City. "I love their Spanish Scramble with cheese and chorizo and [they have] the best blueberry pancakes with maple butter." Bhagwani also shares that the service is always great, too.
Besides Bhagwani's recommendations, be sure to also give the brioche French toast, Clinton St. omelet, and sugar-cured bacon a try—customers rave about all three.