The Unhealthiest Peanut Butters on the Planet
Why ruin a good thing? It's best to leave these jars on the grocery store shelf.
Peanut butter is perhaps the most beloved grocery item in America. Whether we're adding it to weight loss smoothies, slathering it on a piece of toast, or whisking it into salad dressings, it's safe to say that we'd be happy to eat peanut butter at every meal of the day.
But its popularity is a double-edged sword. If you're eating peanut butter so frequently, you'll want to make sure you're getting the healthiest version you can. Otherwise, you may be consuming more unhealthy ingredients and empty calories than you were expecting.
The best jar of peanut butter should contain no more than two ingredients: peanuts and salt. Any more than that (sugar, we're looking at you), and you'd be ruining the health benefits of this high-protein, healthy-fat-rich legume spread. (For more, 27 Things That Happen to Your Body When You Eat Peanut Butter.)
Because there are more than a few options on grocery store shelves, we've gone ahead and done the dirty work of uncovering the unhealthiest jars of peanut butter that should not be a part of your regular diet. Read on, and for more on how to lose weight the right way, you won't want to miss 15 Underrated Weight Loss Tips That Actually Work.
Peanut Butter & Co. White Chocolatey Wonderful
2 Tbsp
: 180 calories, 13 g fat (3 g saturated fat), 35 mg sodium, 12 g carbs (2 g fiber, 7 g sugar), 6 g protein
While there are plenty of great peanut butter options from Peanut Butter & Co., this isn't one of them. Out of all the jars on this list, it has the lowest amount of protein at just 6 grams (your average serving has 7 to 8 grams). Plus, it has the second-highest amount of sugar of the jars on this list, 6 of which are "added" sugar, which equates to 12 percent of your daily recommended limit of the nutrient.
RELATED: Sign up for our newsletter to get daily recipes and food news in your inbox!
SKIPPY Reduced Fat Creamy Peanut Butter Spread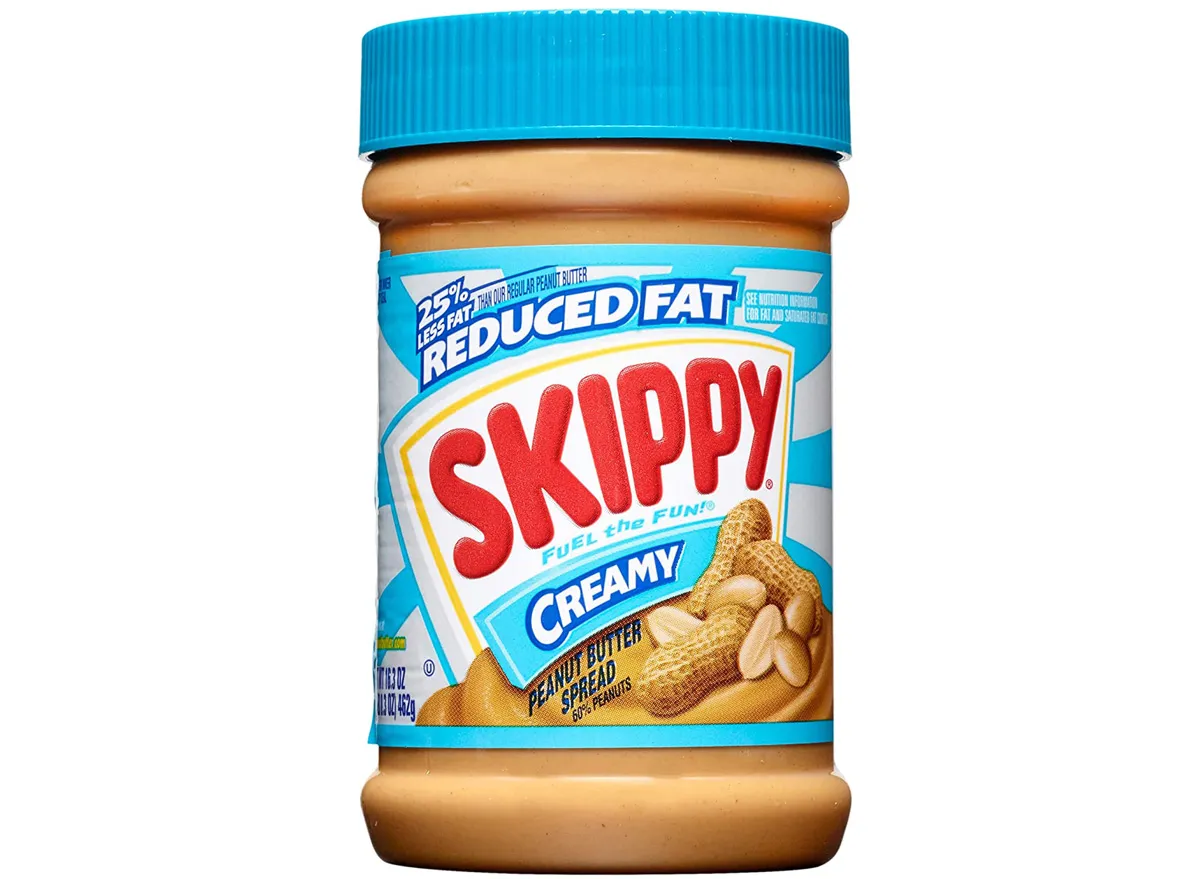 2 Tbsp
: 190 calories, 12 g fat (2 g saturated fat), 170 mg sodium, 14 g carbs (2 g fiber, 4 g sugar), 7 g protein
If you know about the sneaky buzzwords on food labels that are major red flags, you know that "Reduced Fat" is synonymous with higher-in-sugar. When companies have to remove fat, they make up for that lack of flavor with other ingredients. In this case, it's 4 grams of corn syrup solids and sugar. And if you thought you could avoid the soy that you find in all processed foods in a jar of peanut butter, you'd be wrong. SKIPPY compensates for lower amounts of peanut butter protein with low-fat soy protein concentrate.
Peter Pan Creamy Original Peanut Butter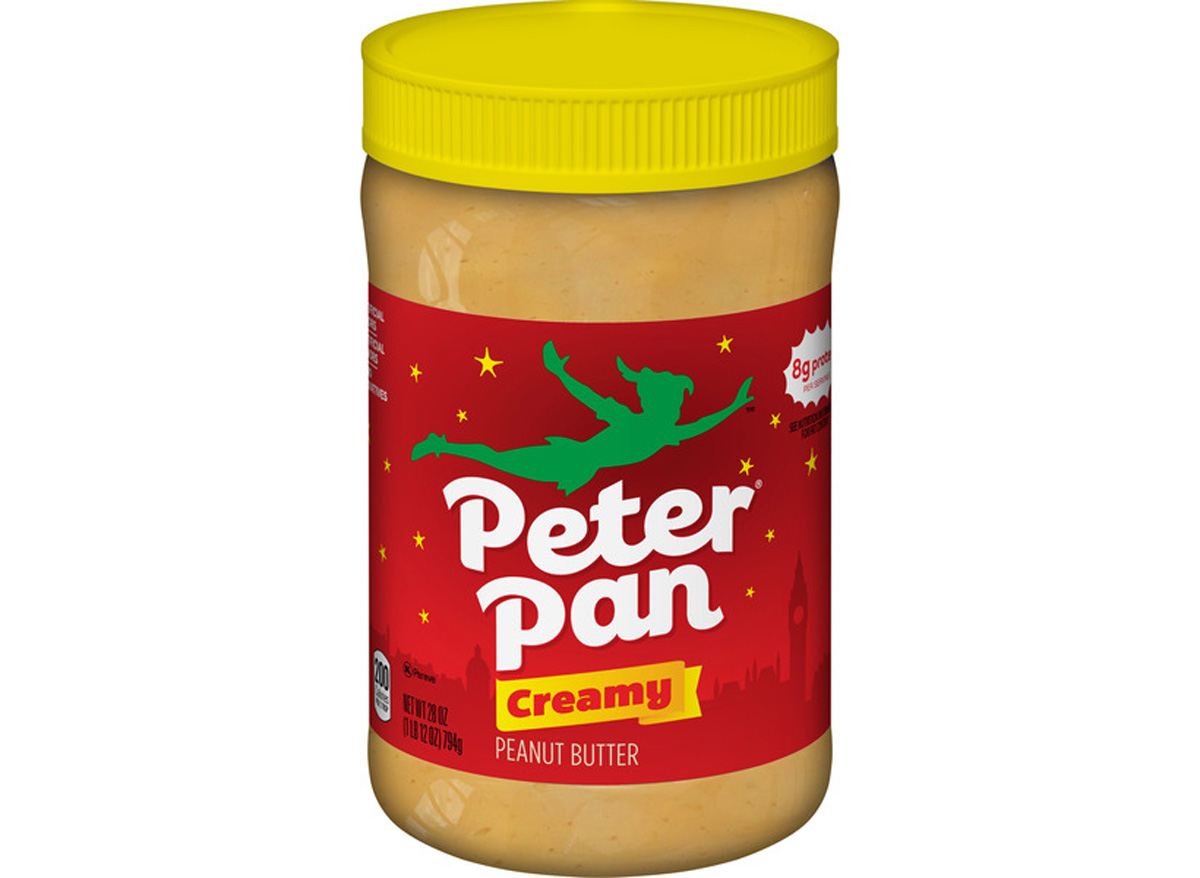 2 Tbsp
: 200 calories, 16 g fat (3.5 g saturated fat), 125 mg sodium, 7 g carbs (2 g fiber, 3 g sugar), 8 g protein
This jar is higher in calories and sugar compared to your average peanut butter on the market. It also contains hydrogenated vegetable oils—a highly processed fat produced by hydrogenation, which creates trans fats, a type of unsaturated fat that can harm your health.
JIF Reduced Fat Creamy Peanut Butter Spread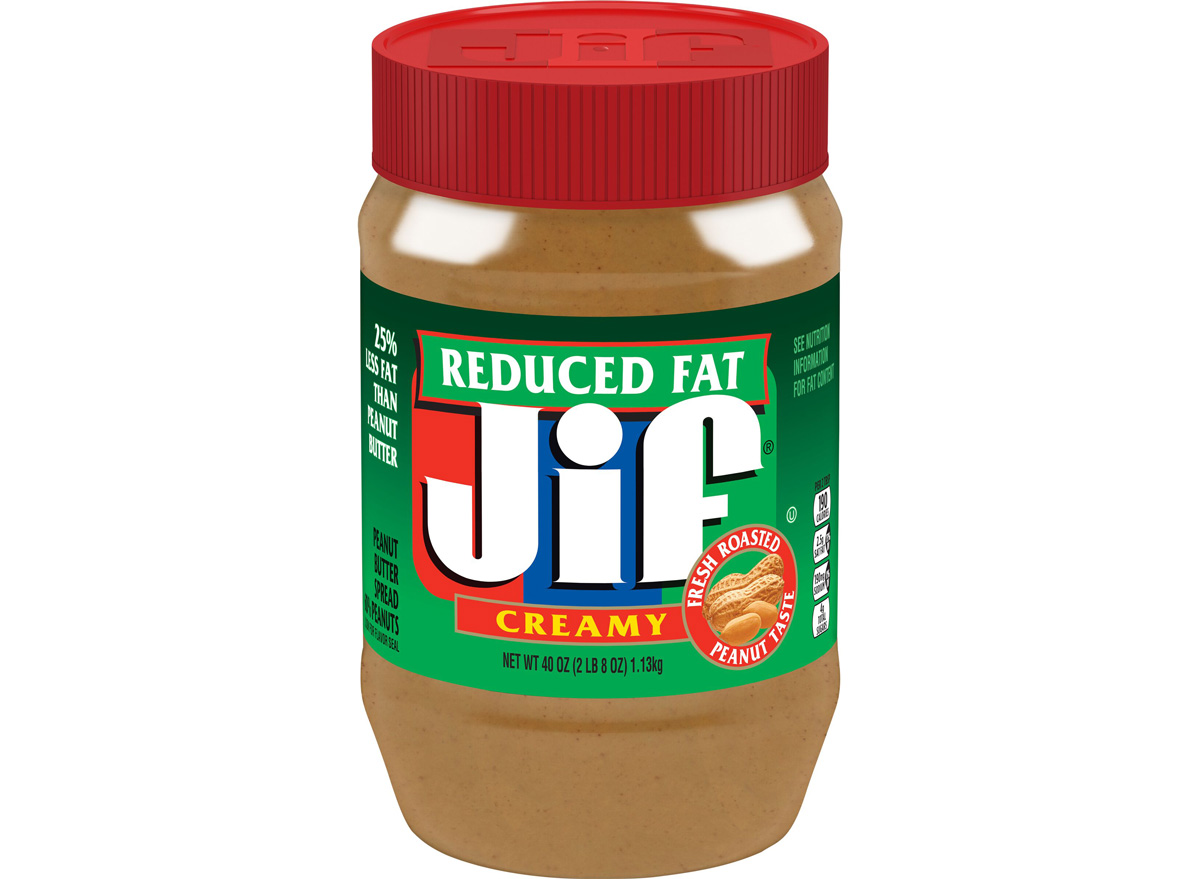 2 Tbsp
: 190 calories, 12 g fat (2.5 g saturated fat), 190 mg sodium, 15 g carbs (2 g fiber, 4 g sugar), 7 g protein
When your jar of peanut butter has to claim that it only contains 60% peanuts, it's worth being skeptical. What's the other 40%?! Turns out it's 14 other ingredients, such as corn syrup solids and fully hydrogenated vegetable oils. Naturally, if your jar of peanut butter is only 60% peanuts, it will have less protein. Not in this case—JIF supplements its jars with pea protein to keep that number at 7 grams, which is good as long as you don't have pea protein sensitivity…
Reese's Creamy Peanut Butter
2 Tbsp
: 190 calories, 16 g fat (2.5 g saturated fat), 140 mg sodium, 7 g carbs (3 g fiber, 3 g sugar), 8 g protein
For anyone who is a fan of the classic Reese's Peanut Butter Cup, this PB spread seems like a dream come true. Sorry to disappoint, but one glance at the ingredients list, and you'll see it contains those problematic hydrogenated vegetable oils. Plus, fans of the candy have said this peanut butter doesn't even really taste like the deliciousness that is inside of the chocolate cup anyway. So it's (sadly) just a lose-lose all around.
Peter Pan Peanut & Honey Spread, Natural, Honey Roast, Creamy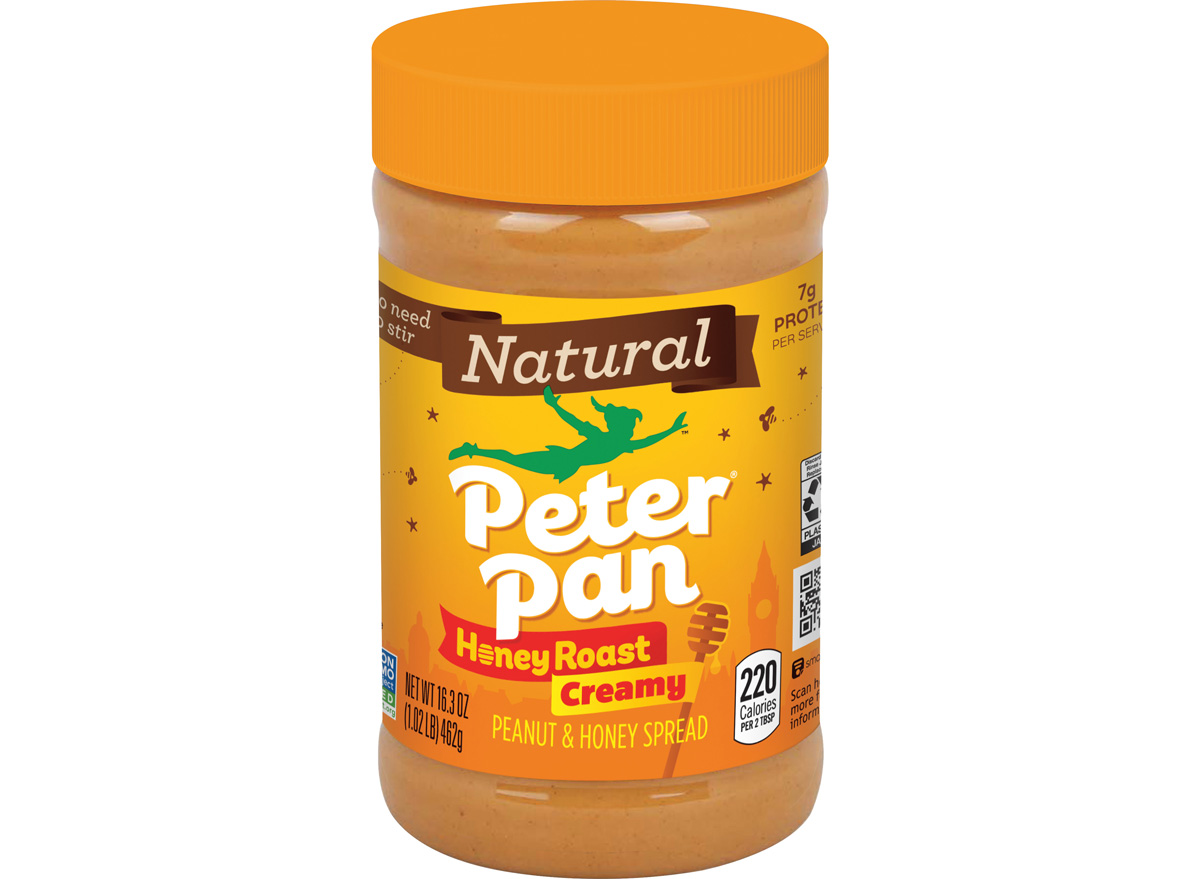 2 Tbsp
: 210 calories, 15 g fat (3.5 g saturated fat), 135 mg sodium, 11 g carbs (2 g fiber, 8 g sugar), 7 g protein
If you want your peanut butter to have almost as much sugar as your jelly, you can buy this tub. But if you don't want to eat over 30 grams of sugar in your peanut butter and jelly sandwich, it's best that you pass. Instead, make these Peanut Butter and Jelly Sandwich Recipes for Weight Loss.
Inspired by
The New York Times
best-selling book series,
Eat This, Not That!
is a brand that's comprised of an award-winning team of journalists and board-certified experts, doctors, nutritionists, chefs, personal trainers, and dietitians who work together to bring you accurate, timely, informative, and actionable content on food, nutrition, dieting, weight loss, health, wellness, and more.
Read more