Your Healthy Vacation-Week Grocery List
You deserve a vacation—but that doesn't mean your diet does, too.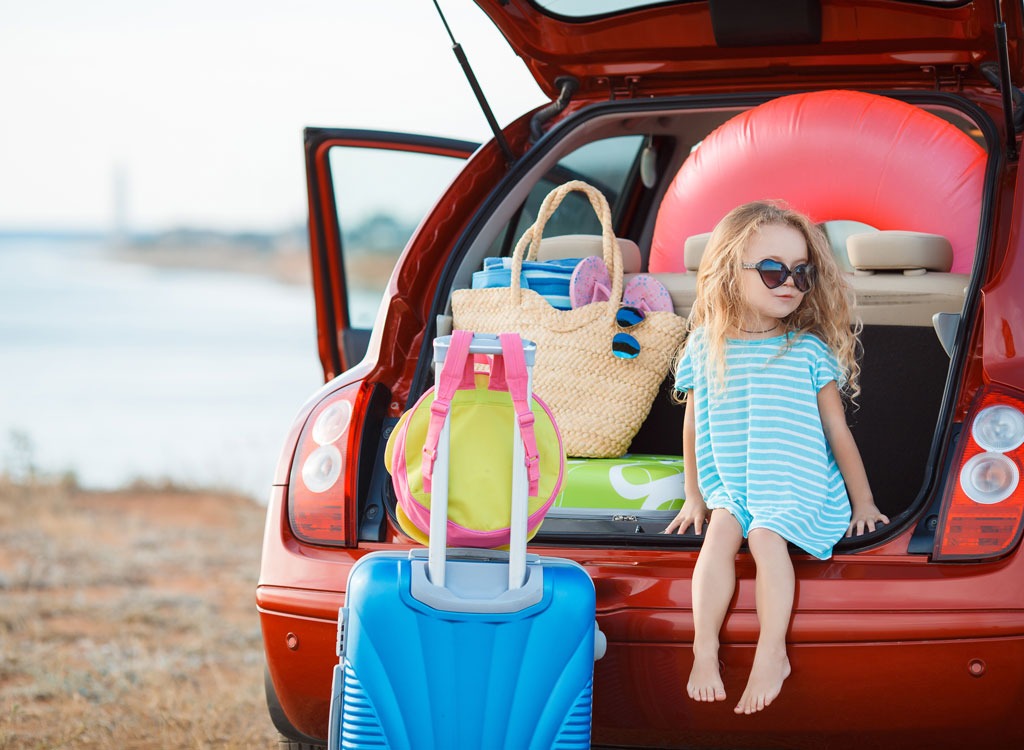 We totally get it. Your time off from work, school, and mindless errands may feel like the perfect time to treat yourself—but is it worth undoing all your hard work? If you've read up on our worst vacation habits for your waistline, you know that mistake numero uno is choosing a vacation (and lodging) that hampers your flat-belly progress—like booking a stay at an all-inclusive resort or going on a road trip.
So, what's the best way to keep your beach bod at the beach? Book a condo, house, or hotel room with a kitchen! With a little extra effort on your part, you can get some R&R and keep the scale tipping in your favor. But we also know it's all too easy to resort to pasta with jarred marinara sauce at your rented beach house. That's we've come up with an easy, healthy meal plan—and accompanying shopping list—you can simply print, pack, and whip out during your first-day pit stop at the grocery store.
Complete with flat-belly meals that are easy to put together and require minimal ingredients, you'll be able to keep your family full, your belt buckled, and your dollars reserved for sightseeing and excursions. Mix up the meals to fit with your vacation schedule, and enjoy!
Your Shopping List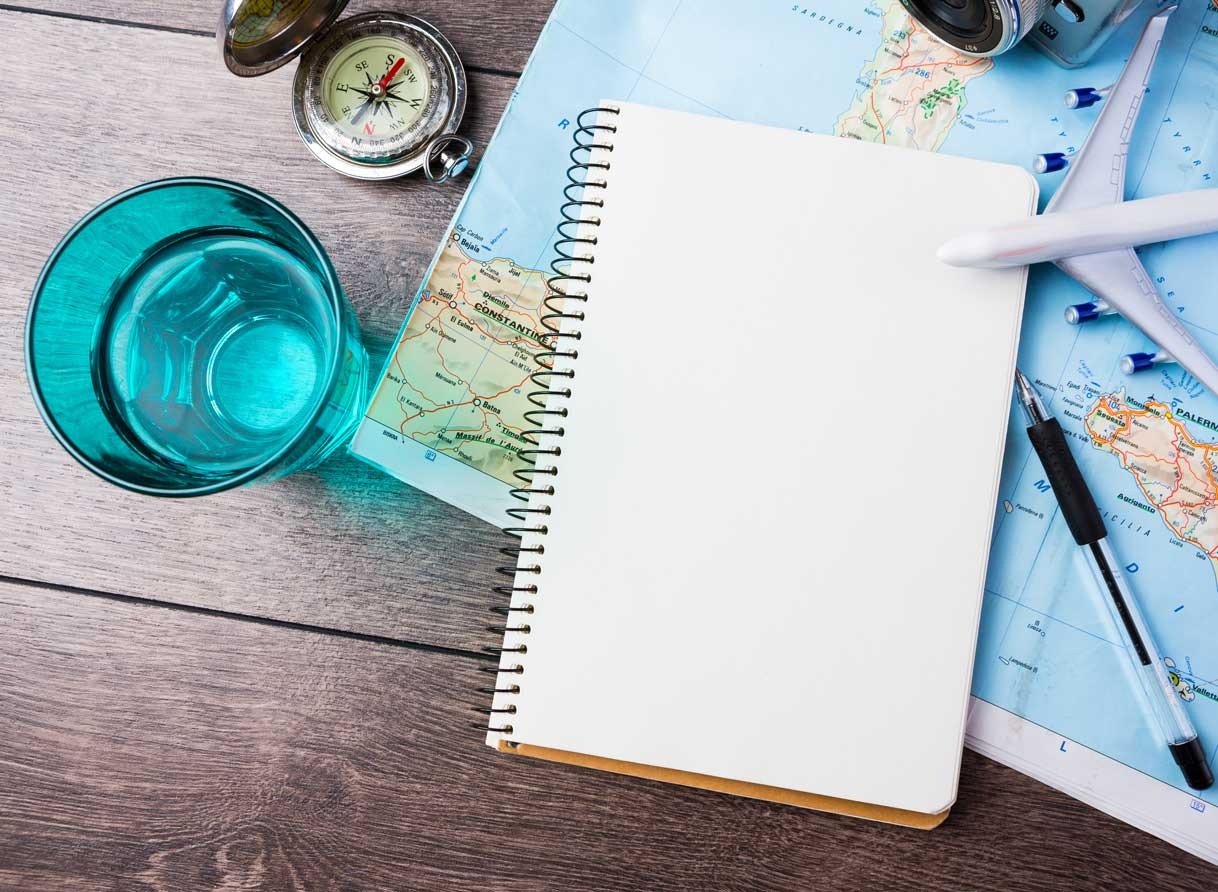 For 4 people, 5 days, 3 meals a day
Produce
•1 carton strawberries
•1 package baby spinach
•1 pint cherry tomatoes
•1 heirloom tomato
•3 medium red onions
•1 small head garlic
•1 bunch asparagus
•3 red bell peppers
•1 pound bag baby carrots
•1 head celery
•4 apples, or 1 per person
•4 peaches, or 1 per person
•4 bananas
•2 avocados
•2 heads broccoli
•1 lemon
•4 ears corn
•1-⅓ pounds russet potatoes or baked potato of choice
Dairy
•1 half-gallon 2% Organic milk
•1 dozen eggs
•1 large tub 2% Greek yogurt
•1 package cheddar cheese slices
•½ pound mozzarella ball
Other Refrigerated Goods
•1 container pesto
•1 container hummus
Meat
•1 pound sliced oven-roasted turkey breast
•1 package bacon, preferably uncured
•1-¼ pounds 80:20 ground beef, for four 5-ounce burgers
•2 pounds flank steak
•1-½ pounds pork tenderloin
•5 pounds chicken breast
•2 small cans or 1 large can light tuna, preferably Solid White Albacore in Water
Dry Packaged Goods
•1 1-pound box pasta, preferably spaghetti
•1 9-count package whole wheat English muffins
•1 loaf whole-grain bread
•1 box rice pilaf
•1 bag corn chips
•4 sub rolls
•1 jar spicy salsa
•1 bag trail mix
•1 small box cereal, preferably one of these
•1 small jar peanut butter
•1 small jar jelly
•1 box protein bars
Condiments
•1 bottle Teriyaki sauce/marinade
•1 small container prepared horseradish
•1 small jar dijon mustard
•1 small bottle Extra-Virgin Olive Oil
•1 small bottle balsamic vinegar
Use This List to Make These Meals:
Breakfast
Yogurt Parfaits with Granola and Berries
When it comes to staying power, almost nothing beats Greek yogurt. Spoon out half a cup, top with chopped strawberries, and sprinkle on some granola. If you're clever, pick up a box like Kashi's Go Lean Crunch!, which can double as a yogurt topping and a bowl of cereal.
Cereal and Milk
When your kids wake up in anticipation to get going before you, it's always a great idea to keep some cereal and milk in the house. Ideally, you should grab a cereal that has fewer than 5 grams of added sugar. That way, you won't suffer from a spike in blood sugar that will come crashing down and cause you to whip up an earlier lunch than you would have liked.
Spinach, Bacon, Tomato and Cheese Omelets
For those end-of-the-week lazy mornings where everyone is completely wiped and not jumping at the opportunity to get to the beach early, treat everyone (including yourself) to these omelets. Saute your bacon, then add spinach and tomato. Pour in 2 beaten eggs per person, and top with cheddar cheese.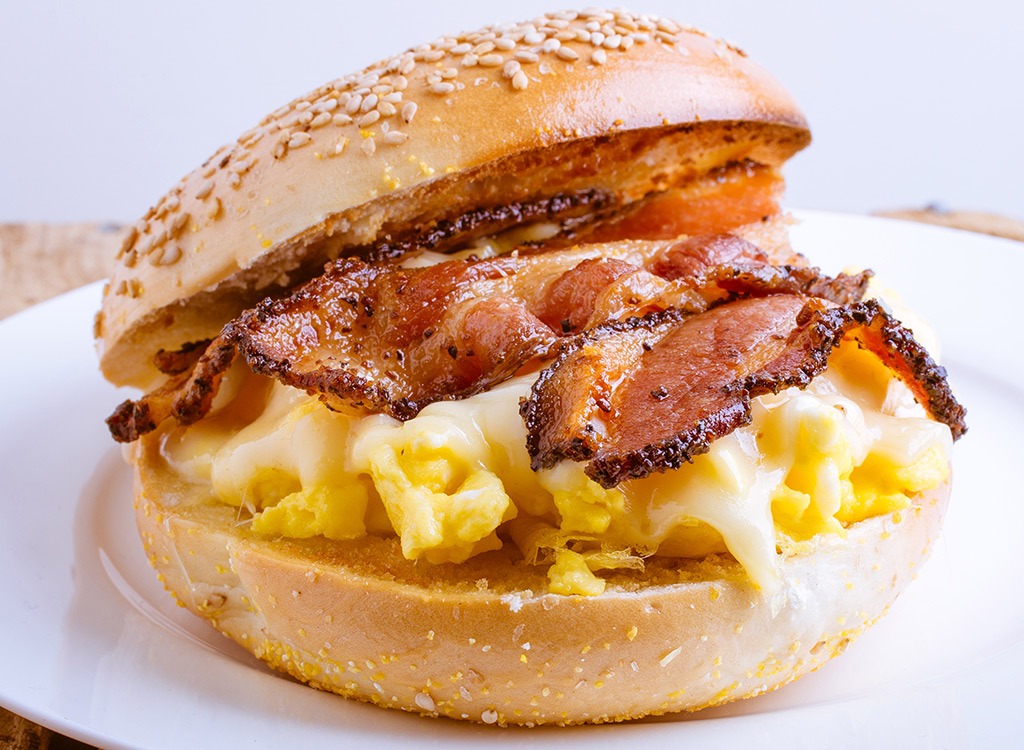 Bacon, Egg, And Cheese Sandwiches on English Muffins
Make your morning special by whipping up these indulgent sandwiches, wrapping them in tin foil, and taking them to the beach or lake for an early-in-the-day picnic.
Lunch
Turkey with Tomatoes, Mozzarella, Pesto, and Balsamic
Grill 'em up as a panini or eat them cold! This sandwich will make it feel as if you stepped into an Italian deli. Smear pesto onto both slices of bread, top one side with slices of mozzarella, the other with ¼ pound of turkey, tomatoes, and then drizzle over some balsamic.
Leftover Chicken BLATS (Bacon, Lettuce, Tomato, & Avocado)
Who needs mayo when you have avocado? Experts say replacing the saturated fats found in mayo with healthy monounsaturated fats from the avocado can help reduce bad cholesterol levels and lower your risk of heart disease and stroke. Toast up some bread, slather on avocado, and then stack on your chicken, sliced tomato, lettuce, and a couple slices of bacon—enjoy!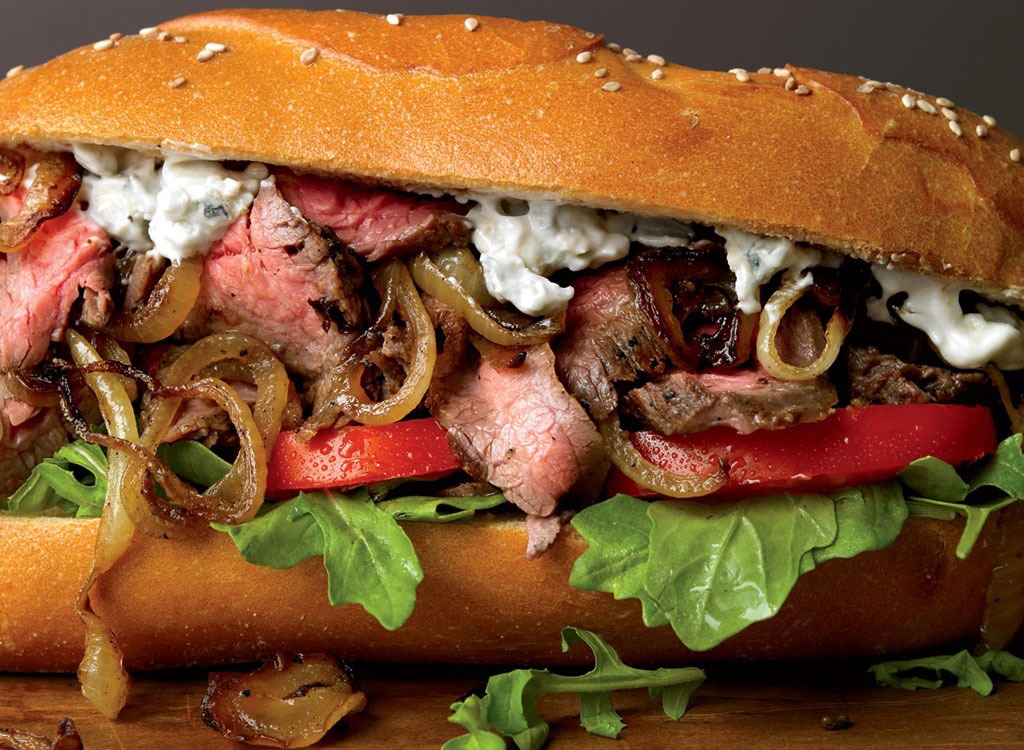 Leftover Steak Sandwich with Caramelized Onions, Spinach, Horseradish Spread
Somehow, steak always tastes just as delicious the next day anyway! Throw it on some baguette rolls with sauteed onions, some spinach, and a horseradish spread made with horseradish, Greek yogurt, dijon mustard, salt, and pepper.
Tuna Melt
One of the foods that melt love handles is a tuna melt! That's because supplementing your diet with the types of omega-3 fats found in tuna has been shown to turn off fat genes. And this fish has the most active kinds, known as DHA. Whip up a tuna salad with some Greek yogurt, tuna fish, mustard, salt, pepper, and chopped celery. Spoon it onto an English muffin, top with a slice of cheese, and place under the broiler.
Snacks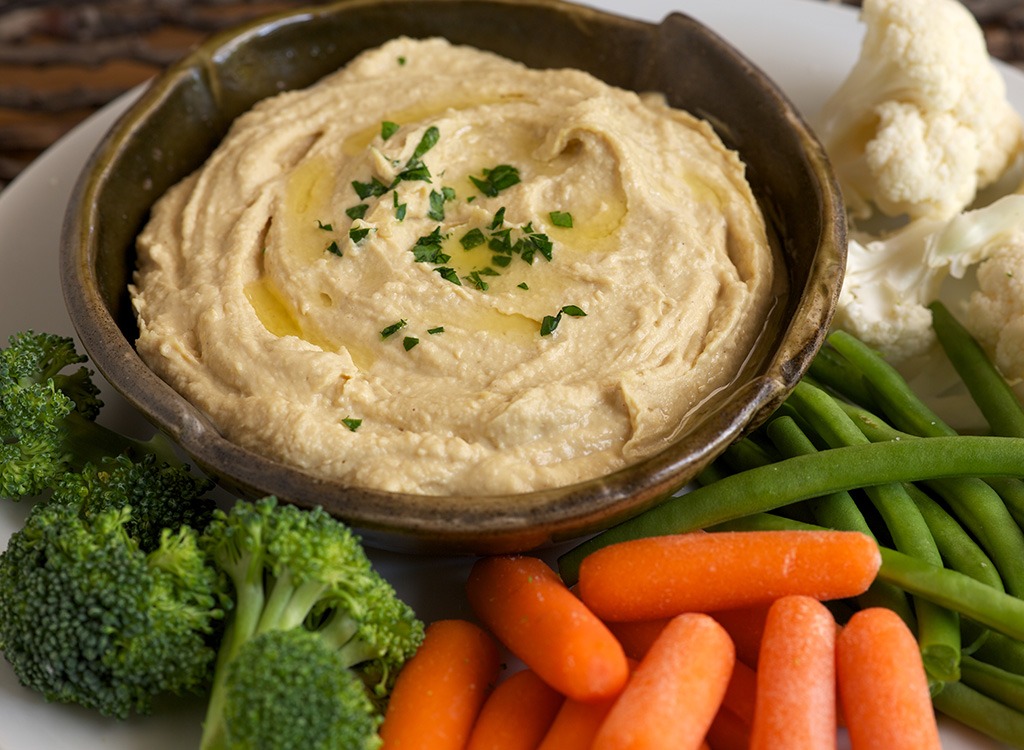 Hummus and Chopped Carrots, Celery, and Red Peppers
This crunchy and creamy pair is the perfect low-calorie, low-carb snack to tide you until your next meal. And thanks to their high water content, carrots and celery are not only two of the most satiating low-cal veggies out there, but they'll also help keep you hydrated after being out in the sun. Pairing them with protein- and fiber-rich hummus rounds out this perfect weight-loss snack by preventing your blood sugar levels from spiking.6254a4d1642c605c54bf1cab17d50f1e
Apples, Bananas, and Peaches
Having fresh fruit lying around—instead of cookies and artificially-flavored chips—is a great way to continue eating healthily. And your whole family can get on board! Plus, fruits are another source of hydration for when it gets hot out on the beach.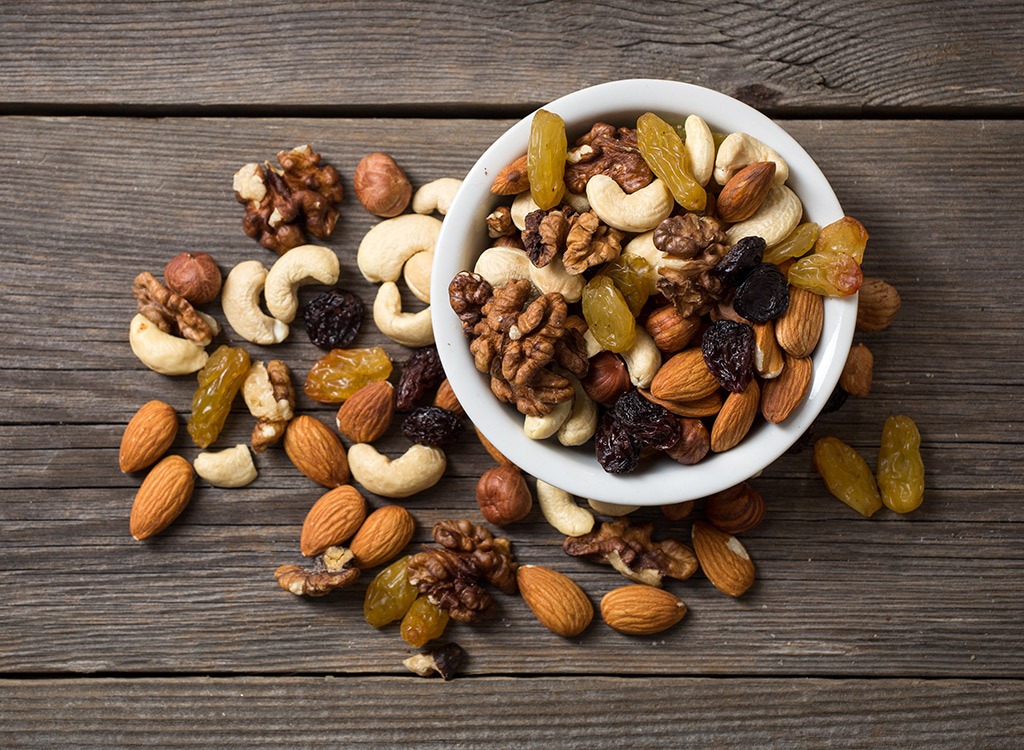 Trail Mix
Grab a mixed trail mix bag of nuts, dried fruit, pretzels, and chocolate to fend off hunger pangs. The salty pretzels will replenish your body with electrolytes so you can stay hydrated while also giving your body a healthy dose of energy-boosting carbs. The fiber-rich dried fruits, fatty chocolate, and high-protein nuts will then serve up slow-digesting fuel to keep you going.
Protein Bar
Days spent playing in the sun inevitably mean drained energy. To keep your spirits high and your mind off your rumbling belly, be sure to pack your bag with low-sugar, low-sodium protein bars. Protein is a powerful nutrient that digests slowly and delivers long-lasting energy so you can enjoy your planned activities—and not waste time fueling up.
Chips and Salsa
Yes, corn chips are healthy chips! And pairing them with super spicy salsa is an Eat This!-approved snack. The spicy salsa can help kick your weight loss into high gear by boosting your metabolism.
Dinner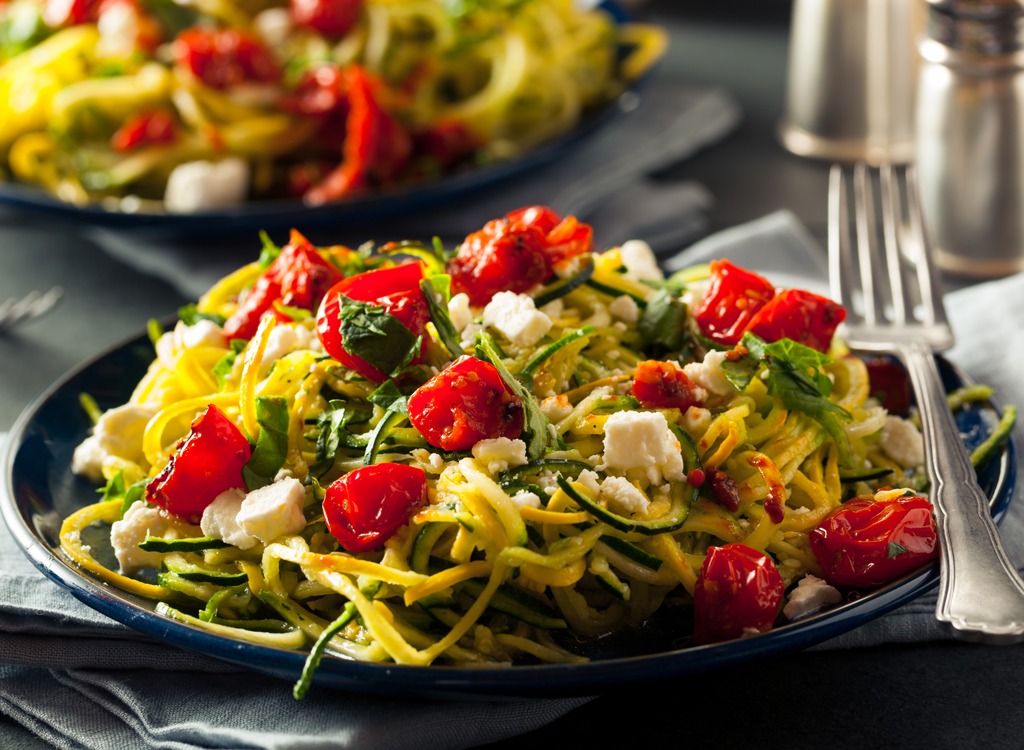 Pesto Pasta with Lemon Chicken and Blistered Tomatoes
Don't let rain on your first night hamper your mood. Sure, you can't fire up the grill tonight, but you can still whip up a summer-centric meal. Marinate the chicken in some olive oil, crushed garlic, dijon mustard, balsamic vinegar, salt, and pepper. Bake in the oven or sear in a pan alongside some cherry tomatoes. Serve over pesto spaghetti with some cubes of mozzarella.
Grilled, Teriyaki-Marinated Flank Steak with Caramelized Onions, Grilled Asparagus, Roasted Red Peppers, and Baked Potatoes
Buying a store-bought marinade cuts your ingredient and prep time down signficiantly—that's why Soy Vay's Veri Veri Teriyaki marinade is a staple in one of our healthy, 5-ingredient dinners. Get started the night before by placing your flank steak in a ziplock baggie and covering it with teriyaki sauce; seal it up and place it in the fridge overnight. The next day, take it out and let it come to room temperature. Meanwhile, lightly drizzle onions, asparagus, and red peppers with garlic-infused olive oil, salt, and pepper, cover the potatoes with foil, and throw everything on the grill!
Chili-Rubbed Grilled Chicken With Spinach, Strawberry, Pecan and Avocado Spinach Salad
A lighter take on BBQ chicken, we like to season our cutlets with a low-calorie chili powder spice mix. This little bit of heat pairs perfectly on top of a spinach salad of sweet strawberries, creamy avocado, and crunchy nuts you can pick from your trail mix bag! We've also had you buy enough for leftovers to throw on some sandwiches the next day for lunch.
Beef Burgers with Grilled Corn
For those perfect days where you "forgot" to get off the beach early enough to start prepping dinner, burgers are your savior. Form 5-ounce patties, fire up the grill, and cook to your preferred temperature. Serve topped with some lettuce, tomato, and onion, and alongside some boiled or grilled corn on the cob.
Teriyaki-Marinated Pork Tenderloin with Rice Pilaf and Garlic Broccoli
Making this pork is super simple: Just throw some teriyaki marinade in a plastic bag with the pork tenderloin and let sit in the fridge for an hour. After, as you let it come to room temperature, throw a box of rice pilaf on the stove, chop up some cloves of garlic, and saute up your broccoli. Grill the pork on all sides until it reaches an internal temperature of 165.
Olivia Tarantino
Olivia Tarantino is the Managing Editor of Eat This, Not That!, specializing in nutrition, health, and food product coverage.
Read more about Olivia