10 Best Healthy Cereal Brands for Weight Loss
Wake up to a bowl of healthy cereal that packs in essential nutrients rather than loads of sugar.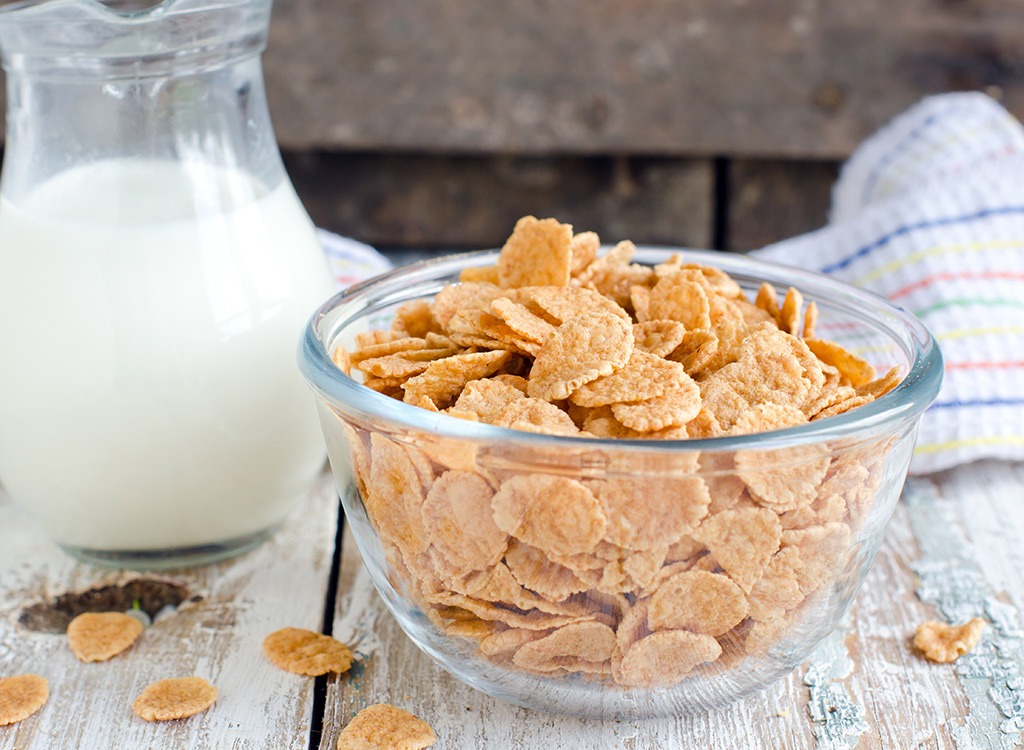 Despite reports of the breakfast staple's declining popularity, cold cereal is still the most popular breakfast in America over eggs and yogurt, according to global information and measurement company, Nielsen. And it's easy to see why. Cereal is easy to prepare and it's relatively inexpensive compared to other a.m. favorites like yogurt parfaits and coffee-shop egg sandwiches. Not to mention, those delicious, colorful flakes and are downright delicious. But when you're trying to lose weight, picking a healthy cereal over a box Count Chocula could make all the difference.
For every healthy pick on the supermarket shelf, it seems there are dozens of diet-derailing options (often slapped with misleading weight-loss claims) that are overflowing with health-harming sugar and void of any nutritional value. However, if you know what to look for, you can munch your way to a fitter, trimmer you. While the cereal boxes below don't have a cute cartoon character on the front or a prize at the bottom, they will fuel your day right and help you reach your better-body goals in no time!
To start your day on the right foot, you have to choose the right bowl. These 10 healthy cereal options are the way to go.
Kashi Go Cinnamon Crisp
3/4 cup
: 180 calories, 4 g fat (0.5 g saturated fat), 125 mg sodium, 32 g carbs (9 g fiber, 9 g sugar), 11 g protein
Nine grams of heart-healthy, belly-filling fiber goes a long way toward making up for your lack of fiber in your daily diet. Most Americans are only reaching 15 grams of fiber whereas you should be eating upwards of 28 grams of fiber per day. This healthy cereal not only tastes delicious with milk but also makes a sweet, crunchy addition to plain Greek yogurt.
Barbara's Morning Oat Crunch Cereal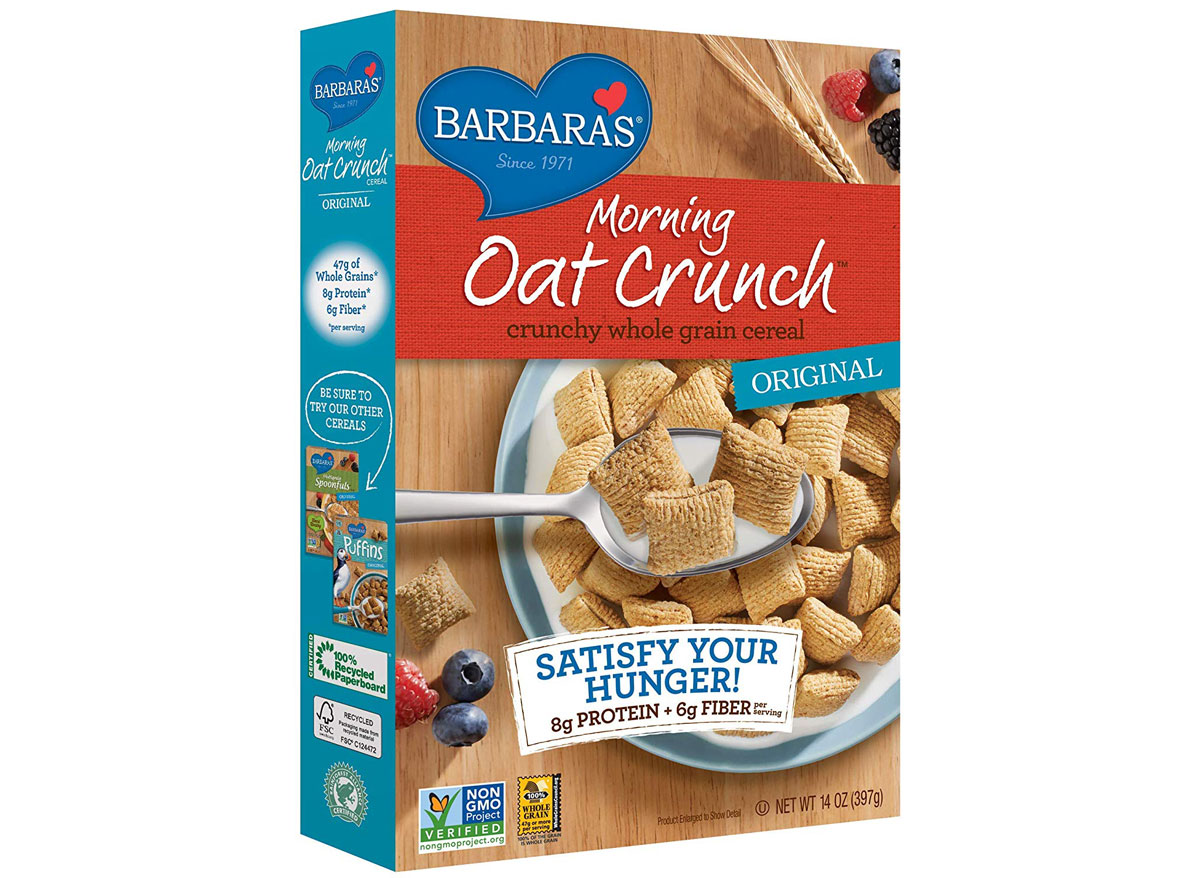 1-1/4 cup
: 210 calories, 2.5 g fat (0.5 g saturated fat), 230 mg sodium, 45 g carbs (6 g fiber, 10 g sugar), 8 g protein
Sure they may not go "snap, crackle, pop" but this 100 percent whole-grain, healthy cereal is a more nutritious choice than the brand you're likely thinking of. This lower-sugar cereal carries a slightly nutty flavor and pairs well with both strawberries and raspberries. These fruits provide an additional hunger-busting dose of fiber, ensuring you'll stay satiated until lunch.6254a4d1642c605c54bf1cab17d50f1e
Kellogg's Special K Red Berries
1-1/4 cup
: 140 calories, 0.5 g fat (0 g saturated fat), 250 mg sodium, 34 g carbs (3 g fiber, 11 g sugar), 3 g protein
This cereal employs wheat bran to up its fiber count and freeze-dried strawberries for some natural sweetness. While the flakes obviously pair well with milk and spoon, they also make for an iron- and vitamin C-rich base for a sweet and salty trail mix. Just add pretzel sticks, almonds, and walnuts.
Post Shredded Wheat Spoon Size Wheat 'n Bran
1-1/3 cup
: 210 calories, 1.5 g fat (0 g saturated fat), 0 mg sodium, 49 g carbs (8 g fiber, 0 g sugar), 7 g protein
This healthy cereal is made with just whole-grain wheat and wheat bran—a pure base crying out for fresh blueberries or bananas. In addition to serving up a decent share of hunger-quelling protein and fiber in every bowl, Wheat 'n Bran also provides 20 percent of the day's phosphorus, a mineral that plays an important role in how the body uses carbs and fats. It also helps the body make protein. Don't forget: The more protein you've got, the more calories you burn at rest, so this is a great added bonus to your morning cereal bowl!
Ezekiel 4:9 Cinnamon Raisin Whole Grain Cereal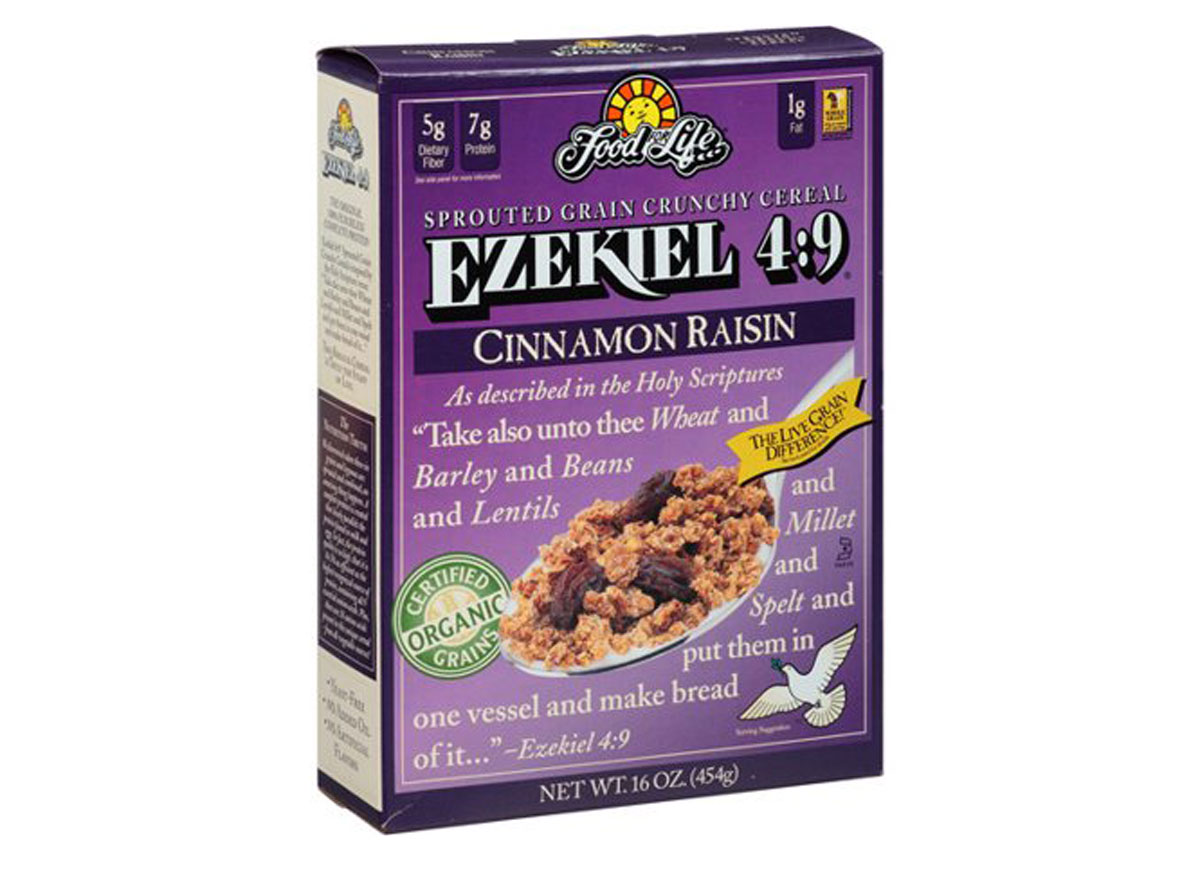 1/2 cup
: 190 calories, 1 g fat (0 g saturated fat), 160 mg sodium, 41 g carbs (5 g fiber, 8 g sugar), 7 g protein
Post and Total varieties of Raisin Bran carry between 17 and 19 grams of the sweet stuff. Ezekiel 4:9 Raisin Bran has less than half that amount, making it the clear winner in the category. The only downside is that these flakes aren't fortified with the same alphabet of vitamins typically found in cereal boxes—but that's no reason to pass them up. Just be sure to compensate by taking in an array of nutrients throughout the day.
Nature's Path Organic Whole O's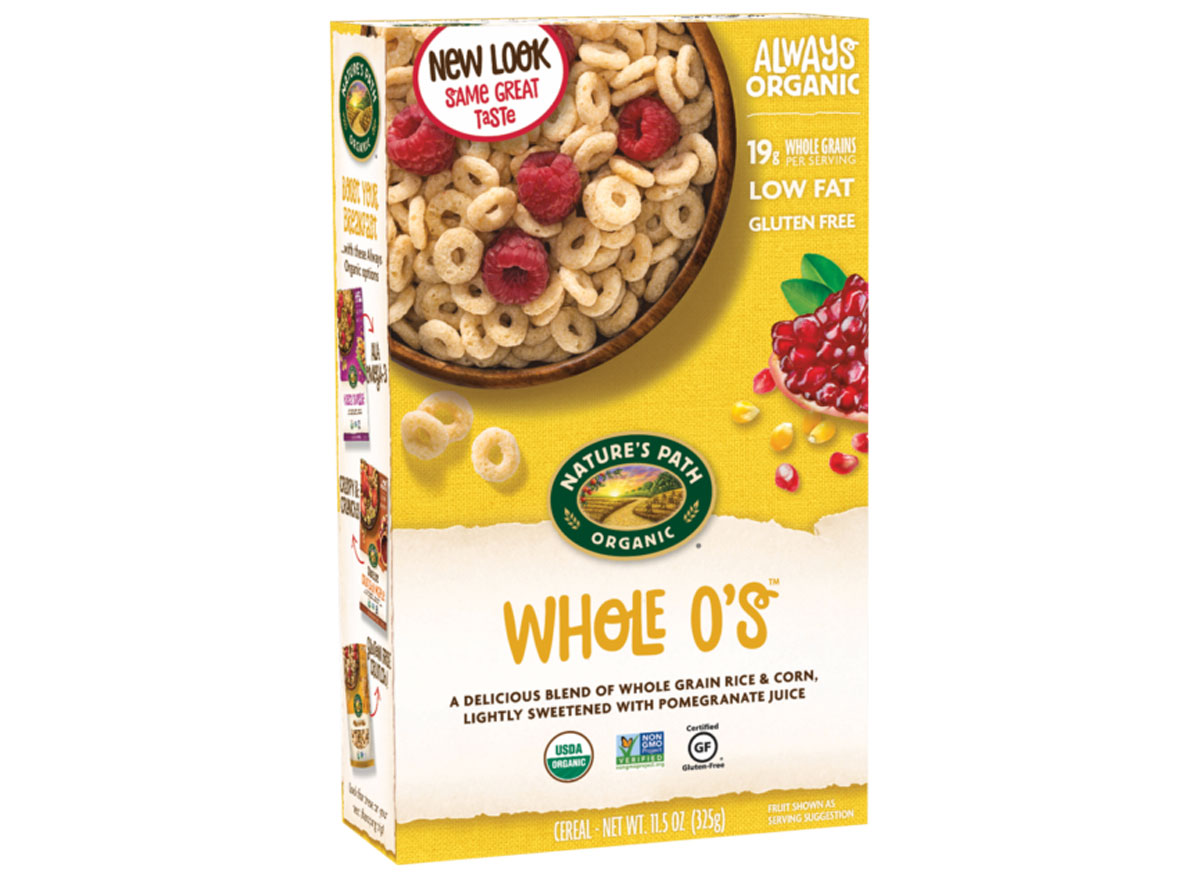 1 cup
: 160 calories, 2 g fat (0 g saturated fat), 150 mg sodium, 33 g carbs (4 g fiber, 5 g sugar), 4 g protein
Cereals rich in fiber and whole grains reduce the risk of disease and early death, say Harvard School of Public Health researchers. Lucky for you, these O's are made with fiber-rich whole grains like brown rice and corn.
Cascadian Buzz Crunch Cereal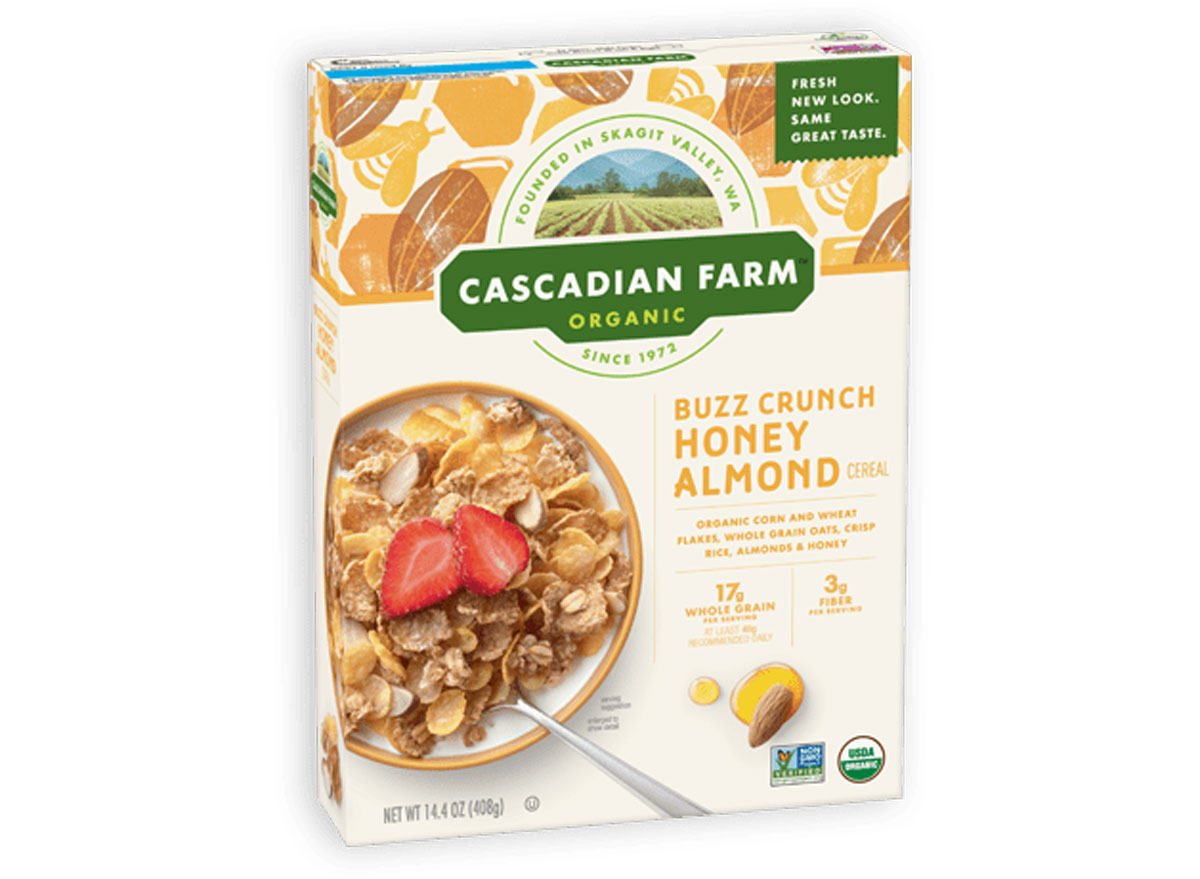 1 cup
: 210 calories, 2.5 g fat (0 g saturated fat), 190 mg sodium, 44 g carbs (3 g fiber, 9 g sugar), 4 g protein
This organic healthy cereal contains 12 fewer grams of sugar than the same size serving of Honey Bunches of Oats. Plus, it's made with whole grain wheat, corn, and oats.
General Mills Wheaties
3/4 cup
: 110 calories, 0.5 g fat (0 g saturated fat), 180 mg sodium, 23 g carbs (3 g fiber, 4 g sugar), 2 g protein
Low in calories and sugar, high in gut-filling fiber and loaded with 45 percent of the day's muscle-building iron, Wheaties really is the breakfast of champions. Although it isn't particularly flavorful, it does make a good base for nutritious add-ins like berries and nuts.
General Mills Fiber One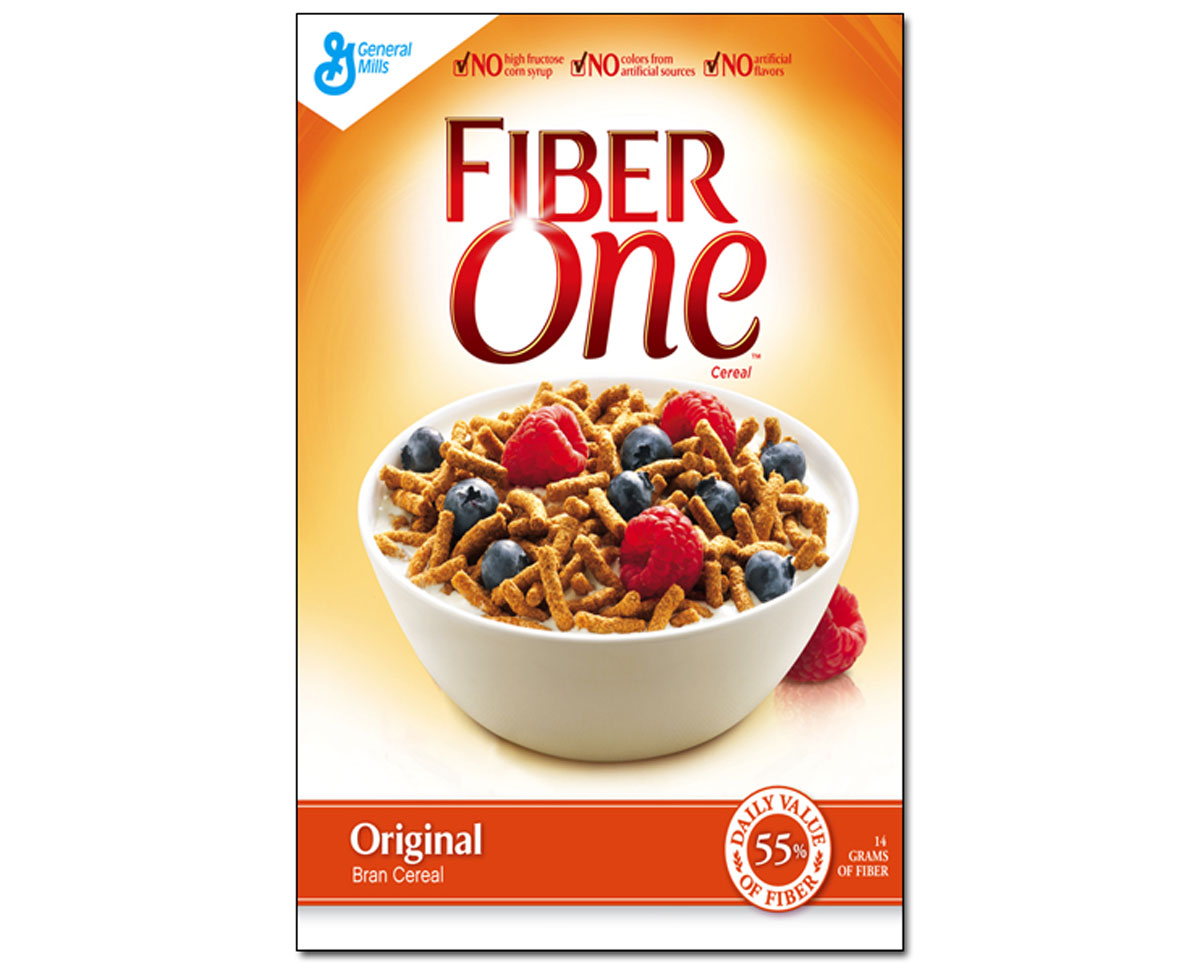 1/2 cup
: 60 calories, 1 g fat (0 g saturated fat), 110 mg sodium, 25 g carbs (14 g fiber, 0 g sugar), 2 g protein
If you used to avoid this super fiber-filled cereal because of its inclusion of aspartame, we've got some good news! General Mills recently gave the controversial ingredient the ax. So go ahead and sprinkle this healthy cereal over Greek yogurt instead of granola for a fiber- and protein-filled start to the day.
General Mills Kix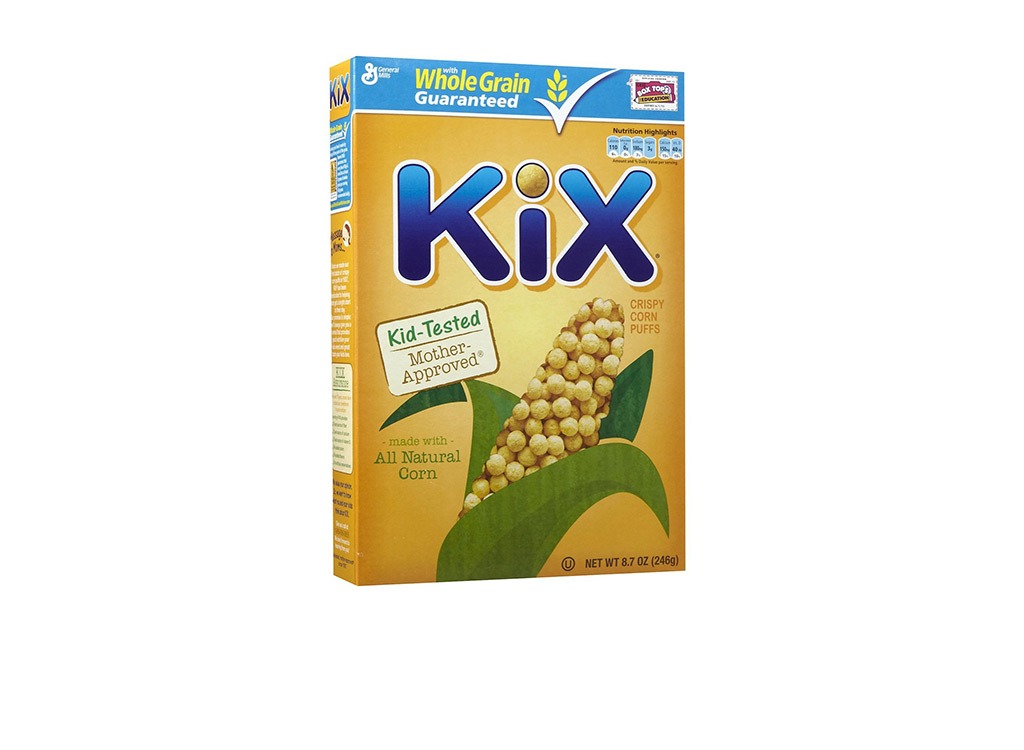 1-1/4 cup
: 110 calories, 1 g fat (0 g saturated fat), 180 mg sodium, 25 g carbs (3 g fiber, 3 g sugar), 2 g protein
Kid-tested, nutritionist-approved, this childhood fave is one low-sugar kids' cereal we can actually get behind. Give it a grown-up spin by adding blueberries to your crispy corn puff-filled bowl. Not only is the duo delicious, but the fruit also lends some disease-fighting antioxidants and additional fiber. This healthy cereal is a win-win!
Eat This, Not That!
Inspired by The New York Times best-selling book series, Eat This, Not That! is a brand that's comprised of an award-winning team of journalists and board-certified experts, doctors, nutritionists, chefs, personal trainers, and dietitians who work together to bring you accurate, timely, informative, and actionable content on food, nutrition, dieting, weight loss, health, wellness, and more.
Read more about Eat This