14 Romantic Dinner Recipes for a Valentine's Day at Home
Swipe right on spending the holiday in your own kitchen.
There are plenty of reasons to stay in for a romantic dinner on Valentine's Day. You can avoid limiting prix fixe menus, too-close-for-comfort table neighbors, and use cooking as a fun team activity—not to mention the advantage of being just steps away from the couch should things take a turn.
But not just any recipe will do on a night that's so laden with implications, which is why we're here to wingman you with 14 cupid-approved Valentine's Day recipes. Start the night with restaurant-worthy coconut shrimp, heat things up with spicy Thai chicken, then sweeten the deal with a sparkling cocktail—and don't forget to have breakfast on hand for the morning after.
Whether you're a pair of newlyweds celebrating your first February 14 of marital life, or you're testing the waters with a new boo, these romantic Valentine's day dinner recipes will set you up for sweet success.
Grilled Strawberry Shortcake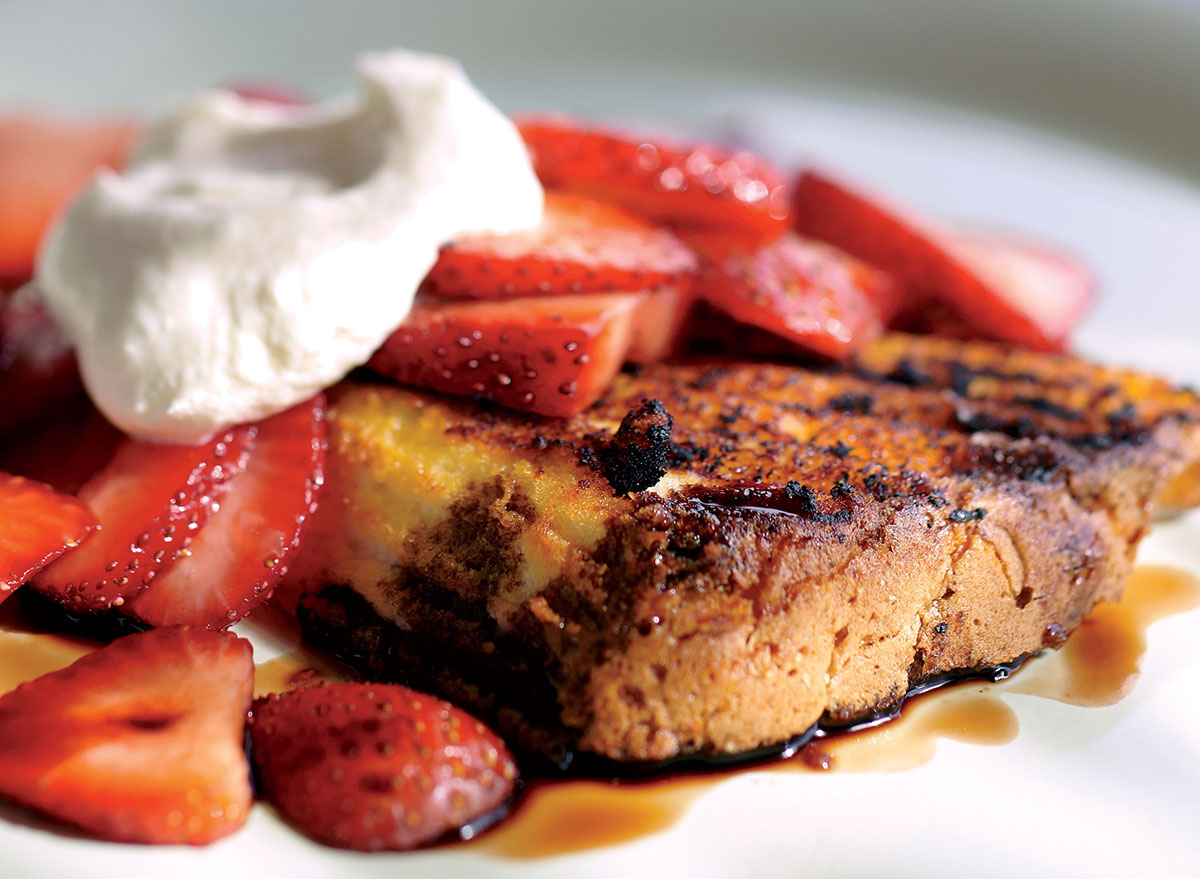 What they'll expect: chocolate-covered strawberries. What they'll get: an Angel food cake–based treat that balances the berries' sweetness with black pepper and balsamic glaze. Don't worry if you don't have a grill (or that it's the middle of February), as our recipe is just as easily made in a pan on the stovetop.
Get our recipe for Grilled Strawberry Shortcake.
Crispy Coconut Shrimp
It may be winter outside, but inside is a tropical oasis of Panko-coated baked coconut shrimp. Treat your Valentine to this perennial favorite app from the comfort of your own home, without having to deep fry the crustaceans to oblivion.
Get our recipe for Crispy Coconut Shrimp.
Chocolate Cherry Bread Pudding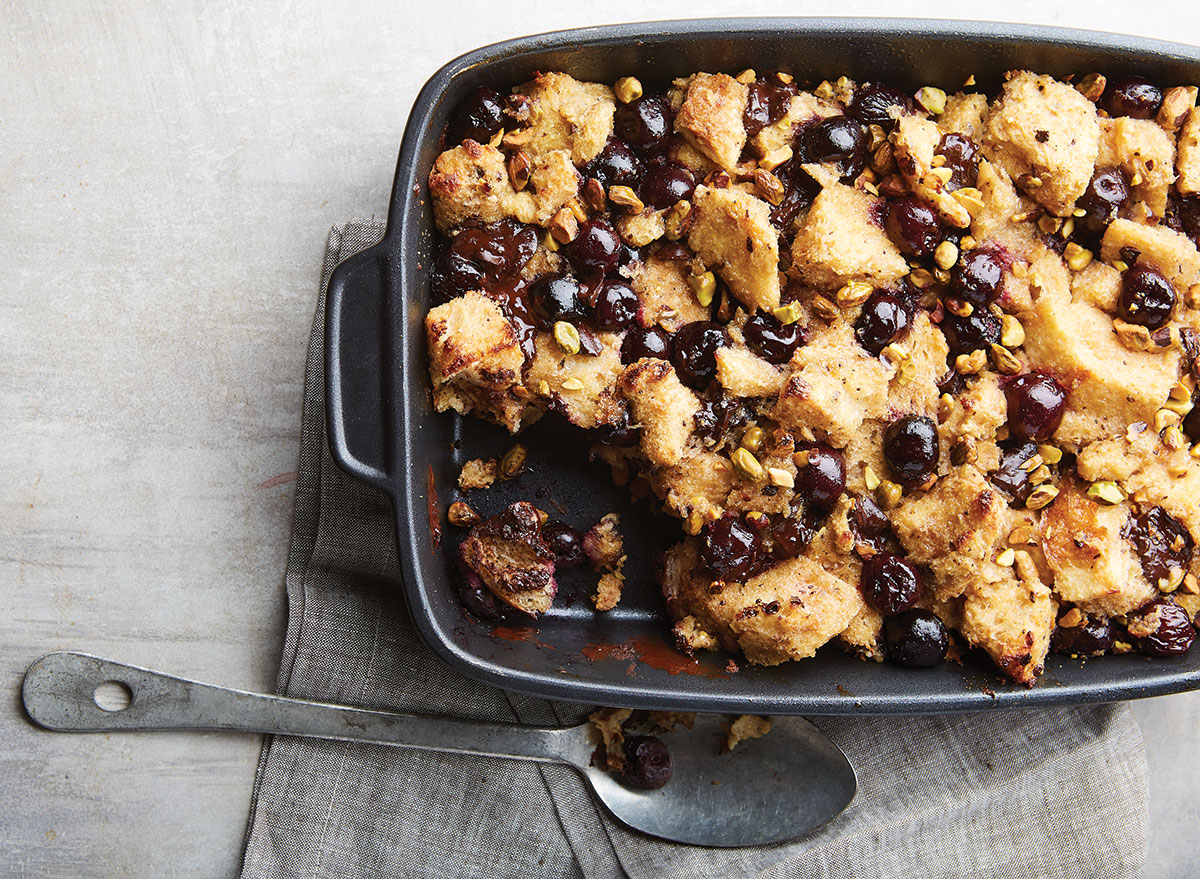 Instead of the typical heart-shaped box of chocolates, make this the year you gift a comforting, flavorful dessert that's packed with cherries, semisweet chocolate chunks, and pistachios. It's also a great way to use up a past-its-peak loaf of bread, but you can keep that added bonus to yourself.
Get our recipe for Chocolate Cherry Bread Pudding.
Spicy Thai Chicken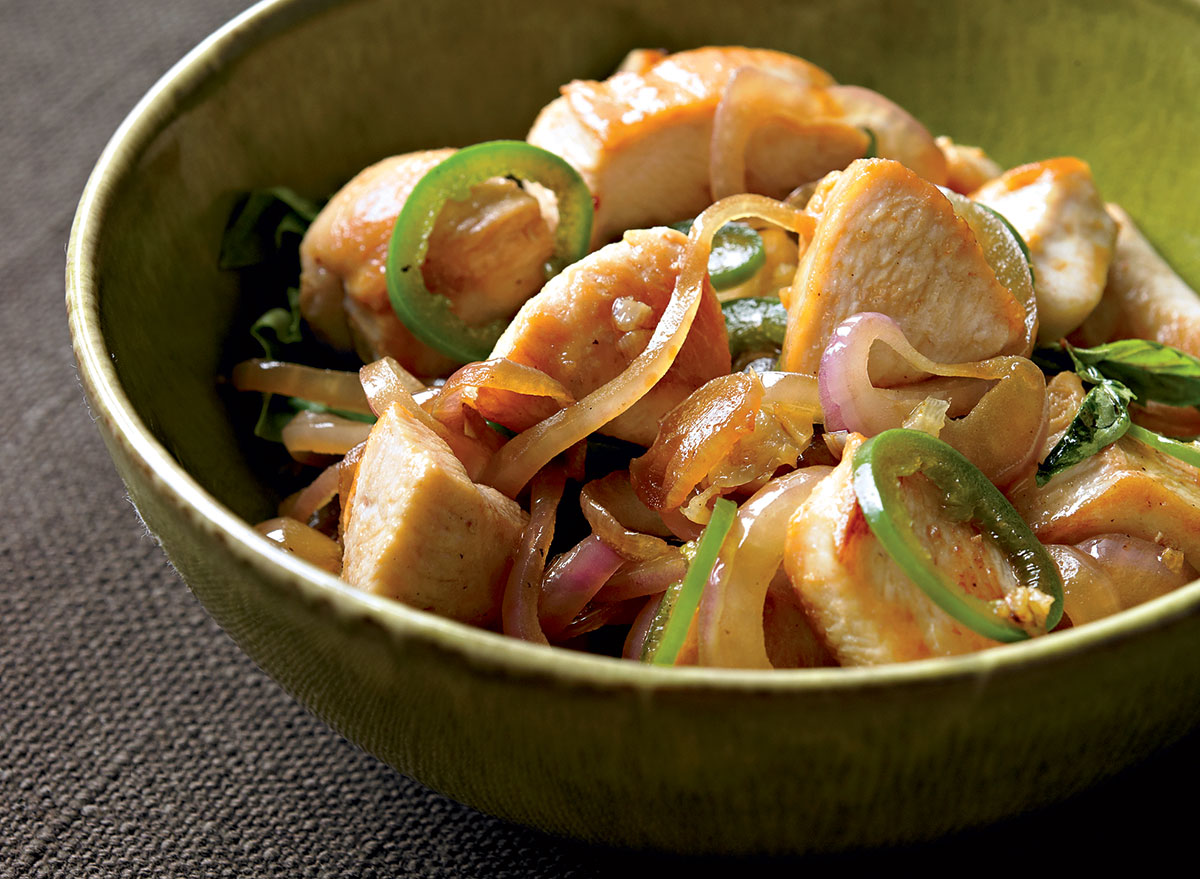 For the bold ones out there having a first date on Valentine's Day (and at home, no less!), break out the spicy jalapeño peppers for a fireball of a dish that shows you're not afraid to pack on the heat.
Get our recipe for Spicy Thai Chicken.
Salmon-Quinoa Pilaf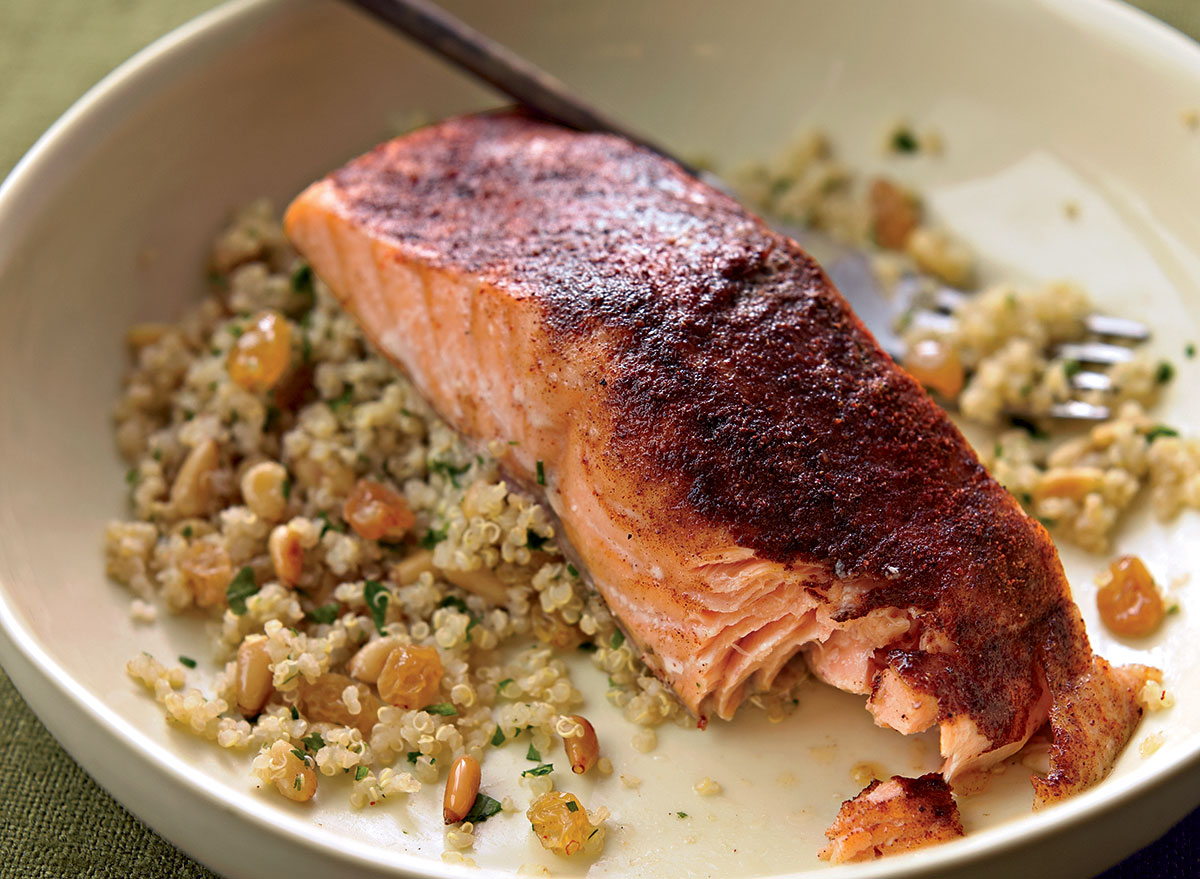 Show off your cooking skills with this well-rounded main course. Salmon is filled with heart-healthy omega-3s, and is the perfect match for quinoa that's been dressed up with golden raisins, parsley, and pine nuts. The best part? Not an onion in sight, making it a Valentine's Day recipe for the books.
Get our recipe for Salmon-Quinoa Pilaf.
Vanilla-Bourbon French Toast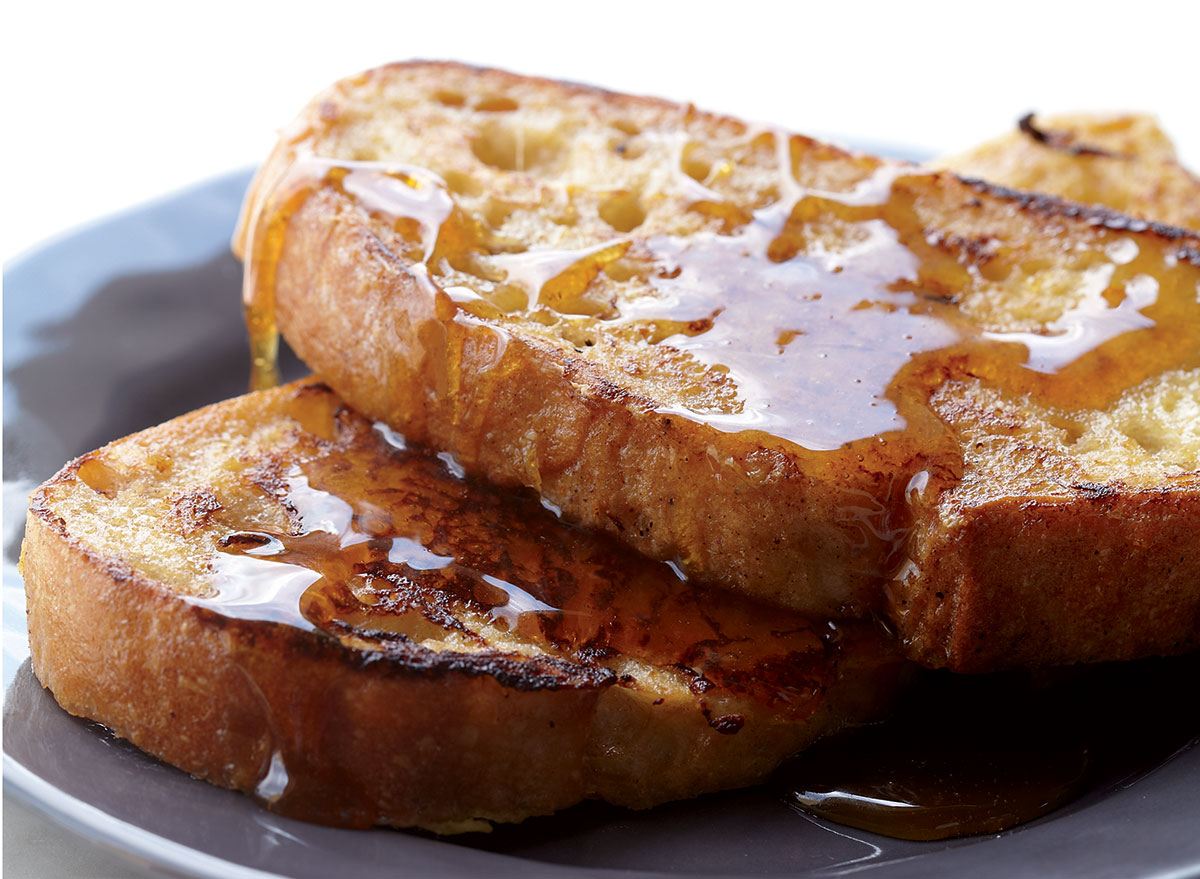 We're fairly confident that breakfast for dinner is the key to at least 98% of the hearts out there. Our take on French toast goes light on the sugar, getting its flavor instead from vanilla extract and a hearty glug of bourbon. Plus, if the night goes really well, any leftovers mean you'll be all set for breakfast in the morning.
Get our recipe for Vanilla-Bourbon French Toast.
Slow Cooker Pumpkin Chicken Chili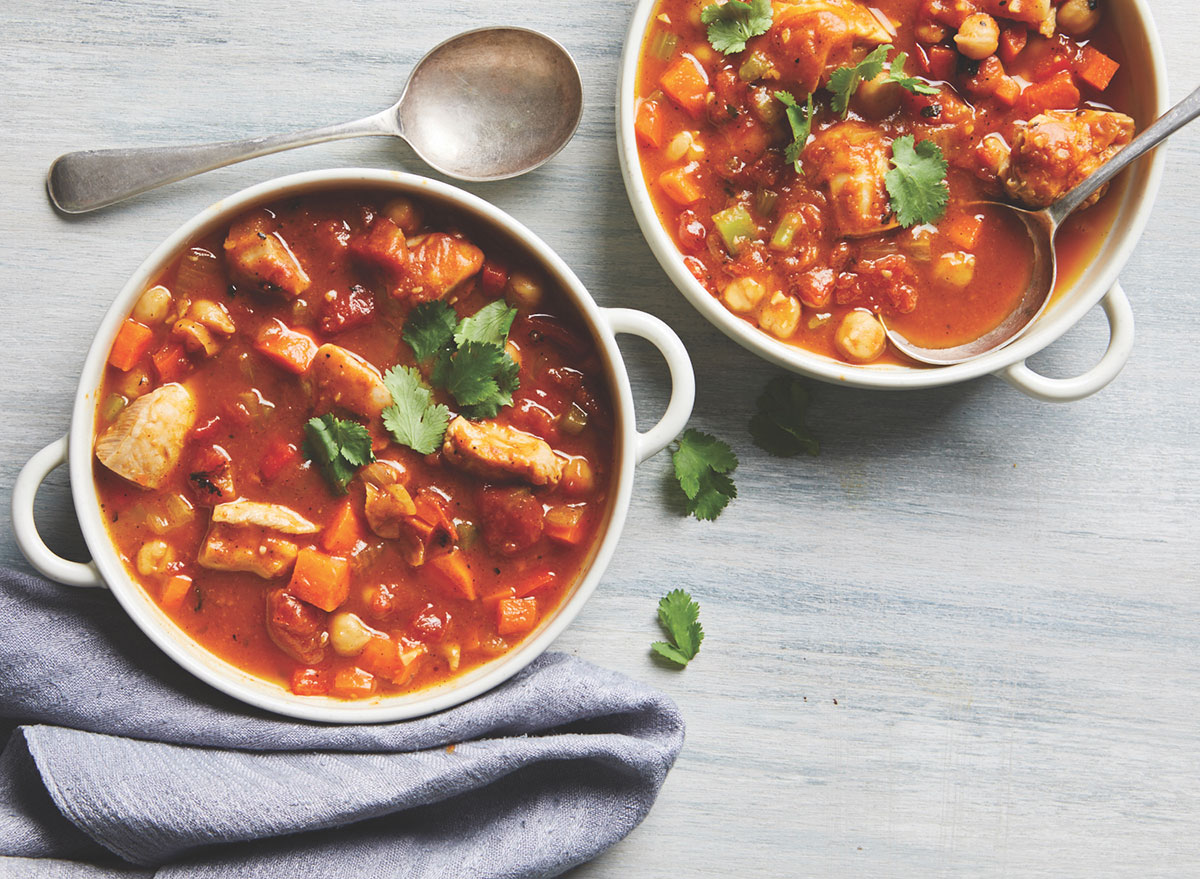 Invite your crush over to Netflix and chili—but don't spend all day preparing for it. Our recipe comes together in your slow cooker, so you can spend your time picking out rom coms and whipping up dessert while your house fills with the enticing scents of pumpkin, garlic, and chili powder.
Get our recipe for Slow Cooker Pumpkin Chicken Chili.
Molten Chocolate Cake
Molten lava cake is the ultimate Valentine's day dinner recipe, but this one is both easier than you'd think and more delicious than anything you'd find in a restaurant. When your S.O. asks for the secret ingredient, give them a wink and tell them it's love (although, really, it's a dash of instant coffee).
Get our recipe for Molten Chocolate Cake.
Arugula and Grapefruit Salad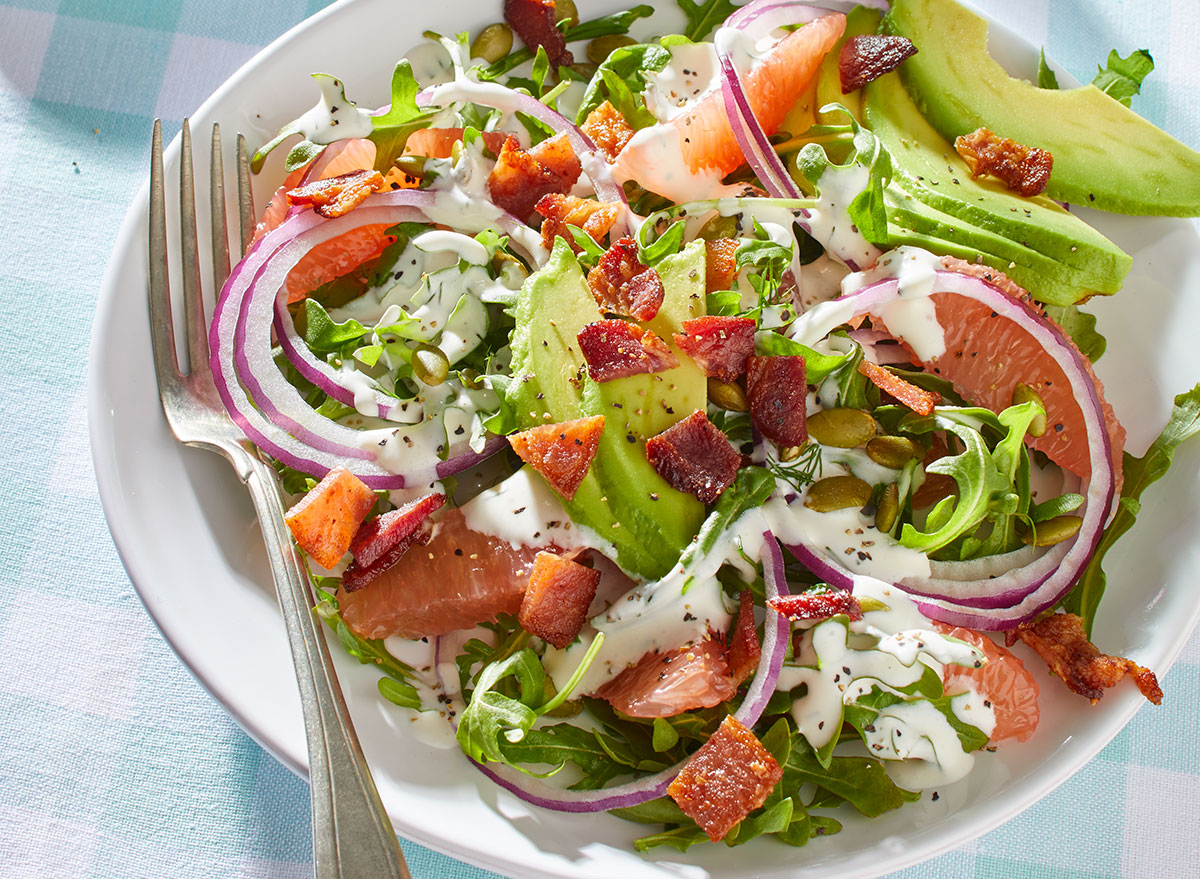 You definitely need a good starter in your arsenal of Valentine's day dinner recipes. We love this refreshingly tangy combination of arugula and grapefruit for the occasion. Finish it with a creamy ranch dressing that's packed with fresh dill, zingy lemon juice, and minced garlic. Pro tip: Add avocado and bacon for bonus points (and feel free to leave out the onions).6254a4d1642c605c54bf1cab17d50f1e
Get our recipe for Arugula and Grapefruit Salad.
Roast Chicken with Green Beans
Nothing says "I love you" like roasting someone a chicken. Our version of the perfect-for-two classic gets a savory rub made of olive oil, sage, paprika, and fennel, ensuring a crispy crust that's sure to make your date smile—and that's before they've even hit the bacon-specked green beans.
Get our recipe for Roast Chicken with Green Beans.
Pomegranate Moscow Mule
Pomegranate is an antioxidant-rich fruit whose status as an aphrodisiac dates back to ancient Greece. It's even more enticing when paired with vodka, ginger beer, and spicy jalapeño slices, so the two of you can get your drink on without facing a crowded bar full of strangers.
We like this Pomegranate Moscow Mule recipe from Half Baked Harvest.
Grilled Oysters
Oysters are crucial for a shucking good romantic dinner. They're another reputed aphrodisiac, and when given a treatment of chipotle-tarragon butter and verdant gremolata, will trick anyone into thinking you're a culinary school grad.
We like this Grilled Oysters recipe from Savory Simple.
Peach Crisp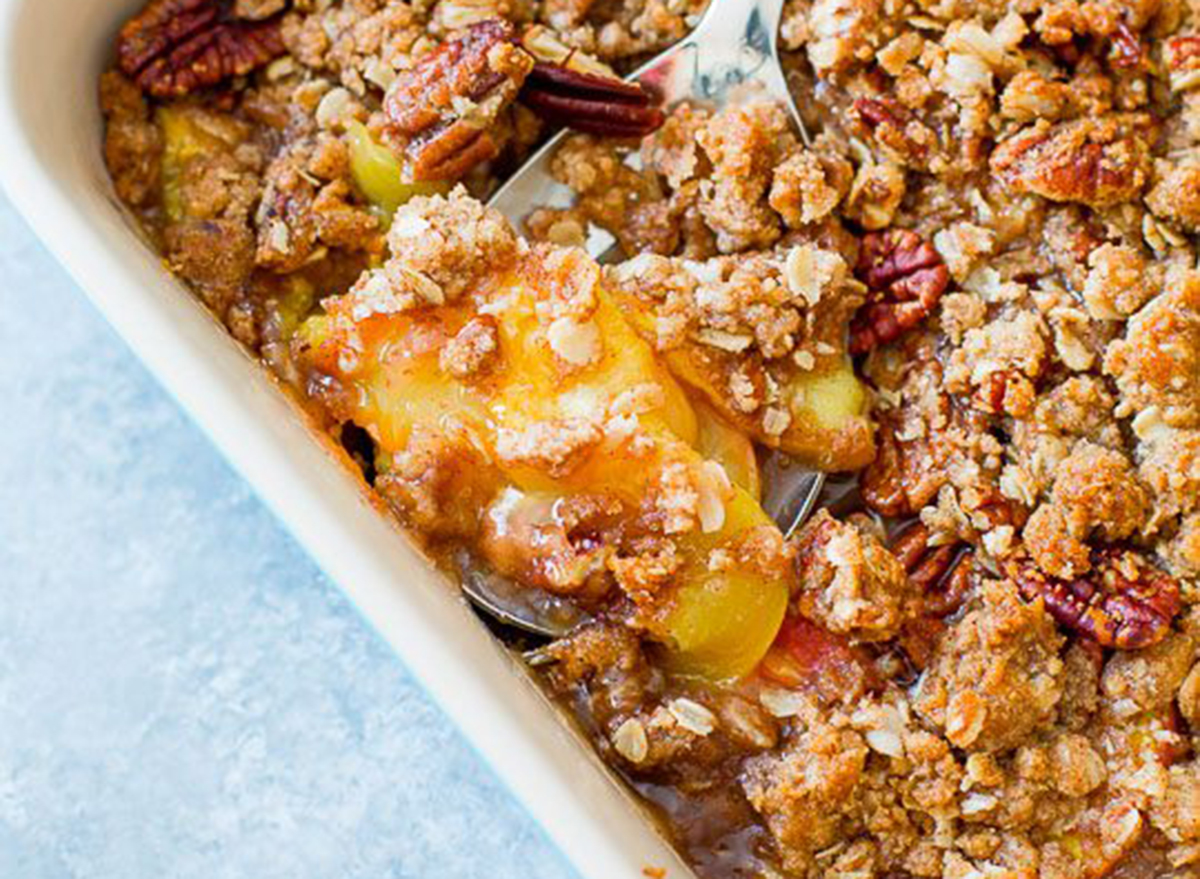 Bring the peach emoji to life with this simple yet satisfying dessert. While you might be used to eating peaches in summer, frozen slices will easily do the trick for this time of year. We especially like the cinnamon streusel topping that features pecans for extra crunch and Southern-inspired flair.
We like this Peach Crisp recipe from Sally's Baking Addiction.
Watermelon Mimosas
Take a cue from Beyoncé and get drunk in love with a watermelon-infused cocktail. Because mimosas don't have to be put in a brunch-shaped box, and you can't wrap up a Valentine's Day dinner without a touch of bubbly.
We like this Watermelon Mimosa recipe from Cookie + Kate.
Abby Reisner
Abby is a food writer, editor, cook, and digital strategist living in Brooklyn.
Read more about Abby