A Crispy Coconut Shrimp Recipe That Isn't Fried
It's better than anything you can order from a takeout menu.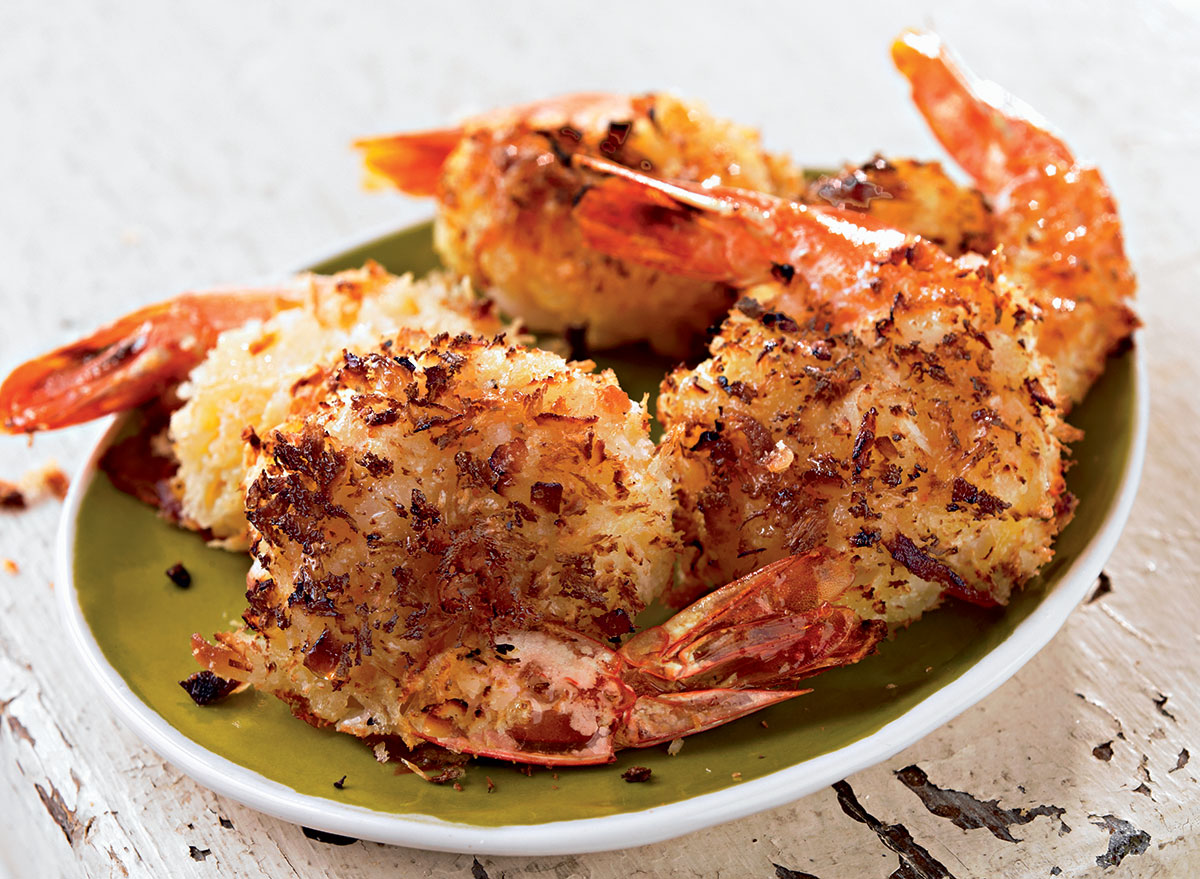 Few foods satisfy our more guilty pleasure cravings without simultaneously packing on an abundance of calories in a single bite. Yet, shrimp in and of itself may be among the world's leanest sources of protein. Most of the time when we see the word "shrimp" on a given takeout menu though, it is filled, covered, fried, or breaded with ingredients that certainly fatten it up. When anything is entombed in a deep-fried coconut cocoon, all bets for a lean meal are off. In our coconut shrimp recipe, we free you (and the crustaceans) from the fry job, but not from the crunchy coconut coating that makes this dish a mainstay on so many American restaurant menus.
Naturally, coconut shrimp works great as an appetizer, but with sides of cumin-spiked black beans and roasted asparagus, these crunchy crustaceans also make for a pretty sound meal. You're making your own takeout version right at home, so you can control the amount of calories and fat you load into your body, while simultaneously fulfilling your cravings and satisfying your tastebuds. We suggest doubling up the coconut shrimp recipe and keeping leftovers on hand in the fridge so you can pop them in the microwave on nights you would otherwise call your local delivery place.
Nutrition: 200 calories, 6 g fat (4 g saturated), 690 mg sodium6254a4d1642c605c54bf1cab17d50f1e
Serves 4
You'll Need
1 cup panko bread crumbs
1⁄2 cup shredded sweetened coconut
1 tsp salt
1⁄2  tsp black pepper
1⁄2  cup flour
2 eggs, beaten
12 oz large shrimp, peeled and deveined
Sweet Asian chili sauce for dipping
How to Make It
Preheat the oven to 450°F.
Combine the panko, coconut, salt, and pepper on a plate.
Place the flour on a separate plate and the egg in a shallow bowl.
Working with a few at a time, coat the shrimp with flour, then egg, then finally with the bread crumb mixture, rolling the shrimp around so they are fully covered.
Place the breaded shrimp on a nonstick baking sheet and bake for 10 minutes, until the shrimp are firm and cooked through and the coating is nicely browned and crispy.
Serve with chili sauce for dipping.