30 Forgotten Thanksgiving Foods No One Serves Anymore
These retro recipes could send you back to your childhood or help you create new traditions.
With Thanksgiving around the corner, you've probably begun planning your menu, even if you're only serving your housemates. Still, you may be a bit apprehensive about pulling out the same recipes as last year. If you need to spice up your Thanksgiving menu, but don't have the time to experiment with brand new dishes, why not break out some vintage recipes that your parents and grandparents grew up with?
While this idea might be exciting, digging up old recipes from hand-me-down cookbooks can take a huge amount of time. Between juggling getting ready for the holiday and your everyday tasks, it might not seem like it would be worth the effort. Luckily, we've rounded up a collection of 30 vintage recipes that will enliven your holiday spread and make you remember Thanksgiving dinners past.
And for more throwbacks, don't miss these 15 Classic American Desserts That Deserve a Comeback.
Orange Creamsicle Jello Mold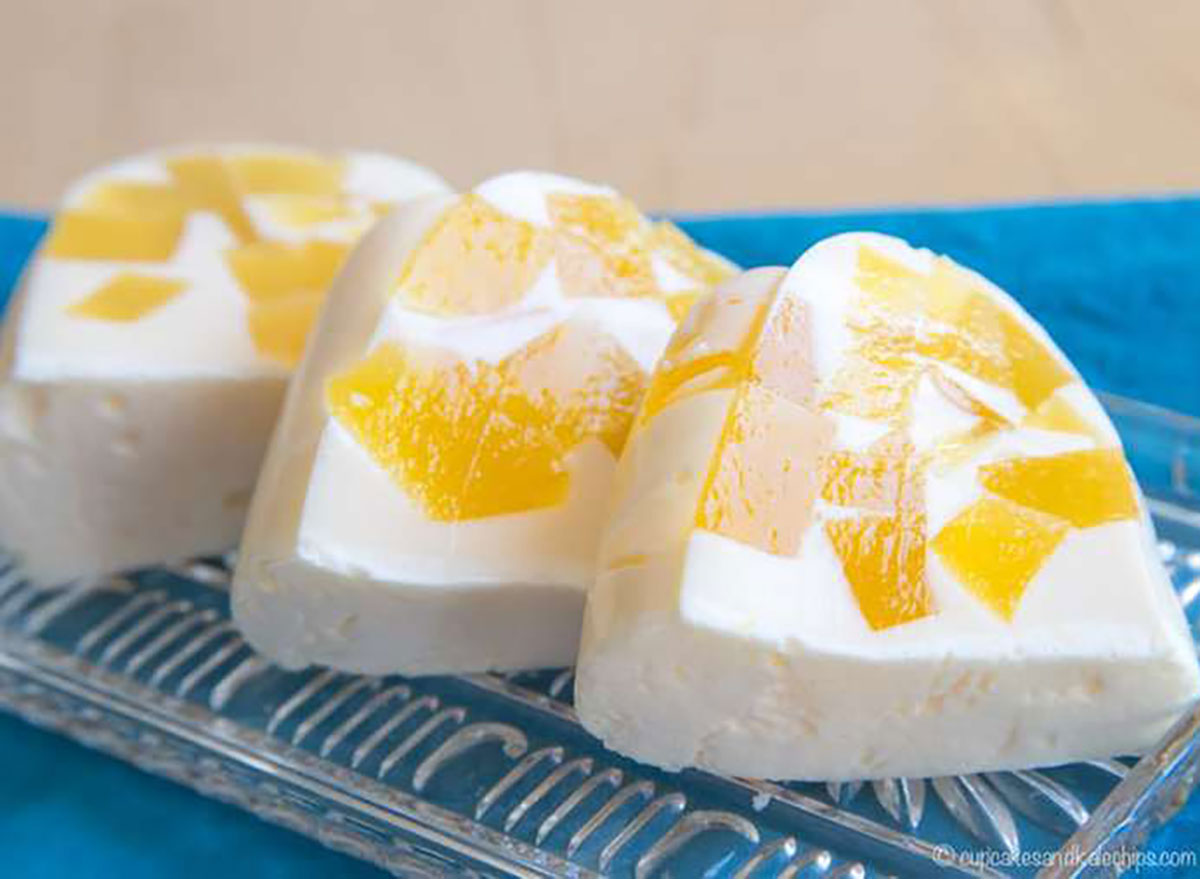 Despite gelatin molds falling out of popularity decades ago, their visual impact is still stunning. After all, they became synonymous with the holiday season because of how interesting they look. This modern take on a classic gelatin mold will make you rethink their dusty image and bring back a forgotten charm to your Thanksgiving get-together this year.
Get the recipe from Cupcakes and Kale Chips. 
Turkey Stuffing, Swedish Style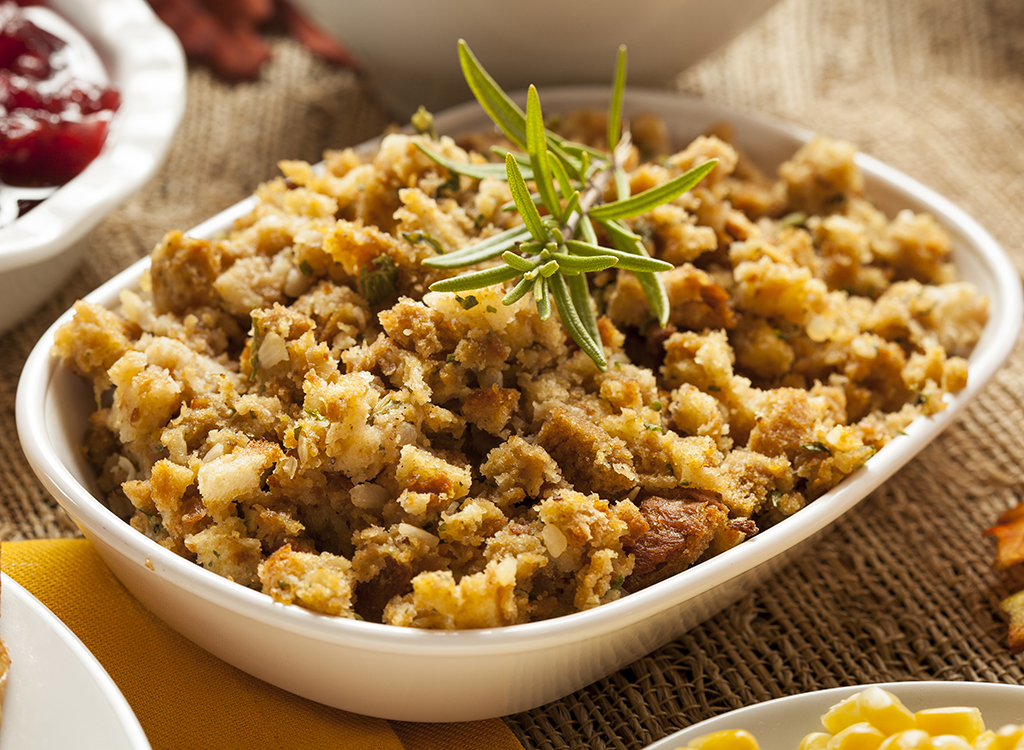 You have probably eaten a wide variety of stuffings in your life, but it is unlikely you tried one of the original variants. This classic, bare-bones recipe for stuffing dates back to the early 20th century and stands as the basis of all future stuffings and dressings to come. With a stripped-down ingredient list, you can add a historical touch to your Thanksgiving menu.
Get the Boston Cooking School recipe here. 
Succotash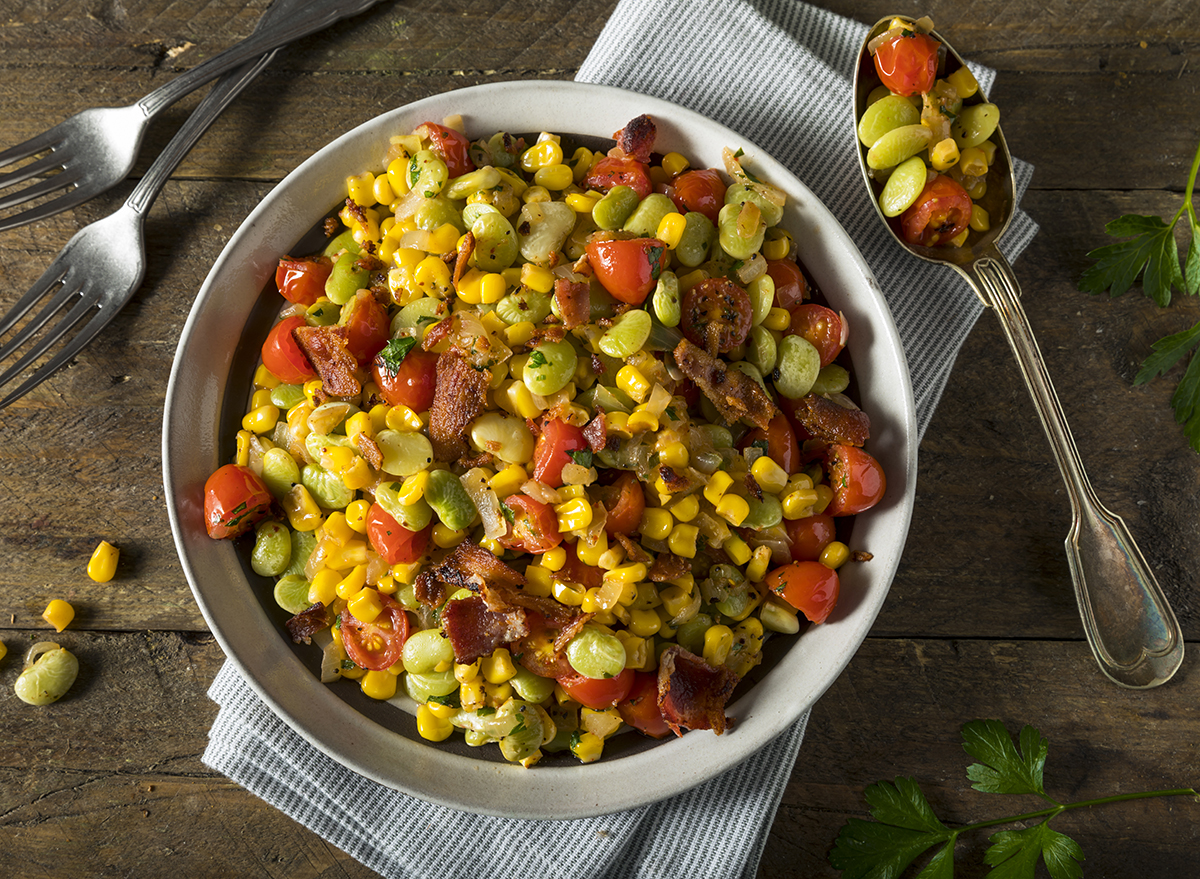 We dare you to find a simpler autumnal side than this classic mix of corn and beans, seasoned to perfection with butter. If you need an extra vegetable dish for your table, this staple will leave everyone satisfied.
Get the Boston Cooking School recipe here. 
Ambrosia Salad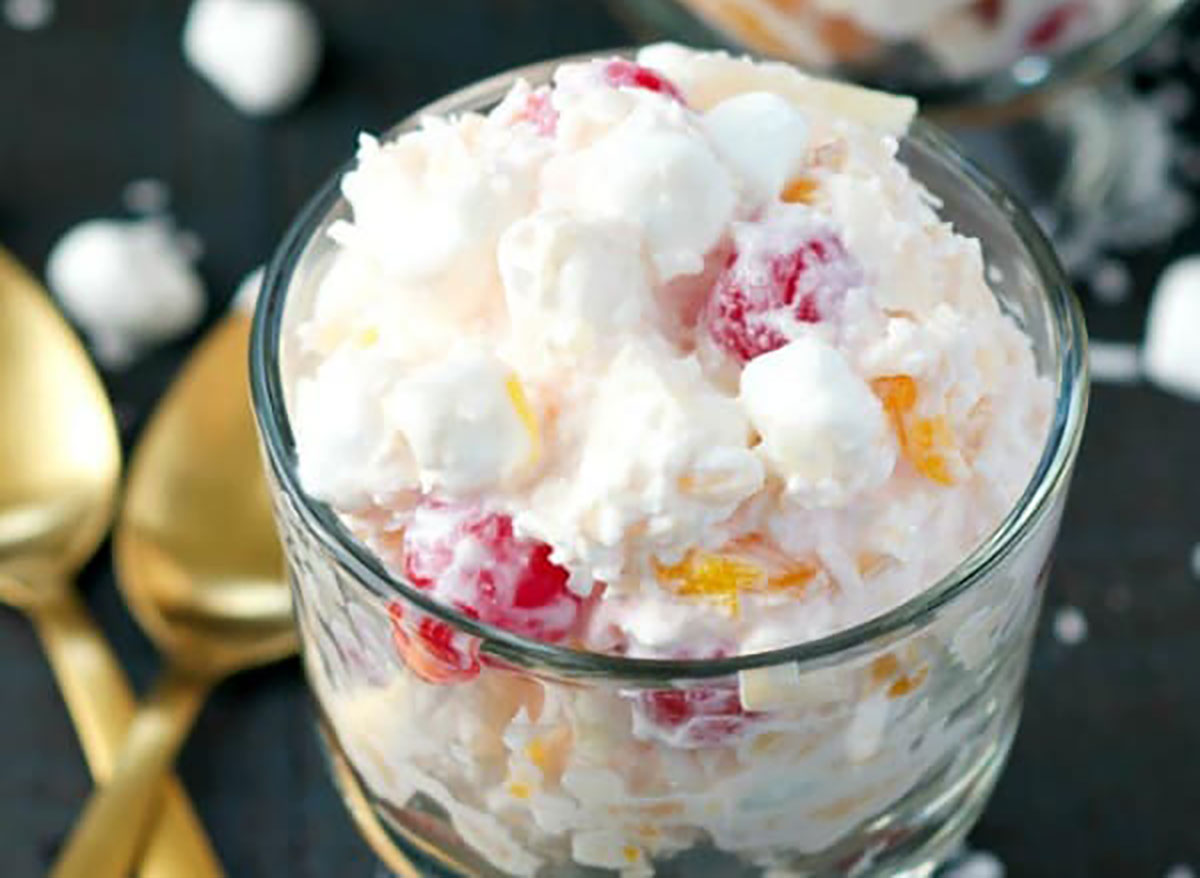 You may remember this dish from when you were growing up, as it used to be a popular salad for seasonal get-togethers. If you have never had ambrosia before, you are in for a treat; the salad mixes a variety of tropical fruits and citrus with marshmallows, and it's a dish that's perfect for feeding your crowd the moment they step foot through your door. If you want to check out a classic but forgotten Thanksgiving dish, definitely give this recipe a shot.
Get the recipe from The Seasoned Mom. 
Cheese Balls
This blast from the past will be sure to take you straight back into the world of retro Thanksgivings. What was once a classic holiday appetizer, cheese balls have been forgotten as a holiday staple in most of the country. What better way to celebrate a vintage-themed Thanksgiving than by making this recipe?
Get the recipe from Cooking Classy. 
German Cabbage
Red cabbage is a great addition to any holiday table. This classic recipe mimics German sauerkraut, and its gentle acidity pairs well with roasts and rich food.
Get the Boston Cooking School recipe here. 
Strawberry Tapioca Salad
There's a chance you associate gelatin recipes with stodginess, but that reputation isn't entirely deserved. This take on a dessert salad lets you experience a classic that took America by storm in the '60s, and its flavor profile still holds up in the current culinary climate.
Get the recipe from Julie's Eats and Treats.
Candied Yams
What would Thanksgiving be without this classic retro staple? Candied yams have graced holiday spreads for ages, and Thanksgiving is the perfect time to show off the vegetable's deep flavor. They pair well with any kind of roast and will make your home smell heavenly as you bake them.
Get the recipe from My Whole Food Life. 
Chestnut Stuffing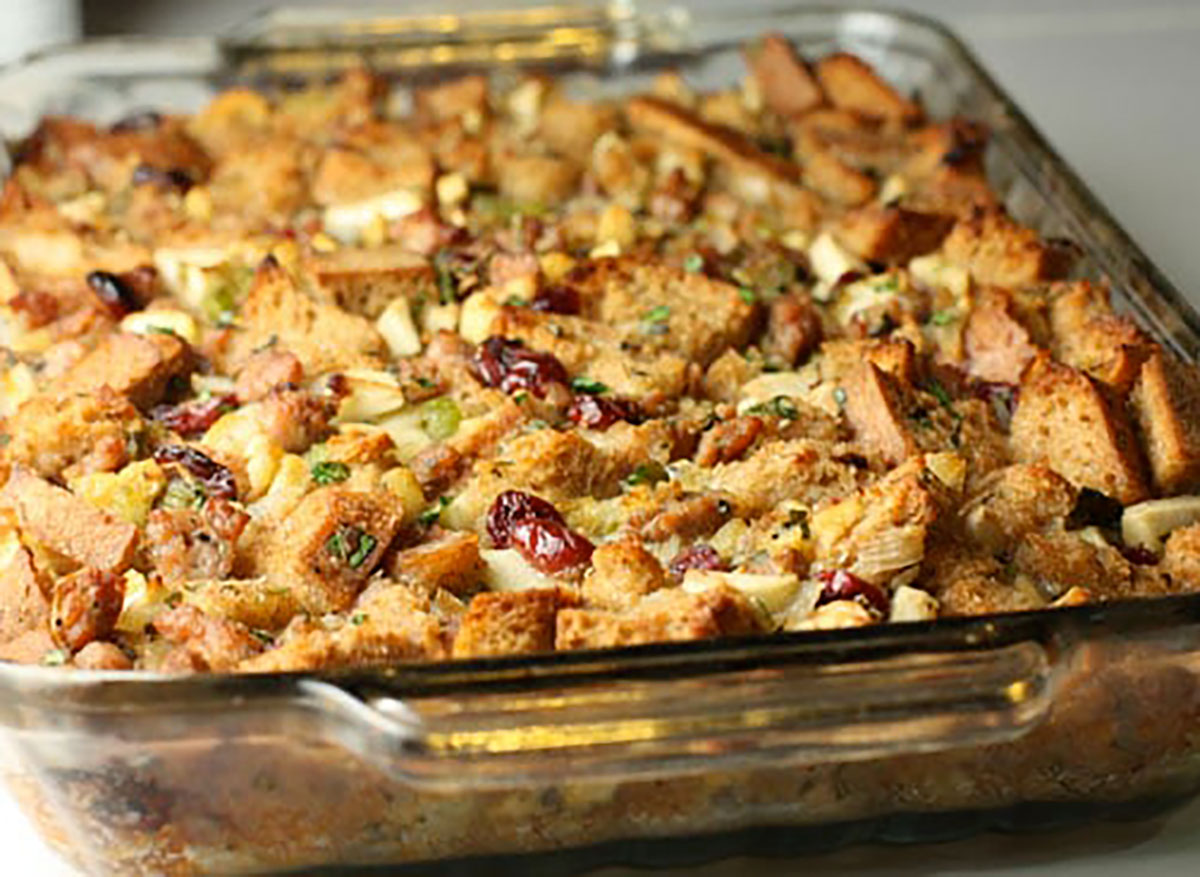 In the years before bread-based stuffing became the norm, similar casseroles of various grains and nuts could be found on every table. This throwback chestnut and bread stuffing combines two great textures, harkening back to a simpler time. By mixing up your menu with this forgotten standard, you will be sure to leave an impression on your family members.
Get the recipe from Macheesmo.
Sweet Potato Pie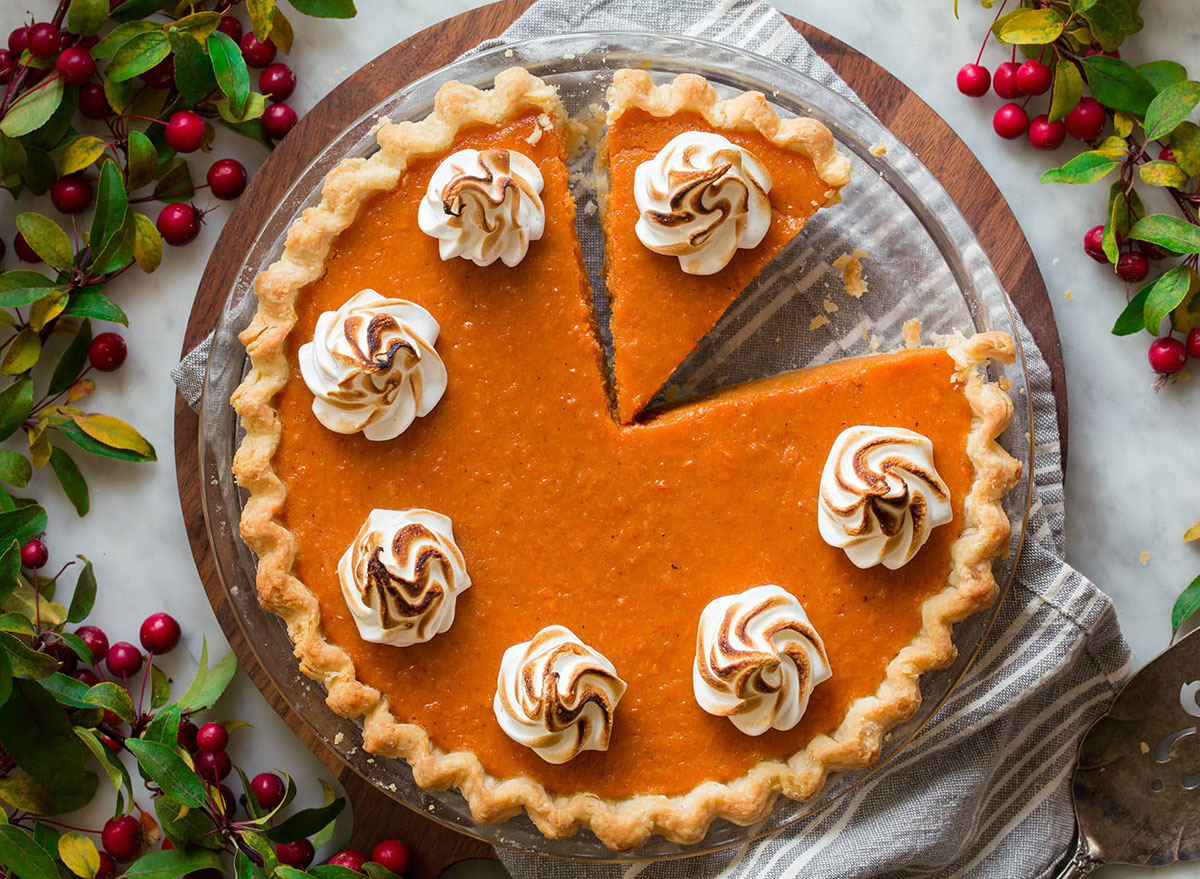 If you've never had a sweet potato pie before, you are in for a treat with this Southern staple. The recipe makes use of naturally sugary sweet potatoes and a whipped marshmallow topping. It might even replace your previous go-to pumpkin pie recipe—it's that good. Who says pumpkin's the only pie to bring?
Get the recipe from Cooking Classy. 
Creamy Roasted Parsnip Purée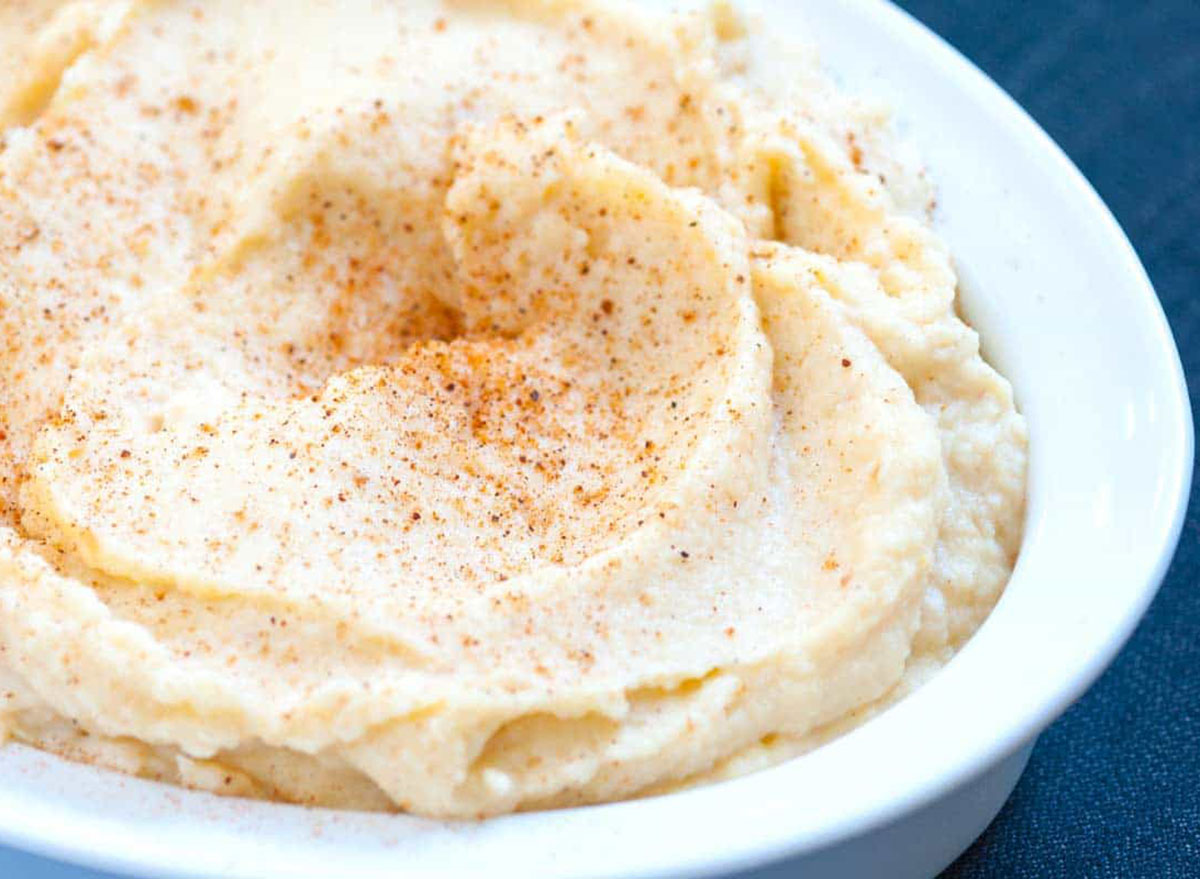 When you think of Thanksgiving, you probably imagine a bowl of mashed potatoes somewhere on the table. But before this popular dish became a national standard, mashed parsnips and various other root vegetables would be served as a mash, and this version is a great alternative, inspired by recipes taken from vintage cookbooks.
Get the recipe from Inspired Taste. 
Brown Sugar-Glazed Ham
Nothing screams "Thanksgiving" to many like a roasted turkey, but this bird wasn't always the only star centerpiece on the menu. In many parts of the U.S., a ham could also take center stage on the table, and if you like pork, this is the quintessential holiday ham.6254a4d1642c605c54bf1cab17d50f1e
Get the recipe from Recipe Tin Eats. 
Quick Collard Greens
As collard greens have grown in popularity, it is easier than ever to find them in grocery stores across the country. Why not take advantage of this sudden fame and make this side dish that has graced Southern tables for centuries? With this recipe, you not only pay homage to Thanksgivings past, but you also load your meal with iron, magnesium, and calcium.
Get the recipe from Cookie and Kate. 
Root Beer Glazed Ham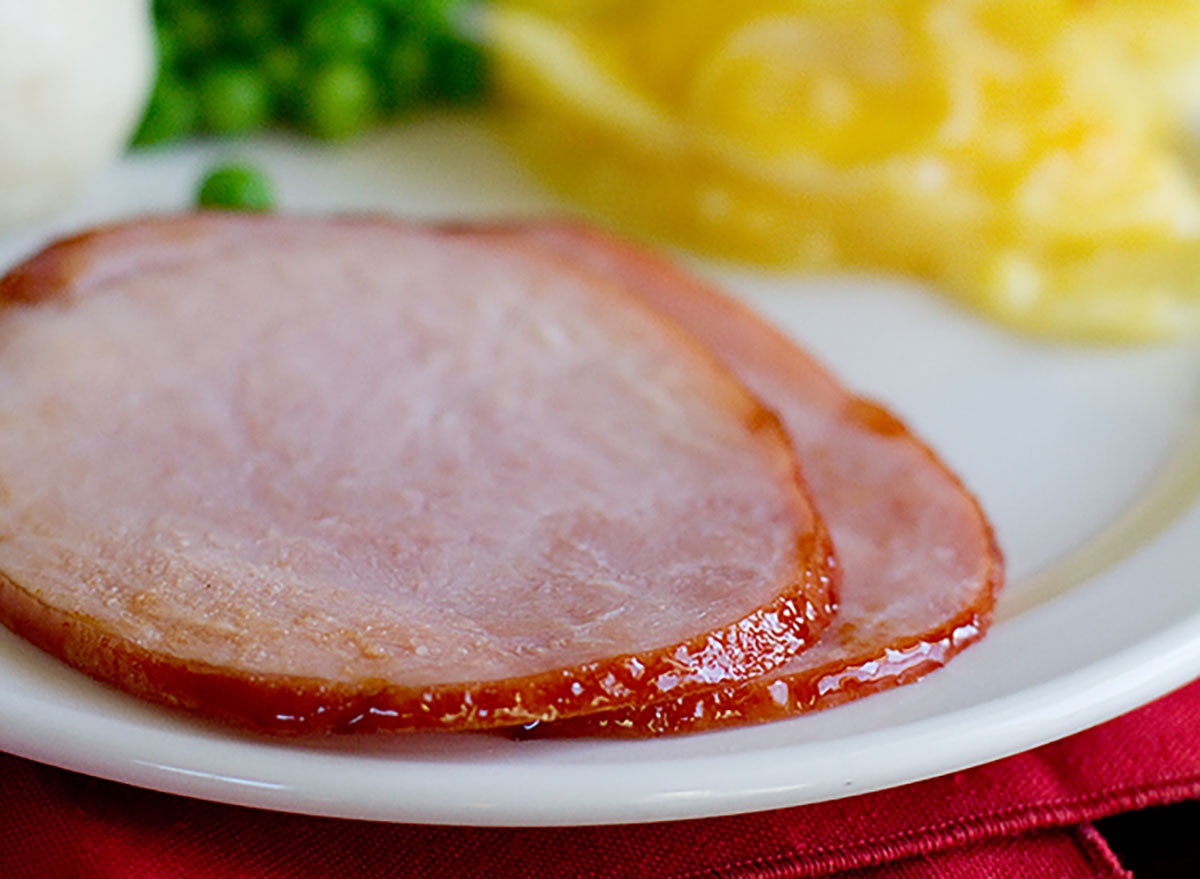 If you're searching for classic retro recipes, why not go all-out with this old-school favorite? The pairing of ham and root beer may seem strange, but the soda's acidity and flavor perfectly pair with the ham. The reaction of the pork skin combines with the soft drink to create a Maillard reaction, resulting in some beautiful caramelization.
Get the recipe from Taste and Tell. 
Light and Buttery Dinner Rolls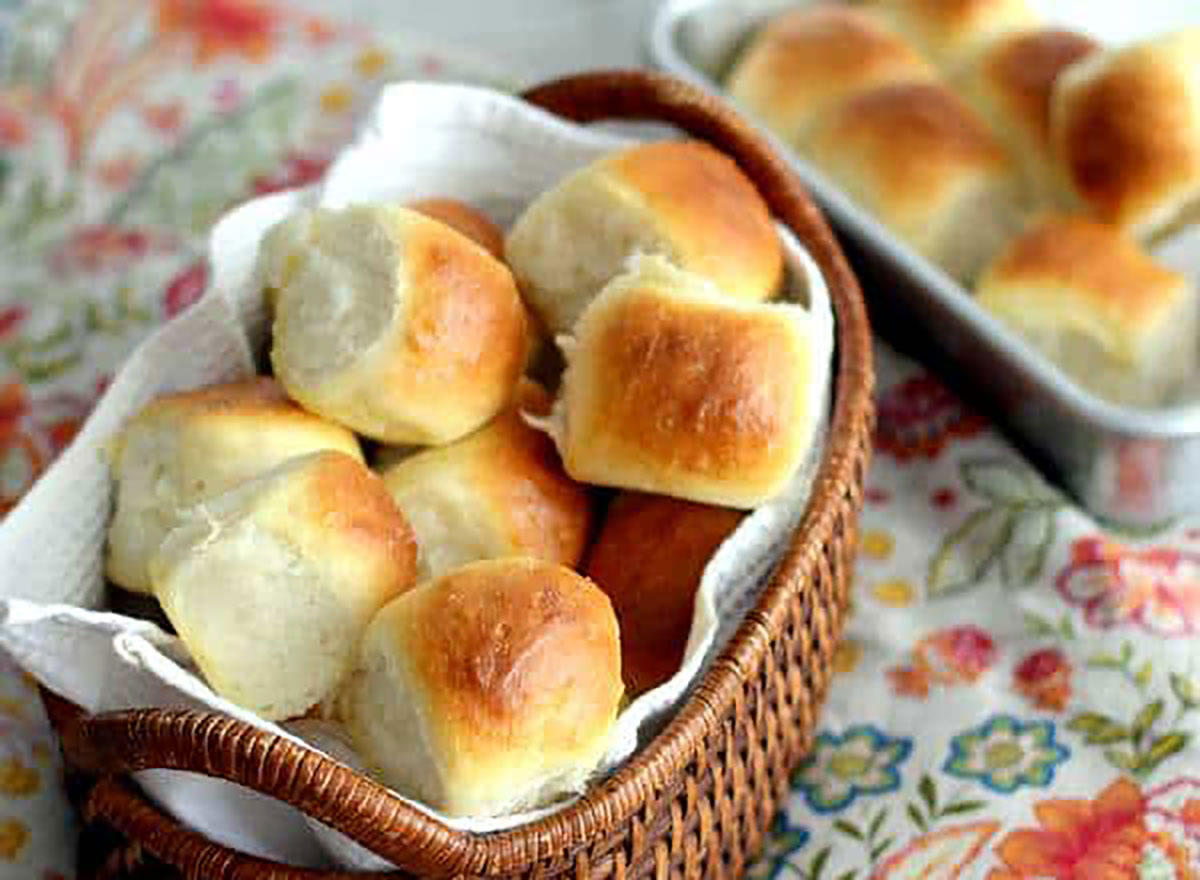 Instead of picking up bread rolls at the store, try your hand with the simplest bread recipe you may ever see. If you have never made homemade bread before, these extremely forgiving rolls won't take too much out of you, and they're sure to impress. Plus, you can prep and store them in the refrigerator ahead of time. Bring them out to buy yourself some extra prep time for other Thanksgiving dishes.
Get the recipe from Inquiring Chef. 
Roasted Brussels Sprouts
If you still have nightmares of being forced to eat plain, boiled Brussels sprouts during family get-togethers, have no fear. These Brussels sprouts are roasted in the oven to develop a crispy outside and bold flavor.
Get the recipe from Well Plated. 
Boiled Fresh Peas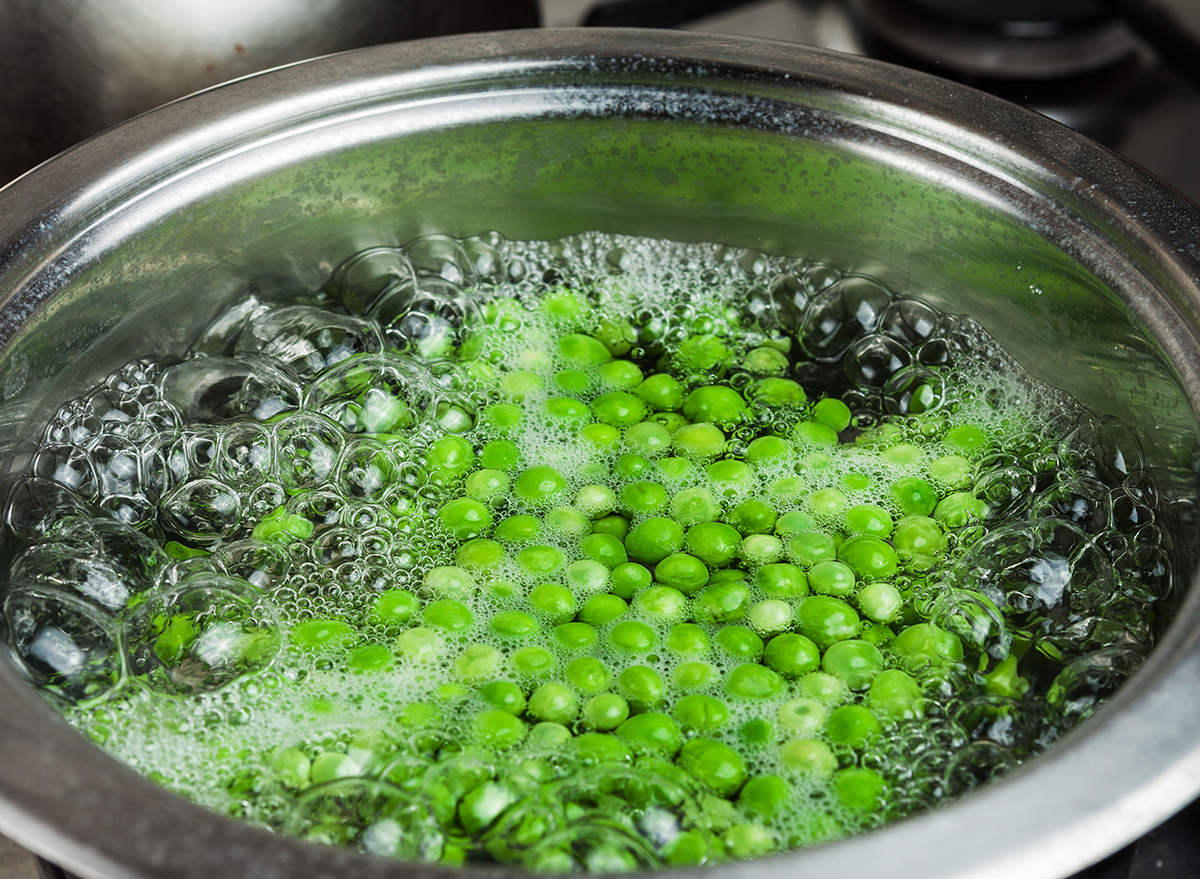 You can't go wrong when serving fresh vegetables during the holidays, and this classic staple will make you wonder why no one has tried to revive its popularity as a standard holiday dish. The peas can be modified and cooked with ham hocks and onions, making them burst with a robust flavor.
Get the Boston Cooking School recipe here. 
Homemade Cranberry Sauce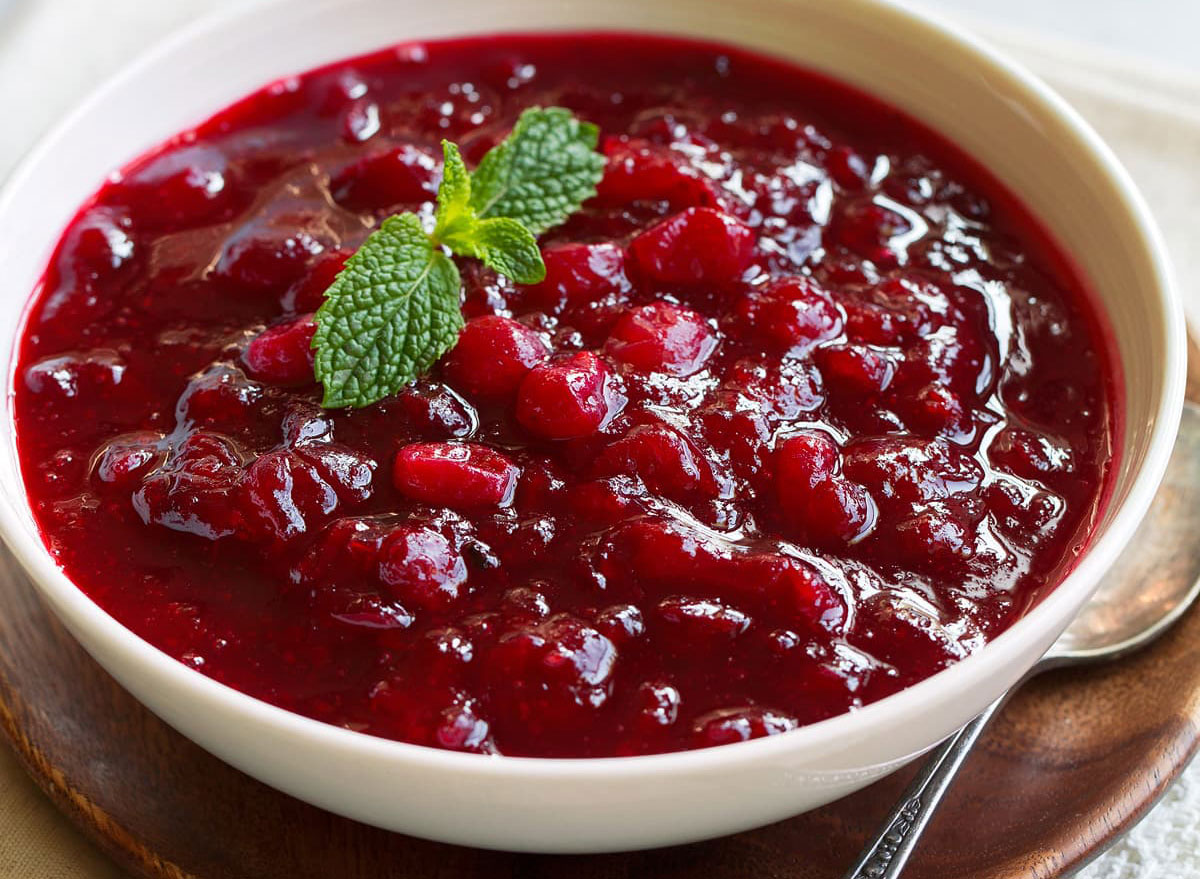 If you don't feel like making cranberry gelatin but want to include the fruit into your table spread, nothing beats the homemade sauce. This recipe pares the sauce down to its most essential elements, giving you a tasty final product that you can pour over your turkey.
Get the recipe from Cooking Classy. 
Roasted Cauliflower, Mushroom, and Wild Rice Stuffing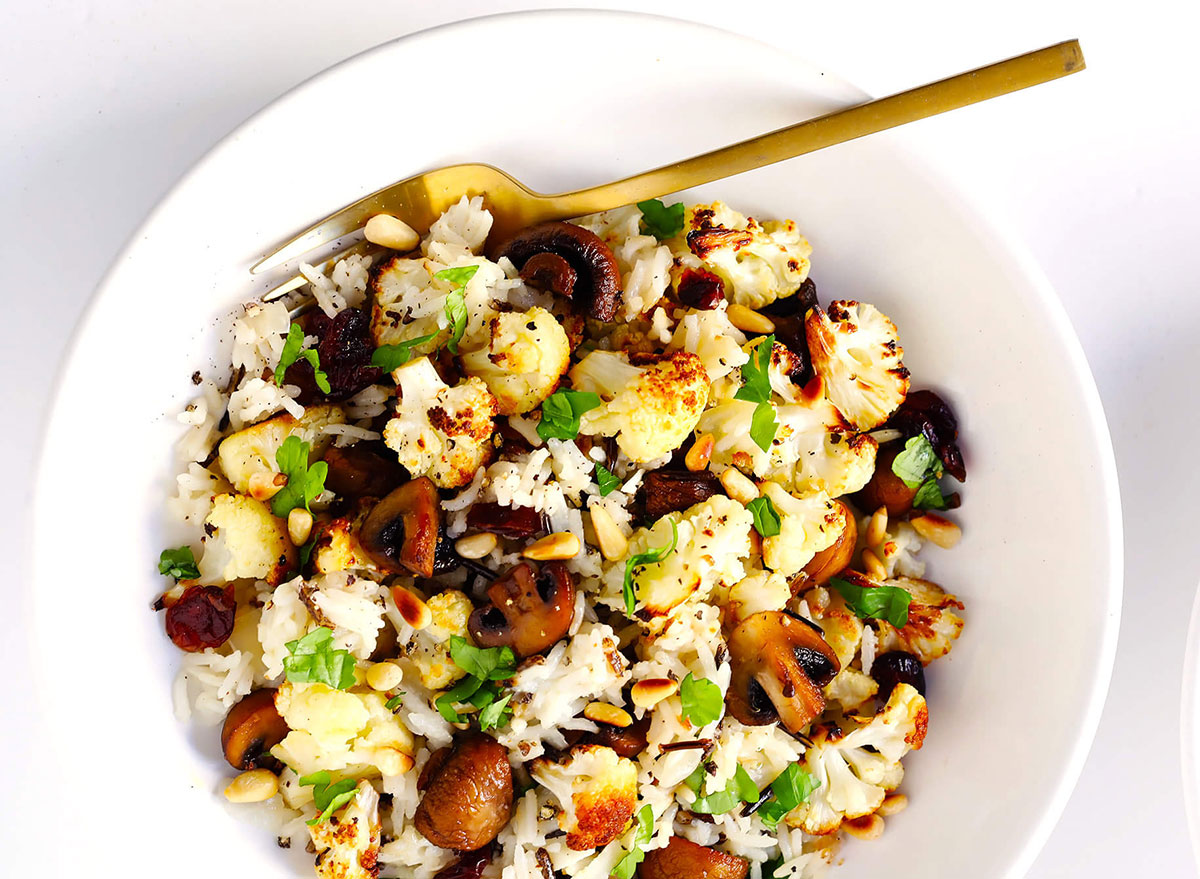 In the olden days when you didn't have enough scrap bread to make the stuffing, you could use whatever grain you had on hand to substitute in. For a tasty, filling take on the original stuffing, look no further than this throwback version.
Get the recipe from Gimme Some Oven.
Greek Wedge Salad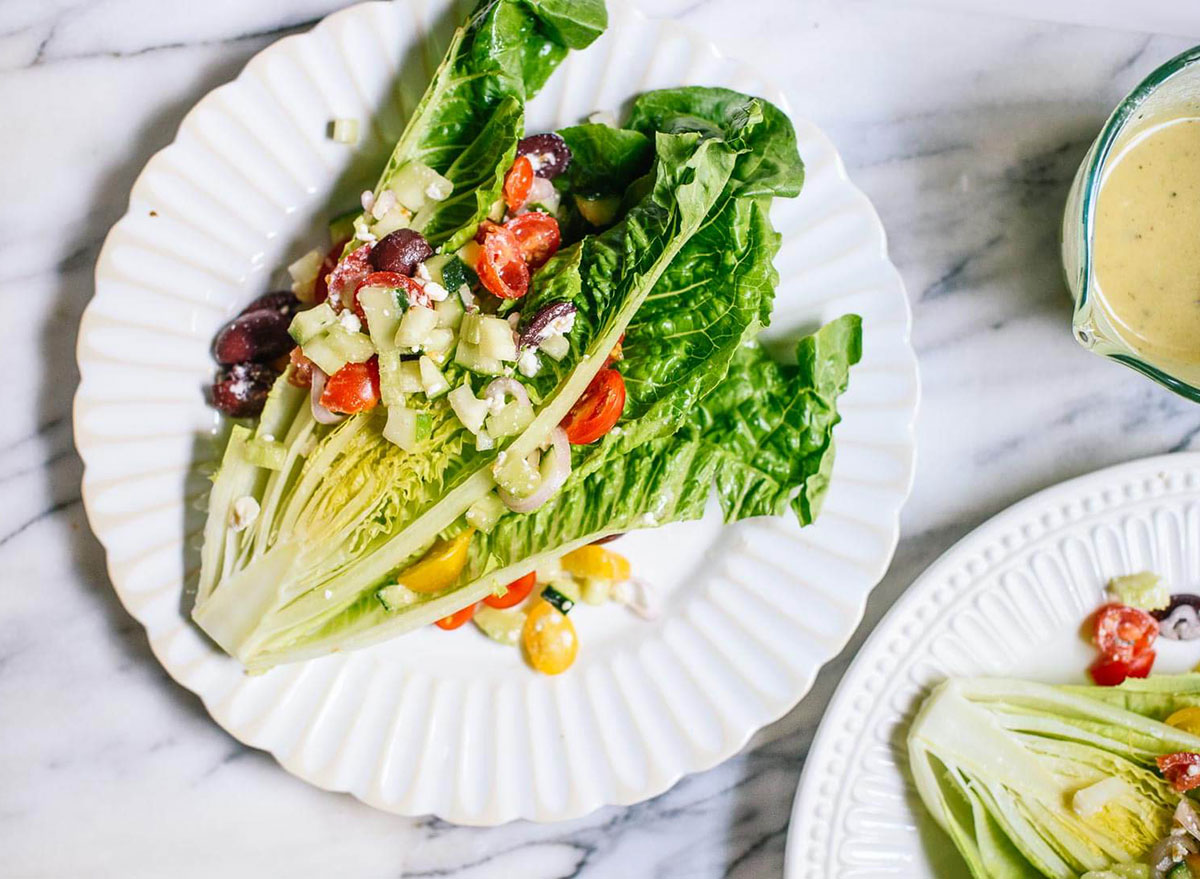 When wedge salads first entered the American culinary lexicon, they were a hit; you could find them at restaurants and at home alike. Naturally, they became an established salad during Thanksgiving, too. Serve this romaine lettuce-based starter to kick your Thanksgiving off right.
Get the recipe from Cookie and Kate. 
Maple Cinnamon Applesauce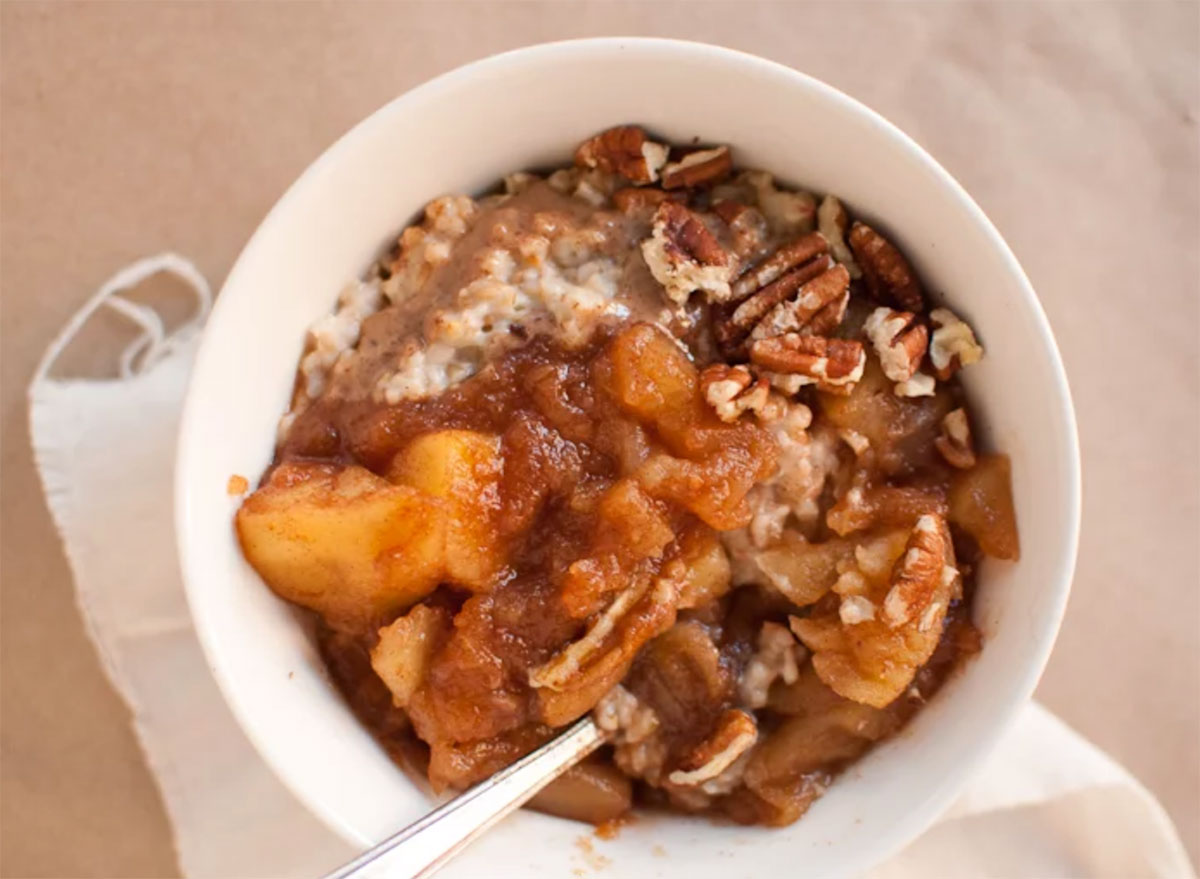 Even if you haven't seen it on the table in a good few years, don't discount how delicious homemade applesauce can be. With apples in season this time of year, this applesauce will turn out delicious and could save you a bit of money as well.
Get the recipe from Cookie and Kate. 
Mashed Root Vegetables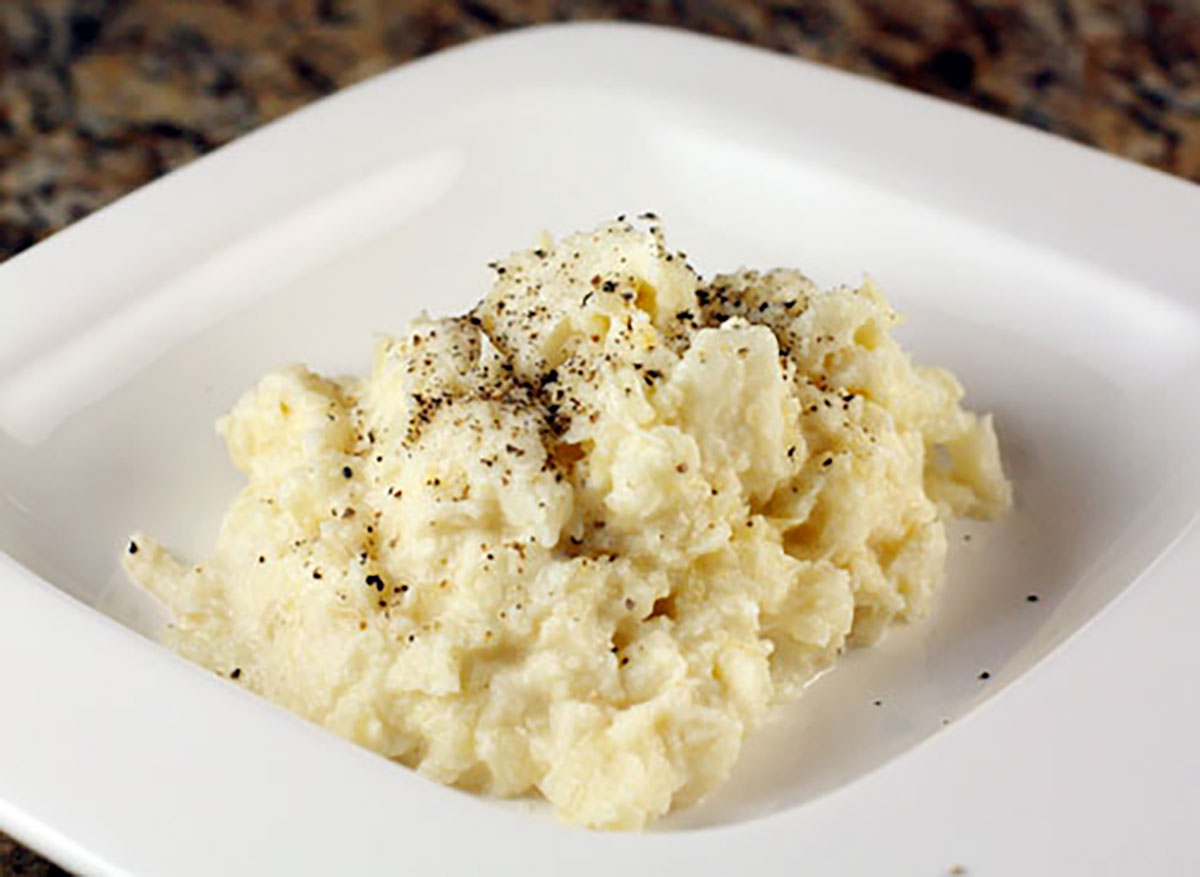 This recipe satisfies the craving for mashed potatoes by combining celeriac, parsnips, and turnips, giving you a balanced mix of vegetables. With such a deep flavor, this mash might make you forget the potato-based dishes.
Get the recipe from Macheesmo. 
Deviled Eggs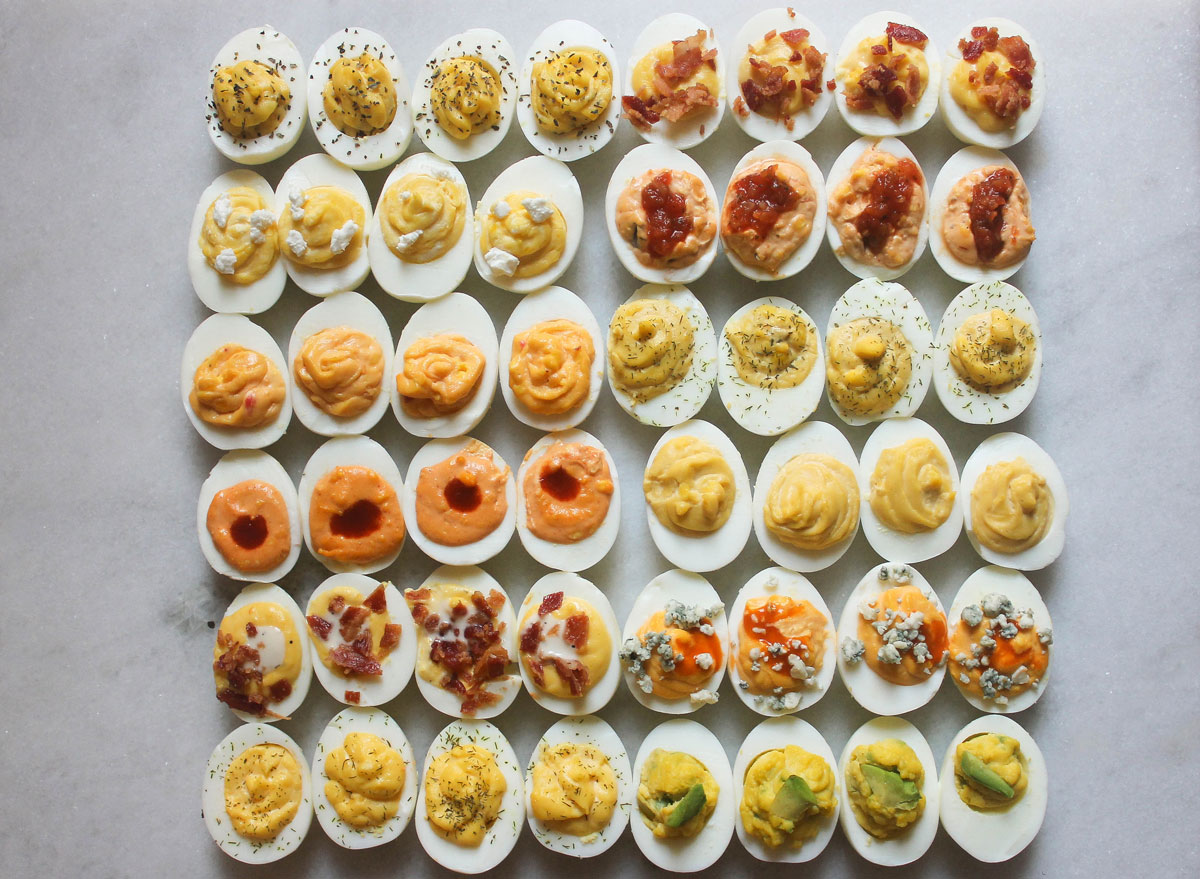 You have probably seen these egg hors d'oeuvres at dinner parties, but they also appear in a great deal of vintage Thanksgiving cookbooks. They make a perfect appetizer for the season. These bite-sized treats will please picky and refined eaters alike.
Get our recipes for Deviled Eggs.
Apple Snow
Different varieties of "snow" have populated dessert menus for centuries and offer a gentle way to finish a heavy meal. With apple season coming to an end, it is easy to take advantage of the last fruits of the season to impress everyone with this tried and true fruit-based dessert.
Get the Boston Cooking School recipe here. 
Mincemeat Pies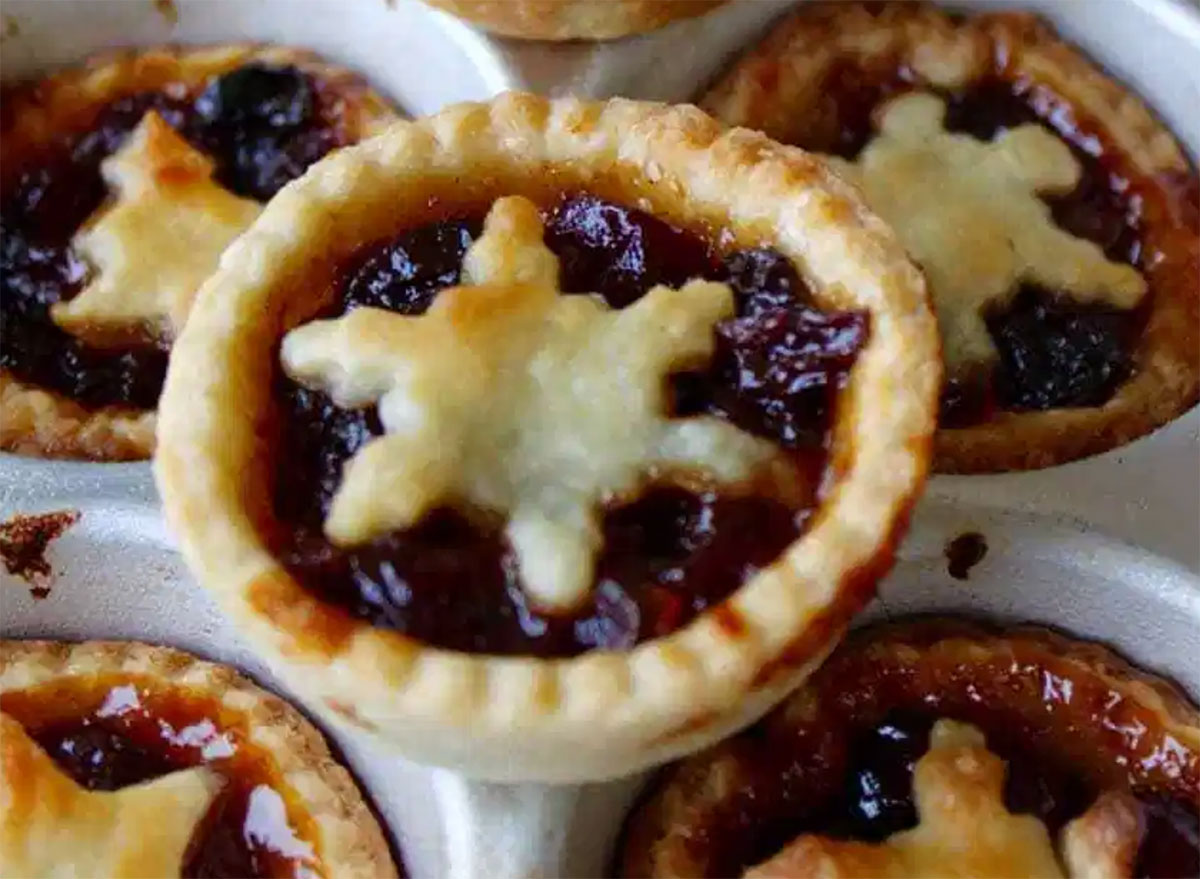 You might have memories of your grandparents chowing down on these, as it can be hard to find mincemeat pies on menus these days. Despite their stodgy image, the flavors of clove and allspice embedded in them make mincemeat pies perfectly suited to the Thanksgiving season this year.
Get the recipe from Bigger Bolder Baking. 
Orange Pineapple Fluff Salad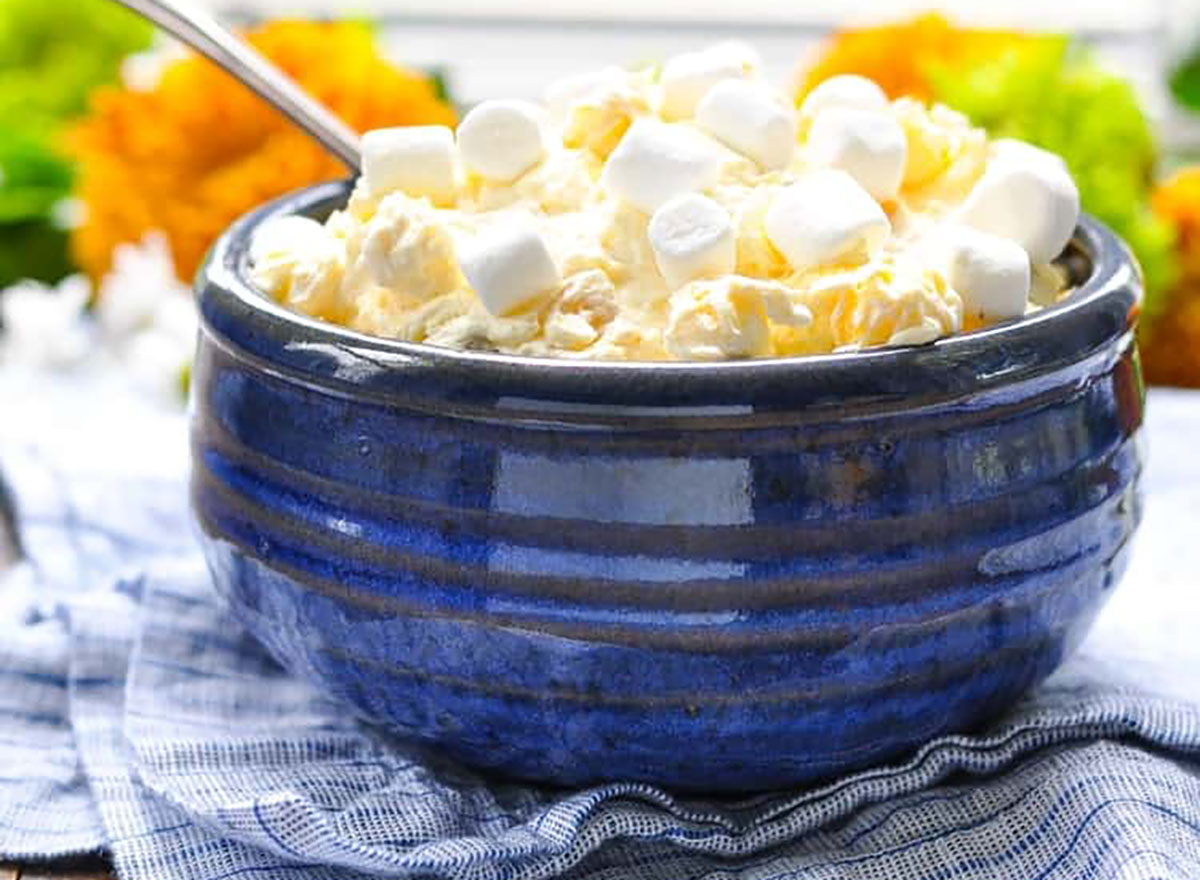 This light, fluffy, mousse-like treat is a great pairing with ham, turkey, or other rich meats that make their way to your table this holiday season. Imbued with a tropical flavor that was popular decades ago, this fluff will send you back to the '60s. We think it's time for its comeback.
Get the recipe from The Seasoned Mom. 
Creamy Green Bean Casserole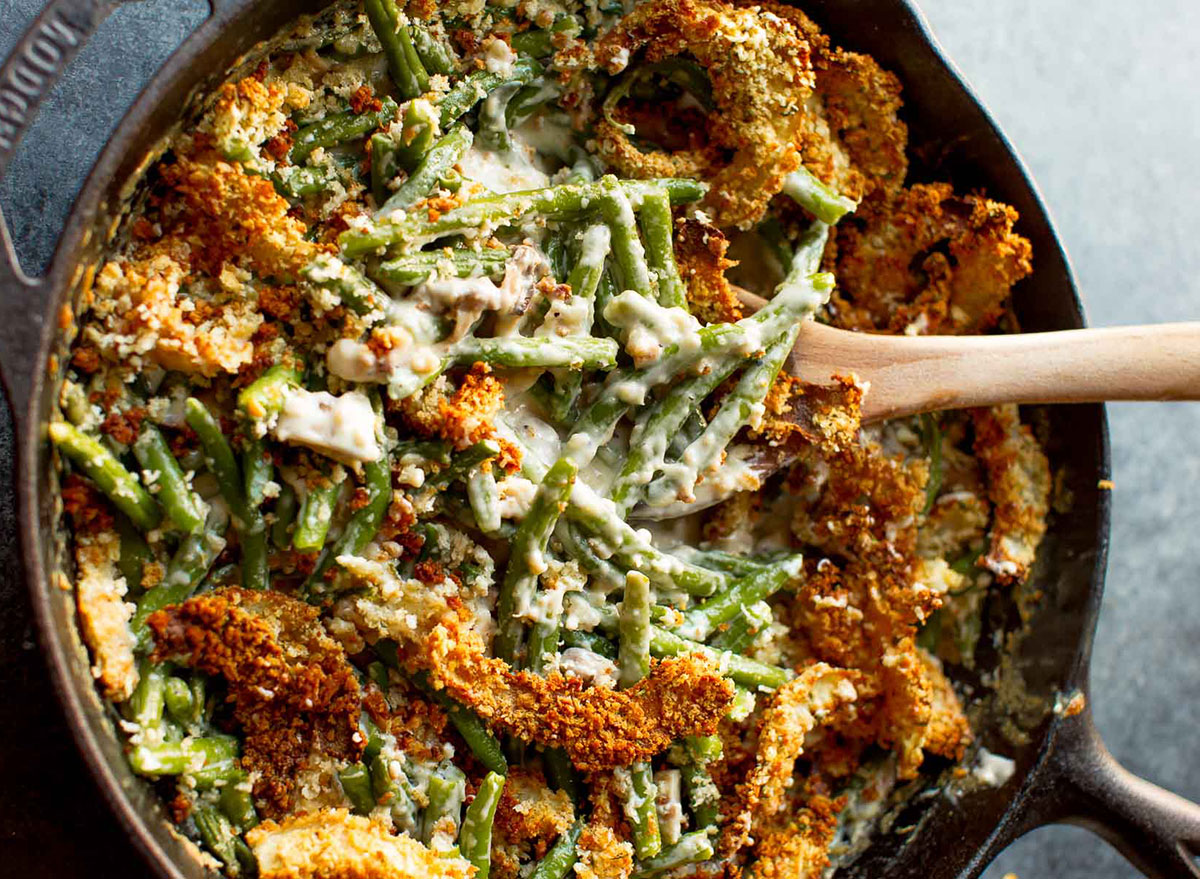 There are no signs of canned soup or fried onions here. This predecessor to the standard green bean casserole has the makings of a holiday table classic, thanks to fresh green beans and homemade gravy.
Get the recipe from Sally's Baking Addiction. 
Garlic Thyme Turkey Gravy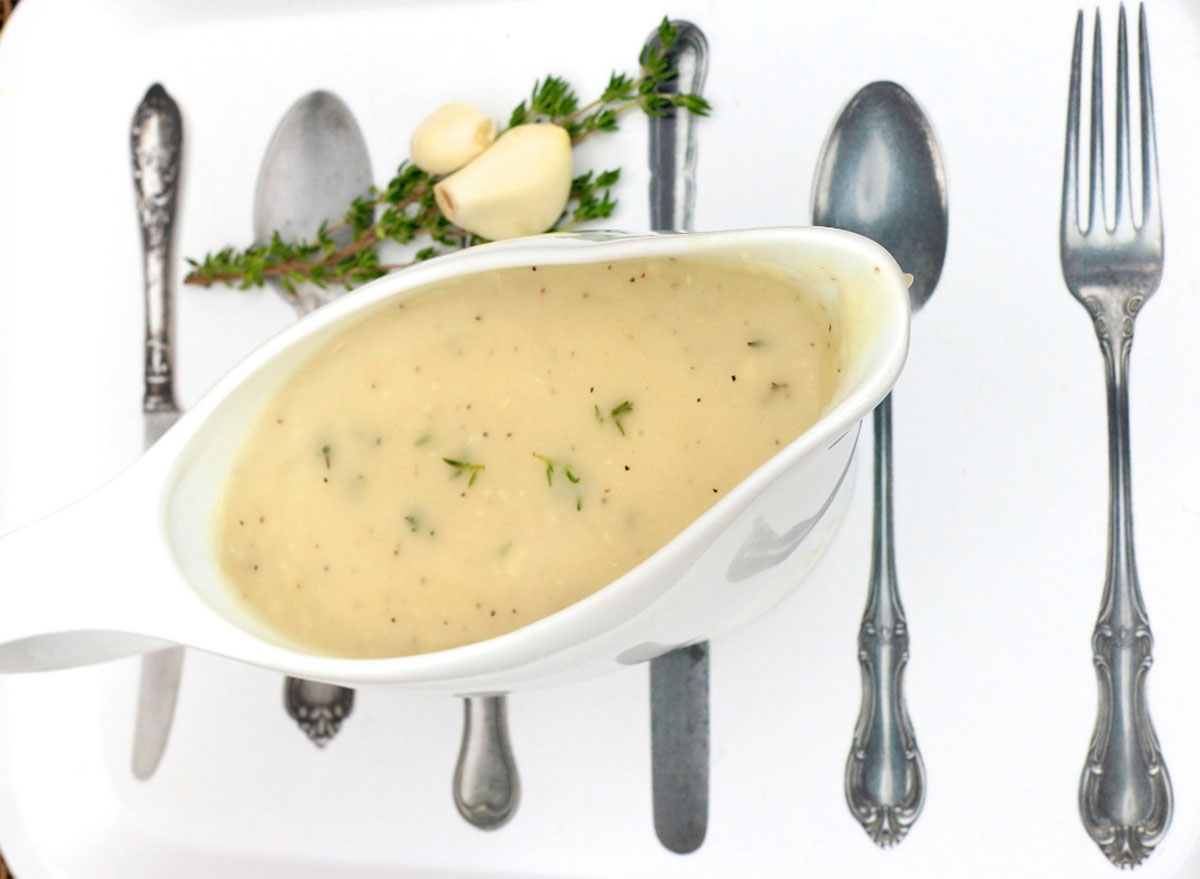 When you get a full turkey, you might be inclined to throw away the innards and drippings. Don't be tempted, as you can make a hearty gravy with these parts that beat a turkey gravy mix any day.
Get the recipe from The Baker Mama. 
Chocolate Fruitcake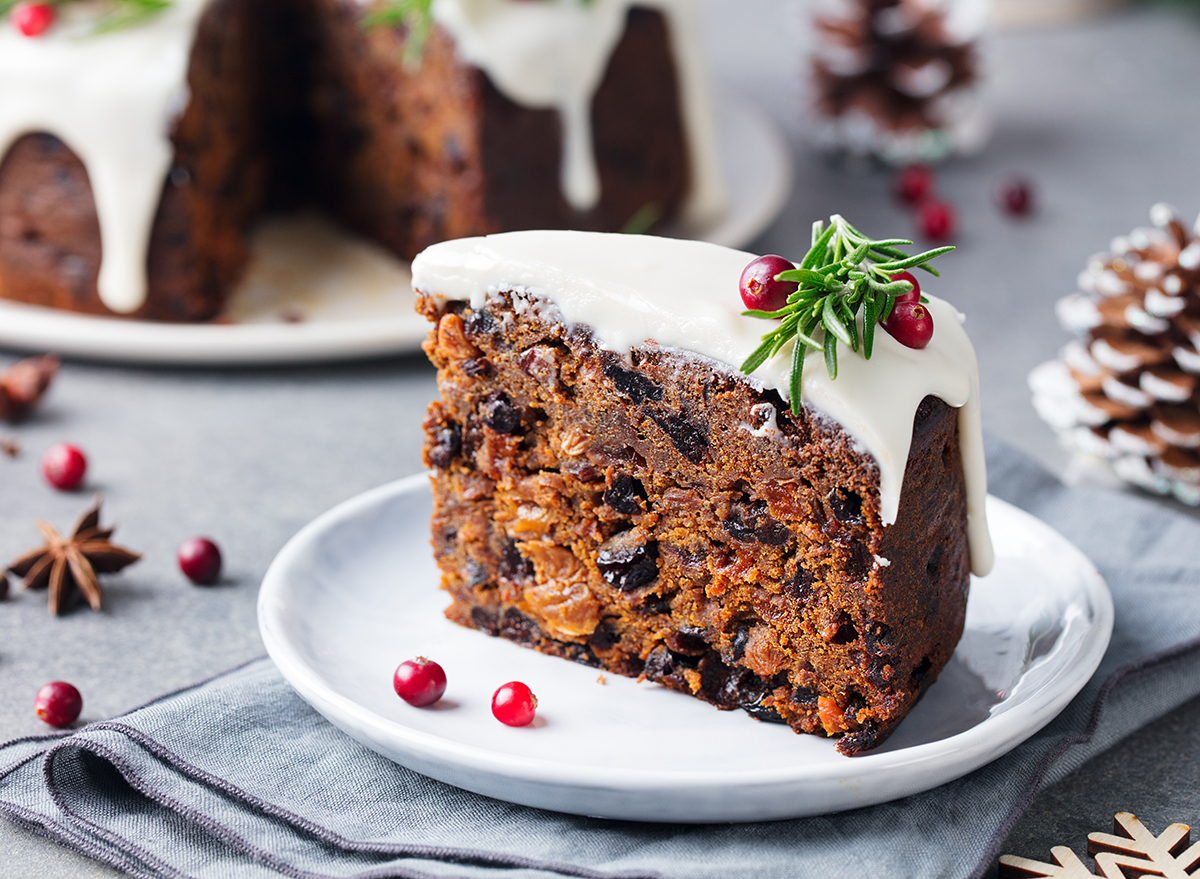 The idea of finishing the feast of Thanksgiving with a fruitcake might seem off-putting, but there is a reason why this cake has stood the test of time for so long. A properly made fruitcake will lock in moisture while bringing up memories of holidays past with an enticing cinnamon aroma. To create the best fruitcake, don't rely on a modern take—this turn-of-the-century recipe presents the iconic cake at its best and most simple.
Get the Boston Cooking School recipe here.
Spiced Candied Orange Peel
You probably end each Thanksgiving meal stuffed, so why not cap off the night with this light after-dinner treat? You can eat the whole fruit, peel and all, and its acidic snap will be the perfect digestif after your meal.
Get the recipe from Savory Simple.
If you're looking to spice things up at the Thanksgiving table this year, these tried-and-true vintage recipes are sure to be crowd-pleasers. And for more Thanksgiving recipe ideas, see The Only 25 Thanksgiving Recipes You'll Ever Need.
For more, check out these 108 most popular sodas ranked by how toxic they are.