12 Easy and Unique Deviled Egg Recipes
Spice up your usual deviled eggs recipe by trying one of these combinations.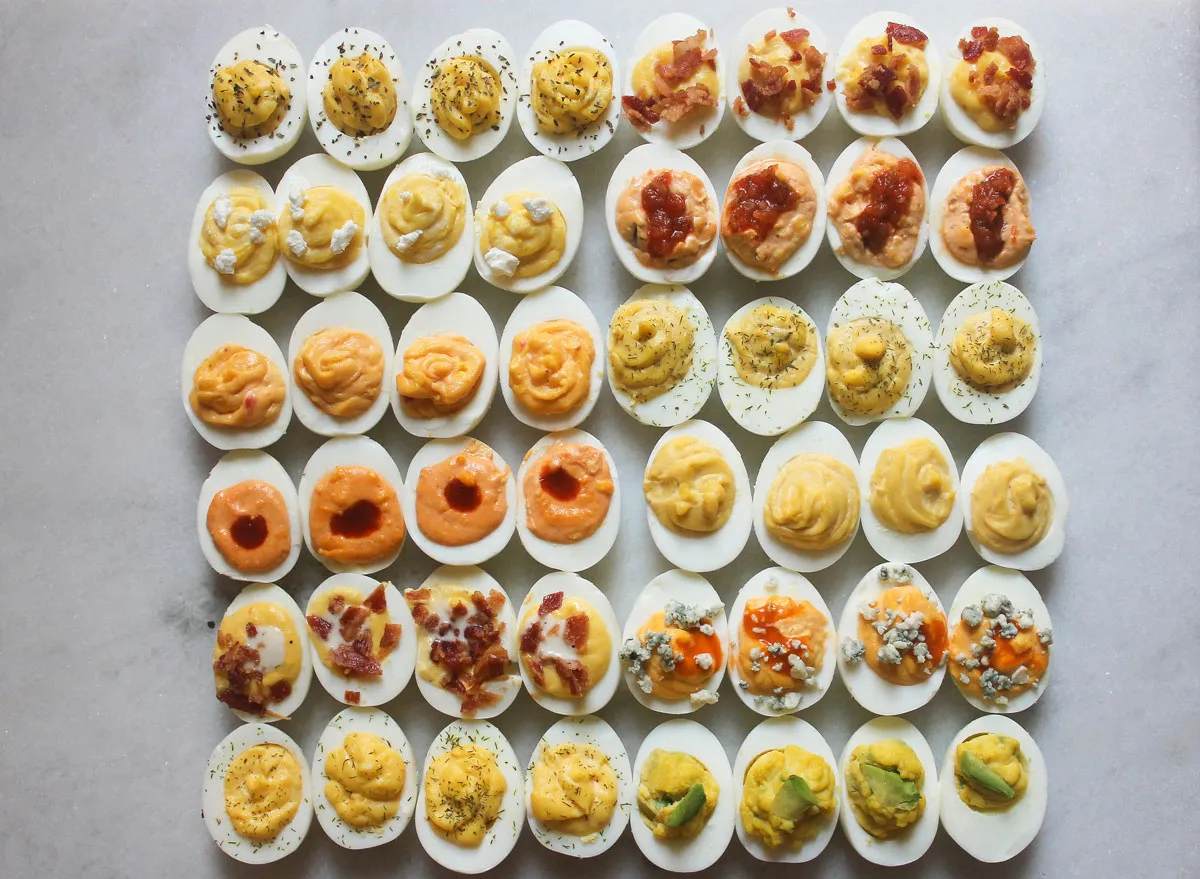 When it comes to summer cookouts and winter holidays, there are a few staple side dishes that are a must: Potato salad, corn-on-the-cob, and of course, deviled eggs. Those beautiful little eggs are always a crowd-pleaser. But instead of mixing egg yolks and mayonnaise for the filling, why not get creative with some fun deviled eggs recipe combinations for your next party?
These combinations are really easy to throw together with a basic deviled egg mix. Before making any of these combinations, here's how to prep basic deviled eggs:
Hard boil 12 eggs. Here's how to peel hard-boiled eggs easily.
Once they're peeled, cut each egg in half. Pop all of the yolks into a bowl, and place the egg whites on a plate.
Mix together 1/2 cup of mayonnaise with the yolks. You may need to use an electric mixer.
Once you have the basic mix, use one of the combinations below to spice things up. To pipe in the mixture, you can simply use a large gallon-sized plastic bag. Cut a small triangle off at the corner of the bag and add the filling to the mix. Zip it up and pipe the filling into the egg whites.
Now, here are 12 easy and unique deviled eggs recipe ideas! And for more, check out these 15 Classic American Desserts That Deserve a Comeback.
Buffalo and blue cheese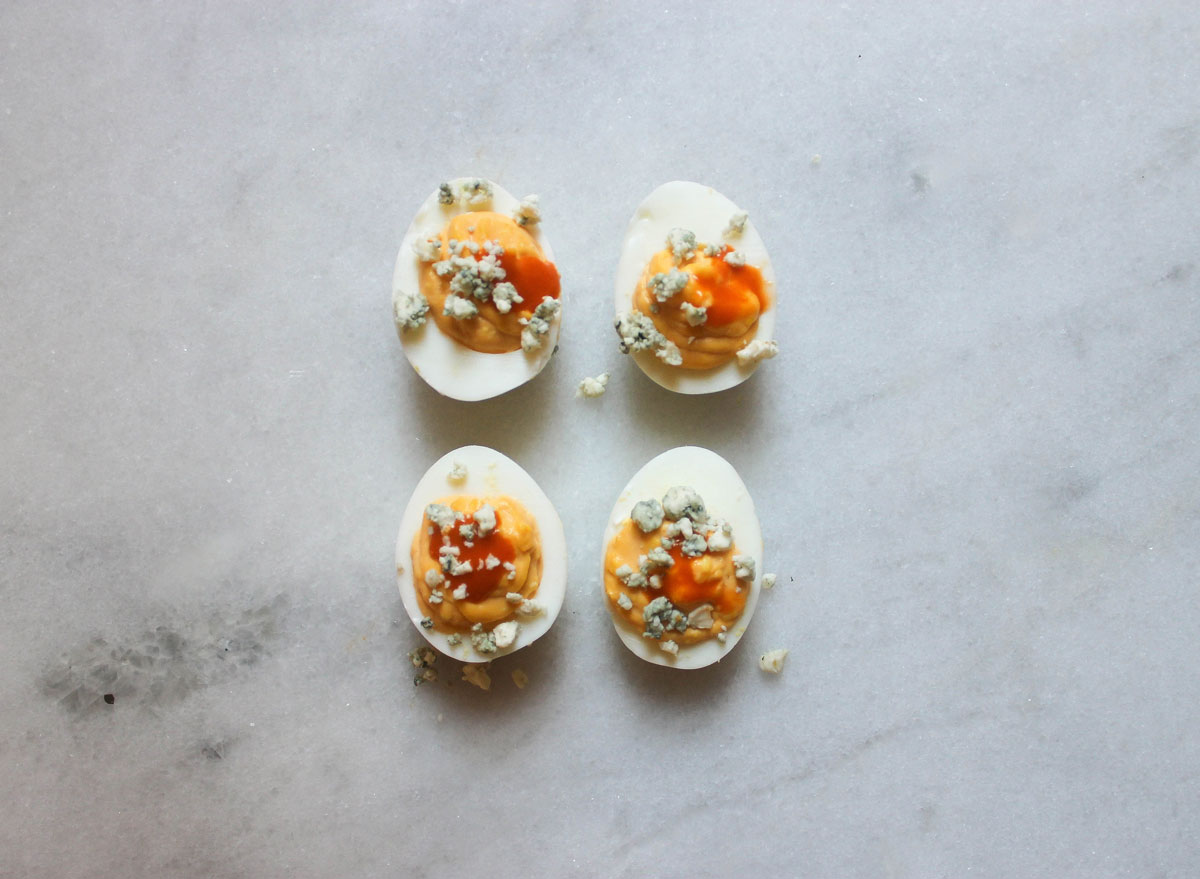 Let's start off with a classic food combo—buffalo sauce and blue cheese! To make a dozen of these, mix together 1 tablespoon with the basic deviled eggs mix. After you pipe in the filling, dot on a small amount of buffalo sauce on top and sprinkle the blue cheese on top.
Ranch and bacon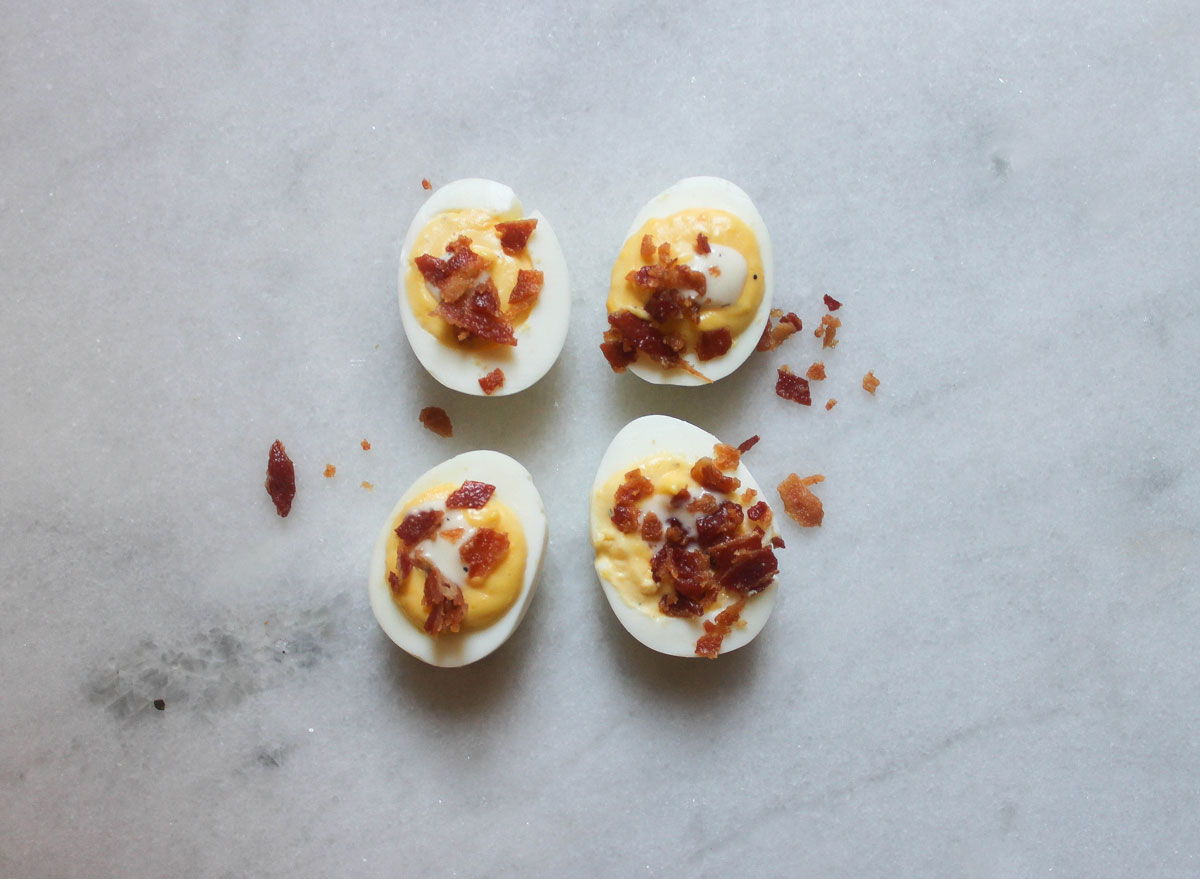 Who doesn't love a good ranch and bacon combo? This deviled egg is like a cobb salad but without the salad. Mix in 1 tablespoon with the basic deviled eggs mix. Dot on some ranch on top of each egg after adding in the mixture, and sprinkle on 2 slices of cooked (and crumbled) bacon.
Dijon mustard and dill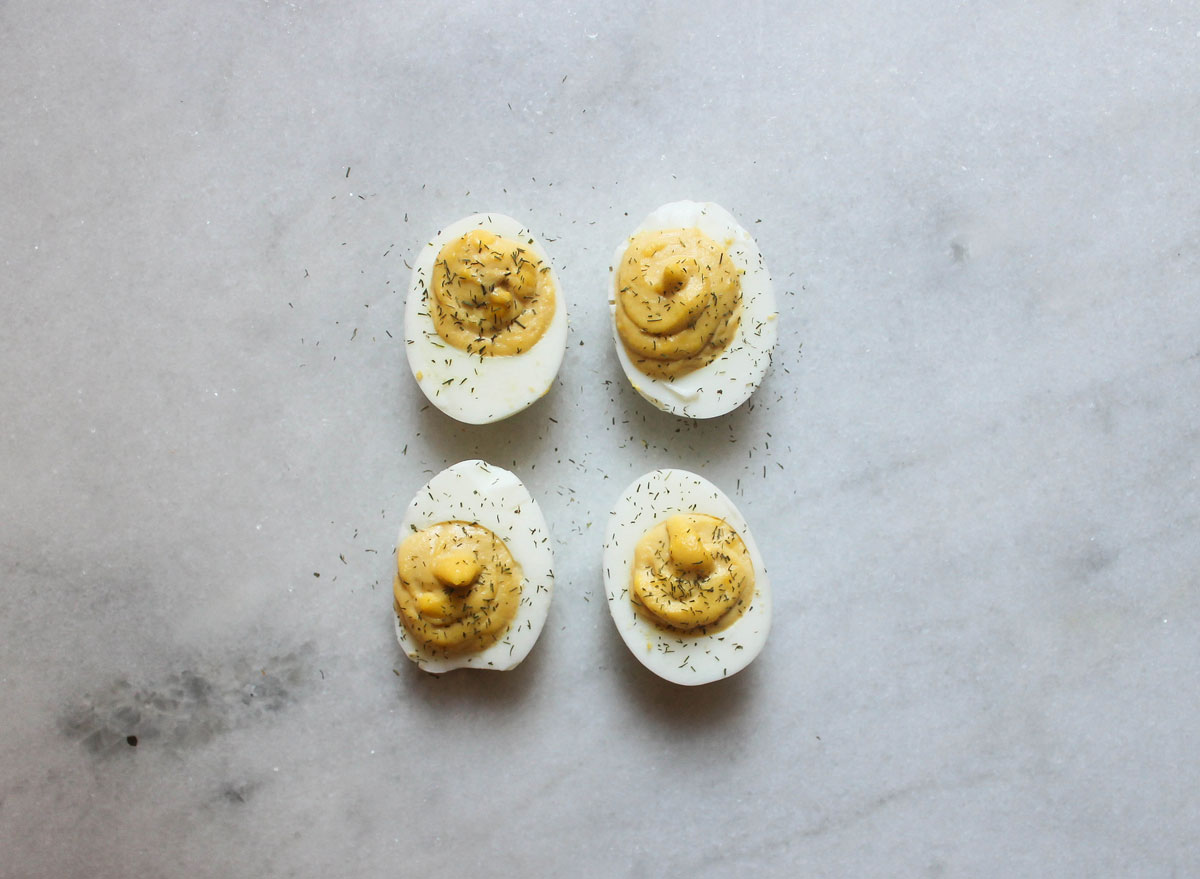 A small twist on the usual classic! Adding mustard to deviled eggs is a common mixture, so let's take it up a notch by bringing some dijon to the mix. One tablespoon will do, and then you can sprinkle some dried dill weed on top.
Sriracha and lime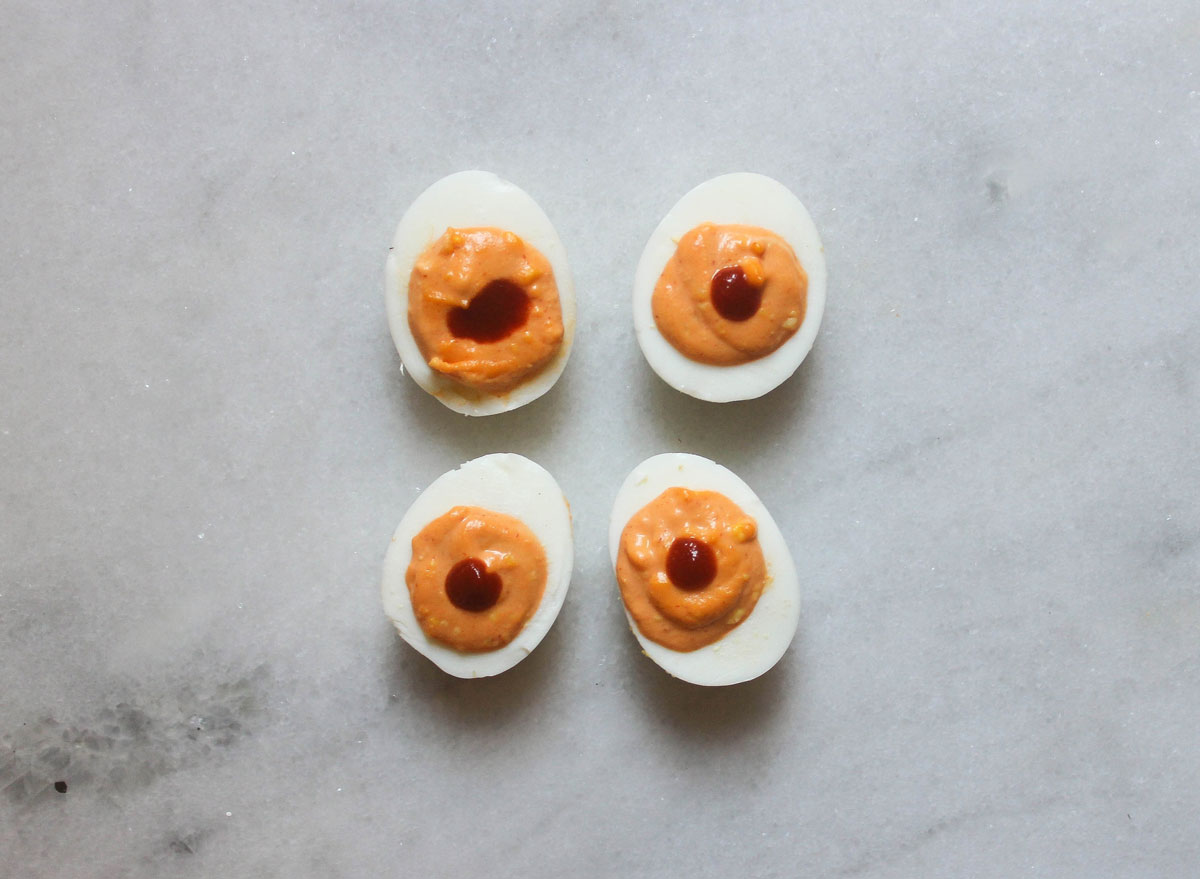 Who loves spicy? These deviled eggs are great to serve with some chips, salsa, and margaritas, of course! Add 1 tablespoon of Sriracha and the juice of 1 lime. Keep in mind that this mixture will be looser from the juice, so it may help to place it in the fridge for a bit before piping the filling into the egg whites. Dot on some Sriracha to give the eggs a festive look!
Goat cheese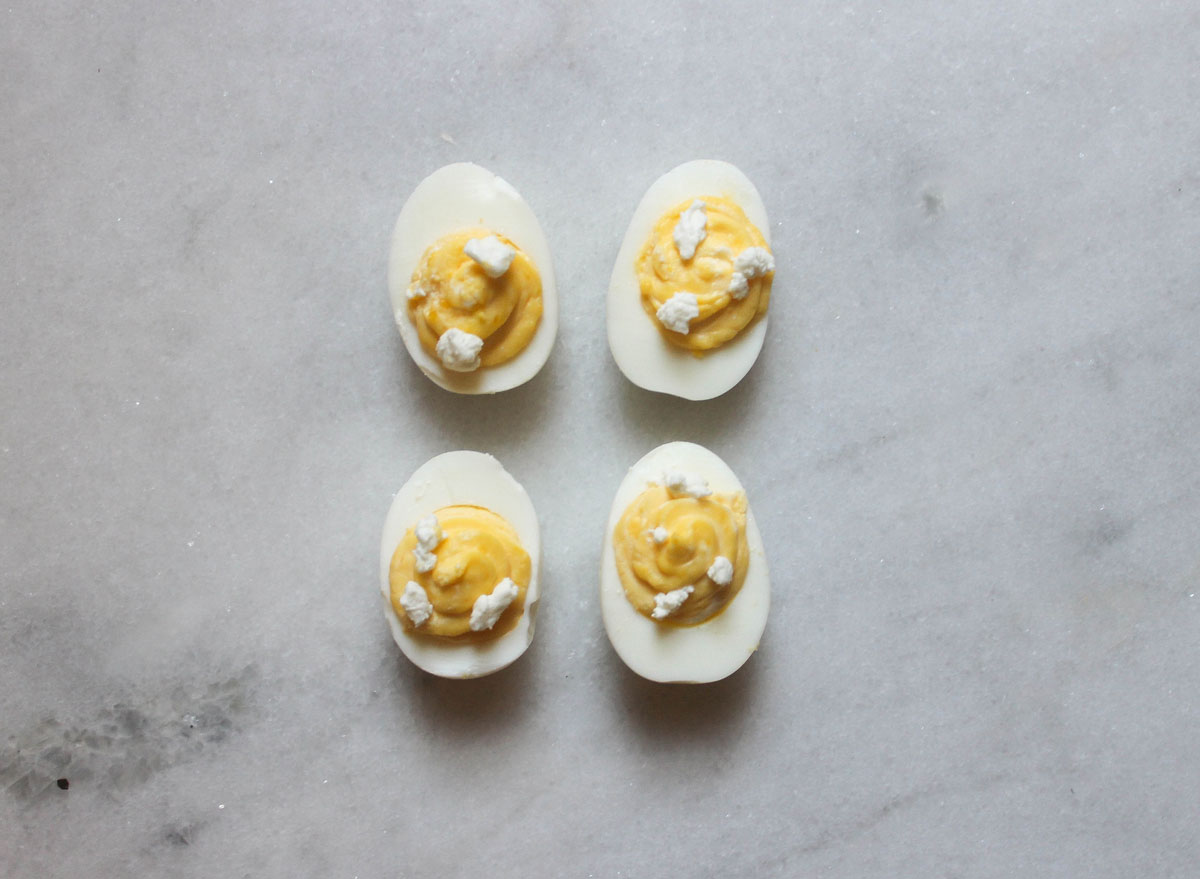 Anyone else a huge goat cheese fan? Add in 2 ounces of goat cheese to the basic deviled eggs mix. You may want to pull out the electric mixer for this again because the cheese is firmer than the other sauces these recipes call for. Sprinkle some goat cheese crumbs on top for decoration.
Salsa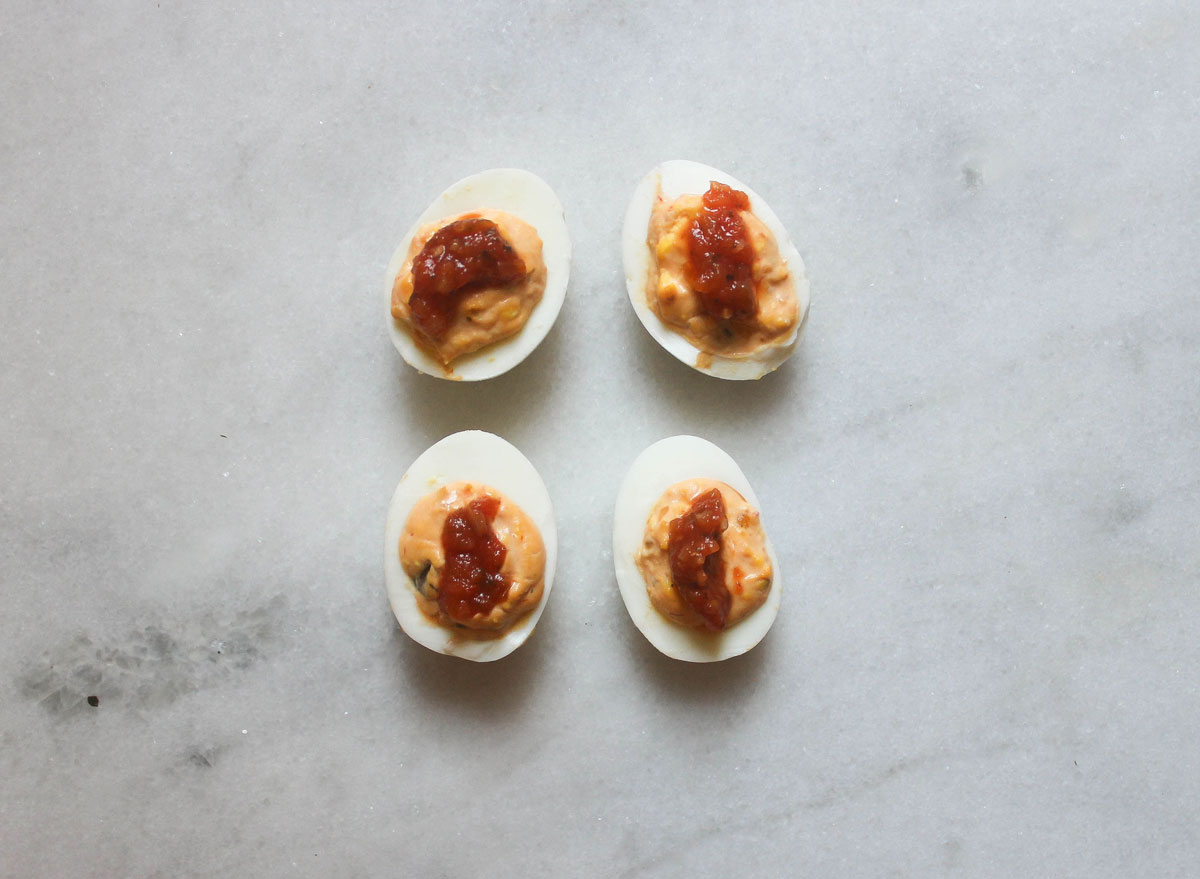 Not that into spicy hot sauce? Grab a mild salsa instead for the same great taste! Mix 1 tablespoon of salsa into the basic deviled eggs mix. Once the egg whites are filled, spoon on a small bit of extra salsa.
Lemon and dill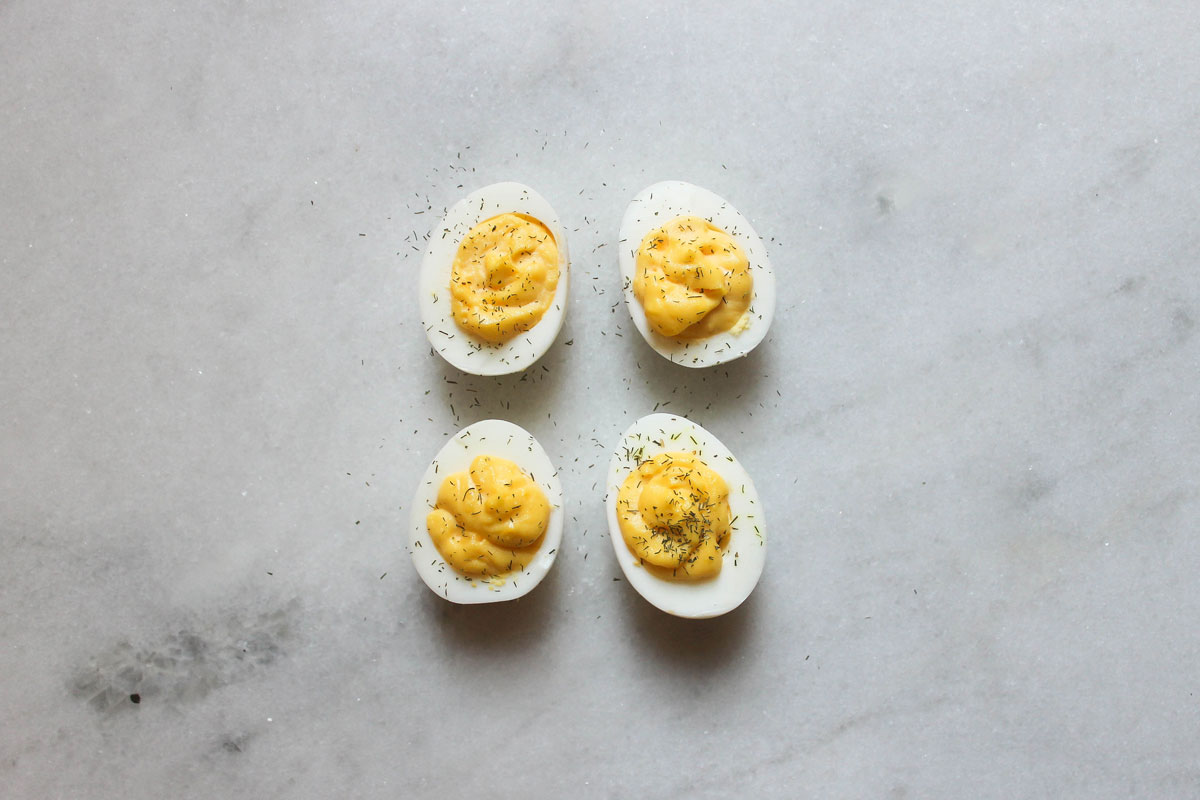 6254a4d1642c605c54bf1cab17d50f1e
Lemon and eggs may not seem like a pleasing combination, but trust us on this one, it is good. Mix in 1 tablespoon of lemon juice to the basic deviled egg mixture, and sprinkle dill on top.
Maple and bacon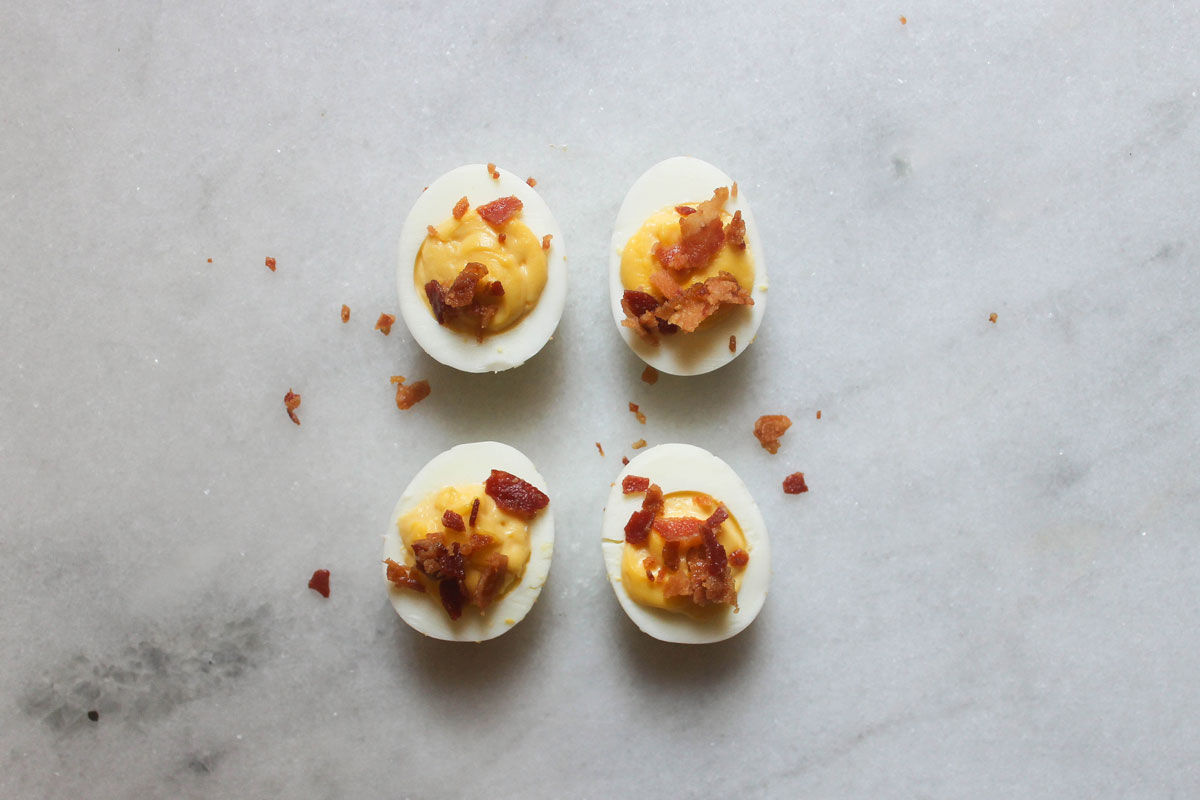 Sweet deviled eggs may not sound appetizing, but after testing this in the office, there are many editors who will back this combination up. Maple syrup and bacon male for a great pair for deviled eggs—it's the whole savory and sweet flavor combination no one can resist. Mix in 1 tablespoon of pure maple syrup and sprinkle on 2 slices of crumbled bacon.
Garlic and basil
Any garlic aioli fans out there? Add 1-2 teaspoons of garlic powder (depending on how garlicky you like it), as well as 1 teaspoon of dried basil leaves, into the basic deviled egg mixture. Sprinkle on more dried basil leaves on top for decoration.
Avocado
Pump up that satiating healthy fat in your deviled eggs by adding in 1/4 smashed avocado to the basic deviled egg mixture. Slice small shavings of avocado to add as decoration on top of these.
Pimento cheese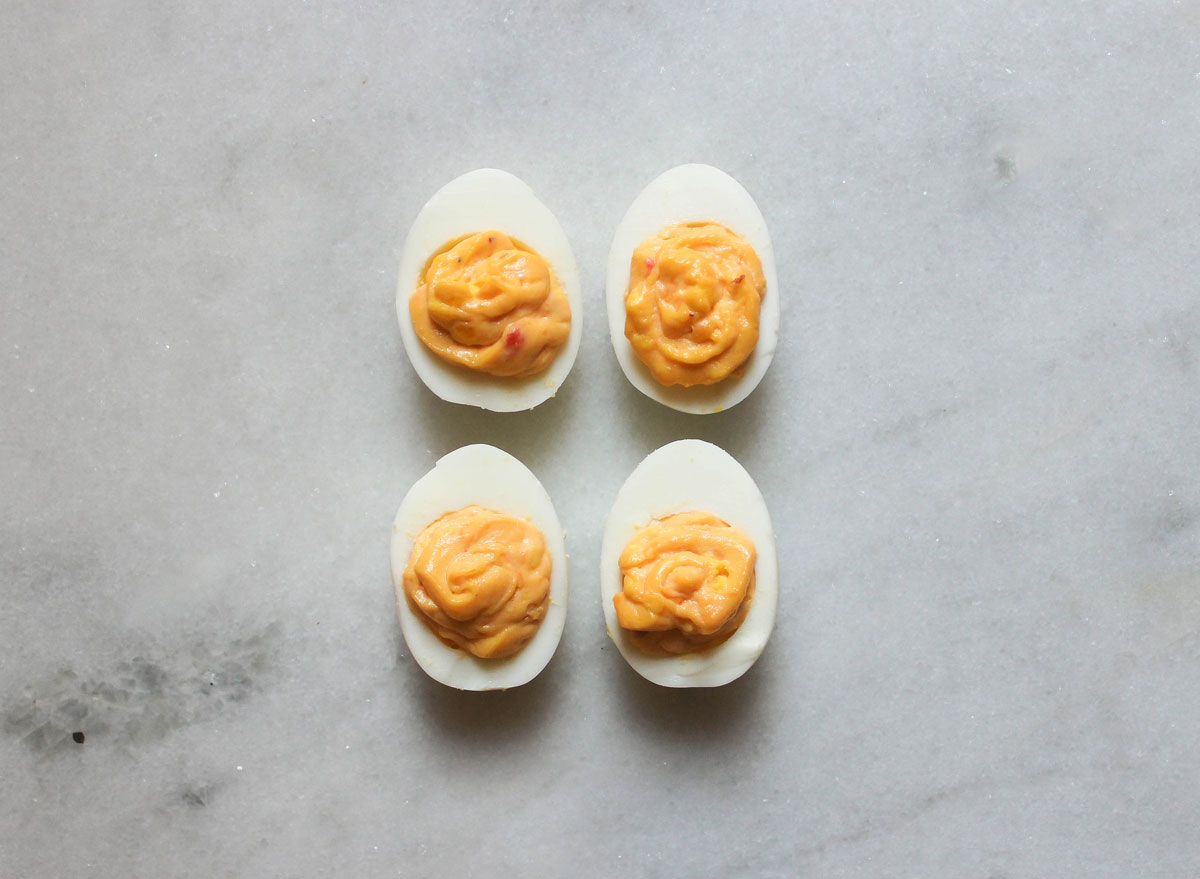 That's right, your favorite Southern cheese spread is the perfect deviled egg filling as well! Mix in 1-2 tablespoons of pimento cheese dip to this one.
Hummus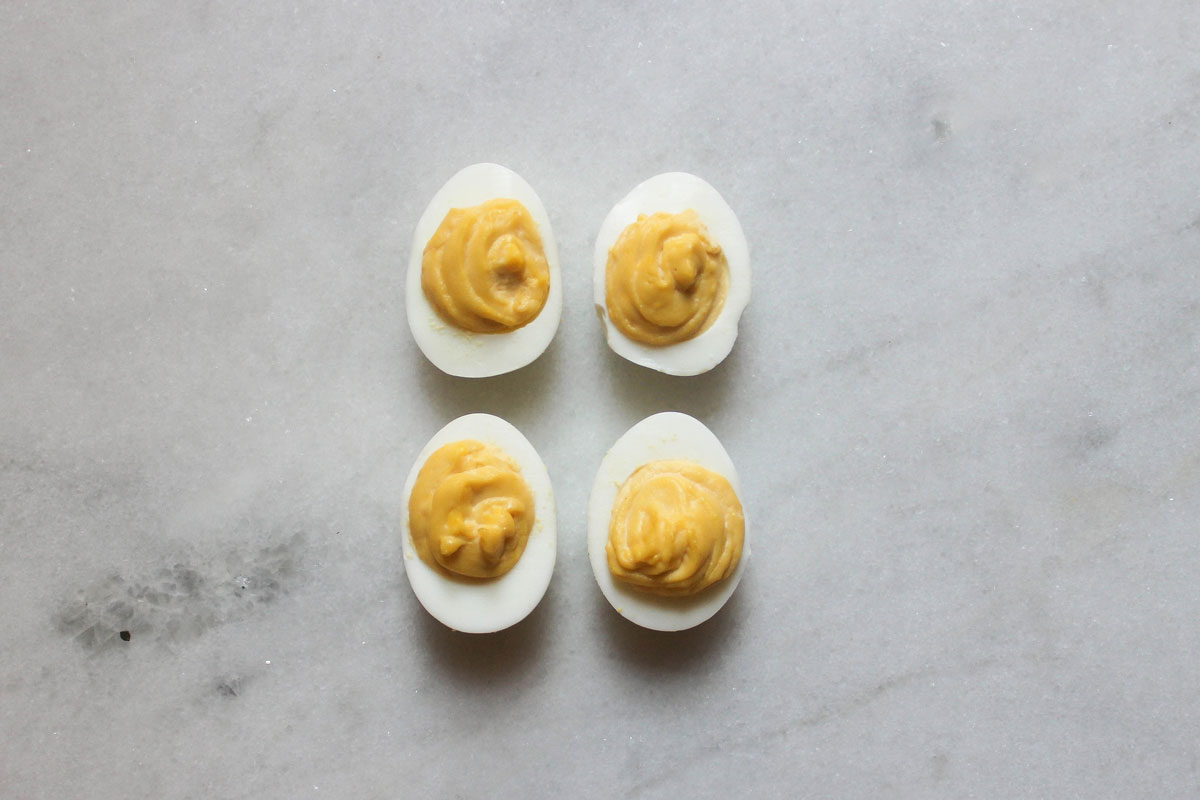 And last, but certainly not least, we have hummus. You may not believe it a first, but hummus is a great spread to mix into deviled eggs. Add 1-2 tablespoons of hummus Enjoy it plain, or sprinkle on some seasonings or even feta cheese on top.
For more, check out these 108 most popular sodas ranked by how toxic they are.