This Popular Restaurant Chain Temporarily Shuttered 40 Locations In the Past Week
The chain rarely closes its doors for weather-related reasons.
First, restaurants were hit hard by the pandemic. Then, inflation kept customers away. And last week, Hurricane Ian swept through Florida, battering the already suffering hospitality industry in its wake. Initially a Category 5 storm, then downgraded to a Category 1 storm, restaurant owners watched as their businesses were crushed, swept away or damaged beyond repair.
According to Nation's Restaurant News, one 24-hour breakfast chain is such a reliable presence on the restaurant scene in the Southeast, that its decision on whether to keep restaurants open or close them during storms is a good indicator of how severe the weather conditions will be. Naturally, Hurricane Ian managed to shutter dozens of their locations over the past week.
As many as 40 closures in the past week
During Hurricane Ian, Waffle Houses temporarily closed 40 of its Florida locations, according to Nation's Restaurant News, despite being infamous for rarely if ever closing for weather-related reasons. The popular chain has been an unofficial weather indicator for national disaster severity. If the status of its stores is green, then they're up and running; yellow reflects a limited menu; while red means locations are temporarily shuttered. The restaurants that had temporarily shuttered were in the direct path of the hurricane or were in flood-prone areas.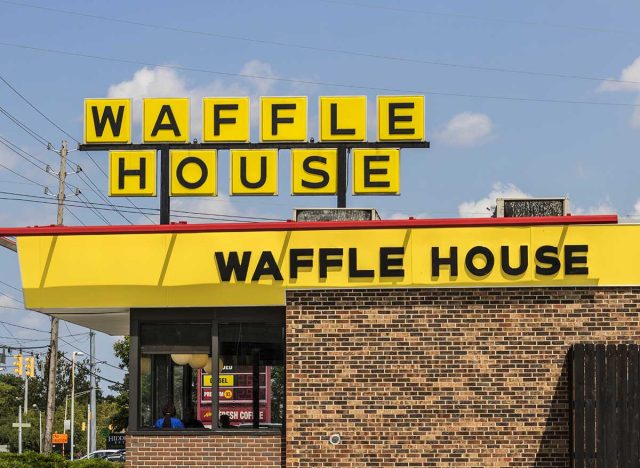 The chain is now working to reopen locations
But Waffle House will not be leaving customers without their waffle fix. As of Friday, 34 of the 40 shuttered Waffle Houses reopened with minor damage. The chain is working to open the remaining six restaurants in Bonita Springs, Cape Coral, Fort Myers, Northport, and Port Charlotte as soon as possible.
Pitching in during the hurricane chaos
Florida Gov. Ron DeSantis arrived at a reopened Waffle House in Charlotte County, Fla. on Saturday to feed hungry linemen, according to Fox Business.
"WaffleHouse is one of the first restaurants in Charlotte County to reopen and provide hot meals as we work together to serve Floridians after Hurricane Ian," DeSantis tweeted. "Thank you for providing meals to the linemen working to restore power."
As Waffle House does its part to get back up and running—and to help volunteers working in Florida—other restaurants are also trying to do their part. Miami restaurants including Abbale Telavivian Kitchen, Inika Foods, Red South Beach, Sergio's, Zalie Cakes, and more, are hosting fundraisers and donating portions of their profits to Hurricane clean-up and restoration.