7 Secrets Only Insiders Know About Waffle House
Did you know there are four different menus?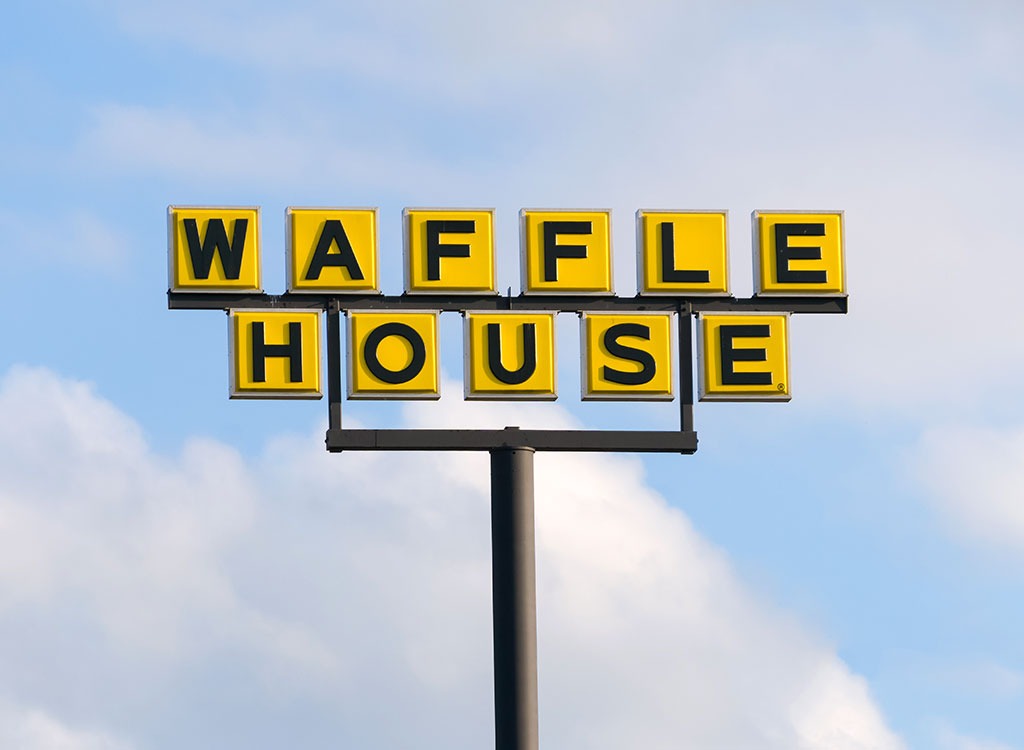 Waffle House is a southern staple. The casual diner atmosphere and grease-covered griddle are hallmarks of the restaurant that's been open since 1955. Diners who frequent Waffle House are known to order the same thing every time or have a waitress who's already put their order in before they sit down at one of the booths or bar seats. Fans of the chain can't get enough of the fluffy waffles, hash browns covered in a variety of toppings, and of course crispy bacon, but they have to know how to order to get exactly what they want. Now employees of the restaurant are sharing secrets, including menu hacks and things about the brand you might not know. (Plus, don't miss 11 Secrets Panera Bread Doesn't Want You to Know.)
Waffle House has four different menus.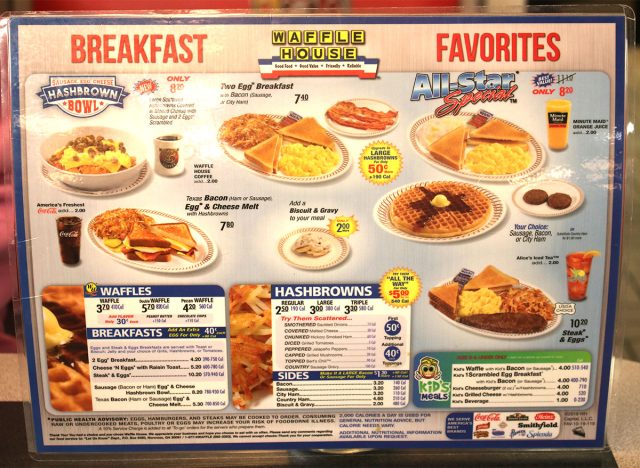 While most of us are accustomed to the standard Waffle House menu with everything from eggs and bacon to waffles and breakfast bows, the restaurant actually has four different menus. According to Money.com, Waffle House has four secret limited menus on stand-by for disasters like hurricanes, that are used based on any given situation: a no-power menu, a no-water menu, and two other limited menus that are used based on customer volume.
The Waffle House Index is real.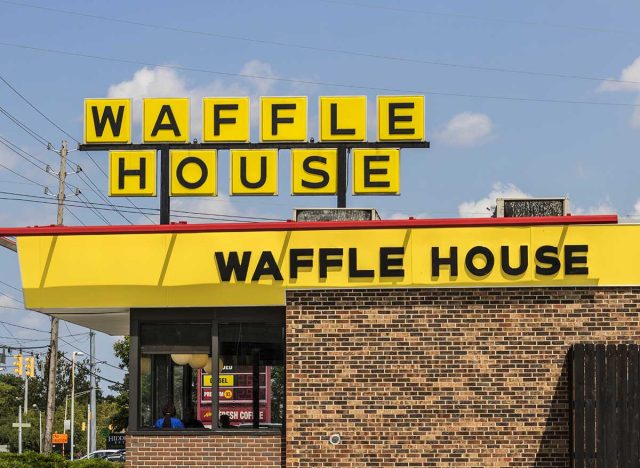 Waffle House is known for being open 24 hours a day, seven days a week, including during inclement weather. But when Waffle House is closed there's a major problem. FEMA and other government agencies use something called the Waffle House Index to determine the impact of a hurricane or other natural disaster. If the full menu is being served at the restaurant it's Code Green, if there's a limited menu because of power issues it's Code Yellow, and if restaurants are closed it's Code Red.
You have to take a test to be a Grill Master.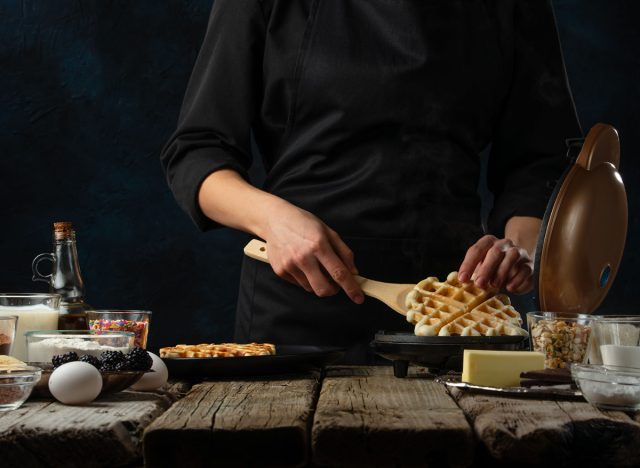 According to one Reddit user, you have to take a three-part test to get to the coveted Grill Master position at Waffle House. The test includes having to cook most of the menu, a written test, and an evaluation by three managers.
Waffle House uses a marking system to know what goes on what plates.
When Waffle House is really busy, or something needs to be communicated from Grill Master to other line cooks, they use what's known as the marking system with condiment packets, according to one Reddit user. They said, "Based on what the condiment is, and where it is on the plate, it translates in our head as a certain thing."6254a4d1642c605c54bf1cab17d50f1e
There's a mark behind the counter that tells servers where to stand
When orders are taken and servers call out what patrons want there's a specific spot they are supposed to stand. Behind the counter, there are gray tiles with one single tile that's a different color. That single tile is called "The Mark" and servers stand there to call out orders for the grill master to hear.
Waffle House has its own in-house record label.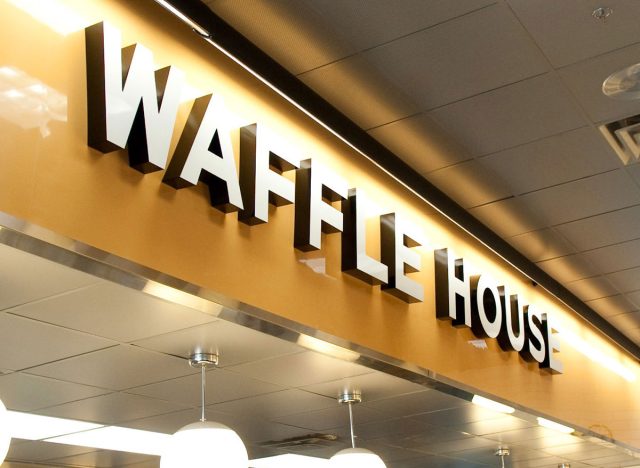 Almost every Waffle House around the country has a vintage jukebox where diners can enjoy the sweet sounds of the 80s and 90s music. But they can also listen to some songs dedicated to the chain that was produced by Waffle House's own in-house record label WH Capital. Songs include "Waffle House Do Wop," "Good Food Fast," and "There Are Raisins In My Toast."
There is a Waffle House food truck.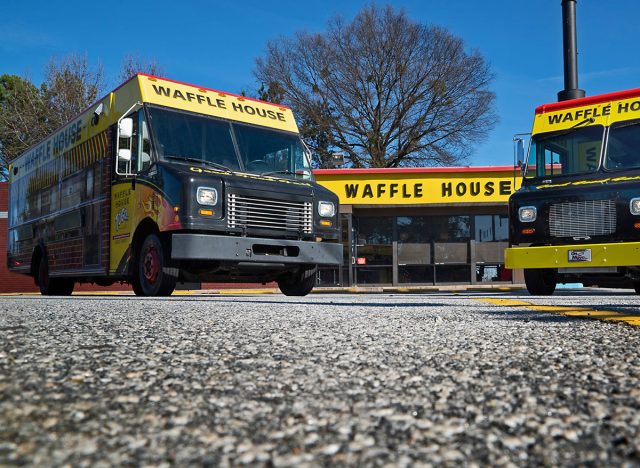 If you live in the Atlanta area, you can rent the Waffle House catering truck for events like weddings, birthday parties, or company parties. Let's just be honest, there's nothing better than celebrating with a hot waffle filled with pecans or chocolate chips.
Discover more insider secrets about your favorite restaurants:
28 Secrets Popular Fast-Food Chains Are Hiding From You
11 Secrets In-N-Out Doesn't Want You to Know
Megan duBois
Megan duBois is a travel and lifestyle journalist with bylines across the internet and in print at Delish, Conde Nast Traveler, Travel + Leisure, Yahoo Lifestyle, and more.
Read more about Megan