7 Ways to Make Oatmeal for a Flat Belly
We asked the experts how to fill your bowl with flat-belly goodness!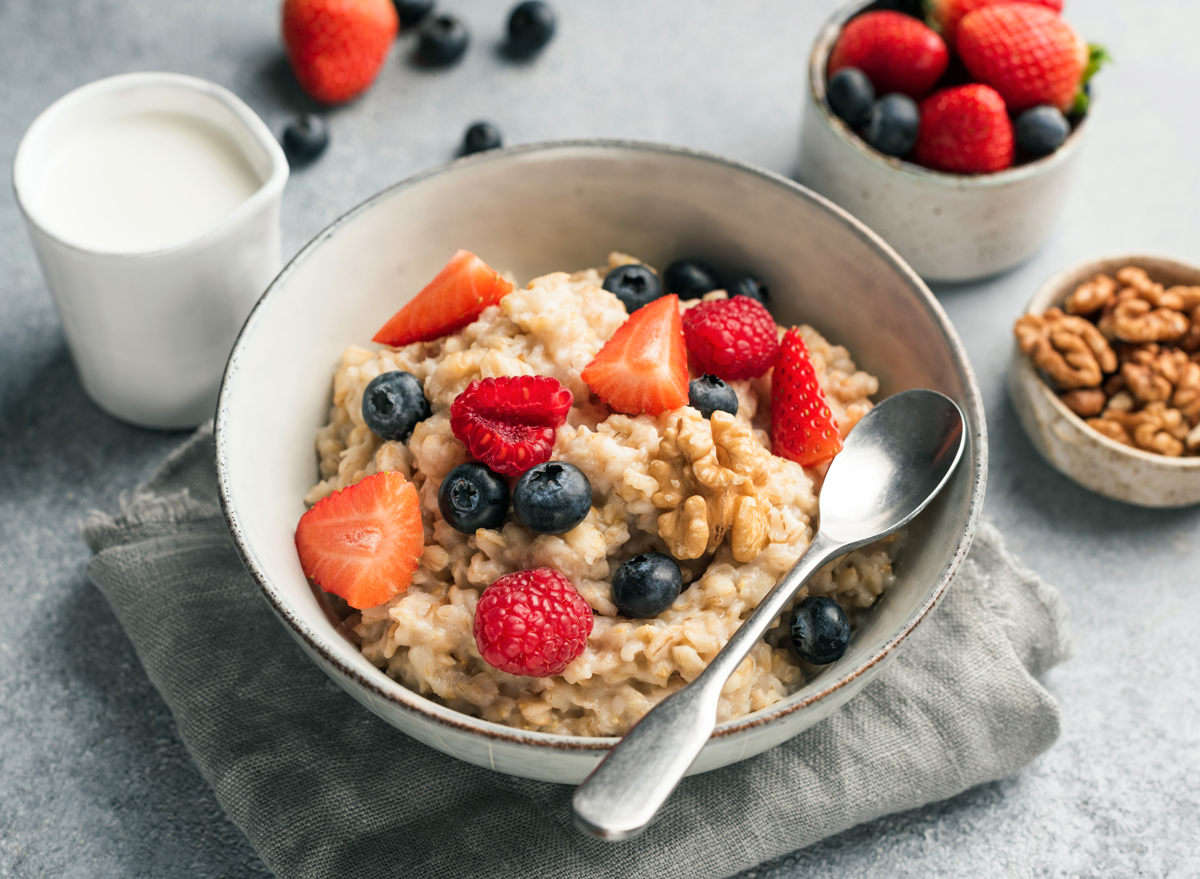 Carbs and a flat belly? Yep, it's possible. Especially with oatmeal, which is one of the best complex carbs you can have for breakfast. It's full of gut-filling soluble fiber and studies have even shown that eating oatmeal regularly can lead to a longer life. But while oatmeal is a top breakfast food to enjoy in the morning, if not prepared properly, it can be loaded with all kinds of added sugars and empty calories that won't leave you with that flat belly you desire. That's why we decided to speak with a few experts on how to make oatmeal for a flat belly!
Between swapping out sweeteners and the best ways to prepare it, here's how to make oatmeal for a flat belly, according to experts. And for more healthy eating tips, be sure to check out our list of The 7 Healthiest Foods to Eat Right Now.
Use natural sweeteners.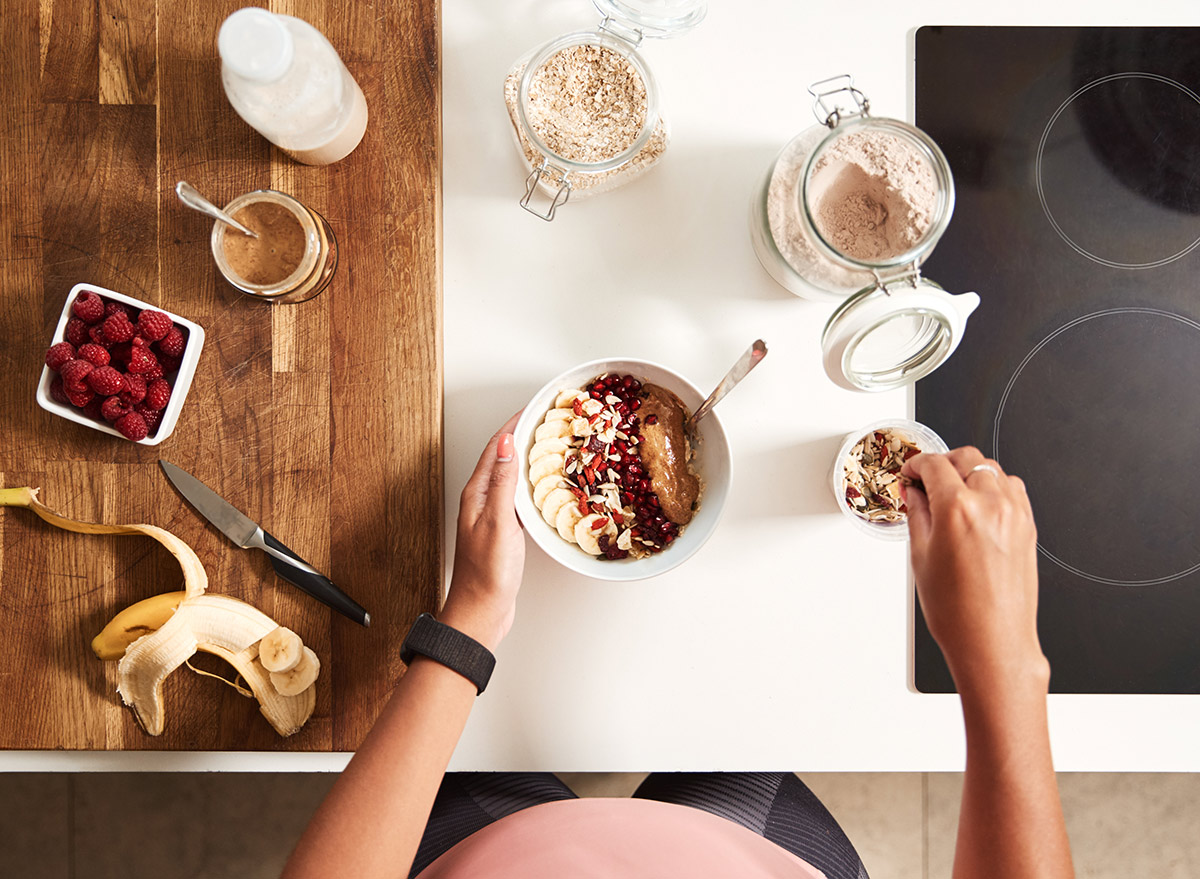 "Oatmeal can be made nutrient-dense through the ingredients you choose to top it with," says Trista Best, MPH, RD, LD a registered dietitian at Balance One Supplements. "Topping with fresh berries, nuts, and flaxseed and made with monk fruit sweetener rather than maple syrup or other artificial or calorie-dense sweeteners improves nutrient quality. Adding nuts will raise the protein content as well and help to keep you feeling full and satisfied."6254a4d1642c605c54bf1cab17d50f1e
For even more healthy topping ideas, check out our list of 11 Healthy Oatmeal Toppings That Help You Lose Weight.
Eat them cold.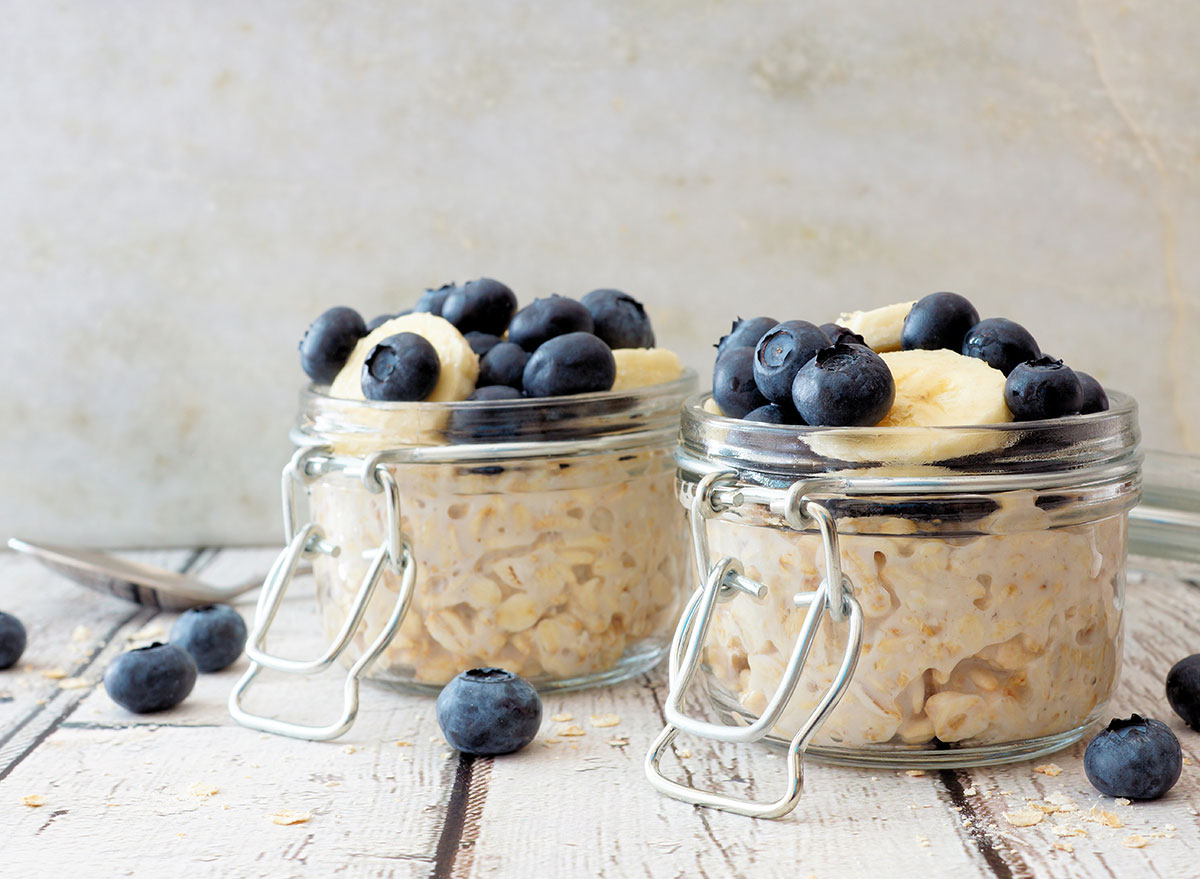 "Overnight oats have been shown to be better for digestion, more than hot prepared oats," says Nilou Shahryari, CEO of ONO Overnight Oats. "Since the oats have a chance to ferment throughout the soaking process, it leads to less phytic acid, better nutrient absorption, and overall digestion and gut health."
"Consuming oatmeal as a cold dish, rather than heating the oats, maintains the prebiotic resistant starch that is naturally present in the oats," says Kara Landau, NYC based RD and founder at Uplift Food. "This leads to enhanced satiety from the meal, as well as less insulin being released into your body to remove the glucose from your blood—which typically promotes fat storage at the same time."
Shahryari also mentions that adding in protein with your overnight oats can help with slower filling digestion, which can help you effectively attain a flat belly.
Don't know what kind of overnight oats to make? Check out our full list of 51 Healthy Overnight Oats Recipes.
Add in protein.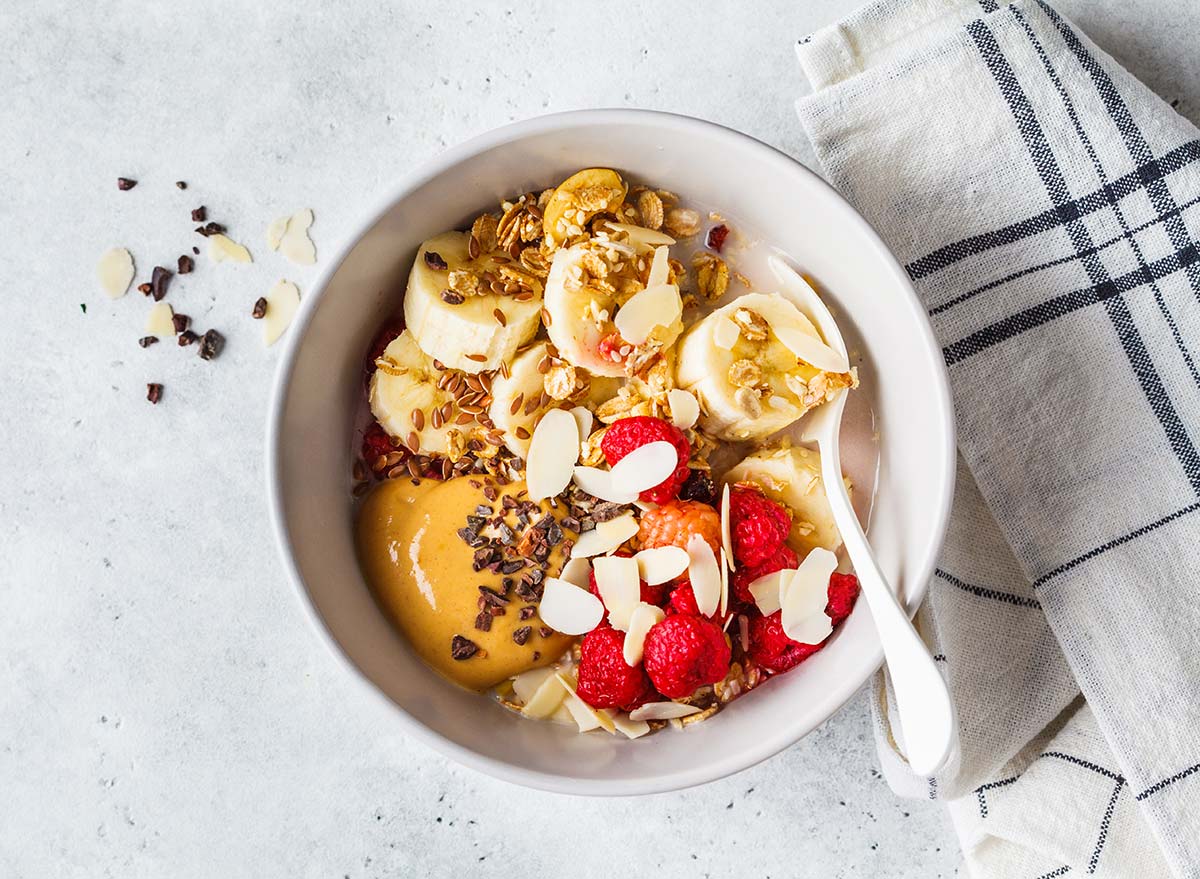 "Oatmeal is a great source of fiber, but also has a lot of carbohydrates," says Megan Byrd, RD, from The Oregon Dietitian. "By adding some protein to your oatmeal in the morning, you can avoid such a carbohydrate-heavy breakfast, and therefore, avoid so much bloating. Add two tablespoons of peanut butter or other nut butter, one scoop of protein powder, or even some slivered almonds or other nuts to your oatmeal to give it a protein boost."
Get even more healthy tips straight to your inbox by signing up for our newsletter!
Top with fruit (or veggies!)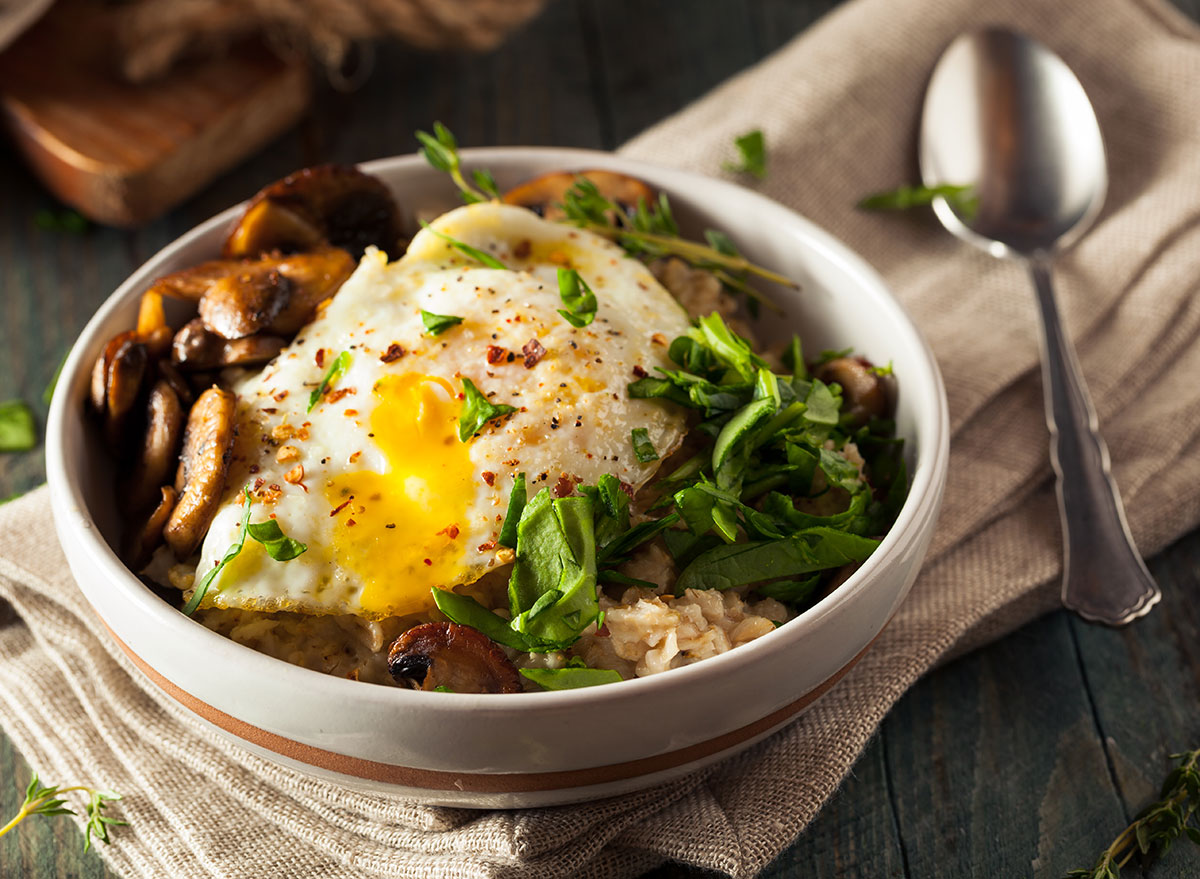 "Pump up the nutrition of your oatmeal by adding in colorful fruits and vegetables," says Mackenzie Burgess, Colorado-based RDN and recipe developer at Cheerful Choices. "By doing this, you'll add in flavor and important vitamins and minerals, while keeping the calories low. Try naturally sweetening your morning oatmeal with homemade chia seed jam using any fruit you have on hand. You can also go savory and pile on sautéed mushrooms and spinach."
Try steel-cut oats.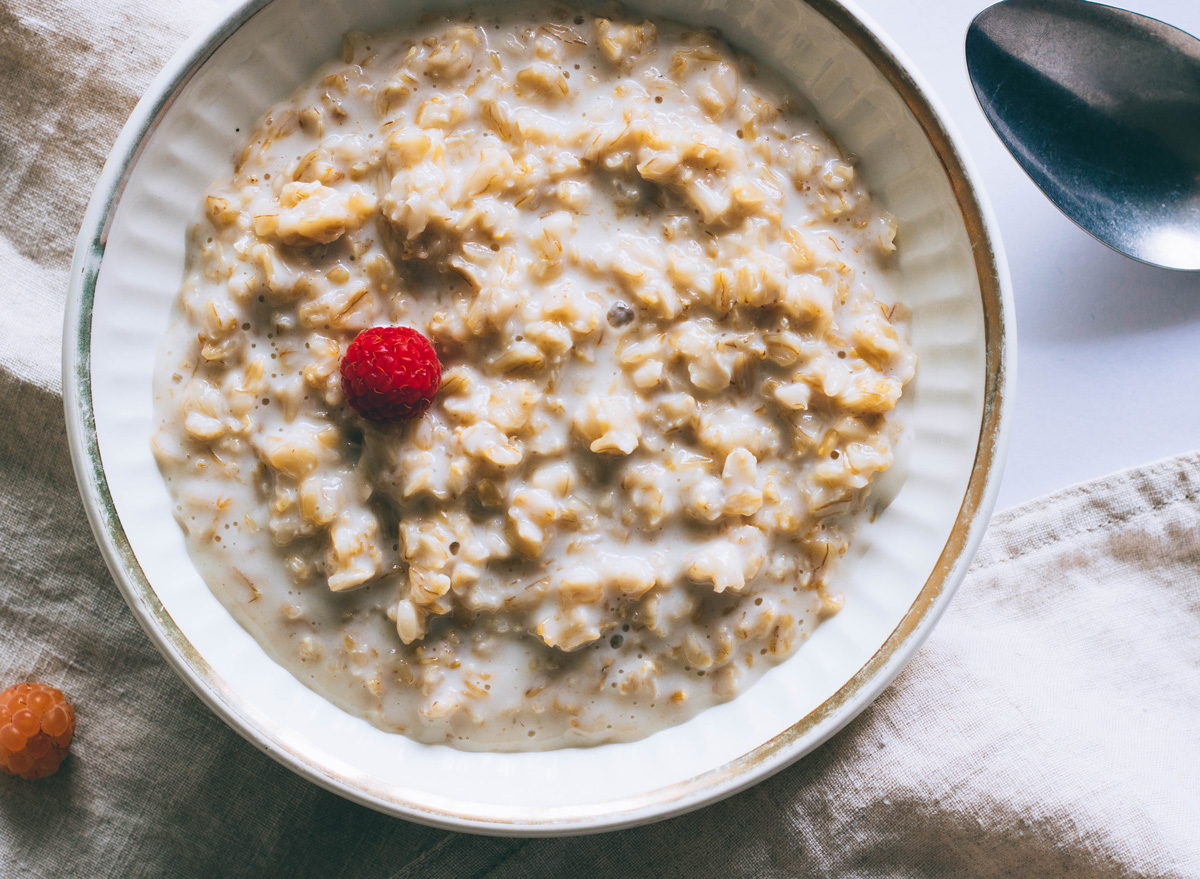 "Choose minimally-processed oats such as steel-cut or old-fashioned types for the most fiber and least amount of sodium," says Brenda Braslow, MS and Registered Dietitian with MyNetDiary. "You can cook them to eat hot or making overnight oats by preparing the night before. Add healthy additions like banana slices (a prebiotic food that helps feed the good gut bacteria) or berries (healthy addition of fiber and antioxidants). You can also cook dried cranberries or raisins in with the oatmeal. They plump up nicely during cooking. The fruit adds natural sweetness so you are not inclined to add a lot of sugar to the oats. You can also boost the nutrition and fiber with the addition of chia seeds or flaxseeds. They plump up nicely while cooking or when soaked with overnight oats."
Buy plain oats—not flavored.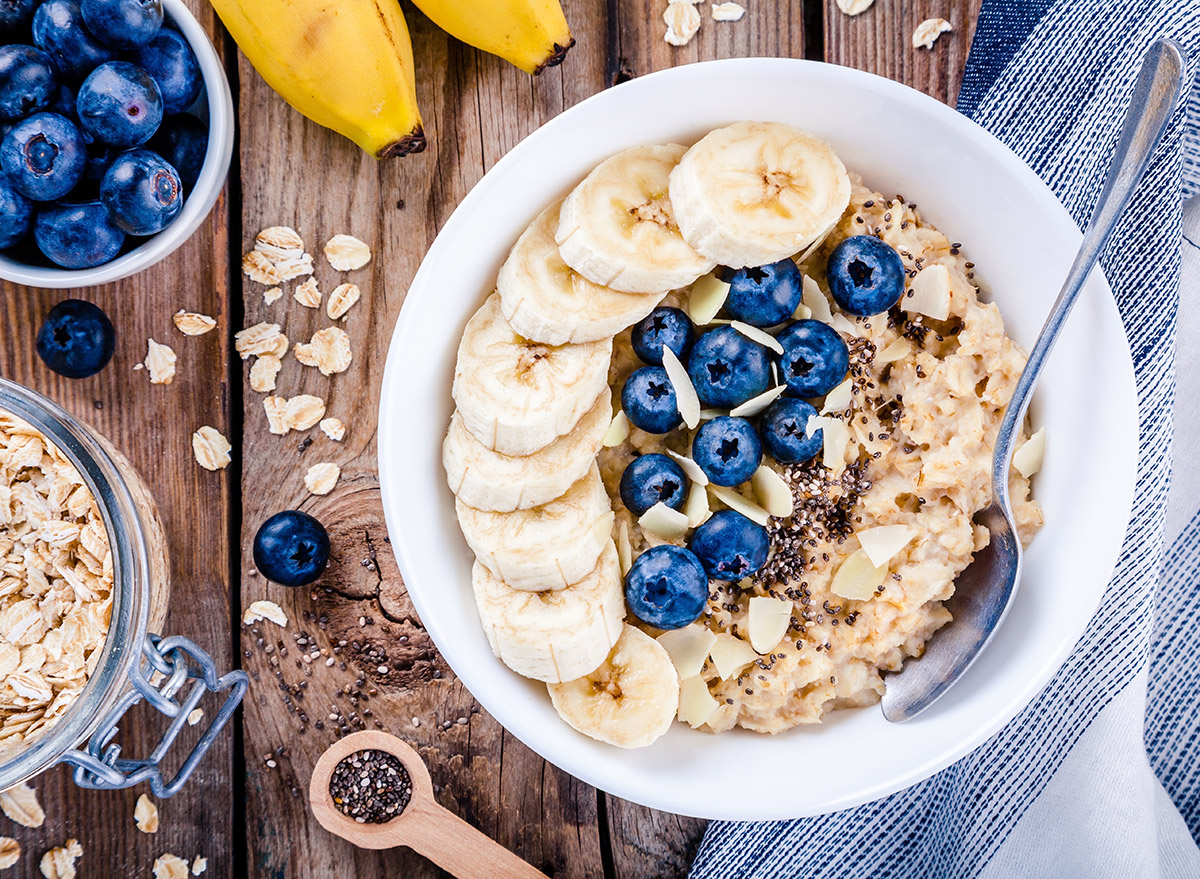 You should stay away from instant oatmeals and flavored ones as they pack enormous amounts of added sugar," says Chris Higgins, I'm an ACSM certified trainer with Calisthenics Gear. "Instead, buy steel-cut and rolled oats as they incorporate significant whole grains into your diet. These oats also provide a chewier texture and longer digestion time of so it's guaranteed that you'll be satiated better, preventing you from munching on more foods later. To spice up your bland oatmeal, you can add toasted nuts and seeds for added protein, fiber, and healthy oils to your oatmeal."
Mix with water, low-fat milk, or plant-based milk.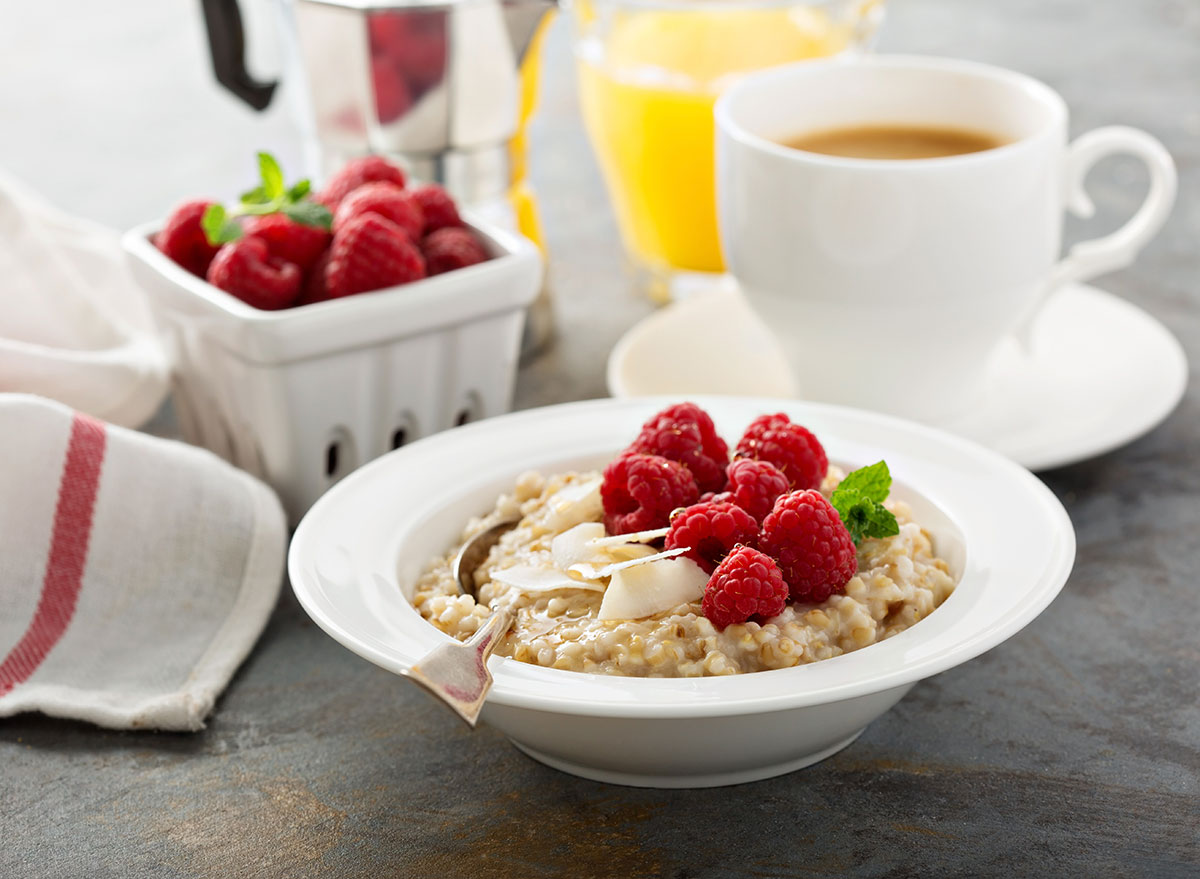 "My recommendations are to use steel-cut oats and mix with either water, low-fat milk, or unsweetened plant-based milk," says Lisa Young, PhD, RDN and author of Finally Full, Finally Slim. "Top with cinnamon and 1 to 2 tablespoons good fat [such as] walnuts or flaxseeds."
Young also says adding fruit on top is the best way to make your bowl sweet and still make oatmeal for a flat belly. She recommends adding sliced apples or blueberries to the oatmeal before cooking.
"When cooked, it is super sweet! And no sugar needed," says Young. "Skip the sugar and honey unless you can use a really small amount (about half a teaspoon) and skip the pre-sweetened packaged varieties."
Not sure if you're a huge oatmeal fan? Here are the 7 Amazing Benefits of Eating Oatmeal to convince you to start your mornings with a bowl.