I Tried Wendy's Ghost Pepper Chicken Sandwich, Fries, & Frosty—Here's What I Loved
If you're looking for spice, these newest menu items will deliver.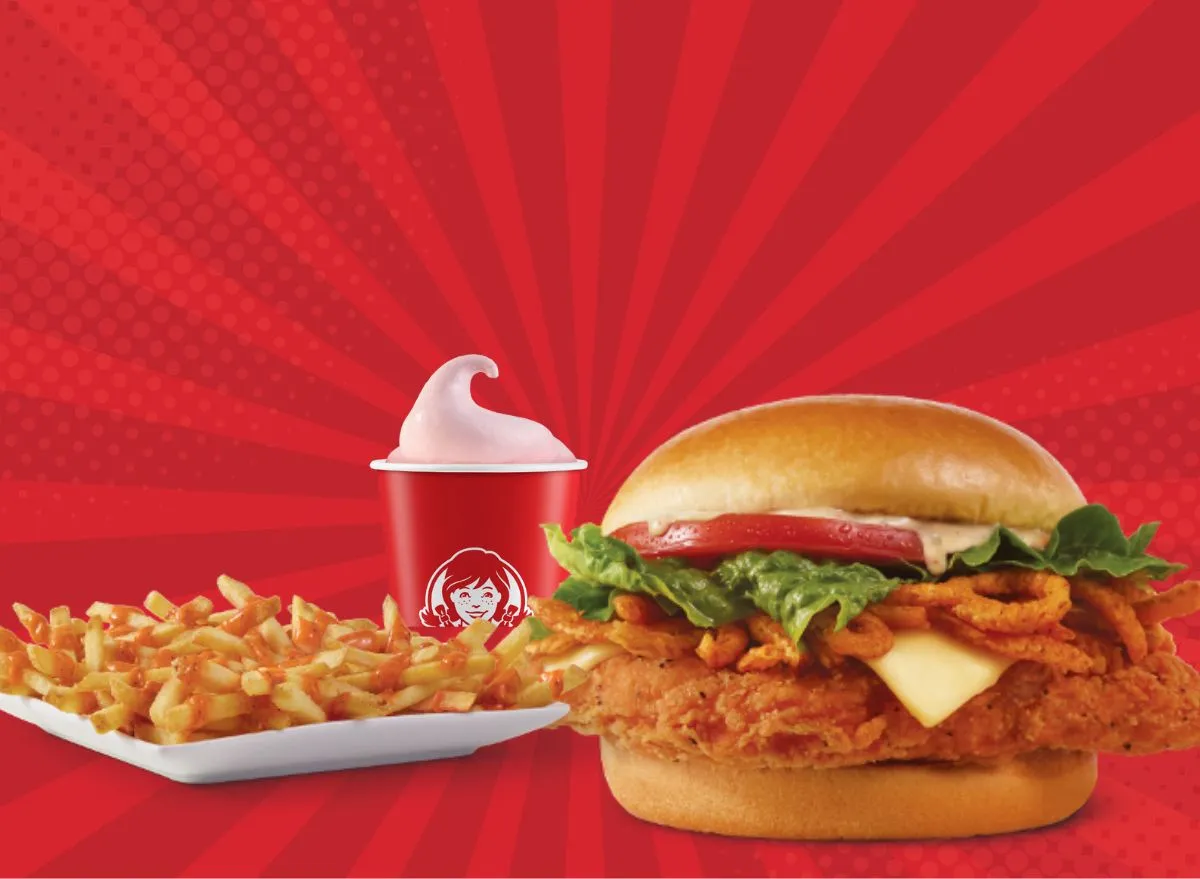 Wendy's just brought the fire back and thankfully, it also brought something to cool it down. Two fiery new menu items were launched at the restaurant this week and a seasonal Frosty made a reappearance as well. I tried the three side by side to see which, if any, you should give a try.
Wendy's new Ghost Pepper Ranch Chicken Sandwich appeared on the menu this week next to a new version of the fan-favorite Ghost Pepper Fries and seasonal Strawberry Frosty. The ghost pepper, or Bhut Jolokia, for those who are not aware, is one of the world's spiciest peppers. At 1 million Scoville Heat Units (SHUs) the ghost pepper is about 200 times hotter than a jalapeño. The pepper is so named because the heat isn't apparent at first, but then it sneaks up on you, like a ghost, filling the palate with burning spice. The bright red pepper seems to be a favorite of the fast-food industry recently as both Popeyes Ghost Pepper Wings and Burger King's Spicy Chicken Fries use it.
Wendy's Ghost Pepper Ranch Chicken Sandwich has a three-way punch of the wildly hot pepper. The sandwich includes the same crispy chicken as Wendy's Spicy Chicken sandwich with the addition of crispy ghost pepper fried onions, ghost pepper American cheese, and ghost pepper ranch sauce. This is all served on the classic bun with cooling lettuce and tomato.
The chain also revamped its Ghost Pepper Fries by drenching its crispy skin-on fries with a buttery, spicy ghost pepper sauce. Finally, the returning Strawberry Frosty which debuted last summer, is here to cool everything down.
I got all three and tasted them side by side, and have a few warnings for you.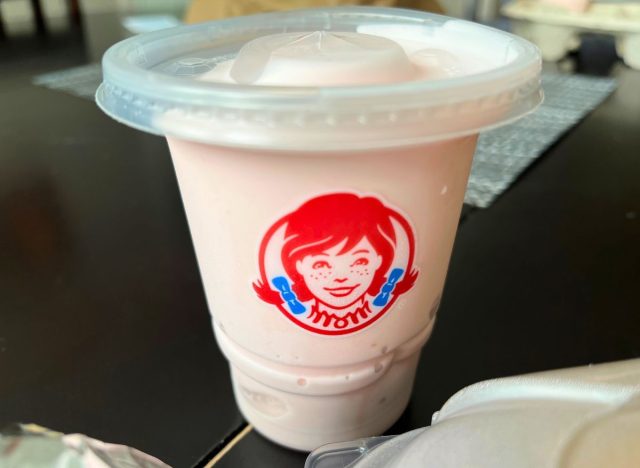 The Strawberry Frosty first made its appearance last summer to mixed reviews and some bemoaned the loss of the Vanilla for this fruity flavor.6254a4d1642c605c54bf1cab17d50f1e
The look: This pale pink creamy concoction doesn't look like a hero, but it would be the savior of the day.
The taste:  The Strawberry Frosty—like all Frosty flavors besides the classic Chocolate—is made from the Vanilla Frosty base so it has pleasant vanilla-y undertones. The strawberry flavor is subtle and sweet but not overwhelming and it would prove key in the tasting of Wendy's spicy new menu items.
Ghost Pepper Ranch Chicken Sandwich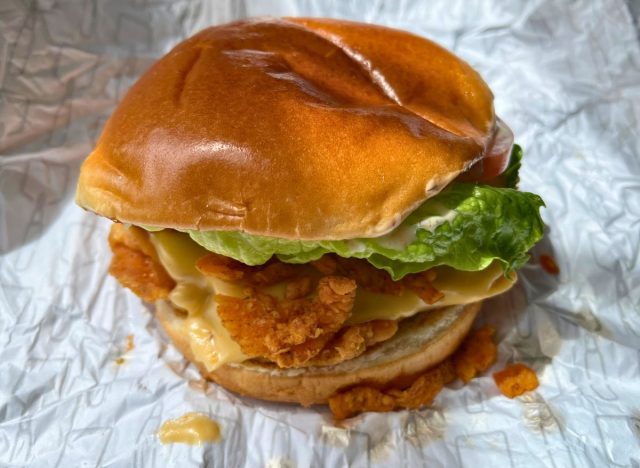 Wendy's newest chicken sandwich iteration is packed with spice. The crispy onions, American cheese, and ranch sauce all have a good dose of real ghost pepper.
The look: This is a good-looking sandwich, big but not too big and well put together. The bun is super shiny and all the goodies, like gooey cheese, pale orange sauce, crispy onions, and a leaf of fresh lettuce, are peeking out the sides. It's begging to be eaten.
The taste: I couldn't help grabbing one of the crispy, orange-y onions that had fallen out of the sandwich. These little crispy demons were a harbinger of things to come. The heat wasn't initially strong but in classic ghost pepper fashion, it snuck around my mouth and settled in the back of my throat. When I went in for a full bite of the sandwich I got all of the textures I was craving: crispy chicken with a tender, juicy interior mixed with melted cheese, crunchy lettuce, spicy onions, and creamy sauce. The ingredients were all perfectly spread around the sandwich, giving a little of each in every bite.
Then the heat came, slow at first and then it built into this three-alarm fire that begged for a slurp of the Strawberry Frosty. If Wendy's has developed this sandwich as a ploy to sell more Frostys, then it has succeeded! Otherwise, the release of the shake with these two spicy items is just a serendipitous fluke. There is no greater quencher of the heat than this cool, thick creamy treat. The sandwich was so spicy it took an entire small Frosty to get through half of it.
Overall, this sandwich is delicious and if you are a heat lover you will be over the moon. But for those of you with weaker spice tolerance, get the medium or large Frosty, or just the regular Spicy Chicken Sandwich.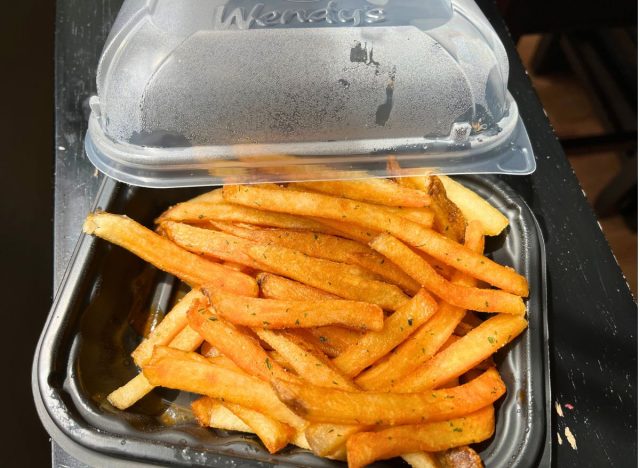 Wendy's new Ghost Pepper Fries rely on a buttery sauce spiked with the bright red pepper. They are a minimalist version of the fries from 2016 that were loaded up with cheese sauce, jalapeños, shredded cheddar, and a spicy sauce.
The look: The Ghost Pepper Fries look a lot like the Garlic Fries from last year. They come in the same special box, doused with a reddish sauce that drips and pools at the bottom. A few flecks of a green herb also coat the fries.
The taste: They taste like Buffalo wing sauce fries with a bigger kick. The sauce is buttery with a well-emulsified pepper sauce that lingers at the bottom for dipping. A side of regular ranch would be the right partner for these fries to cool them off. The spice builds but doesn't overwhelm the palate as with the sandwich. Together, however, these two new items are a bit much. If you have the Ghost Pepper Ranch Chicken Sandwich with the fries, you are taking in ghost pepper in four different ways. You're gonna need more Frostys!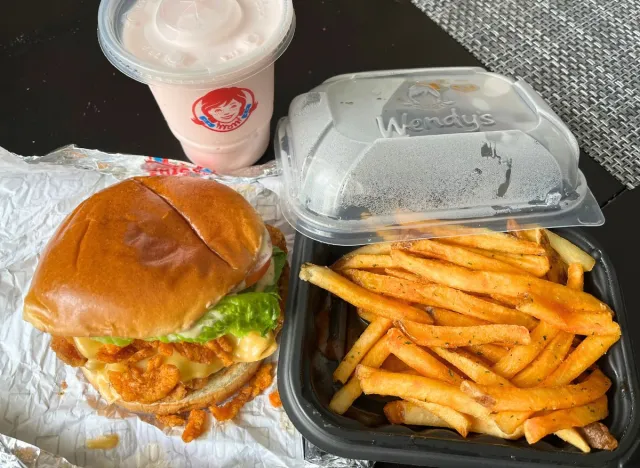 Your best bet would be to get one of these spicy items at a time, unless you are a serious spice eater. We suggest getting the Ghost Pepper Ranch Chicken Sandwich with a side of regular Wendy's fries, or getting the Ghost Pepper Fries with a Wendy's Chicken Sandwich—don't do both at once! Get the Strawberry Frosty anytime, it's truly delicious with anything salty or spicy.