20 Trainers Reveal What They Eat After a Workout
The fitness pros don't all have the same approach, but they all agree on some essential components.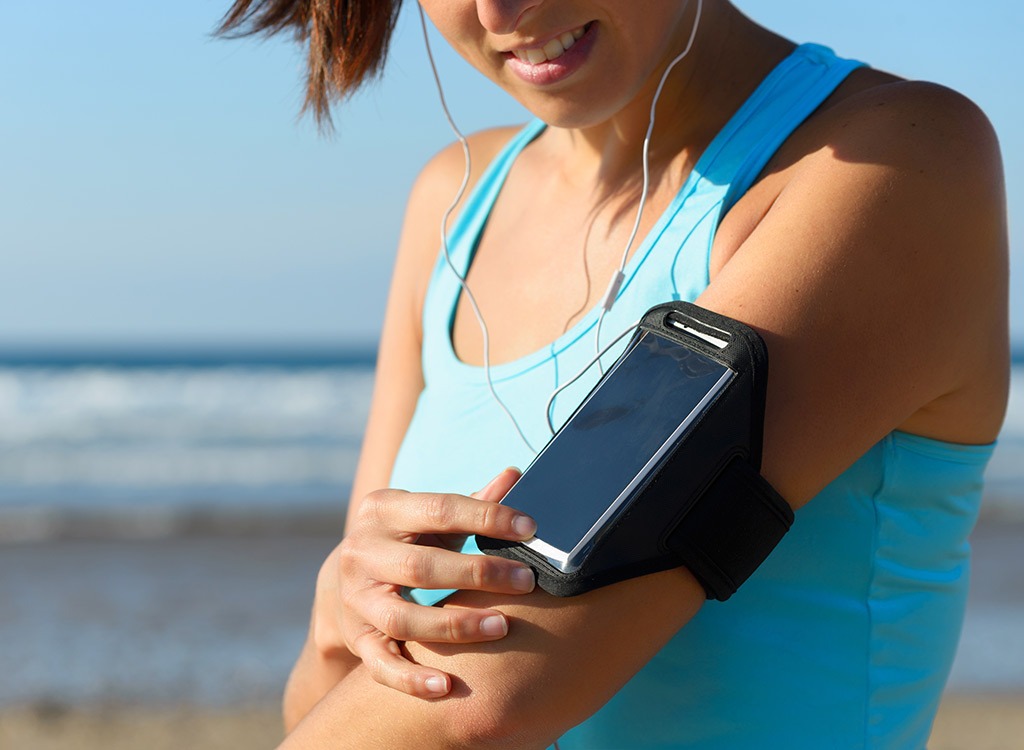 Sorry, breakfast. When someone is in the throes of a workout regime, the most important meal of the day is that very first one after you exercise, regardless of the time of day. It's the fuel your body needs to regain energy and build lean muscle mass—and the right combo of carbs and protein are essential. And it's all too easy to simply picture grilled chicken, and…um…
That's why we asked top trainers to reveal what they feed their own sculpted bodies after a tough workout. Whether it's strength training, barre work, indoor cycling or intense cardio, the right bites are a key part of making the most of your efforts. Use the pros' tips to discover the perfect snacks to throw in your gym bag or exactly what you should have on your plate when you sit down for that important post-workout meal. Variety is always key, and these 20 trainers have a wide range of suggestions so you can mix it up until you find the combos that are most pleasing to you—and deliver the results you're aiming for! Can't hit the gym today? Don't miss these 31 Sneaky Ways to Work Out—Without Stepping Foot in the Gym.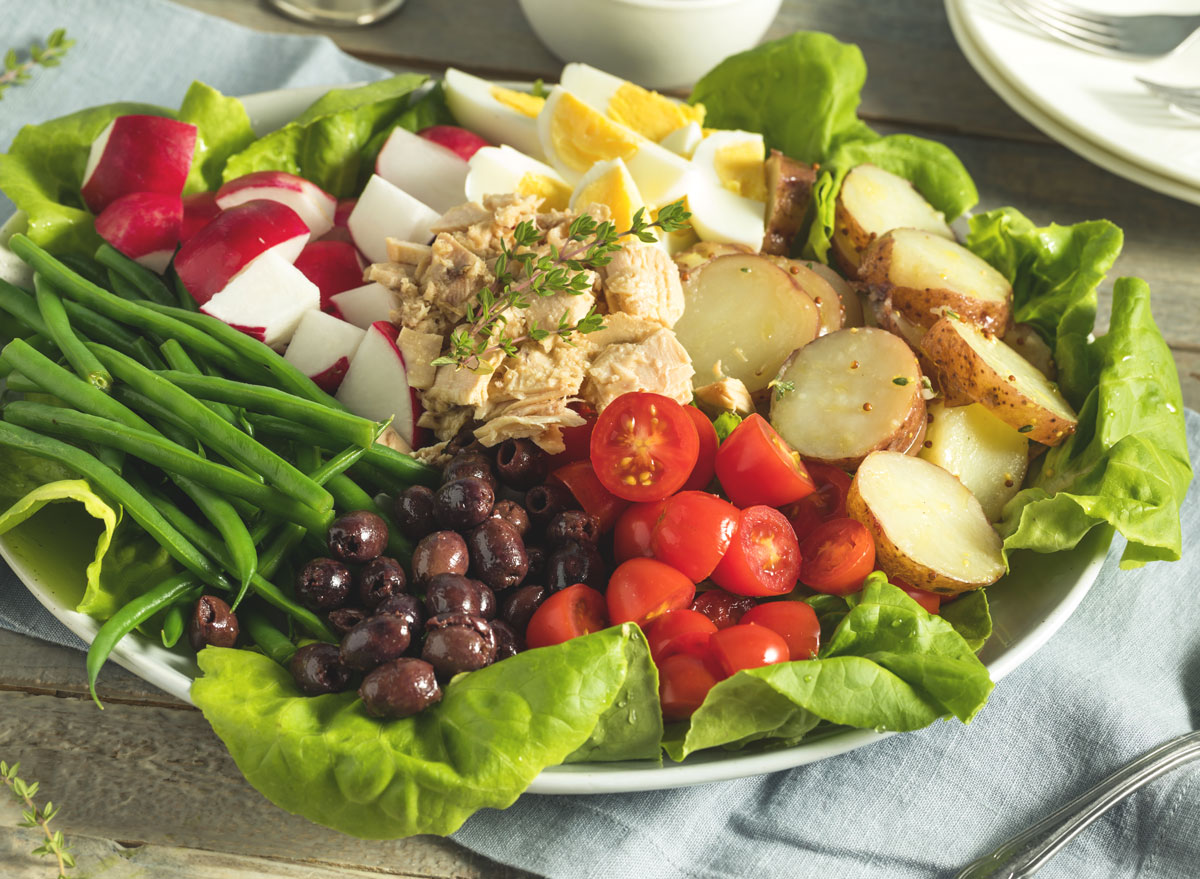 Yoga Instructor Karly Treacy is all about carb loading after you've done your part at the gym. "Your metabolism is fired up and your body has spent its glycogen. Adding carbohydrates to your post-workout meal will not boost or diminish any muscle synthesis but it will replenish your glycogen stores," she says. "Glycogen plays a role in maintaining blood sugar levels and is the number one food for the brain, so make sure you nourish your body with both a protein and a carbohydrate after a workout!"
Treacy's go-to choices are a protein shake with banana, raw cacao, maca, cinnamon, almond butter, and a scoop of protein powder.
Alternatively, Treacy goes for a Nicoise salad with the potatoes. "Both of these options are a perfect balance of protein and carbohydrates so that you maximize your body's recovery, but do not take away from the muscle building or fat burning goals you may have!"
Scrambled Eggs and Avocado with Almond Butter Toast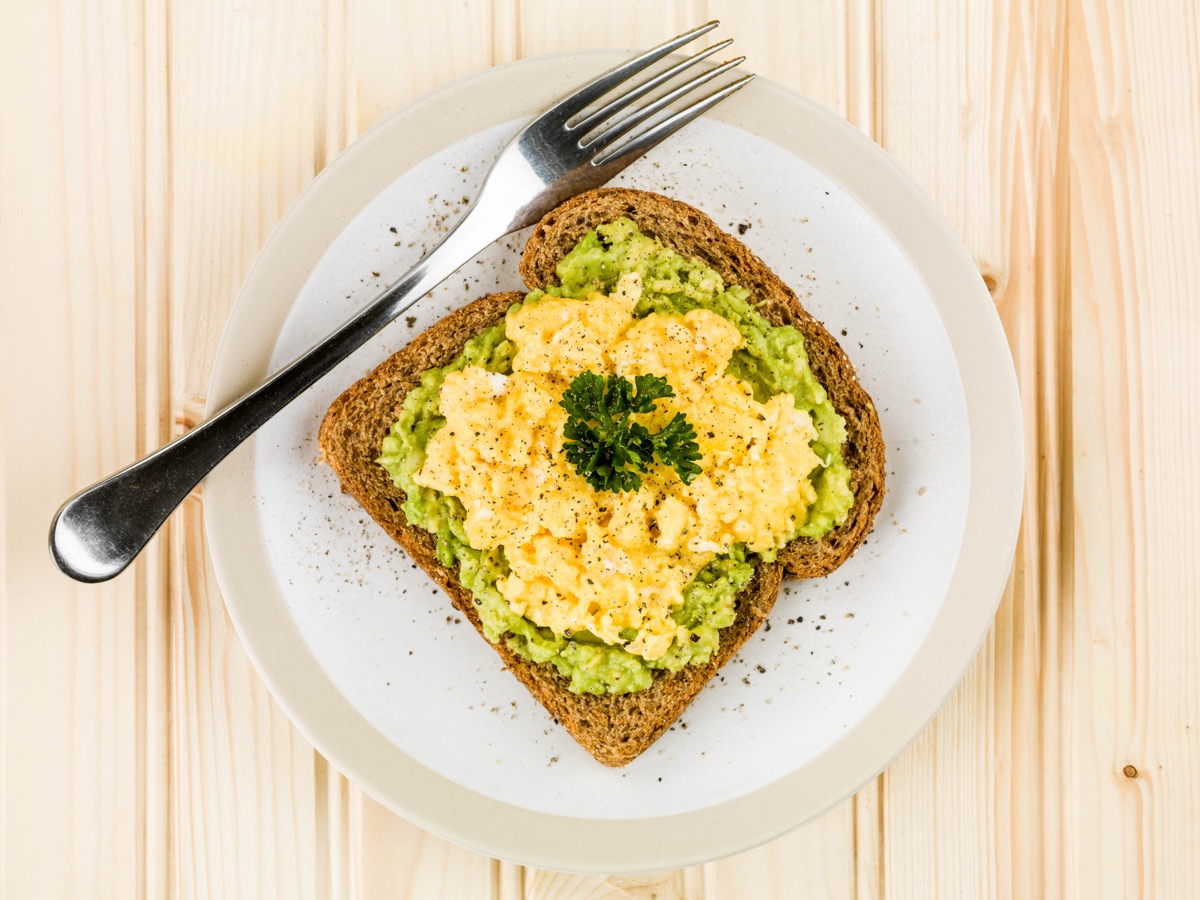 Kate Osman, Optimum Nutrition athlete and NPC Bikini Competitor, varies her protein and carb-packed post-workout food depending on what time of day she works out. In the morning, she whips up protein-packed scrambled eggs with avocado and serves it alongslide a slice of Ezekiel bread with a light spread of natural almond butter. "Eggs are a great source of protein and the avocado will give you some of the good fats that your body is craving, and Ezekiel bread will help you fuel up for the day," Osman explains.
In the evening, Osman goes for grilled chicken and steamed vegetables or salmon with sweet potato slices. "This will fill you up without making you feel bloated after your workout," she says. Speaking of bloat, do you need to de-puff ASAP? Then check out these ways to debloat in 36 hours!
Lean Protein, Carbs, and Green Leaves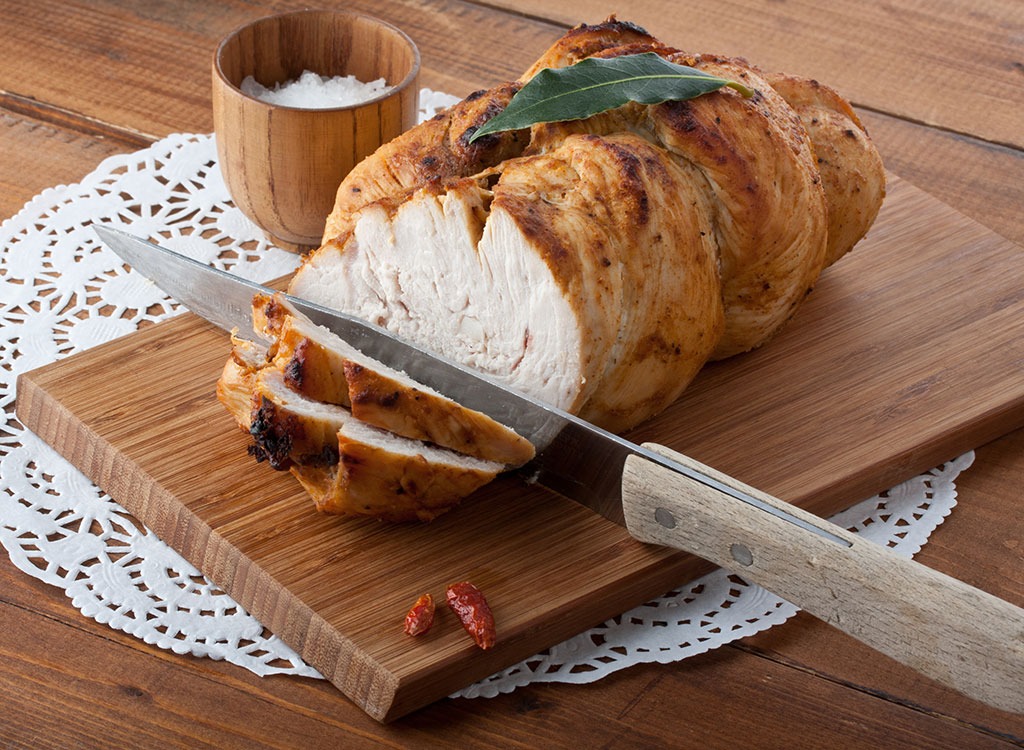 Although she's not against a protein shake if you're short on time, Barry's Bootcamp Trainer Ingrid Clay says eating—not drinking—protein is her preference. Clay's post-workout meal includes three-and-a-half to five ounces of lean protein, half cup of complex carbohydrates like brown rice, quinoa, sweet potatoes or Jasmine rice, and then a green leaf veggie (to replace minerals and vitamin depletion). Finally, she likes to include one to two teaspoons of coconut oil because of its healthy fat status.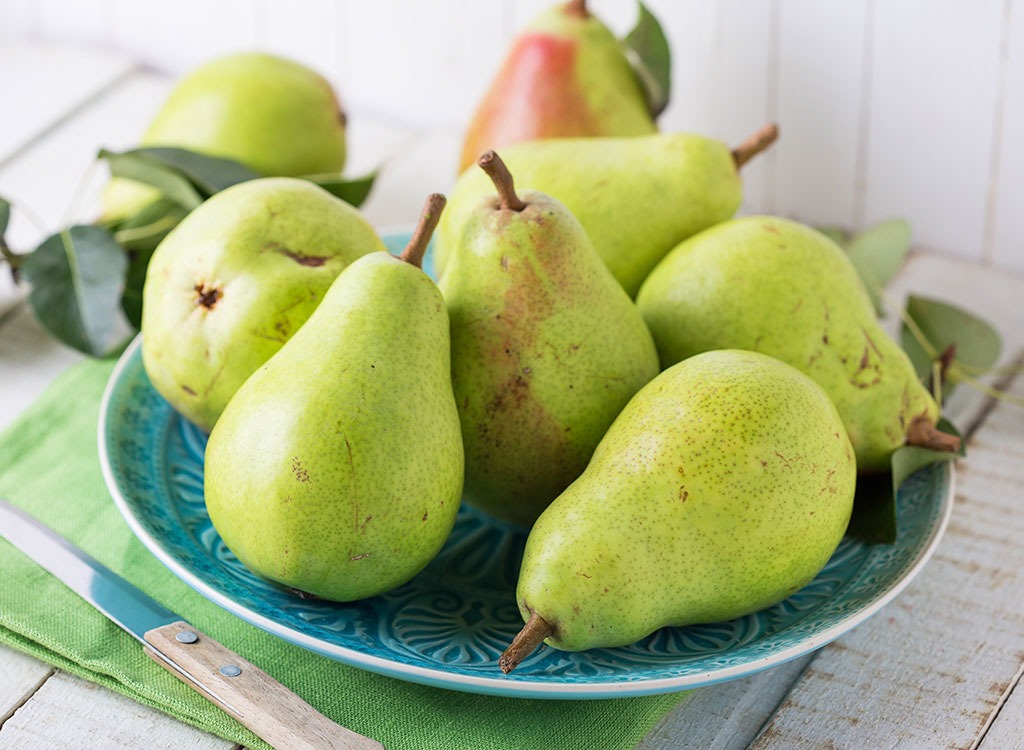 Meanwhile, even the healthy fats get a little bit of a snub from Blaire Massaroni, a personal trainer at Crunch Union Square in New York City. Instead, this fit pro eats a small piece of fruit followed by 30 grams of whey protein. Then, she eats another meal no more than two hours later that has the most protein and carbs—and the least amount of fat—for the day. This usually consists of pulled chicken breast, green beans, and a baked sweet oriental yam. "The one macro to avoid post workout is fat for about two to three hours," Massaroni says. "It slows the absorption of protein when your body needs it most, and the introduction of fat along with a blood sugar spike can lead to fat storage and inhibit muscle repair and growth." Confused about fat or no fat? Read up on the 20 Healthy Fats to Make You Thin so you know what's what!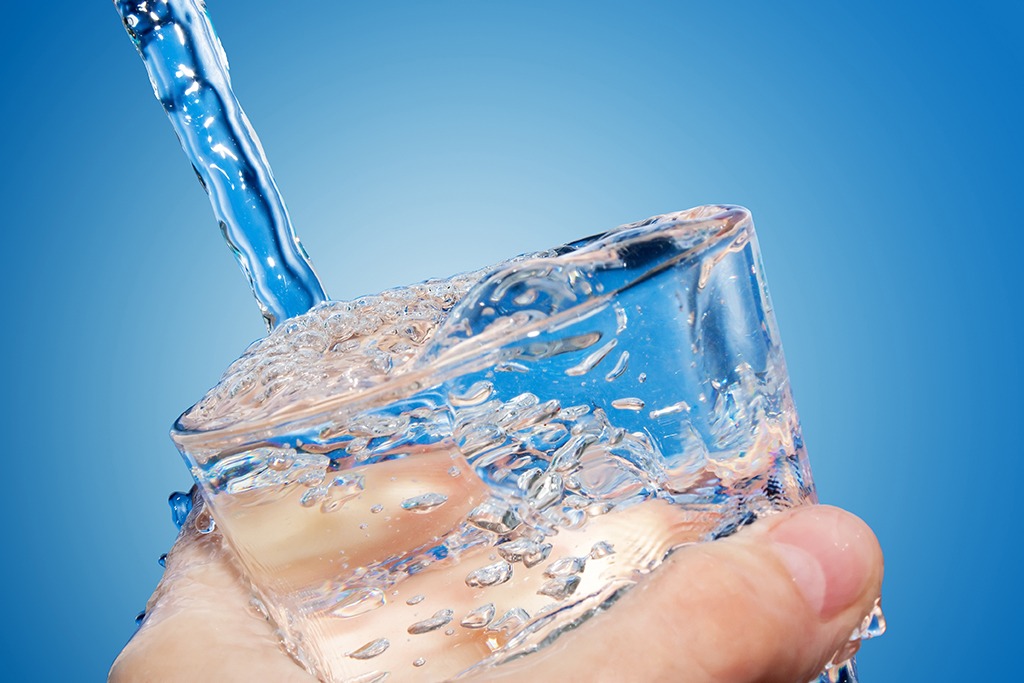 Ideally, a person should consume the same amount of water that was lost in sweat during the workout. "This is hard to measure, so use your thirst as a guide to how much water intake you need after a workout," says Jessica Diaz, barre instructor and certified personal trainer. "I recommend aiming to drink half your body weight in ounces per water, per day. If you are intensely working out, try to add in at minimum an additional sixteen ounces of water for every half-hour workout."
The 2:1 Carb to Protein Ratio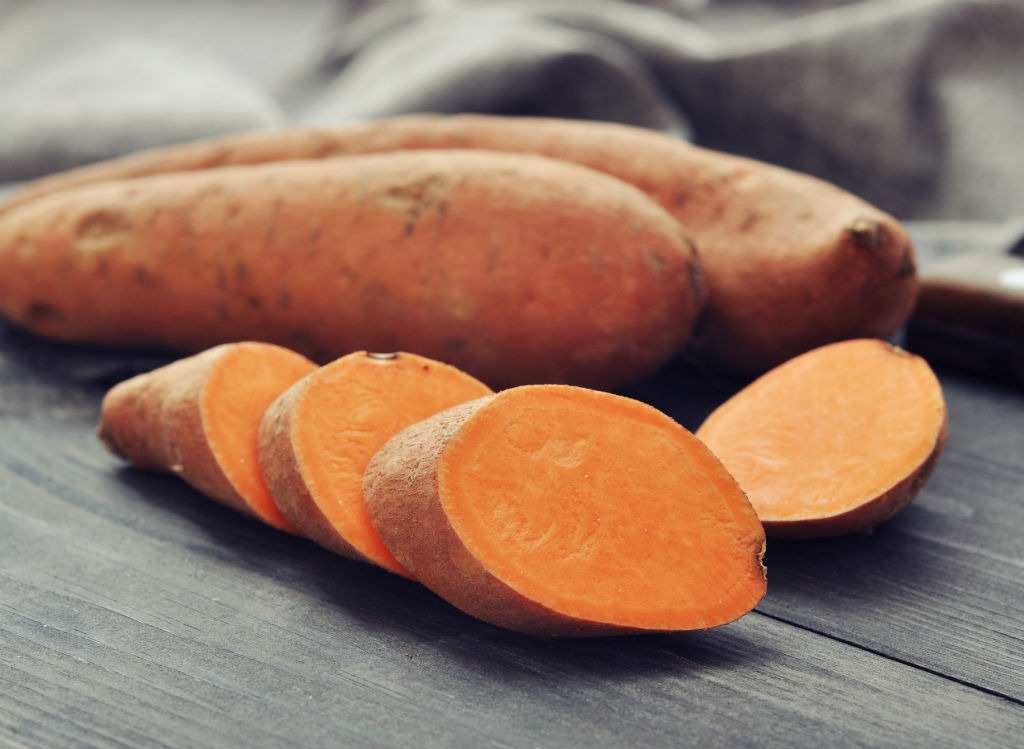 Fitness expert Jeff Grant goes for either a protein shake (two scoops whey isolate, one cup almond milk, one tablespoon peanut butter, half a banana, and ice cubes all blended together) with one cinnamon raisin Ezekiel English muffin with the other banana half. Or he'll go for a flank steak, large sweet potato, and salad. "I will always have carbs post-workout because it's the protein and carbs that rebuild your muscles. Studies show that you should have a 2:1 carb to protein ratio post-workout. I honestly usually keep it even at 40-60 grams of each. It is also very important to get that meal in within 30 minutes of completing your workout for the best results," Grant explains.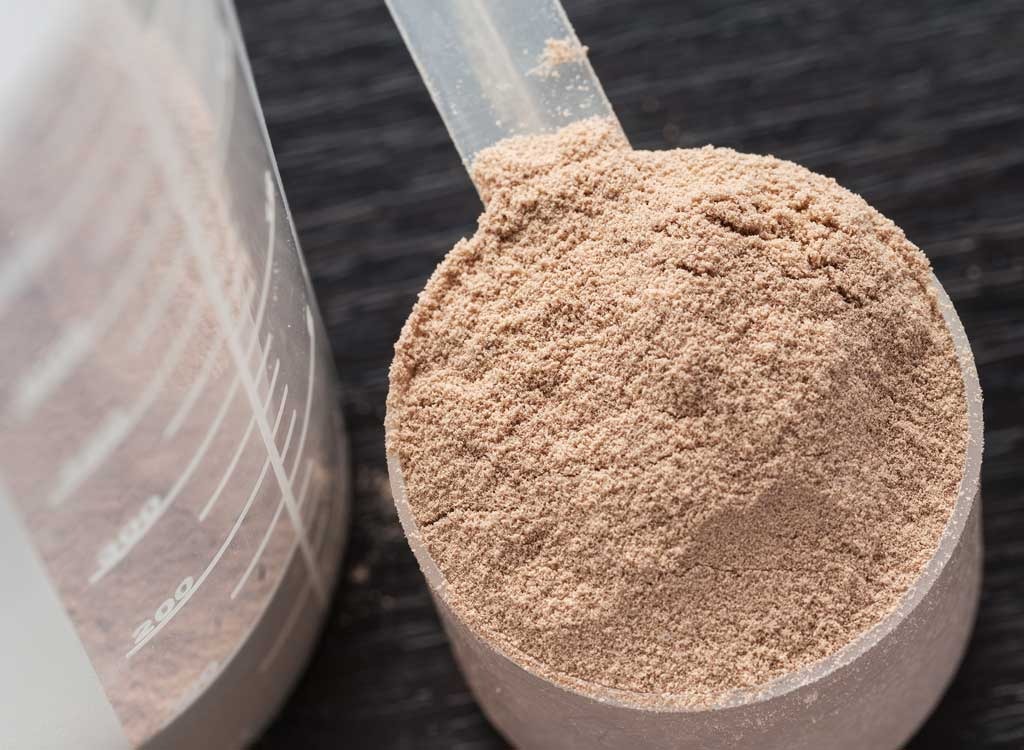 Mark Langowski, celeb trainer and founder of Body By Mark Wellness, has at least 15 Favorite Foods for Flat Abs, but one of them is protein powder for sure. "I choose vegan protein powder, but one option that is great for getting your muscles to recover quickly is whey protein. Casein is also good for bedtime cravings as it will slowly digest while you sleep, steadily fueling your muscles."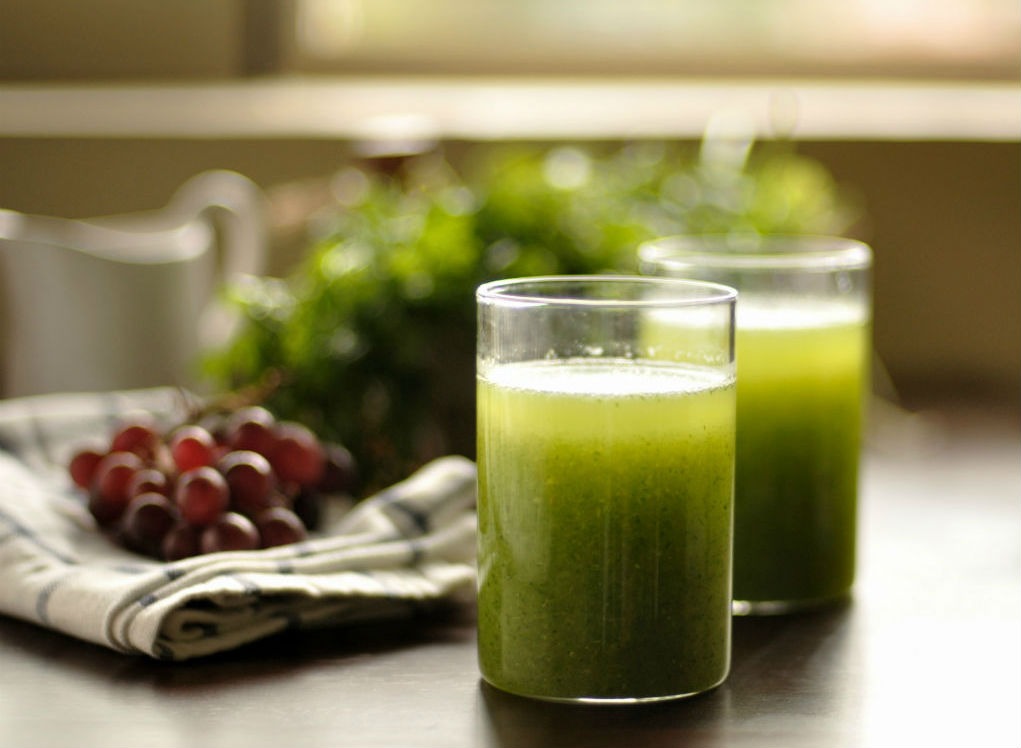 CrossFit trainer Dave Colina goes for veggies—but says he finds it easier to drink them down. "After a workout, I have a green smoothie composed of kale, spinach, carrots, tomato, blueberries, banana, and almond milk," he says. "I'll always add a grass-fed whey protein supplement to build muscle and some creatine monohydrate to maintain an elevated level of creatine stores."6254a4d1642c605c54bf1cab17d50f1e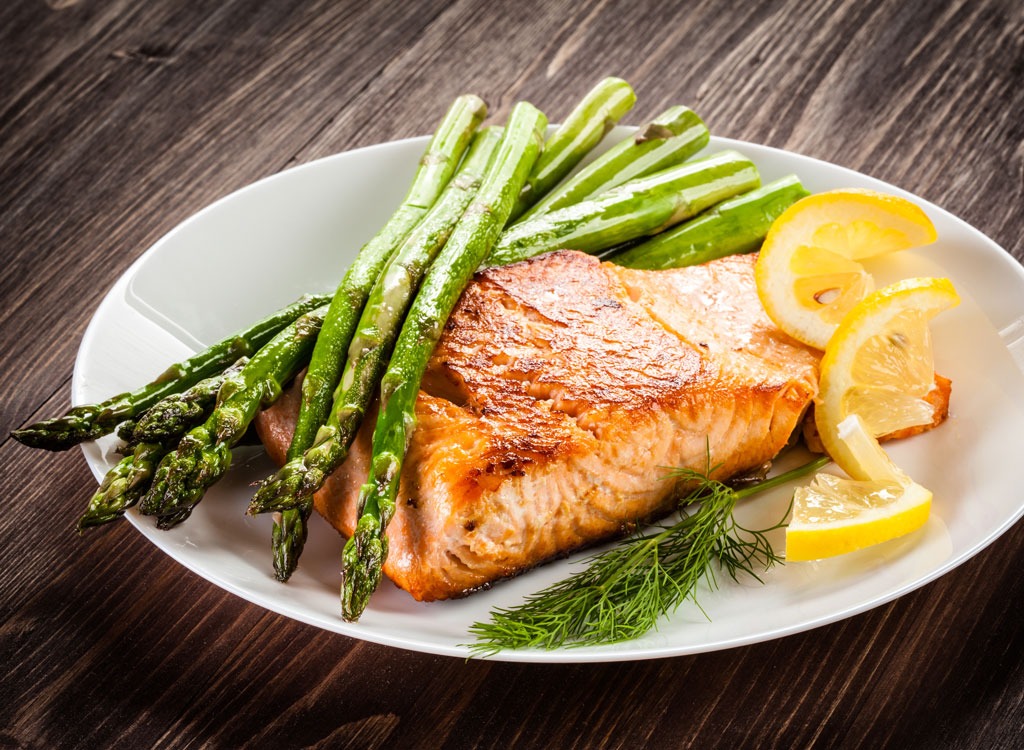 Michelle Roots, a trainer affiliated with the Trainerize app, says she's not always hungry after a workout—but will always have a protein shake of just protein powder and water immediately after an intense weight training or interval training session. "Then, I have a whole food meal within one to two hours post-workout consisting of both carbs and protein to refuel my body; otherwise, I will find myself feeling tired within a few hours,' she explains. Roots prefers things like grilled chicken wraps, salmon with broccoli and brown rice, hard boiled eggs and fruit, or oatmeal with egg whites cooked in and a side of berries. It all sounds good to us!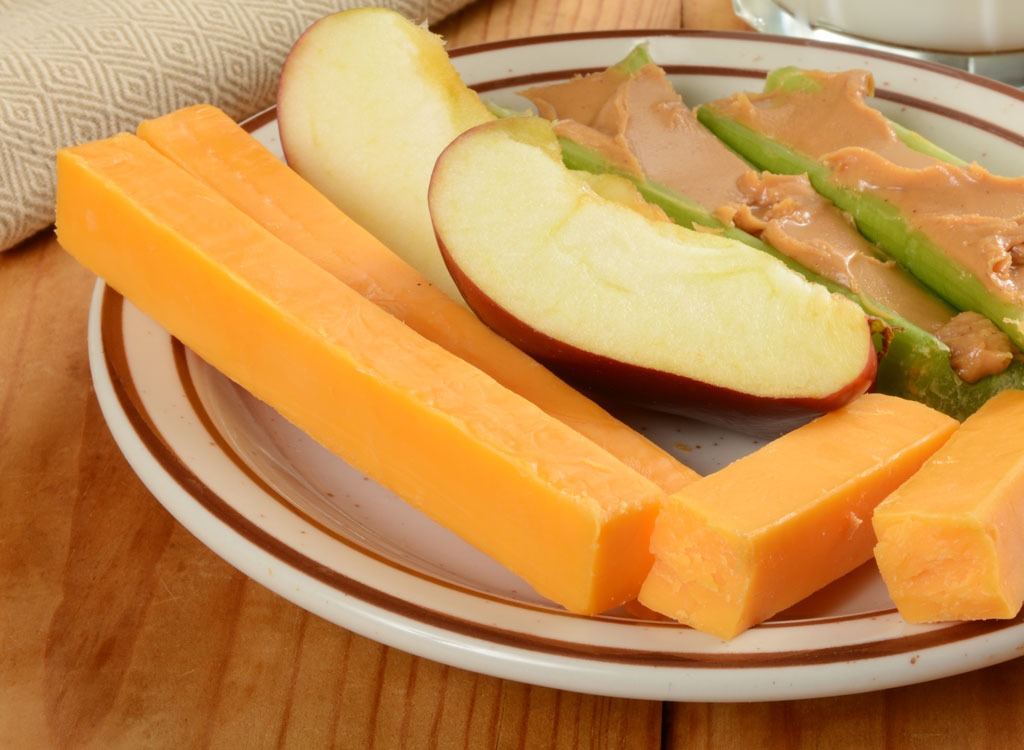 Eric the Trainer, a Hollywood physique expert, says that after working out, he reaches for the big three: an animal-based protein, a water-based carbohydrate, and a healthy fat. "This trio provides all the muscle building, energy, and nutrients that make up a healthy, balanced diet," he says. Examples of his tri-fold pattern: low-fat cheese sticks + apple slices + raw almonds; sliced chicken breast + watermelon cubes + sliced avocado; or yogurt + blueberries + peanuts.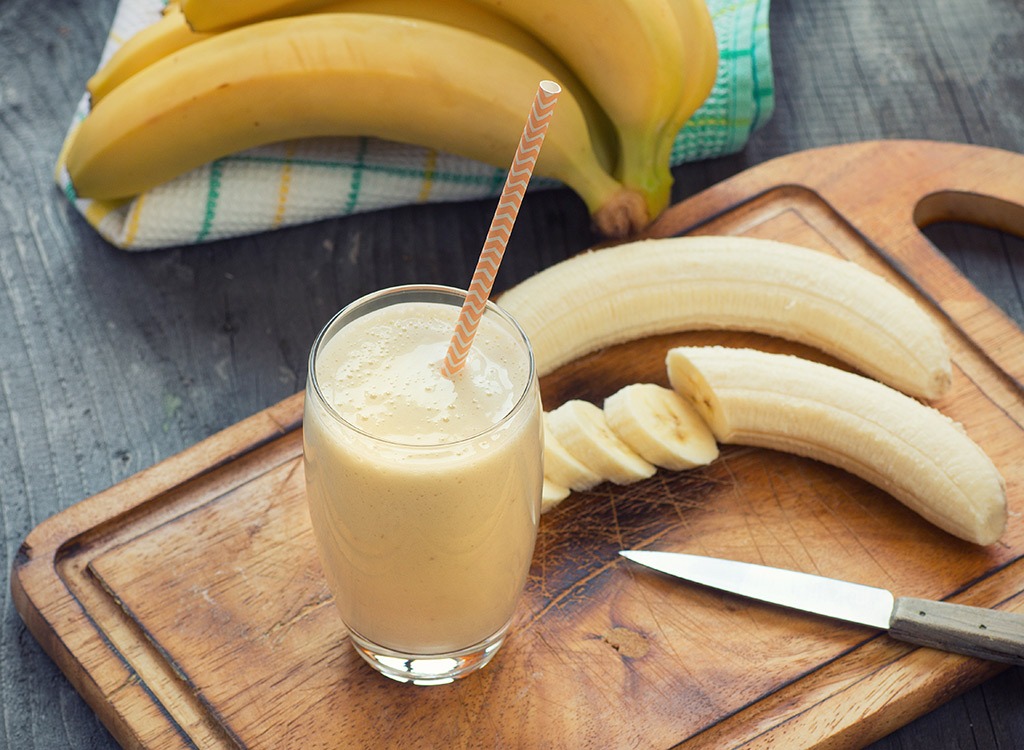 Alanna Zabel, star of the Element: Beginner Level Yoga DVD grabs protein and carbs. "Protein shakes, in addition to blueberries, banana, or sweet potatoes, are my go to fuel post-workout," she says. "I want the nutrients to digest quickly by consuming a liquid form of nutrition that contains rapidly digesting carbohydrates. The benefit of post-workout food is to replenish your energy stores, improve your immune system, build and rebuild your muscles, recover faster with less soreness and help the body to utilize body fat."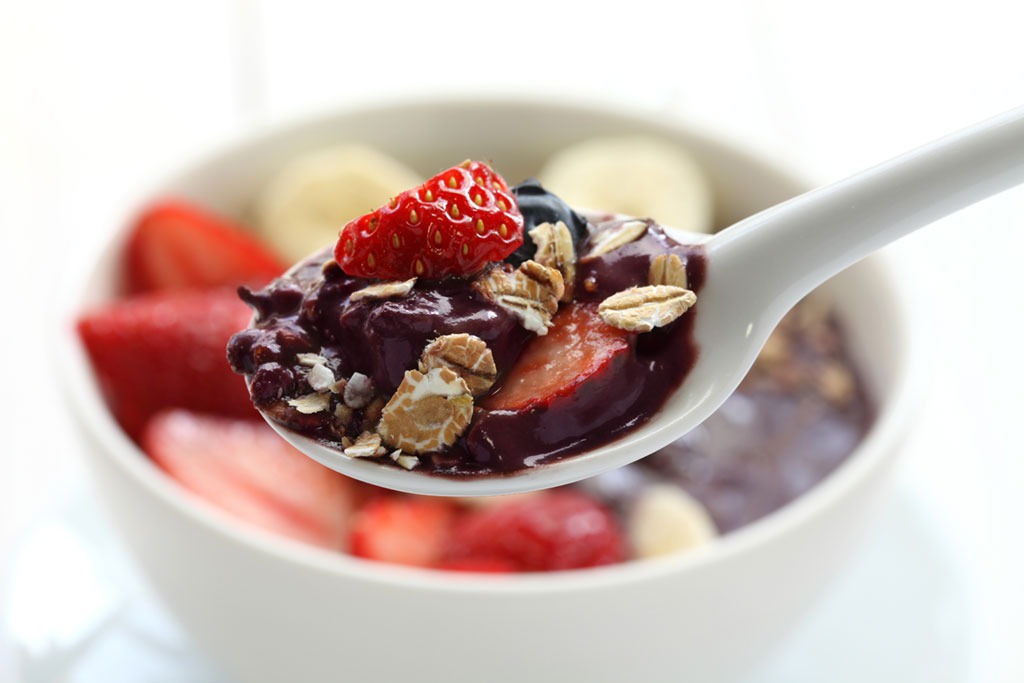 Joseph Cintron, fitness instructor and personal trainer at Carillon Miami Beach, likes to keep it light. "Acai, coconut water, quinoa, lean fish or chicken, and a heap of broccoli or spinach are all great examples of a gpost-workoutkout meal!"
"After my workout, I usually go for a peanut butter banana protein shake," says NASM Certified Personal Trainer Dan Welden. "Protein is a necessary supplement for muscle growth and repair. The banana is high in potassium and can help prevent cramping." Are you eating the wrong peanut butter, though? Eat This, Not That! ranked 36 of the most popular peanut butters; check our exclusive peanut butter ranking to see where your favorite falls!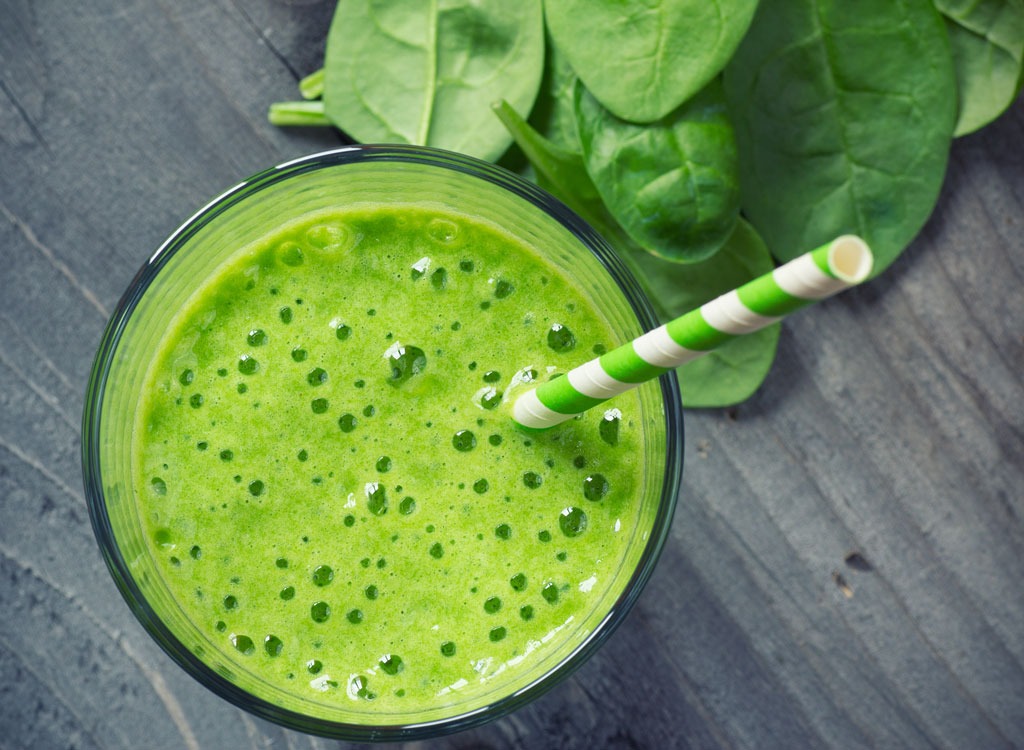 "You want complete protein post any kind of gym workout to aid muscle growth and repair," says personal trainer Lola Berry. "A green smoothie is a good idea, and you can add unsweetened protein powder to the mix. Try this mix: A handful of baby spinach, one frozen banana (peel it before you freeze it!), a handful of your favorite nuts, one scoop of protein powder, cinnamon, a little maple syrup to sweeten and two cups of almond milk. It's green but tastes so good!"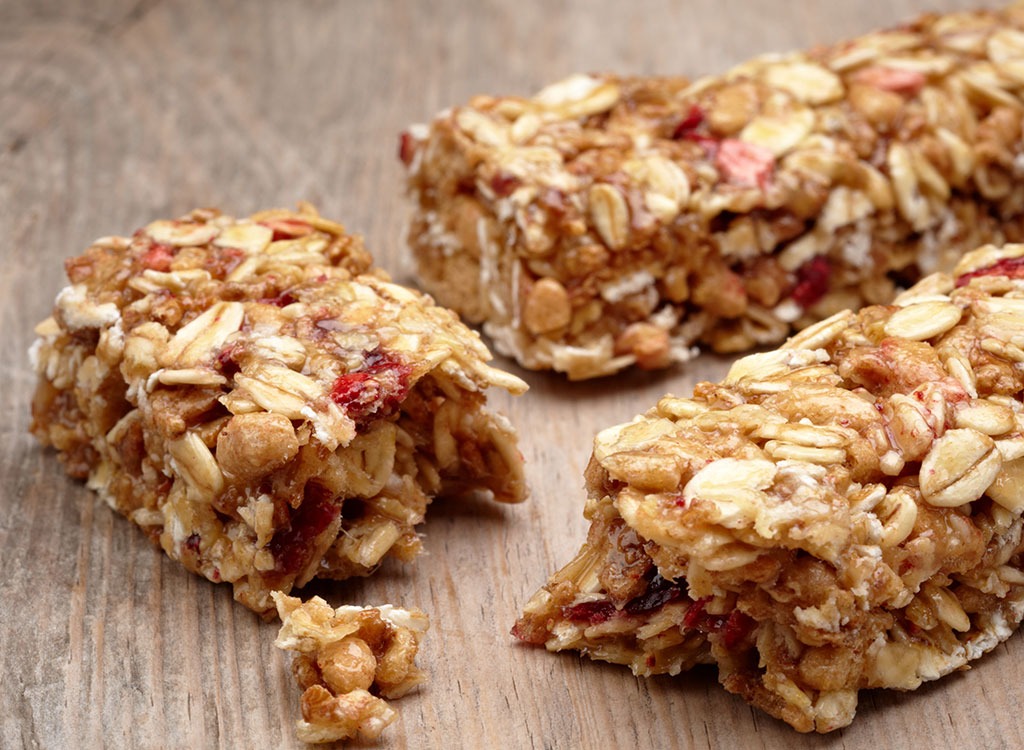 Henry Halse, a Philadelphia-based personal trainer, is all about convenience after his workout. I'll usually eat some type of protein or granola bar because they're easy to carry around and relatively filling—I get hangry after workouts," he says. "It's important to eat after a workout because we need to refuel our bodies. We need to replace the energy that we lose during our workout which is why we need carbs and we need protein to help our muscles rebuild. The first priority after a workout is actually carbs because our muscles use so much during the workout. If we don't have good carbs after a workout we might feel sluggish and have some brain fog."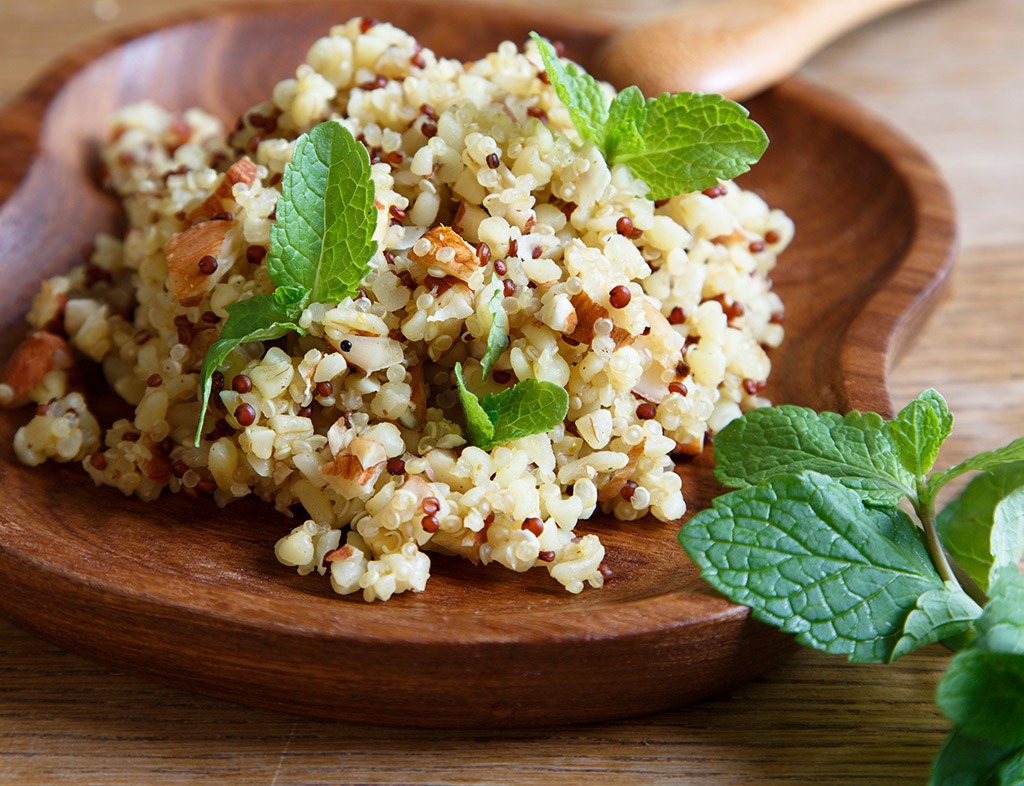 GYMGUYZ founder and CEO Josh York says that a combination of quality carbs and protein are essential to an effective post-workout meal or snack. And he recommends experimenting until you find a combo you enjoy. "Your choices matter," York says. "If you don't like a particular combination of carbs, protein, and fat, chances are you won't stick to having it." It can be as easy as a can of tuna with low-fat mayo and half-cup of quinoa or something more involved like an open-faced egg sandwich on Ezekiel bread, topped with tomato slices and sprinkled with a pinch of ground flaxseed.
Protein Powder + Banana + Coconut Water
CrossFit Outbreak's Adam Sturm goes for 25 grams of protein (whey, egg white, or plant based) and 10 to 15 grams of carbs to add in muscle repair and recovery. "Protein with branch chain amino acids, BCAA's and a sugar-free coconut water is an easy recovery shake," he recommends. "Banana is also easy digested and absorbed."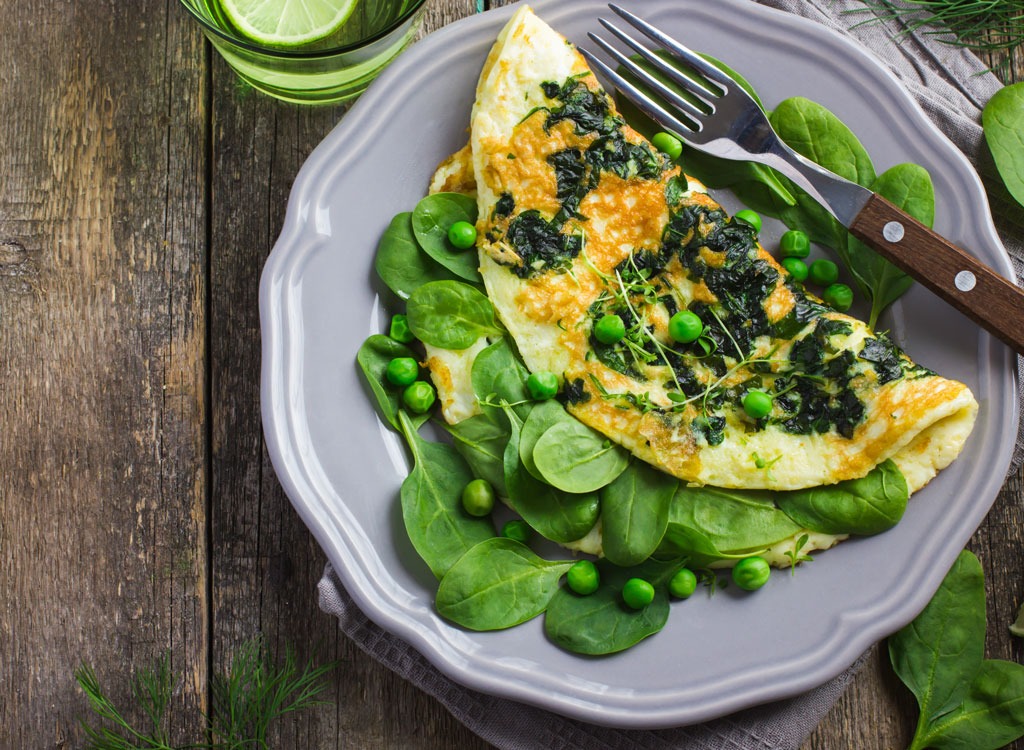 Brooke Taylor of Taylored Fitness NY has a very regimented post-workout meal she follows that actually affects what she eats throughout the day. "I typically work out in the early morning, and about one to two hours after, I have had a sustainable high-protein and veggie breakfast. Then, after an intense circuit training workout, I will replenish with a lean source of carbohydrates, vegetables/fruits and a 1/4 cup of grains. This enables me to refuel my body so that my body recovers properly after the workout so I can restore the energy levels for the next day," Taylor explains. "I also typically have protein in every snack and every meal throughout the day to help keep me satiated. My rule of thumb is load up on the healthy sources of lean proteins and fresh vegetables accompanied by healthy fats. I look and feel my best with sustainable energy levels." But she did tell us a little secret: If she's really crunched on time, she'll turn to a Chocolate Mint Zing bar.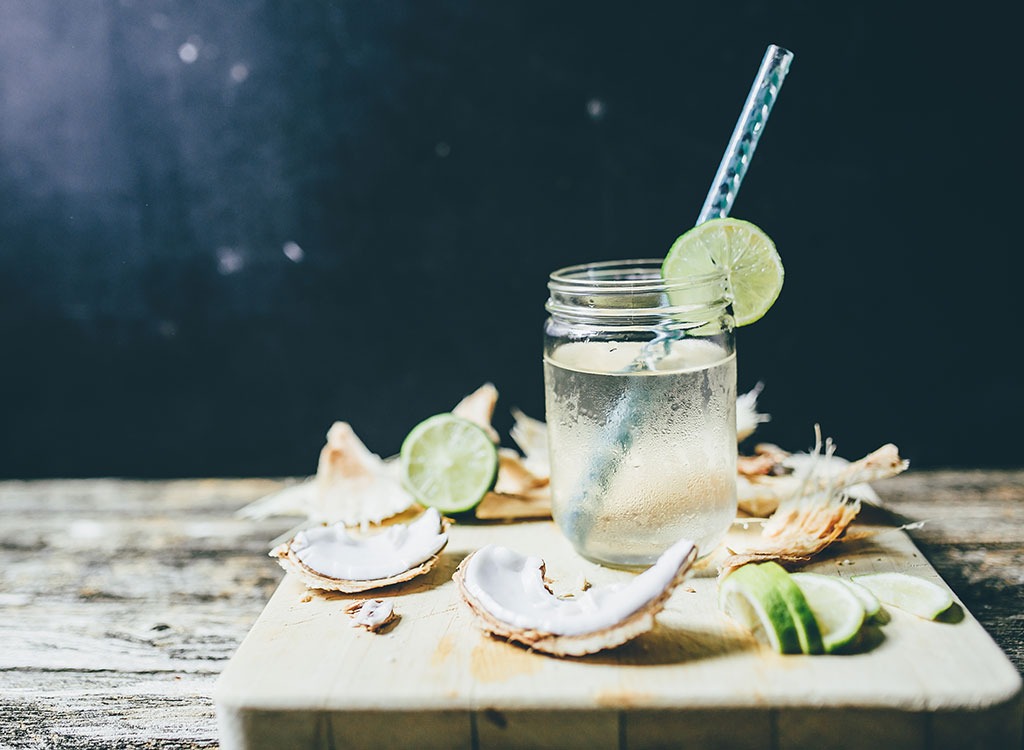 Stephanie Mansour, weight loss coach who works primarily with women, is another protein and protein bar fan. But she also loves rehydrating with coconut water. "You may need to replenish electrolytes after a long cardio workout or a hot outdoor workout in which you're sweating a lot," she says. "Whenever I'm sweating, I go for coconut water because there aren't any artificial ingredients."
Protein in Bar or Shake Form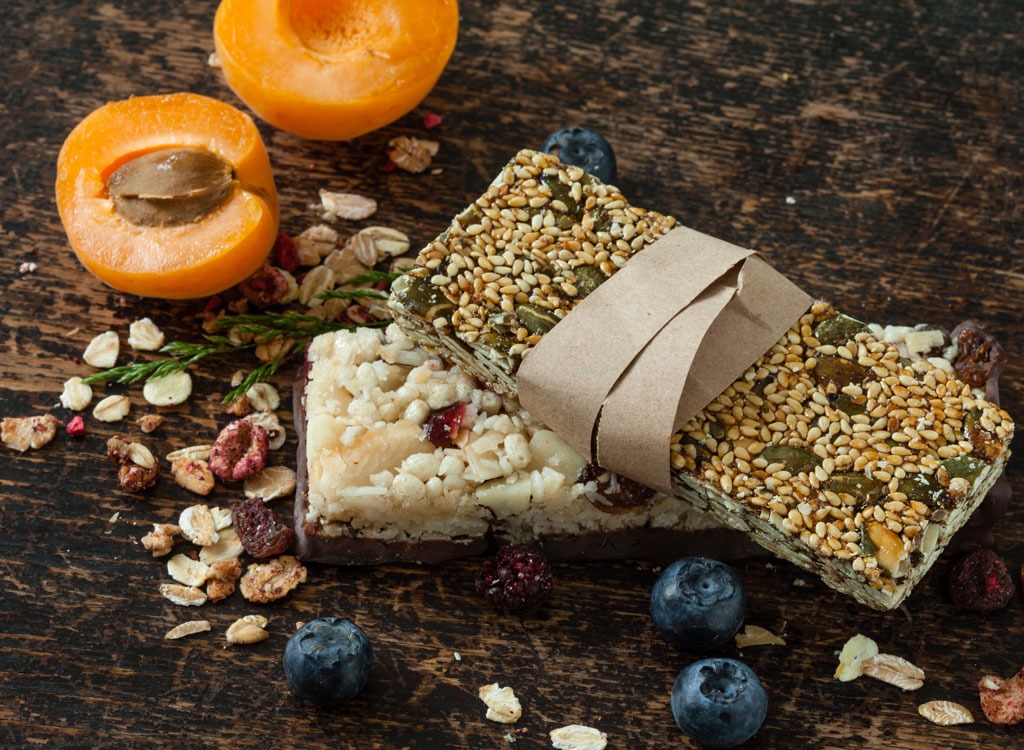 Fitness coach Nadia Murdock says her go-to snack post workout is a protein shake or a bar. "I find both options to be extremely convenient. Protein helps to repair the muscles post workout, repairing muscles post workout is key to maintaining a healthy body. Quest has an excellent line of both protein shakes and bars," Murdock says. And if she has more time, she keeps handy nut butters like peanut and almond to spread on half a banana. For plenty of smoothie and shake inspo, check out these best weight loss smoothies!