The 9 Best & Worst Oat Milk Brands to Buy, Say Dietitians
These are the healthiest—and uhealthiest—options on grocery store shelves.
This post contains affiliate links. If you use these links to buy something, we may earn a commission.
Oat milk is one of the most popular milk alternatives thanks to its creamy texture and naturally sweet taste. While it's perfect for sipping, adding to lattes, and using it for baking, not all oat milks are created equal. Some of the best oat milk brands are set apart from the worst because they're made with simple ingredients and are low in added sugar.
Making oat milk is as easy as blending oats with water and straining the liquid away from the pulp. While it really is that simple, it's even more convenient to reach for a bottle or box of premade oat milk on the shelf at the grocery store. But with all of the store-bought options, there can be plenty of undesirable ingredients lurking inside. We've made picking the healthiest and best-tasting oat milk as easy as possible with our expert-recommended picks for the best (and worst) oat milk brands you can buy.
What are the health benefits of drinking oat milk?
Many oat milk options available today are fortified to include nutrients like vitamins A, D, and B12, calcium, and riboflavin, which contribute to oat milk benefits and make it more nutritionally similar to cow's milk. For people who avoid cow's milk because of an allergy or lactose intolerance, fortification can help them eat more of these nutrients often found in dairy. Keep in mind that homemade oat milk won't have these essential nutrients, and as it's not required, some brands skip the fortification.
Most oat milk includes between 1 to 3 grams of fiber, 1 to 4 grams of protein, and 10 to 25 grams of carbohydrates per serving, thanks to the oats. Oat milk isn't a low-carb beverage like some other dairy alternatives like almond milk, but it does have more fiber and protein, which can help increase fullness and satisfaction.
How to choose the best oat milk
When selecting the best oat milk brands, here are the parameters we considered:
Avoid or limit added sugars. Most oat milk will have some naturally occurring sugar thanks to the oats, but many brands add sugars for improved taste. Added sugars in oat milk can range from 4 grams to 25 grams per cup, quickly adding up and making it tough to stick to the recommended daily limit of 36 grams for men and 25 grams for women. Eating too much added sugar can increase the risk of chronic diseases like heart disease and diabetes.
Choose added vitamin D and calcium options. Many people meet their vitamin D and calcium needs through dairy products, so if you're dairy-free, choosing fortified substitutes is a great option. It's estimated that 24% of adults in the United States have low vitamin D levels, and 40% of Americans do not meet the recommended intake for calcium. Many oat milk brands add these nutrients, along with vitamins B12, vitamin A, and riboflavin (vitamin B2) to help fill common nutrient gaps for people who choose not to eat dairy.
Skip the barista blends. Oat milk that's made for steaming and frothing tends to have a high amount of oil added, which creates a luxuriously creamy texture. If you're using the oat milk in small amounts for coffee drinks as a creamer, the barista blends are fine, but if you're drinking it by the cup, the amount of fat and extra calories can add up quickly.
The 6 best oat milk brands you can buy
Dietitians recommend you try these oat milk brands for a healthy and delicious dairy alternative. Read on to learn what to shop for, and for more, don't miss The 8 Best Almond Milks to Buy, According To Dietitians.
Elmhurst Unsweetened Milked Oats
Per 1 cup (240 mL)
: 100 calories, 2 g fat, (0 g saturated fat), 120 mg sodium, 17 g carbs, (3 g fiber, 1 g sugar), 3 g protein
"My favorite oat milk recommendation is hands down Elmhurst Milked Oats," says Kristen White, RDN, CLT, The Food Sensitivity Dietitian. "It's frothy and flavorful with only 3 ingredients: filtered water, whole-grain oats, and salt." With this brand, you don't have to worry about added flavors or inflammatory sugars, or gums. Plus, each cup has 3 grams of fiber and 3 grams of protein to make it a little more satisfying and filling!
Califia Farms Original Protein Oat Milk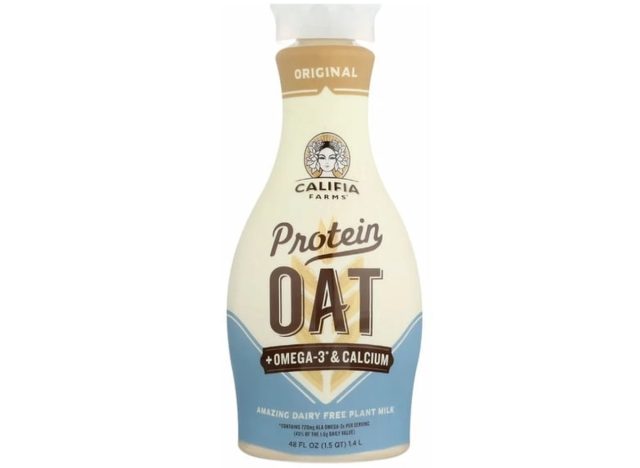 Per 1 cup (240 mL)
: 140 calories, 7 g fat (1 g saturated fat), 220 mg sodium, 10 g carbs (1 g fiber, 3 g sugar), 8 g protein
Maya Oueichek, MBA, RDN recommends Califia Farms Original Protein Oat Milk as it offers 8 grams of plant protein per serving and is made with gluten-free oats. While most oat milk comes in short on protein, you'll get as much as a glass of cow's milk with this brand as they add pea protein and sunflower seeds. It's also fortified with calcium and vitamin D, with 25% of the daily value (DV) of vitamin D and 45% DV calcium in each cup!6254a4d1642c605c54bf1cab17d50f1e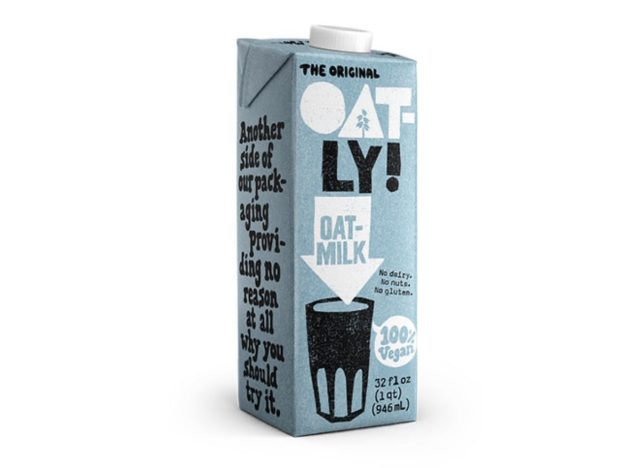 Per 1 cup (240 mL)
: 120 calories, 5 g fat (0.5 g saturated fat),100 mg sodium, 16 g carbs (2 g fiber, 7 g sugar), 3 g protein
"Oatly Original Oat Milk has a creamy texture that closely resembles cow's milk, making it a popular choice for those transitioning from dairy milk," says Wan Na Chun, MPH, RD, CPT of One Pot Wellness. Na Chun loves that the ingredient list includes simple ingredients like water and organic oats without added sugars. The mild taste makes it great for use in baked goods and savory recipes alike!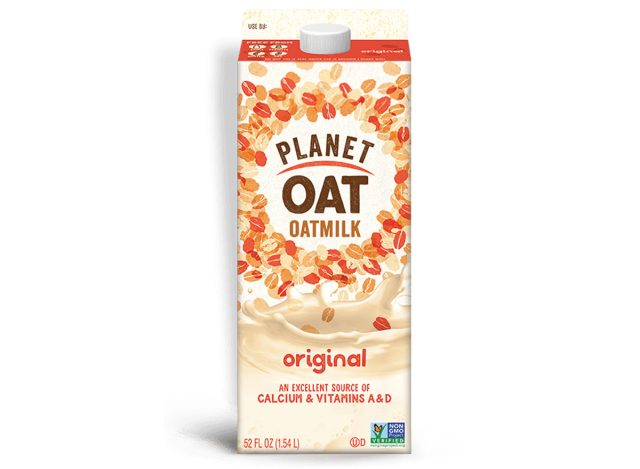 Per 1 cup (240 mL)
: 90 calories, 1.5 g fat (0 g saturated fat),120 mg sodium, 19 g carbs ( 2 g fiber, 4 g sugar), 2 g protein
"Planet Oat Original Oatmilk is made with just a few ingredients, and the original blend has no added oils, meaning it's very low in added calories," says Megan Byrd, RD, who loves to use this oat milk in her Oat Milk Latte. It has a small amount of added sugars, is under 100 calories, and is fortified with vitamins A, D, B12, B2, and calcium.
Silk Unsweetened Oat Milk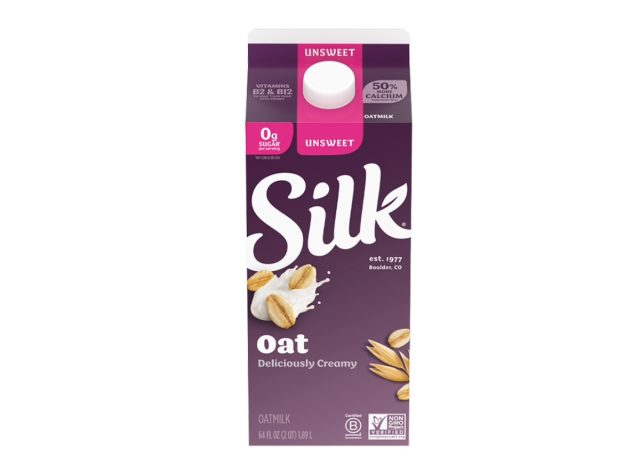 Per 1 cup (240 mL)
: 50 calories, 3 g fat (0 g saturated fat), 100 mg sodium, 5 g carbs (<1 g fiber, 0 g sugar),1 g protein
Sheri Berger, RDN, CDCES loves Silk Unsweetened Oat Milk because it has a smooth texture, delicious taste, and excellent nutrition profile. "It's fortified with calcium, vitamins D and B12, and has no added sugar, minimal added oil, and no carrageenan," Berger says. "Some brands of oat milk have heavier amounts of oil, which increases the fat and calorie content, but only a trace amount of sunflower oil is added to Silk unsweetened oat milk."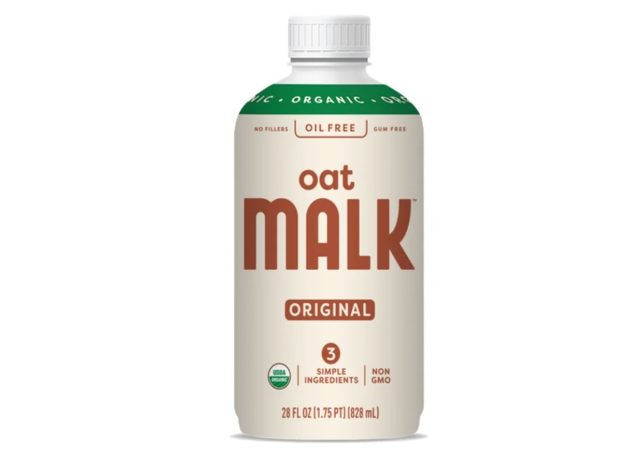 Per 1 cup (240 mL)
: 90 calories, 1.5 g fat (0 g saturated fat), 180 mg sodium, 15 g carbs (1 g fiber, 5 g sugar), 3 g protein
Amy Archer RDN, CLT, CHWC recommends Malk Oat Milk as a great organic, gum-free option made with just 3 ingredients. This milk is simple, tasty, gluten-free, and a great choice for anyone on an elimination diet who needs plant-based milk with limited ingredients, Archer explains. Made with just water, oats, and salt, this oat milk is as simple as it gets. It's not fortified with additional nutrients, but it's also free from any other additives.
The 3 worst oat milk brands on store shelves
You may want to skip these oat milk brands, which are some of the unhealthiest options available.
Pacific Foods Oat Organic Original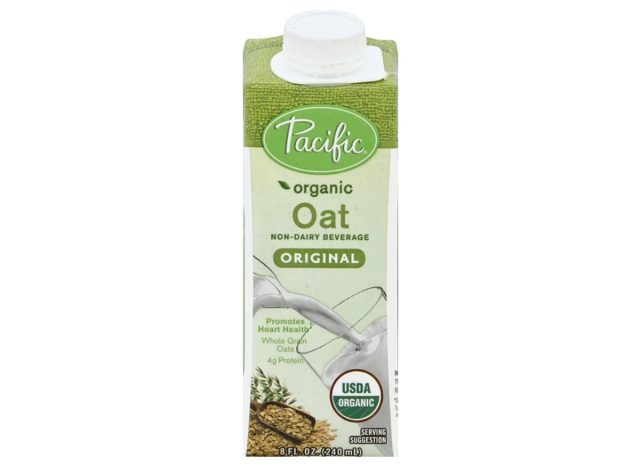 Per 1 cup (240 mL)
: 130 calories, 2 g fat (0 g saturated fat), 105 mg sodium, 25 g carbs (2 g fiber, 17 g sugar), 4 g protein
While Pacific Foods Oat Organic Original Beverage may taste delicious, it has 17 grams of added sugars, which is 68% of the recommended daily limit for women in just one glass.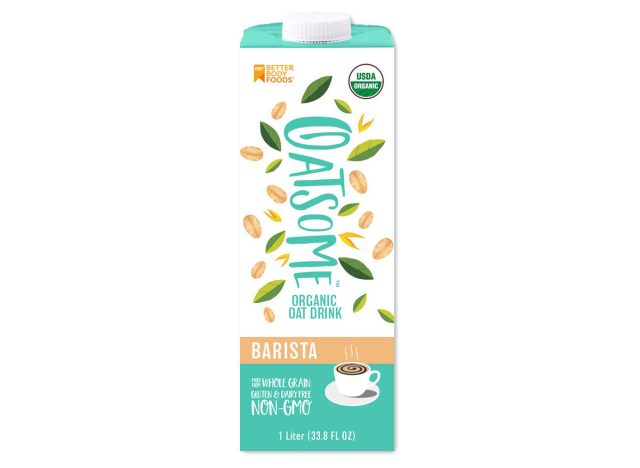 Per 1 cup (240 mL)
: 180 calories, 10 g fat (1.5 g saturated fat), 60 mg sodium, 21 g carbs (0 g fiber, 13 g sugar), 2 g protein
Oatsome Barista Blend is great for frothing, steaming, and making your coffee drinks taste silky smooth, but when it comes to your health, that's not worth the 10 grams of fat and 13 grams of added sugar found in each cup.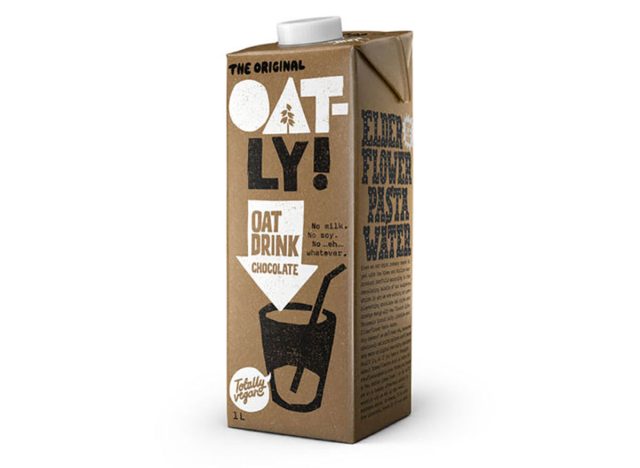 Per 1 cup (240 mL)
: 150 calories, 3.5 g fat (0.5 g saturated fat), 150 mg sodium, 24 g carbs (3 g fiber, 16 g sugar), 3 g protein
Adding flavors to oat milk adds variety, but also adds a lot of unwanted added sugars. Oatly Chocolate Oatmilk has 16 grams of added sugar in each cup. While this oat milk can make a fun occasional treat, drinking it often will make your added sugar intake add up quickly.
Kelsey Kunik, RDN
Kelsey Kunik is a registered dietitian, freelance writer, nutrition consultant, and sustainable food blogger.
Read more about Kelsey