I Just Learned How To Make the World's Best Salad & It's a Game-Changer
This TikTok chopped salad may have just changed my life.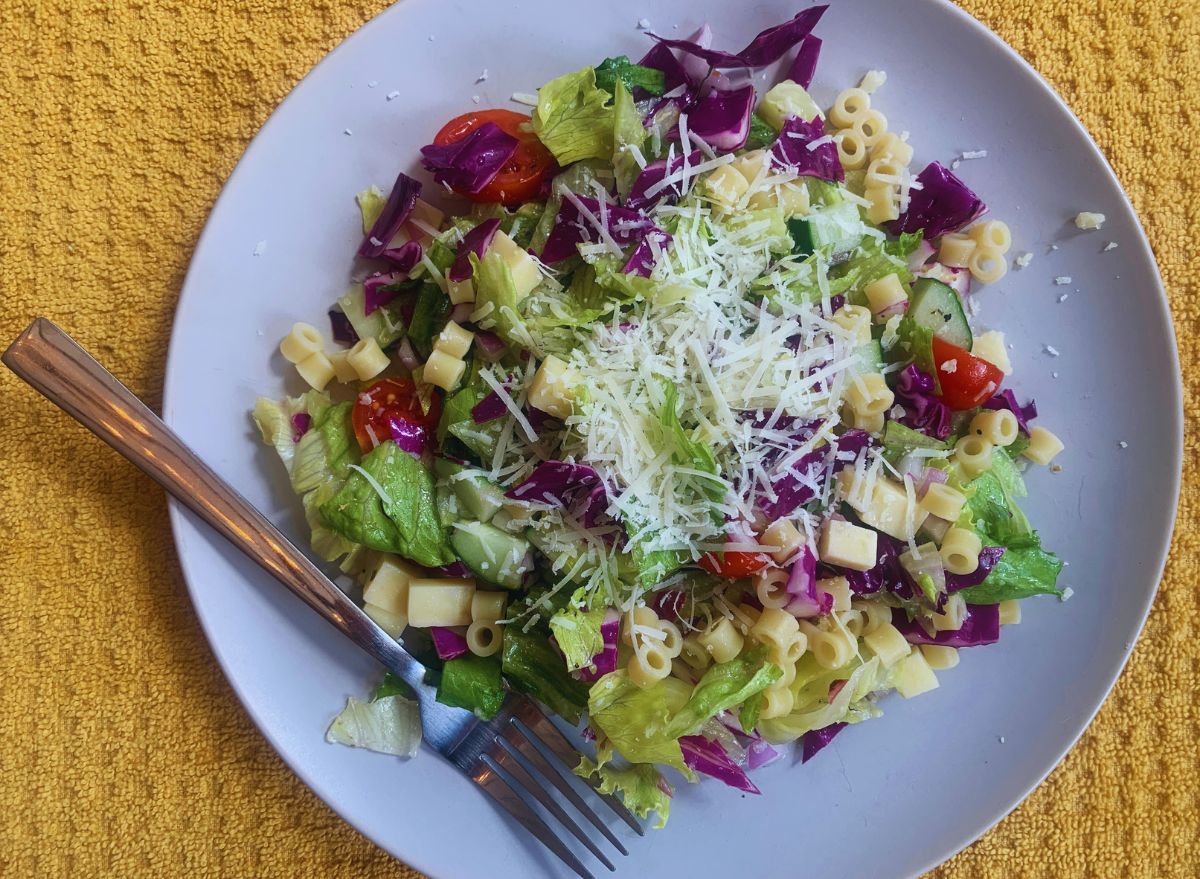 I've struggled with cooking for as long as I can remember. Though I've always wanted to be good at it, I never felt inspired or confident enough. But last month gave me a shocking wake-up call when I realized my current budget could no longer accommodate my excessive eating out and Uber Eats orders—not to mention, I was also feeling sluggish, bloated, and just not as healthy as I wanted to feel overall. I knew that in order to save some money and feel healthier, it was time to make a change and learn how to love cooking at home.
Because of my mild obsession with TikTok, I decided to start following a few cooking accounts to get some ideas on where to start. That's when I stumbled upon @cafehailee. While I was mesmerized by all of Hailee's home-cooking ventures, the video that stuck out to me most was her chopped salad.
A salad seemed simple enough for an inexperienced cook like myself, and I figured I could use an excuse to get more greens in my day. One bowl of lettuce, tons of chopped veggies, and only one tiny knife cut later, I was enjoying what has become my new favorite salad of all time.
The combination of chopped veggies, meat, cheese, and even a little pasta gives you a refreshing crunch in every bite. Additionally, her dressing made of olive oil, vinegar, honey, and a few key spices instantly brought me back to my favorite childhood salad that my mom used to buy us at the beach every summer.
Prepping the ingredients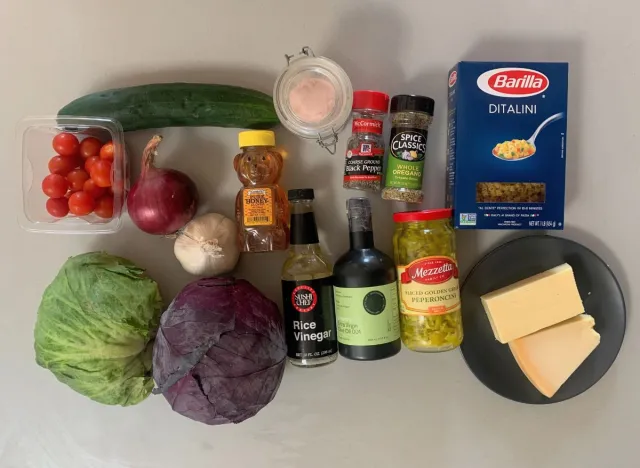 This salad packs in plenty of vegetables, all of which are noted in the full list of ingredients on her website.
To make this dish, you'll want to grab veggies like iceberg lettuce, radicchio, or red cabbage, cucumber, cherry tomatoes, and a red onion. (And yes, I included a photo below of the chopped red onion for bragging purposes because it took me years to learn how to properly do this myself.)6254a4d1642c605c54bf1cab17d50f1e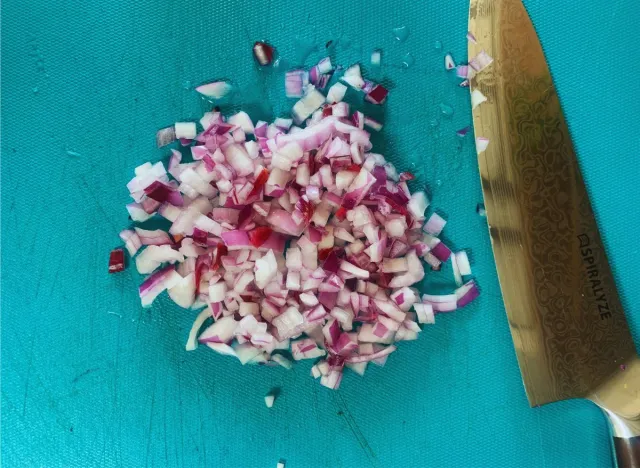 Next, the recipe called for hard salami, provolone, ditalini noodles, and croutons. So as I chopped, I started preparing my ditalini pasta.
For the sake of full transparency, this is the point in the recipe where I decided to some last-minute changes. In her video, Hailee cuts up her own homemade bread and makes it into croutons. I was excited to try this with my homemade sourdough—until I reached in and discovered there was mold on it! So, I tossed the loaf and decided to carry on sans croutons.
Making your salad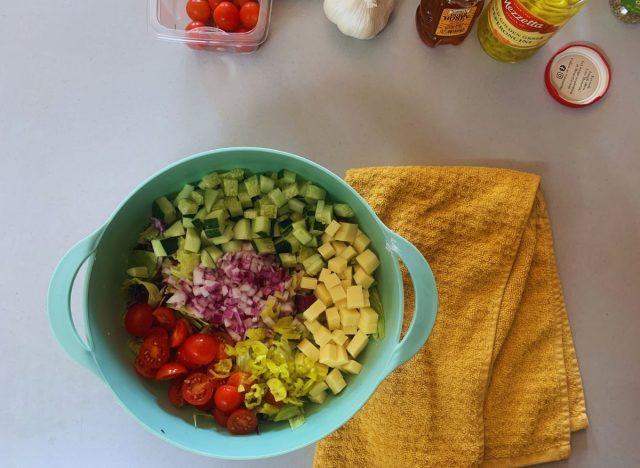 Once all of your veggies, meat, and cheese are chopped, you can add them to a bowl and place the bowl in the fridge to keep everything chilled.
To prepare the delicious (and thankfully simple) dressing, you'll want to combine rice or red wine vinegar, olive oil, honey, salt, oregano, a bit of pepper, and Pecorino Romano.
After I finished the dressing, I drained the ditalini noodles and grabbed the salad from my fridge. Then, it was time to toss!
Once everything for my salad was mixed together, I topped the salad off with a bit more shredded cheese and cracked pepper.
For reasons I can't quite explain, I thought a double shot of espresso would complement my chopped salad nicely. Once I finished off my plate, I still had enough to go back for seconds and share the rest with my roommate—who also shared in my excitement for this incredible yet easy salad recipe.
Next time you're in the mood for a refreshing, filling, flavorful salad, go ahead and try this one yourself! You won't regret it.