The Worst Drinks to Start Your Morning With, According to Dietitians
Breakfast is a meal that sets the tone for your entire day, so you'll want to make sure it doesn't involve any of these options.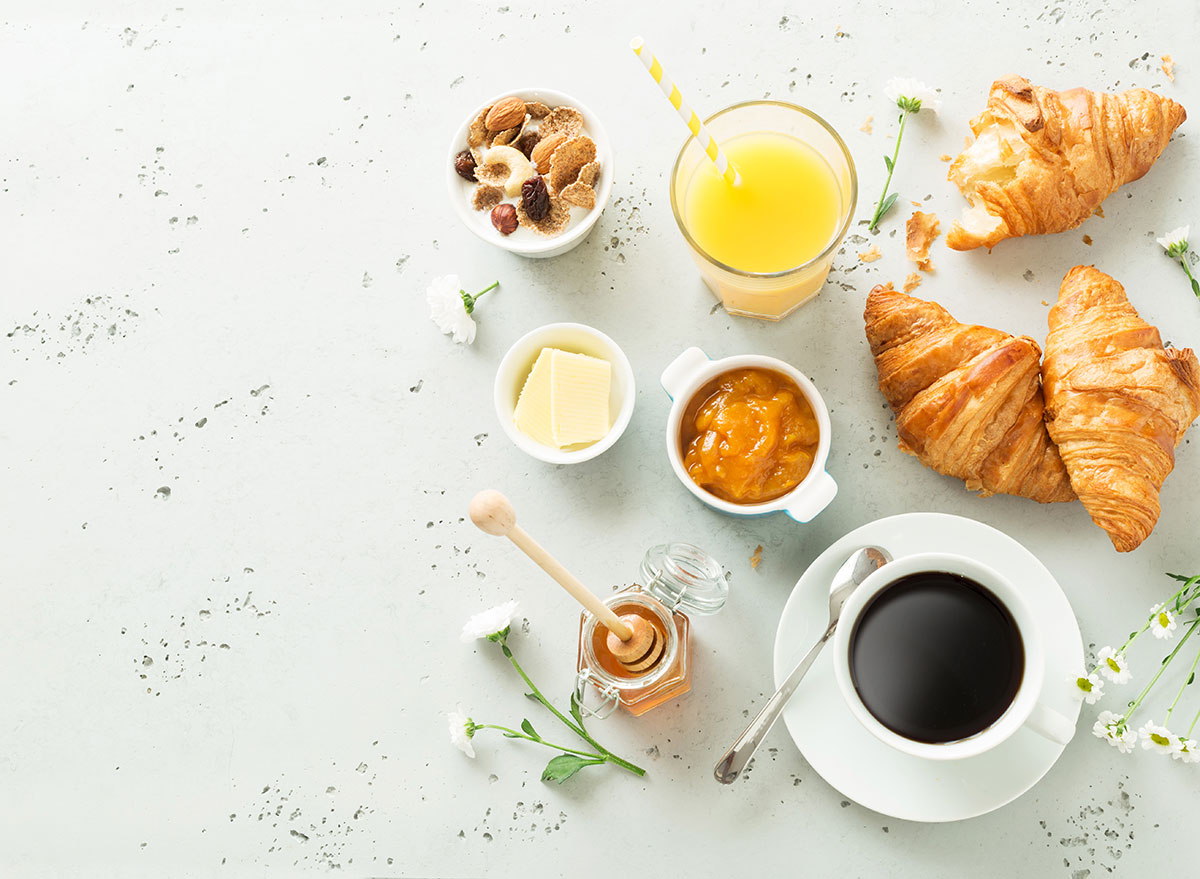 Sometimes, we don't necessarily think of drinks as counting toward sugar or calorie counts for the day in the way food does. But we should! And why is that? Well, there are some drinks that are overly packed with sugar, without you even knowing it! When you are looking for a coffee, tea, or fruit based drink to get your morning started on a bright note, you want to make sure it's healthy and not just a dessert in disguise. You don't want to fall for one of the worst breakfast drinks!
"The American Heart Association recommends limiting added sugar to 25 grams per day for women (6 teaspoons) and 36 grams for men (9 teaspoons). The not yet released 2020 Dietary Guidelines for Americans is considering reducing the amount of added sugars previously recommended from 10% to about 6% of total calories, which is only slightly above that of the AHA," says Lauren Harris-Pincus, MS, RDN, and author of The Protein-Packed Breakfast Club. Keep in mind that the sugars naturally present in milk, plain yogurt, fruit and veggies do not count toward added sugars.
So, it's easy to see why lowering that sugar count is crucial! To help you best stay on track so you don't derail your day with your breakfast choice, here are the worst drinks to start your morning, according to dietitians. And while you're making these changes, be sure to stock up on any of The 7 Healthiest Foods to Eat Right Now.
Starbucks Pumpkin Spice Latte
Per grande
: 380 calories, 14 g fat (8 g saturated fat), 240 mg sodium, 52 g carbs (0 g fiber, 50 g sugar), 14g protein
"This fall-spirited latte may seem like a great way to start the day, but when looking at its macronutrient and added sugars content, this beverage is practically the same as consuming one cup of Ben & Jerry's ice cream," says Ilyse Schapiro MS, RD, CDN. Plus, with twice the recommended amount of added sugars per day, this drink is not only harmful for your health, but is sure to end with a fast and sudden crash.6254a4d1642c605c54bf1cab17d50f1e
Dunkin' Original Hot Chocolate
Per large
: 460 calories, 14 g fat (13 g saturated fat), 440 mg sodium, 82 g carbs (3 g fiber, 65 g sugar), 4 g protein
Not only does this beverage contain over 100% of the recommended amount of added sugar per day, but the ingredients found in this beverage are just as scary.
"Steer clear of beverages that contain corn syrup solids, refined coconut oil, and artificial flavors, as they may increase the risk of heart disease and cardiovascular disease," says Schapiro. For a similar taste with less than half the number of calories and a boost of antioxidants, try adding cacao powder to your morning smoothie or yogurt bowl.
Naked Orange Mango Fruit Smoothie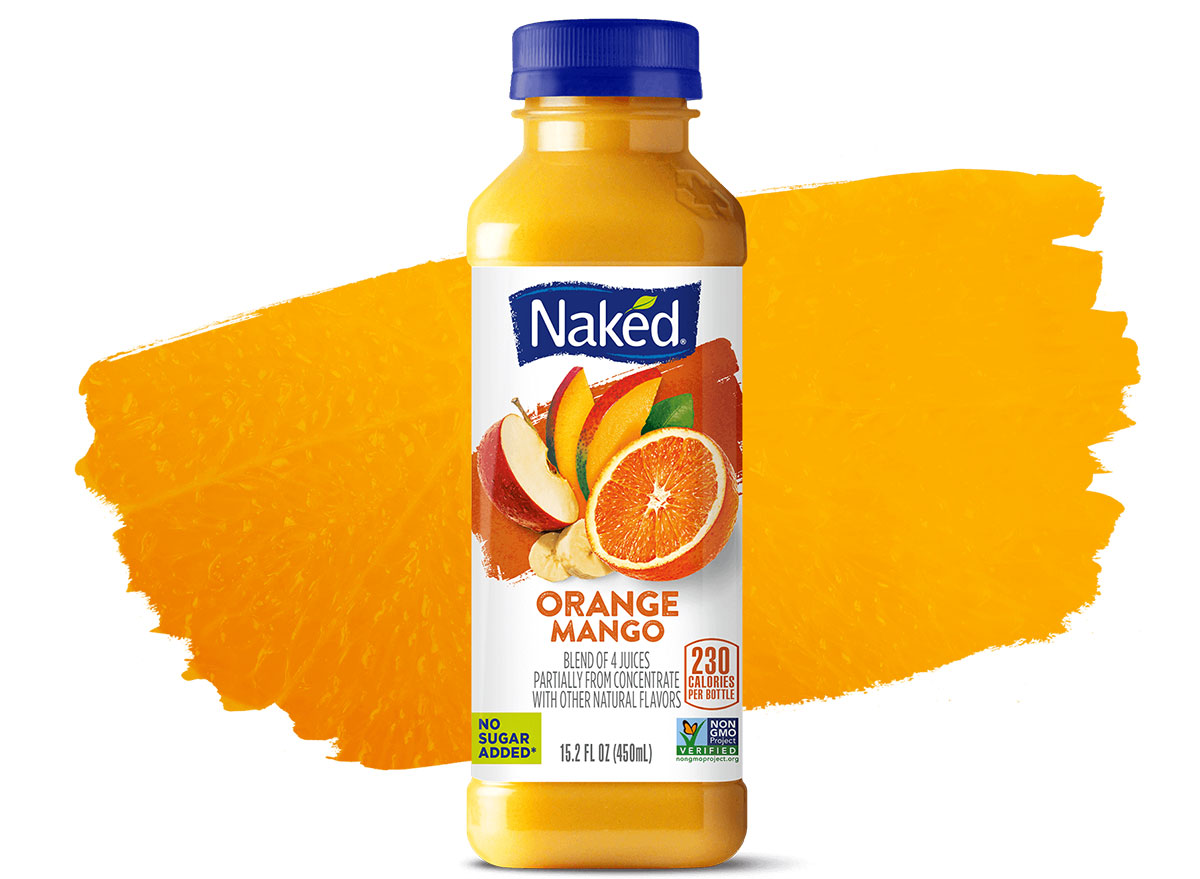 Per 1 bottle
: 230 calories, 0 g fat (0 g saturated fat), 10 mg sodium, 59 g carbs (0 g fiber, 51 g  sugar), 2 g protein
Starting your morning off with fruit is an excellent way to get in a rich source of vitamins, minerals, and essential nutrients. But with bottled drinks, you're losing much of what makes fruit so great for your health.
"However, the fiber found in whole fruits is stripped away in 100% fruit juices or smoothies, leaving us with a sugary drink that will leave you hungry and fatigued soon after," says Schapiro.
Looking for more helpful tips? Sign up for our newsletter to get daily recipes and food news in your inbox!
Starbucks Matcha Green Tea Latte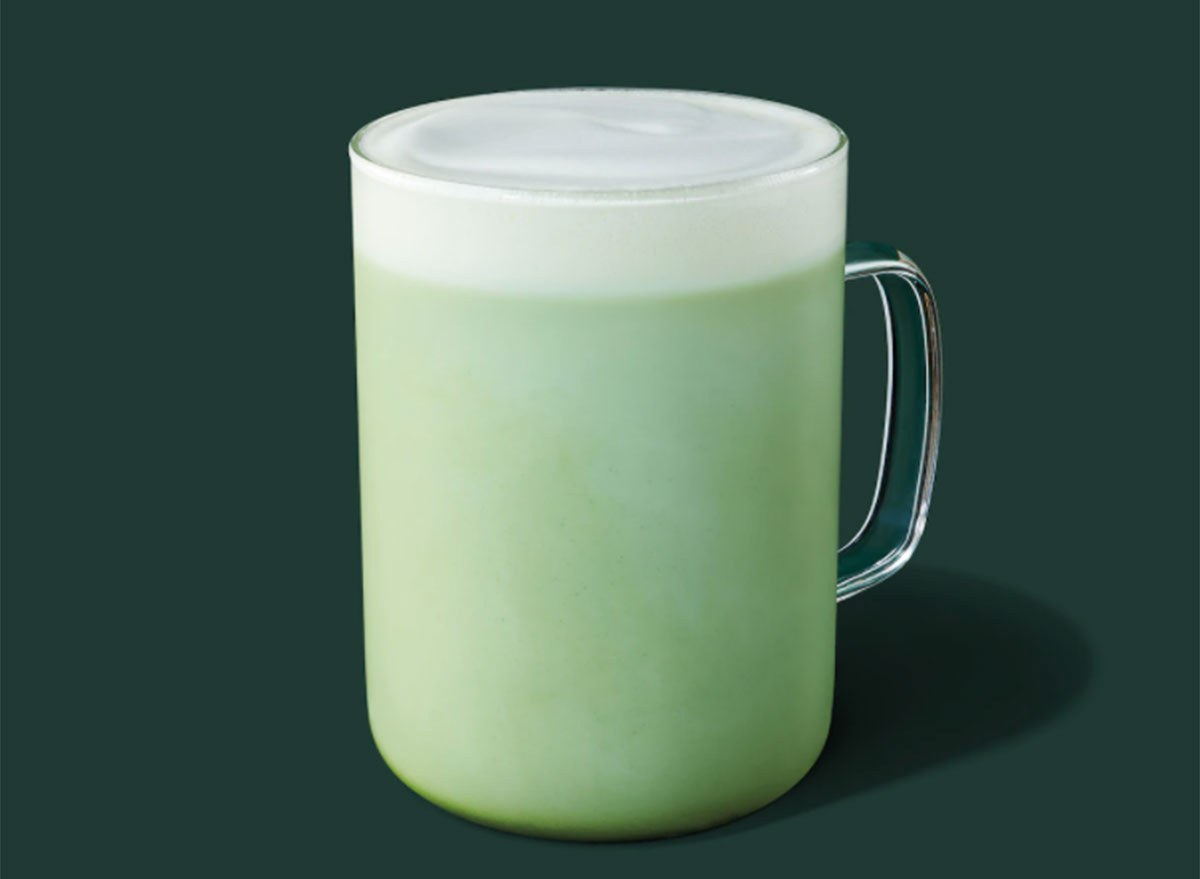 Per grande
: 240 calories, 7 g fat (4.5 g saturated fat), 160 mg sodium, 34 g carbs (1 g fiber, 32 g sugar), 12g protein
"Although Matcha can be a great coffee alternative and provides a rich source of antioxidants, this specialty beverage is calorically dense and contains added sugars that are not normally found in plain Matcha with hot water," says Schapiro. Plus, if you're drinking matcha for its health benefits, the milk in matcha lattes may alter its antioxidant and brain boosting functions.
Dunkin' Frozen Coffee, Sugarplum Swirl with Cream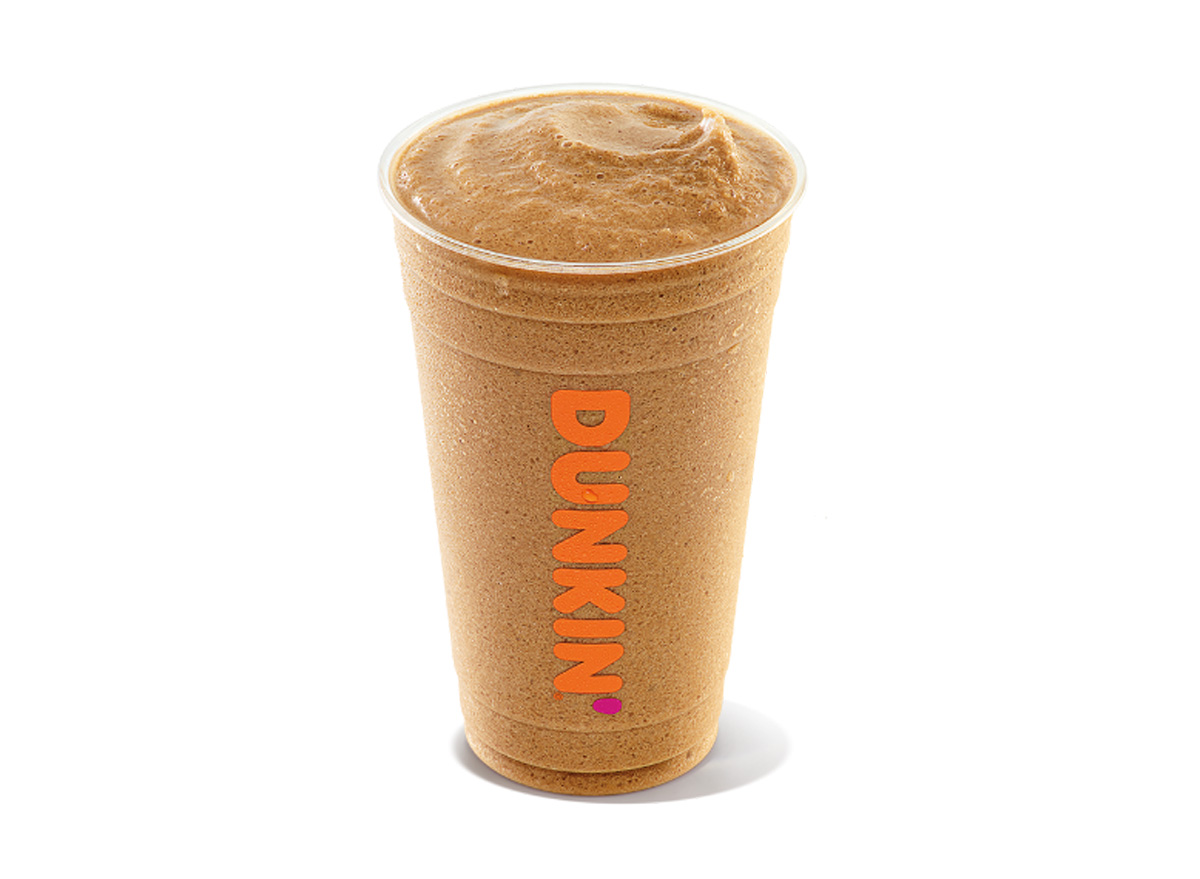 Per large
: 1,100 calories, 40 g fat (22 g saturated fat), 300 mg sodium, 177 g carbs (0 g fiber, 167 g sugar), 11 g protein
This drink is more like an indulgent dessert and comes in at an astronomically high amount of calories. Like a decadent milkshake!
"If you are looking for a similar effect go for an iced coffee. Even the small [of this frozen coffee] has 600 calories," says Scapiro.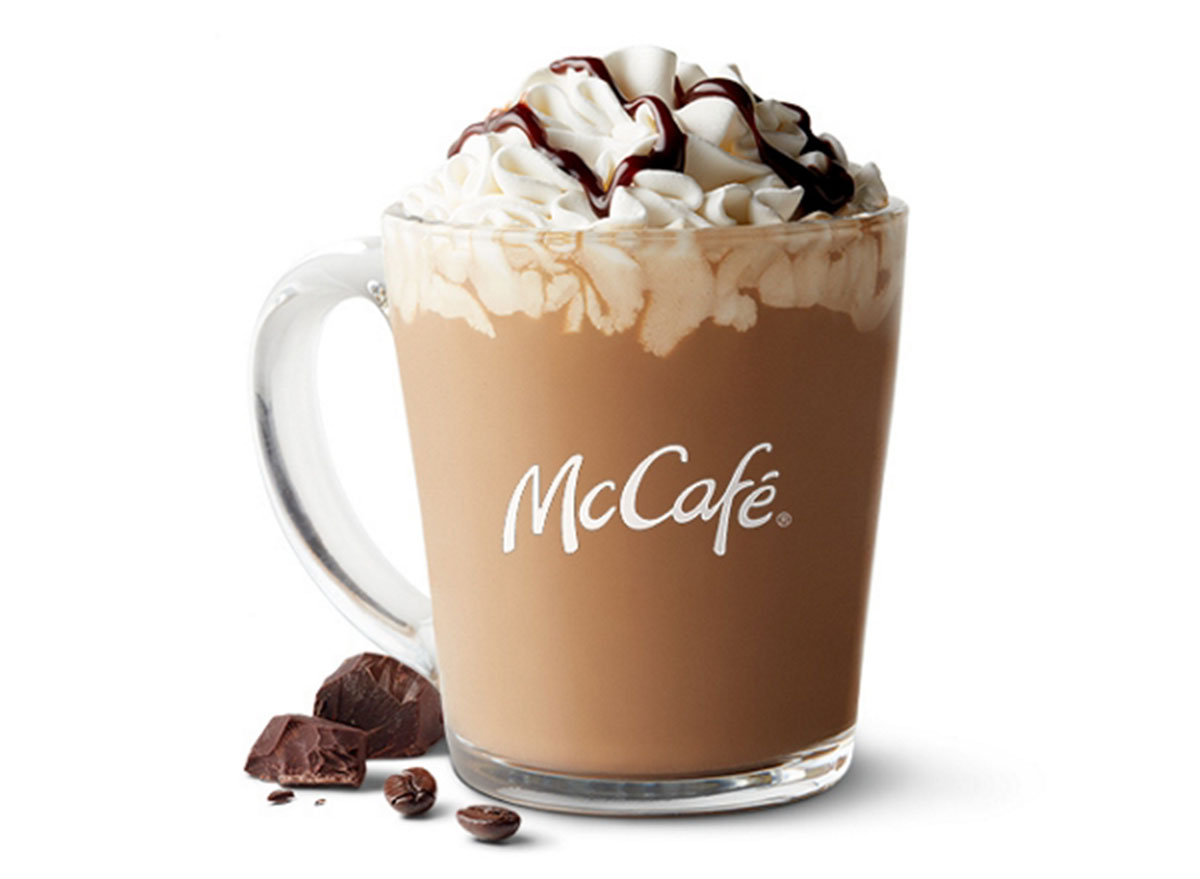 Per large
: 470 calories, 16 g fat (9 g saturated fat), 200 mg sodium, 70 g carbs (2 g fiber, 64 g sugar), 13 g protein
"A large McCafé Mocha Latte sounds tasty but this sweet coffee provides 470 calories, almost 2 days worth of added sugar and 9 grams of saturated fat, which is 46% of the daily value in one drink," says Harris-Pincus. If you love it, choose a smaller size and with no whipped cream and skim milk.
Starbucks Matcha Green Tea Crème Frappuccino
Per venti
: 520 calories, 17 g fat (11 g saturated fat), 320 mg sodium, 82 g carbs (1 g fiber, 80 g sugar), 8 g protein
Green tea has been shown to possess several health benefits, but don't be fooled by the Starbucks Matcha Green Tea Crème Frappuccino.
"This is basically a green colored milkshake with a Venti clocking in at 520 calories, almost 3 days worth of added sugars and 55% of the daily value of saturated fat," says Harris-Pincus. Yikes! Stick with brewed green tea to get those antioxidants.
Dunkin' Signature Pumpkin Spice Latte with Whole Milk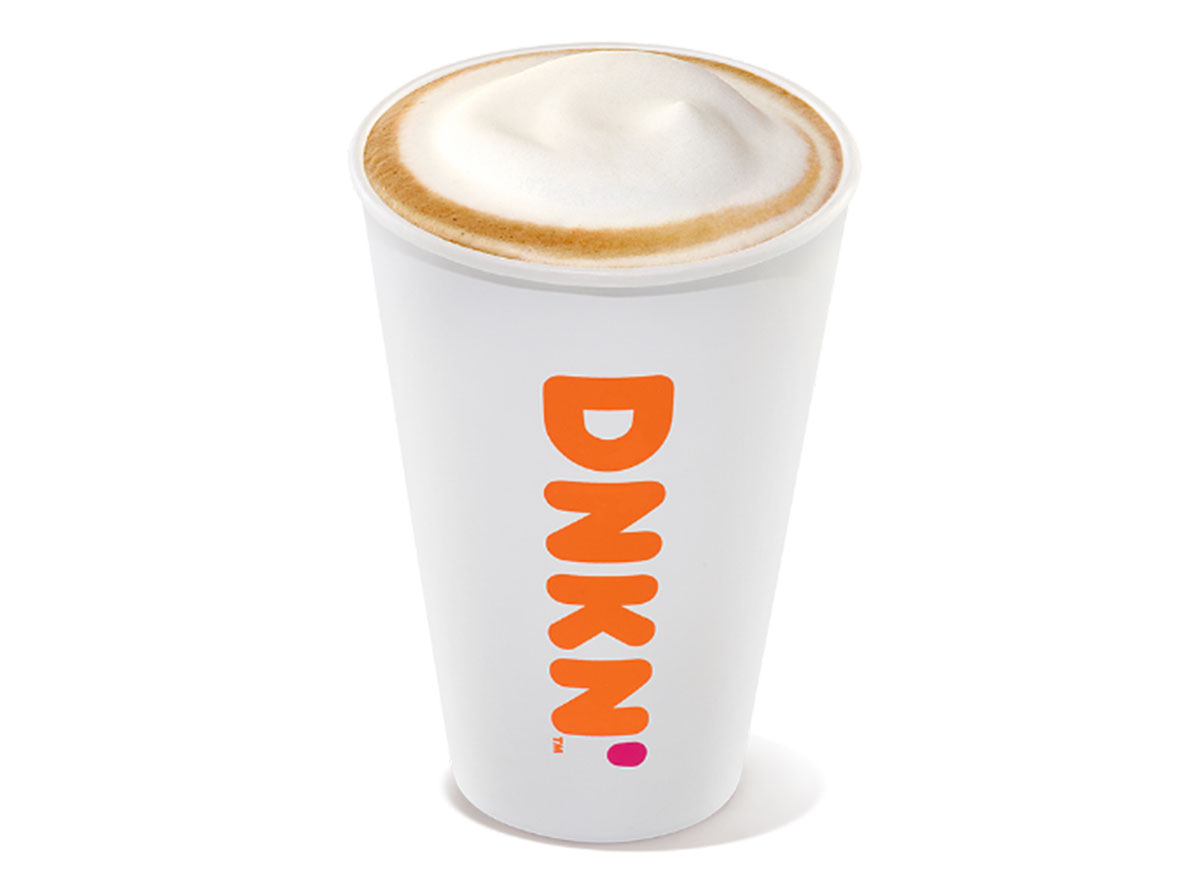 Per large
: 540 calories, 17 g fat (10 g saturated fat), 290 mg sodium, 77 g carbs (1 g fiber, 71 g sugar), 16 g protein
It's PSL season and the Signature Pumpkin Spice Latte from Dunkin' is a tempting choice. But again, you'll want to think twice before placing an order for one first thing in the morning.
"It packs 540 calories, 2 days worth of added sugar and 50% of the daily value of saturated fat. If you love the flavor, ask for 1/2 of the added syrup, go for skim milk and less whipped cream," says Harris-Pincus.
Smoothie King Hulk Strawberry Smoothie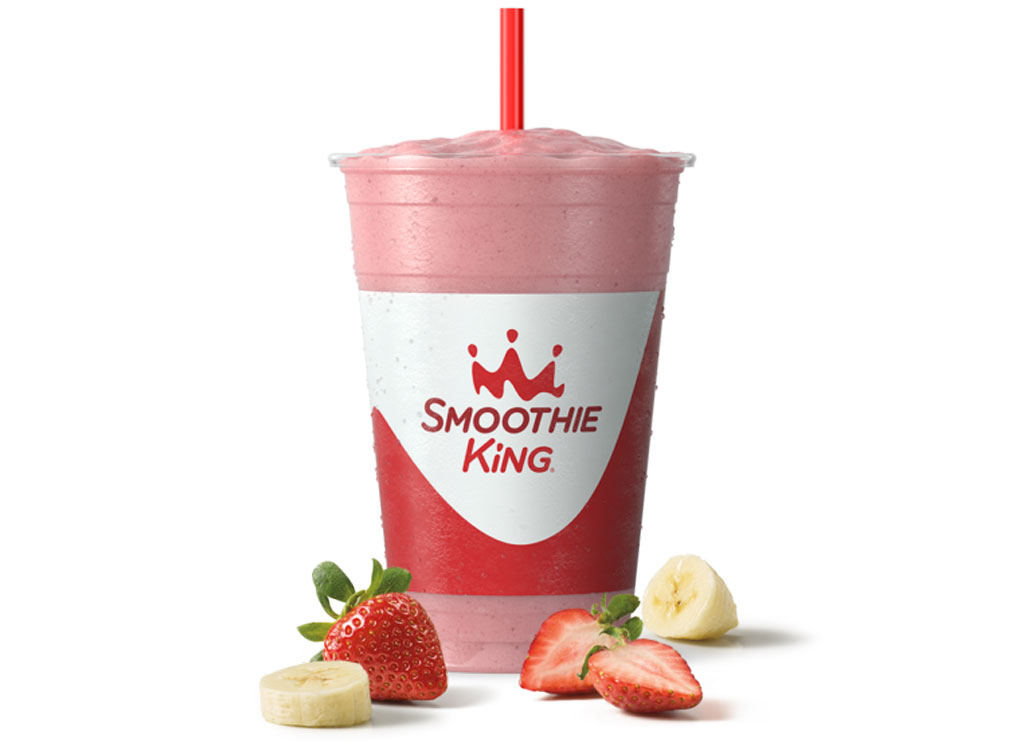 Per small
: 890 calories, 32 g fat (16 g saturated fat), 390 mg sodium, 147 g carbs (7 g fiber, 128 g sugar), 25 g protein
"The Hulk Strawberry Smoothie from Smoothie King sounds innocent enough but upon closer look, a small packs 890 calories and 91 grams of [added] sugar which is almost 4 days worth," says Harris-Pincus. A pro tip: make sure to always avoid ice cream in a smoothie, especially since there are so many better options with fewer than half of the calories for the same size.
Jamba Juice Acai Super Antioxidant Smoothie
Per medium
: 440 calories, 6 g fat (1.5 g saturated fat), 100 mg sodium, 89 g carbs (5 g fiber, 70 g sugar), 8 g protein
Acai clearly sounds healthy, but those calories and sugar grams add up fast, so don't assume it's a good drink choice just because you see the fruit in the name.
"This smoothie has 70 grams of sugar in a medium but only 5 grams of fiber, which means that you are not getting the whole fruit," says Harris-Pincus. With raspberry sherbet in the smoothie too, it's more like a dessert than breakfast. Go with options that contain milk, fruit and veggies, and protein, she says.
Isadora Baum
Isadora Baum is a freelance writer, certified health coach, and author of 5-Minute Energy.
Read more about Isadora