The 6 Worst Fast-Food Burgers if You Have High Cholesterol
Skip these burgers and choose something with less saturated fat if you can.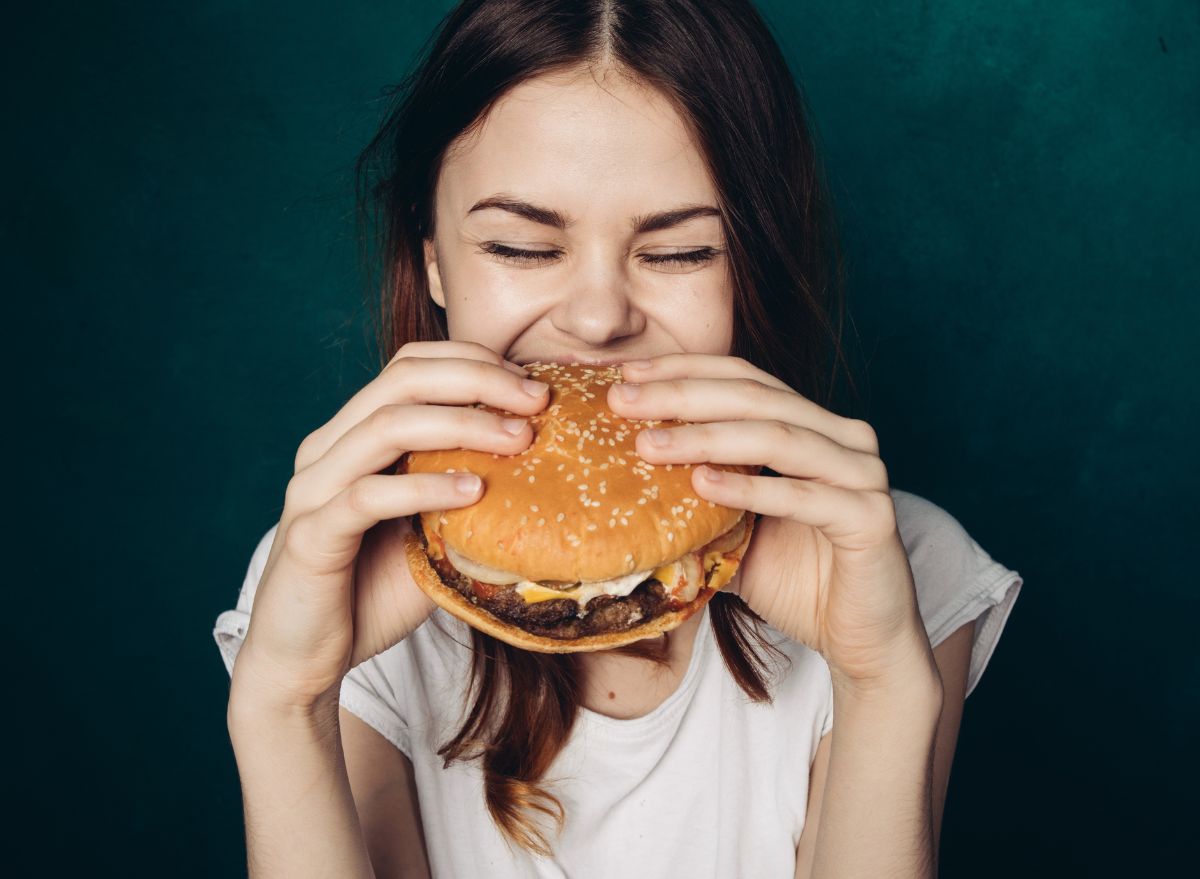 When you're getting home late and have hungry mouths to feed, fast food can literally save the day. But, if you have high cholesterol, that fast food burger you're enjoying could be doing more harm than good.
Fast-food burgers started with White Castle in 1921, but that was only the beginning. Now, you can choose from almost 200,000 fast food locations in the United States to get something quick and on the go. In fact, a recent study found that each day, 36.5% of adults will eat fast food.
All of this fast food may be convenient, but it could be trouble for your heart health. One study found that people who ate fast food an average of 2.5 times or more per week had significantly higher triglycerides and lower HDL cholesterol than those who ate fast food an average of 0.5 times per week.
HDL is known as the "good" cholesterol because it can help remove LDL cholesterol (the "bad" kind) from your bloodstream. Triglycerides are a type of fat that circulates in the bloodstream and can increase your risk of heart disease and stroke. Fast-food burgers can cause your cholesterol to get worse, increasing your risk of coronary heart disease and stroke. But, not all burgers are created the same.
If you have high cholesterol, you'll want to stay away from these 6 fast food burgers, which dietitians have agreed are some of the worst for your cholesterol. Then, for more fast food tips, check out 14 Surprisingly Healthy Fast Food Orders.
Per 1 burger
: 1,494 calories, 104 g fat (43 g saturated fat), 3,471 mg sodium, 58 g carbs (2 g fiber, 14 g sugar), 82 g protein
This enormous burger has almost 1,500 calories and 44 grams of saturated fat. "With 1/2 pound of beef, bacon, and American cheese, I'd suggest skipping it or sharing it with 4 people," says Lisa Young, PhD, RDN, registered dietitian and author of Finally Full, Finally Slim.
The amount of saturated fat in this burger is four times the amount someone who eats 2,000 calories per day should be eating. The American Heart Association recommends getting only 5% or less of your total calories from saturated fat. Since splitting a burger four ways isn't likely, you may want to just skip this one.
Burger King Texas Double Whopper
Per 1 burger
: 1,135 calories, 76 g fat (29 g saturated fat), 2,375 mg sodium, 55 g carbs (3 g fiber, 11 g sugar), 63 g protein
A double beef patty with cheese and bacon is high in saturated fat, too much of which can increase LDL cholesterol levels, explains Veronica Rouse, RDN at The Heart Dietitian. This massive burger has 29 grams of saturated fat, so choosing only ¼ pound of beef and skipping the cheese would make it a better choice for your cholesterol.
The Wendy's Big Bacon Cheddar Triple Cheeseburger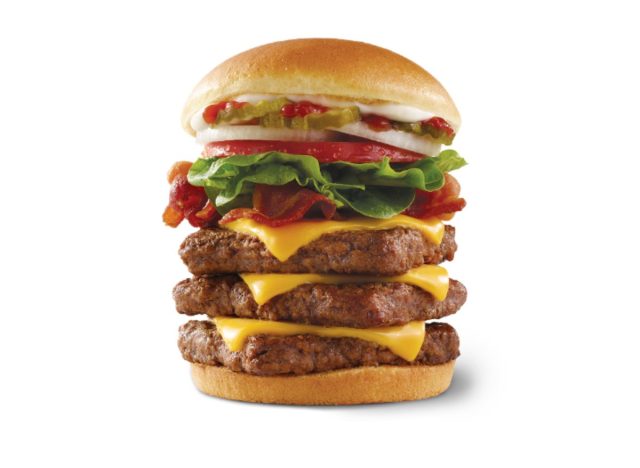 Per 1 burger
: 1,220 calories, 86 g fat (37 g saturated fat), 1,770 mg sodium, 38 g carbs (2 g fiber, 9 g sugar), 75 g protein
Three times the cheese and beef as a normal cheeseburger (oh, and add some bacon), makes this fast food burger a real doozy for cholesterol. This one burger has 86 grams of fat and 37 grams of saturated fat, which is well over the recommended amount for the general population and people at risk for heart disease.
"The average American eats 60 cheeseburgers each year, so choosing toppings lower in saturated fat could mean big changes in your cholesterol. For a more heart-healthy choice, try the Wendy's Jr. Hamburger at only 4 grams of saturated fat per sandwich, says registered dietitian Darby Horton MS, RDN, LD.
The Hardee's Double Western Bacon Cheeseburger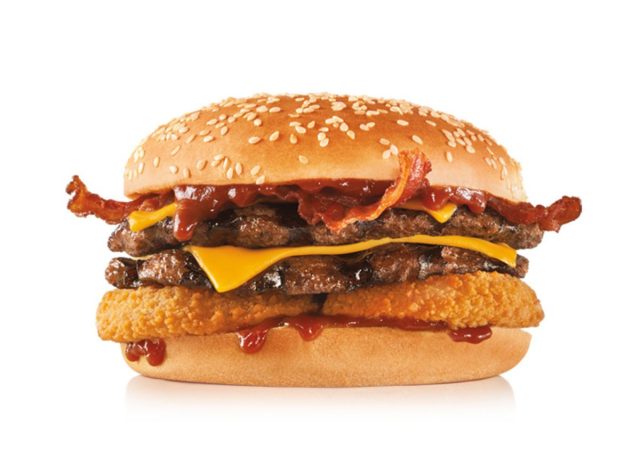 Per 1 burger
: 1,060 calories, 57 g fat (24 g saturated fat), 2,080 mg sodium, 81 g carbs (0 g fiber, 17 g sugar), 58 g protein
This Hardee's burger will add an impressive 57 grams of saturated fat to your diet. "Saturated fat is the type of fat that clogs your arteries and raises your cholesterol, so this much saturated fat in one meal should be avoided if you have high cholesterol," says registered dietitian Bethany Keith MS, RDN, LD, CNSC.
Culver's Bacon Deluxe Triple Burger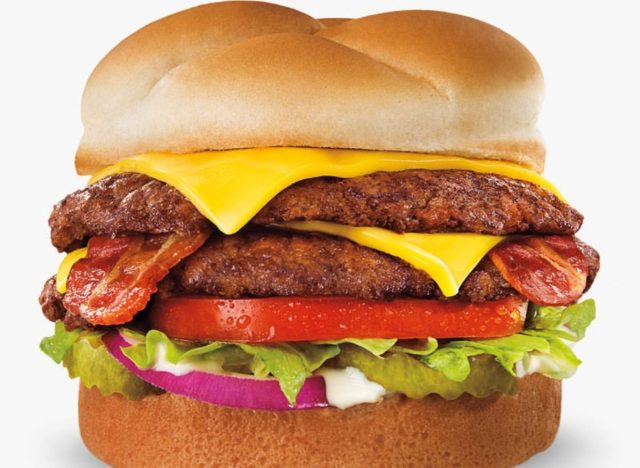 Per 1 burger
: 850 calories, 57 g fat (22 g saturated fat), 1,205 mg sodium, 41 g carbs (1 g fiber, 17 g sugar), 43 g protein
Three times the meat, three times the cheese, and add some bacon and mayo on top for a saturated fat-packed burger. A Triple Bacon Deluxe Burger from Culver's comes on a buttered bun and has 22 grams of saturated fat and 57 grams of total fat.6254a4d1642c605c54bf1cab17d50f1e
Whataburger Bacon & Cheese Burger
Per 1 burger
: 750 calories, 37 g fat (13 g saturated fat), 1,910 mg sodium, 62 g carbs (4 g fiber, 12 g sugar), 39 g protein
This burger has 37 grams of fat and 13 grams of saturated fat. With 62 grams of carbohydrates, the excess sugars could lead to higher triglycerides.
Final takeaway
While there are certain healthier alternatives that many fast-food restaurants now offer, it's important to be aware of the unhealthiest orders. This is true for anyone, but especially those who have high cholesterol or are watching their cholesterol levels.
Make sure you check the nutrition info on the menu and pay close attention to things like total fat, saturated fat, sodium, and total calorie count. That way you can still enjoy an easy, affordable fast-food burger from time to time while still feeling confident about what you're eating.
Kelsey Kunik, RDN
Kelsey Kunik is a registered dietitian, freelance writer, nutrition consultant, and sustainable food blogger.
Read more about Kelsey