The Worst Fountain Drinks to Never Order
Some drink options that are found at popular fast-food restaurants are nothing but trouble.
We're just going to go ahead and say it—fountain drinks really do taste different. Actually, better than other drinks you would get in a typical bottle. If a memory of sipping on a cup of fizzy, perfectly crisp soda you got from McDonald's alongside a burger and fries comes to mind, you're not alone.
While everything is OK in moderation, you do want to be mindful even when you're indulging. There are some fountain drinks that are just not worth the extra calories and added sugar you're going to be consuming sipping on these beverages. We rounded up some of the most commonly found fountain drink options at popular fast-food restaurants that are nothing but trouble. So you know which ones you're better off not ordering. (If you don't have any other choice, though, be sure to at least get a small cup size!) While you're making healthier changes, check out The 7 Healthiest Foods to Eat Right Now.
Hi-C Orange Lavaburst
Per large
: 310 calories, 80 mg sodium, 80 g carbs (80 g sugar)
Hi-C Orange Lavaburst brings on a wave of nostalgia and it was to the delight of many that Mickey D's brought the drink back. But a large size of the fruit drink is packing more calories than you would get from a cheeseburger! Plus, it's packing as much sugar as you would get from eight Original Glazed Krispy Kreme Donuts. Yikes!
If you really want to get your Hi-C fix, try and stick to the extra-small size McDonald's offers.
Coca-Cola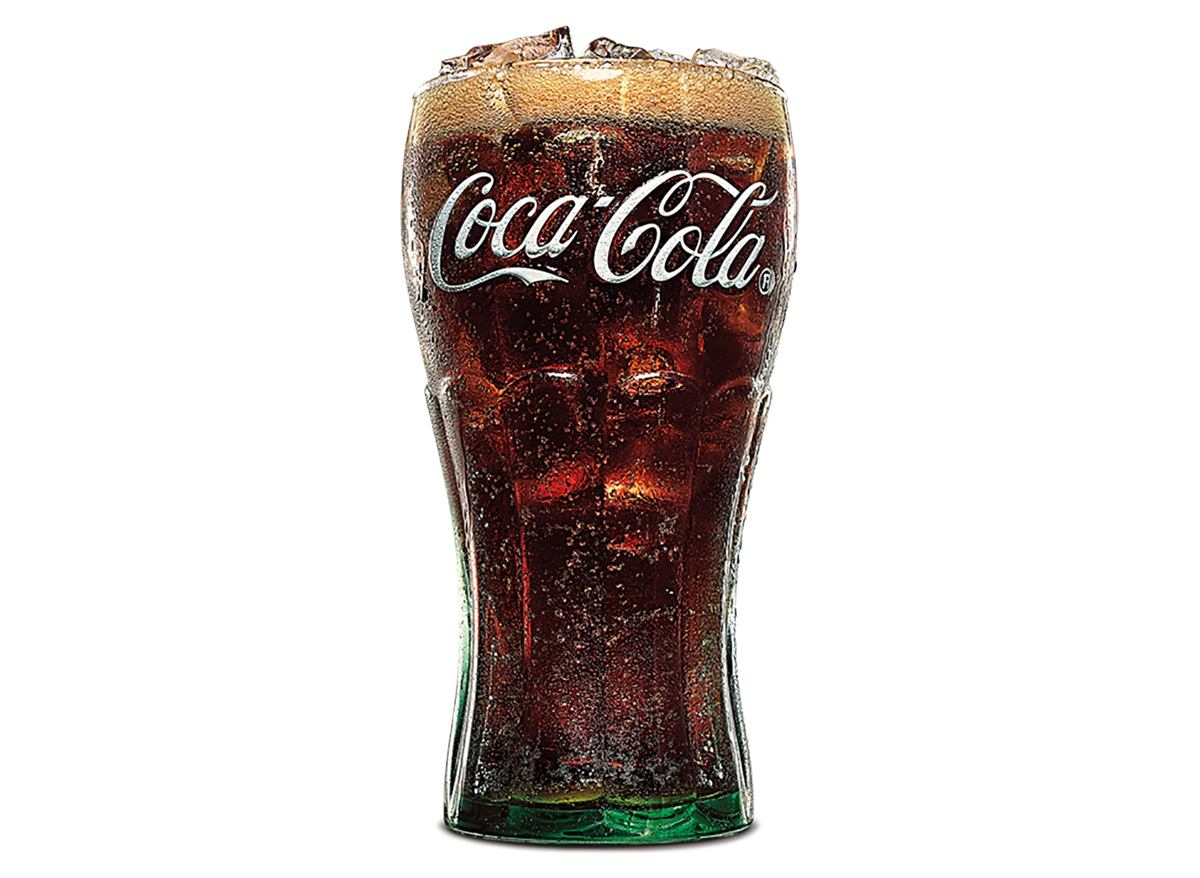 Per large
: 506 calories, 121 mg sodium, 127 g carbs (127 g sugar)
Oh, Coca-Cola. Yes, it's a classic soda, but it's no secret that drinking Coke often can have negative impacts on your overall health. In fact, a study in the journal Circulation even found a correlation between drinking soda over a long period of time and a heightened risk of death. Scary stuff!
At Burger King, a large Coca-Cola has more calories than you would from a large order of onion rings and as much sugar as five of BK's soft-serve ice cream cones. Just don't make it a habit of hitting up the Burger King drive-thru and downing one of these large sodas daily.
Hi-C Flashin' Fruit Punch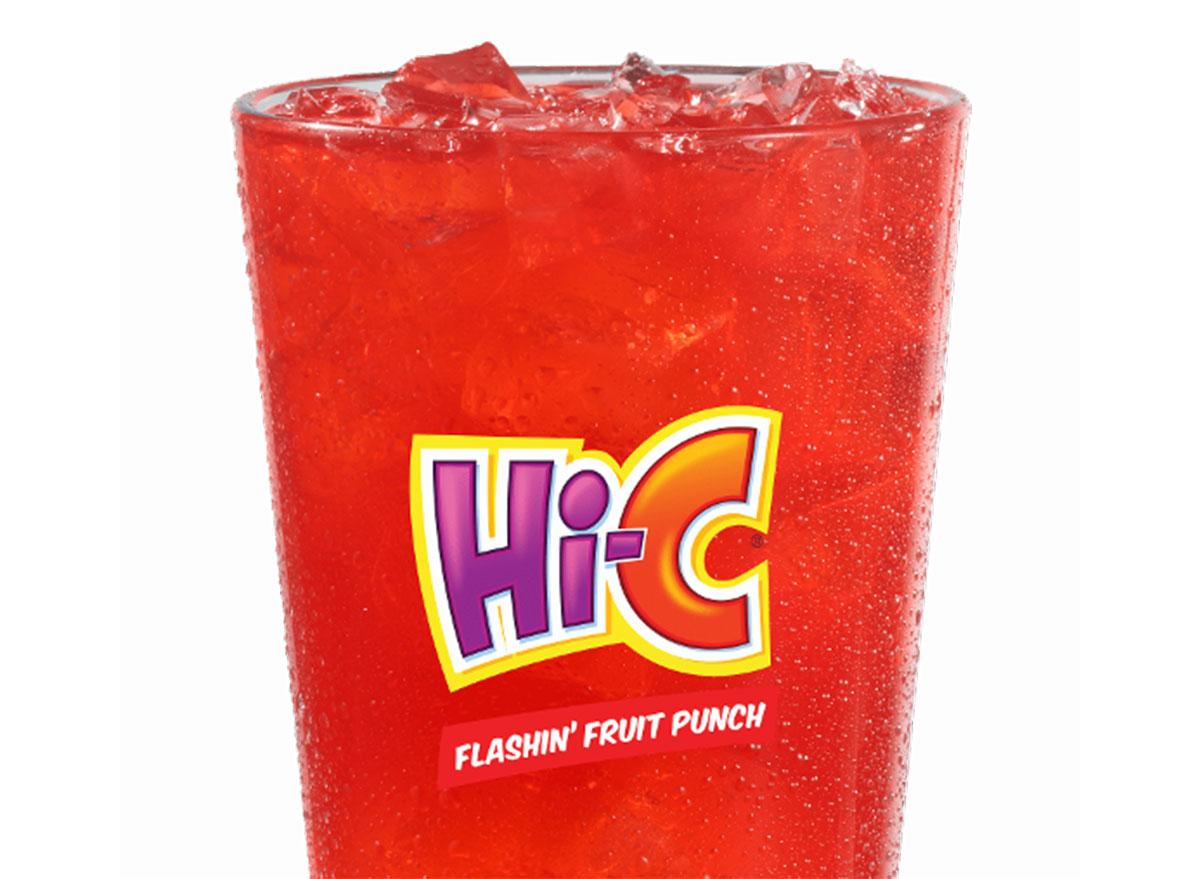 Per large
: 560 calories, 120 mg sodium, 141 g carbs (139 g sugar)
At Wendy's, you can sip on Hi-C Flashin' Fruit Punch, which is described as being loaded up with "explosive fruit flavors." Well, a large size of this fountain drink is packing 560 calories and has as much sugar as you would from five junior-sized chocolate Frostys. It's also important to keep in mind that The American Heart Association recommends men should consume no more than 36 grams of added sugar per day, and women shouldn't have more than 25 grams daily. So it's easy to see why drinking one of these could be problematic, as it's serving up days' worth of sugar. You're better off sticking with the Frosty to satisfy your sweet tooth!6254a4d1642c605c54bf1cab17d50f1e
And for more helpful tips, be sure to sign up for our newsletter to get daily recipes and food news in your inbox!
Mtn Dew Baja Blast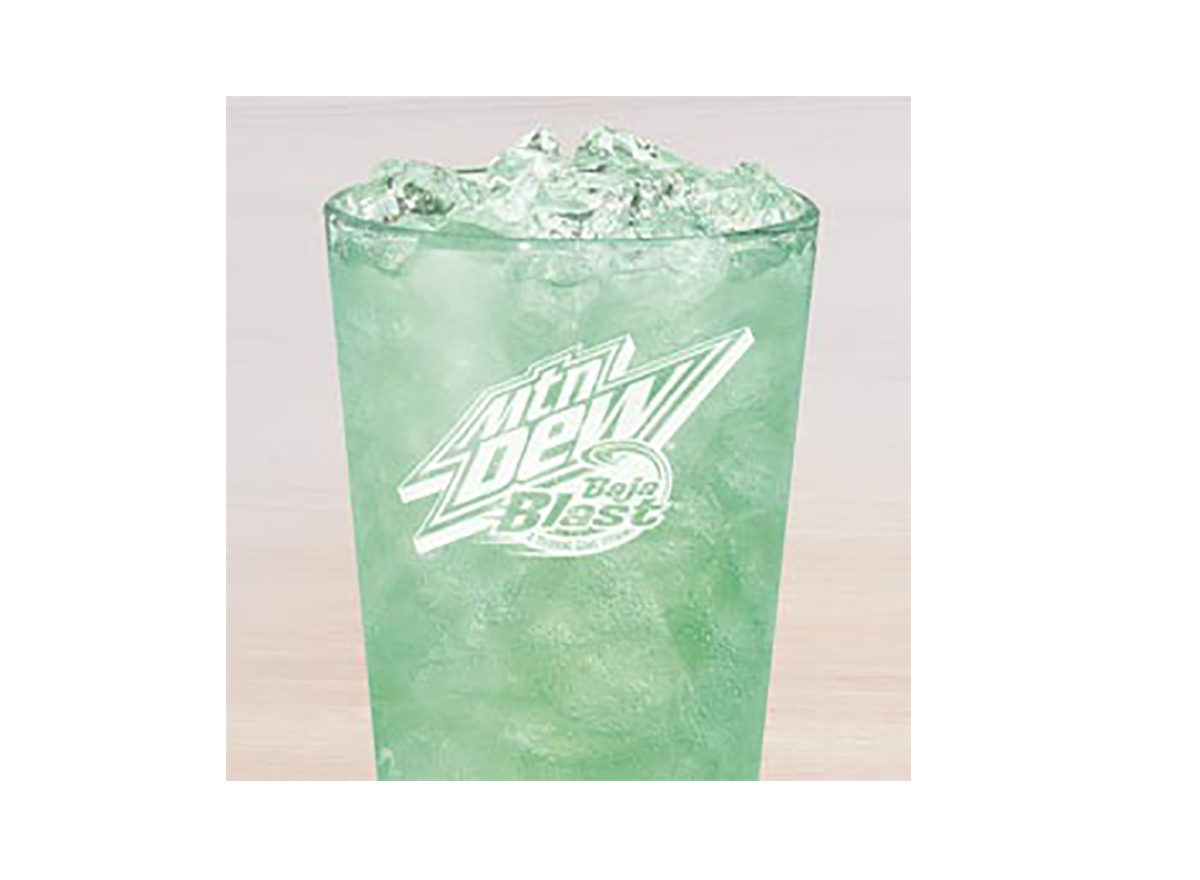 Per large
: 420 calories, 120 mg sodium, 110 g carbs (110 g sugar)
When you're dining at Taco Bell, you can order a Mountain Dew, but with a twist. Enter the Mtn Dew Baja Blast. It's said to be "tropical storm" you can drink, and a large order is just dangerous. It contains 110 grams of sugar, which is more than you would get if you ate 36 Oreo Thin cookies in one sitting. (Not something else we recommend, either!)
Mello Yello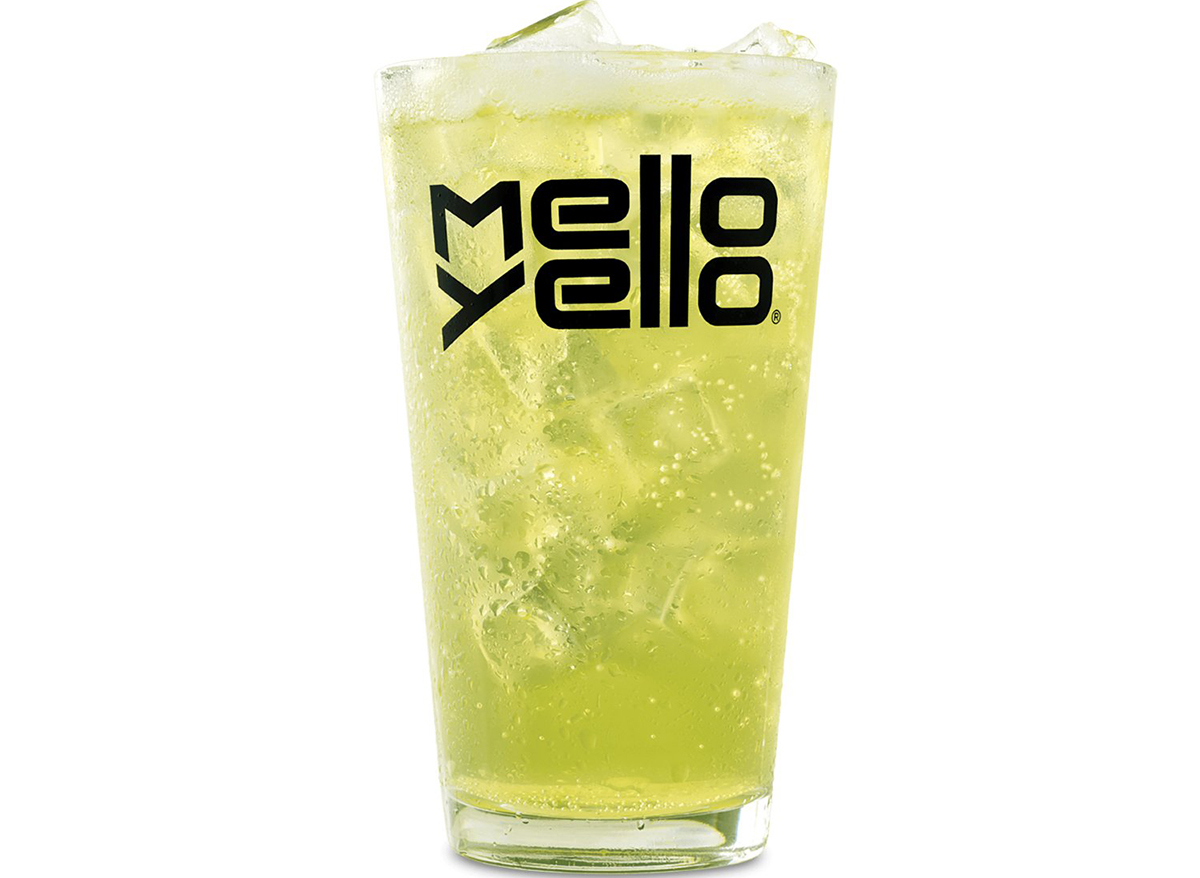 Per large
: 330 calories, 90 mg sodium, 86 g carbs (86 g sugar)
Mello Yello is a citrus-flavored soda that has been around for a few decades now. And at Arby's, it's one of the fountain drinks you can order. A large size of this drink is packing 86 grams of the sweet stuff, which is 4 grams more than you would get from a small size of the chain's iconic Jamocha shake. So what should you sip on instead while you eat some curly fries? Go for the Minute Maid Zero Sugar.
Fanta Orange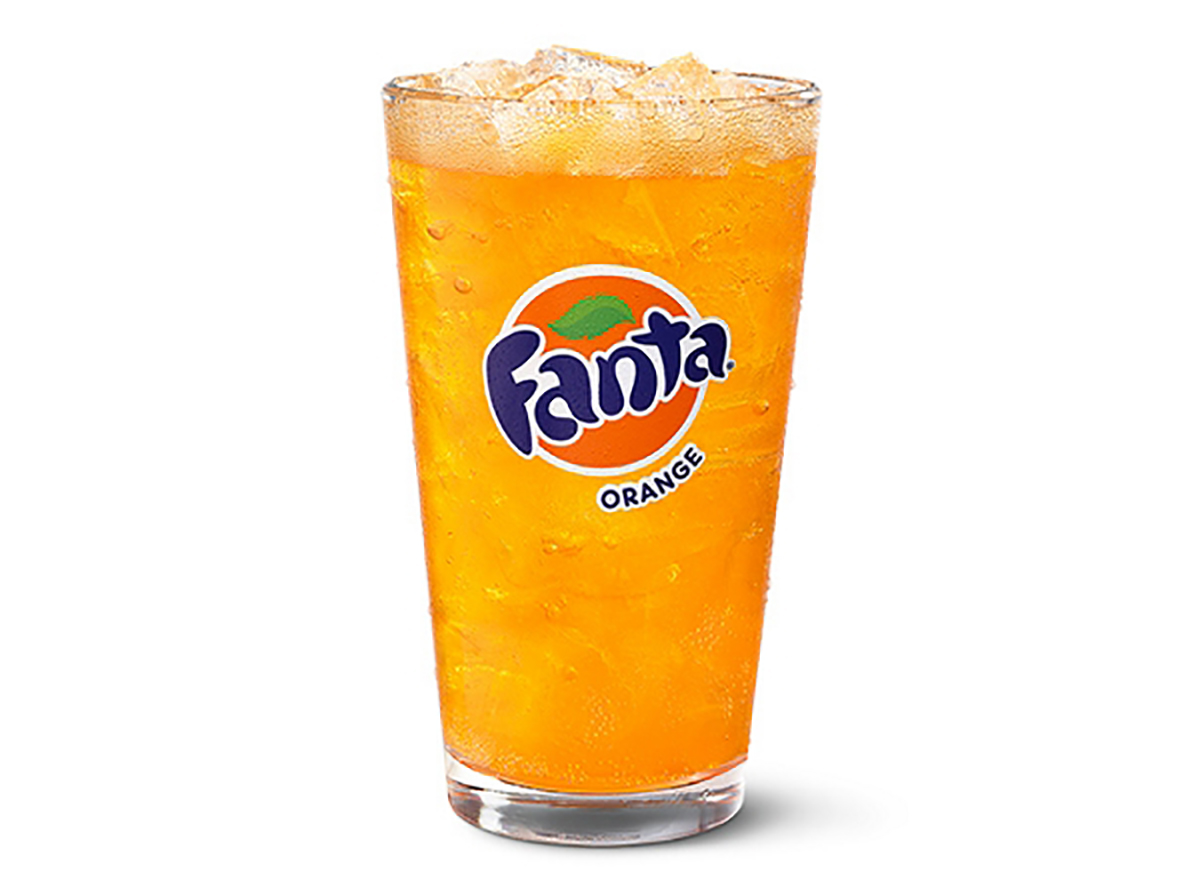 Per large
: 300 calories, 80 mg sodium, 78 g carbs (76 g sugar)
Sensing a bit of a theme here? Fruit-flavored beverages are proving to be rather troublesome. The same can be said for Fanta. The orange flavor is the original and is offered up at quite a few fast-food restaurant chains. However, it's a fountain drink you're going to want to steer clear of if you can. This large order from McDonald's is proof!
If you really can't shake the urge for an orange soda and Fanta is calling your name, go for the smallest size available and be mindful of your added sugar intake for the rest of the day.
Jennifer Maldonado
Jennifer Maldonado is a senior editor at Eat This, Not That!, specializing in food and health content.
Read more about Jennifer