The #1 Order to Never Make at an Indian Restaurant, According to Chefs
You may want to stick to tradition for a top-notch experience.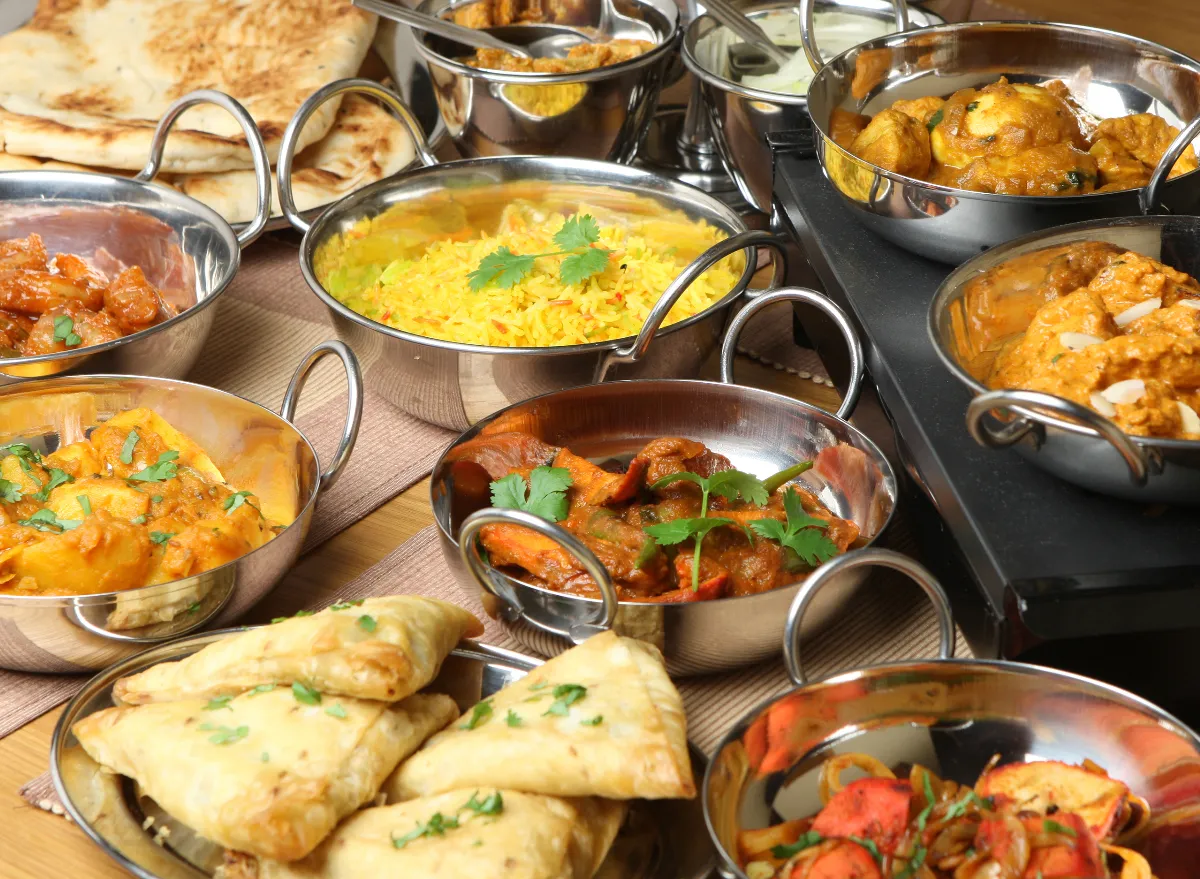 From fragrant curries to flaky samosas, Indian cuisine is a rich tapestry of flavors and textures. But not all of those flavors are worth sampling. Just like with Thai, Mexican, and Chinese food, there are some Indian dishes that are more worthwhile than others, be it a matter of taste, nutrition, or more often than not, authenticity.
Like all Americanized cuisines, there are several "Indian" dishes that no one really eats in India, and certain things that are downright taboo. With the uptick in Indian restaurants across the U.S., that line between authentic and fusion is getting all the more blurry, which is why some Indian chefs steer clear of the "progressive" twists on classics in favor of tried-and-true recipes more aligned with culture and tradition.
"Indian cuisine's popularity is on the rise in the United States, but it's important to be able to distinguish the genuine cuisine from a fusion or a progressive version of it," explains Pujan Sarkar, chef de cuisine at ROOH San Francisco and ROOH Palo Alto. "Some dishes may be presented as Indian (lamb vindaloo, chicken tikka masala ), when in fact, their origin can be traced far from the culture with which they're associated."6254a4d1642c605c54bf1cab17d50f1e
Sarkar adds that, frequently, dishes in American-Indian restaurants are more like hybrid versions of traditional Indian foods, and while some of them can have merits on their own, they can also wildly stretch the definition of the cuisine to a point where it's no longer recognizable.
For these reasons of fusion-gone-too-far, the chef says the two most glaringly inauthentic foods to avoid at Indian restaurants are steak ("like tandoori steak") and raw seafood ("Indian sushi").
"The vast majority of India practices Hinduism, a religion in which cows are considered sacred, so obviously beef is off the table," he says. "Raw seafood in general is not present in Indian culture, and is even frowned upon."
Even at a contemporary, progressive Indian restaurant like New York City's Baar Baar, though, chef de cuisine Sameer Kuthe proves that there's room for innovation as long as cultural authenticity is preserved. Especially when it comes time for dessert.
"Although I personally enjoy small sweets after a meal, I would not order dessert at most Indian restaurants as I find that they are often brought in, or just not great quality," he says. "At Baar Baar, we take great care in our dessert program—after all, it's the last thing you eat, which can make or break your lasting impression on the overall experience."
Rather than phoning it in with afterthought sweets brought in from outside purveyors, Kuthe tinkers with Indian tradition and technique to create a grand finale worth saving room for.
"Our desserts are inspired by Indian desserts, but cooked with more of a French technique. They are a bit lighter on sweetness, as many Indian desserts can be overly sugary, and highlight the main ingredient." For example, one of the best-sellers is their carrot halwa cake with saffron and pistachio ice cream, and rasmalai, a poached cottage cheese dumpling soaked in milk.
At the end of the day (and at the end of the meal), the key to ensuring a successful, soulful meal at an Indian restaurant is about authenticity and craft. Just like mozzarella sticks at an Italian restaurant, the dishes you won't actually find in the country of origin are the red flags worth shunning.
Matt Kirouac
Matt Kirouac is a travel and food writer and culinary school graduate, with a passion for national parks, all things Disney, and road trip restaurants.
Read more about Matt