The Worst Mac and Cheese Dishes in America
The ultimate comfort food gets turned into high-calorie sodium bombs at some of your favorite chain restaurants.
There really is nothing quite like a warm, cheesy, delicious bowl of macaroni and cheese. It's a fairly simple dish that many of us ate in childhood and part of why it's so beloved is the sense of nostalgia and comfort it brings. When you're dining out at a restaurant or ordering in from one of your favorite spots, it's tempting to try this dish, as every restaurant makes it a different way. But you'll want to be careful, as not all mac and cheese orders are created equal. And that means there are some options that are just terrible for your health.
To help you make the most informed decision when you're in the mood for some restaurant-quality macaroni and cheese, we rounded up some of the worst offenders. We separated the list into two sections, sides and entrées, and ranked them from bad to the absolute worst.
Check out which chain restaurants' mac and cheese dishes are a no-go. And if you're looking to take a trip down memory lane, here are 15 Classic American Desserts That Deserve a Comeback.
Sides
Cracker Barrel Macaroni n' Cheese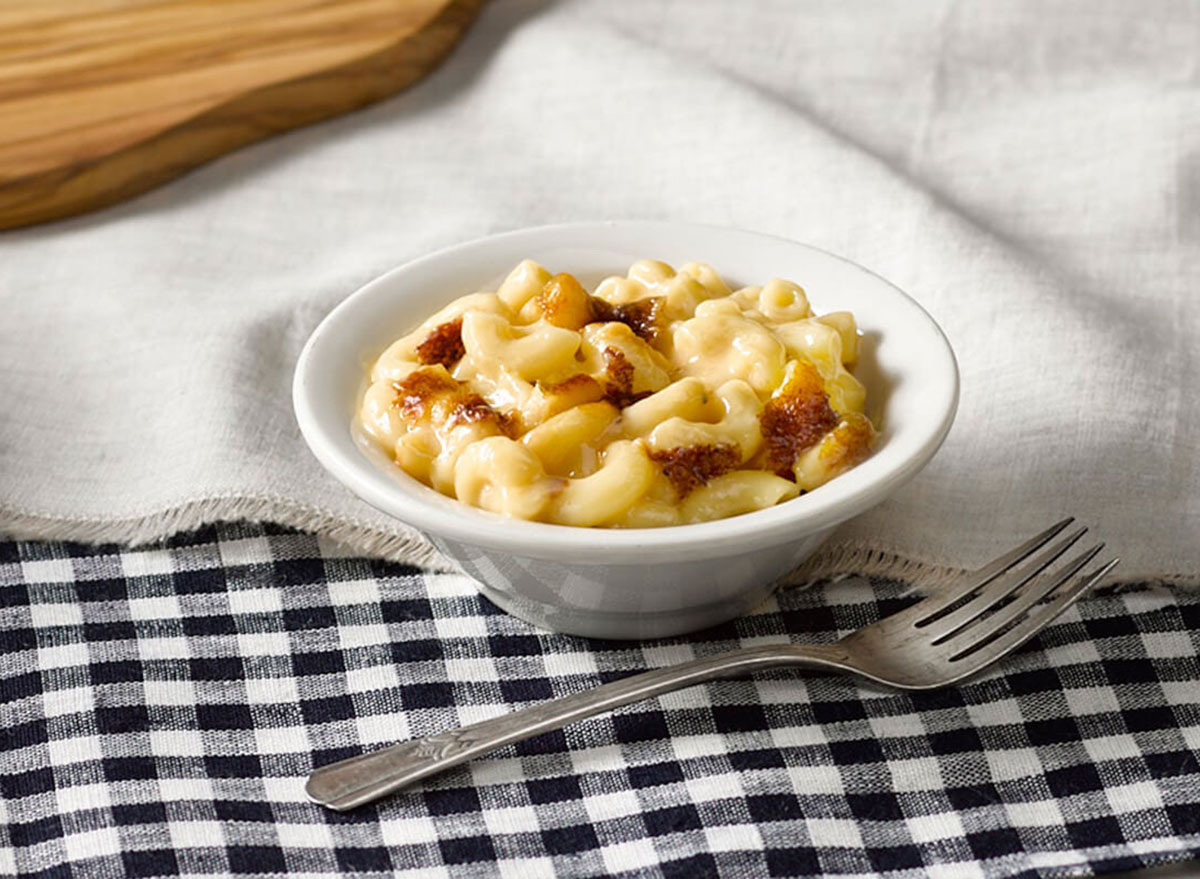 270 calories, 16 g fat (6 g saturated fat, 0 g trans fat), 700 mg sodium, 23 g carbs (2 g fiber, 3 g sugar), 10 g protein
Oh, Cracker Barrel. Its macaroni and cheese is legendary, as it's said to be baked in the oven, too. It's the least offensive of the side dish options, but that doesn't mean it's great for your health. Hey, you could always try your hand at making this version yourself at home.
Bob Evans Macaroni & Cheese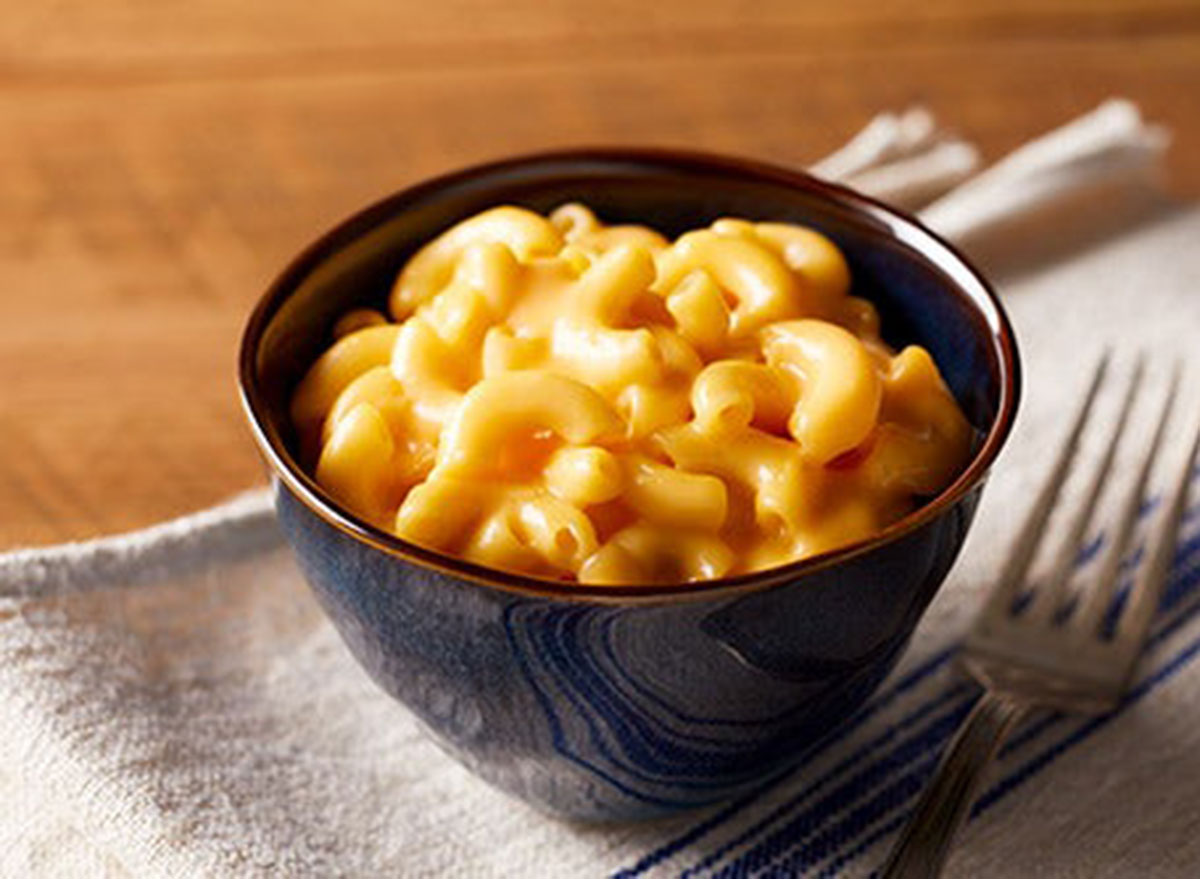 250 calories, 12 g fat (5 g saturated fat, 0 g trans fat), 910 mg sodium, 25 g carbs (2 g fiber, 4 g sugar), 11 g protein
The mac and cheese side from Bob Evans doesn't seem too bad at first glance, as it's coming in at 250 calories. While it might be made of the chain's "rich and creamy special recipe," a side dish that has more than 900 milligrams of sodium is just never a good idea.
TGI Fridays Cheddar Mac and Cheese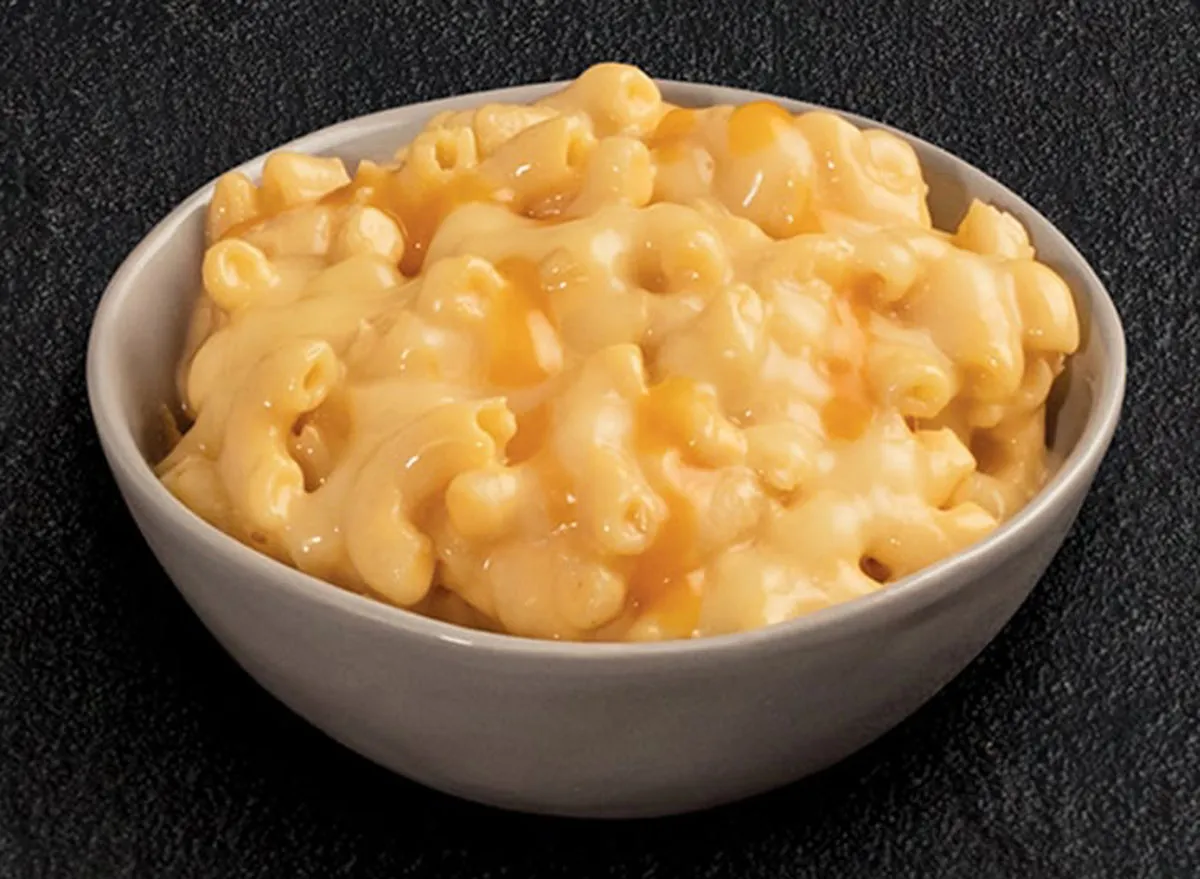 630 calories, 35 g fat (19 g saturated fat, 0 g trans fat), 1,670 mg sodium, 52 g carbs (0 g fiber, 6 g sugar), 26 g protein
The fact that this mac and cheese add-on at TGI Fridays has more sodium than a Grilled Chicken Caesar Wrap entrée option is downright scary. And just think about how small this portion is. No thanks!
Outback Steakhouse Mac & Cheese
840 calories, 50 g fat (28 g saturated fat, 1 g trans fat), 1,270 mg sodium, 68 g carbs (4 g fiber, 6 g sugar), 30 g protein
The worst macaroni and cheese side dish option belongs to Outback Steakhouse. It comes in at 840 calories and even manages to sneak in 1 gram of trans fat. Plus, the fact that it has 1,270 milligrams of sodium is just not OK, as this is served alongside a main entrée.
Entrées
Red Robin Pub Mac 'n Cheese
With a Caesar salad
: 1,040 calories, 68 g fat (32 g saturated fat, 2.5 g trans fat), 2,080 mg sodium, 75 g carbs (9 g fiber, 11 g sugar), 34 g protein
At Red Robin, you actually get a choice of a salad to pair alongside your mac and cheese. Which is nice, in theory, but doesn't do much to save this meal. Their version of the pasta dish is smothered in a creamy cheese sauce, toasted crouton crumbs, and Parmesan. This makes for a meal that comes in at more than 1,000 calories and 2.5 grams of trans fat. It's no secret how harmful trans fat can be for your diet, as it lowers your HDL levels (which is your good cholesterol) and can even trigger heart disease, stroke, diabetes, and other chronic conditions, according to Harvard Health.
Buffalo Wild Wings Buffalo Mac and Cheese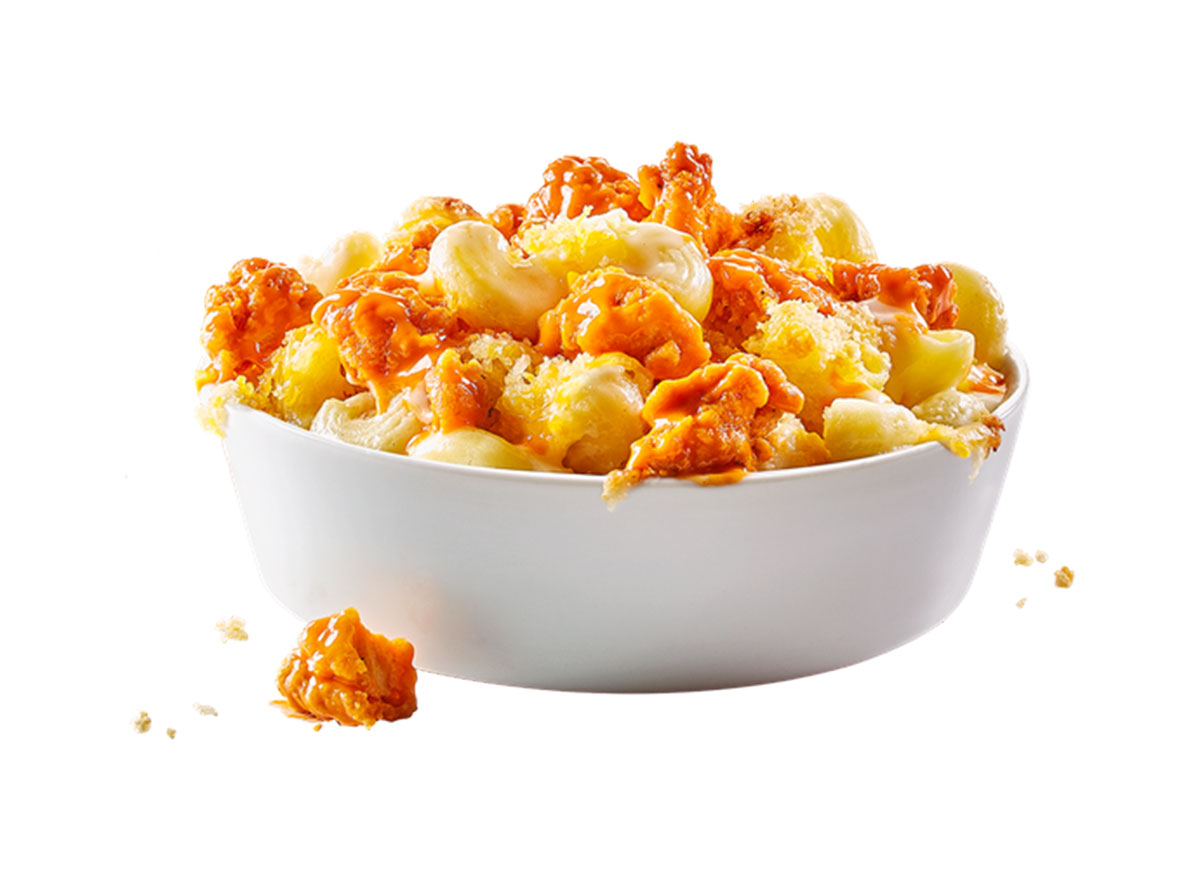 1,090 calories, 67 g fat (28 g saturated fat, 2 g trans fat), 4,520 mg sodium, 76 g carbs (6 g fiber, 2 g sugar), 44 g protein
It shouldn't come as much of a surprise that the mac and cheese at Buffalo Wild Wings prominently features some boneless buffalo wings. Keeping that in mind, it's shocking to see that this bowl has a whopping 4,520 milligrams of sodium. The American Heart Association recommends the average person consume no more than 2,300 milligrams a day of sodium, ideally and moving toward a limit of no more than 1,500 milligrams.
Panera Bread Mac & Cheese Bread Bowl
1,140 calories, 35 g fat (18 g saturated fat, 1 g trans fat), 2,210 mg sodium, 163 g carbs (6 g fiber, 9 g sugar), 43 g protein
The fact that Panera Bread offers up mac and cheese in a bowl made of literal bread is nothing short of iconic. But before you dig into it, you'll want to see how highly calorie this fat and sodium-packed menu option is. Skip!
Friendly's Buffalo Mac and Cheese
1,357 calories, 74 g fat (31 g saturated fat, 0.5 g trans fat), 4,520 mg sodium, 106 g carbs (4 g fiber, 8 g sugar), 67 g protein
At Friendly's, the mac and cheese is topped with blue cheese crumbles and fried chicken tenders that happen to be covered in a buffalo wing sauce. Again, the sodium here is just outrageous. Perhaps adding buffalo chicken to mac and cheese, while tasty, might not be the move. Ever.6254a4d1642c605c54bf1cab17d50f1e
Applebee's Four-Cheese Mac & Cheese with Honey Pepper Chicken Tenders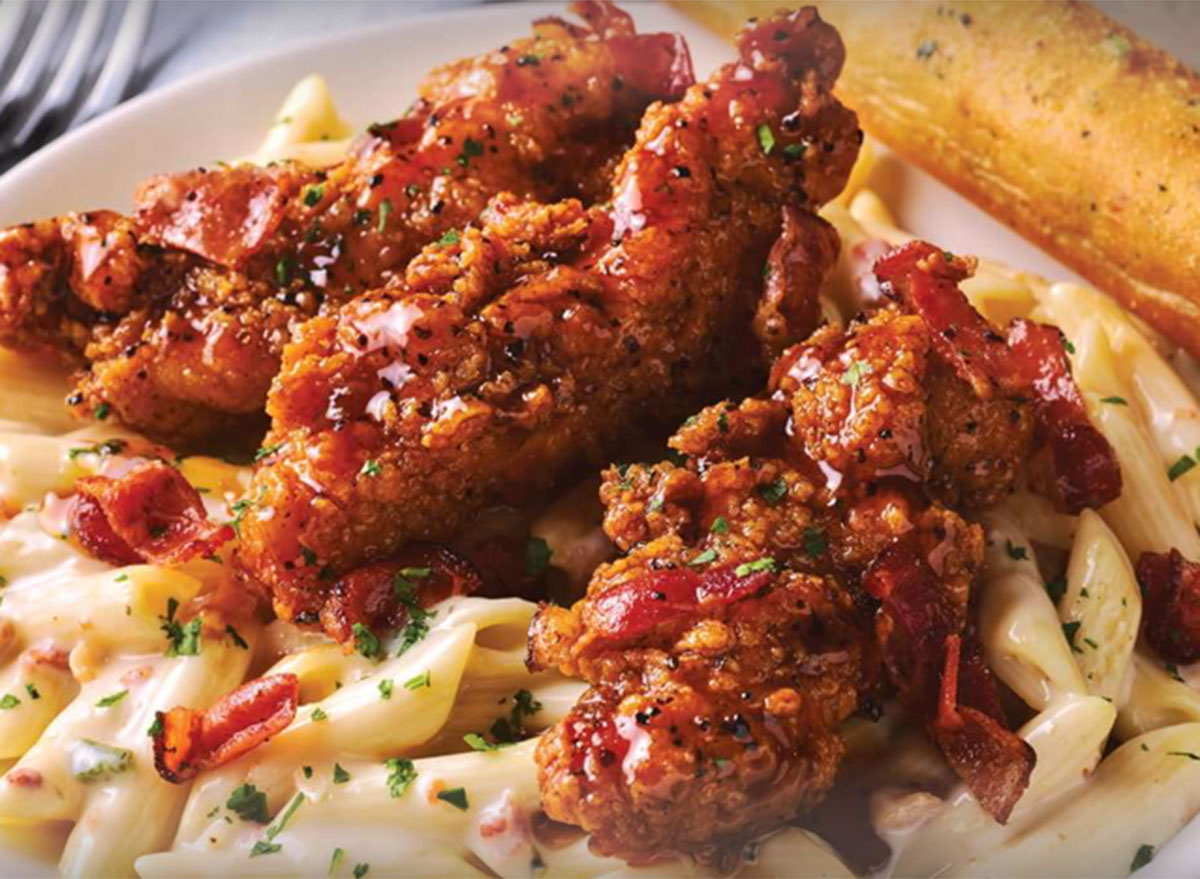 1,420 calories, 61 g fat (23 g saturated fat, 1 g trans fat), 3,060 mg sodium, 153 g carbs (7 g fiber, 41 g sugar), 60 g protein
Applebee's decided to put a sweet and savory twist on the classic comfort food. Here, four-cheese penne mac and cheese is topped with Applewood-smoked bacon and crispy chicken tenders that are tossed in a honey pepper sauce. Yes, there is a whole lot going on. Besides packing as much sodium as 270 Lay's potato chips, this dish also serves up 41 grams of sugar. That's more than you could get if you ate four Original Glazed Krisp Kreme Donuts…
UNO Pizzeria & Grill Buffalo Chicken Mac & Cheese
2,200 calories, 133 g fat (58 g saturated fat, 1 g trans fat), 4,310 mg sodium, 160 g carbs (6 g fiber, 14 g sugar), 96 g protein
And now the worst of the bunch. That title belongs to UNO Pizzeria & Grill's Buffalo Chicken Mac & Cheese. It has more calories than most people should consume in an entire day and nearly two days' worth of sodium. For the sake of your health, do not order this meal and if you do, be sure to split it with a ton of friends. If you're interested in cooking up your own version of mac and cheese, this is the easy way to make healthier comfort foods.
Jennifer Maldonado
Jennifer Maldonado is a senior editor at Eat This, Not That!, specializing in food and health content.
Read more about Jennifer