9 Unhealthiest Sides at Popular Fast-Food Chains
An expert explains why you may want to avoid these fast-food sides.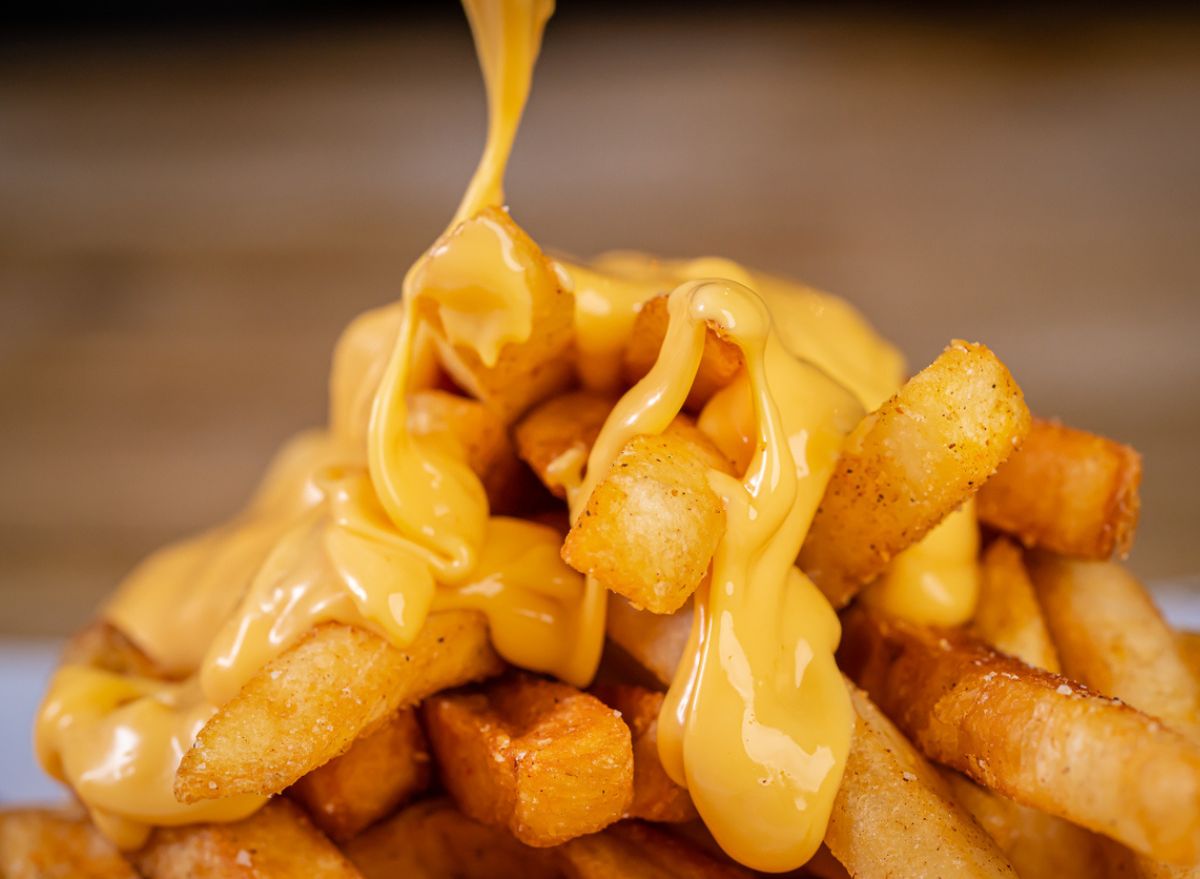 When picking up a cheeseburger or fried chicken sandwich from your favorite fast-food restaurant, it seems almost essential to grab a side of fries or another equally salty side item to complement your delicious and greasy meal. And while the perfect side is always a satisfying choice, those who are trying to keep their options relatively "healthy" may want to be more intentional with the fast-food sides they choose to order.
As with most fast food, many side items like fries, mac and cheese, mashed potatoes, mozzarella sticks, and other popular options are going to be loaded with extra calories, total fat, saturated fat, trans fat, and sodium. These side dishes may not seem all too bad on their own, but when you pair them with a burger and soft drink, or a chicken sandwich and a milkshake, the numbers rack up quicker than you'd expect.
To help you make easy choices when you're in the mood for something healthier, we talked with an expert about the unhealthiest fast-food sides you'll want to avoid when you're at your favorite chain. Read on, and for more, don't miss 8 Fast-Food Chains Where Dietitians Actually Eat—& What They Order.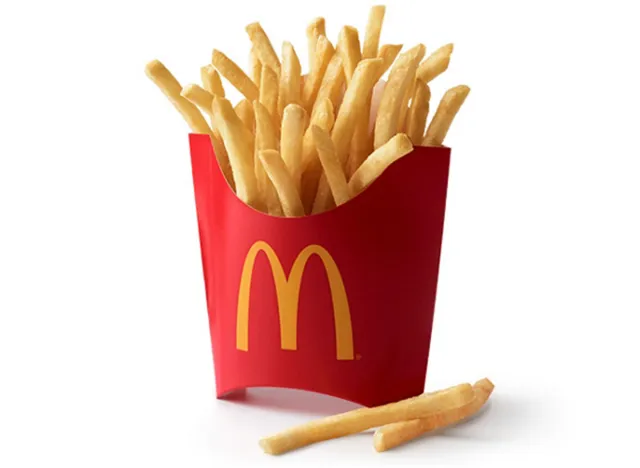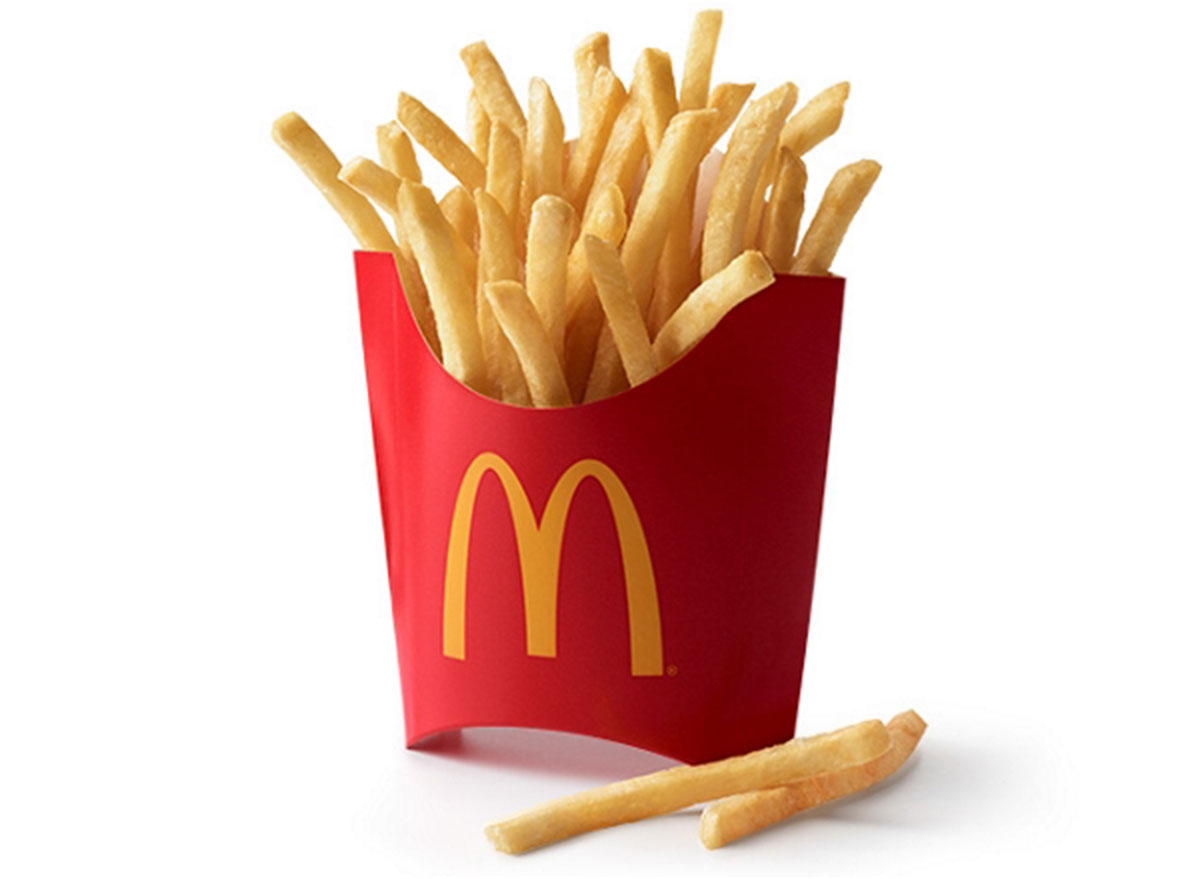 Per medium
: 320 calories, 15 g fat (2 g saturated fat), 260 mg sodium, 43 g carbs (4 g fiber, 0 g sugar), 5 g protein
Even though they're famously delicious, Mary Sabat MS, RDN, LD suggests skipping the McDonald's French Fries from time to time. "These fries are popular, but they're high in calories, unhealthy fats, and sodium," she says. At first glance you may not think these numbers seem all that high, but when you consider that this would be just a side item to an already calorie and fat-dense meal, it changes the perspective a bit.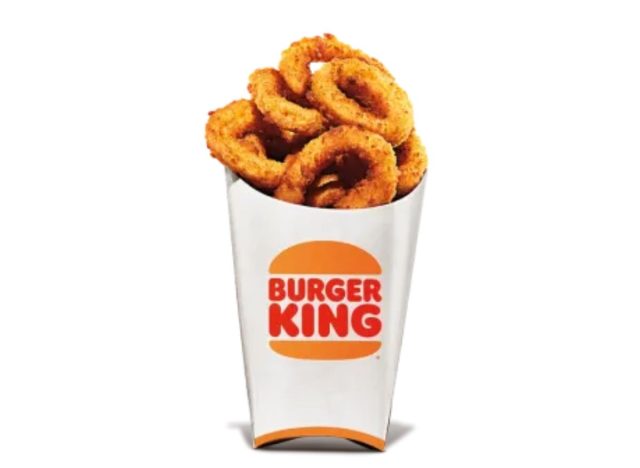 Per medium
: 360 calories, 16 g fat (2.5 g saturated fat), 640 mg sodium, 48 g carbs (5 g fiber, 5 g sugar), 4 g protein
Sabat says that if you're heading to Burger King and want to try keeping your meal on the "healthier" side, you may want to avoid the BK Onion Rings. "The onion rings at Burger King are deep-fried, making them high in calories and unhealthy fats," she says, "with a medium serving containing 360 calories, 16 grams of fat, and 48 grams of carbs.
Wendy's Chili Cheese Fries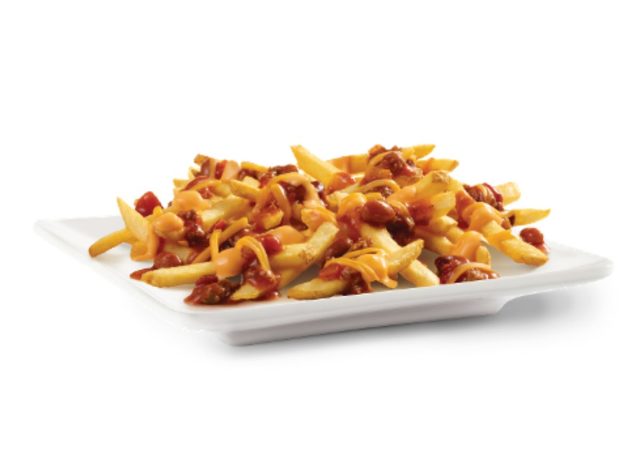 Per order
: 520 calories, 27 g fat (9 g saturated fat, 1 g trans fat), 1,330 mg sodium, 53 g carbs (6 g fiber, 3 g sugar), 17 g protein
Wendy's has multiple variations of french fries, and none of them are on the safer side of calories and fat. Sabat suggests steering clear of the Chili Cheese Fries, which are topped with chili and cheese and can be a tasty but high-calorie and high-fat option.
Sabat also says the Wendy's Baconator Fries are another unhealthy fast-food side option you may want to avoid, as this one is topped with cheese sauce, shredded cheese, and bacon, and contains 460 calories, 26 grams of fat, and 46 grams of carbs
If you're wanting a healthier side option at Wendy's, try their baked potato or chili.
Taco Bell Cheesy Fiesta Potatoes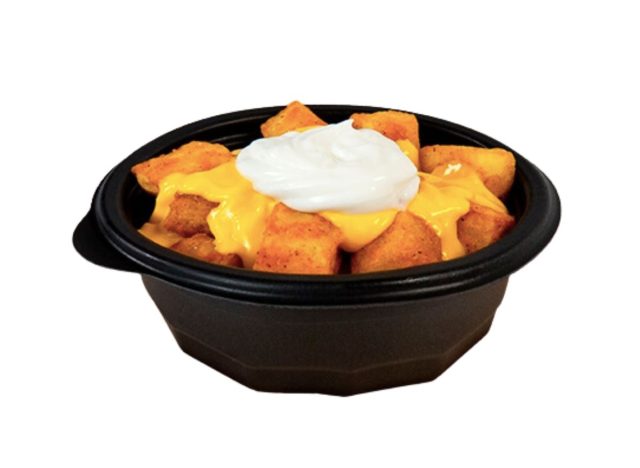 Per order
: 240 calories, 13 g fat (2 g saturated fat), 520 mg sodium, 28 g carbs (3 g fiber, 0 g sugar), 3 g protein
Taco Bell offers a handful of healthier options you can enjoy, but if you're going to grab a few tacos or a burrito, you may want to skip the sides altogether. This is especially true for their Cheesy Fiesta Potatoes, which are diced potatoes topped with nacho cheese sauce, sour cream, and a blend of fiesta seasonings," says Sabat. "While tasty, they are relatively high in calories, fat, and sodium.6254a4d1642c605c54bf1cab17d50f1e
Sabat also adds the Taco Bell Cinnamon Twists to the list, because even though these "crispy, sweet, cinnamon-flavored pastries may seem harmless, they are fried and coated in sugar, making them higher in calories and less nutritious.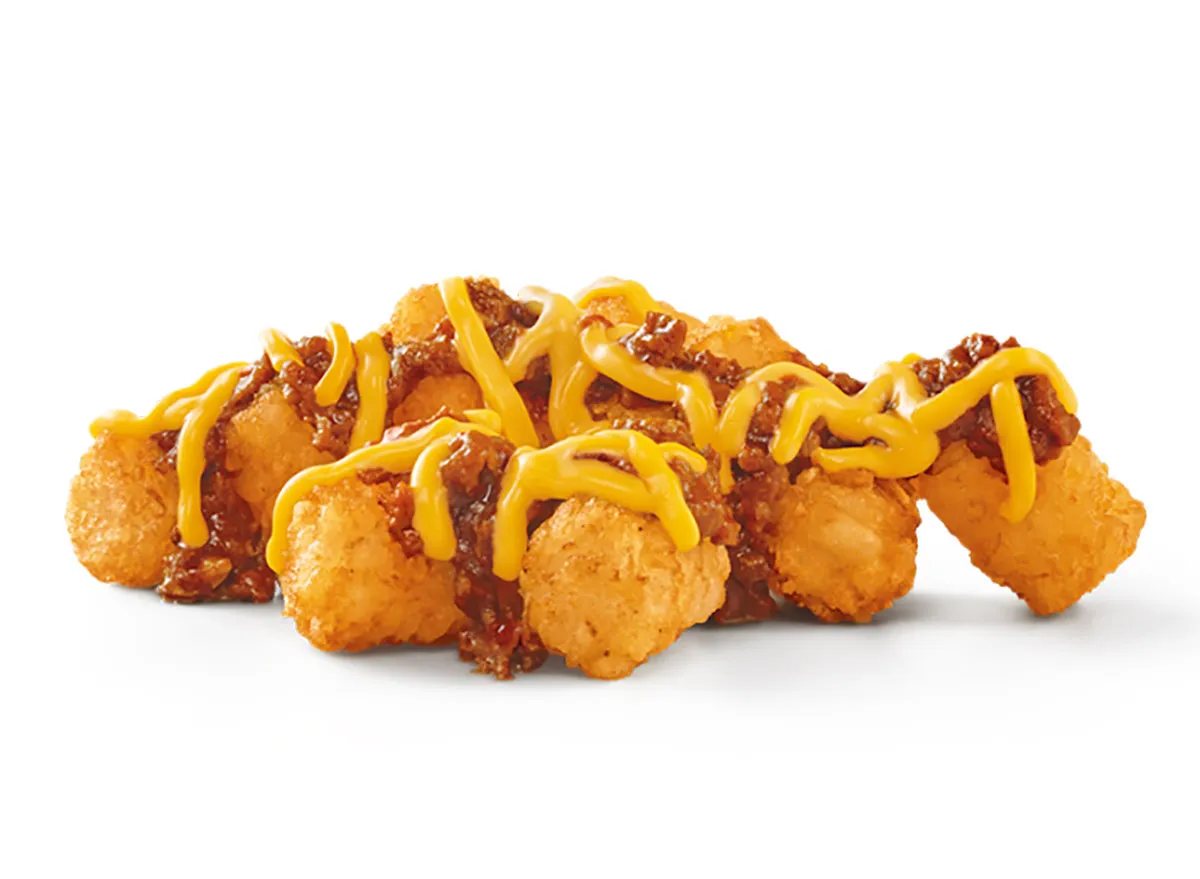 Per medium
: 530 calories, 32 g fat (10 g saturated fat, 0.5 g trans fat), 1,540 mg sodium, 47 g carbs (5 g fiber, 2 g sugar), 12 g protein
If you're taking a quick trip into the Sonic drive-thru, you'll want to potentially steer clear of their Chili Cheese Tots as a side item, which are loaded with saturated fat, sodium, and even a little bit of trans fat. According to the FDA, adults should limit their sodium consumption to 2,300 milligrams per day, and if your side item for just one meal is already 1,540 milligrams, you'll easily pass your limit.
Arby's Loaded Curly Fries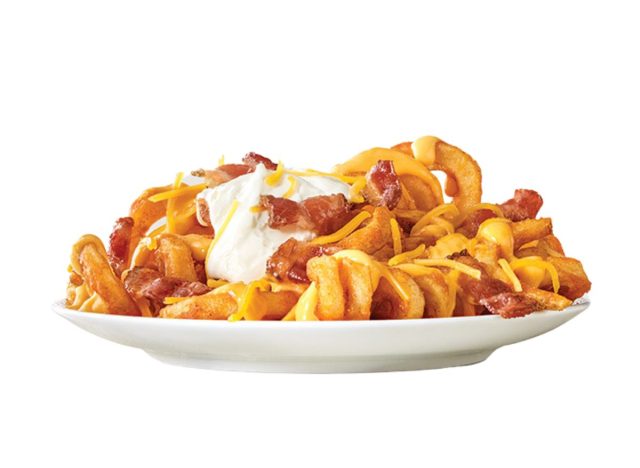 Per order
: 620 calories, 37 g fat (8 g saturated fat, 0.4 g trans fat), 1,610 mg sodium, 57 g carbs (5 g fiber, 2 g sugar), 14 g protein
Arby's is famous for its curly fries, and if you're wanting to watch your intake of calories, fat, and sodium, you may want to stick to their plain option and avoid the Loaded Curly Fries. Not only does this fast-food side contain more than half of your recommended sodium limit, but you're also consuming almost 0.5 grams of trans fat, which the World Health Organization says you should completely avoid if possible.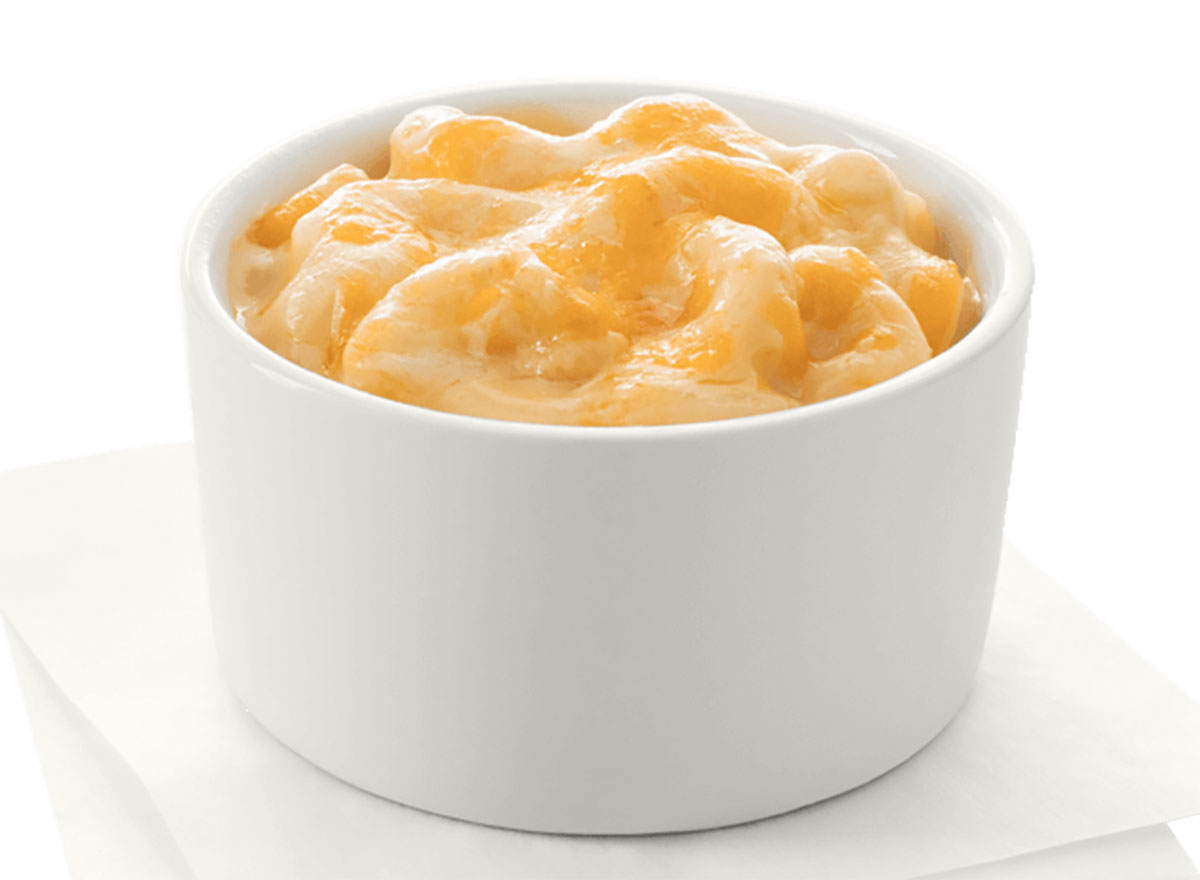 Per order
: 450 calories, 29 g fat (16 g saturated fat), 1,190 mg sodium, 28 g carbs (3 g fiber, 3 g sugar), 20 g protein
Although their most famous side item is their waffle fries, Chick-fil-A also offers a delicious mac and cheese option as well. Unfortunately, their mac and cheese side is full of calories, sodium, and saturated fat.
The recommended daily limit of saturated fat varies slightly between sources, with the American Heart Association saying you should limit it to 13 grams per day, and the National Health Service suggesting women stick to no more than 20 grams and men no more than 30. Either way you look at it, this side of mac and cheese has far too much saturated fat for just one side item.
Per medium
: 500 calories, 34 g fat (19 g saturated fat), 990 mg sodium, 26 g carbs (0 g fiber, 1 g sugar), 24 g protein
It's safe to assume that a fast-food place like Dairy Queen wouldn't have too many healthy side options, but choosing almost anything over their Cheese Curds will be better for your calorie, fat, and sodium intake.
In just a medium size, you're getting 500 calories, 34 grams of fat, and 19 grams of saturated fat. You'll also be consuming 990 milligrams of sodium, which is quite a lot when you consider the daily limit of 2,300 milligrams—and the fact that this is only your side item.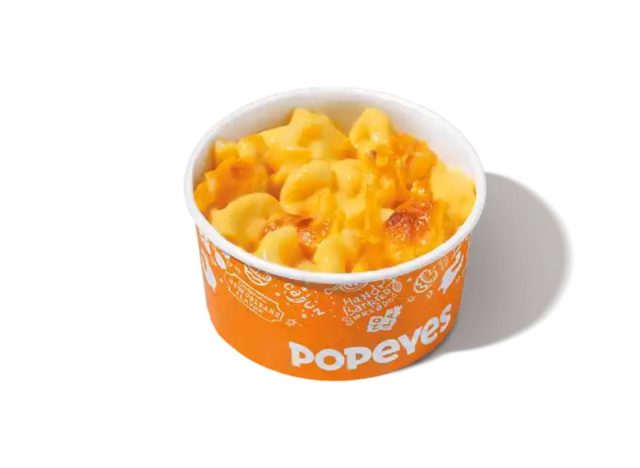 Per order
: 280 calories, 21 g fat (21 g saturated fat, 0.5 g trans fat), 510 mg sodium, 16 g carbs (0 g fiber, 3 g sugar), 11 g protein
There are many qualities that make the Popeye's Mac & Cheese less than ideal when it comes to nutrition, such as the amount of sodium and trans fat. But what is arguably most shocking is the 21 grams of saturated fat per order. This exceeds most recommendations for daily limits, not to mention that if you're eating this as a side, you're going to be consuming much more saturated fat from the fried chicken as well.
Sources referenced in this article