The Worst Fast Food Side Dishes
Do yourself a favor and avoid adding any of these on to your meal.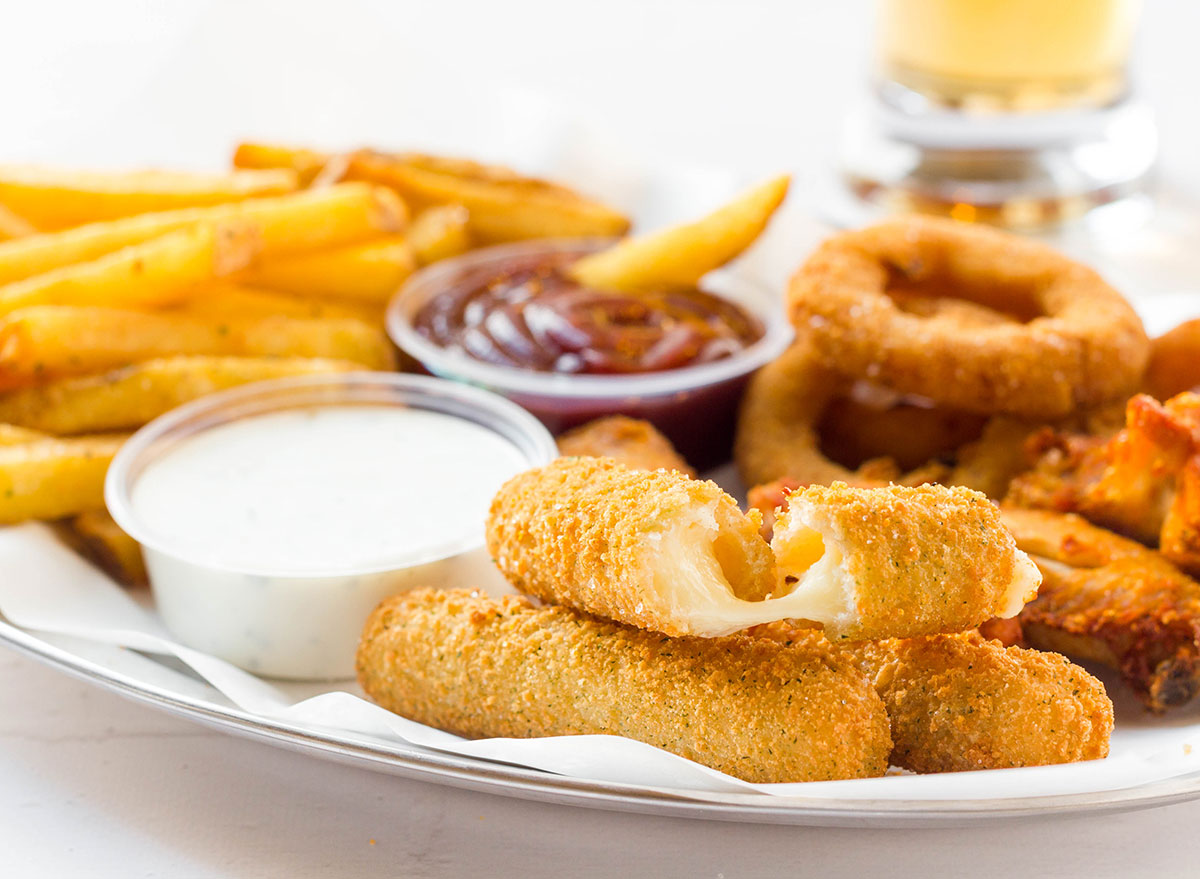 When you're in the mood for a fast-food trip, a burger and possibly even some chicken nuggets come to mind, along with, of course, a side order of French fries. Fries do pair perfectly with any of these drive-thru staples, but what about when another side dish catches your eye? From mac and cheese to onion rings, there are plenty of other fast-food side dishes you can order besides just the French fry. But not all of them are necessarily better options.
In fact, they're much more unhealthy than if you just went with a plain order of fries!
In order to help you out the next time you're not sure what to pair with that chicken sandwich or cheeseburger, we rounded up a list of the worst side options you're much better off staying away from. And don't even think about beginning your meal with the 8 Worst Fast-Food Burgers to Stay Away From Right Now.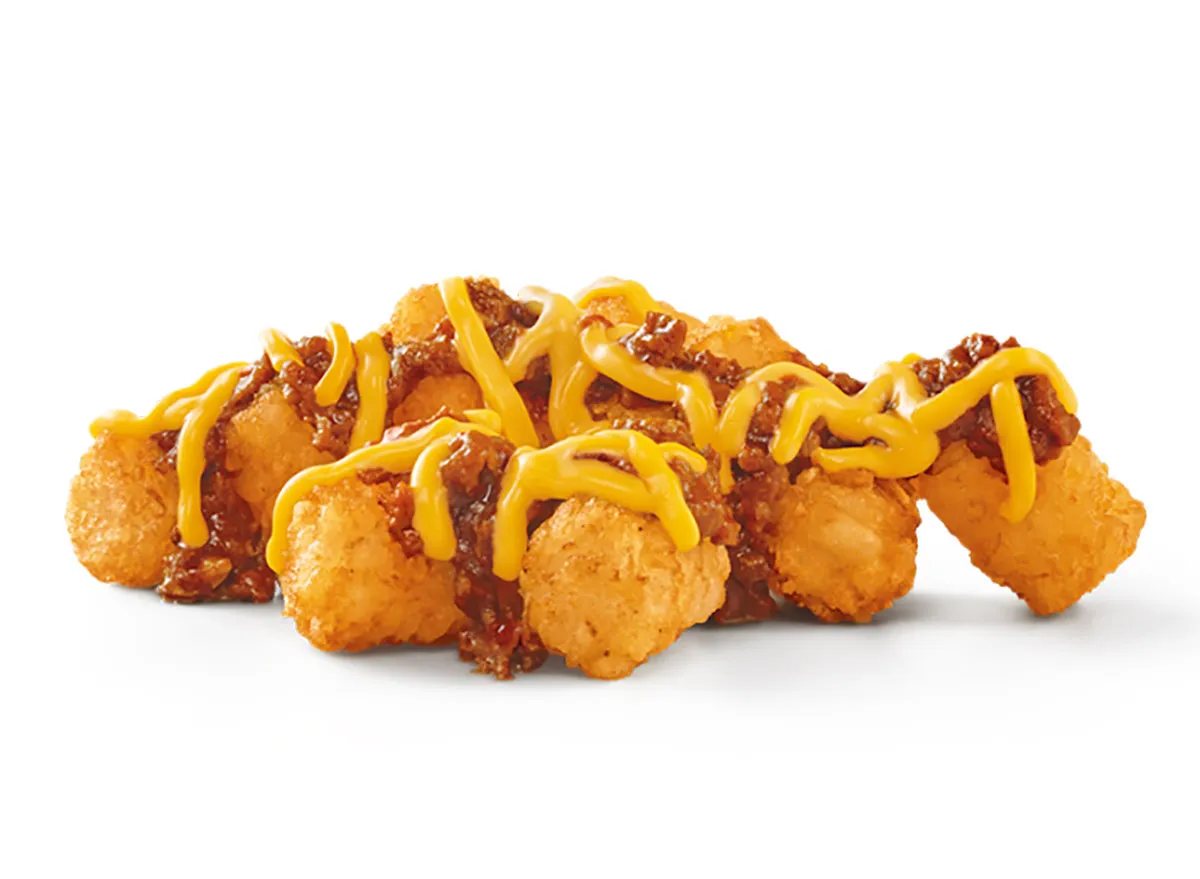 Per large size
: 960 calories, 57 g fat (17 g saturated fat, 1 g trans fat), 2,960 mg sodium, 92 g carbs (9 g fiber, 3 g sugar), 19 g protein
The concept of adding chili and cheese to potatoes is downright delicious. There is no denying that. But at Sonic, getting an order of tots that are slathered in this legendary combination will cost you nearly 1,000 calories and more than sodium than The American Heart Association recommends you consume in an entire day. No thanks!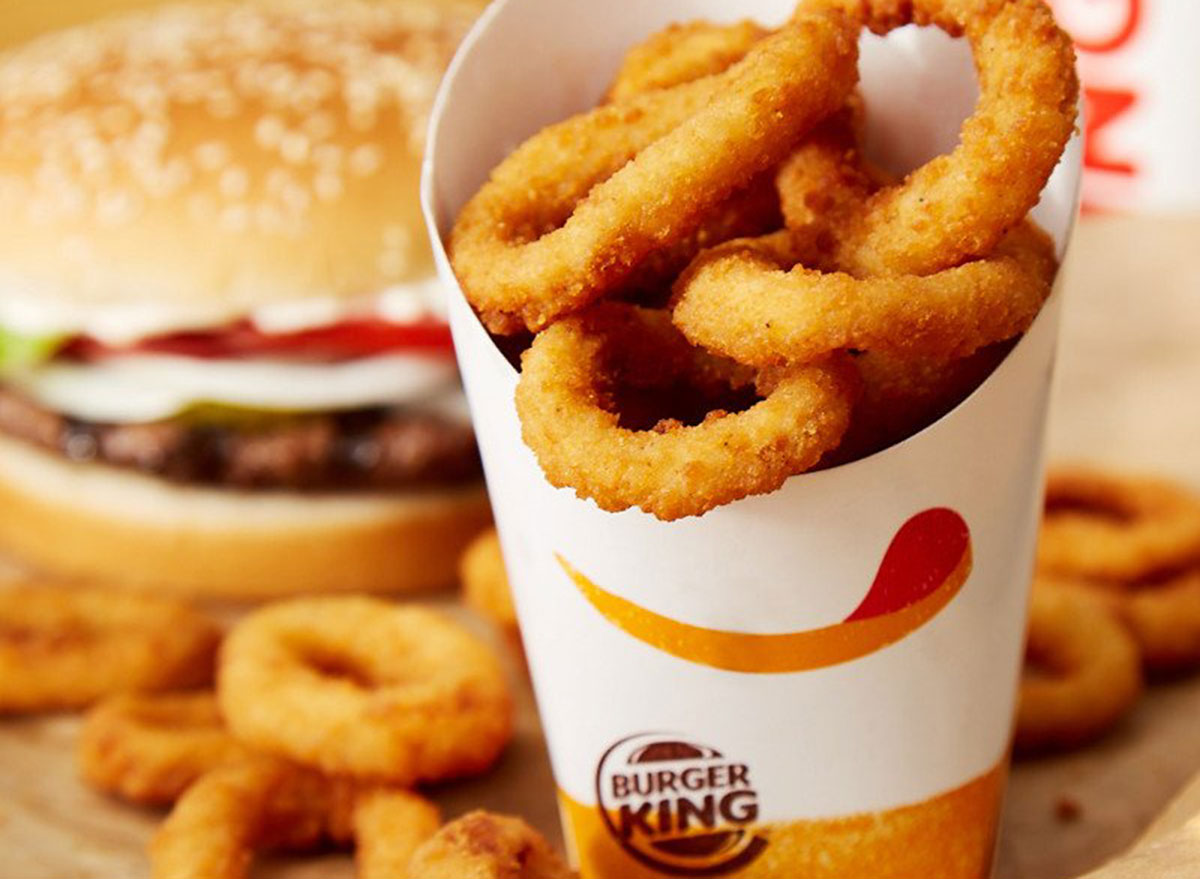 Per large size
: 500 calories, 25 g fat (4.6 g saturated fat, 0 g trans fat), 1,310 mg sodium, 64 g carbs (5 g fiber, 7 g sugar), 5 g protein
We know—the onion rings from Burger King are iconic and they pair perfectly with a Whopper. But the sodium here is high and 500 calories for just one side dish? There's no reason for that to be happening! Be sure to choose the value size if you're going to indulge, as it's only 150 calories.
Wendy's Chili Cheese Fries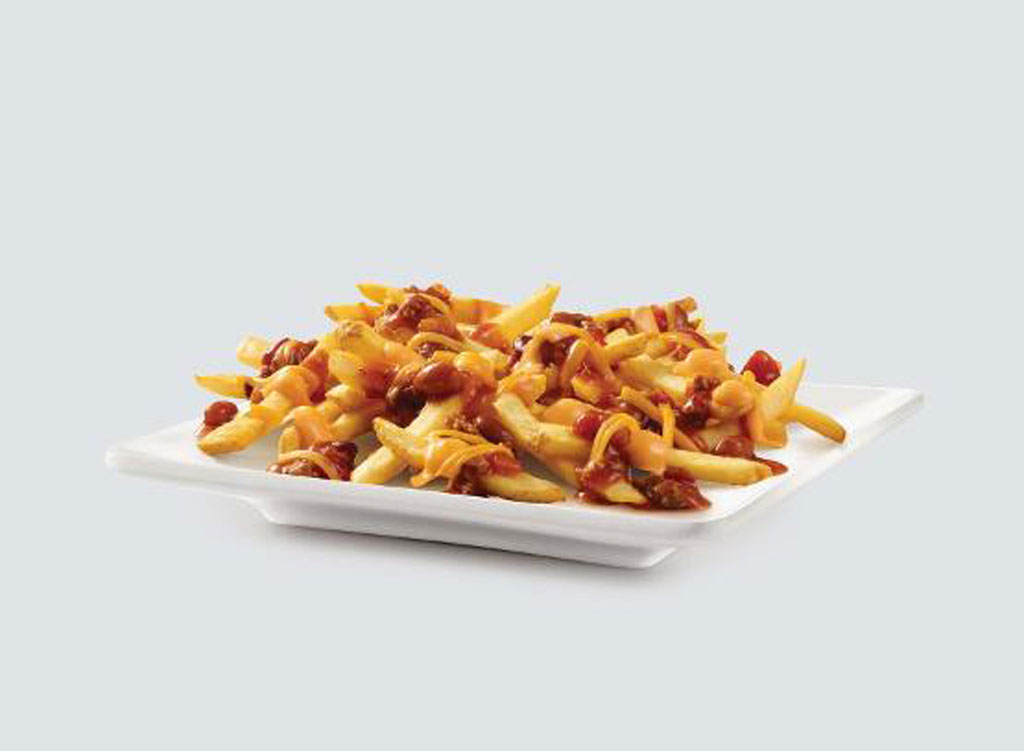 Per order
: 530 calories, 28 g fat (10 g saturated fat, 0 g trans fat), 1,060 mg sodium, 53 g carbs (7 g fiber, 4 g sugar), 17 g protein
If you're in the mood to kick your Wendy's fries up a notch, choosing the option that is topped with the chain's iconic chili and a creamy cheese sauce seems like the perfect way to go. Sorry, but no, it's not! Here, you're indulging in more than 1,000 milligrams of sodium and these fries have more calories than an order of 10 chicken nuggets. (If you're looking for more helpful tips, your ultimate restaurant and supermarket survival guide is here!)6254a4d1642c605c54bf1cab17d50f1e
White Castle Mac n' Cheese Nibblers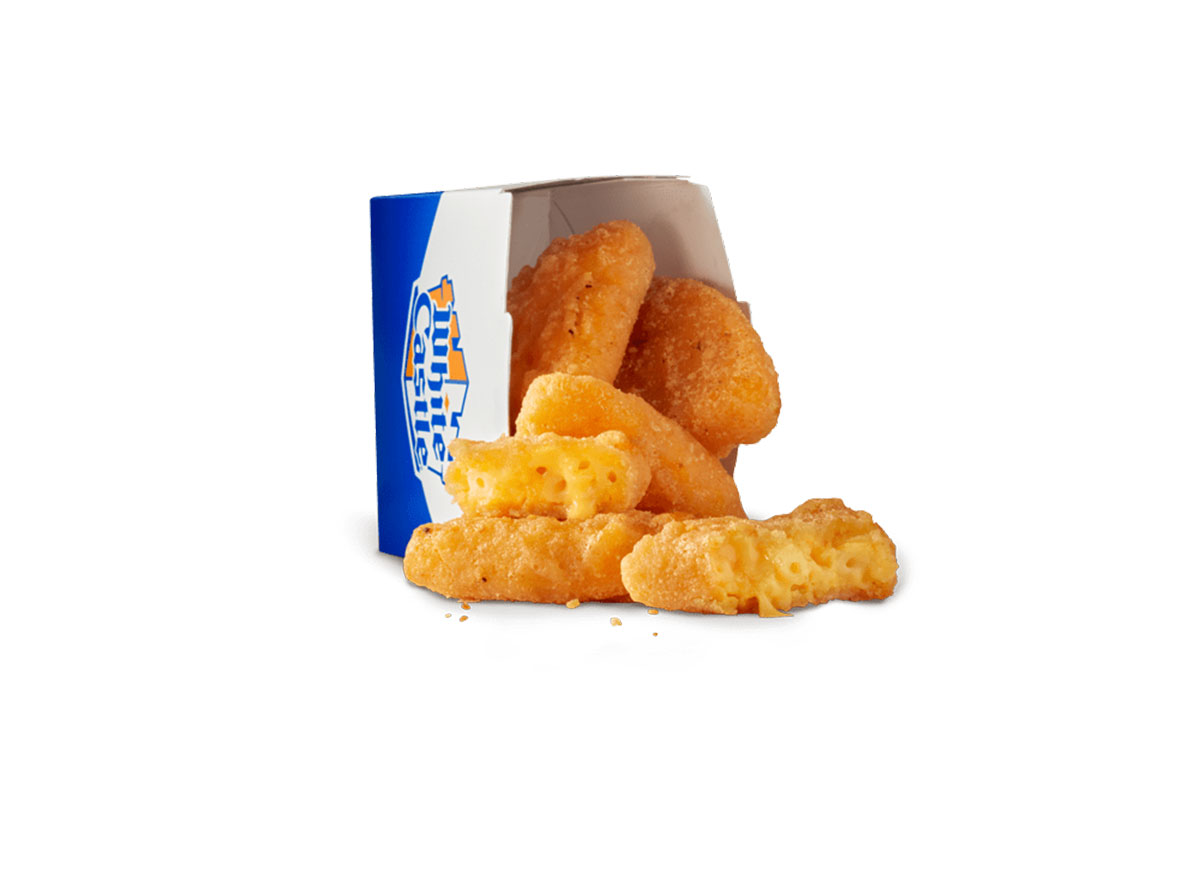 Per sack size
: 1,340 calories, 79 g fat (21 g saturated fat, 0 g trans fat), 3,300 mg sodium, 123 g carbs (10 g fiber, 17 g sugar), 30 g protein
At White Castle, you'll find mac n' cheese nibblers on the menu, which are crispy cheddar batter bites that are filled with creamy cheddar cheese and macaroni. But the fact that they sell a "sack" size option is dangerous, as these bites are small and it's easy to eat quite a few alongside those slider burgers. Between the amount of calories, fat, saturated fat, sodium, and carbs, this is one side dish you want to stay far away from.
Arby's Loaded Curly Fries
Per order
: 670 calories, 44 g fat (8 g saturated fat, 0 g trans fat), 1,950 mg sodium, 57 g carbs (5 g fiber, 2 g sugar), 12 g protein
Arby's signature curly fries get the "loaded" treatment, which is one of those menu words that are total red flags. Here, the fries are covered with pepper bacon, Parmesan peppercorn ranch sauce, and cheddar sauce for a highly caloric and sodium-filled side dish. Ordering a snack size of the plain Curly Fries will save you 1,380 milligrams of sodium.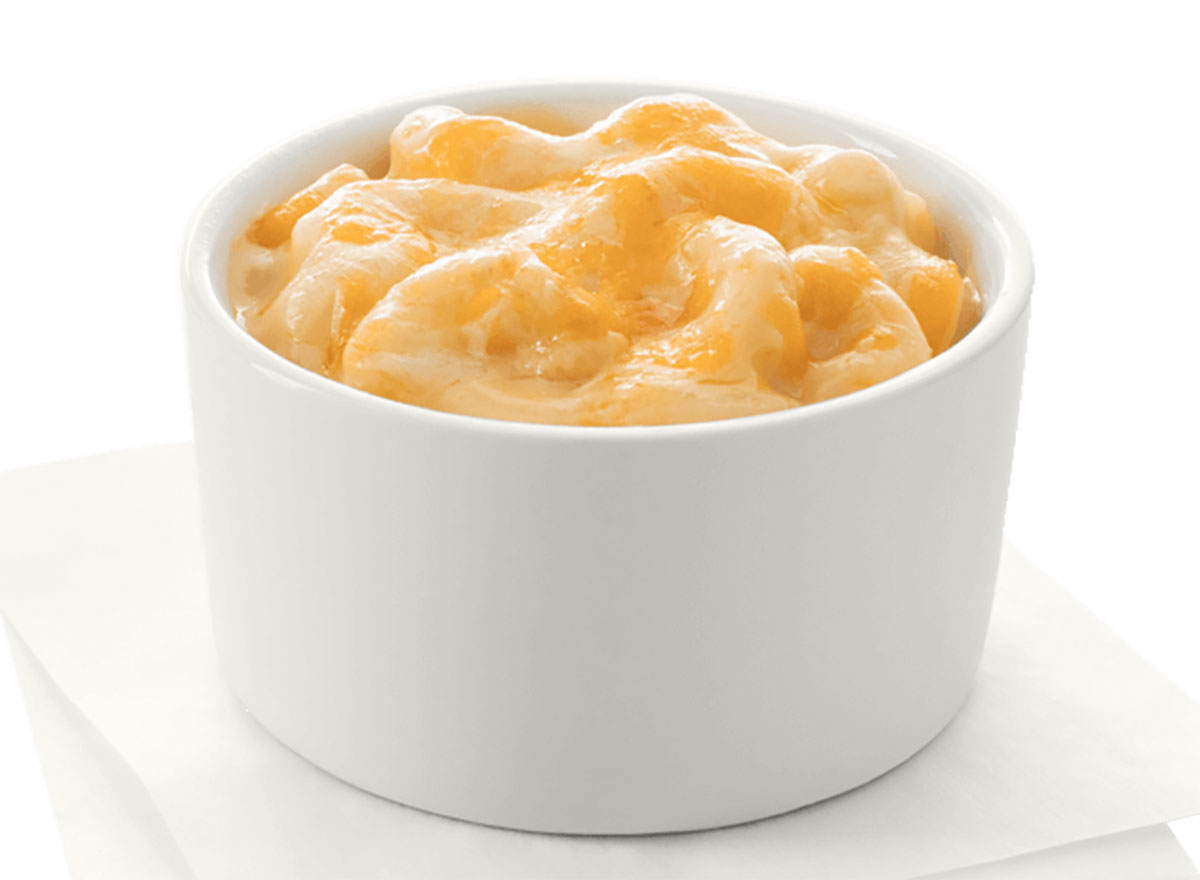 Per medium size
: 450 calories, 29 g fat (16 g saturated fat, 0 g trans fat), 1,190 mg sodium, 28 g carbs (3 g fiber, 3 g sugar), 20 g protein
At Chick-fil-A, the classic macaroni and cheese side option is made of a special blend of cheeses including Parmesan, cheddar, and romano. And while it's rather refreshing to see a dish that is under 500 calories, the sodium here again is problematic.
Per large size
: 1,000 calories, 67 g fat (38 g saturated fat, 0.5 g trans fat), 1,960 mg sodium, 52 g carbs (0 g fiber, 3 g sugar), 49 g protein
Looking for something salty to go along with that signature Dairy Queen sweet treat? You don't want to choose the cheese curds, that's for sure! One large size is 1,000 calories—half of the total number of calories you should be consuming in an entire day. It really should come as no surprise as these cheese bites are battered and fried. It's no wonder they're on the list of the 101 Unhealthiest Fast Foods on the Planet…
Wienerschnitzel Thousand Island Chili Cheese Fries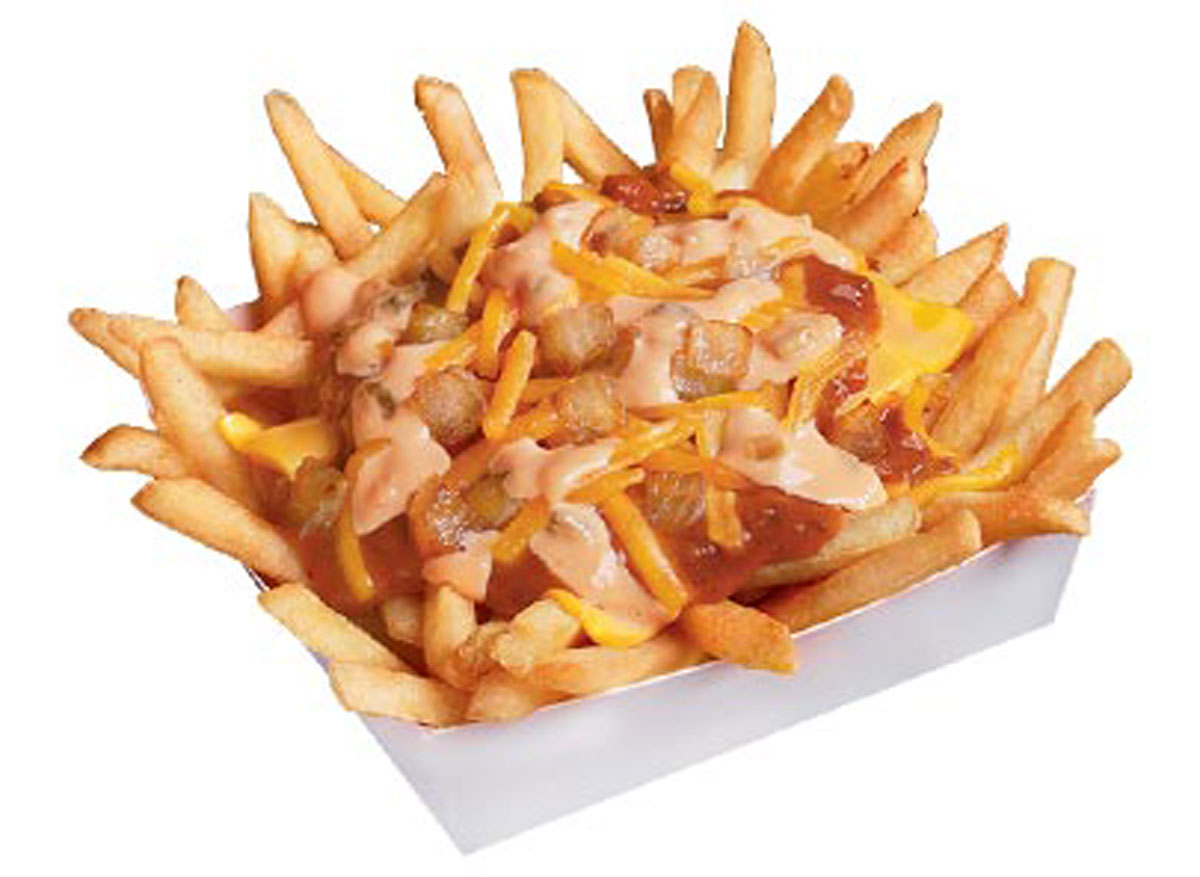 Per large order
: 1,510 calories, 95 g fat (22 g saturated fat, 0 g trans fat), 3,500 mg sodium, 131 g carbs (13 g fiber, 13 g sugar), 33 g protein
Wienerschnitzel took the chili cheese fries up a notch by adding Thousand Island dressing. It's all just bad news for your waistline as the sodium here is truly astronomical. Just don't order it!
Jack in the Box Stuffed Jalapeños
Per order
: 511 calories, 29 g fat (10 g saturated fat, 0 g trans fat), 1,694 mg sodium, 40 g carbs (3 g fiber, 5 g sugar), 14 g protein
At Jack in the Box, you can feast on jalapeños that are breaded and fried, and oh yes, filled with melted cheeses. The result? A fatty side dish that has more sodium than 150 Lay's potato chips.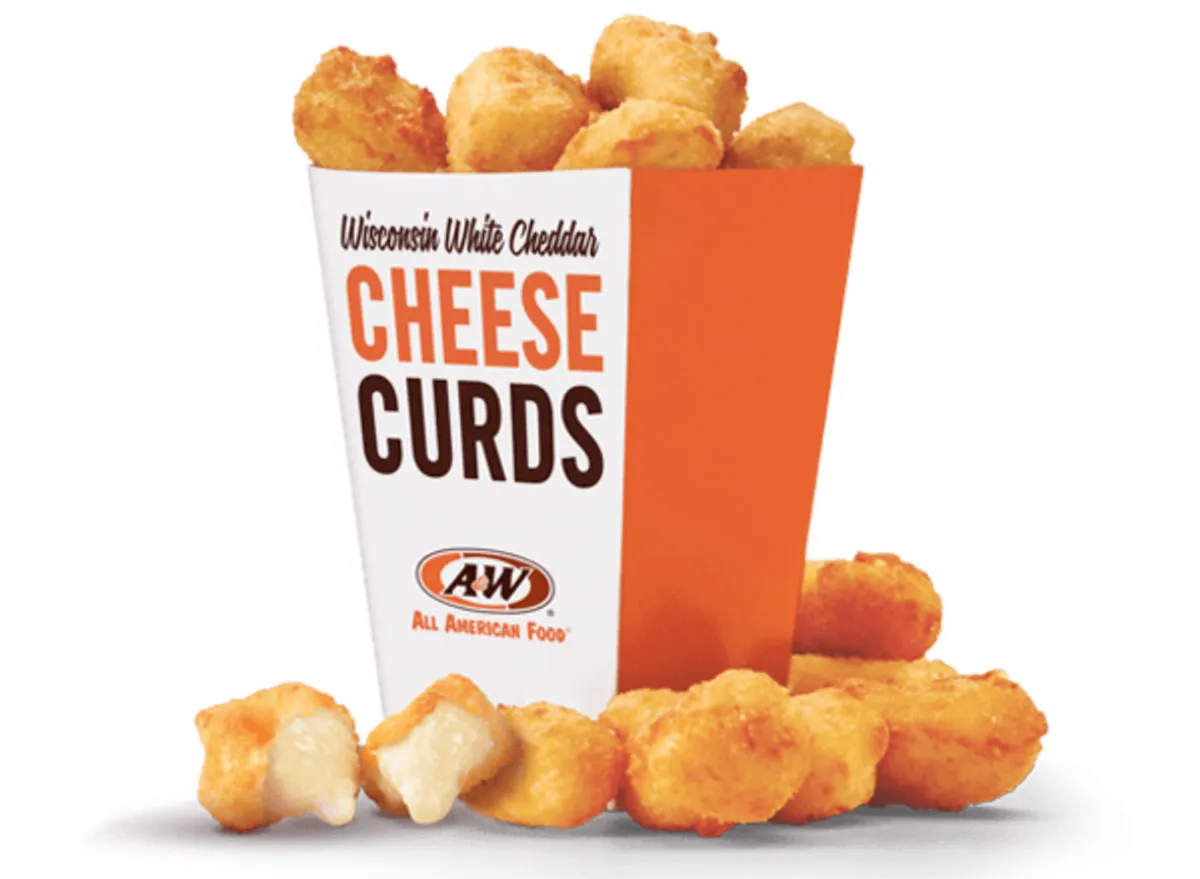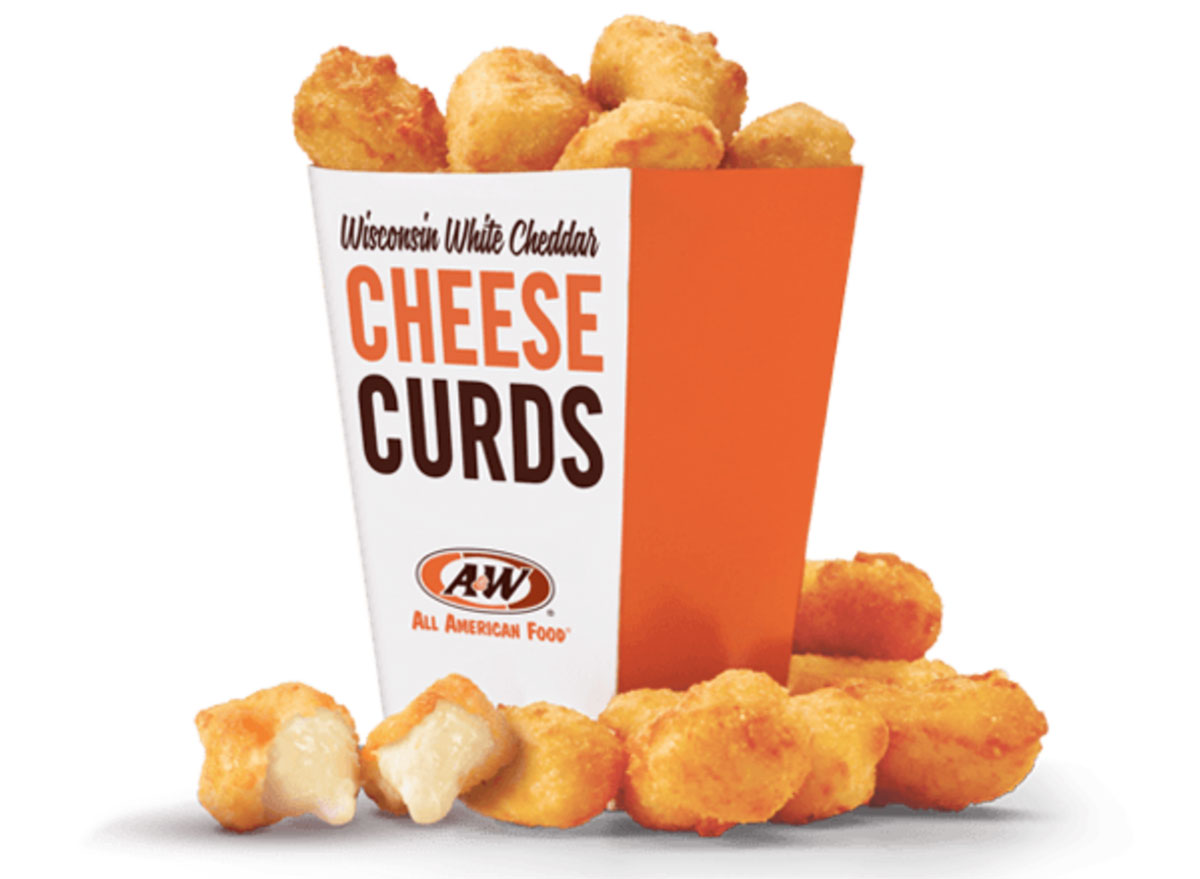 Per large size
: 1,140 calories, 80 g fat (42 g saturated fat, 0 g trans fat), 2,440 mg sodium, 54 g carbs (4 g fiber, 6 g sugar), 54 g protein
These bites from A&W are made with real 100% Wisconsin cheddar cheese, but that doesn't change the fact that the cheese is breaded and golden-fried. An order of these curds has more than a day's worth of sodium. You're much safer choosing a small order of the regular fries.
Popeyes Macaroni & Cheese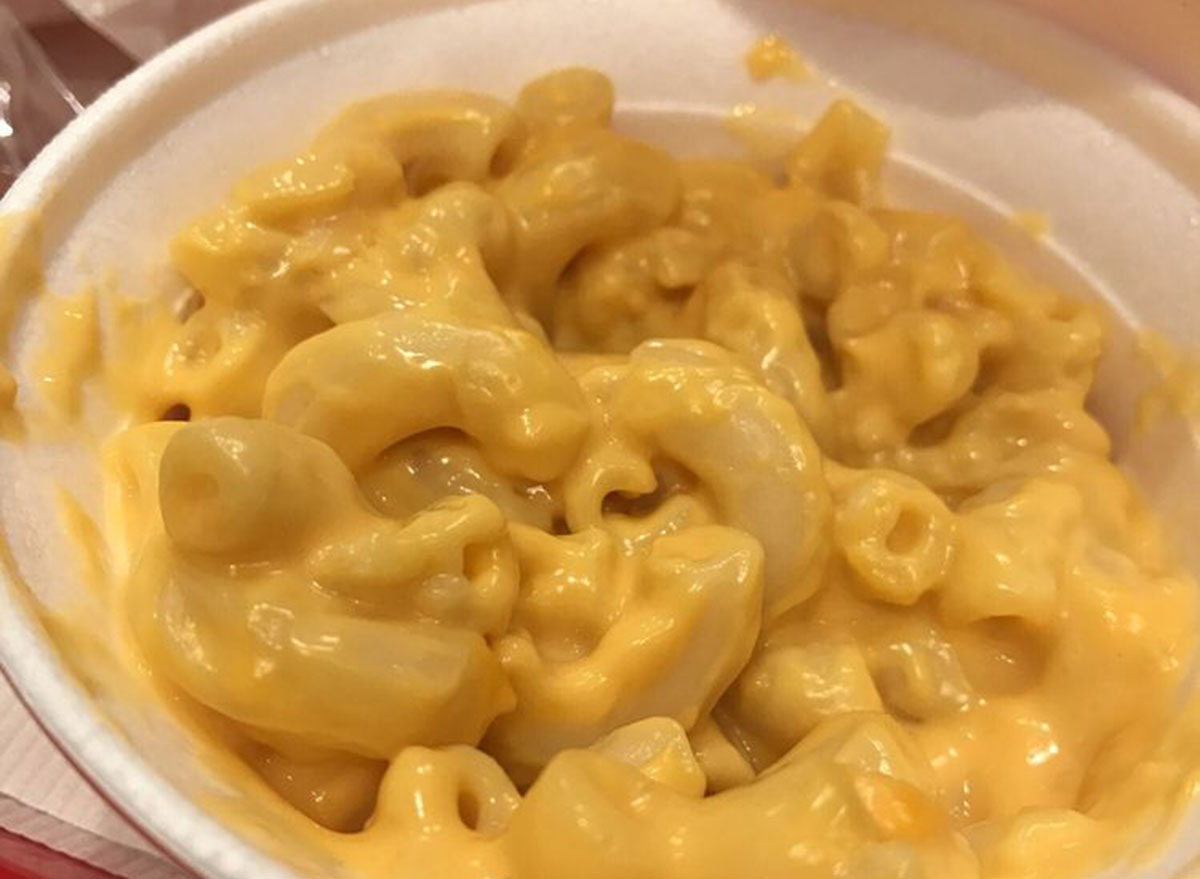 Per large size
: 655calories, 28 g fat (14 g saturated fat, 0 g trans fat), 2,995 mg sodium, 70 g carbs (5 g fiber, 10 g sugar), 24 g protein
Seeing a bit of a trend here with the mac and cheese menu options? It tends to be a fast-food side dish option that is packed with fat and sodium and is high in calories. At Popeyes, it's no different.
McDonald's McFlurry with M&M's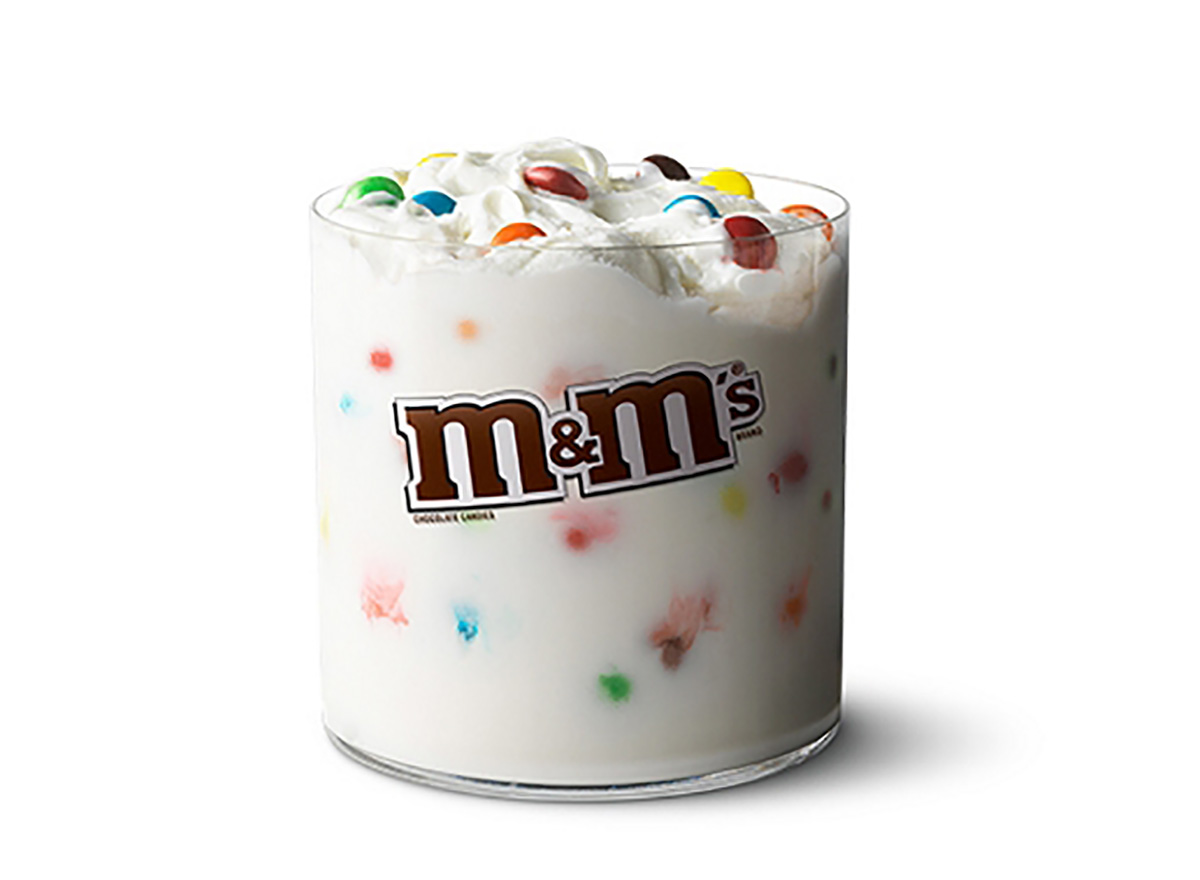 Per snack size
: 420 calories, 14 g fat (9 g saturated fat, 0 g trans fat), 130 mg sodium, 64 g carbs (2 g fiber, 55 g sugar), 15 g protein
We're not going to deny the obvious—if you're taking a trip to McDonald's, there's a good chance you're going for some French fries. It's arguably the most beloved fast-food side dish out there. Some customers, though, might decide to choose a little something sweet to pair alongside that Big Mac. And that's where the snack-size of the McFlurry comes in. Until you see that it's packing 55 grams of sugar! That's more sugar than you'll get if you eat five Original Glazed Krispy Kreme donuts!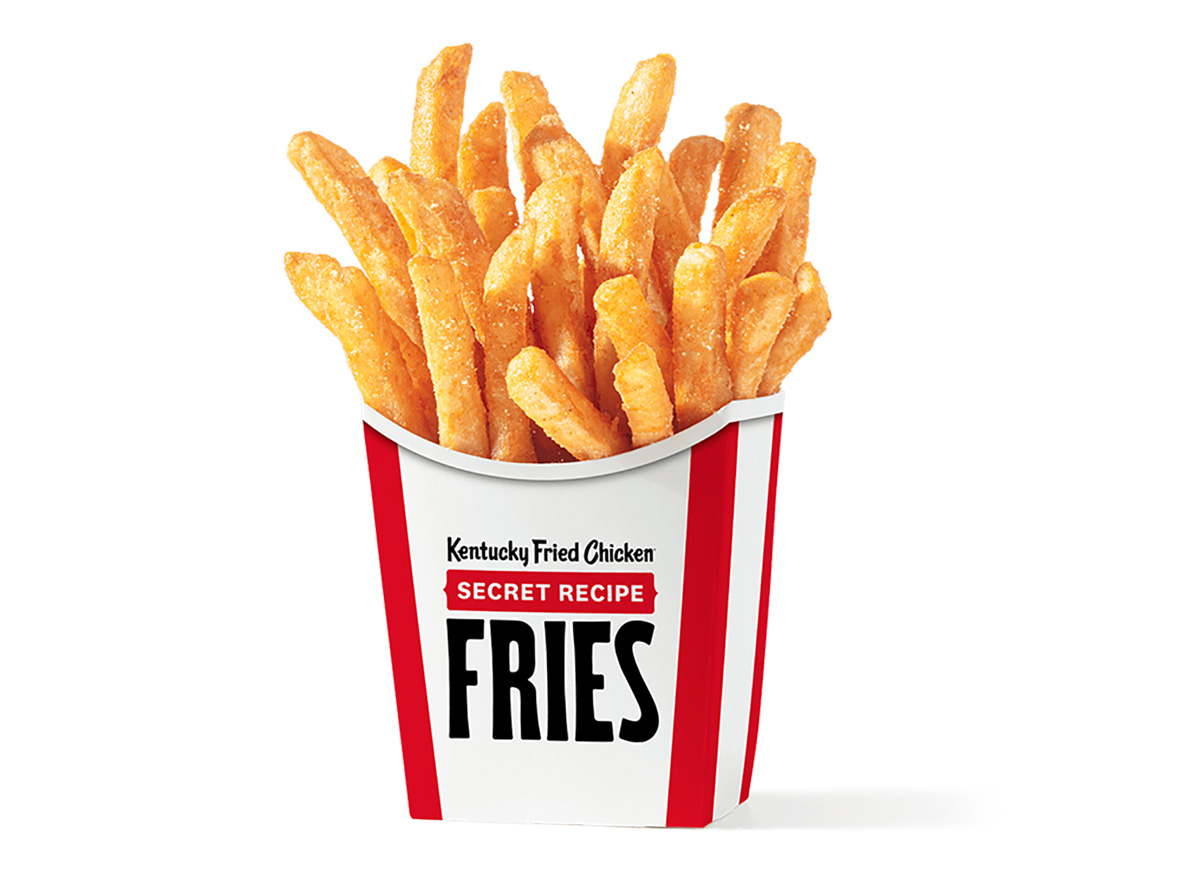 Per order
: 320 calories, 15 g fat (2 g saturated fat, 0 g trans fat), 1,100 mg sodium, 41 g carbs (3 g fiber, 0 g sugar), 5 g protein
In 2020, KFC said goodbye to its potato wedges and instead, introduced the Secret Recipe fries. These spuds are said to be "seasoned with a secret blend of herbs and spices and fried to crispy perfection," but the amount of sodium you're getting in one order is just far too much.
Culver's Wisconsin Cheese Curds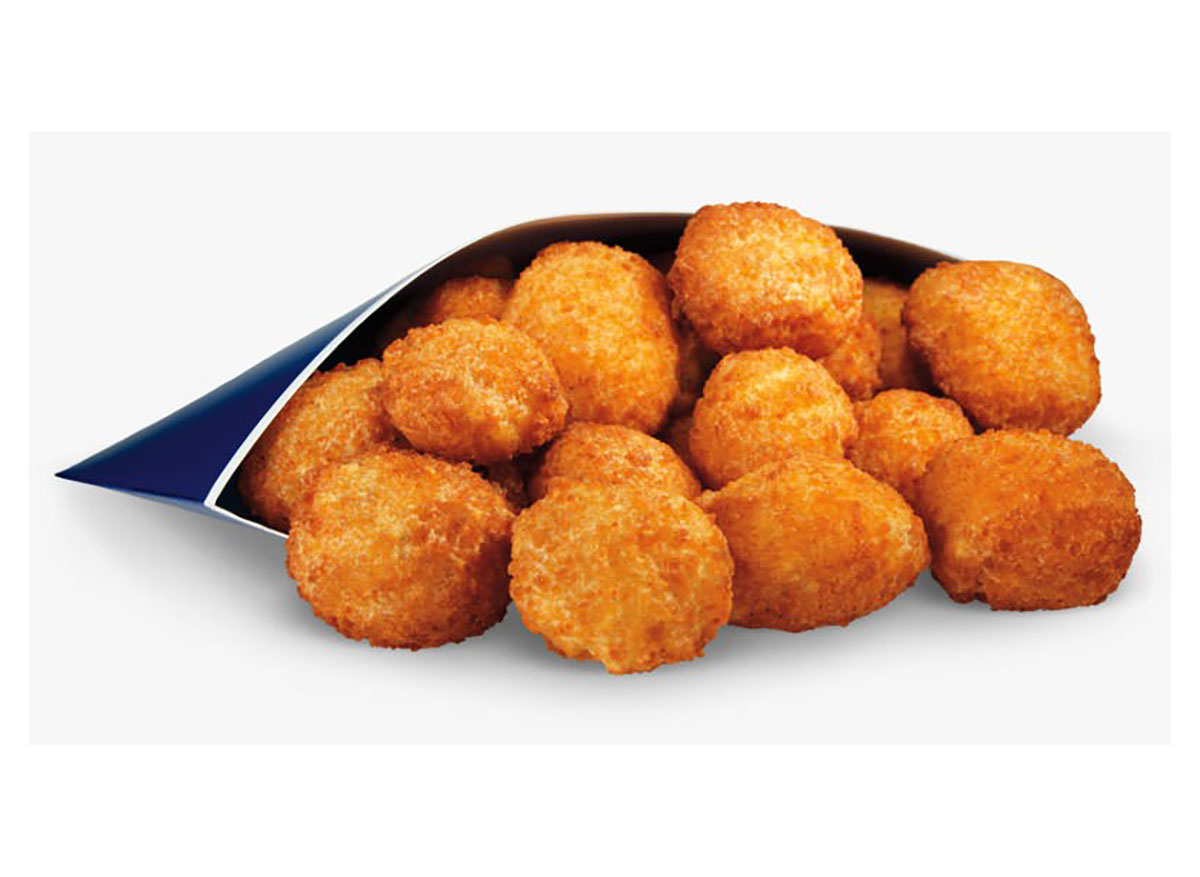 Per large size
: 1,020 calories, 50 g fat (24 g saturated fat, 1.4 g trans fat), 2,460 mg sodium, 102 g carbs (0 g fiber, 8 g sugar), 40 g protein
By now, it shouldn't be much of a surprise that cheese curds are a no-go, and these from Culver's are proof. The fact that a large order has more sodium than the average person should consume in one day and it's packing more than 1,000 calories is just scary.
Jennifer Maldonado
Jennifer Maldonado is a senior editor at Eat This, Not That!, specializing in food and health content.
Read more about Jennifer