7 Oatmeals To Leave on Grocery Store Shelves Right Now
These unhealthy oatmeal picks aren't the wholesome breakfast you're looking for.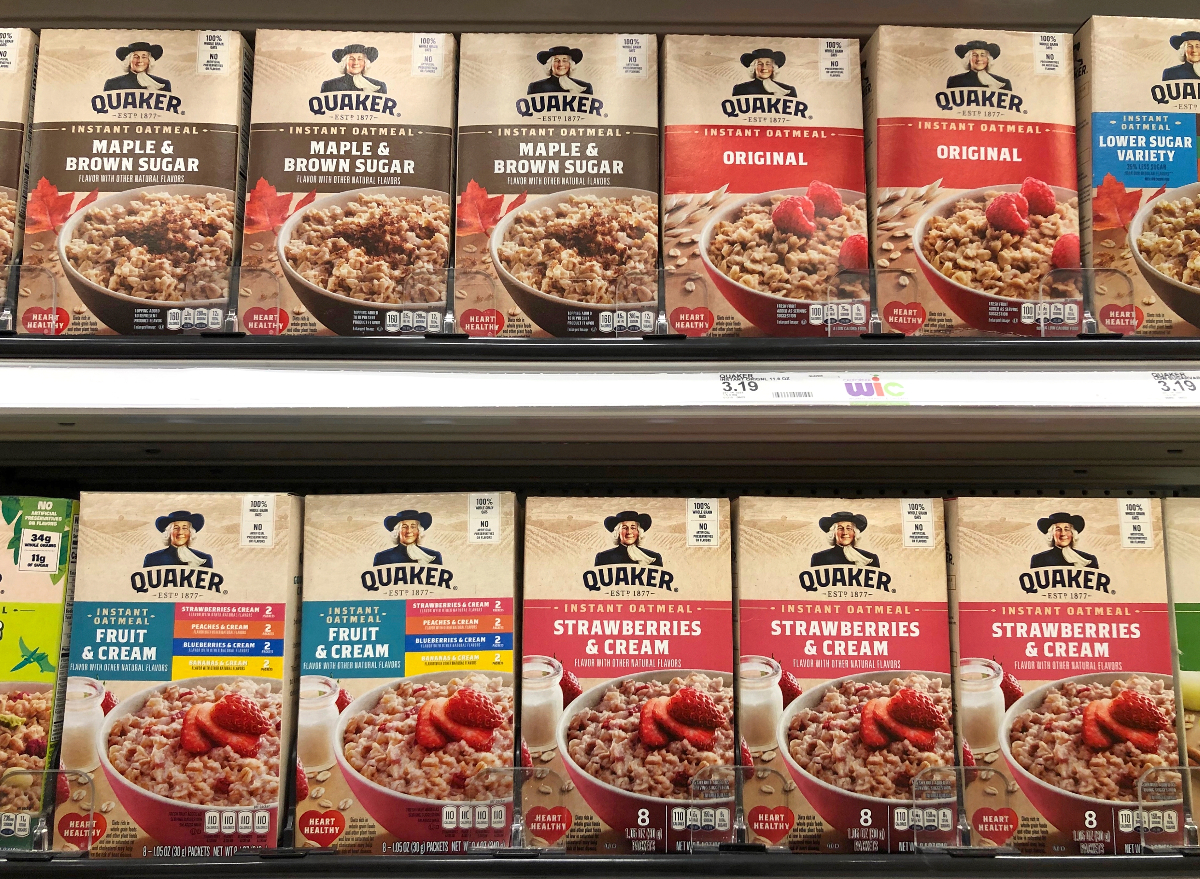 Oatmeal is the perfect base for your breakfast routine. Top it with yogurt, berries, granola, seeds, and nuts—anything you can think of, really. It's hearty and versatile, and there are many reasons it can be one of the healthiest ways to start your day.
"[It's] an excellent complex carbohydrate. Complex carbohydrates are rich in fiber, vitamins, minerals, and plant-based protein," explains Sydney Greene, MS, RD, nutritionist and coach at Greene Health. "These types of carbohydrates are great for blood sugar balance because they take longer to be digested and absorbed."
She adds, "Oatmeal is also a great source of soluble fiber. Soluble fiber is helpful for lowering cholesterol, supporting gut health, and optimizing blood sugar balance."
That's because of the beta-glucan in oats, which helps you feel fuller for longer, feeds the good bacteria in your gut, and maintains healthy cholesterol levels, according to The American Heart Association.
It can also be one of the simplest meals to make, and you can customize it with whatever you have on hand. "Oatmeal can be prepared ahead of time in batches or simply put in the fridge as overnight oats, so it doesn't require a lot of work," says Amy Shapiro, MS, RD, CDN, of Real Nutrition NYC. "You can easily add other healthy ingredients to [it], like nuts, seeds, protein, nut butter, seasoning, herbs and spices."
What types of oatmeal should you avoid?
When it comes to this triple threat, however, some oats aren't worth buying. As with any food, there are ways you can take this nutritious staple and turn it into more of a guilty pleasure.
A common red flag is excessive amounts of added sugar. Typically, it comes in the form of cane sugar, maple sugar, honey, or artificial sweetener. It can even look like dried fruits, which are often added as a "healthy" sweet ingredient but contain high amounts of sugar, according to Shapiro.
She also warns against additives like guar gum and carrageenan, which can act as thickeners for the cereal but can also have disruptive effects on the digestive system. And for those with gluten sensitivities, oats are naturally free of gluten, but it's still important to read the label to make sure there hasn't been any cross-contamination.
What types of oatmeal should you look for?
The best number you can see next to added sugar is zero. "Look for products that have no added sugars. This way, you can then add your own teaspoon of honey or sugar," Greene says.
However, sometimes you're on the go, leaving you with fewer options. Greene provides an easy guideline to identify the better-for-you choice. "If it is hard to find oatmeal without added sugar, aim to have the grams of added sugar be less than the grams of fiber."
With that in mind, these seven oatmeals don't meet our standards to be your "holy grain." Of course, they can find their way into your kitchen every now and then, and there are even healthy ways to enjoy them. Shapiro says you can add fresh fruits to these mixes to reap the benefits of their antioxidants, vitamins, minerals and fiber, or add nuts, seeds, or milk to supplement with healthy fat and protein.
Quaker Instant Oatmeal, Maple & Brown Sugar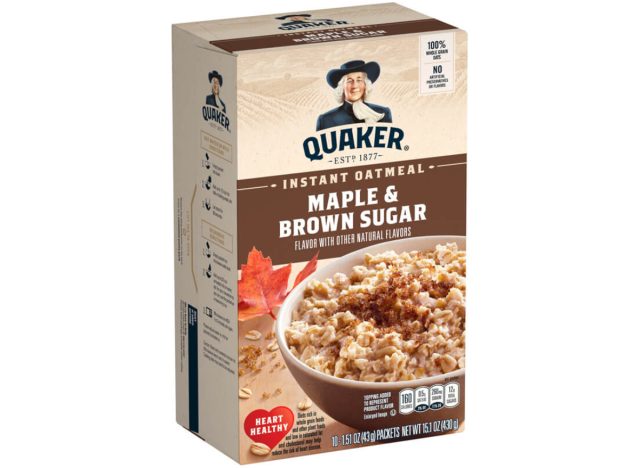 PER PACKET
: 160 calories, 2 g fat (0.5 g saturated fat), 0 mg cholesterol, 260 mg sodium, 33 g carbs (3 g fiber, 12 g sugar), 4 g protein
Don't be fooled! What looks to be a tasty and convenient option from one of the leading oat brands is just that, but you should have some qualms about its less-than-desirable ingredients. The high amount of added sugar means you're effectively getting your energy from the three spoonfuls of sweetener at 12 grams per packet, but only three grams of fiber. That's not great, especially if you're trying to avoid a blood sugar spike first thing in the morning.
Quaker Fruit & Cream Instant Oatmeal Variety Pack
PER STRAWBERRIES & CREAM PACKET
: 110 calories, 2 g fat (0.5 g saturated fat), 0 mg cholesterol, 150 mg sodium, 23 g carbs (2 g fiber, 8 g sugar), 3 g protein
While tantalizing to the tastebuds, this one won't provide you with many nutrients. It contains a low ratio of fiber to sugar, and it lists "natural flavor" as an ingredient. Worst of all, it won't even fill you up.
"Unfortunately, all of the flavors in this variety pack have less than one gram of fiber per serving. In addition, one packet contains 110 calories," Greene notes. "The low-calorie count, the lack of fiber, and the eight grams of added sugar will have you feeling hungry again soon after finishing."
You're better off making your own scrumptious spin on plain oats, with fresh berries and real cream or plant-based milk, which will both satiate you and provide you with a variety of vitamins and minerals to start your day right.
KIND Dark Chocolate Almond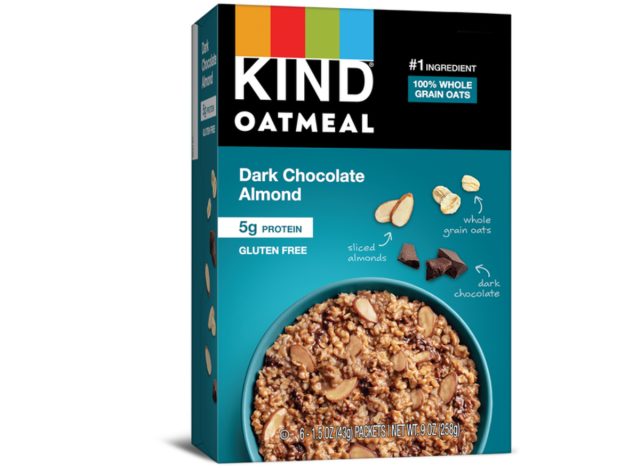 PER PACKET
: 170 calories, 6 g fat (1.5 g saturated fat), 0 mg cholesterol, 125 mg sodium, 28 g carbs (4 g fiber, 9 g sugar), 5 g protein
Dark chocolate does have its health benefits. Unfortunately, these oats with semi-sweet chocolate and slivered almonds aren't the right choice for everyone. With eight grams of added sugar in a 43 gram serving, Shapiro recommends you skip this KIND option. She also points out that this package contains artificial additives, like natural flavors and soy lecithin, that some consumers might want to avoid.6254a4d1642c605c54bf1cab17d50f1e
Bear Naked Maple Pecan Steel Cut Oatmeal & Granola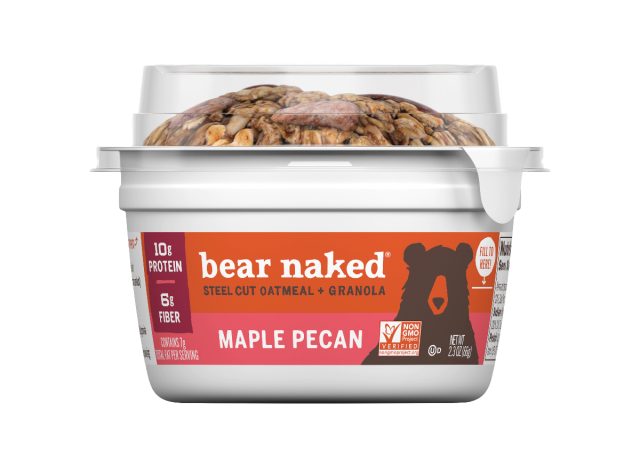 PER CONTAINER
: 260 calories, 7 g fat (1 g saturated fat), 0 mg cholesterol, 45 mg sodium, 44 g carbs (6 g fiber, 9 g sugar), 10 g protein
Snacking is a cinch when all you need is a minute and a microwave to cook this serving-sized cup of sweetened steel cut oats. You do get 260 calories with a decent 10 grams of protein and six grams of fiber, but there are still nine grams of sugar from the cane sugar and maple syrup. It also contains canola oil, Shapiro notes, which can take its toll on your health in high quantities.
Nature's Path Organic, Gluten Free Brown Sugar Maple Instant Oatmeal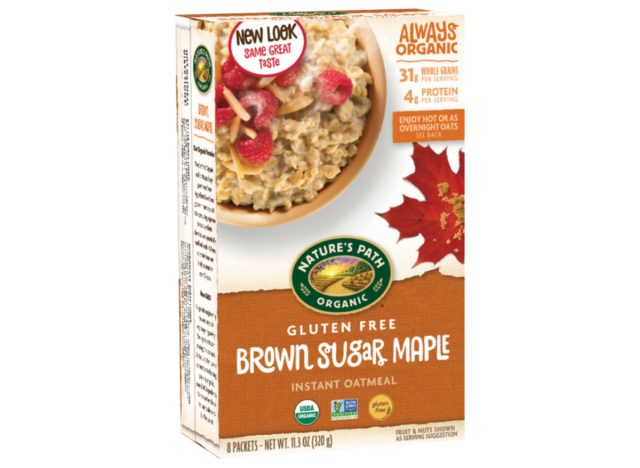 PER PACKET
: 160 calories, 2 g fat (0 g saturated fat), 0 mg cholesterol, 80 mg sodium, 31 g carbs (3 g fiber, 8 g sugar), 4 g protein
Like we said, oats don't normally contain gluten, but for those who need to be absolutely sure, Nature's Path offers quick-cook oats that haven't been processed with any wheat products.
Sadly, you probably want to avoid this pre-sweetened option, with eight grams of added sugar coming from three different sources. "Ingredients are listed on packaged products based on the quantity that they appear in the food and in this product, brown sugar and cane sugar are the second and third ingredients," Greene says. "These sugars come before the nutrient-dense ingredients of rolled amaranth, quinoa and sorghum."
She also notes that the taste is coming from the "natural maple flavor" and maple sugar instead of true maple syrup. It's better to stick with a basic gluten-free oatmeal and add in a splash of your own natural sweetener for a richly flavored, well-balanced bowl.
McCann's Apples & Cinnamon Instant Irish Oatmeal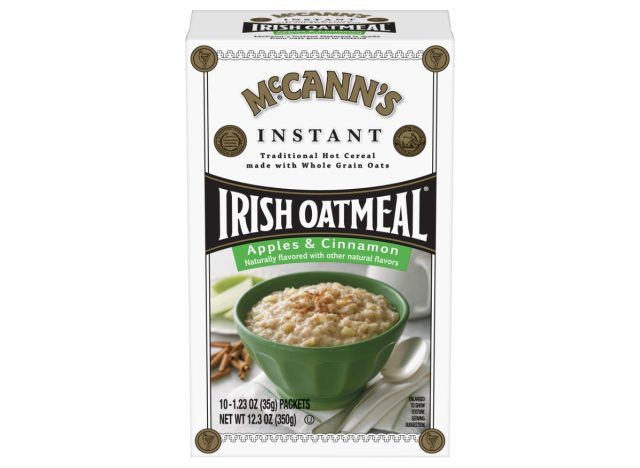 PER PACKET
: 130 calories, 1 g fat (0 g saturated fat), 0 mg cholesterol, 170 mg sodium, 29 g carbs (3 g fiber, 12 g sugar), 2 g protein
Maybe this flavor combination reminds you of the sugared-up cereal you used to eat as a kid, and even though it's not nearly as processed and comes fortified with some vitamins like B6 and B12, this oatmeal isn't without its flaws.
It holds nine grams of sugar and hardly any fiber, leaving you longing for substance without providing any of the oats' benefits. Shapiro and Greene also warn against the additives and preservatives in this choice, like guar gum, caramel color, and sodium sulfite.
McCann's Maple Brown Sugar Instant Irish Oatmeal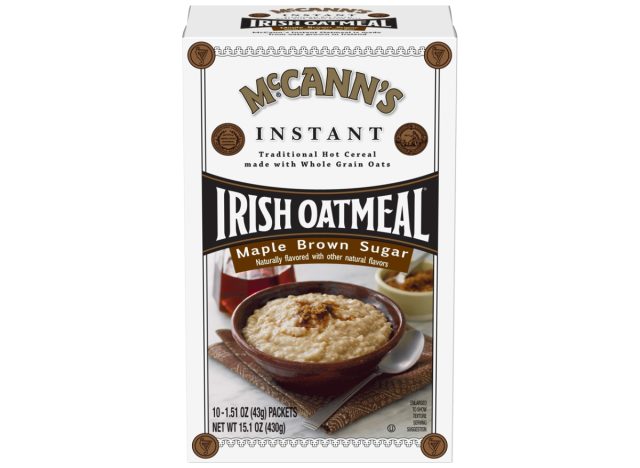 PER PACKET
: 160 calories, 1 g fat (0 g saturated fat), 0 mg cholesterol, 250 mg sodium, 35 g carbs (3 g fiber, 13 g sugar), 3 g protein
Both Greene and Shapiro advise you to leave these instant oats where you found them. The authentically Irish oatmeal brand carries some heart-healthy oats, but this version misses the mark.
Compared to the Apples & Cinnamon, it also contains additives like guar gum, natural flavors, caramel color, and calcium carbonate, but it's an even bigger offender in the added sugar category, with a whopping 13 grams. That's about a fourth of your daily recommended amount for sugar. Opt for a box of plain steel-cut or rolled oats instead, and top your grains with a pinch of brown sugar and a dash of maple syrup for the same taste with healthier results.
Sarah Wong
Sarah studied at Northwestern University, where she received a bachelor's degree in computer science and experimented with mixing tech and journalism.
Read more about Sarah