7 Unhealthiest Takeout and Delivery Foods Ever
Ordering in doesn't have to be a bad idea, as long as you're making smart choices and avoiding these fat, salt, and sugar bombs.
Let's be honest: sometimes we just don't want to cook! It's inevitable that takeout and delivery start to call our names as the weekend approaches and in the midst of a global pandemic like the world is in right now. Ordering in has been a go-to for many to take a night off from cooking and to support local restaurants. But when it comes to getting food to-go, it can be easy to make unhealthy choices—sometimes without even realizing it.
That said, we checked in with clinical nutritionist Amy Tao, MS, of Based Wellness to help us identify the biggest culprits when it comes to takeout and delivery, while also suggesting some healthier swaps. Which meals are truly the worst takeout food you can (or, really, should never) order?
Here are the seven unhealthiest takeout and delivery foods ever. And while we're on the subject of takeout and delivery, unhealthy isn't the only thing you should consider before making your next order. It's also worth thinking about what foods will and won't travel well. For the foods that just won't stand up to their dine-in restaurant counterparts, don't miss these 21 Foods You Should Never Order for Delivery or Takeout.
Nachos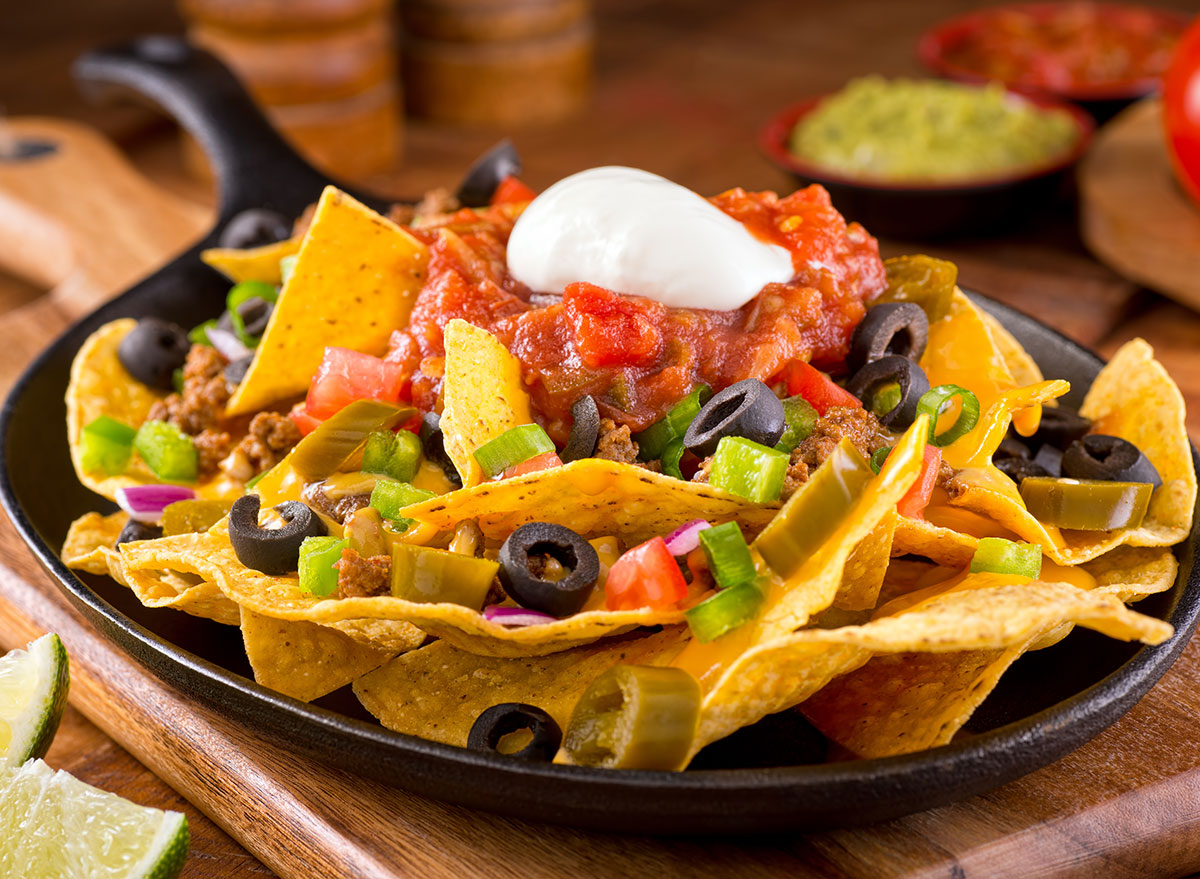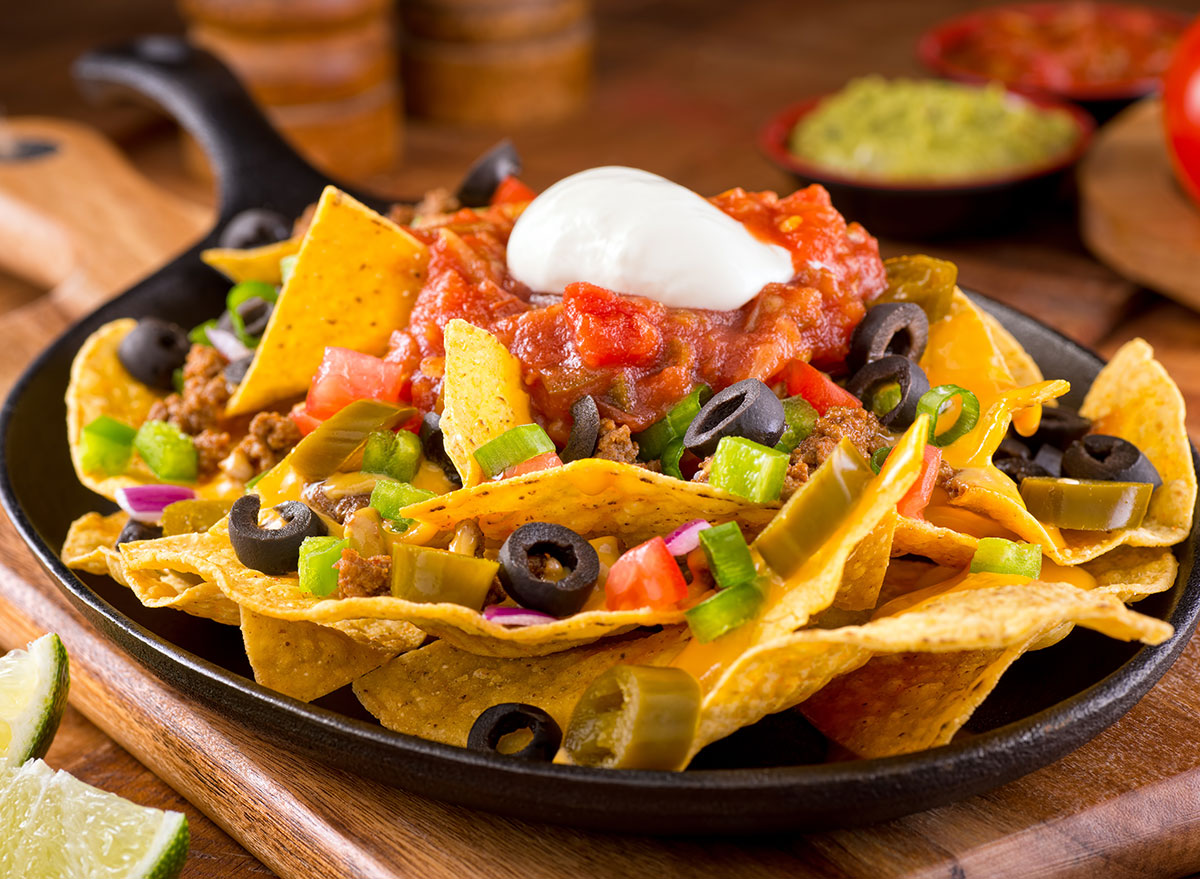 The crowd-favorite snack is quite scrumptious, yet it's a treat that has the potential to get unhealthy very quickly as large amounts of toppings such as high-fat sour cream, salty cheese, and guacamole continue to pile on over the bed of deep-fried chips.
A 2016 study showed the link between a high-fat diet and a negative impact on the gut microbiome, which could weaken the immune system. A high-fat diet has been associated with the development of obesity and chronic disease risk, too.
"Instead, order chips with restaurant-made salsa or pico de gallo and some guacamole," Tao says. "Or ask the restaurant you are ordering takeout from for some fresh veggies like peppers, carrots, and radishes to dip."
If nachos aren't as appetizing once cutting out some of the better-tasting ingredients, Tao's suggests choosing tacos instead. "This way you're getting all the flavors you are craving but the portions are way more reasonable," she says.
Chicken Alfredo
While chicken Alfredo is creamy, cheesy, and delicious, it's extremely high in calories, fat, and sodium.
"For example, an order of chicken alfredo from Olive Garden contains 1,620 calories, 100 grams fat, and 1,680 milligrams of sodium," Tao says.
A 2020 study showed that high amounts of sodium can increase blood pressure and even weaken your immune system. Instead, Tao suggests opting for a tomato-based marinara sauce over a cream-based sauce while ordering Italian takeout.
"Also, see if they have items like grilled zucchini, eggplant, mushrooms, or chicken to add to your dish," she says.
General Tso's Chicken
Unfortunately, this Chinese-takeout staple is not the best choice because of the triple whammy: It's a dish that is battered, fried, and then coated in a sauce with copious amounts of sugar.6254a4d1642c605c54bf1cab17d50f1e
"With an order of General Tso's chicken packing in over 60 grams of sugar, this would be more than double the amount of sugar someone should be consuming in a day," Tao says. Yikes!
In a 2014 study published in JAMA Internal Medicine, there was an association found between a high-sugar diet and a greater risk of dying from heart disease.
But sugar isn't the only issue when it comes to this sweet and spicy dish.
"Despite the sugary taste of this dish, it is often also packed with sodium too," Tao says. "Add a pile of rice and this especially is not a great choice."
Tao suggests opting for dishes that are steamed or stir-fried with vegetables when you're ordering Chinese takeout. When it comes to the sides, she recommends ordering brown rice or just skipping the rice completely.
"Cook up a bag of frozen cauliflower rice from your freezer for an effortless addition to your takeout meal," she says.
Loaded French Fries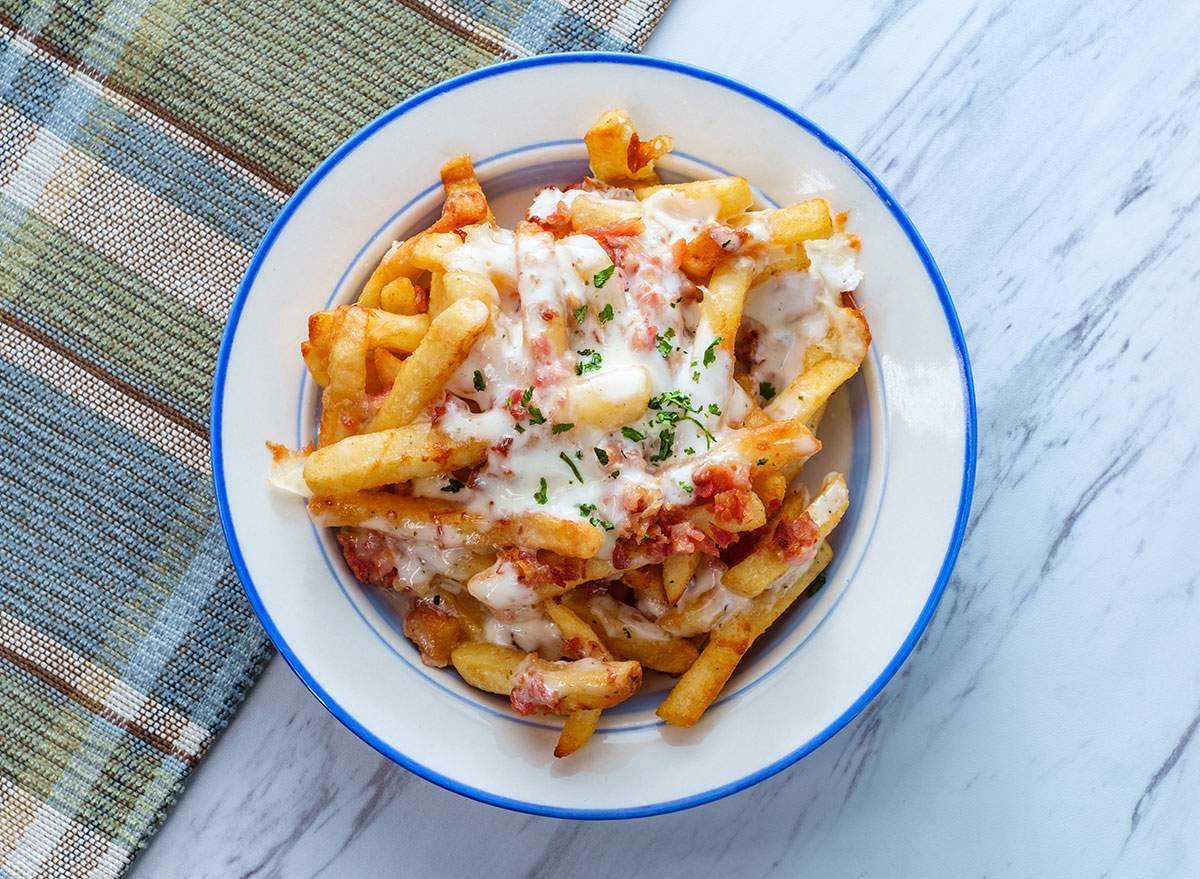 Golden, fried, and crispy French fries aren't the best choice on their own, but when they're loaded with foods like cheese and bacon and then served with a creamy sauce, this dish quickly makes it to our list of unhealthy takeout options.
"An order of Texas cheese fries from Chili's packs in just under 2,000 calories and more than a day's worth of sodium, fat, and saturated fat," Tao points out. And according to the American Heart Association, "foods that contain saturated fats raises the level of cholesterol in your blood." This is obviously not something you want to be doing, as high levels of LDL cholesterol (aka the "bad" cholesterol) can lead to increasing your risk of developing heart disease or having a stroke.
To satisfy your French fry craving, Tao suggests ordering a small portion of plain French fries or asking for toppings like steamed broccoli or small sprinkles of cheese. "You will get the potato and cheese to fuel your craving as well as a bunch of fiber and nutrients from the addition of the broccoli," she says.
Butter Chicken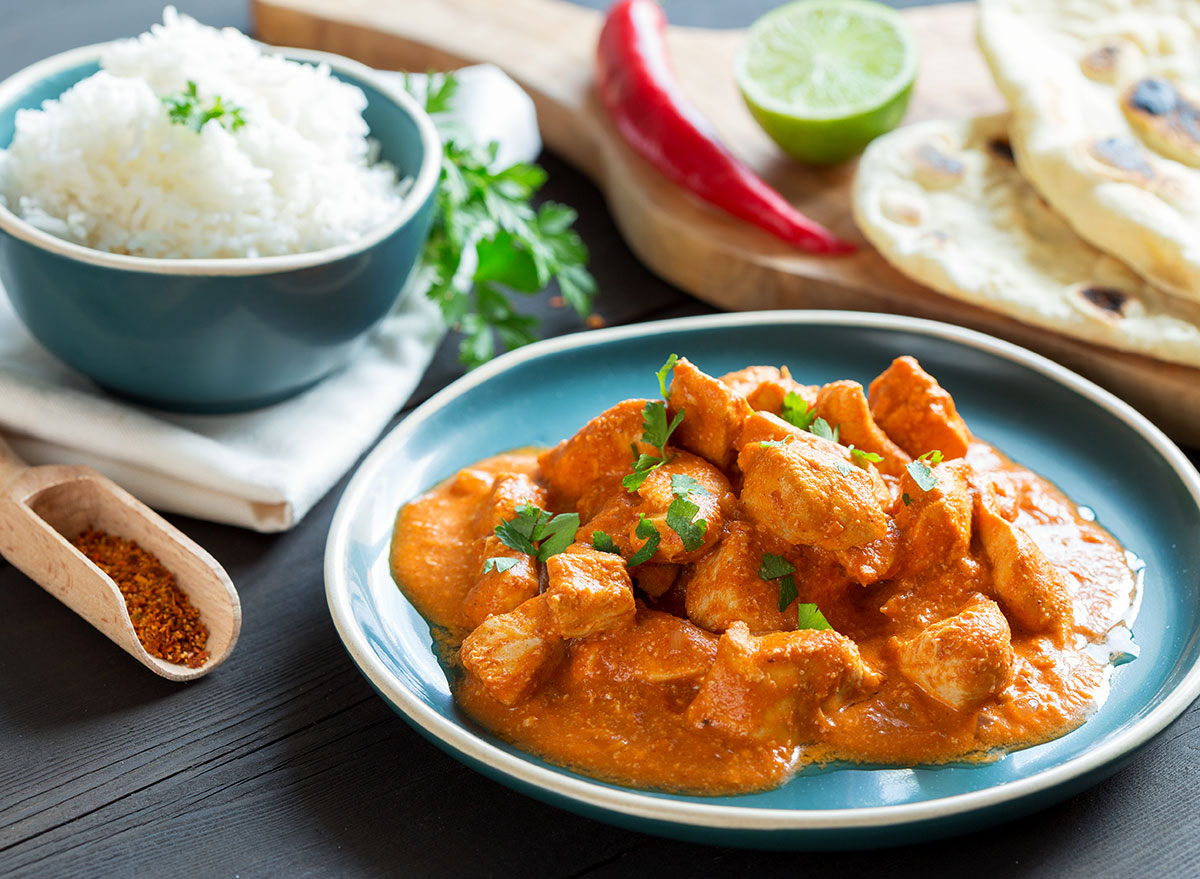 If you're craving Indian food, it's probably a good idea to pass on the butter chicken. "It's packed with saturated fat and sodium as it typically is made with full-fat yogurt, heavy cream, and of course, butter," Tao says.
But don't worry, there are healthier options available if you choose to order in the tasty cuisine.
"A better choice would be tandoori chicken that is marinated in a combination of seasonings and yogurt and then baked," she said. "A great starch option would be to order a side of chana masala, which is packed with fiber-rich chickpeas."
It's no secret that adding more fiber to your diet provides a lot of benefits to your body, including controlling blood sugar, achieving and maintaining a healthy weight, normalizing bowel movements, and lowering your risk of diabetes, heart disease, and some types of cancer.
If you're looking for more tips, your ultimate restaurant and supermarket survival guide is here!
High-Calorie Salads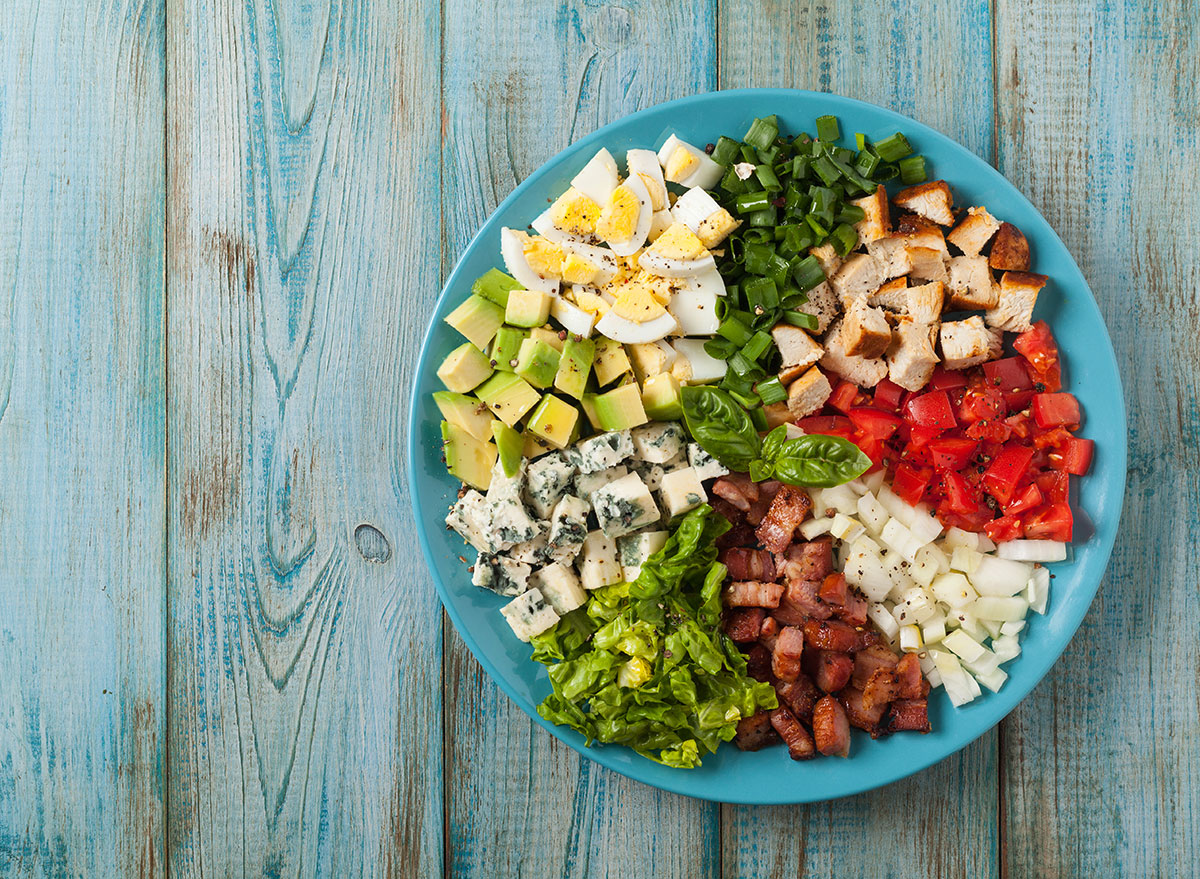 You may think you're making the right choice by ordering a takeout salad over some of the other high-sodium and high-sugar options, but once you start adding mix-ins and dressings, you can turn what's supposed to be a low-calorie meal into a very high one. See high-calorie diets, especially when paired without any exercise, have been linked to an increased risk of obesity.
"Cobb salads, Caesar salads, and antipasto salads are all known to rack up the calories, sodium, and fat," Tao says, while noting to avoid salads with multiple servings of higher fat toppings like bacon, blue cheese, sugar-filled candied nuts, dried fruits, and creamy dressings. She stresses the importance of being aware of the healthier toppings you can easily add such as nuts, avocados, quinoa, or hummus.
It could also be a good idea to ditch the lettuce as well. "When looking for a delicious salad, forget the lettuce base and try something different like a tomato-cucumber salad or tabbouleh," Tao says.
Massive Desserts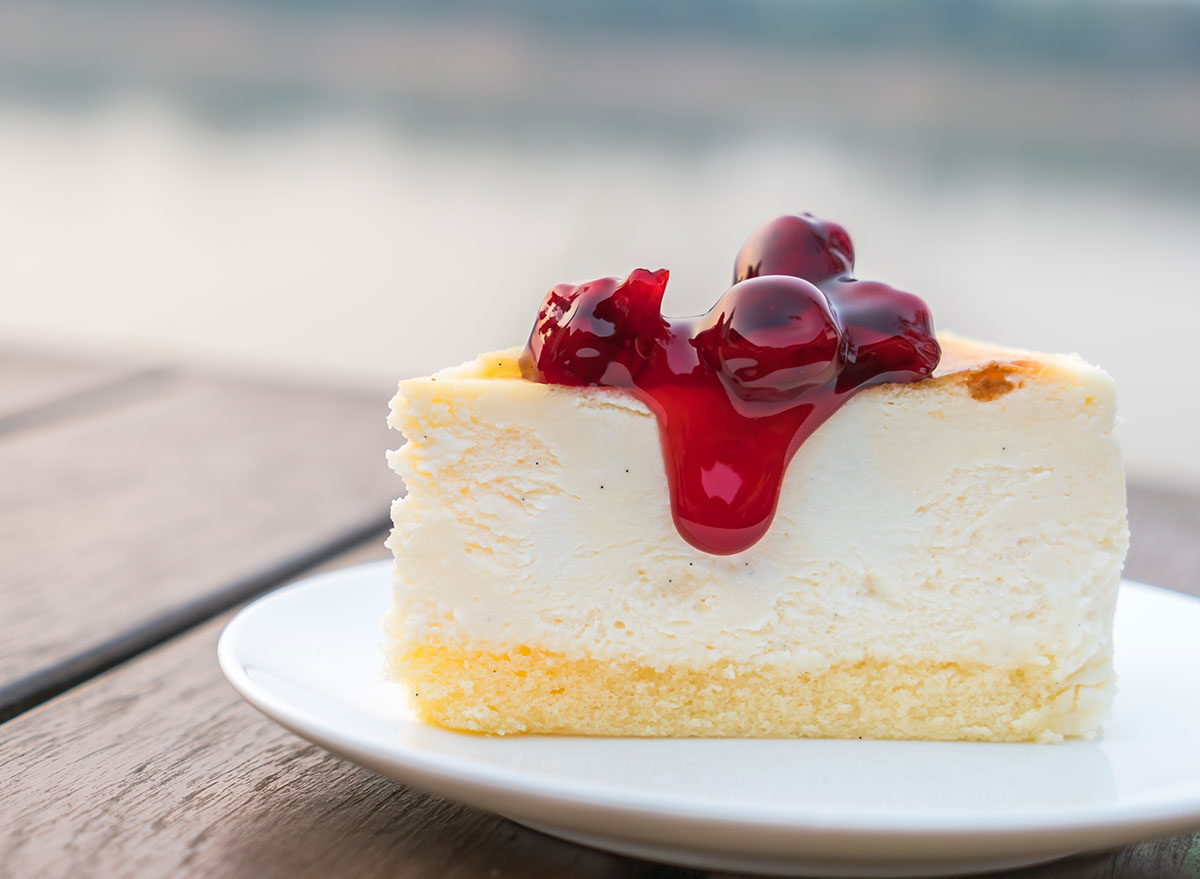 While arguably everyone enjoys something sweet at the end of a meal, it's important to note that sometimes dessert can (sadly) have just as many, if not more, calories than your meal.
"A [slice] of ultimate red velvet cheesecake from The Cheesecake Factory has 1,580 calories, 116 grams of fat, 62 grams of saturated fat, and 104 grams of sugar," Tao says. That's a whole lot of calories for something that comes after your meal. And the sugar content? Big yikes.
If you have a sweet tooth, it's important to keep in mind that another negative effect of a high-sugar diet is that it can lead to inflammation, as pointed out in a 2018 study. So instead of overindulging in a massive dessert from a local restaurant, Tao suggests stashing some homemade desserts in single-size servings in the freezer to have instead.
"If you do decide you're ordering dessert, split it into multiple servings before you even dig in," she says. And just please make sure you're not following any of these 7 Bad Dessert Habits That Lead to Belly Fat.
Samantha Faragalli Younghans