Copycat Olive Garden Pasta Fagioli Recipe
You can have your own soup, salad, and breadsticks lunch (or dinner!) with this authentic copycat pasta e fagioli recipe!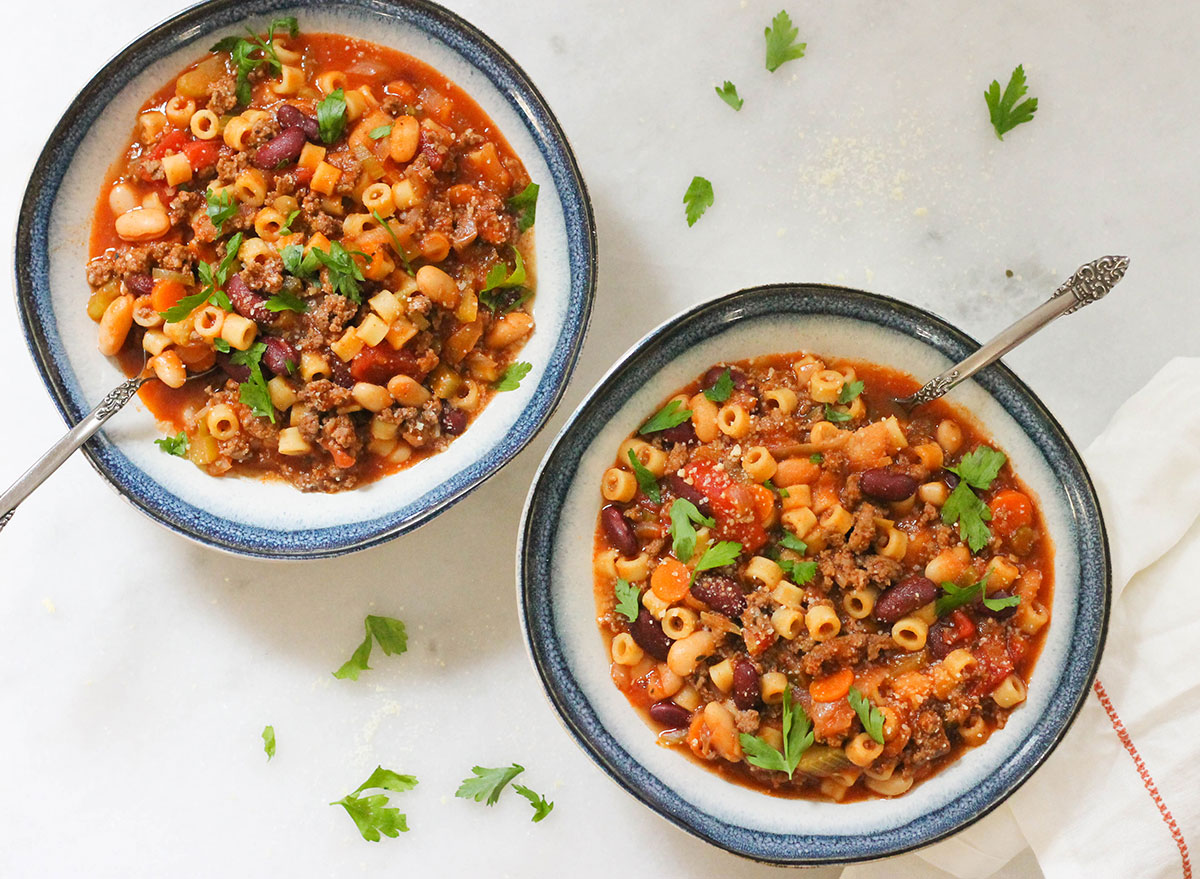 Are you an absolute sucker for Olive Garden's soup, salad, and breadsticks? Well, I fully admit that it's my favorite thing about this popular Italian chain. Unlimited bowls of delicious soup with soft breadsticks and delicious, fresh crunchy salad? You can't go wrong. My go-to favorite soup to order has always been the Pasta Fagioli, so I like to have a copycat Pasta Fagioli recipe in my back pocket whenever I have a soup craving and I can't make it to the restaurant chain!
What is Pasta e Fagioli?
When I first started developing this Pasta e Fagioli recipe, I decided to call my mom and grandmother. My grandma is 100 percent Italian and gives me all the intel on classic Italian dishes—like a traditional Italian Pasta Fagioli recipe. The two of them told me that Pasta Fagioli is more like a bean stew, even though it's called a soup. Between all the different ingredients, especially the pasta, there isn't a whole lot of liquid left in the bowl. A bowl of Pasta Fagioli should almost be as hearty as a bowl of homemade chili.
What makes this a copycat Olive Garden Pasta Fagioli?
While there are numerous variations to making a homemade Pasta Fagioli soup recipe, I decided to go directly to the source to see what was in Olive Garden's special recipe. According to the menu on the Olive Garden website, the ingredients in their soup include "white and red beans, ground beef, fresh tomatoes, and tubetti pasta in a savory broth."
In order to make the most authentic copycat Olive Garden recipe, I used this list as a guideline to build the rest of the soup. I added a simple mirepoix (carrots, celery, onion) to it, as well as oregano and thyme for flavor. The best "tubetti" pasta I could find easily at the grocery store was a box of ditalini, which is why I decided on that type specifically. And, of course, there's minced garlic. Because what Italian recipe wouldn't have it?
So here's my take on an Olive Garden Pasta e Fagioli recipe—with a special seal of approval from my Italian grandma.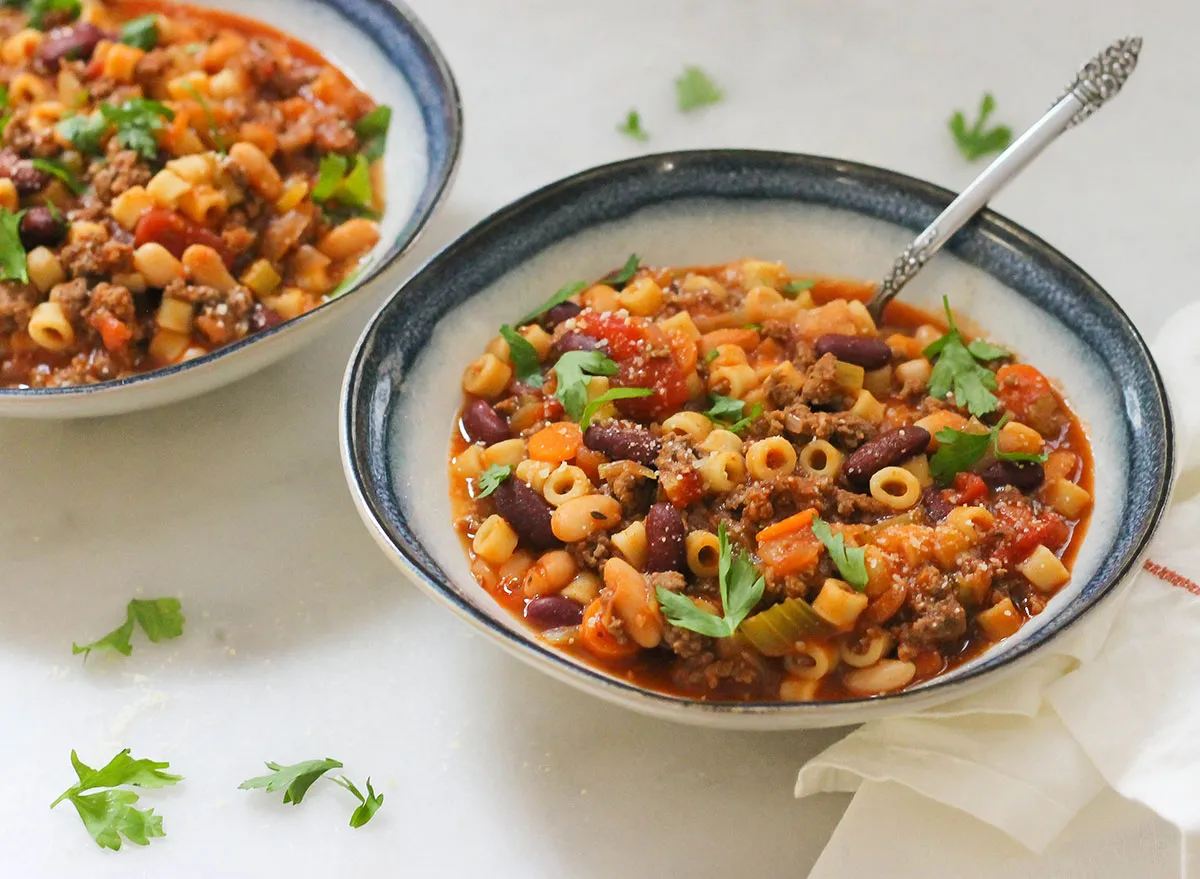 6254a4d1642c605c54bf1cab17d50f1e
Copycat Olive Garden Pasta Fagioli Recipe
Makes 8 servings
Ingredients
1 pound ground beef
1 yellow onion, diced
4 garlic cloves, minced
3 carrots, peeled & diced
2 celery stalks, diced
1 15 oz. can kidney beans, drained
1 15 oz. can white (cannellini) beans, drained
2 15 oz. can tomato sauce
1 15 oz. can diced tomatoes
3 cups chicken broth
1 tsp dried oregano
1 tsp dried thyme leaves
1 cup ditalini pasta
Salt & pepper, to taste
Finely chopped parsley, optional
Grated parmesan, optional
How to Make It
Heat a large dutch oven or a stockpot over medium heat.
Add in the ground beef, onion, minced garlic, carrots, and celery, seasoned with salt and pepper, and cook until no longer pink (about 5 minutes). Drain the grease into a can.
Add in the kidney beans, white beans, tomato sauce, diced tomatoes, chicken broth, oregano, and thyme leaves into the pot. Stir to combine.
Once the liquid starts to boil, add in the pasta.
Reduce the heat and cook for 10 minutes, or until the pasta is done.
Serve with chopped parsley and grated parmesan, if desired.