A Dessert-Worthy Fruit and Granola Yogurt Parfait Recipe
It really is the perfect treat for your sweet tooth, and it's so much better for you than ice cream.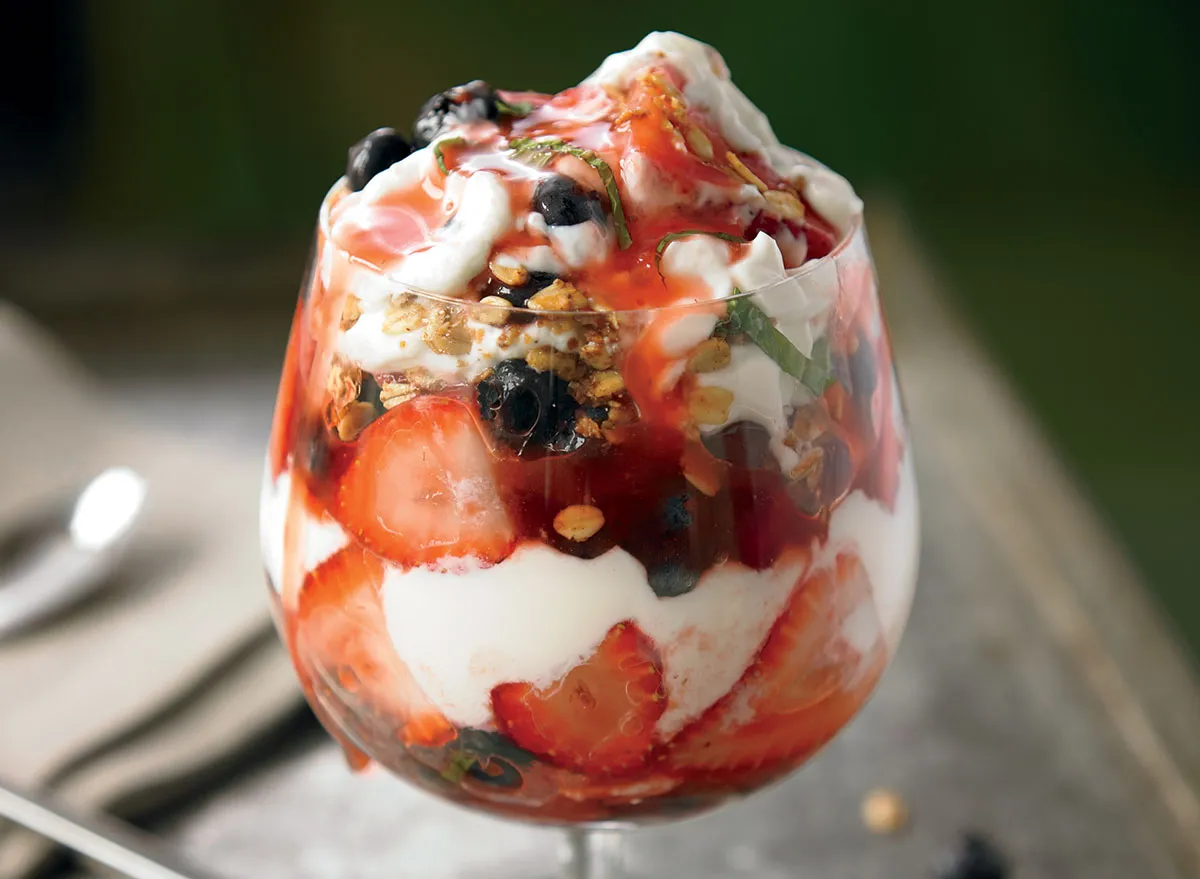 Fruit-flavored yogurts are essentially glorified ice cream. Read the label of any fruit-on-the-bottom brand, and you'll see what we mean: Odds are, high-fructose corn syrup is considerably higher on the ingredients list than actual fruit. That's why it's always better to buy plain, protein- and probiotic-rich Greek yogurt and add the real fruit yourself.
We do just that here, layering it for visual appeal and tossing in granola for some crunch. This indulgent parfait is decadent enough to be a dessert, but with exactly what you need to start your day or snack on: a mix of protein and fiber.
Nutrition: 330 calories, 8 g fat (3.5 g saturated), 34 g sugar
Serves 1
You'll Need
1 cup sliced strawberries (Any juicy fruit will work well here if you want to sub in things like raspberries, blackberries, kiwi, and mangoes.)
1⁄2 cup blueberries (frozen are good, too)
2 tsp sugar
4–5 mint leaves, sliced thinly
1 container (8 oz) low-fat plain Greek-style yogurt (Fage 2% is our favorite. If you don't dig the thick Greek yogurt, any plain yogurt will work, as long as there are no added sugars.)
1⁄4 cup granola
How to Make It
Combine the fruit, sugar, and mint in a bowl, and allow to sit for 3 to 4 minutes.
Spoon half of the yogurt into a bowl or glass, then top with half of the fruit and granola, then repeat with the remaining yogurt, fruit, and granola.
Pour any accumulated juice from the fruit over the top.
Eat This Tip
Don't be put off by the fancy cooking jargon; macerating really just means to soak or steep something in a liquid or sugar. Not too fancy when you really spell it out, is it? Plus, most fruit is sweet enough as it is, so soaking it in additional sugar (i.e. calories) is not always necessary.6254a4d1642c605c54bf1cab17d50f1e
Instead, we suggest you try adding even the barest amount of sugar (in this case, about 30 calories' worth), that way you can draw out the natural fructose in the fruit and create a tasty syrup that works beautifully on top of yogurt, pancakes, or even a bowl of ice cream. Plus, you'll find that fresh mint simply ups the flavor ante and the visual appeal.