Greek Yogurt With Pineapple, Kiwi, Mango, and Ginger Syrup Recipe
Warning: There's a chance you might not think about having ice cream for dessert ever again.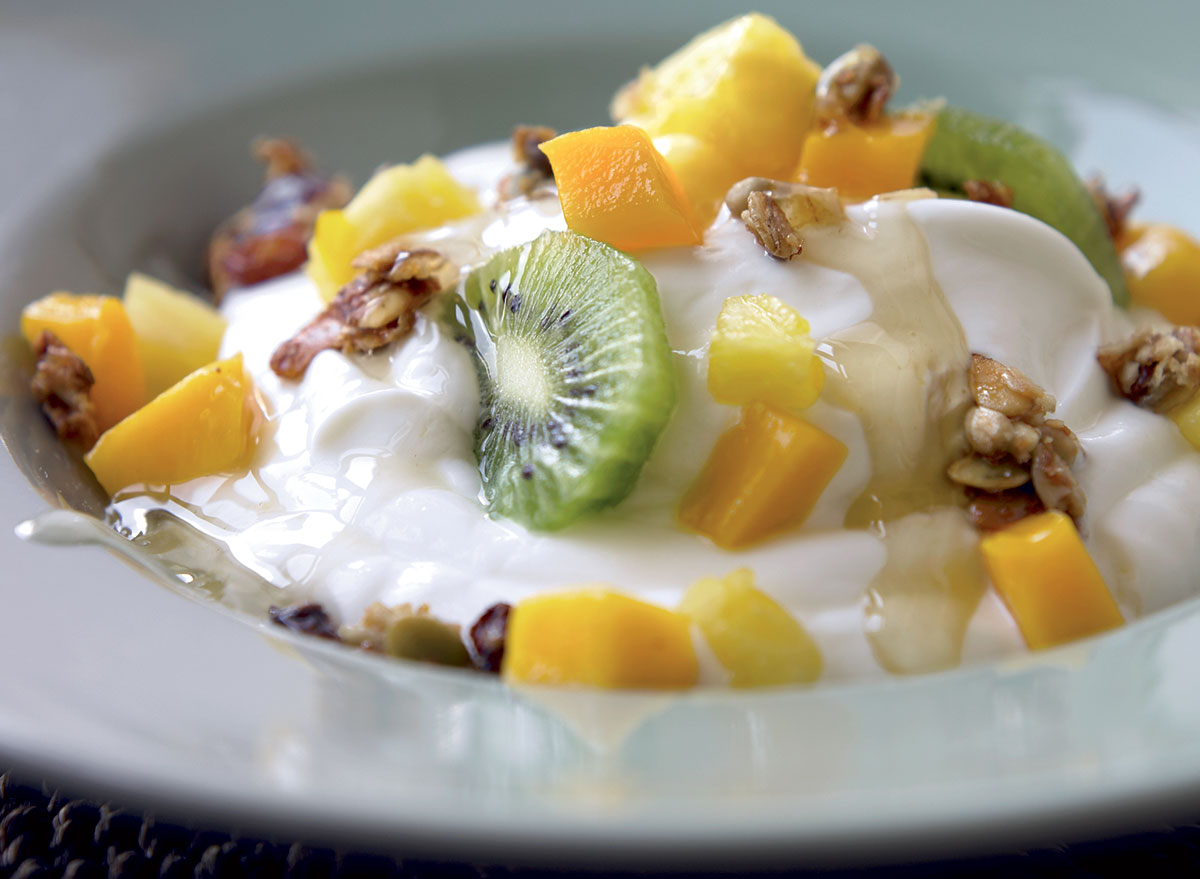 Don't be fooled: Flavored yogurt is only a small step away from ice cream. In fact, with some cups carrying up to 30 grams of sugar—as much as you'd find in two scoops of Breyers All-Natural Vanilla—it might actually be worse. You'll always be better off starting with plain yogurt and then adding flavor to it yourself. The majority of the sugar in this recipe is naturally occurring sugar from the fruits (kiwi, pineapple, and mango).
This refreshing concoction pairs tropical fruit with a spicy-sweet blast of ginger syrup for a sweet treat that'll taste like you're on vacation—even if you're just on your couch.
Nutrition: 330 calories, 4 g fat (0.5 g saturated), 43 g sugar
Serves 4
You'll Need
1 cup water
1⁄4 cup sugar
1" piece peeled fresh ginger, sliced
24 oz Greek-style yogurt (four 6-oz containers)
2 kiwis, peeled and sliced
1 cup chopped pineapple
1 mango, peeled, pitted, and chopped
1⁄2 cup granola
How to Make It
Combine the water, sugar, and ginger in a small saucepan and bring to a boil. Simmer for 10 minutes. Let cool for at least 10 minutes. Discard the ginger pieces.
Divide the yogurt among four bowls, top with the fruits and granola, then drizzle with the ginger syrup. For a more dramatic presentation, layer the yogurt, fruit, granola, and syrup in tall glasses, like parfaits.
Eat This Tip
Greek yogurt is more multipurpose than you think! It's not just the huge protein boost (more than twice as much as found in most conventional brands) that makes Greek-style yogurt so great; the thick, creamy texture and pronounced tang give it a versatility that other yogurts don't have. Try it in any of the following non-breakfast applications:
As the base for a salad dressing
As a substitute for sour cream
Mixed with olive oil and herbs for a sauce for grilled meat and fish
Stirred into a soup at the last second instead of cream
Sweetened with maple syrup and poured over grilled fruit for dessert
Make tzatziki sauce by adding chopped cucumber, garlic, lemon juice and zest, dill, salt, and pepper to taste
Combined with whipped cream when making a key lime pie
As a replacement for heavy cream in your favorite Alfredo sauce
Added into your favorite guacamole recipe. Yes, really.