The 30-Day Yoga Workout To Lose Weight & Get Fit
Work your way to your goal weight with a fitness pro's 30-day routine.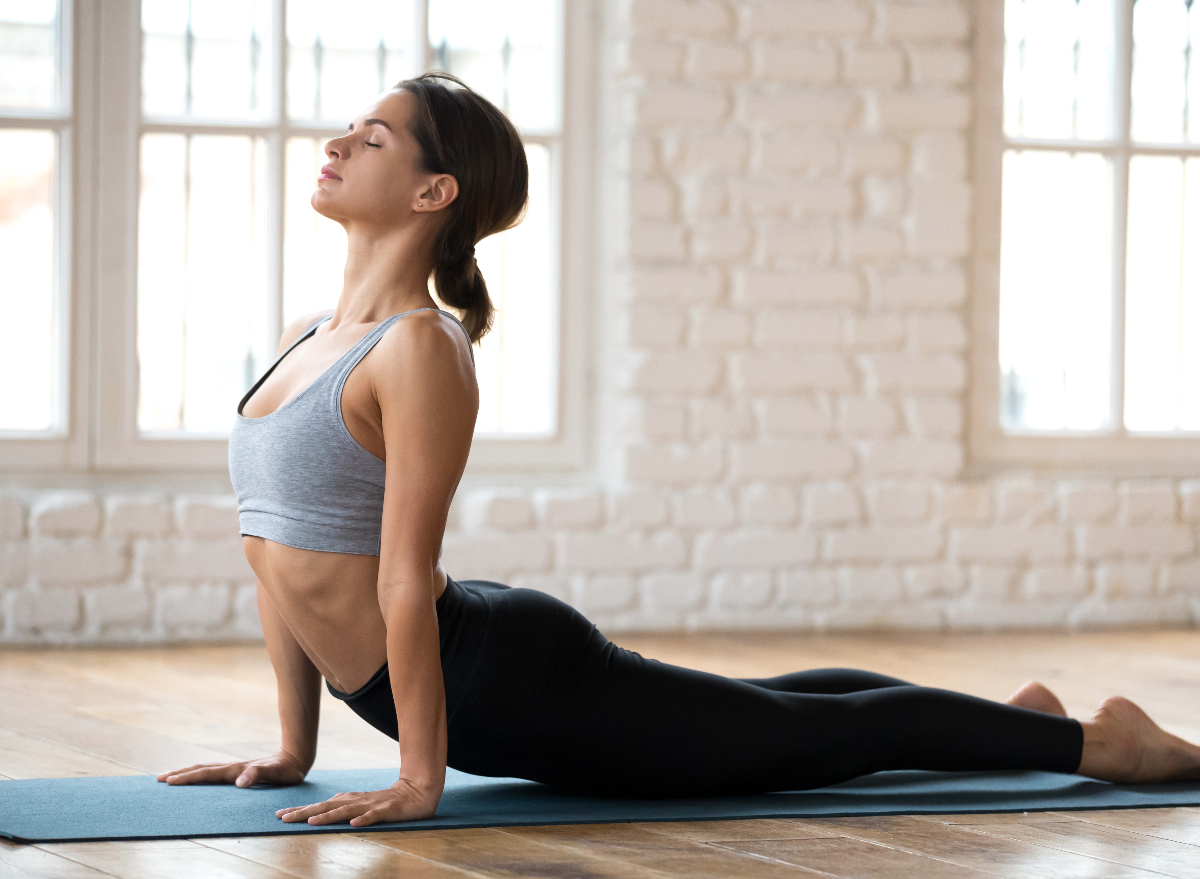 In today's fast-paced world, making time for health and fitness has become more crucial. Fortunately, there's no shortage of excellent exercise options to choose from. Among them, yoga is a holistic approach that promotes physical health while boosting mental well-being. That's why we chatted with Nadia Murdock, CPT, a certified fitness instructor at Garage Gym Reviews, who delivers a stellar 30-day yoga workout to lose weight and get fit. While yoga is often associated with flexibility and relaxation, it's a versatile practice that can be an effective tool for weight loss and toning muscle.
"Having a plan for your fitness routine is one of the best ways to set yourself up for success," says Murdock. "Below is a 30-day (or four-week) plan that can help you achieve your weight loss goals and elevate your mindset and well-being. However, without healthy lifestyle habits like nutrition, sleep, and stress management, it will be significantly harder to achieve your weight loss goals."
So, if you're looking to shed some extra pounds and get fit once and for all, look no further. Keep reading for Murdock's 30-day yoga workout to lose weight, then don't miss the The Only 5 Yoga Exercises You Need To Shrink Your Belly.
Week 1
"In the first week, focus on foundations and alignment. Foundational poses and breathing techniques are vital in any yoga practice," says Murdock.
Pose 1: Downward Dog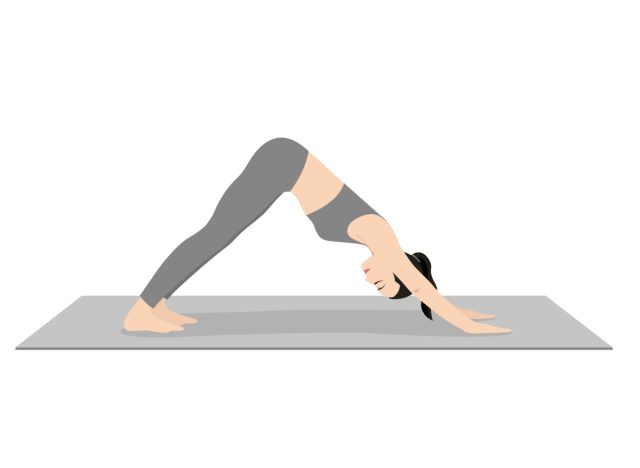 This classic yoga move stretches and strengthens multiple muscle groups, making it an excellent choice for weight loss and overall fitness.6254a4d1642c605c54bf1cab17d50f1e
"Start in a tabletop position on your hands and knees, making sure your wrists are directly under your shoulders and your knees are under your hips," says Murdock. "Spread your fingers wide apart, tuck your toes under, and press into your palms to lift your hips toward the ceiling. Straighten your arms and legs so you're in an inverted V-shape. Drive your heels to the ground. You may need to bend slightly in your knees if your hamstrings are tight. Breathe deeply, and hold the pose for several breaths."
Pose 2: Child's Pose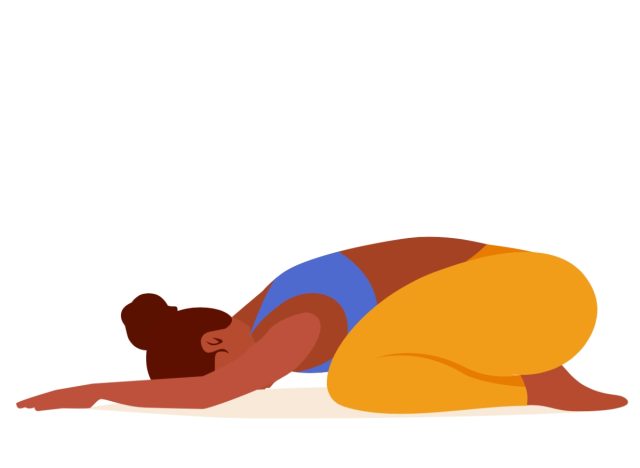 This gentle resting pose lets you catch your breath while stretching your back, hips, and thighs.
Begin in a kneeling position. Then, sit back on your heels with your big toes touching and knees slightly spread apart. Take a deep inhalation, lengthen your spine, and exhale slowly while folding forward. Bring your torso between your thighs, palms facing down, and fingers spread wide apart. Gently rest your forehead on the mat, and relax your shoulders and neck. Hold this pose for several breaths.
Incorporate at least two rest days that include light stretching and breathing techniques.
Week 2
"In the second week, focus on building strength and endurance," instructs Murdock. "Also, focus on specific types of yoga that can support this goal, such as vinyasa and power yoga."
Vinyasa Yoga
Vinyasa is a dynamic yoga practice that keeps you moving and engages your core muscles. It's great for flexibility and fantastic for burning calories and promoting weight loss, according to research.
"Vinyasa yoga dials in on the combination of breath and movement. It's often referred to as flow yoga. The intensity varies depending on the class and the different levels of the participants. It's important to note that each move is synchronized with either inhalation or exhalation. Conscious breathing helps to create a flow. Fluid transitions and creative sequencing are also part of this practice," explains Murdock.
Power Yoga
This vigorous yoga style combines traditional poses with a fitness-focused approach to simultaneously build strength, endurance, and flexibility.
"Power yoga is an intense style of yoga that increases strength, flexibility, and stamina," says Murdock. "This practice is fast-paced with a challenging sequence of yoga poses. An emphasis on building muscular strength encourages you to engage and stabilize your muscles, particularly your core, arms, and legs."
Week 3
"For week 3, let's intensify your practice with longer yoga sessions that also include inversions," says Murdock. "Yoga moves during this week should include heart-opening poses and backbends. These moves can be challenging and require a certain level of technique to avoid injury. Start slow with modifications and props and build on that."
Pose 1: Cobra Pose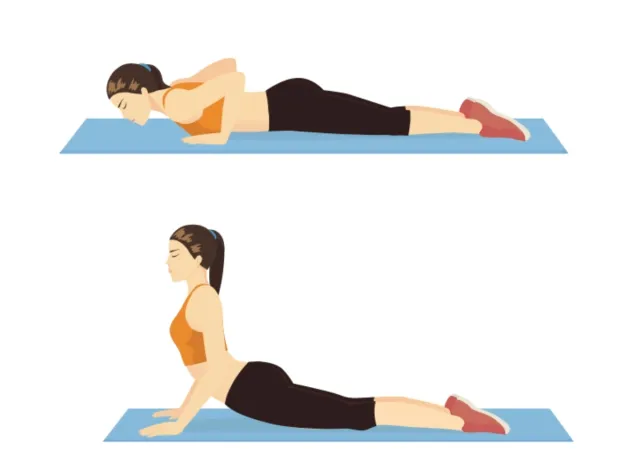 The cobra pose is a gentle backbend that can strengthen back muscles, improve posture, and alleviate tension in your shoulders and upper back.
"Lie face down, and lift your upper body while keeping your pelvis and lower body rooted into the ground. This move helps to strengthen the back muscles while improving your posture," says Murdock.
Pose 2: Camel Pose
According to Resilience Yoga, the camel pose opens your chest and stretches your hip flexors while enhancing spine flexibility. This pose might look challenging, but with consistent practice, you'll master it.
Murdock says, "Start kneeling, and gently arch your back while reaching for your heels with your hands. If you can't reach your heels, simply arch your back, and get as close to your heels as possible. This pose helps to stretch the front of the body, which includes the chest, abdomen, and hip flexors."
Pose 3: Upward-Facing Dog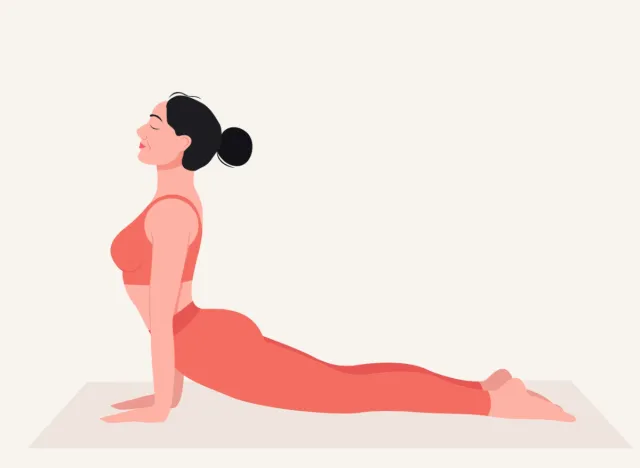 This pose strengthens your back, arms, and wrists and provides an excellent stretch for your abdomen and hip flexors.
"Lie flat on your stomach, placing your hands alongside your chest," instructs Murdock. "Push your hands into the mat, lifting your chest and upper body off the ground while keeping your hands and the tops of your feet on the mat."
Week 4
"Week 4 is all about mindfulness, where you'll bring together all the elements you've learned," states Murdock.
Power Yoga Session: 45 minutes
To wrap up your 30-day yoga workout, opt for a 45-minute power yoga session lasting around 45 minutes. This extended practice will allow you to combine multiple poses, strength, flexibility, and mindfulness. It's a holistic approach to weight loss and fitness that leaves you feeling stronger, more balanced, and ready to embrace a healthier lifestyle.
Murdock says, "Test your strength with a balance and strength routine. In this week, you'll still include two days of rest and use this time to reflect on your journey, what you have learned, and the goals you've reached and may want to continue working toward."
Adam Meyer
Adam is a health writer, certified holistic nutritionist, and 100% plant-based athlete.
Read more about Adam
Sources referenced in this article