Several Popular July 4th Foods Are More Expensive This Year—Including Burgers & Steaks
Prices for these Fourth of July staples are even higher than they were in 2022.
Between the barbecue feasts, snacks, drinks, and decorations, Fourth of July celebrations can easily turn into extremely pricey affairs. In fact, Americans spent a whopping $13.8 billion for the patriotic holiday in 2022 between all the food, beer, and fireworks, according to a report from Capital One Shopping.
Many Americans are deep in planning mode for these potentially pricey Independence Day gatherings at a time when elevated grocery prices are already the norm thanks to inflation, supply chain issues, and major world events like Russia's invasion of Ukraine. While inflation has thankfully slowed in recent months and prices for certain grocery items are starting to go down, Americans can still expect to pay more this year for several popular July Fourth staples.
In a new report, Wells Fargo Chief Agricultural Economist Michael Swanson shed light on which popular Fourth of July foods are more expensive this year, using data from the Bureau of Labor Statistics (BLS). So whether you're planning a more extravagant affair or working under tighter cost constraints, these insights will make sure you embark on your Fourth of July shopping trips knowing which products will inflate your grocery bill.
If you're planning on firing up the grill next week, grilling meats are among the food items that have gotten more costly. Sirloin steaks are currently priced at $10.75 per pound, making them 2.9% more expensive than they were a year ago. While ground beef price inflation has slowed considerably from a year ago, when the inflation rate was 16%, prices are still up less than 1%, the report said. Additionally, pork chop prices have increased 1%.
Those slightly pricer burgers could cost you even more if you plan to turn them into cheeseburgers. Processed cheese prices are up 10% due to "record strong milk prices at the producer level" last year, Swanson wrote. In that same vein, ice cream prices are also elevated, with a half gallon costing 9% more than a year ago. Swanson asserted that dairy prices will undergo a "major course correction" some time in the near future, but noted that it was more likely that consumers will truly feel the benefits of these decreases closer to Thanksgiving than Fourth of July.
Consumers may also face some extra price pressures when shopping for Fourth of July sides and snacks. Potato chips are up a whopping 15% from last year, due to a drought in important growing regions in Idaho and the Dakotas that sent prices soaring, Swanson wrote.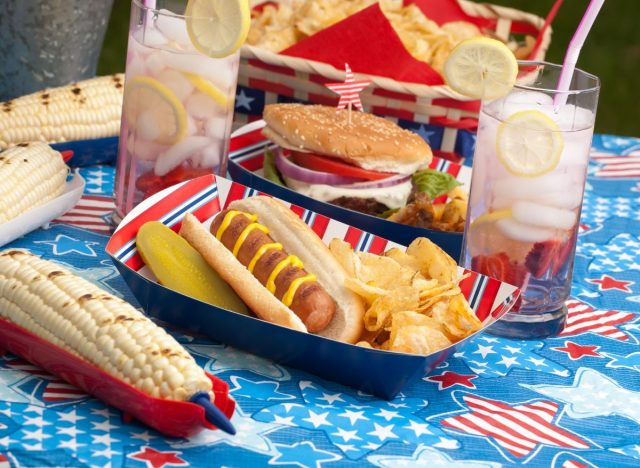 Supply issues are also to blame for a rise in prices that will affect Fourth of July baked goods, including hotdog and hamburger buns. Russia's invasion of Ukraine last year sent wheat prices skyrocketing, and while "the price of wheat has fallen back to earth," the cost of flour is still elevated, Swanson wrote. A pound of bread is currently 22% higher than it was a year ago, while a pound of chocolate chip cookies is roughly 14% higher.6254a4d1642c605c54bf1cab17d50f1e
Last but not least, price-conscious consumers might be better off avoiding certain Fourth of July beverages. An average 12-ounce soft drink currently costs 14% more than a year ago (Swanson notes that you can save money by opting for 2-liter drink bottles instead) and beer prices are up 8%.
Wine prices, on the other hand, are "basically unchanged" from last year, Swanson said. So this alcoholic beverage may be a good choice for consumers who are trying to avoid highly-inflated prices, especially since wine is sold at a wide range of different price points.
While customers should anticipate paying more for these major Fourth of July foods, not every item is more expensive this year. Eggs, a key ingredient in July 4th staples like potato salad, deviled eggs, and egg salad, are currently 7% cheaper than they were a year ago as the poultry population recovers from a serious bird flu outbreak, the report said. Chicken breasts also cost nearly 2% less now than they did a year ago. Swanson predicted that consumers would see prices for the protein ease up even more after several more quarters pass thanks to a "recent big drop" in prices for the corn and soybeans used as feed for chickens.
In the meantime, Swanson doesn't expect the elevated prices for other items to curb Americans' celebratory spirit for the holiday.
"Food retailers and consumers should expect a busy and robust celebration for this year's Fourth of July, even with higher prices," he wrote.
Zoe Strozewski
Zoe Strozewski is a News Writer for Eat This, Not That! A Chicago native who now lives in New Jersey, she graduated from Kean University in 2020 with a bachelor's degree in journalism.
Read more about Zoe