What 500 Calories Looks Like at 9 Fast-Food Chains
If you're aiming for around 2,000 calories per day, check out these 500-calorie fast-food meal options.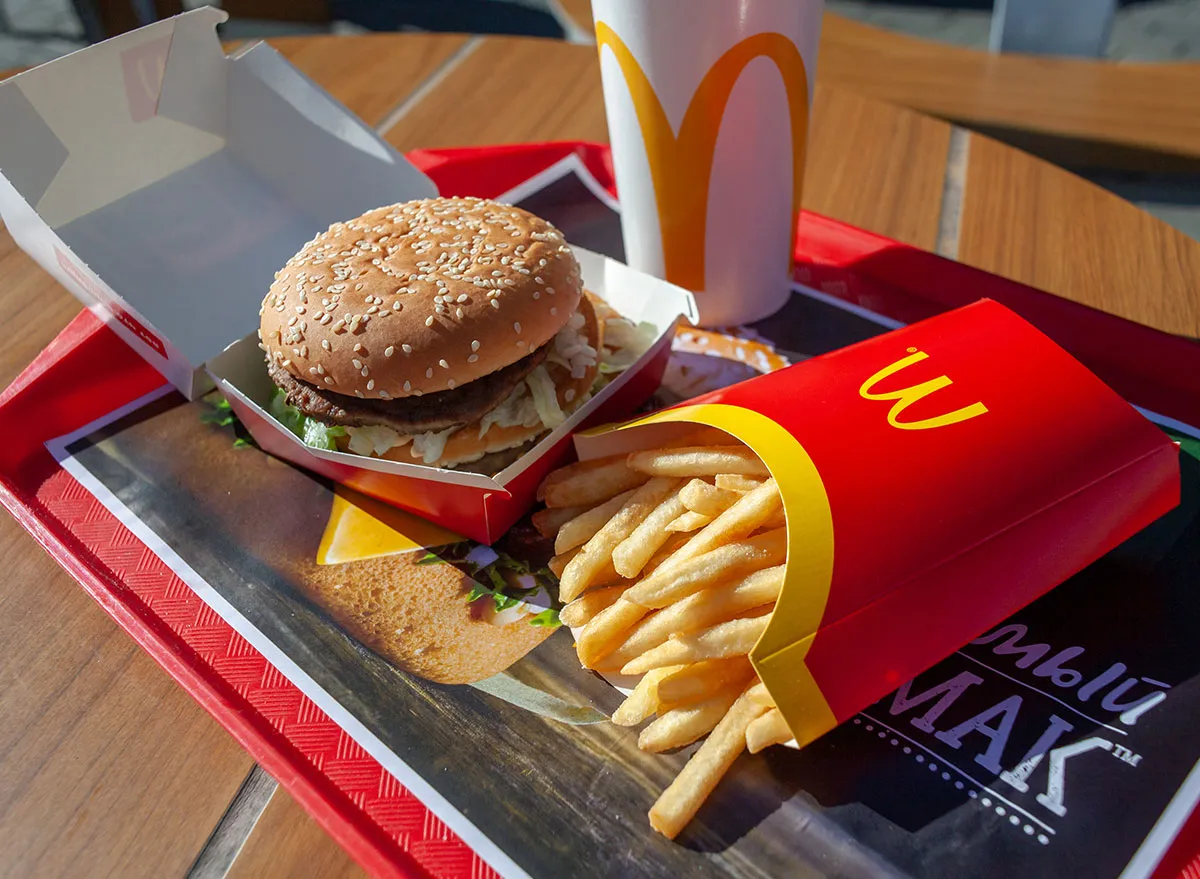 When you go out to eat at a restaurant—whether it's fine dining or fast food—you surely want to get your money's worth. That might make you think that more is better when it comes to what you're served. However, a study published in the Journal of the American Academy of Nutrition and Dietetics took a look at meals from various kinds of restaurants and found that most restaurant meals were around 1,200 calories.
They discovered that the calories in these meals were much higher than the 570 calories that the researchers noted was a reasonable amount per meal. This is based on the fact that adult women tend to require anywhere from 1,600 to 2,400 calories each day, while men need in the range of 2,000 to 3,000 calories, according to the USDA's 2020-2025 Dietary Guidelines for Americans. That's why you may want to do what you can to stick with lower-calorie menu items next time you eat out.
"There are a few key tips to choosing healthier options at fast food restaurants," says Sarah Olszewski MS, RDN, CDN, Owner of Sarah Lynn Nutrition, a virtual and in-person nutritional counseling service based in New York. "To cut down on calories and saturated fat, choose grilled or roasted lean meats, like chicken, over fried or breaded meats. The side dishes can also make a big difference. Instead of fries, try choosing a salad or fruit. If you can, try to avoid drinking your calories via soda or shakes, and drink water instead. Portion size is another major factor. Instead of choosing the super-sized portion, choose the regular or junior option. Remember, you can always save some of your meal for later or share with another person to avoid over-indulging."
With that in mind, you may be interested to find out more about some options for 500-calorie fast food meals to help you stay on track with the recommended calories to eat per day. Read on to find out what 500 calories looks like at 9 fast-food restaurants, and for more healthy tips for eating out, avoid these Unhealthy Fast-Food Breakfast Sandwiches.
McDonald's Hamburger and Small Fries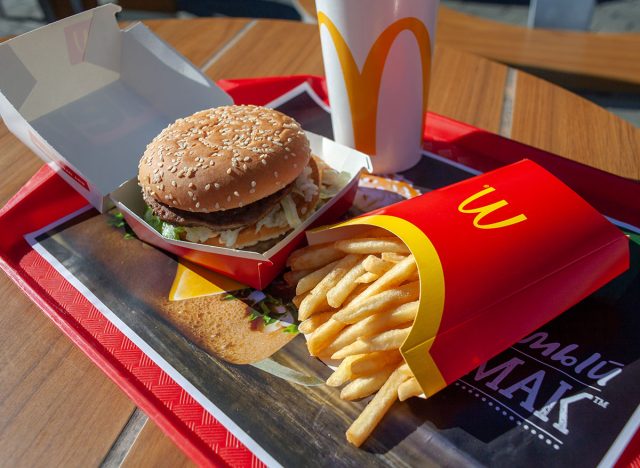 Hamburger: 250 calories, 9 g fat (3.5 g saturated fat), 510 mg sodium, 31 g carbs (1 g fiber, 5 g sugar), 12 g protein
Small Fries: 230 calories, 11 g fat (1.5 g saturated fat), 190 mg sodium, 31 g carbs (3 g fiber, 0 g sugar), 3 g protein
If you want to keep your fast-food meal within 500 calories, it's best to stick with the simple classics when you stop by McDonald's. Forget about a Double Quarter Pounder With Cheese, and don't even think about a Buttermilk Crispy Chicken Sandwich. Instead, grab a regular hamburger that will take you to 250 calories. Add small fries, which are 230 calories, and you end up at 480 calories, which means you might be able to steal an extra fry or two from a friend for that additional 20 calories. Also, a small McDonald's Coca-Cola has 150 calories and a large one has 290, so you might want to go with a refreshing bottle of water to keep yourself hydrated and healthy.
Burger King Big King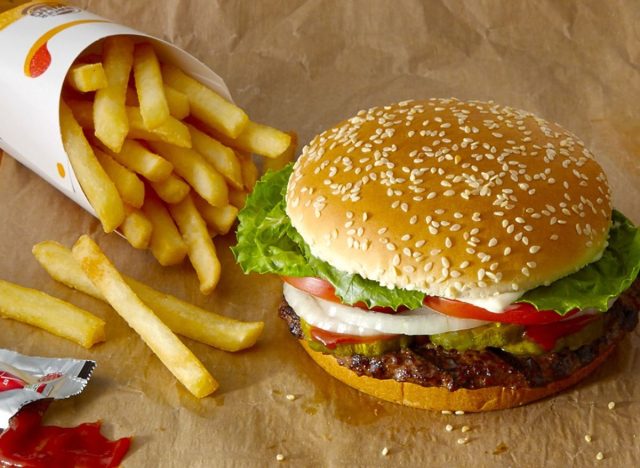 Big King: 492.1 calories, 30.3 g fat (12 g saturated fat), 1498.8 mg sodium, 32.4 g carbs (2.5 g fiber, 8.3 g sugar), 26.2 G protein
Burger King's food tends to contain quite a few calories, like the Whopper, which has 670 calories. Enjoy that with onion rings, and you add another 360 calories, or four mozzarella sticks that have 328 calories. This obviously makes it pretty much impossible to enjoy a burger and side that come out to around 500 calories. To stay within that range, you can have a Big King, but at over 490 calories, the burger alone will nearly push you to the 500-calorie goal.
"While the calories of this burger are not too much for one meal, you're probably not just getting the burger," Olszewski points out. "Not to mention, the sodium content almost meets the recommended limits for a full day. If ordering this option, try skipping the fries and getting a side of fruit or a salad for a more balanced meal with more fiber. You can also eat half and save the rest for later, or choose a smaller size sandwich."
Wendy's Jr. Cheeseburger and Junior Fries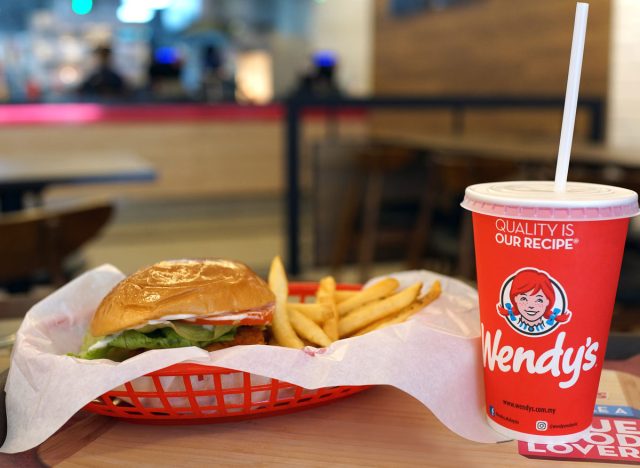 Jr. Cheeseburger: 290 calories, 14 g fat (6 g saturated fat), 610 mg sodium, 26 g carbs (1 g fiber, 6 g sugar), 14 g protein
Junior Fries: 210 calories, 9 g fat (1.5 g saturated fat), 370 mg sodium, 28 g carbs (2 g fiber, 0 g sugar), 3 g protein
Wendy's is another fast-food chain that offers a fair share of calorie-packed items on its menu. Understandably, the bigger options significantly multiply the calorie count with extra meat, layers of cheese, and sizzling strips of bacon. On the other hand, Wendy's has smaller options that you might find more tempting if you don't want to consume a day's worth of calories in one sitting. Try their Jr. cheeseburger, along with their junior fries, and your meal will come out to exactly 500 calories.
Chick-fil-A Nuggets, Chicken Noodle Soup, and Fruit Cup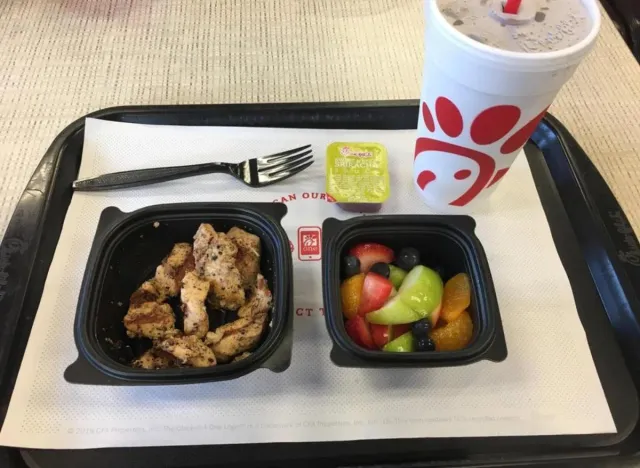 8-piece Chick-fil-A® Nuggets: 250 calories, 11 g fat (2.5 g saturated fat), 1210 mg sodium, 11 g carbs (0 g fiber, 1 g sugar), 27 g protein
Cup of Chicken Noodle Soup: 170 calories, 4 g fat (1 g saturated fat), 1220 mg sodium, 25 g carbs (1 g fiber, 1 g sugar), 10 g protein
Medium Fruit Cup: 60 calories, 0 g fat (0 g saturated fat), 0 mg sodium, 15 g carbs (2 g fiber, 11 g sugar), 1 g protein
Calorie-conscious Chick-fil-A customers can get quite a meal if they know what to order, and you can find a fairly balanced, 500-calorie fast-food meal here. For instance, pick up an 8-piece serving of the chain's breaded nuggets as well as a cup of chicken noodle soup. On top of that, you'll still be able to order a medium-sized fruit cup for dessert, which includes both red and green apples, mandarin orange segments, strawberry slices, and blueberries. Although all of this will keep you under 500 calories, you can knock off a few more by swapping out the breaded nuggets, which are pressure cooked in 100% refined peanut oil for 8 pieces of marinated grilled nuggets, which are just 130 calories.
Arby's Jalapeño Roast Beef Slider and Jalapeño Bites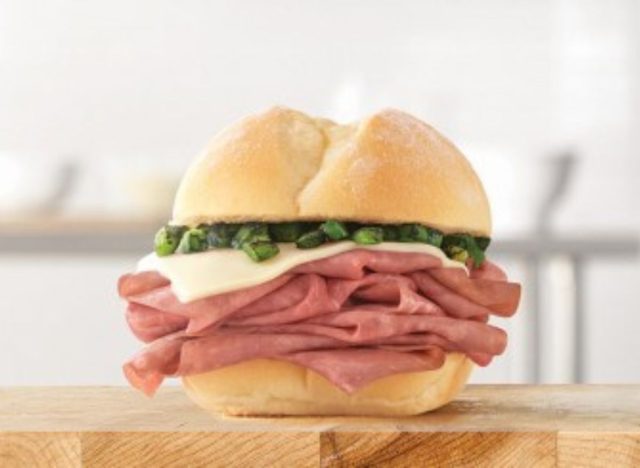 Jalapeño Roast Beef Slider: 180 calories, 60 g fat (3 g saturated fat), 490 mg sodium, 16 g carbs (1 g fiber, 2 g sugar), 10 g protein
Jalapeño Bites®: 290 calories, 17 g fat (6 g saturated fat), 660 mg sodium, 31 g carbs (2 g fiber, 3 g sugar), 5 g protein
Ditching extra calories doesn't mean that you also have to sacrifice taste. Just hop over to Arby's and grab a jalapeño roast beef slider, which only has 180 calories and boasts "diced fire-roasted jalapeños, thinly sliced roast beef," and Swiss cheese "on a soft slider bun." Keep things on the spicy side with melted cream cheese-filled jalapeño bites that actually have more calories than the slider, but will still keep things within your limit at 290 calories.
Chipotle Burrito Bowl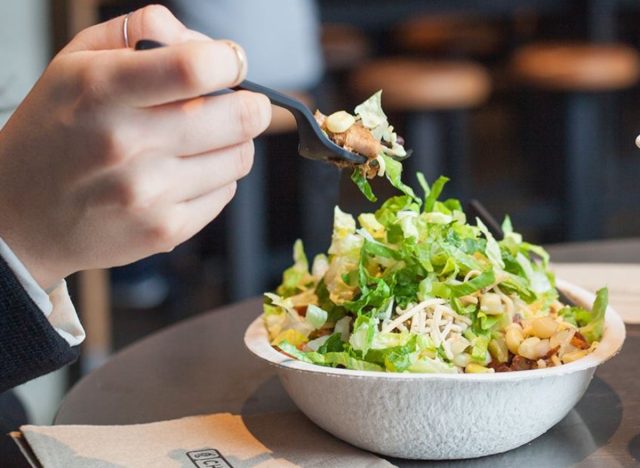 Steak: 150 calories, 6 g fat, 330 mg sodium, 1 g carbs (1 g fiber, 0 g sugar), 21 g protein
Brown Rice: 210 calories, 6 g fat, 190 mg sodium, 36 g carbs (2 g fiber, 0 g sugar), 4 g protein
Tomatillo-Green Chili Salsa: 15 calories, 0 g fat, 260 mg sodium, 4 g carbs (0 g fiber, 2 g sugar), 0 g protein
Cheese: 110 calories, 8 g fat, 190 mg sodium, 1 g carbs (0 g fiber, 0 g sugar), 6 g protein
One of the things you may adore about Chipotle is the fact that they let you customize your meal so that you get exactly what you want (even if that ends up costing you most then you expected). That means you can put together a delicious combination that has an appealing amount of calories. Although The New York Times once found that a "typical order at Chipotle has about 1,070 calories," you can create a delicious dish that has more than half of that amount. To do so, try a burrito bowl with steak, tomatillo-green chili salsa, cheese, and rice.
"The steak, brown rice, salsa, and cheese are all low in calories, making this a great choice for a healthier meal," says Mary Sabat MS, RDN, LD. "Not all of their bowls are low in calories, however, so building your own bowl to control the calories is the best option. This particular bowl is pretty balanced with some lean organic protein, a high-fiber grain (brown rice), and some salsa and cheese. An even better option would be to skip the cheese and add the vegetables, since the cheese adds more unneeded protein and additional saturated fat."
Sonic Jumbo Popcorn Chicken
Jumbo Popcorn Chicken®: 490 calories, 28 g fat (5 g saturated fat), 1,640 mg sodium, 36 g carbs (4 g fiber, 1 g sugar), 23 g protein
You may not be able to add a side to your meal when you opt for popcorn chicken from Sonic because it's already 490 calories on its own—but at least it's a jumbo-sized portion. Made with white meat that's breaded before being fried, these bite-sized bits are flavorful enough to be eaten as-is. However, you can add a few more calories and a lot more taste by dipping your chicken in honey bbq, buffalo sauce, ranch, or Sonic's signature sauce.
Taco Bell Soft Taco Supreme and Chips with Nacho Cheese Sauce
Soft Taco Supreme: 210 calories, 10 g fat (5 g saturated fat), 510 mg sodium, 20 g carbs (3 g fiber, 2 g sugar), 9 g protein6254a4d1642c605c54bf1cab17d50f1e
Chips and Nacho Cheese Sauce: 220 calories, 13 g fat (1.5 g saturated fat), 280 mg sodium, 24 g carbs (2 g fiber, 1 g sugar), 3 g protein
When you're not in the mood for a burger or fried chicken, you might want to indulge in a meal from Taco Bell, and you can easily find a 500-calorie fast-food meal at this chain. Although the chain's Soft Taco Supreme features seasoned beef and cheddar cheese, it also includes vegetables, thanks to the tomatoes and lettuce. On top of that, you might not have realized that Taco Bell uses a reduced-fat sour cream on their Soft Taco Supreme. The combination has only 210 calories, which means that you can also pick up some chips and Nacho Cheese Sauce, which has 220 calories. If these two options don't pique your interest or make your mouth water, then you have plenty of other options.
Jack in the Box Jr. Jumbo Jack Cheeseburger and Side Salad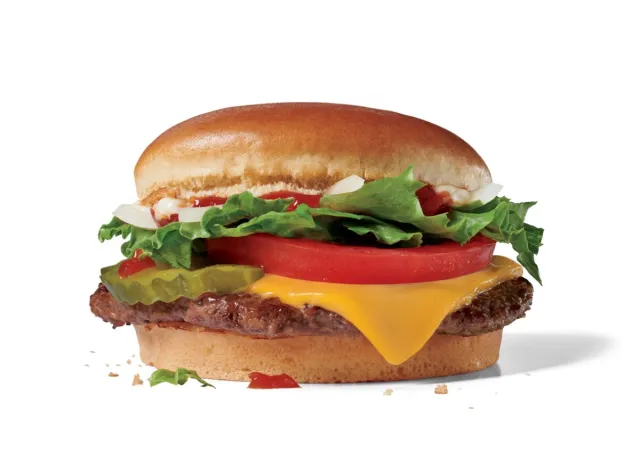 Jr. Jumbo Jack Cheeseburger: 440 calories, 29 g fat (8 g saturated fat), 900 mg sodium, 31 g carbs (1 g fiber, 5 g sugar), 16 g protein
Side Salad: 20 calories, 0 g fat (0 g saturated fat), 10 mg sodium, 4 g carbs (2 g fiber, 2 g sugar), 1 g protein
Although the Jumbo Jack cheeseburger from Jack in the Box contains 600 calories, there happens to be a smaller version of this jumbo item. You'll still be able to enjoy "100% beef seasoned as it grills, 2 slices of melty American cheese, lettuce, tomato, pickle, onions, [and] ketchup & mayo on a buttery bakery bun," but with 160 fewer calories. Throw in a side salad for even more deliciousness—we're talking about iceberg and romaine lettuce topped with grape tomatoes, cucumbers, carrots, ranch dressing, and seasoned croutons—with just 20 additional calories.
If you were thinking about just ordering the salad and not the burger, here is something to consider. "While a salad can be a better option than many other fast food menu options, a side salad itself will likely not be filling enough," Olszewski tells us. "I would advise asking to add protein, such as grilled chicken to make this a more filling and balanced meal. This would also be a great option to add on the side of your main entrée. Dressings that are not mayonnaise-based—like vinaigrettes or Italian dressing—are typically a healthier option."
Sabat agrees, saying, "The salad is low in calories, saturated fat, sodium, and carbs, and high in fiber and protein. This is not, however, a complete meal, so adding some protein and your own dressing might be a good option."
Desirée O
Desirée O is a freelance writer who covers lifestyle, food, and nutrition news among other topics.
Read more about Desirée
Sources referenced in this article