8 Fast-Food Chains That Serve the Highest Quality Chicken
These companies take pride in the chicken menu items served.
According to a study from the National Library of Medicine, over half of those who say they purchase organic groceries reported that they do so on a weekly basis. In short, organic eating is becoming more and more a regular part of our diet. It makes sense then that individuals expect their favorite restaurants to follow suit and source the highest quality chicken they can find.
Thankfully, as consumers have begun to demand more organic options in their restaurants, many fast-food chains have made positive changes, especially when it comes to chicken. While most haven't gone the organic route yet, many are sourcing locally, removing antibiotics, or making positive changes. Whether you are in the mood for chicken tenders, chicken quesadillas, or a simple chicken sandwich, there are several fast food options that offer healthier items.
It is important to note, however, that the definition of healthier chicken may differ from restaurant to restaurant. The U.S. Department of Agriculture defines it as chickens "raised in living conditions accommodating their natural behaviors (like the ability to graze on pasture), fed 100% organic feed and forage, and not administered antibiotics or hormones." A restaurant could take any or all of those criteria in what they consider to be organic, so use your discretion depending on what your personal preferences are when eating out.
Here are nine chicken chains that have committed to feeding you the best quality chicken.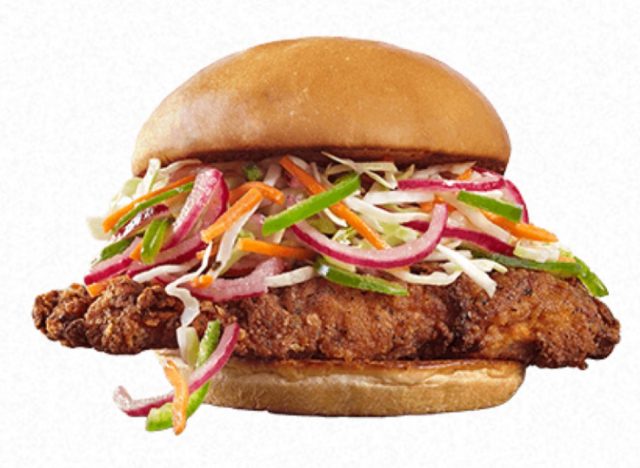 The Organic Coup started its business on a mission to serve only the highest quality organic chicken to its customers. The company advertises itself as "America's first USDA-certified organic fast food," and that is a claim they stand behind proudly. The Organic Coup emphasizes that they only use organic ingredients, and that includes chicken. The organic chicken option is available in sandwiches, wraps, salads, and bowls. Of course, you'll have to live in certain areas of California to take advantage of this delicious chicken spot.
Back in 2015, Panera Bread made a pledge to remove a large swath of ingredients from its food, including many of the added flavors and preservatives that make something decidedly inorganic. This "No No List" policy extended to its protein, including chicken. Panera shares that since 2021, all of the chicken served at its restaurants has been raised without any antibiotics.
Chipotle has been very loud and proud over the years about the quality of its food, branding itself as a fast food company that only uses fresh ingredients. Chipotle advertises its food as containing zero "artificial flavors, colors, or preservatives," including its chicken. The company shares that it only uses birds that are "fed a 100% vegetarian diet with no antibiotics," and that by 2024 it aims to only buy chicken that has been raised in alignment with the Global Animal Partnership's standards.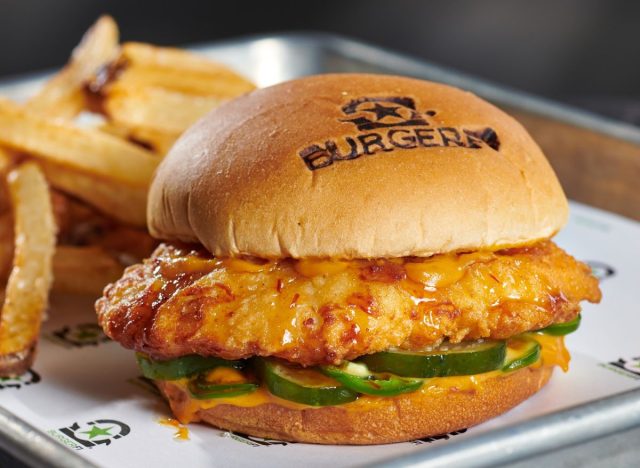 The name of the game at BurgerFi is, you guessed it, hamburgers. But if you want something a little leaner, it also offers a select number of chicken sandwiches. The cage-free chicken used in those meals, according to the BurgerFi website, is sourced from a family-owned farm and raised without any hormones or antibiotics. You can order just about anything on the menu at BurgerFi and know that it's made using only the freshest ingredients available.
Sweetgreen is a small fast-food chain with approximately 150 locations across the United States. It differentiates itself by serving primarily salads and bowls. If your order contains chicken, then Sweetgreen wants you to know that it has taken several steps to ensure its chicken only comes from farms that have earned Global Animal Partnership (GAP) certification. That not only includes farms with chickens that have been given optimal living conditions, but that are also processed more humanely.
Lyfe Kitchen is a small chain of restaurants, with three locations in Chicago. It is on a mission to do its part in protecting the planet, and that stems from the reusable serving ware as well as the quality of its ingredients. Its menu emphasizes that the chicken used in its dishes is either sourced locally or is all-natural, which is in alignment with its stance that it uses zero artificial ingredients in its dishes.6254a4d1642c605c54bf1cab17d50f1e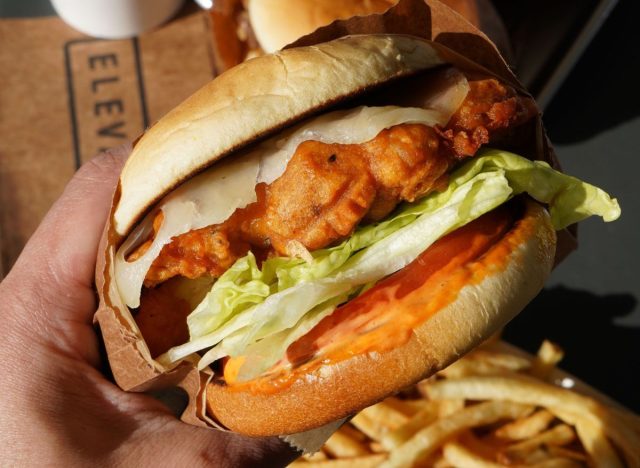 Elevation Burger operates primarily in the mid-Atlantic and Northeast regions of the United States, with an emphasis on serving organic hamburgers. The fast-food chain also serves crispy chicken tenders and Sriracha Chicken Sandwiches (with grilled and crispy options available). On its website, Elevation Burger stresses that they use only free-range chicken and USDA-certified organic beef in its products, with "no antibiotics ever."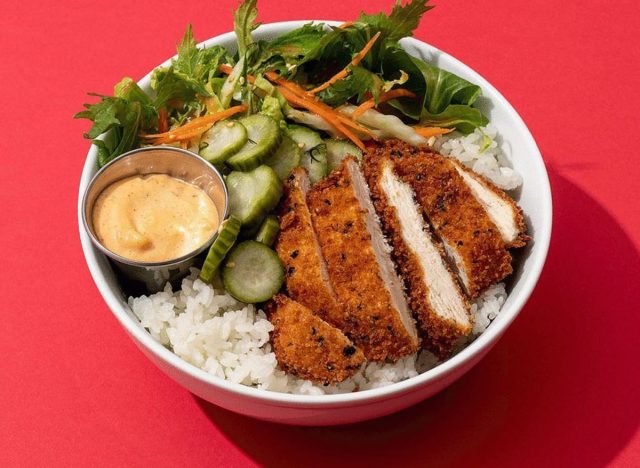 Tender Greens is a cafeteria-style fast-casual chain with several locations in California with a focus on serving freshly prepared ingredients. In addition to the usual suspects like sandwiches and salads, customers can also order hot plates of food, too. Menu options include Buttermilk Fried Chicken, Chipotle BBQ Chicken, and Salt and Pepper Chicken, to name a few. Across the board, Tender Greens shares on its website that its chicken is free-range and vegetarian-fed.
Carly Neil
Carly Neil is a freelance writer specializing in all things food, travel, Disney, and theme parks.
Read more about Carly