6 Foods You Should Never Buy at Aldi, According to Customers
This discount grocer does a whole lot right, but that doesn't mean it's immune from complaints.
There are many things that Aldi does right, from the discounted groceries to the random yet tempting impulse buys calling out from the "Aisle of Shame." If you had any doubts about the chain's popularity, consider its ambitious expansion plans for this year. Aldi just announced last month that it intends to open 120 new stores across the United States by the end of 2023 in order to meet the growing demand from shoppers.
"Our growth is led by our customers, and they continue to want more Aldi locations coast-to-coast," Aldi U.S. CEO Jason Hart said in the announcement regarding the new stores.
Despite this evident favor among customers, even some of the most dedicated Aldi fans have acknowledged that not every product at this retailer is completely stellar. Like with any major grocery chain, shoppers aren't afraid to speak up when items are inconsistent or even downright bad.
Take note, taste preferences can vary by the person and food quality can also vary by location or region, so some customers may not have any issues with items that others criticize. The foods that are included in this list are all products that racked up multiple complaints from customers, indicating that any taste and quality problems aren't just a one-off issue.
From iffy meats to some complaint-plagued snacks, here are the six foods you should avoid at Aldi, according to customers.
Fresh Produce
While some Aldi shoppers swear by the chain's fresh produce, others say that it can be very "hit or miss."  Customers have reported issues like fly-riddled packs of mushrooms, rotten potatoes, "slimy salads," bananas that quickly turn from green to overripe, and fast-spoiling fruits and veggies.6254a4d1642c605c54bf1cab17d50f1e
"Their fruits and vegetables are notoriously mediocre and need to be eaten immediately as well," one Redditor wrote in a thread about Aldi.
Aldi's fresh produce is locally grown, so any quality issues could be traced back to local suppliers instead of indicating a widespread defect with the chain's fruit and veggies. Still, you might want to take note from other Aldi customers who make sure to inspect the produce thoroughly before adding it to their carts. Or, look elsewhere for your produce, if there's consistent quality issues at your local stores.
Corned Beef Hash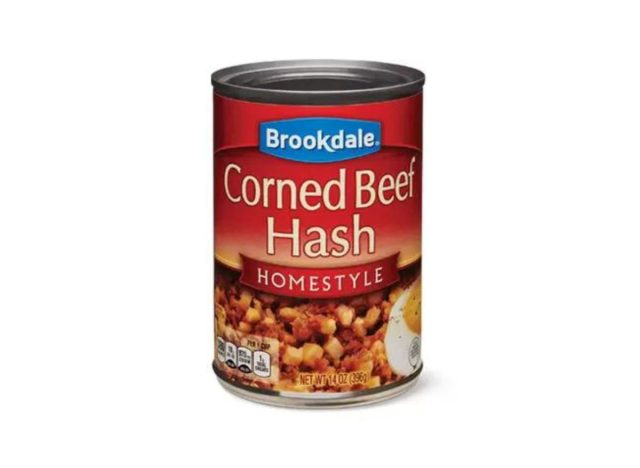 Aldi shoppers certainly aren't shy about their (ahem) negative feelings about the chain's canned Corned Beef Hash, which is sold under a private label brand called Brookdale.
In the words of one critic: "That canned corned beef hash was the worst canned food product I ever purchased in my entire life – and I'm 73."
The main issue with the heavily criticized product seems to be the texture. Customers likened it to "sludge" and "wet mush." Plus, they said it's heavy on grease. As a result, many have completely sworn off Aldi's version of this breakfast staple.
"I felt like it had been mixed up with the dogfood at the cannery," one Redditor wrote in reference to the product. "I won't be making that mistake again."
Certain Meats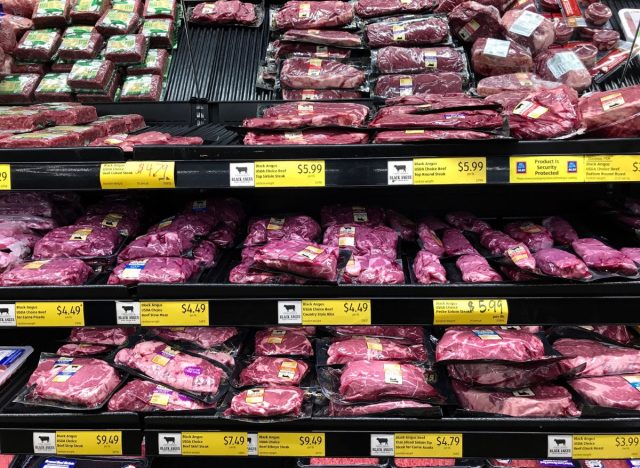 Like with Aldi's fresh produce, there are many customers who would go to bat for Aldi's meat and others who say they avoid it entirely.
One common complaint revolves around Aldi's chicken breasts, which customers say tend to be weird-textured and even "a bit funky." With these complaints in mind, it should come as no surprise that customers tend to avoid that problem-plagued poultry.
"The last time I bought fresh breasts they were just weird texturally to a point that put us off chicken for a month," a shopper commented on a Reddit thread.
Multiple customers also complained that they can't buy Aldi's marinated meats because they are too salty.
Jarred Alfredo Sauce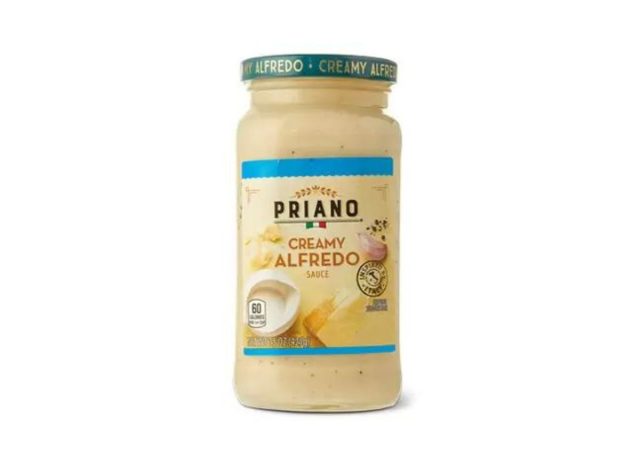 A great alfredo sauce should be creamy, cheesy, and salty, but Aldi customers describe the chain's take on this popular pasta sauce as "horrible" and "off-tasting."
Though they didn't specify the brand, these shoppers are presumably referring to Priano, a private label brand sold at Aldi. Apparently, some Aldi customers have been inspired to try their hand at making the sauce at home so they wouldn't have to rely on the grocer's version.
"Aldi alfredo is teaching us how to do alfredo from scratch and in that way, it provides a valuable service to the community," a customer said.
One customer even said that the sauce was one of the only products they would never buy again from Aldi.
Bread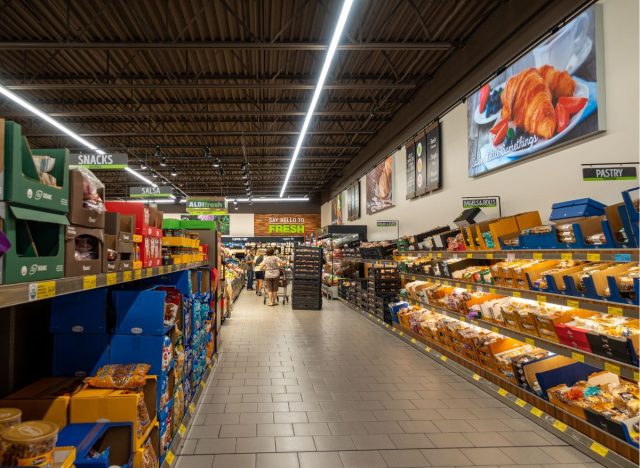 If you have a large family that has no trouble quickly downing a whole loaf of bread, you might never have any issues with the selection at Aldi. However, if you live in a household where loaves tend to linger, then perhaps you should shop elsewhere. Customers say the grocer's bread has some shelf-life issues and often goes bad after just a few days.
While some people say they can get around this issue by storing it in the freezer, those who prefer not to freeze bread may have no other option than avoiding Aldi's bread, if they don't want a loaf that will spoil quickly.
"If your family will eat it within a week you'll be fine. But as a single person I usually don't make it through the loaf before it goes bad (and I don't like refrigerating or freezing bread)," a Redditor wrote.
Certain Snacks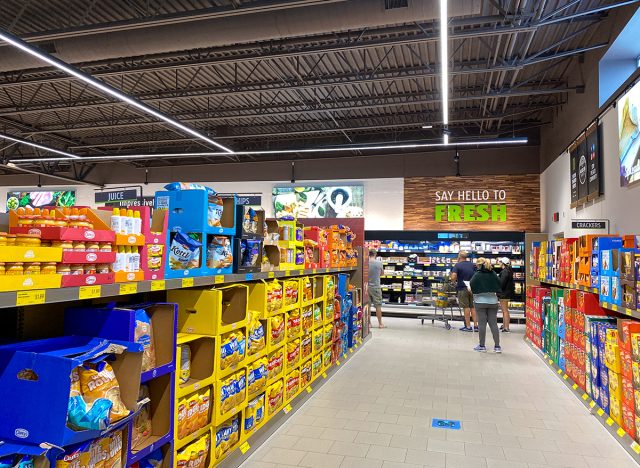 If you're not all that familiar with Aldi, just know that one of the ways the retailer saves customers money is by offering many off-brand versions of the name-brand products you'll see at other chains. The chips and snacks are no exception to this rule.
But while Aldi may be aiming to mimic the taste of classic grocery aisle chips like Doritos and Pringles with some of its private label knockoffs, customers say the chain misses the mark with certain products. Customers have complained about Aldi's versions of Doritos, Cheetos, and Tostitos Hint of Lime Tortilla Chips. which generally fall under the private label brand Clancy's.
Some have even completely sworn off Aldi's off-brand snacks.
"I just can't get into any of the Clancy's brand chips….they just taste off," a customer said.
Zoe Strozewski
Zoe Strozewski is a News Writer for Eat This, Not That! A Chicago native who now lives in New Jersey, she graduated from Kean University in 2020 with a bachelor's degree in journalism.
Read more about Zoe