6 Alternative Workouts To Try if You Hate the Gym
It's time to revamp your fitness routine!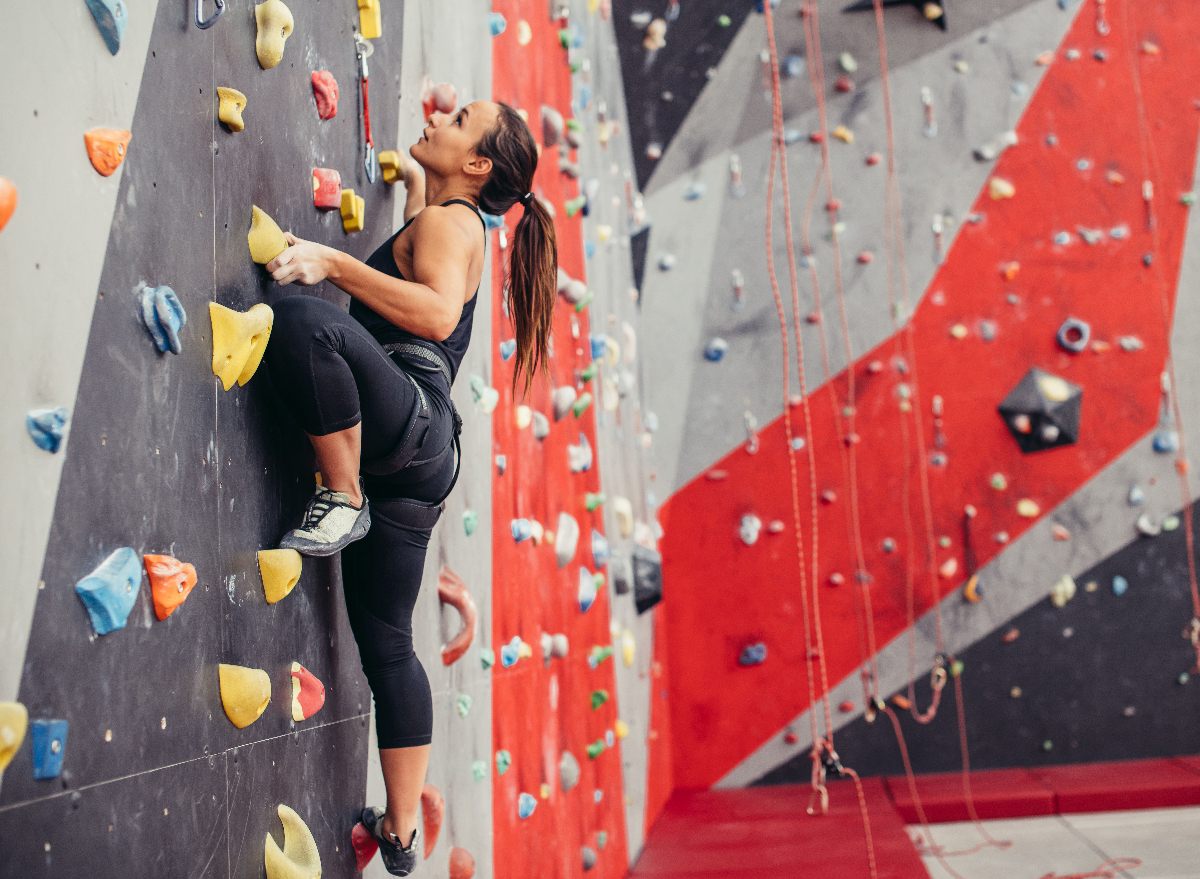 Hate the gym? You're not alone. As a matter of fact, a 2021 poll of 2,000 Americans discovered that 43% experience extreme boredom when working out. What's more, 54% of individuals stop paying attention to their fitness routine because they're seriously that bored. And to really put things into perspective, 34% of individuals would hand wash their dishes forever and 25% of the surveyed bunch would rather text an ex in order to avoid standard workouts. We understand the struggle can be real, which is why we consulted with the experts and rounded up five of the best alternative workouts to try if you hate the gym.
It's time to put a refreshing spin on your fitness time with these fun workouts that don't feel like typical "exercise" at all. Keep reading to learn more, and next, don't miss 5 Simple At-Home Exercises To Keep Your Weight Down for Good.
1. Take a meditation or yoga hike.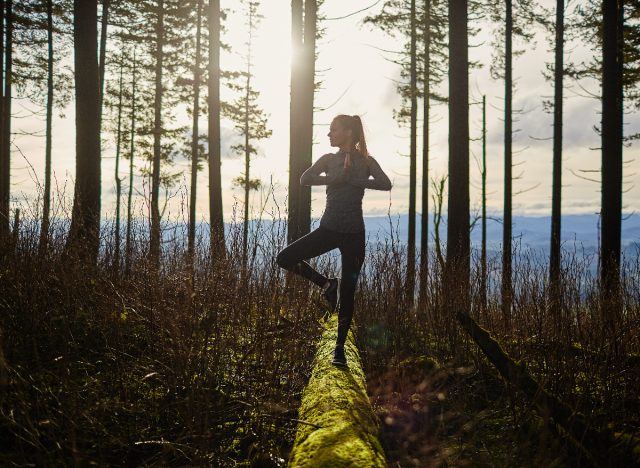 Spring and summer present the ultimate opportunity to soak up the beautiful outdoors, breathe in the fresh air, and stretch it out with some yoga. If you're bored with the gym, taking a meditation or yoga hike will certainly spice things up in your routine. Both your mental and physical health will benefit from this form of fitness, too.
Kelly Turner, E-RYT 500 and director of training and experience for YogaSix tells us, "Often studios will host special offerings where you meet at the trailhead, get to explore a beautiful trail, and enjoy some yoga in a gorgeous outdoor setting. Even the 'hiking' portions can become a sort of moving meditation or fun time to connect with others in your community."
2. Move and brew.
One of the best ways to switch up the same old routine you're bored with is by taking it somewhere else. "A workout or yoga class at a local brewery or winery, followed by a cold pint or glass of Pinot, is positively refreshing for the body, mind, and soul," Turner tells us.
In fact, there are breweries, wineries, and even distilleries across the country that offer fun fitness classes—from total-body boot camp workouts to Pilates. Something like KegFit at Woodland Empire Brewery (Boise, Idaho) is sure to be a good time—and they even use empty kegs during circuit training. Talk about being on brand!
Even though you'll be working up a bit of a sweat, a cold one (or two) afterward will be well worth the wait.
3. Go indoor rock climbing.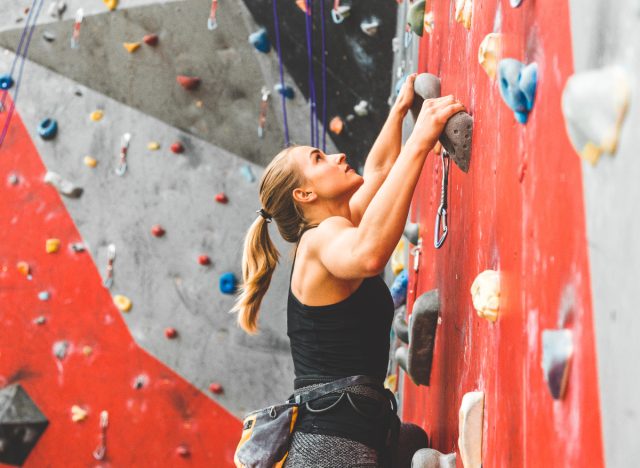 If you're not already indoor rock climbing, now's a perfect time to start. Heading to your closest rock climbing venue to try different climbing walls and challenge your entire body is an exhilarating way to boost your fitness. According to Climber News, not only will rock climbing help you build strength and muscle, but it will also help you work on your flexibility and stretching. Plus, you'll meet new people who share a common interest!
4. Get fit at sea or on the sand.
"The average age for cruisers has been dropping, and luckily, the fitness offerings are representative of that," Turner says. "YogaSix, along with seven other sister brands like Pure Barre, Club Pilates, StretchLab, AKT, Row House, and CycleBar, now offer versions of their boutique classes on the world-class ships of Princess Cruise Lines. Boat pose while on a boat? How cool is that?"
And if you can't make it out to sea on a cruise, roll out your mat, and take your workout to the beach. A change of scenery can really work wonders for your mental health—especially when warm weather's on the horizon.
5. Do a hula hooping workout.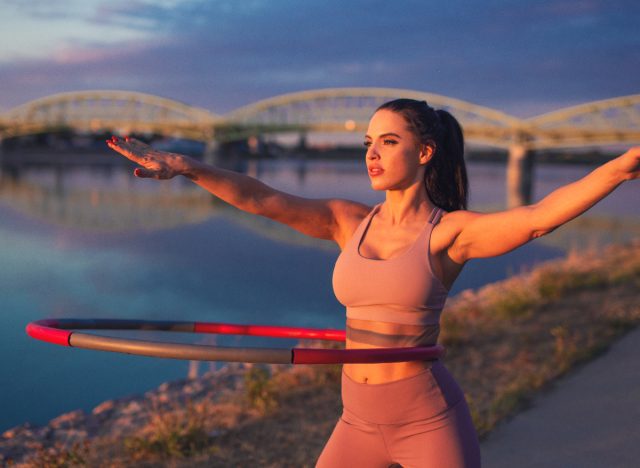 Hula hoops aren't just for kids! The hula hoop has more recently gained so much traction in the fitness world—and for good reason. According to WebMD, research shows that working out with a hula hoop is a unique way to reap the benefits you'd get from a classic cardio routine. For instance, one study conducted by the American Council on Exercise revealed that individuals who used the hula hoop for a half hour torched seven calories a minute, on average (210 calories in total). This is a greater amount of calories burned than power yoga and advanced Pilates, and is similar to cardio kickboxing and boot camp classes.6254a4d1642c605c54bf1cab17d50f1e
6. Try electro-muscle stimulation.
Let's face it: If you're ready to break up with the gym, it may be due to the crowds or the hefty time commitment. In order to really shake things up in your fitness routine and shave off some time, Gregory Breitbart, CEO of BODY20, suggests trying electro-muscle stimulation (EMS).
"EMS studios are popping up all over the country, including BODY20, and they provide customized 1-on-1 strength and cardio sessions, using FDA-cleared EMS suits and lasting just 20 minutes," Breitbart explains. "In each session, your body gets 150 times more muscle contractions than a conventional workout without any need to pick up a weight or use traditional gym equipment. EMS workouts are low-impact, increase muscular strength and endurance, improve posture, and help reduce fat. There's no faster and more effective way to get ready for summer."
Alexa Mellardo
Alexa is the Mind + Body Deputy Editor of Eat This, Not That!, overseeing the M+B channel and delivering compelling fitness, wellness, and self-care topics to readers.
Read more about Alexa
Sources referenced in this article