How Alyssa Milano Lost 46 Pounds
Alyssa Milano proves that it's possible to eat pizza, cheese, and (kale) chips—and still reach your body goals.
Anyone who remembers TV in the 80's and 90's is undoubtedly familiar with Alyssa Milano's raw talent, striking features, and petite figure. After years on the small screen starring in hits like "Who's the Boss?" and "Charmed," Milano settled down and had two adorable little ones with talent-agent hubby David Bugliari.
Although mommyhood brought a ton of joy into Milano's life, she struggled to get back to her pre-baby weight (115 pounds). To help the weight loss process along, she turned to the Atkins 40 diet—the same plan that helped Kim Kardashian lose 40 pounds. On the plan, which requires followers eat no more than 40 net carbs per day, Milano went from 172 pounds to 126 pounds—just 6 pounds heavier than she was when she became pregnant with her second child Elizabella.
If you're looking to shed some serious weight à la Alyssa, you're in luck! We recently checked in with her and asked her to reveal all of the low-carb goodies that she stocks in her kitchen—and some mouthwatering ways to enjoy them, too!
Read on to get in the know, and then restock your pantry with her go-to eats so you can start melting away the flab—stat! And once you've reached your goal weight, be sure to check out these ways to lose weight and keep it off to stay trim for life!
Alyssa fills her refrigerator with these fresh, versatile eats. Stock up to slim down!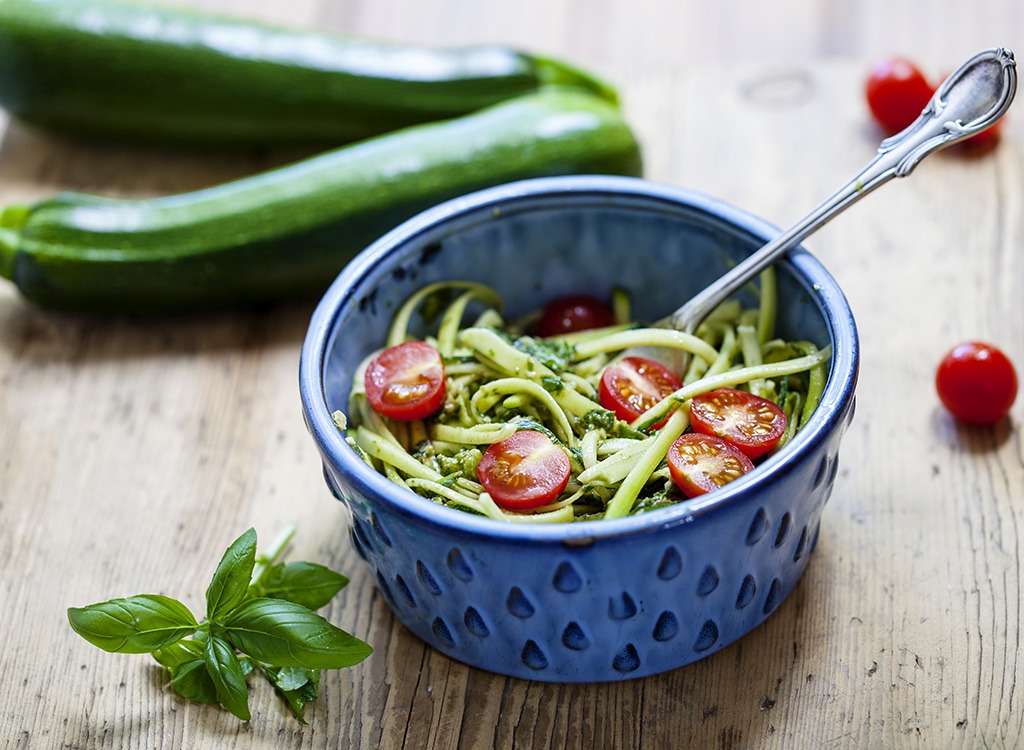 "Zucchinis are a great vegetable to have on hand to trim the carbs from your diet," Milano tells us. "When cut into noodle-like strands, zucchini becomes a wonderfully tender substitute for pasta." To get in on the zucchini noodle aka "zoodle" trend, check out these spiralizer recipes.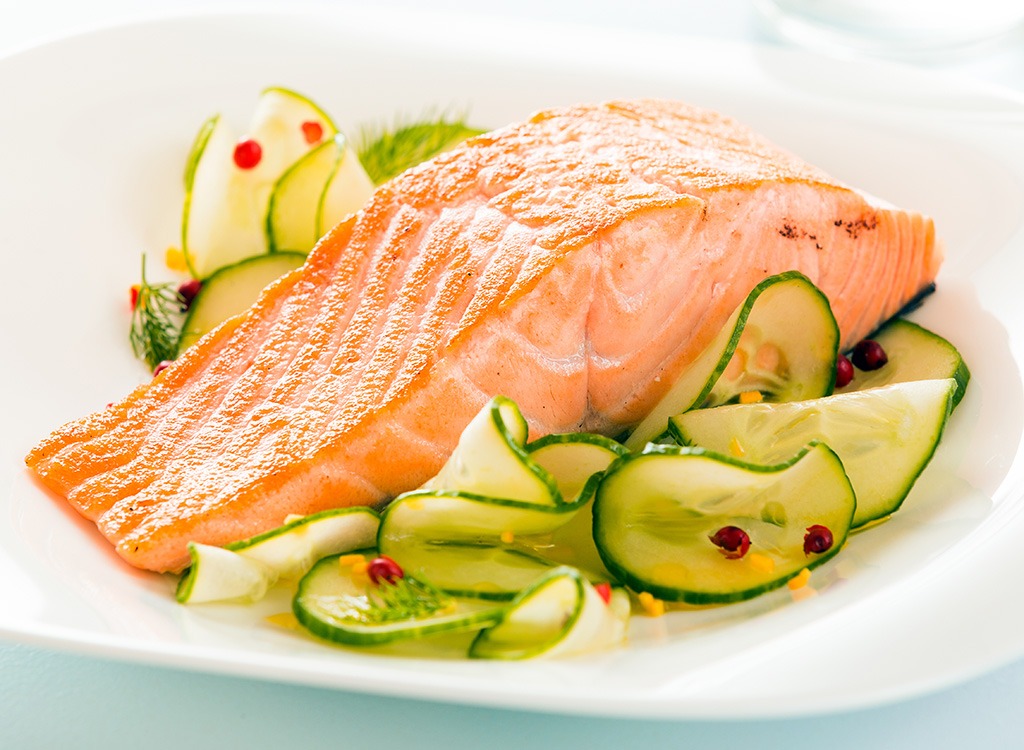 "Salmon is a great source of protein and omega-3 fatty acids. The smoked variety can be rolled with cream cheese and thin-cut cucumbers for an easy on-the-go snack or breakfast option," says Milano. Alyssa is smart to go fish. An International Journal of Obesity study found that eating three 5-ounce servings of salmon per week for four weeks as part of a low-calorie diet resulted in approximately 2.2 pounds more weight lost than following an equal calorie diet that didn't include fish.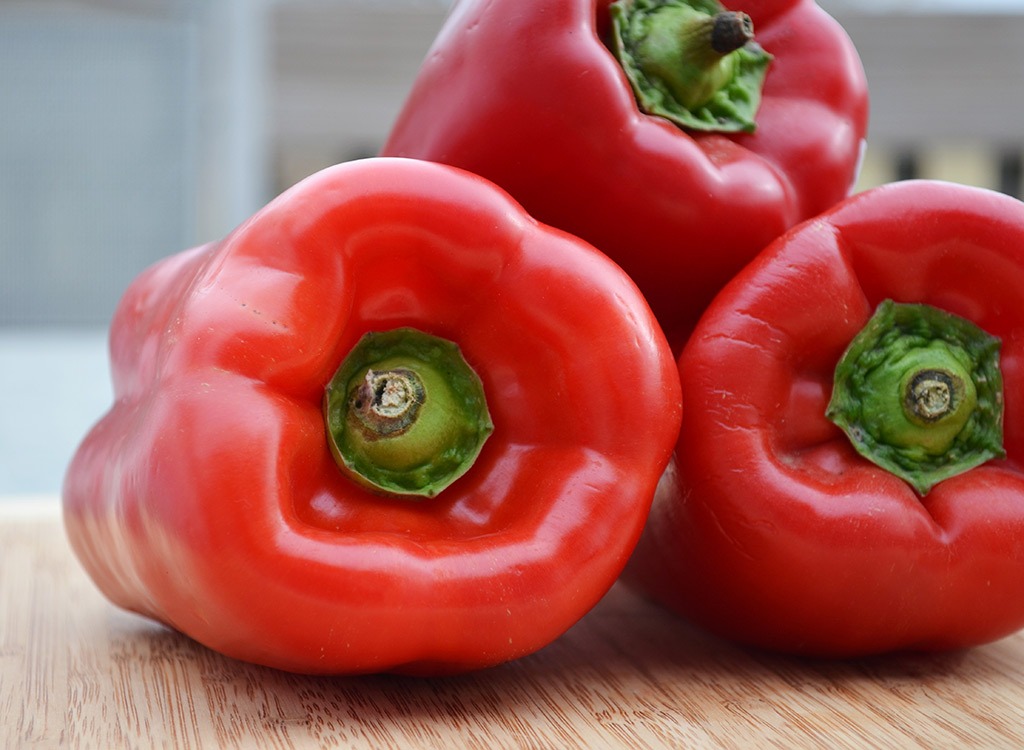 In addition to being low calorie and low carbohydrate, bell peppers are a great source of vitamin C—a nutrient that counteracts stress hormones that trigger the storage of belly fat. Alyssa likes to cut them into strips and eat them with a low-carb dip (like guac) instead of crackers or chips.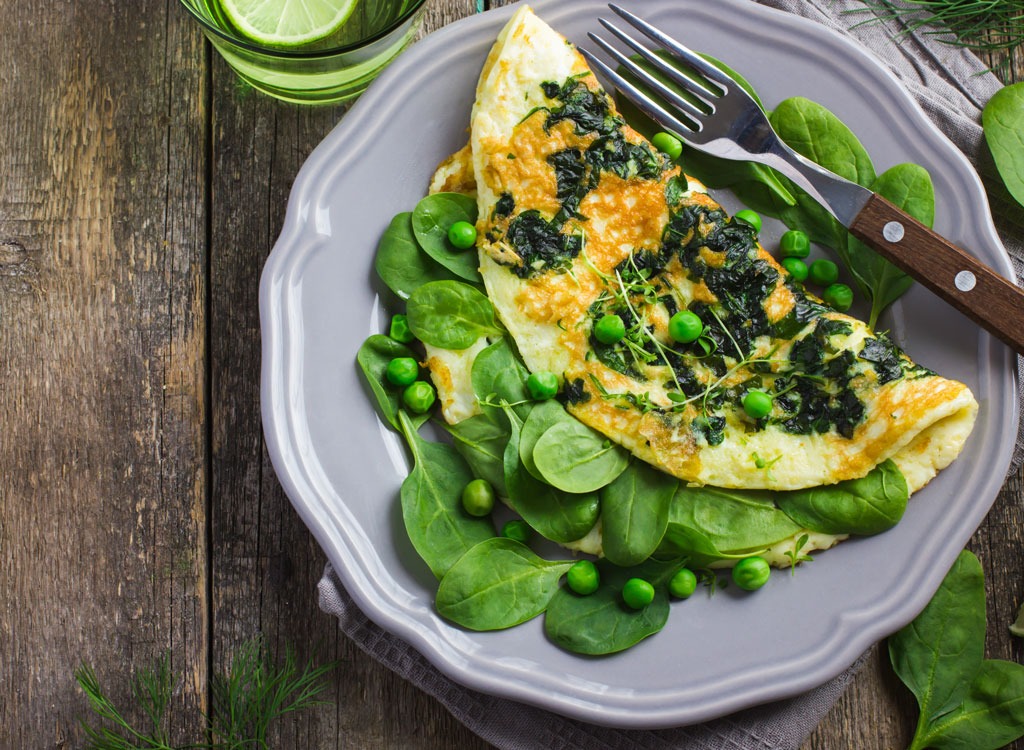 "With the endless ways to make this protein-rich choice, I can eat eggs at any time of the day," says Milano. Yes, even for supper! Check out these egg recipes for dinner for some culinary guidance. Whichever way you decide to eat it, though, make sure you consume the yolk. That's where all of the fat-burning choline is hiding.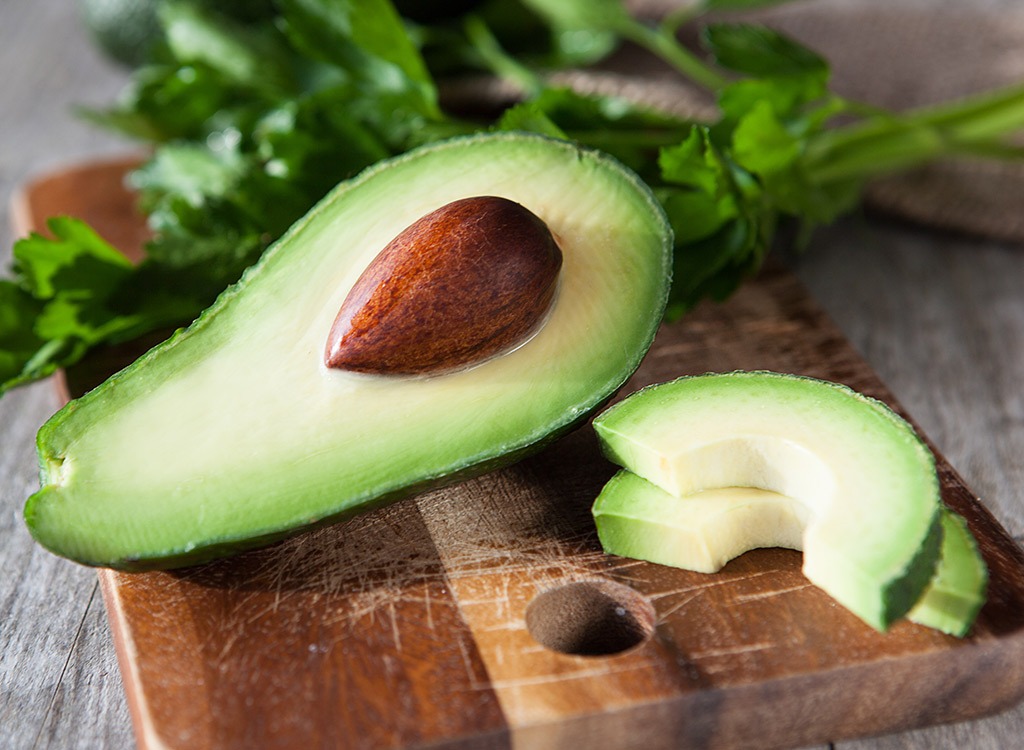 "Avocados are loaded with healthy omega-3 fatty acids, and they are really easy to use. They can be scooped right out of the skin and used in salads or sandwiches, or smashed into a delicious guacamole," advises Milano. For more ways to use the creamy, green fruit, check out these avocado recipes for weight loss.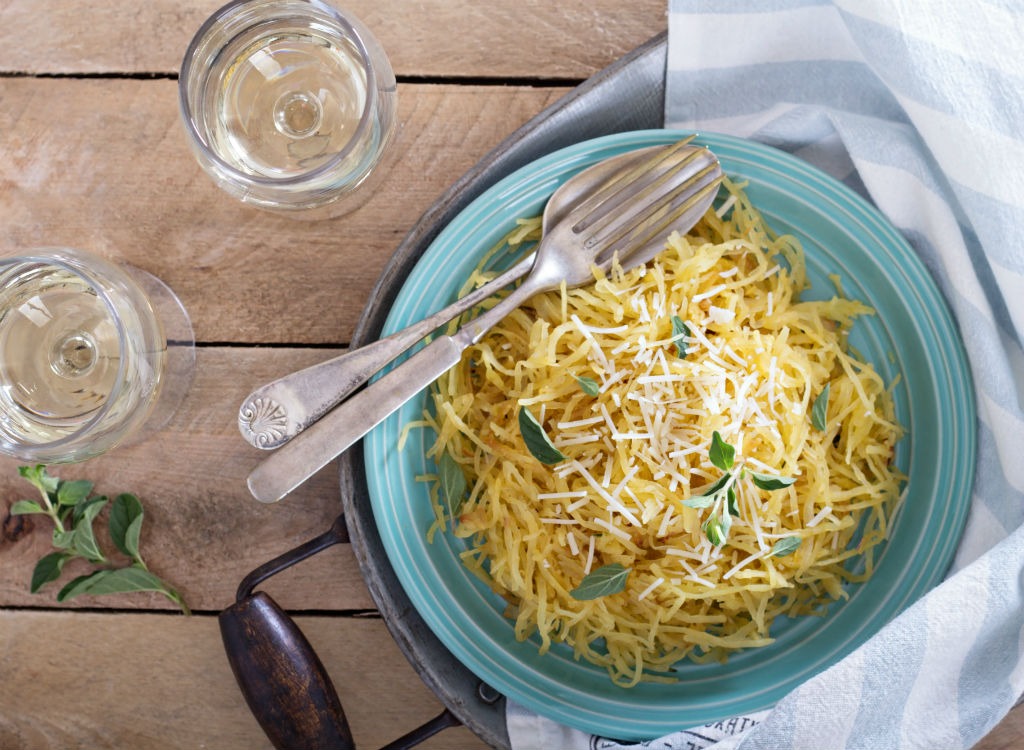 "Like zucchini, spaghetti squash is a versatile low carb alternative to traditional pasta," says Milano, who grew up eating hearty pasta dishes, bread, and rich sauces regularly with her Italian parents. "After they're baked, the squash strands can be topped with a chunky tomato sauce, curry, or a dressing of olive oil, salt, and pepper. It's really simple to make."
"Shrimp is one of the easiest seafood dishes to prepare—and it's very healthy. It's delicious served hot as a scampi or chilled alongside cocktail sauce," Alyssa tells us. Milano likes to make her own using no-sugar-added ketchup and jarred horseradish.
Category 2: PACKAGED FOODS
Most packaged food is junk that will rot you from the inside out. But there are some exceptions that make eating for quick weight loss an easier experience. Here are Alyssa's must-haves.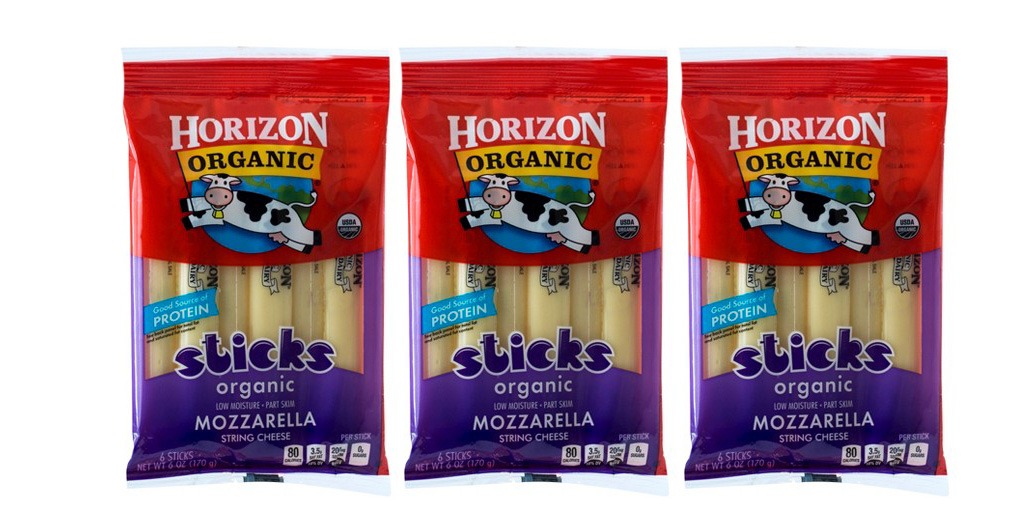 "String cheese is one of the most convenient low-carb snacks around—my kids and I love it! Your growing muscles will benefit from the extra shot of high-quality dairy protein," Milano explains. Pair the cheese with a small fiber-rich fruit like an apple or pear to create a perfect trifecta of hunger-taming nutrients: protein, fiber, and carbs.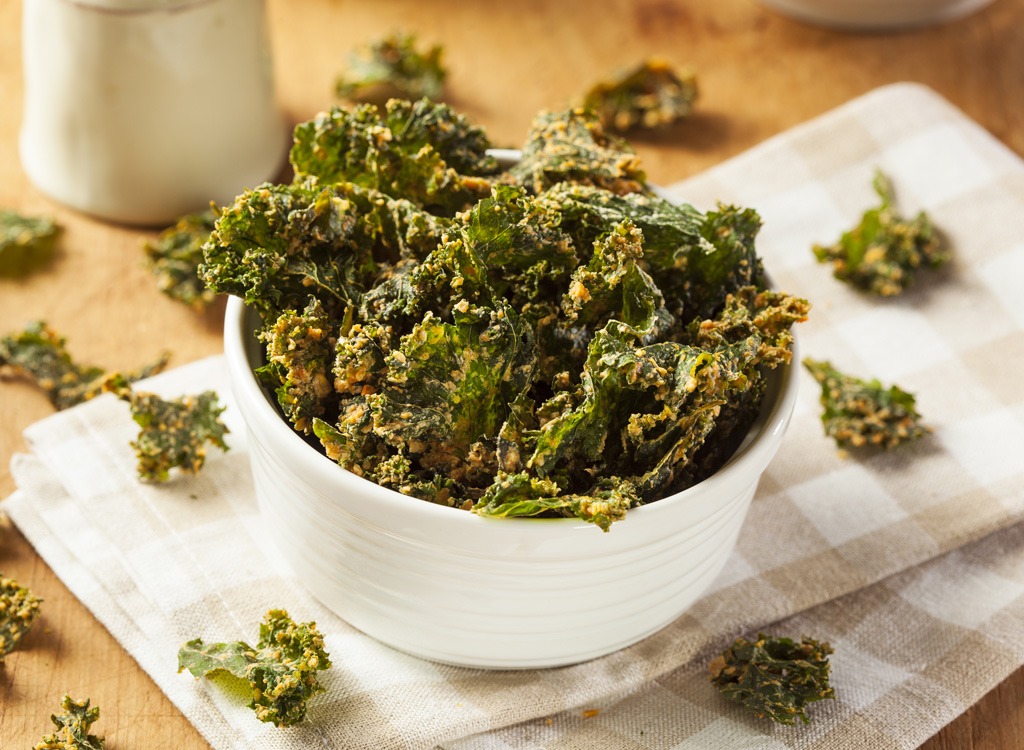 "Kale chips are surprisingly tasty, and have the benefit of being made with one of the most nutrient-dense foods on the planet," says Milano. We're big fans of Rhythm Superfoods Kool Ranch Kale Chips; however, kale chips are simple to make at home, too! Simply dress the leaves in a bit of salt, pepper, garlic powder and olive oil and pop them in a preheated 325 degrees F oven for 12 minutes. For more tasty ways to enjoy the leafy green superfood, check out these how to cook kale.
Atkins Harvest Trail Bars
Made with ingredients like peanuts, almonds, creamy peanut butter and whey protein, Alyssa says these snack bars are "a delicious, convenient and nutritious way to stay satisfied until your meal." With an impressive 8 grams of protein and 9 grams of fiber, it's no wonder they keep her so satiated! For more healthy bites that will whittle your middle, check out these 50 Snacks With 50 Calories or Less.
Sometimes a girl just has to give in to her cravings, but when she does, Milano does so responsibly by sticking with a perfectly portioned Atkins pizza. One of their Stone Fired varieties carries just 350 calories, an impressive 23 grams of protein and 17 grams of fiber—which is a far cry from what you'd find in a typical slice of takeout, folks! The best part? It tastes awesome: "I can't get enough of the … shredded cheeses and a zesty garlic pizza sauce…" says Milano, who is currently the spokesperson for Atkins' "Happy Weight" campaign.
Category 3: GO-TO SNACK AND MEAL COMBOS
Sure, premade meals and snacks are perfect for when you're short on time, but if you have 5 minutes to spare, why not whip up one of Alyssa's healthy and simple recipes? They're all packed with good-for-you nutrients that can give you the flat belly you've always wanted.
Greek Yogurt with Almonds and Berries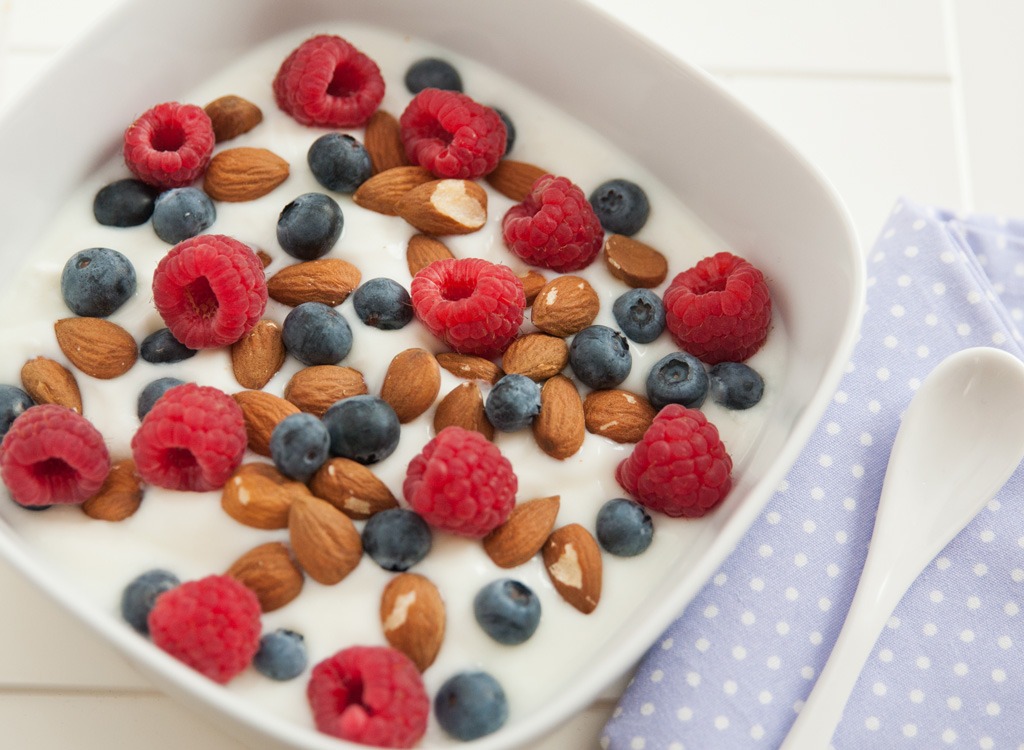 6254a4d1642c605c54bf1cab17d50f1e
Alyssa loves mixing almonds and blueberries into her Greek yogurt. Asides from a filling snack, it also makes for a fast breakfast option. "Greek yogurt supplies about 20 grams of protein per cup, and muscles everywhere have been benefiting from its surging popularity. Blueberries provide plenty of vitamin C, manganese, and antioxidants," says Milano, who cites keeping up with her kiddos as the major motivation behind her desire to lose weight.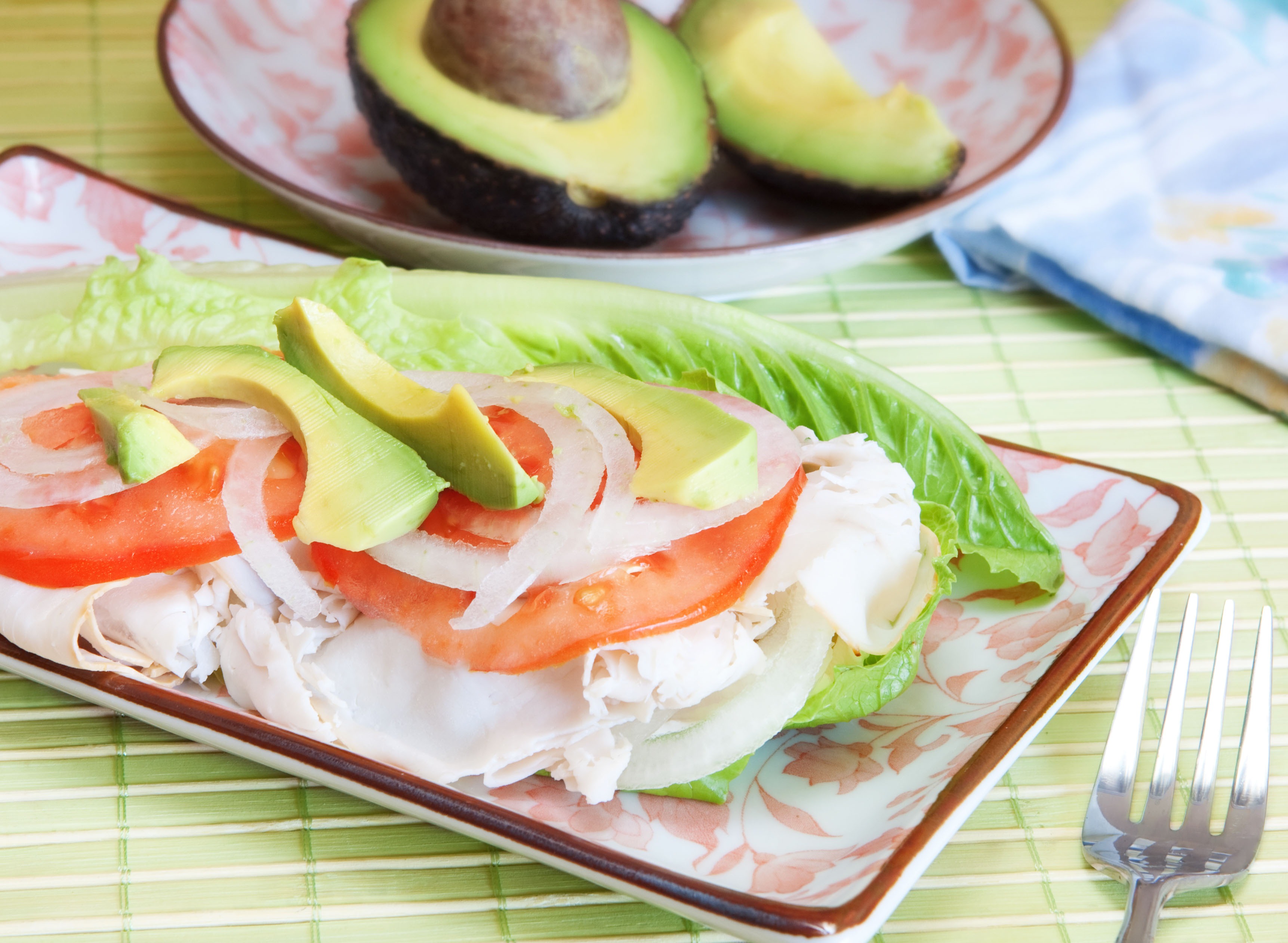 For a quick and easy lunch, Alyssa will take slices of roasted turkey breast and a slice of deli cheese and roll it around an asparagus stalk or green bean. Turkey and cheese also taste great rolled up in a big lettuce leaf with some a smear of mustard or hummus. Pair it with a broth based veggie soup to round out your meal. For even more delicious flat-belly lunch ideas, indulge in the all-new Zero Belly Cookbook!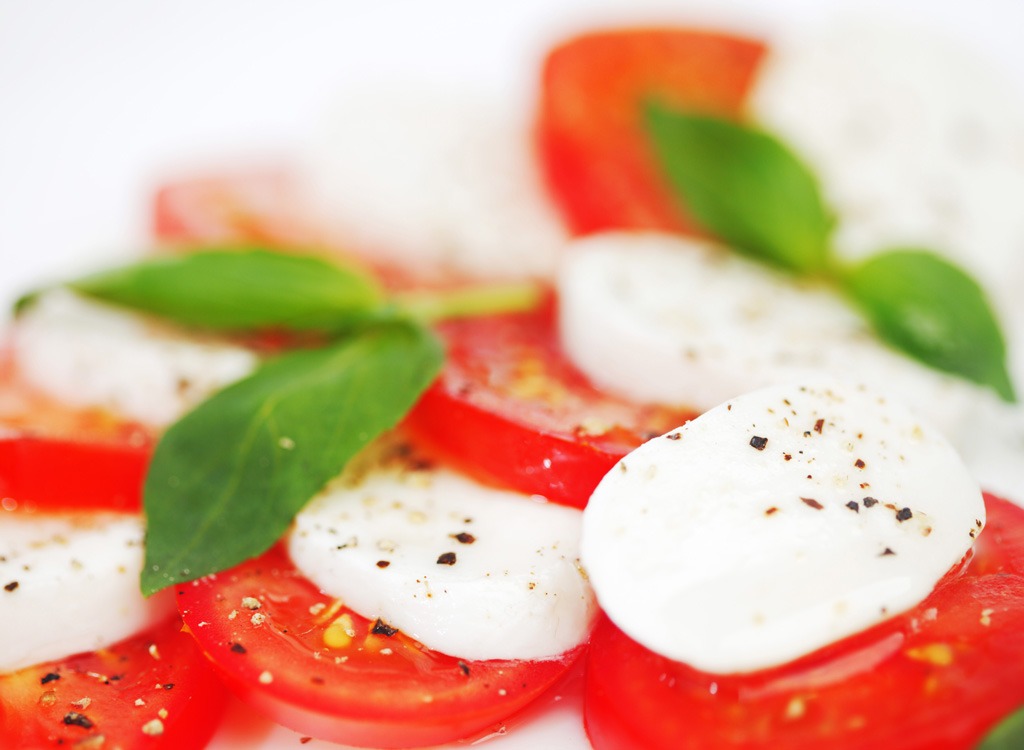 "Fresh tomatoes and mozzarella cheese are one of the tastiest pairs out there! Not to mention, tomatoes are full of lycopene, a brain-protective phytonutrient that gives fruits their red hue," says Milano. To make her Caprese bites at home, take two slices of tomato and top them with chopped fresh basil and shredded mozzarella. Place the topped-off tomatoes on a baking pan and put it under the broiler until the cheese starts to melt—it should only take about a minute. And speaking of speedy recipes that can help you lose your spare tire, check out these 15 Healthy Breakfast Ideas: 5 Minutes, 5 Ingredients!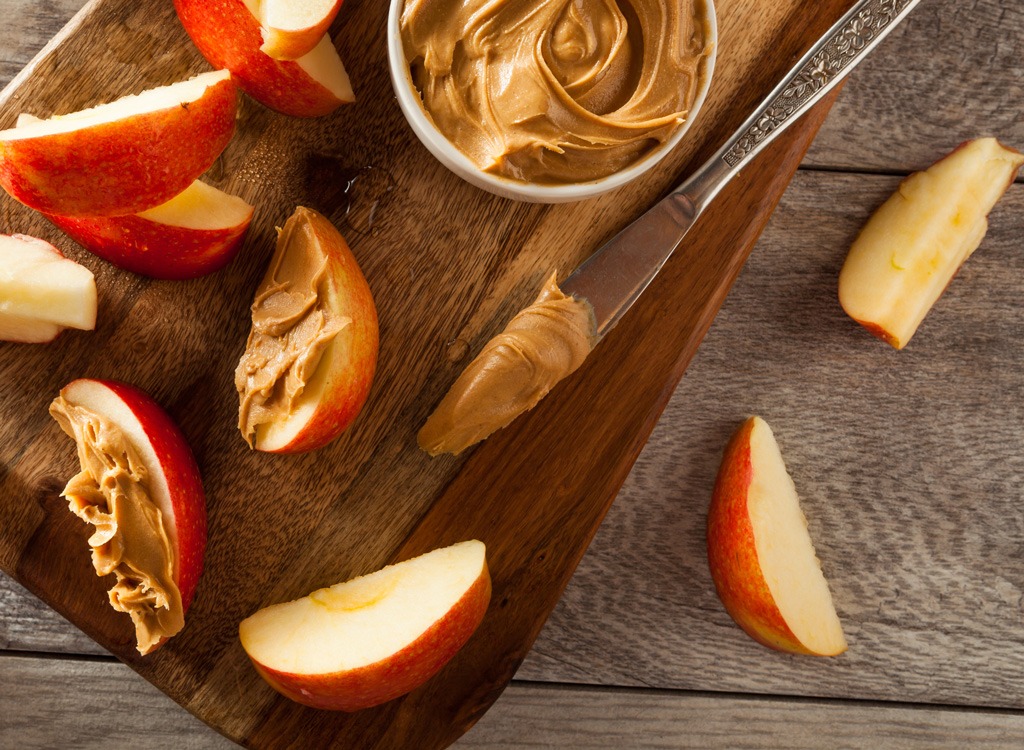 Alyssa keeps afternoon hunger at bay by topping apple slices with nut butter. The combination of the fiber from the apple and the healthy fats and protein from the nut butter is a nutritional winner we've always been a fan of. To ensure you're buying a healthy spread, look for jars filled only with nuts and maybe a bit of salt. If you see any added sugars or partially hydrogenated fats on the label, put it back; it's a nutritional dud.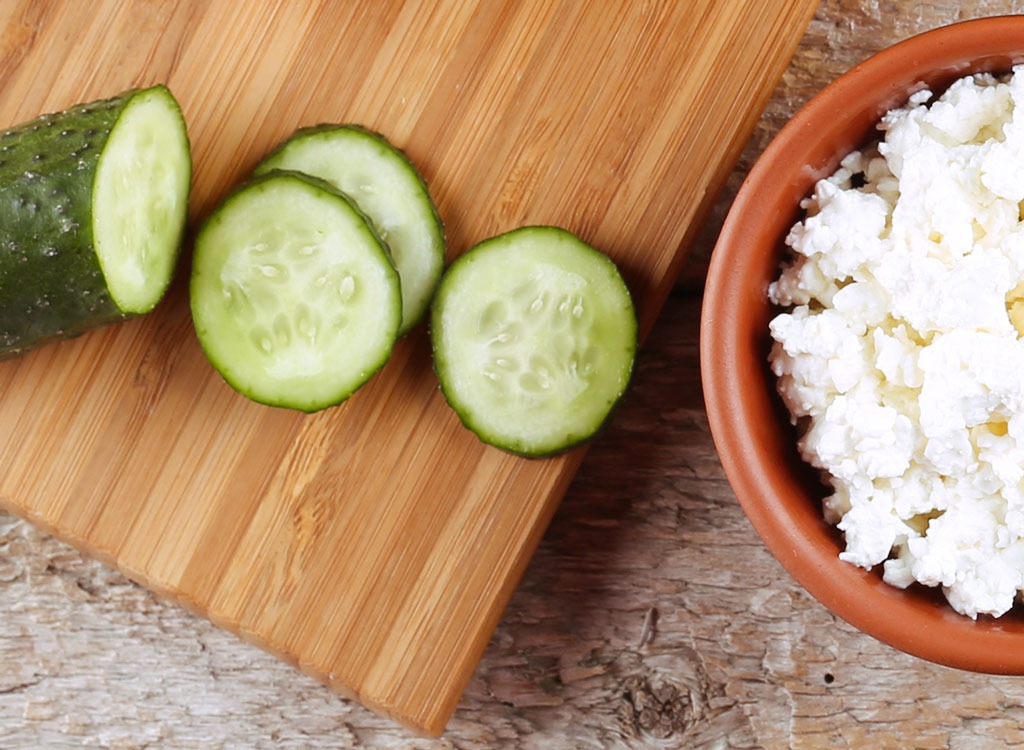 "Anything with cucumber tastes so refreshing! For that reason, I'm a big fan of making cucumber 'boats' filled with ricotta and a sprinkle of seasoned salt. It's the perfect low-carb snack that provides a low-carb veggie, some protein, and healthy fats," says Milano.
Celery sticks stuffed with peanut butter is another snack time staple in Milano's house. "Celery is made up of about 95 percent water, so this is a snack that's big on nutrition but low in calories and six-pack-killing processed carbs," notes Milano.
Cottage Cheese with Peach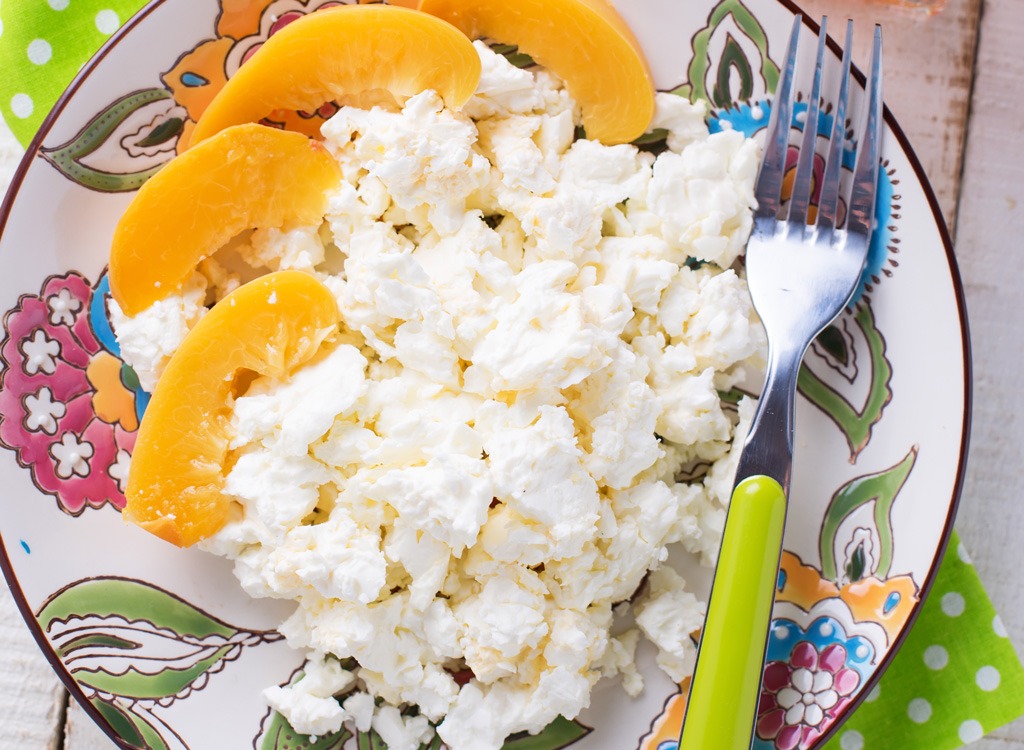 "A scoop of cottage cheese topped with a small fresh peach is the perfect snack when fresh peaches are in season. Grab a small one, chop it up and enjoy with a ½ cup of protein-packed cottage cheese," suggests Alyssa.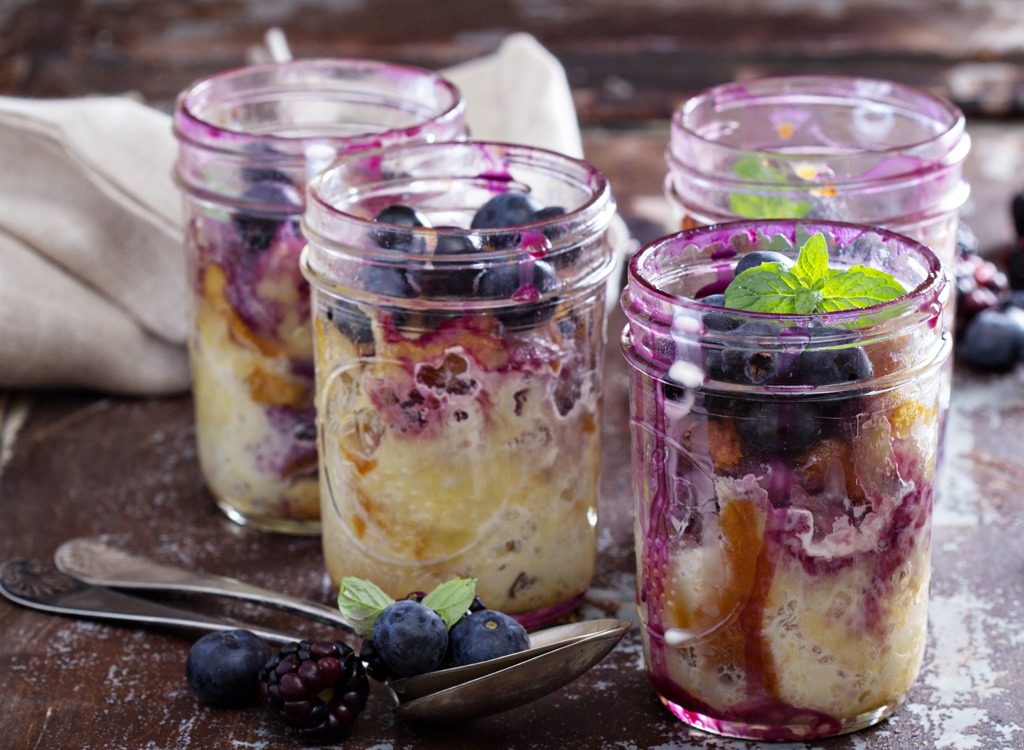 When she's craving something sweet, Alyssa makes a "custard" by mashing ¼ cup blueberries with two tablespoons of mascarpone cheese. She tops the mixture off with a dusting of flaxseed meal for a boost of fiber. Talk about a healthy and creative way to satisfy a sweet tooth!
Pineapple with Mixed Nuts
For a simple sweet and crunchy snack, Alyssa likes to enjoy a ½ cup of fresh pineapple with a ½ cup of mixed nuts. She lists walnuts, hazelnuts, and almonds among her favorites.