8 Best Cheddar Cheeses at the Supermarket, and 2 You Should Avoid
Never buy pre-shredded, always go for sharp . . . and other tips on picking the best cheddar.
This post contains affiliate links. If you use these links to buy something, we may earn a commission.
Cheddar cheese is the second most consumed cheese in the US. You'll find it in everything from mac n' cheese to quesadillas, on snack platters, and served with apple pie in Wisconsin. This pungent cow's milk cheese was created in England, but because its production isn't tied exclusively to any region (unlike champagne for example), many countries make their own cheddar.
Cheddar is a harder cheese but can be vastly different in texture depending on how long it's been aged. Its color also varies, which is mostly due to food coloring added in the production process. Younger cheddar is smooth and mild, while aged cheddar is a little crumbly with a sharper taste. You can find cheddar in many forms at the grocery store, including shredded, sliced, or in blocks. Some advise against buying pre-shredded cheese because it will contain starch to prevent clumping.
How to Pick the Best Cheddar Cheese
To our surprise, there is less variation in quality from cheddar to cheddar than we've seen in some other categories (like cheese singles, for example). Most supermarket cheddars have pretty comparable ingredient lists and nutrition facts, with only a handful of option we wouldn't recommend.
The majority of the cheddars have 110 calories per 1 ounce, with about 9 grams of fat and 6 grams of saturated fat. The difference in ranking comes from the quality of actual ingredients, sodium content, as well as what the brands themselves are doing to give back to their communities, employees, or the environment.
Look for a short ingredient list. A cheddar really only needs milk, cultures, enzymes, and salt. Some cheeses use annatto, a natural coloring made from plants, to turn the product orange. While not needed, it's also not necessarily a problem ingredient.
For a better use of calories, choose an aged (sharp) cheddar instead of a mild cheddar. An aged cheddar has a more intense flavor, meaning you can use less for a bigger flavor impact.
Opt for a block, instead of slices or shreds. The pre-shredded and pre-cut cheeses will almost always have a higher price tag than their block counterparts. On top of that, the pre-shredded cheese will almost certainly have more additives and preservatives to keep it from clumping.
The best cheddar cheeses to buy
1. Kerrygold Aged Cheddar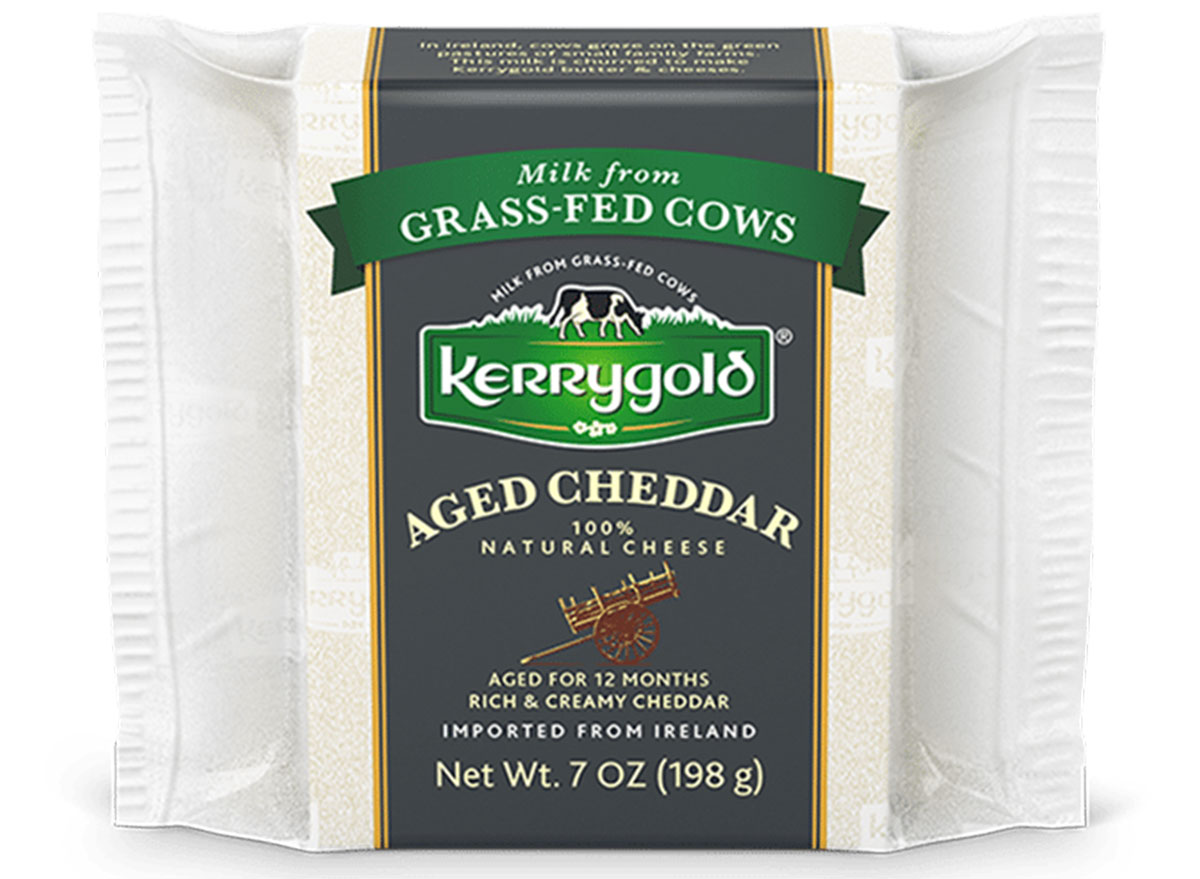 One serving
: 1 oz (28 g), 110 calories, 9 g fat, 6 g saturated fat, 210 mg sodium, 0 g carbs, 0 g fiber, 0 g sugar, 7 g protein
Kerrygold aged cheddar has a trim ingredient list, which makes it is one of the top picks in the category. The fewer ingredients a product uses, the higher quality they need to be in order for it to taste great, which is absolutely the case here. Kerrygold is made in Ireland, with milk from grass-fed cows. The farmers even harvest surplus summer grass to use in winter, which is an extra step in providing a quality diet for the animals. The brand upholds strong animal welfare and sustainability practices, and supports local farm co-ops. Because this is an aged cheddar, you only need a little for a robust flavor.
2. Cabot Vermont Sharp Cheddar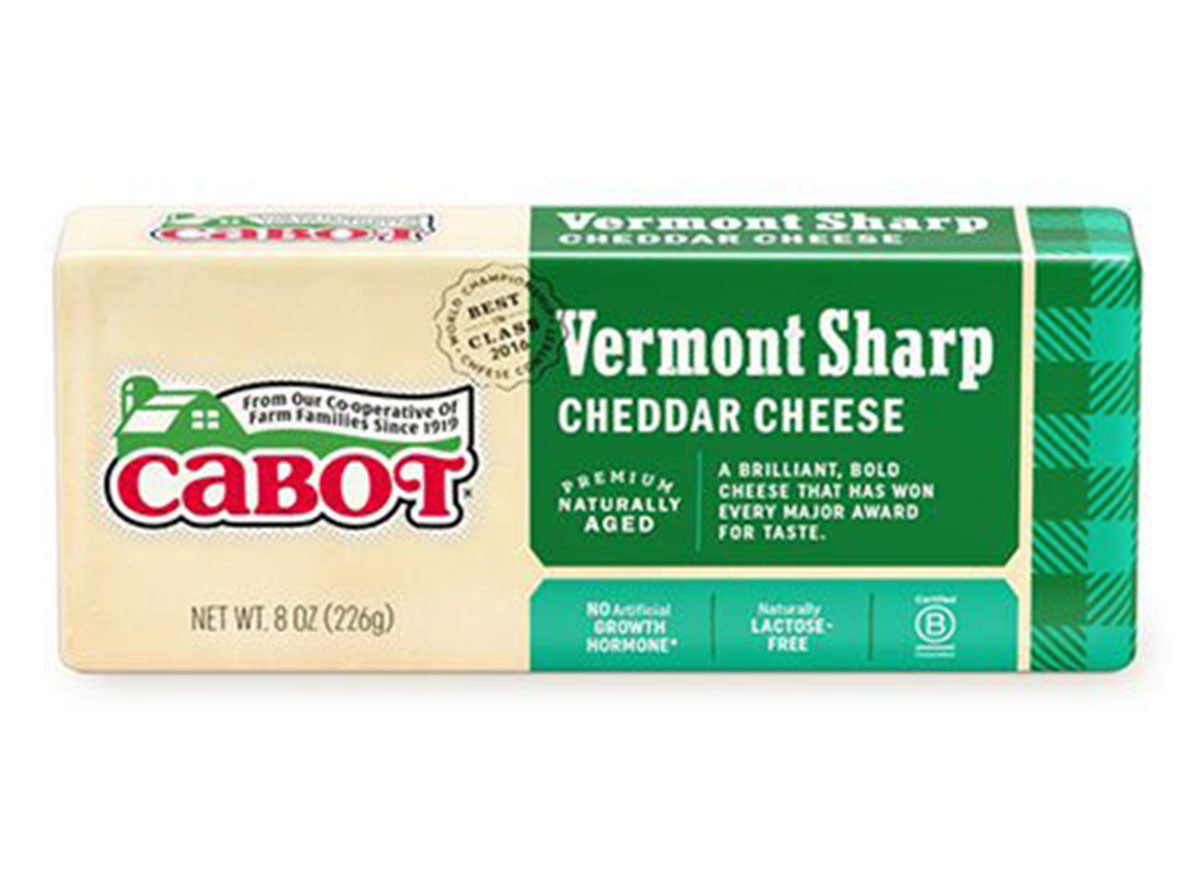 One serving
: 1 oz (28 g), 110 calories, 9 g fat, 6 g saturated fat, 180 mg sodium, 1 g carbs, 7 g protein
Cabot's sharp cheddar has the same simple ingredients as other cheeses in this lineup. But the brand itself holds "Best in Class" awards for several of their cheeses from national and international cheese competitions, which attests to their overall production quality. Cabot is a B corp which means they meet the highest standards for social and environmental practices, transparency, and legal accountability in creating an inclusive global economy. The company is comprised of 800 family-owned farms, so if supporting small farmers is a priority for you, this is your perfect option.
3. Cabot Sharp Light Natural Vermont Cheddar, 50% Reduced Fat
One serving
: 1 ounce (28 g), 70 calories, 4 g fat, 3 g saturated fat, 170 mg sodium, 0 g carbs, 0 g fiber, 0 g sugar, 8 g protein
Clearly we think Cabot's doing something right, so what sets this specific cheese apart? Well it's a reduced fat cheddar, which means it's specifically made with low-fat milk to provide half the amount of fat as the standard cheddar cheese. Coming in at 70 calories per ounce instead of 110, and 4 grams of fat instead of 9, this may be your pick for a high quality, responsibly-made cheese, if you're keeping a close eye on the calorie and fat count. The addition you may notice on the ingredient list here is vitamin A palmitate. Per Cabot's website, this is a substance naturally found in milk, but lost when the fat content is reduced. The law mandates the addition of vitamin A to such products, and the term "palmitate" is associated with a fatty acid from plants which helps the vitamin A remain stable. Nothing sketchy here!
4. 365 Everyday Value Organic Sharp Cheddar
One serving
: 1 oz (28 g), 110 calories, 9 g fat, 5 g saturated fat, 180 mg sodium, 1 g carb, 0 g fiber, 0 g sugar, 7 g protein
Whole Foods' 365 brand sharp cheddar is made from organic milk with a lower amount of sodium. If choosing organic is important to you (especially if you think about the sheer amount of milk needed to make a pound of cheese), then an in-house brand of organic cheese, that's also flavorful (sharp), is a smart decision. Because it's a product of Whole Foods, you know this product automatically meets certain standards of ingredient quality and sourcing.
5. Tillamook Medium Cheddar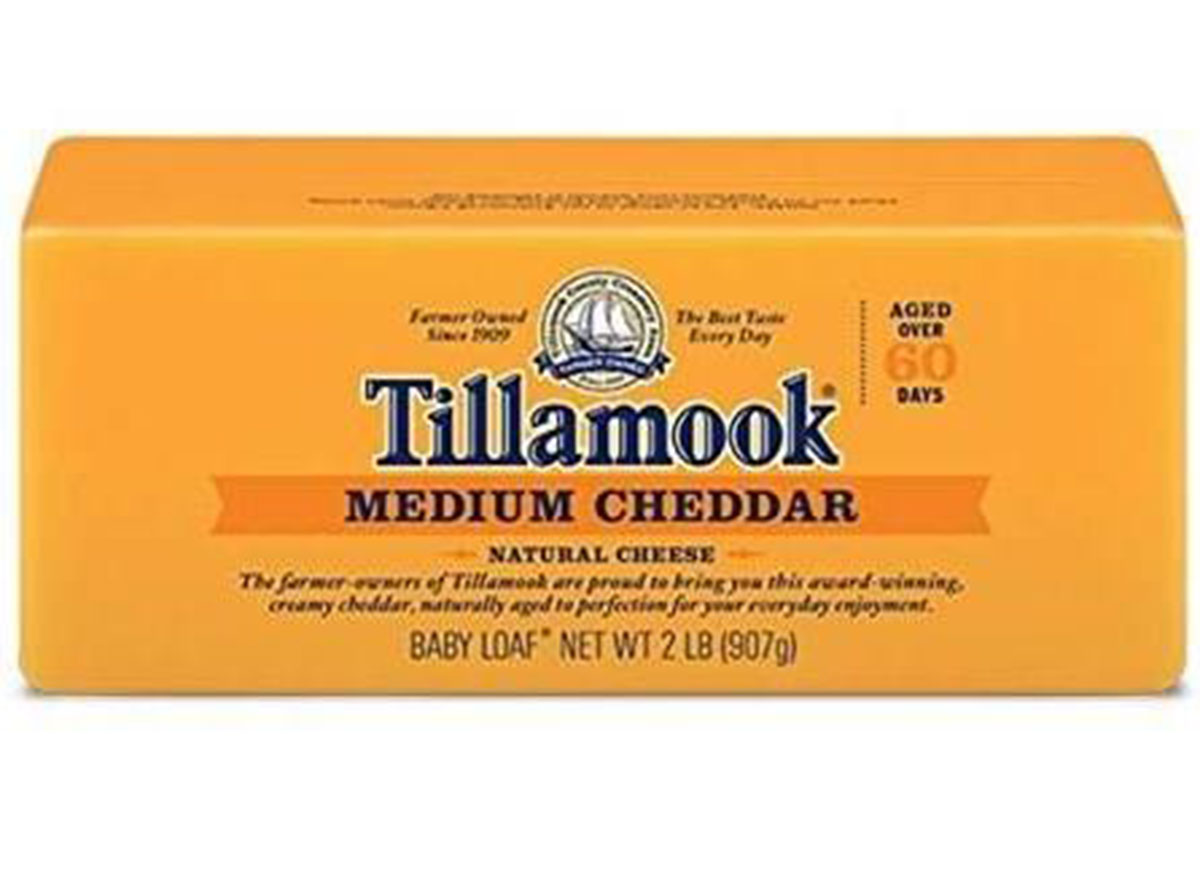 One serving
: 1 0z (28 g), 110 calories, 9 g fat, 6 g saturated fat, 170 mg sodium, 0 g carbs, 0 g fiber, 0 g sugar, 7 g protein
Tillamook's medium cheddar lists cultured milk, salt, enzymes on its ingredient list. The one addition to this list that stands out is annatto, the aforementioned food coloring derived from plants. However, even though it's a natural, non-harmful substance, the coloring is used for visual appeal only, and isn't a necessary ingredient. So it's up to you to decide whether you'd rather skip unnecessary food coloring in your cheese. Tillamook is another farmer-owned and led co-op. They abide by six commitments of stewardship to ensure everyone who is part of the process (including the cows and the environment) are properly treated.
6. Organic Valley Raw Sharp Cheddar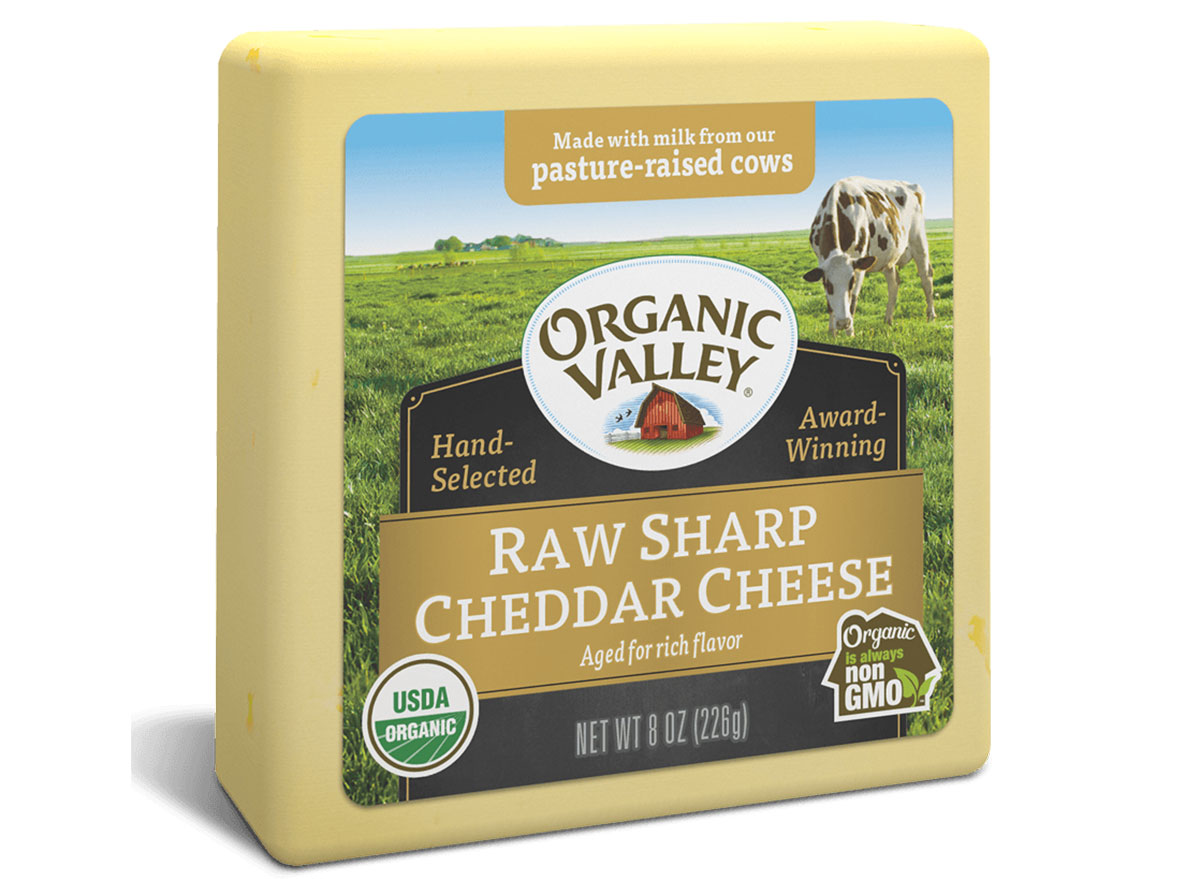 One serving
: 1 oz (28 g), 110 calories, 9 g fat, 6 g saturated fat, 170 mg sodium, 0 g carbs, 0 g fiber, 0 g sugar, 7 g protein
This cheese falls in line with the nutrition of other cheeses on this list, but it stands out because of its "raw" label.  It's important to clarify the difference between raw milk and raw milk cheese. Raw milk has not been pasteurized to kill off the good or bad bacteria, so drinking raw milk is dicey. However, when it comes to making raw cheese, the microorganisms in raw milk are a welcome taste and aroma variable for cheesemakers. In the US, cheese made from raw milk has to be aged for at least 60 days to decrease the risk of pathogens, and cheesemakers are required to follow specific FDA food safety protocols and conduct testing throughout the production process. Those who are immunocompromised in any way should probably skip the raw cheese options like this one.
7. Sargento Medium Cheddar Slices
One serving
: 1 slice (20 g), 80 calories, 7 g fat, 4 g saturated fat, 140 mg sodium, 0 g carb, 0 g fiber, 0 g sugar, 5 g protein
With a lineup of basic ingredients—pasteurized milk culture, salt, enzymes, and annatto—and an average amount of sodium, this Sargento sliced cheddar is a completely acceptable option if you like the convenience of having your cheese pre-sliced. Just remember that there's typically a markup for that.
8. Great Value Medium Cheddar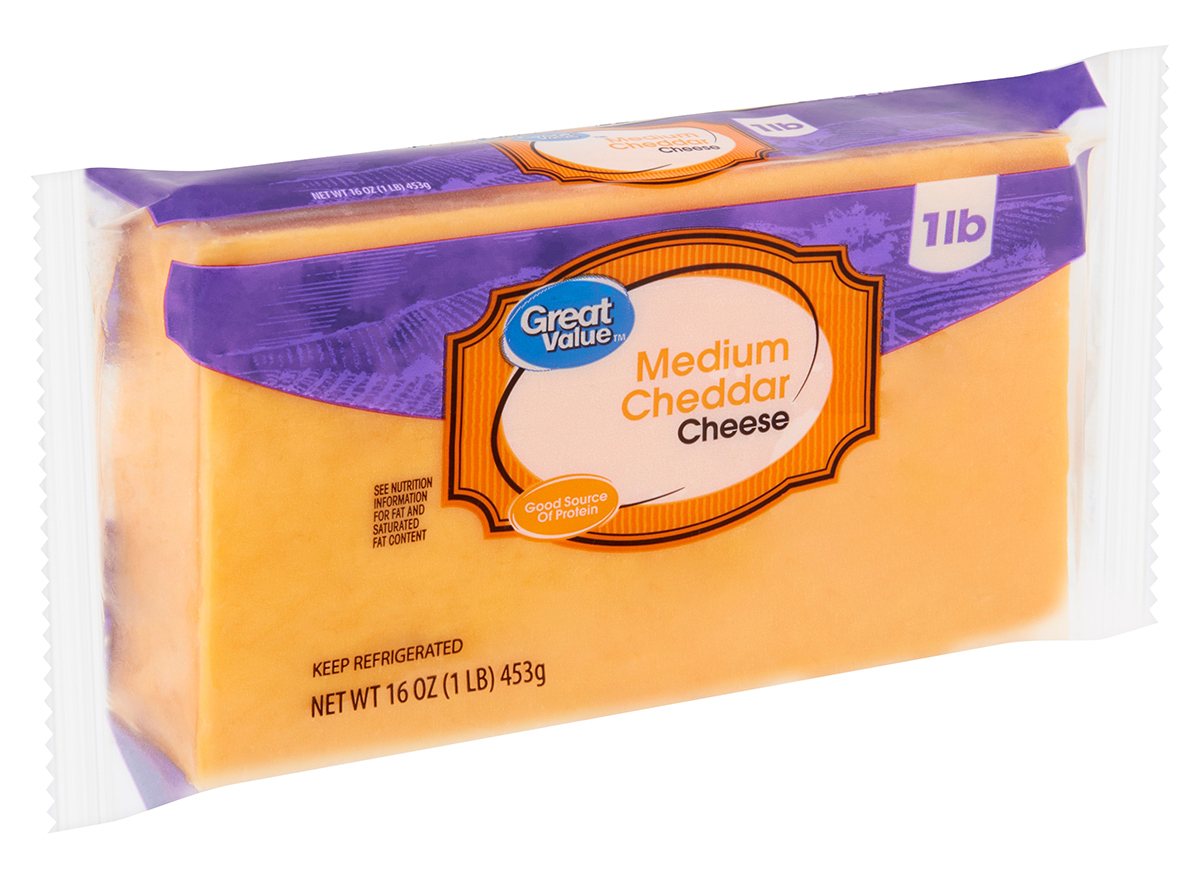 6254a4d1642c605c54bf1cab17d50f1e
One serving
: 110 calories, (1 ounce), 9 grams fat, 5 grams saturated fat, 180 mg sodium, <1 g carb, 0 g fiber, 0 g sugar, 7 g protein
Walmart's generic brand cheddar is nearly identical in terms of the nutrition facts and ingredient list to the cheddar sold under Whole Foods' generic brand 365. However, because it's not a sharp cheddar, you may need more of it to feel that same cheesy satisfaction. If sourcing and ingredient specifics aren't too important to you, this cheddar is a good, honest block of "what you see is what you get".
The worst cheddar cheeses you can buy
1. Velveeta Shreds, Cheddar Flavor
One serving
: 1/4 cup (28 grams), 60 calories per, 3 g fat, 2 g saturated fat, 460 mg sodium, 3 g carbs, 0 g fiber, 1 g sugar, 5 g protein
Velveeta's cheddar-flavored shreds are the perfect example of how cheddar can be a flavor, but not an actual block of cheese. First, let's start with pre-shredded cheese products in general. To keep it from clumping, starch or a powder of some kind must be added to the mix. In the case of these Velveeta shreds, it's potato starch and cellulose powder. This product also contains gelatin, milk protein concentrate, modified food starch, and a slew of other ingredients that have no business being in cheese. Let's not even discuss the 460 milligrams of sodium. PASS!
2. Kraft Medium Cheddar
One serving
: 1 oz (28 g), 120 calories, 10 g fat, 6 g saturated fat, 180 mg sodium, 0 g carbs, 0 g fiber, 0 g sugar, 6 g protein
At 120 calories and 10 grams of fat per serving, this cheddar is definitely a little worse for your health and your waistline than the others. The ingredient list is a mix of pasteurized nonfat milk and milk fat, along with the usual suspects (cultures, enzymes, salt, color) as well as a mold inhibitor. It's not highly processed, but it's not the highest quality either. Since there are so many better options out there, we'd recommend staying away from this one.
STAY INFORMED: Sign up for our newsletter to get the latest coronavirus foods news delivered straight to your inbox.