The Best Chicken Entrée in Every State
Craving chicken? We know just the spot.
Chicken parmigiana, grilled chicken salad, fried chicken wings—there are countless ways to prepare this tasty protein. Versatile and easy to make, chicken is a strong foundation for a great meal.
While we may be familiar with our local chicken options (I'm a huge fan of the chicken Francese at Bamonte's in New York City), there are great chicken dishes to discover in every state. From chicken and waffles infused with balsamic vinegar to tandoori chicken poutine, these are some of the best chicken entrées throughout the country.
And for more, don't miss these 15 Classic American Desserts That Deserve a Comeback.
ALABAMA: The Bright Star in Bessemer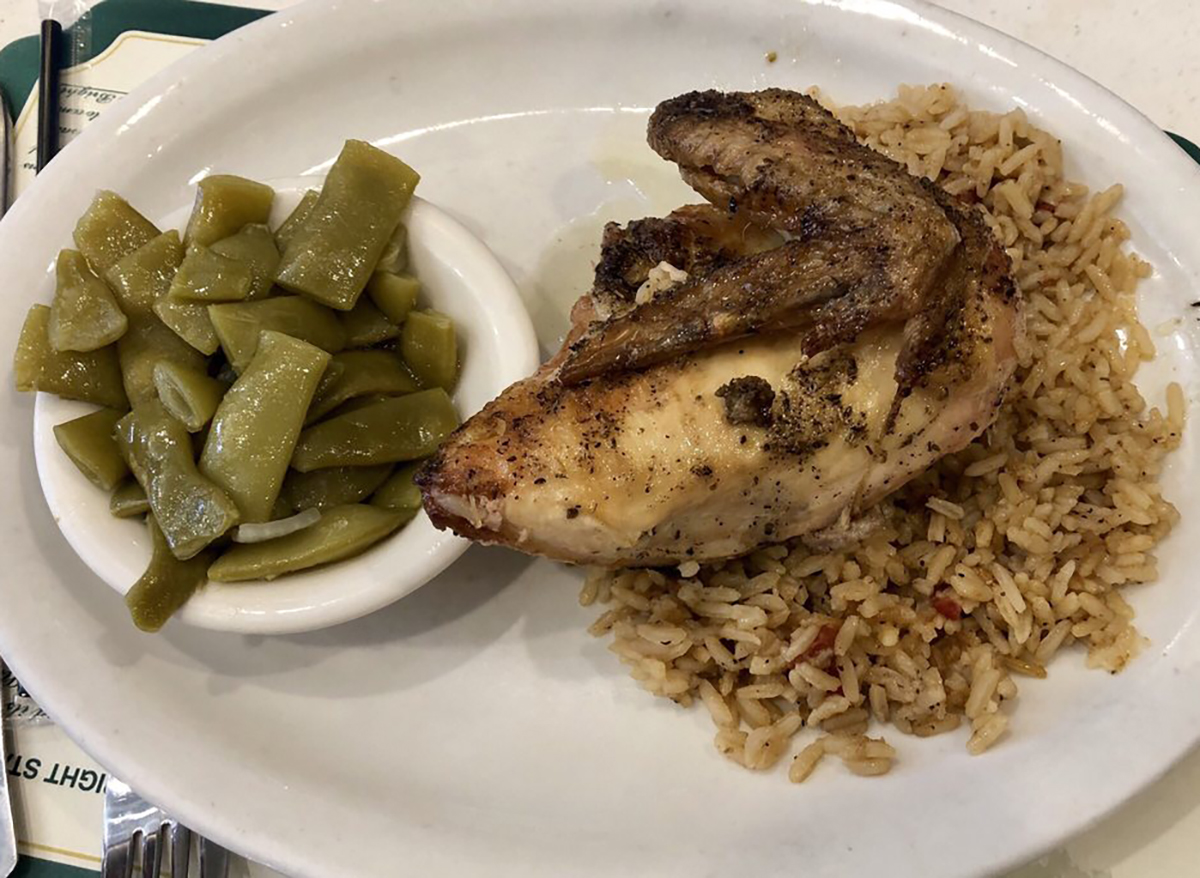 The Bright Star not only serves up some amazing food but is also known as the country's oldest family-owned restaurant. Started in 1907, The Bright Star has consistently been listed as one of the top three restaurants to try out in Birmingham and has become an Alabama landmark. Although the menu is packed with many mouth-watering options, a must-try is the Greek-style boneless chicken breast that is topped with seasoned celery and tomatoes.
ALASKA: Orso in Anchorage
Even though Alaska is known for its high-quality seafood, the chicken parmesan Orso-style dish at Orso in Anchorage is one to remember. Featuring parmesan-crusted chicken breast, homemade tomato sauce, fresh mozzarella, and vegetable herb capellini, this entrée is perfect to enjoy with a glass of red wine.
NOTE: Orso is temporarily closed.
ARIZONA: Street-Taco and Beer Co. in Tucson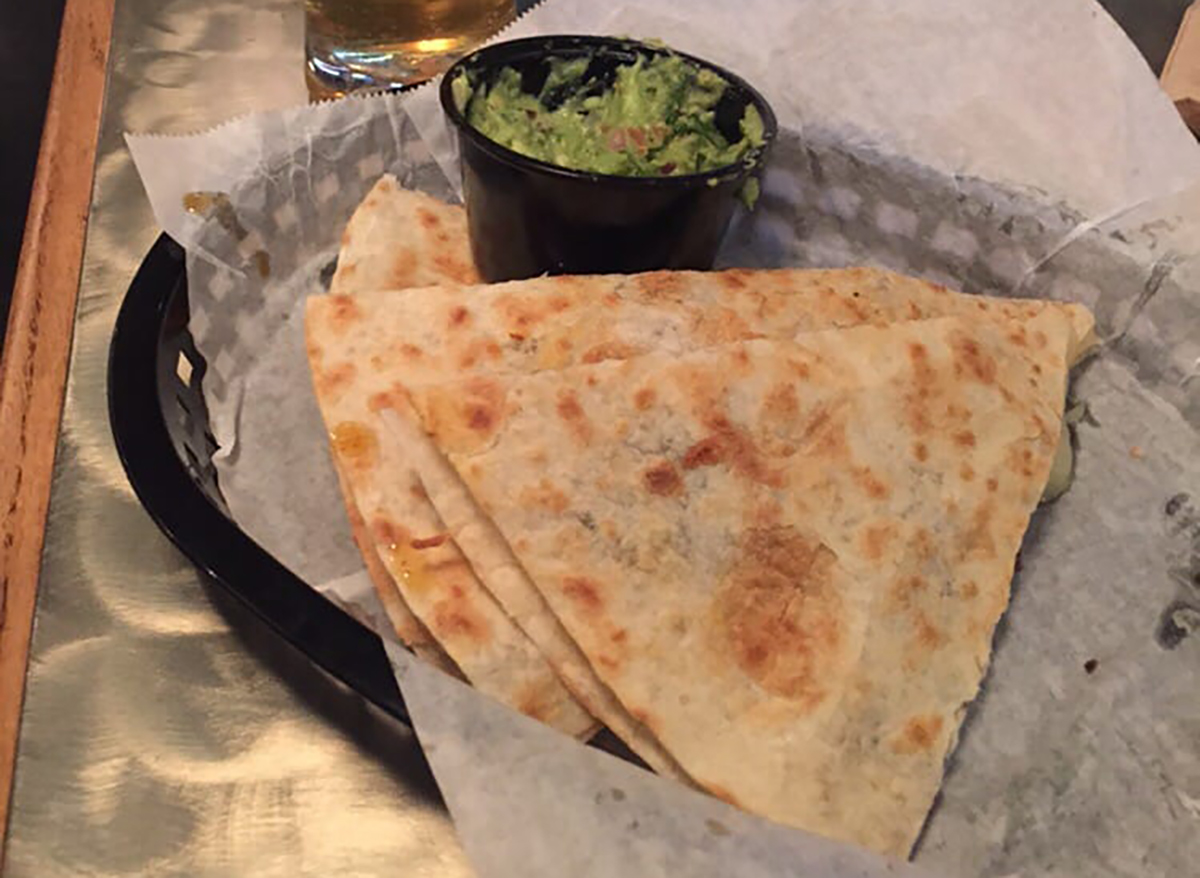 Street-Taco and Beer Co.'s chicken quesadillas are lauded for their juicy meat and rich flavors. Make sure to order a side of refreshing guacamole, too.
ARKANSAS: Monte Ne Inn Chicken in Rogers
Monte Ne Inn, named after an old resort in the Ozarks, has some of the juiciest, tastiest chicken around—no wonder it was named some of the best chicken in Arkansas. The chicken meals are great for takeout, but if you have some extra time, make a reservation in the dining room, where dinner is served family-style. The "all you can eat" meal not only includes the restaurant's famous chicken, but also heaping portions of homemade bean soup, green beans, sweet corn, mashed potatoes and gravy, coleslaw, biscuits, and more.
CALIFORNIA: San Tung in San Francisco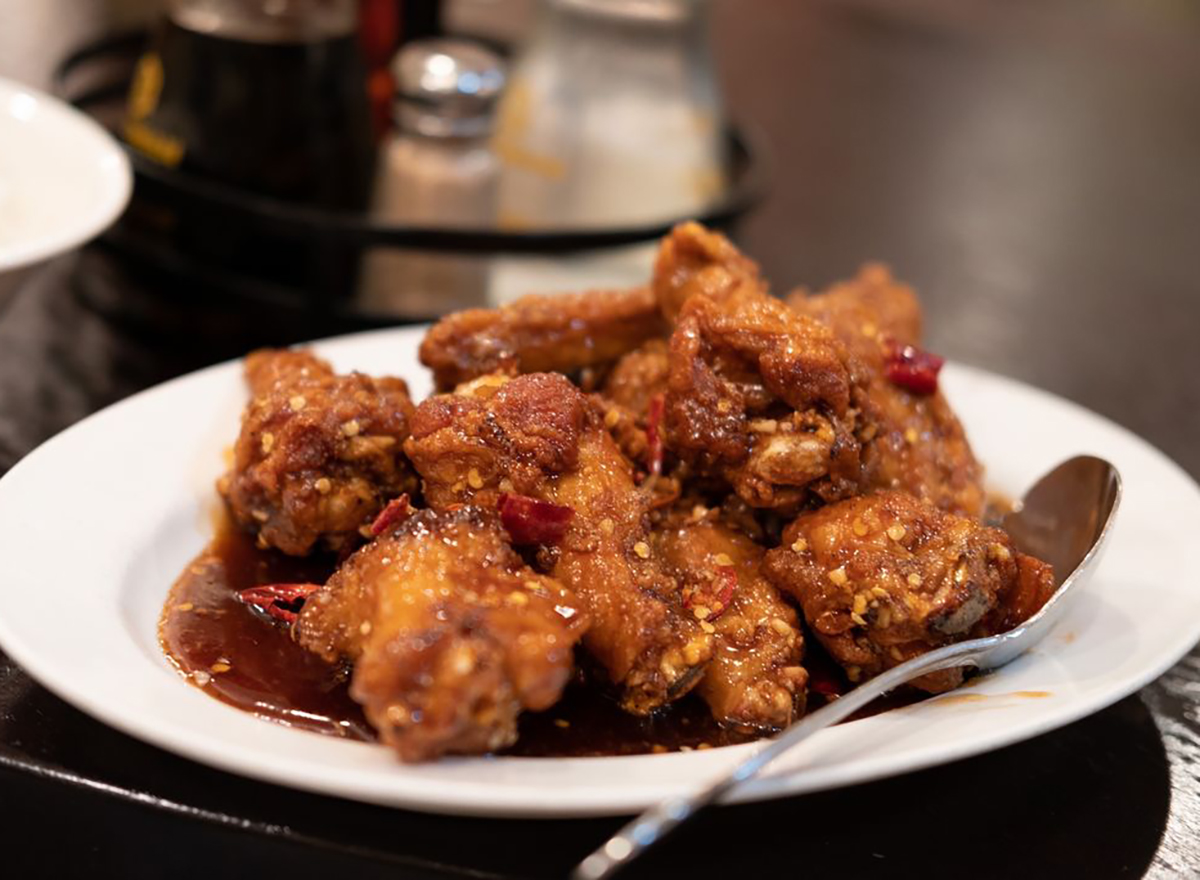 If you visit San Tung, a San Francisco restaurant just steps from the San Francisco Botanical Garden, try the dry-fried chicken wings that keep people coming back for more. Dry fried and then coated with a tasty dried red pepper sauce, customers consider these some of the best Korean fried chicken wings in San Francisco.
COLORADO: Bourbon Grill in Denver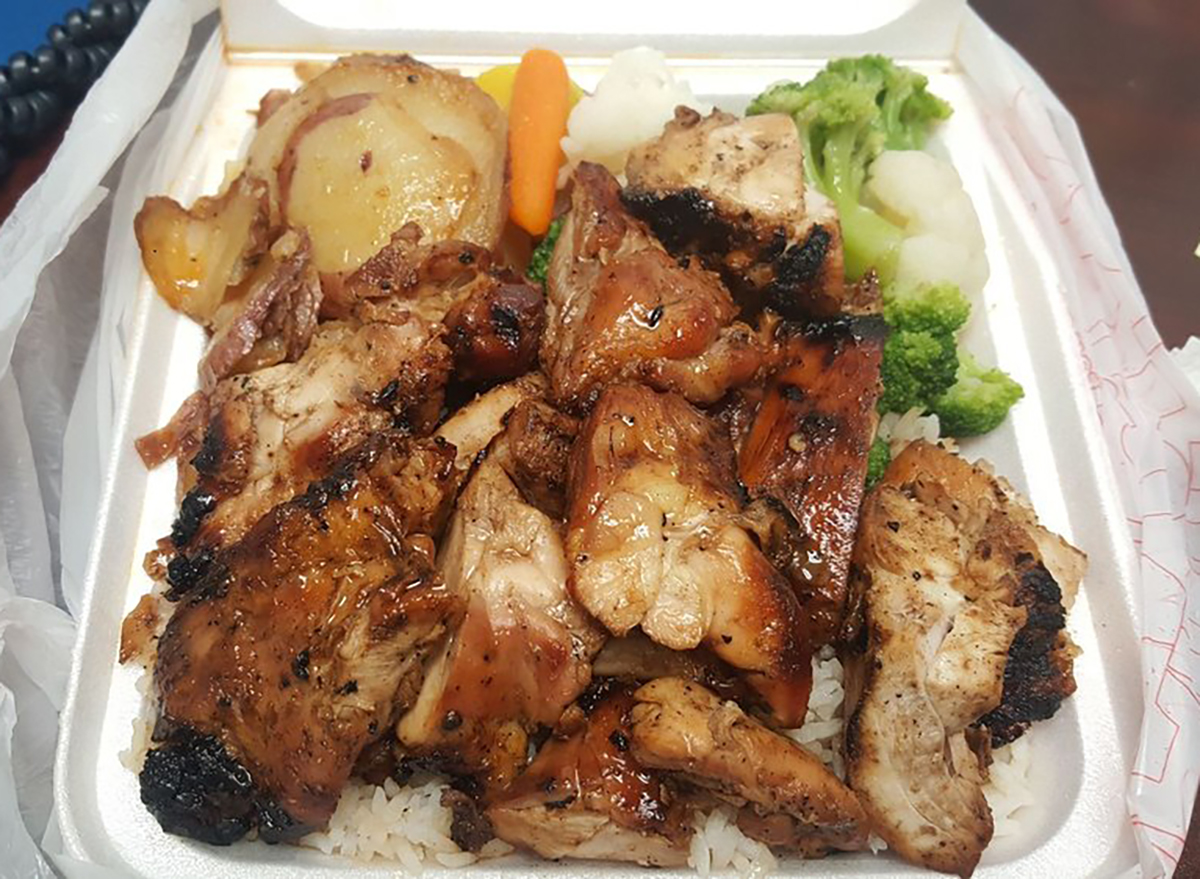 If you ever find yourself in Denver, don't forget to try the bourbon chicken at the famous Bourbon Grill, a family-owned establishment that makes delicious food using both Southern and Vietnamese influences. The tasty bourbon chicken combination platters are served with two steaming sides, such as macaroni and cheese, sautéed cajun potatoes, spicy noodles, or egg rolls.
CONNECTICUT: House of Naan in New Haven
Chicken tikka masala, which is served with rice, sautéed vegetables, and tandoori sauce, is a favorite among House of Naan diners in New Haven, Connecticut. Prepared using cubed chicken marinated in yogurt and spices, this popular dish is a must-try.
DELAWARE: Jessop's Tavern in New Castle
Jessop's Tavern's chicken pot pie is the ultimate comfort food. The pot pie, which features moist chicken and perfectly prepared root vegetables in a creamy herb sauce, is topped with a melt-in-your-mouth flaky crust. Besides fantastic food, Jessop's Tavern is also filled with a rich history—the tavern is housed in a 400-year-old building and is named after Abraham Jessop, one of the people who lived and worked there in the 1700s.
FLORIDA: Doce Provisions in Miami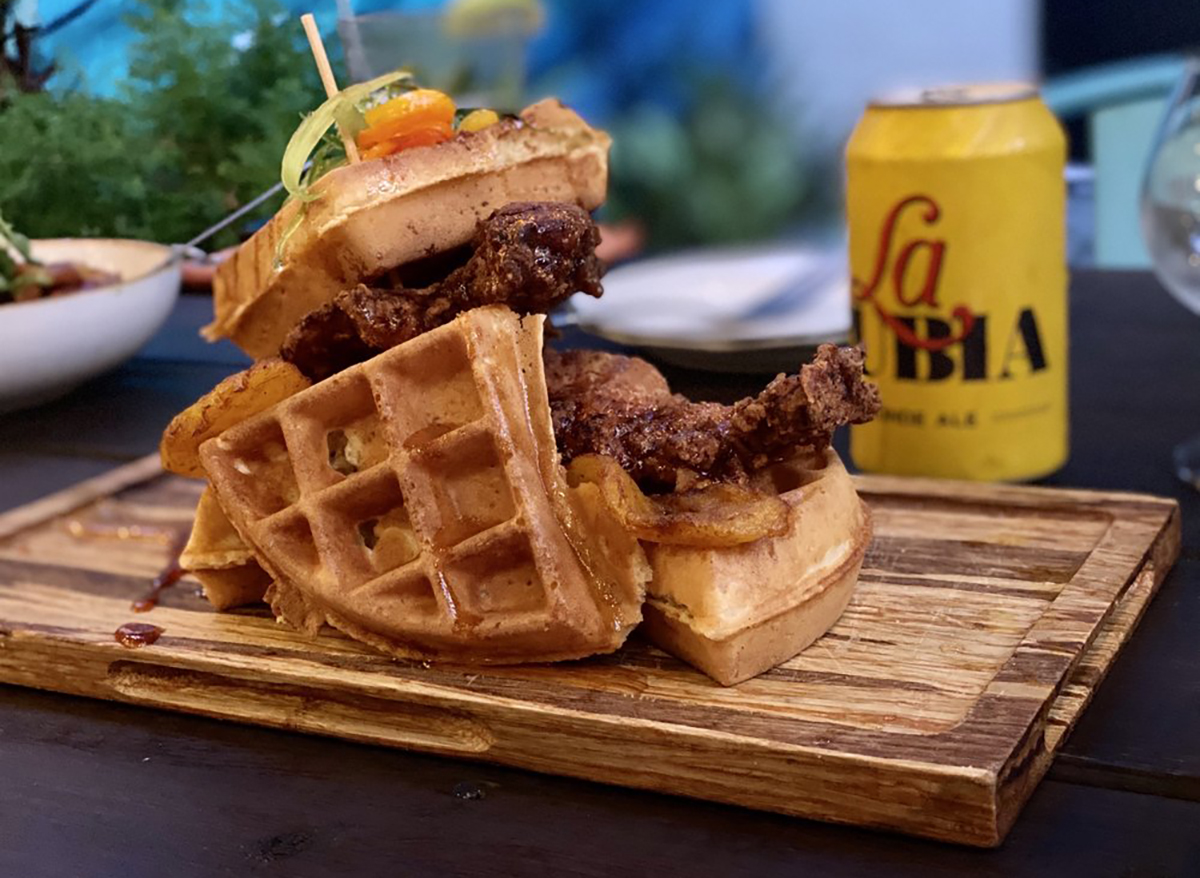 Chicken and waffles for dinner? Sign us up! Doce Provisions, located in Miami's Little Havana, uses locally sourced ingredients to whip up some pretty amazing Miami-inspired cuisine, such as its sought-after chicken and waffles. The Little Bird Fried Chicken and Waffles dish comes complete with sweet plantains, pickled peppers, and guava, and is drizzled with sriracha honey.
GEORGIA: Bulla Gastrobar in Atlanta
Bulla Gastrobar, located in Atlanta, Georgia, serves up some amazing dishes inspired by the gastrobars in Spain. The paella de pollo, which features chicken prepared with artichoke hearts, juicy portobello mushrooms, green peas, sofrito, and saffron, is served alongside some other favorites such as chicken pintxos and chicken croquettes.
HAWAII: Maui Mike's Fire Roasted Chicken in Wahiawa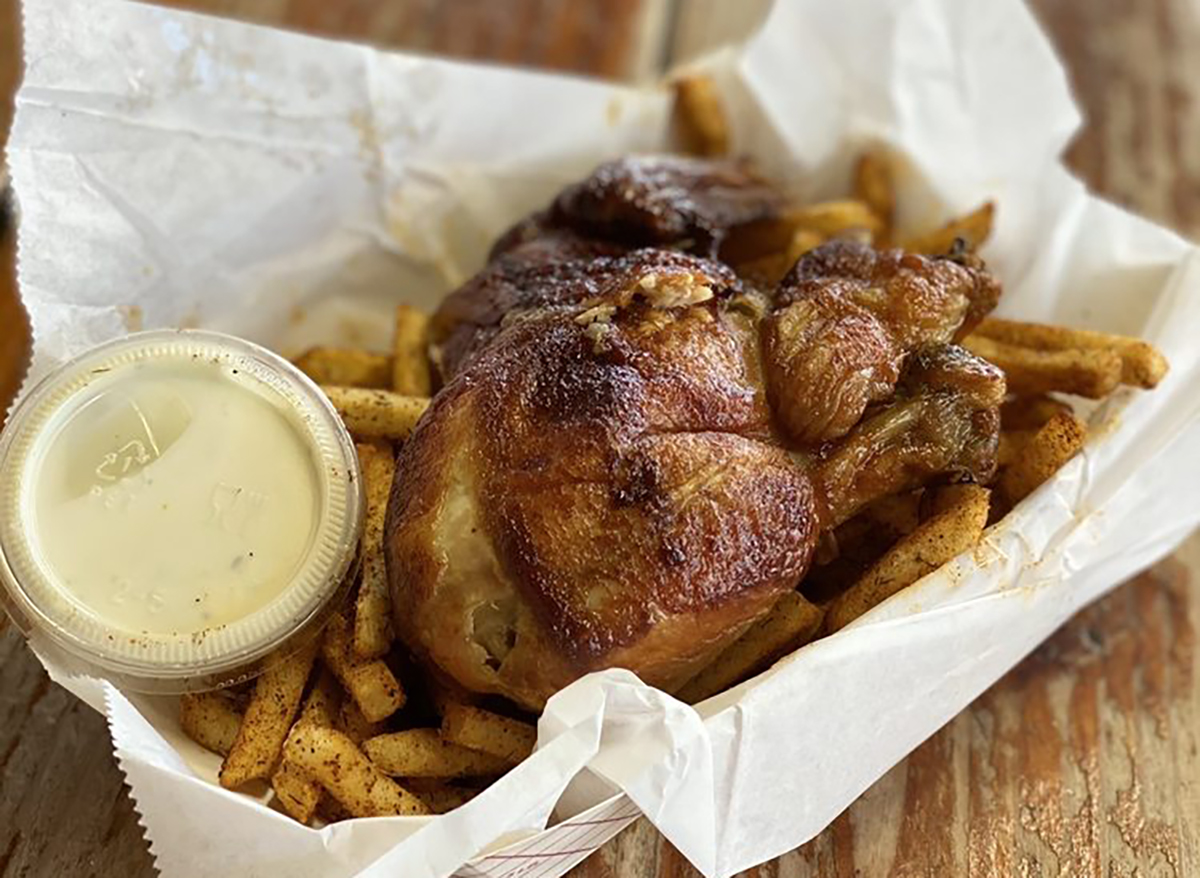 Maui Mike's fire-roasted Huli Huli chicken is a favorite among island dwellers, and with good reason. This tasty dish is prepared using fresh all-natural chicken and is served alongside hearty sides such as baked beans, sweet potato fries, and corn.
At Fork, a farm-to-table restaurant in Boise, Idaho, any day is a great day to stop in for a meal. But Tuesdays are when the restaurant offers one of its most popular specials, Cast Iron Buttermilk Fried Chicken & Cheddar Waffles. However, this isn't just any old chicken and waffle dish. For instance, the maple syrup is infused with balsamic vinegar and the butter is punctuated with notes of local Ahaus orange honey. Be sure to stop by early in the evening; this dish is available only from 5pm until they sell out (and we hear they sell out pretty quickly).
ILLINOIS: Viaggio Ristorante and Lounge in Chicago
Is it just us, or is there something so comforting about chicken parmesan? Viaggio Ristorante and Lounge in Chicago makes the perfect plate of chicken parmesan that is prepared using fresh mozzarella and an aromatic tomato basil sauce. One of the best parts? It is served with a side of creamy tortellini alfredo.
INDIANA: Livery in Indianapolis
Livery is a Latin-inspired restaurant in Indiana that serves up delicious dishes such as pork belly tacos, lamb birria, and canelones. One of its stand-out options is the chicken empanada, which is made using delicious ingredients such as moist chicken, beans, tomatoes, and avocado salsa. Yelp reviewers have described these sought-after empanadas as "fantastic" and "a must-try."
IOWA: Bubba in Des Moines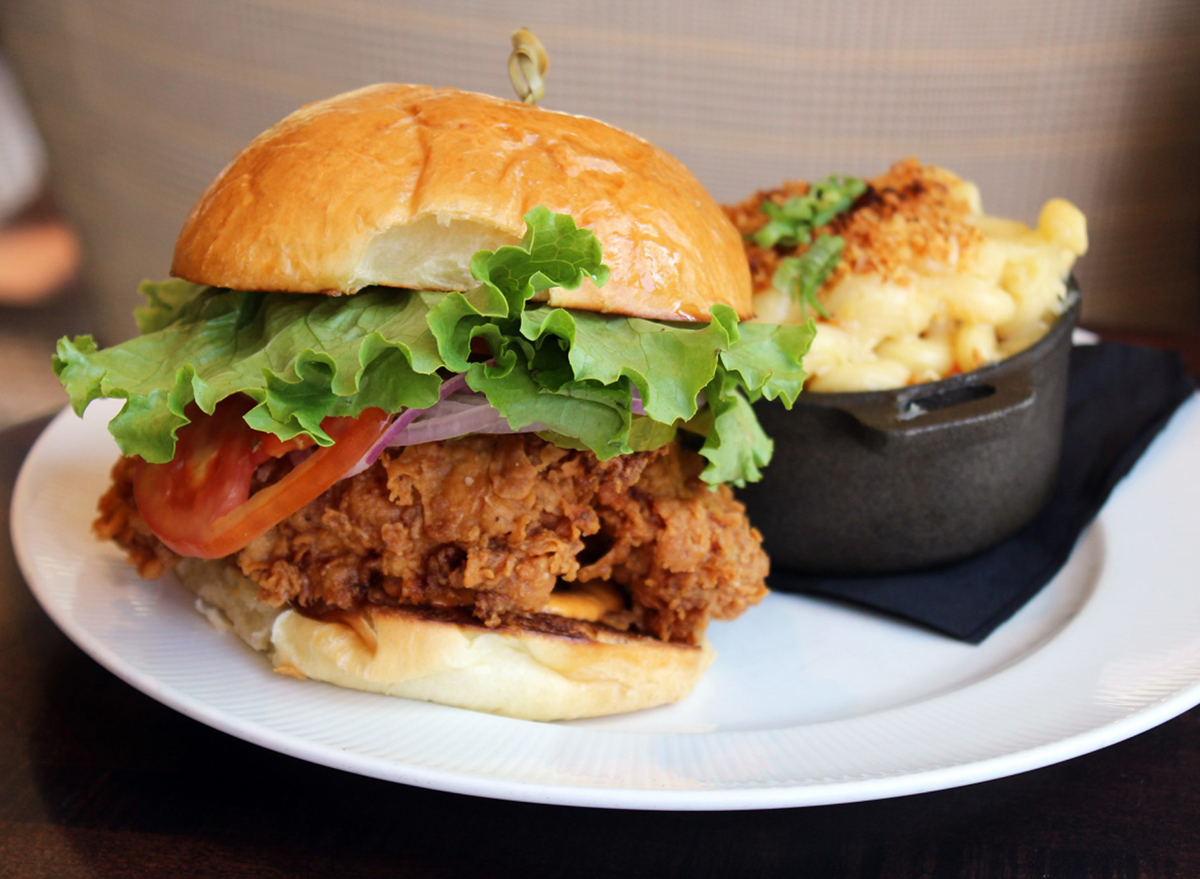 Perfectly crispy on the outside and delightfully moist on the inside, there is nothing quite like the crispy chicken sandwich at Bubba in Des Moines. The secret? This brioche bun sandwich is piled high with tomato, lettuce, and bread and butter pickles, and is topped with Bubba's own remoulade sauce.
KANSAS: Georges French Bistro in Wichita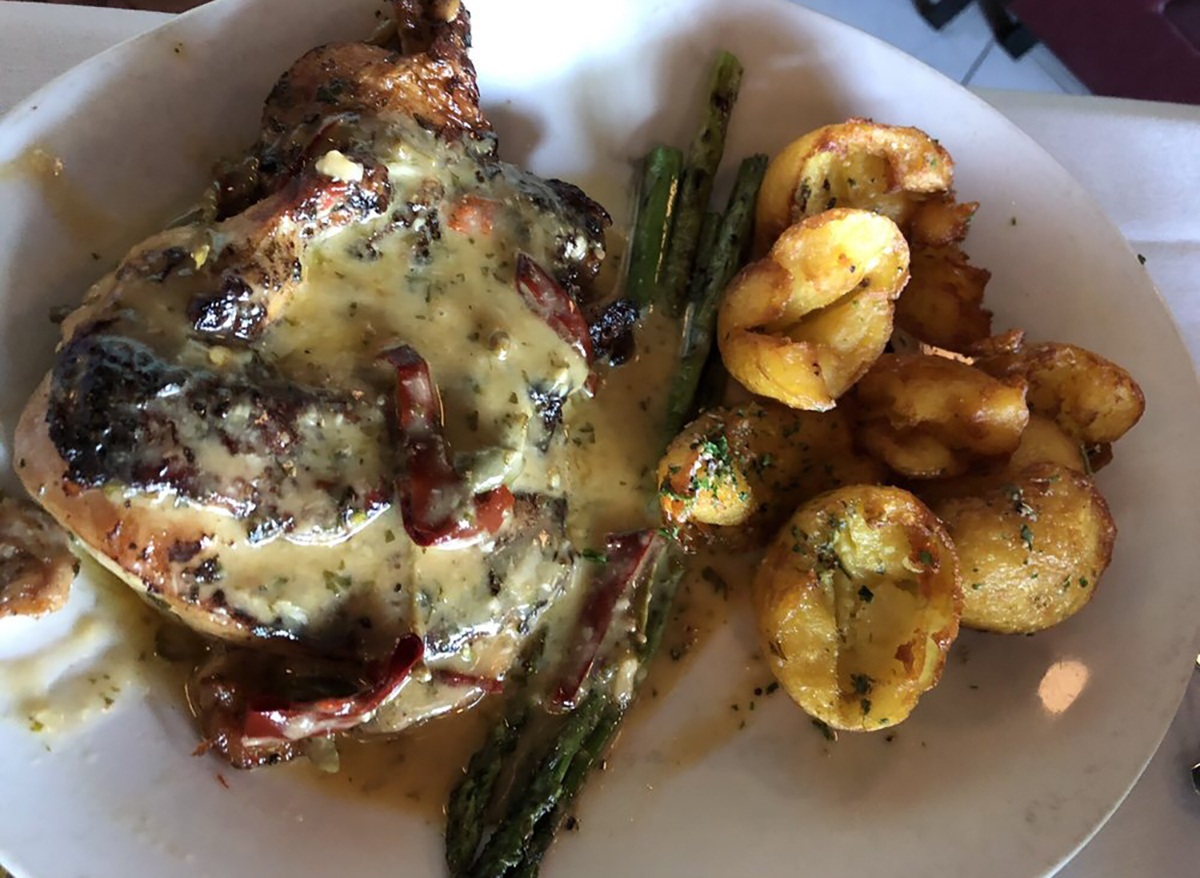 Georges French Bistro in Wichita serves up a chicken dish, Grand-mere chicken, which sounds like it comes straight out of a dream. Made using roasted half-chicken, guajillo pepper, caperberry, and roasted garlic sauce, this unique entrée is bursting with flavor and texture. It also comes with Parisien potatoes and grilled asparagus, so you know you will leave feeling full and satisfied.
KENTUCKY: Vincenzo's Restaurant in Louisville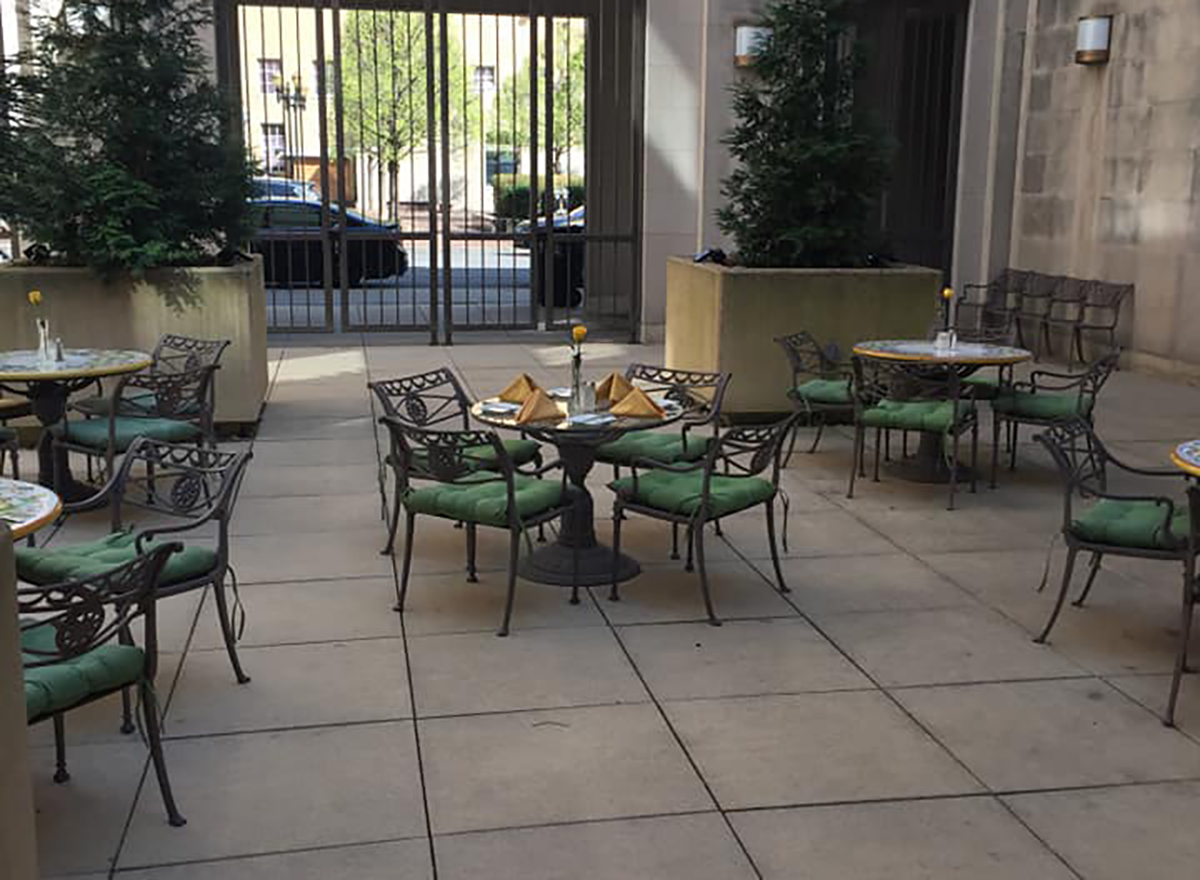 Founded in 1986 in downtown Louisville, this award-winning restaurant serves up some of Kentucky's best Northern Italian dishes. A tried and true favorite is the Chicken Marsala, a tasty chicken dish that is made with Marsala wine fresh button mushrooms.
LOUISIANA: Commander's Palace in New Orleans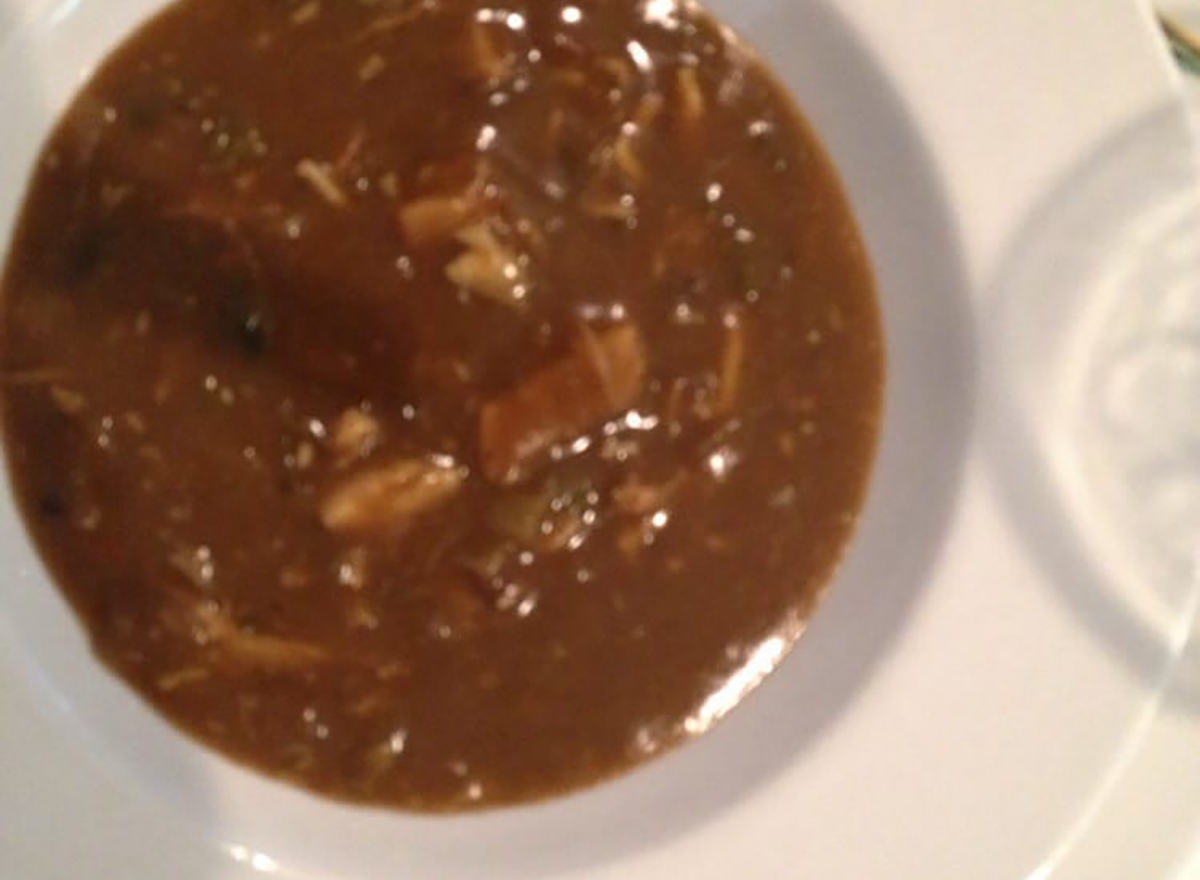 Commander's Palace, the famous Louisiana restaurant that has been a New Orleans staple since 1893, has a menu packed with delicious Haute Creole cuisine options such as corn-fried gulf oysters, smoked duck breast, and pecan pie a la mode. One of its most talked-about dishes, however, is the chicken and mushroom gumbo, which is filled with juicy chicken, roasted Chanterelle mushrooms, diced celery, and chopped green bell peppers.
MAINE: Palace Diner in Biddeford
The Palace Diner, which opened up in 1927 and is situated in one of Maine's oldest train cars, serves up a robust menu of traditional diner comfort food, including tuna sandwiches and corned beef Reubens. One of the most sought-after lunch dishes is the lip-smackingly-good fried chicken sandwich, which comes stuffed with cabbage slaw and jalapeños.
MARYLAND: Sheba Ethiopian Restaurant in Rockville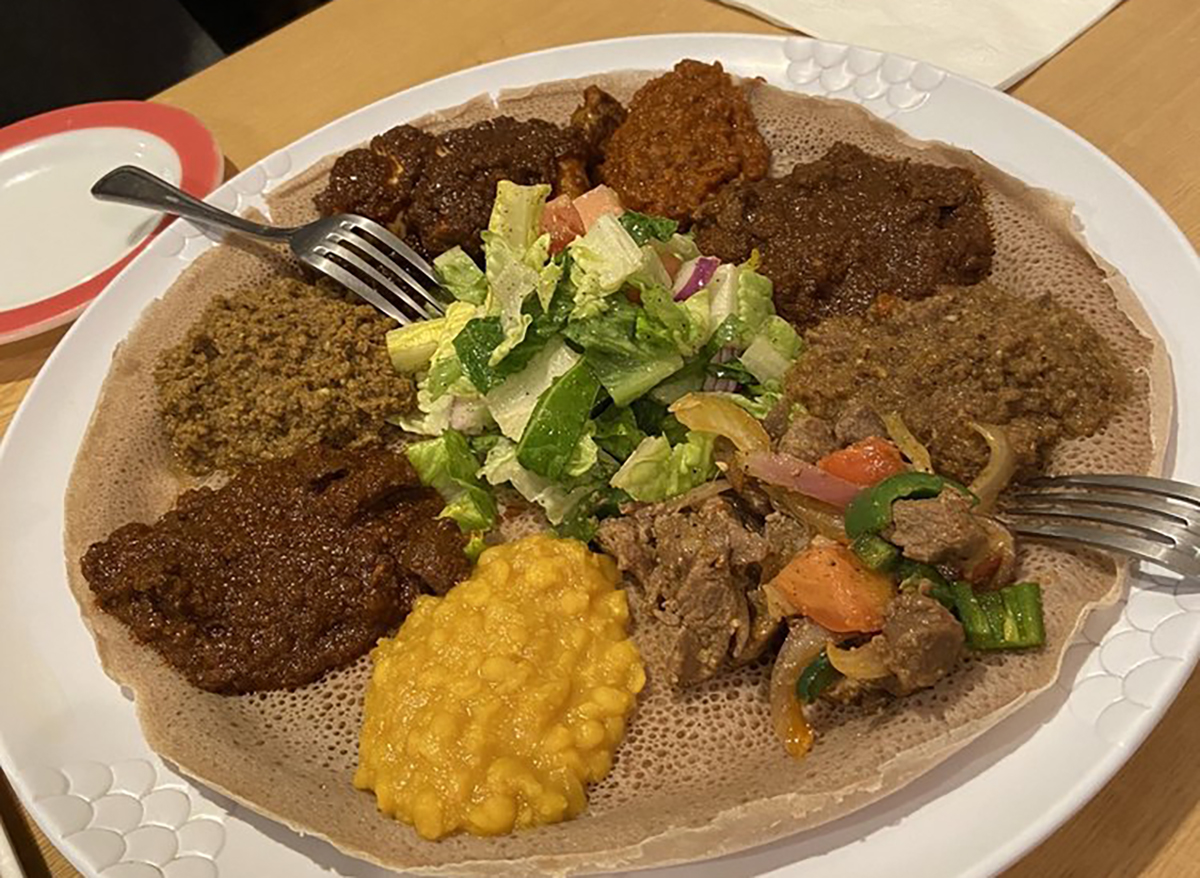 The chicken platter at Sheba Ethiopian Restaurant comes loaded with perfectly prepared vegetables, injera, and a delicious side. Try the sambussas, which come stuffed with seasoned ground beef or a lentil vegetable mix.
MASSACHUSETTS: Oleana Restaurant in Cambridge
Oleana, an Eastern Mediterranean restaurant located in Cambridge, hits the spot with its lemon chicken platter that comes complete with za'atar and a Turkish cheese pancake. Other innovative dishes on the menu include sweet potato dolmas, kohlrabi pancakes, and a whipped feta starter made using both sweet and hot peppers.
MICHIGAN: Taqueria El Rey in Detroit
If you are looking for a great grilled chicken dinner, then look no further than Taqueria El Rey in Detroit, Michigan. Served with a side of rice, beans, tortilla, and salsa, this popular dish will surely hit the spot.
MINNESOTA: Babani's Kurdish Restaurant in Saint Paul
Chicken tawa takes the cake at Babani's, the first-ever Kurdish restaurant to open in the United States. Made with chicken sautéed in lemon and spices, baked between layers of potatoes, peppers, onions, and dried limes, and then served with a side of basmati rice, this aromatic dish is a go-to for many Saint Paul diners.
MISSISSIPPI: Pig and Pint in Jackson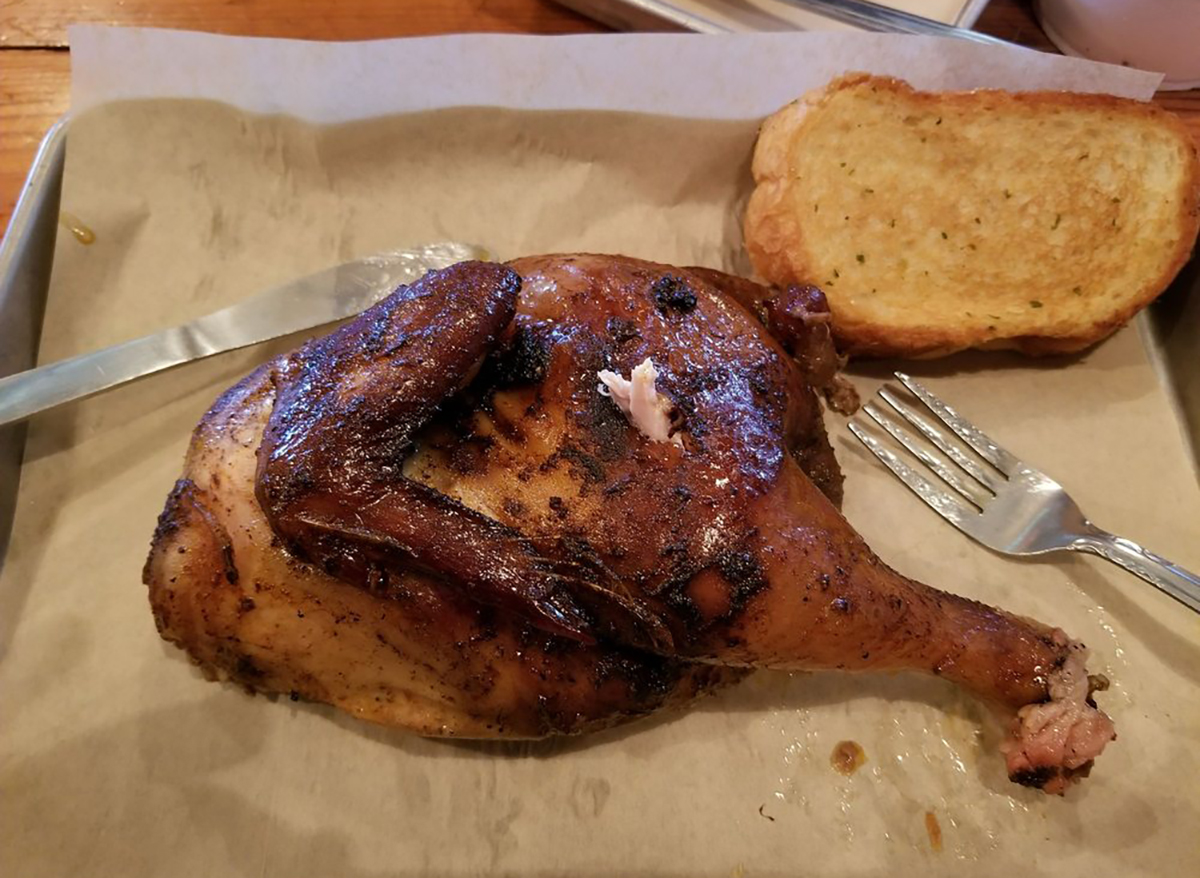 If you're in the mood for some award-winning barbecue, then Pig and Pint in Jackson, Mississippi is your place. This restaurant is known for its finger-licking good barbecue, including brisket-topped Fondren fries, pecan wood smoked wings, and smoked tuna dip. A must-try, however, is the smoked chicken, which comes with bread and a choice of two sides, such as fried tomatoes and smoked mac and cheese, if ordered as a combo plate.
MISSOURI: PotPie in Kansas City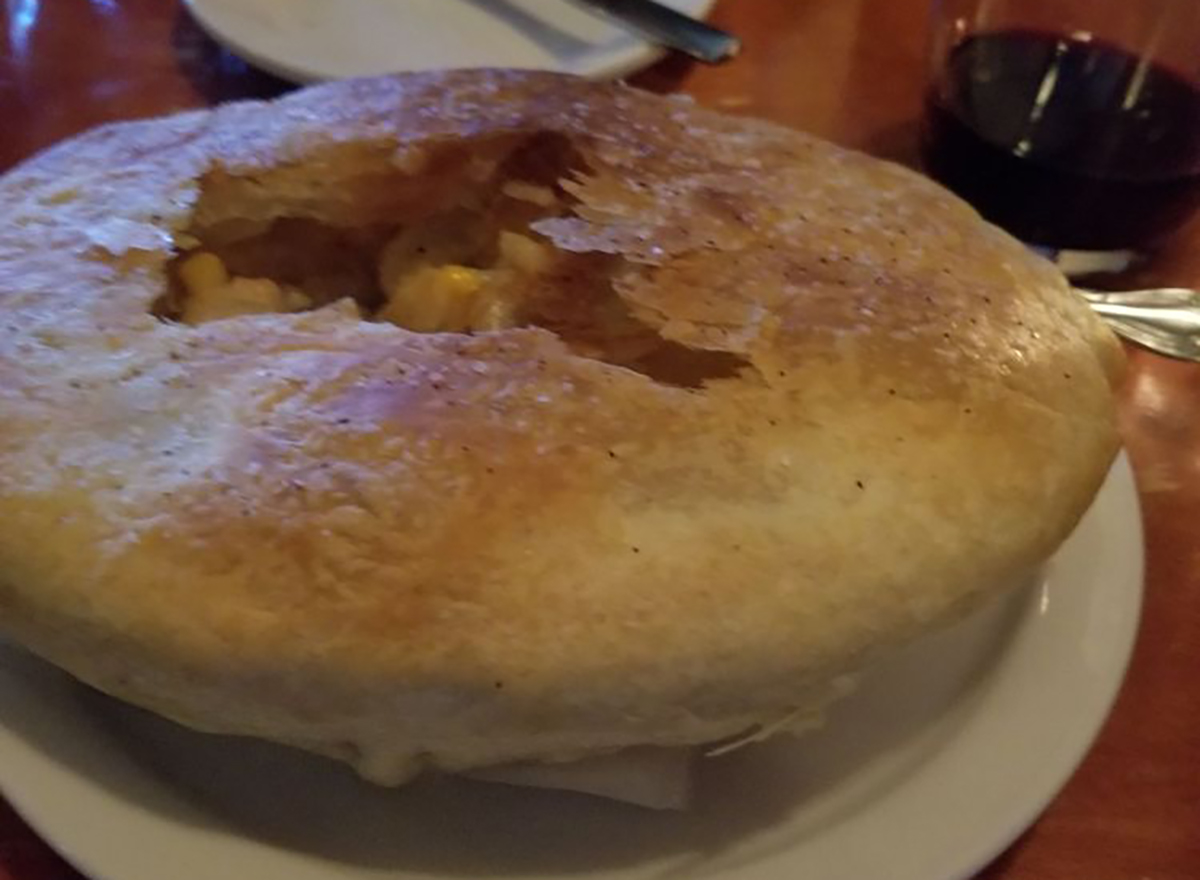 A city favorite since 2003, PotPie in Kansas City makes melt-in-your-mouth pot pies served in a cozy environment. A favorite is the chicken and vegetable pot pie which has juicy chicken and hearty vegetables baked under a flaky crust. Give the chocolate chip bread pudding a try, too.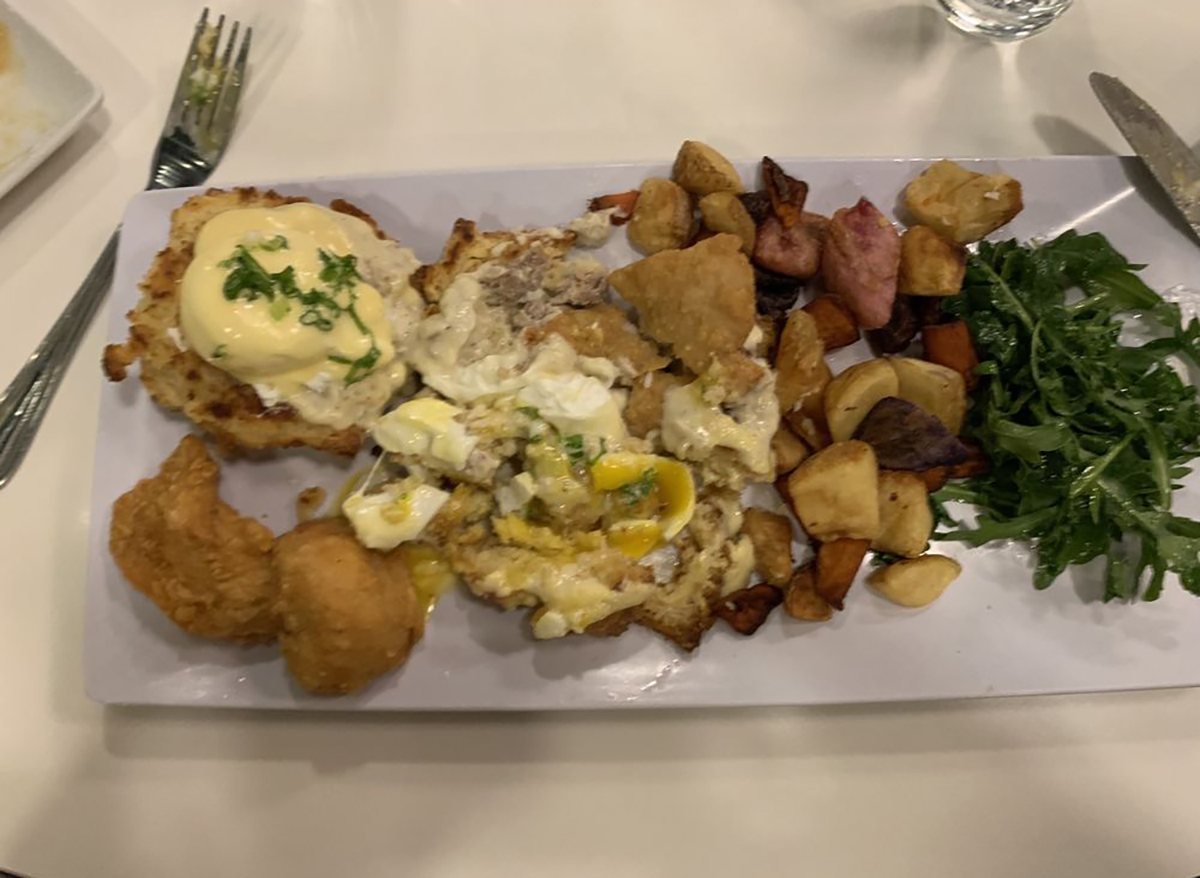 What's an even tastier way to enjoy chicken and biscuits? By cracking open an egg and making it a chicken and biscuit benedict. This unique dish, which is made with rich ingredients such as cornmeal breaded buttermilk chicken, maple syrup, sausage gravy, tabasco, and green onions, attracts people both far and wide. Served with citrus arugula and old school home fries, this dish strikes the perfect breakfast balance.
NEBRASKA: Le Voltaire in Omaha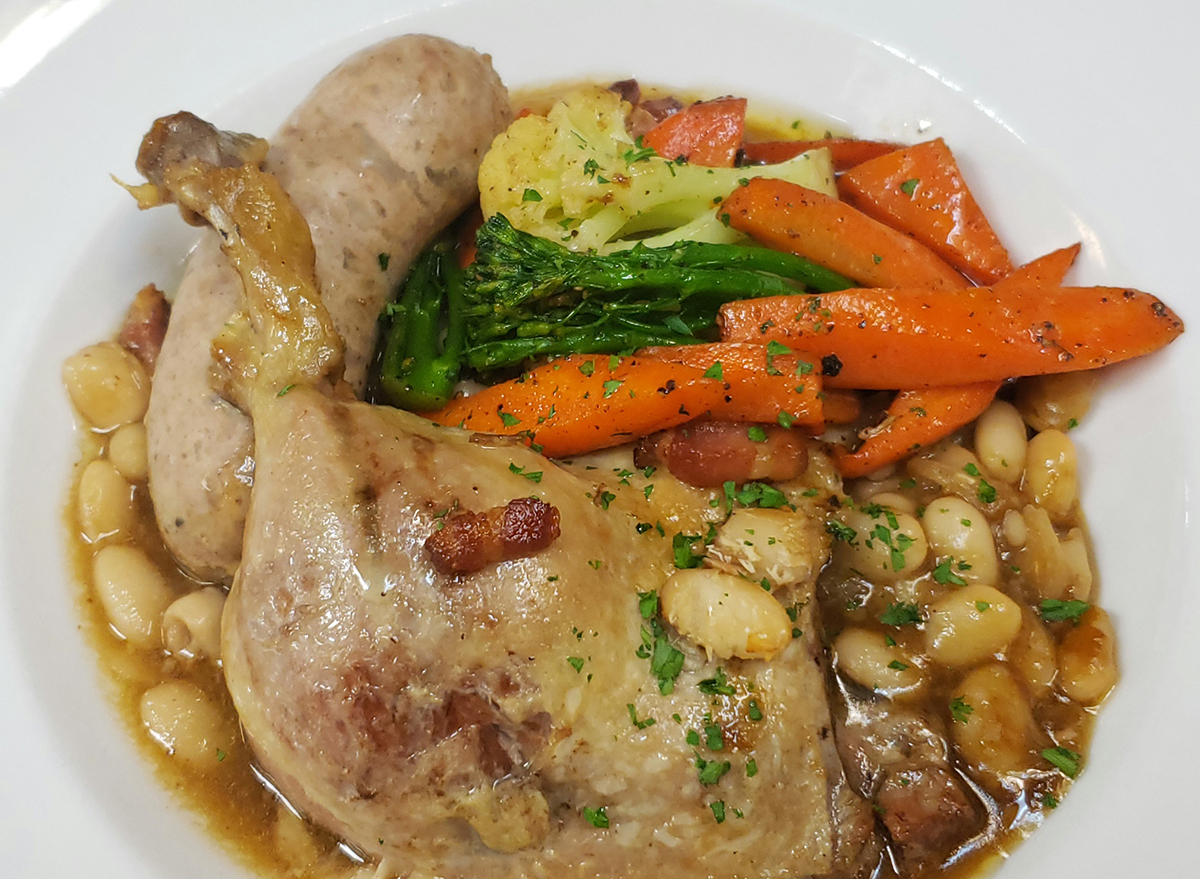 Coq Au Vin, a delicious French dish consisting of chicken braised with wine, mushrooms, and garlic, is a must have at Le Voltaire, a French restaurant in Omaha. Besides featuring a bevy of French classics, Le Voltaire also has the most extensive French wine list in Nebraska.
NEVADA: Honey Salt in Las Vegas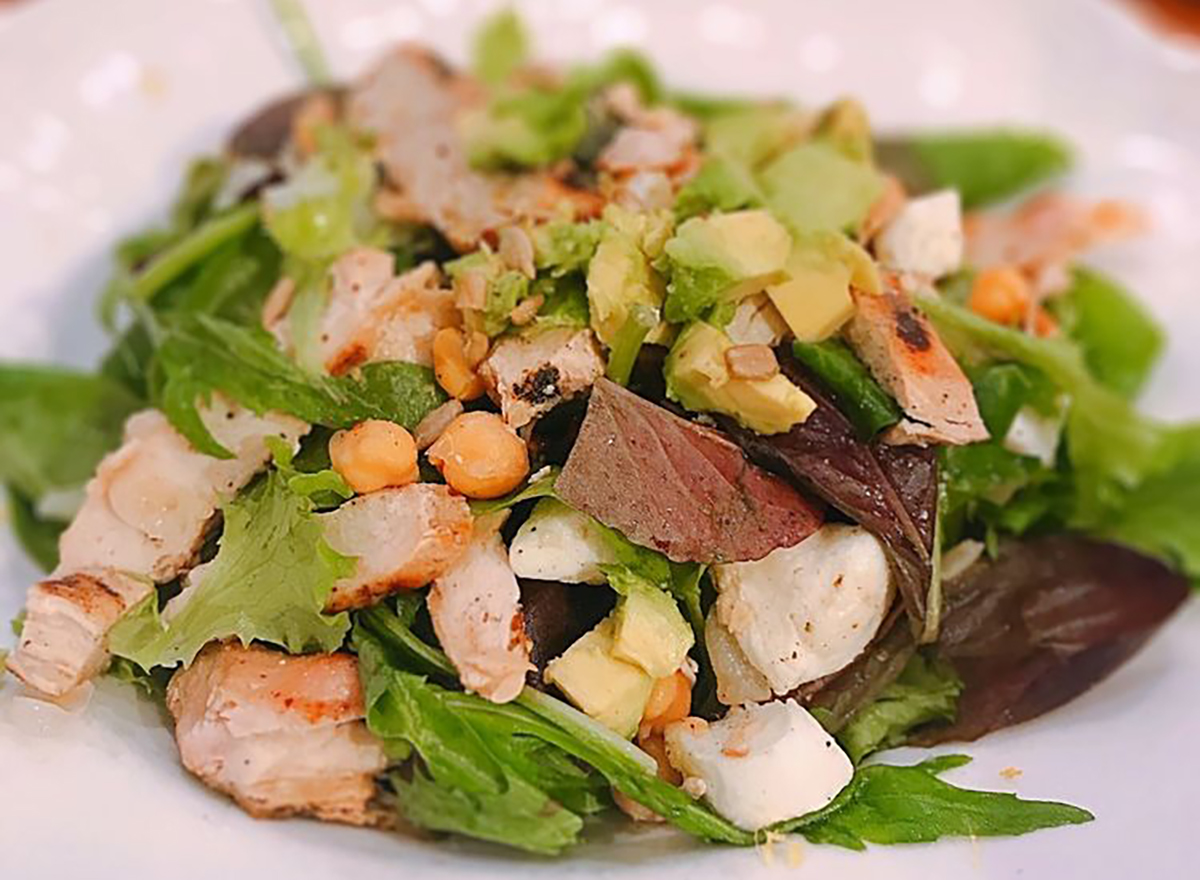 Both light and refreshing, Honey Salt's lemon chicken salad is a fan-favorite, and we can see why. Featuring fresh mozzarella, avocado, field greens, sunflower seeds, and chickpeas, this healthy entrée option is the perfect pick-me-up.
NEW HAMPSHIRE: The Crown Tavern in Manchester
People love The Crown Tavern's Oven Roasted Jumbo Chicken Wings, which come slathered in sticky honey soy and spicy chili mayo, or covered in garlic parmesan and Caesar dressing. Either choice is delicious.
NEW JERSEY: Belmont Tavern in Belleville
Stretch's chicken savoy from Belmont Tavern has become an iconic New Jersey dish, and with good reason. The entrée, which is made using chicken roasted in garlic, herbs, and red wine vinegar, has been dubbed New Jersey's official state dish because of its wide following. Pro tip: Be sure to stop at the bank or an ATM before visiting the Belmont Tavern as the restaurant is cash-only.
NEW MEXICO: Pantry Restaurant in Santa Fe
Smothered in chile and cheese, the chicken enchiladas from Pantry Restaurant in Santa Fe check off all the boxes. Since 1948, this New Mexico mainstay has been whipping up only the best. Order the enchiladas alongside a Frito pie and some choco flan.
NEW YORK: Bamonte's in Williamsburg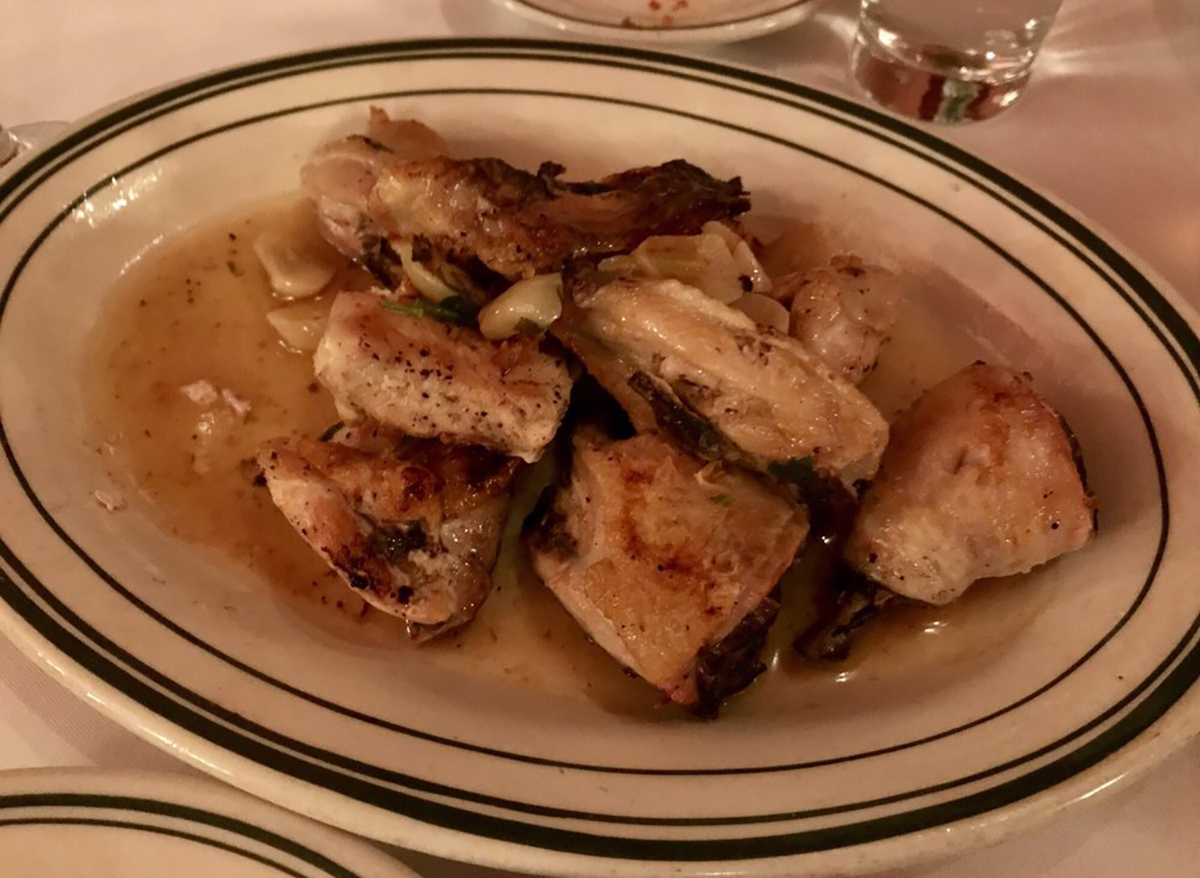 Nestled on a quaint side street in Williamsburg, Brooklyn, Bamonte's has been serving up homemade Italian food for more than 120 years. Tasty dishes and desserts, such as the eggplant rollatini, homemade lasagna, and tiramisu, are sure to hit the spot, but one standout is the Chicken Francese. Battered in flour and sautéed in a lemon, butter, and white wine sauce, the Chicken Francese is hard not to crave.
NORTH CAROLINA: Beasley's Chicken and Honey in Raleigh
If you're a fan of heat and spice, you have to give the hot chicken a try at Beasley's Chicken and Honey. Prepared with Carolina Reaper chile oil, pickles, iceberg lettuce, and buttermilk dressing atop buttermilk bread, this lip-puckering dish is considered one of the best around.
NORTH DAKOTA: The Kitchen Table in Omaha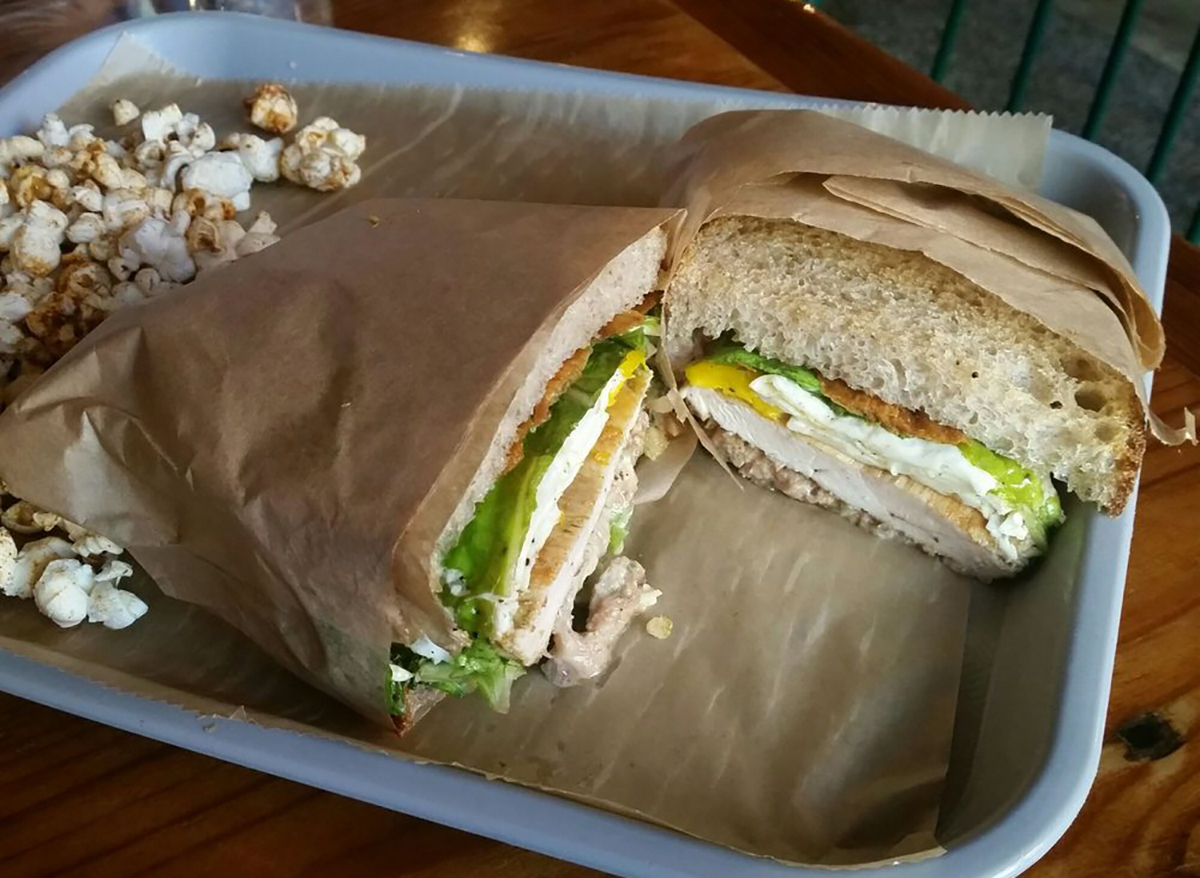 The Kitchen Table uses some of the best, locally sourced ingredients to make its famous menu options, such as the Whole Bird Chicken Sandwich. The Whole Bird Sandwich is a tasty combination of seared chicken breast with confit leg salad, fried egg, and greens, on toasted levain bread. Restaurant goers also recommend trying out The Kitchen Table's homemade ginger ale or vanilla creme soda.
OHIO: Soho Chicken Whiskey in Cleveland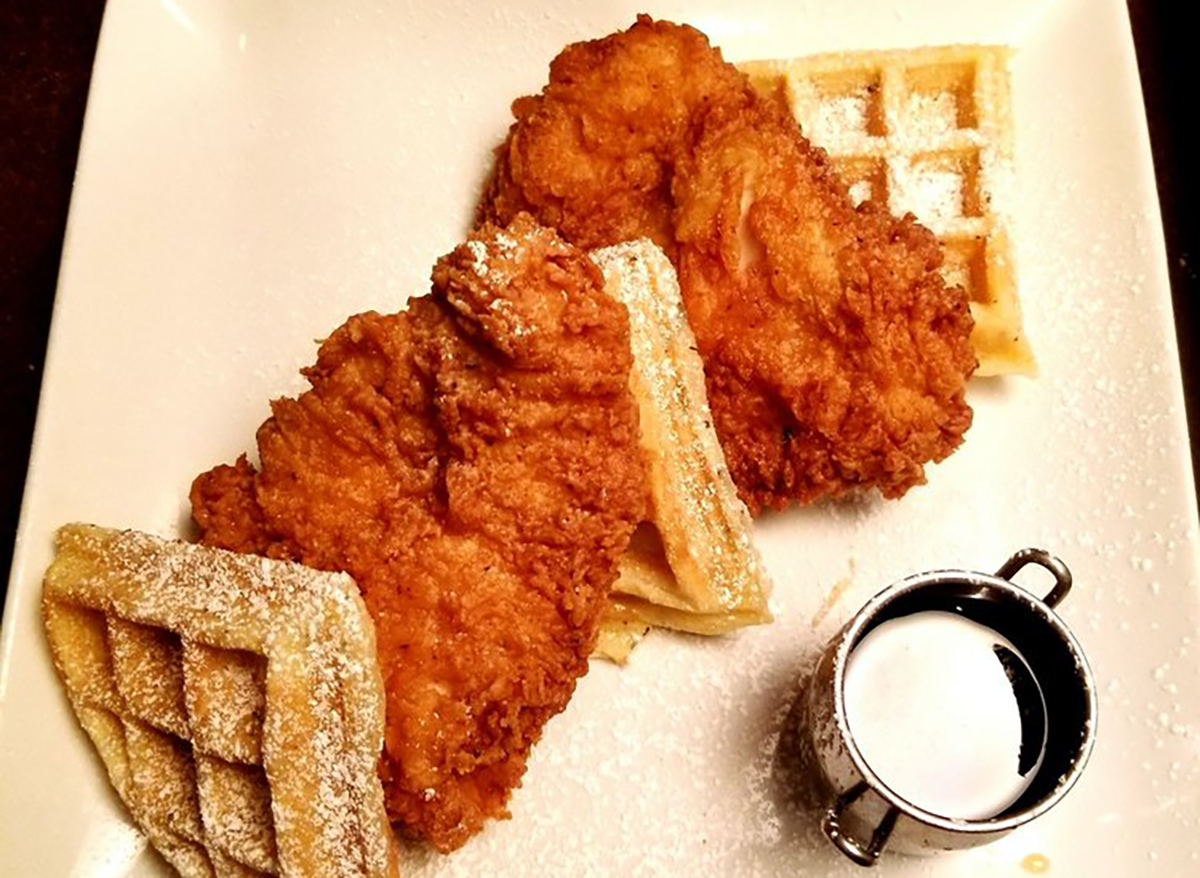 It's no wonder the hot chicken at Soho Chicken Whiskey is considered some of the best chicken in Cleveland—just reading the menu will make your mouth water. A favorite is the Nashville hot chicken, which comes complete with spicy schmaltz, pimento cheese, coleslaw, grilled pickles, and remoulade. Try the hammy collards and ranch potato salad as well.
OKLAHOMA: Vast in Oklahoma City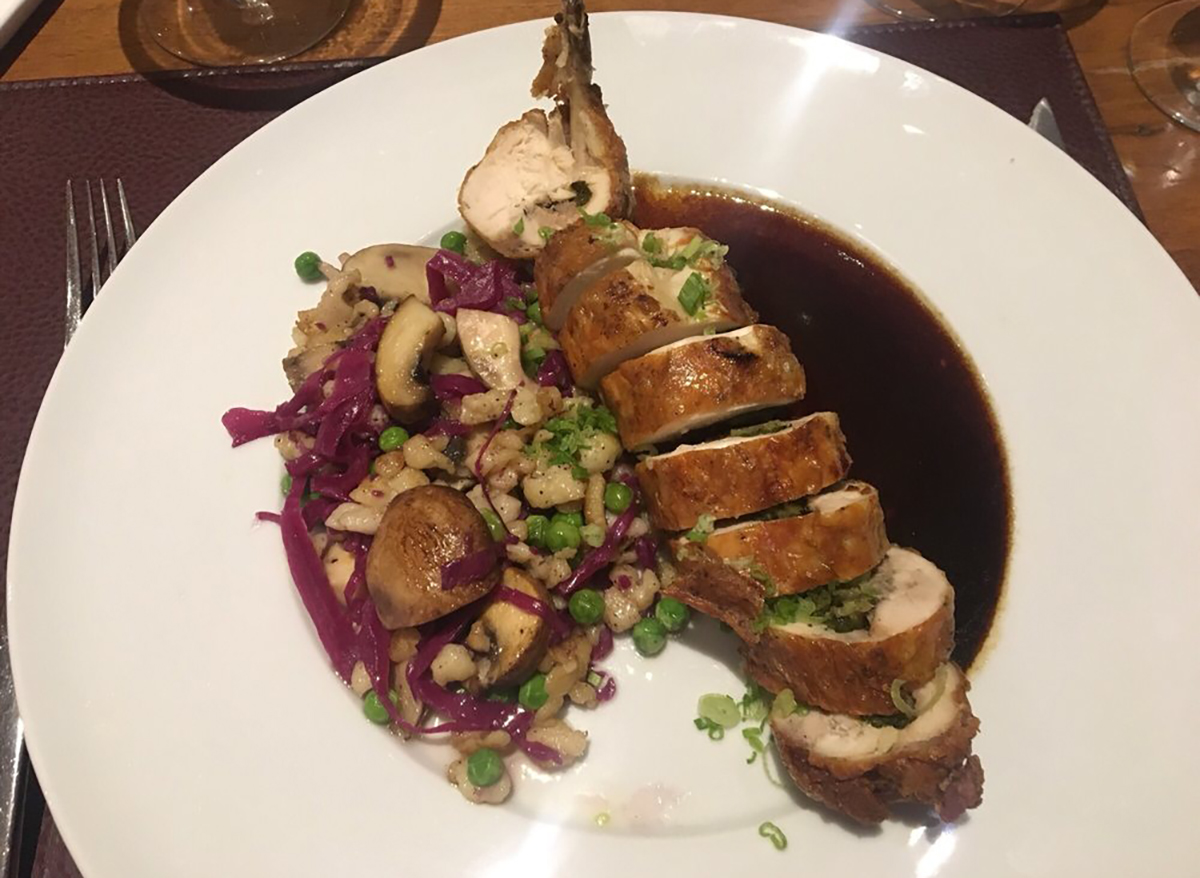 Herb marinated chicken served with root vegetable hash, roasted mushroom purée, fennel, pistachios, and bacon lardons is just one of the many delicious menu choices at this popular Oklahoma City restaurant.
OREGON: Le Pigeon in Portland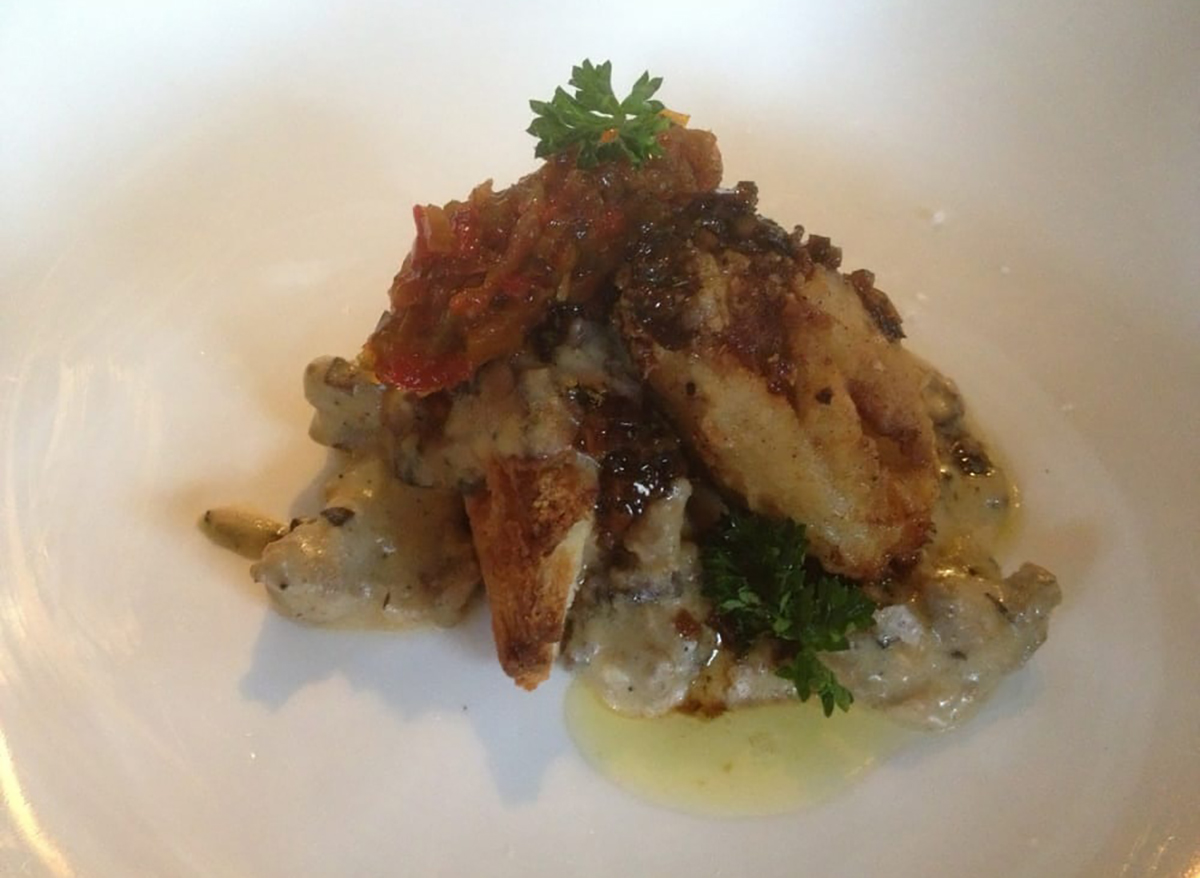 Le Pigeon, a cozy French restaurant that is considered one of the best restaurants in Portland, serves up a delectable menu of hearty dishes. Two chicken favorites that are equally delicious include the roasted chicken and truffled chicken.
PENNSYLVANIA: Friday Saturday Sunday in Philadelphia
The roasted chicken at Friday Saturday Sunday in Philadelphia steals the show. The roasted dish, which is made with juicy chicken and vegetables, has been described by some Yelp reviewers as the best they have ever had.
RHODE ISLAND: Salvation Cafe in Newport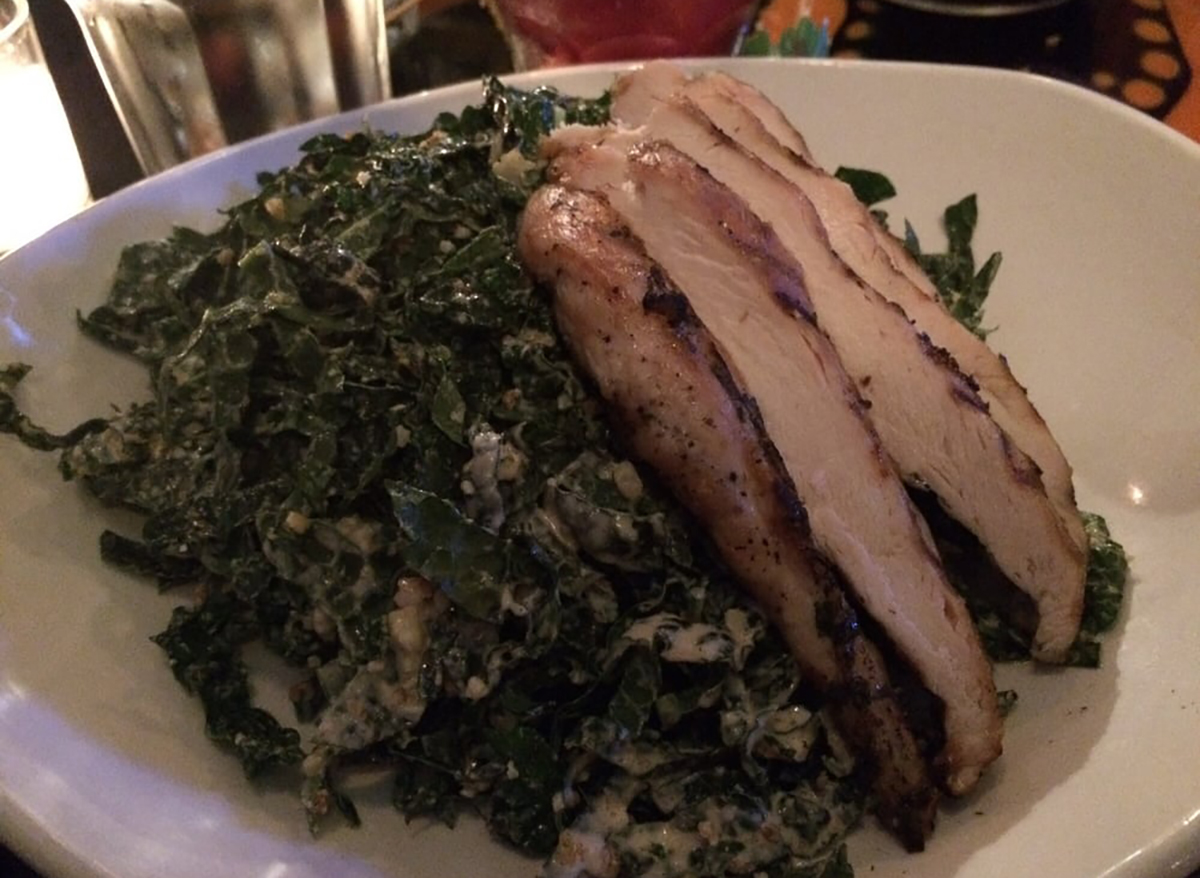 Salvation Cafe, which features a beautiful rustic dining area, a garden, and a seasonal mojito bar, has been a Newport favorite since 1993. One of the best dishes, according to diners? The lemon herb brick chicken, which is made using a fabulous blend of pan-roasted potato gnocchi, parsnip, shiitake mushrooms, dried cherries, kale pesto, and gorgonzola cheese.6254a4d1642c605c54bf1cab17d50f1e
SOUTH CAROLINA: Soby's in Greenville
Soby's, a popular restaurant with an impressive wine cellar, is said to have the best fried chicken dish in all of the state, and by taking a quick peek at the menu, we can see why. Drizzled with hot honey and served with green beans and Carolina chicken bog, a popular Southern rice dish, this finger-licking good chicken meal is just teeming with flavor.
SOUTH DAKOTA: Minerva's in Sioux Falls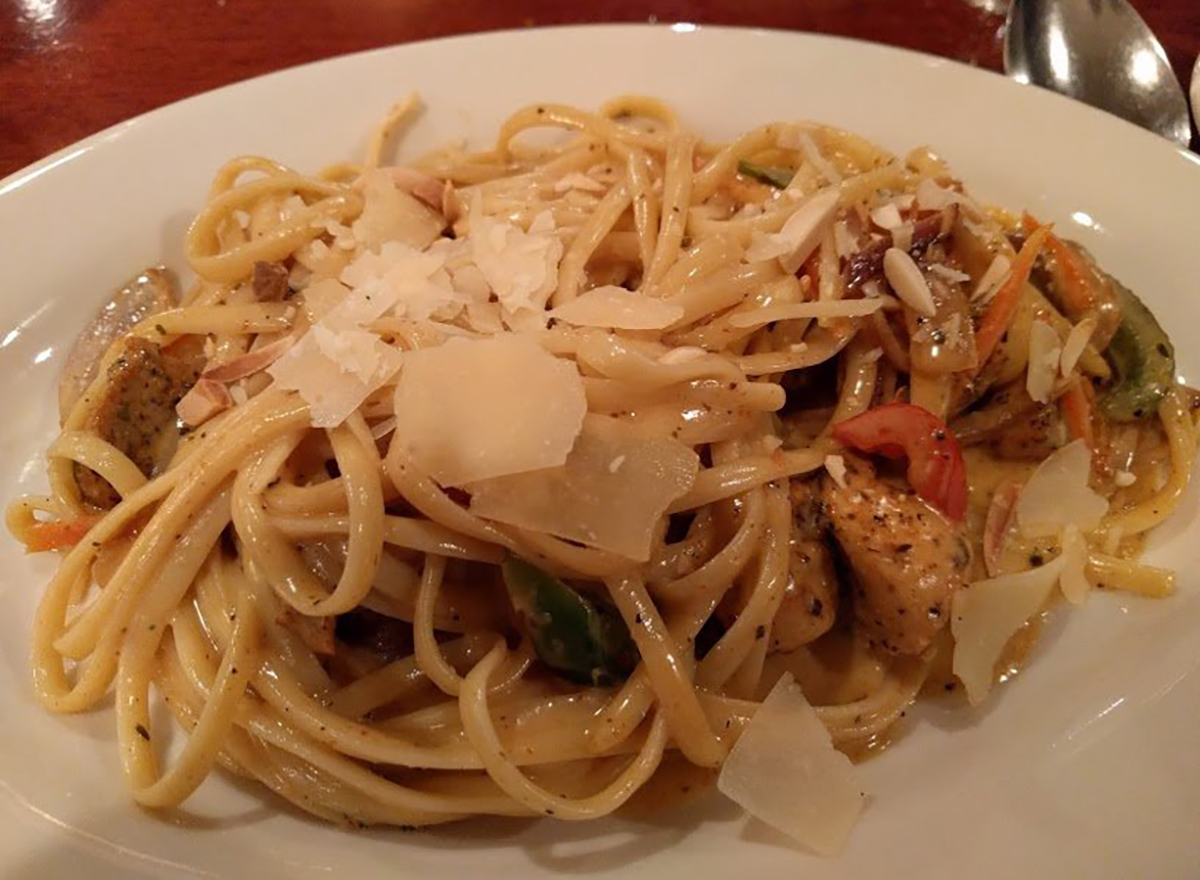 Minerva's offers up a delicious Cajun Chicken Linguine, which is an innovative twist on a classic pasta dish. This pasta favorite is made with Cajun spiced chicken breast, a medley of vegetables, and a white wine cream sauce.
TENNESSEE: Chauhan Ale and Masala House
Chauhan Ale and Masala House, the restaurant started by celebrity chef and television personality Maneet Chauhan, offers a wonderful menu full of globally-inspired Indian dishes. One of visitors' favorites is the chicken tikka masala, which is made using cubed chicken in a curry sauce. If you're looking for a delicious and inventive appetizer, try out another favorite—the tandoori chicken poutine, which is chocked full of tandoori chicken, makhani sauce, cheese curds, and masala fries.
TEXAS: The Blind Goat in Houston
The Blind Goat serves up steaming bowls of dry chicken pho that has become a fan favorite. The dry chicken pho, which comes with its flavorful broth on the side, has become a menu must-try.
UTAH: The Copper Onion in Salt Lake City
The Copper Onion's Cast Iron Mary's Chicken, which features kale, anchovy croutons, currants, pine nuts, and roasted carrots, has been applauded for being fabulously prepared and full of bursting flavors. Mary's Chicken joins other delicious dishes and treats on the menu, such as white miso polenta and rich chocolate pudding.
VERMONT: Istanbul Kebab House in Burlington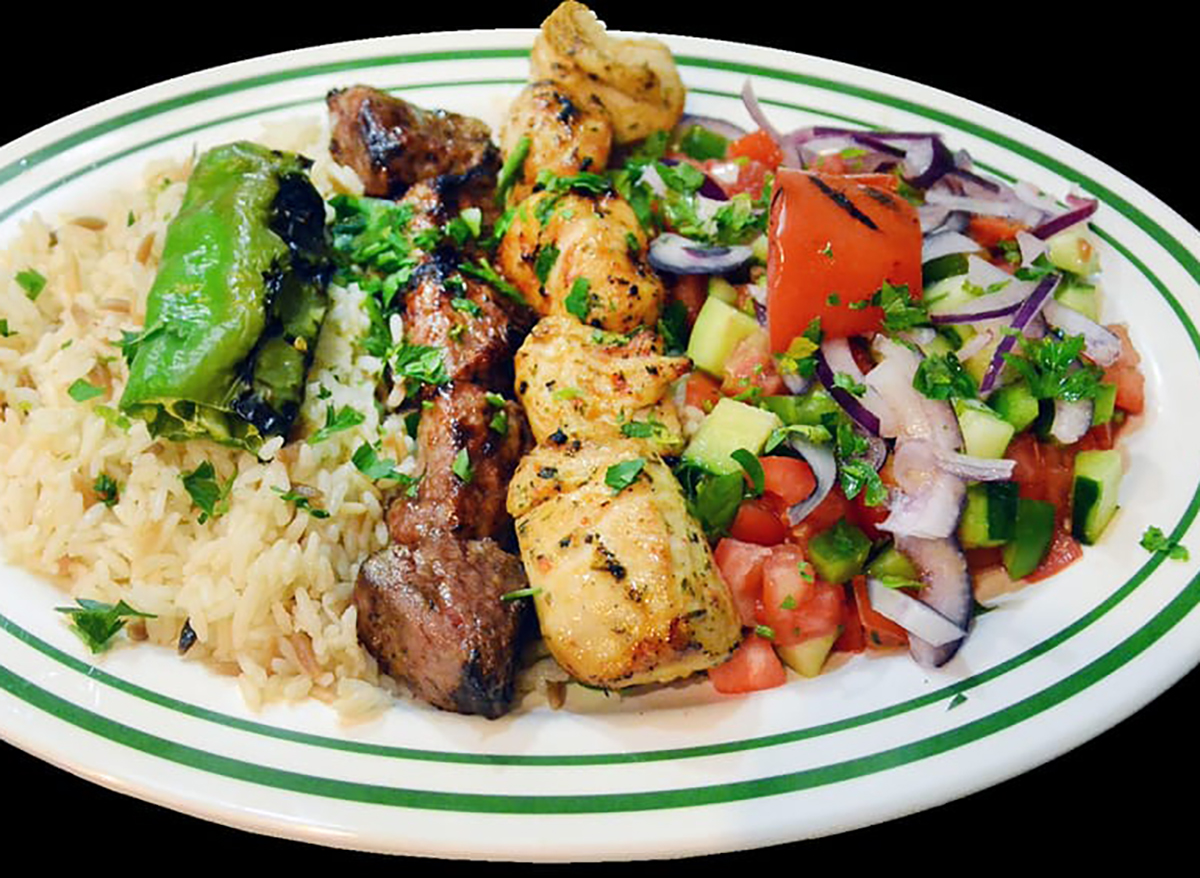 Istanbul Kebab House, a Burlington favorite, serves up delicious Turkish food using an array of ingredients that are imported straight from Turkey. One of the standout dishes is the chicken kebab platter, a tasty delicacy served with Turkish rice, greens, pickled red cabbage, and homemade marinated onions.
VIRGINIA: Hawwi Ethiopian Restaurant in Alexandria
The chicken tibs at Hawwi Ethiopian in Old Town, Alexandria is definitely something to write home about. Simmered in a red pepper and spice sauce, this chicken dish is bursting with flavor. It is served with a side of yellow split peas, green beans, carrots, salad, and either injera or basmati rice, so you know you will be leaving here full. Order a mango juice as a cool, refreshing treat to enjoy with it.
WASHINGTON: Cafe Turko in Seattle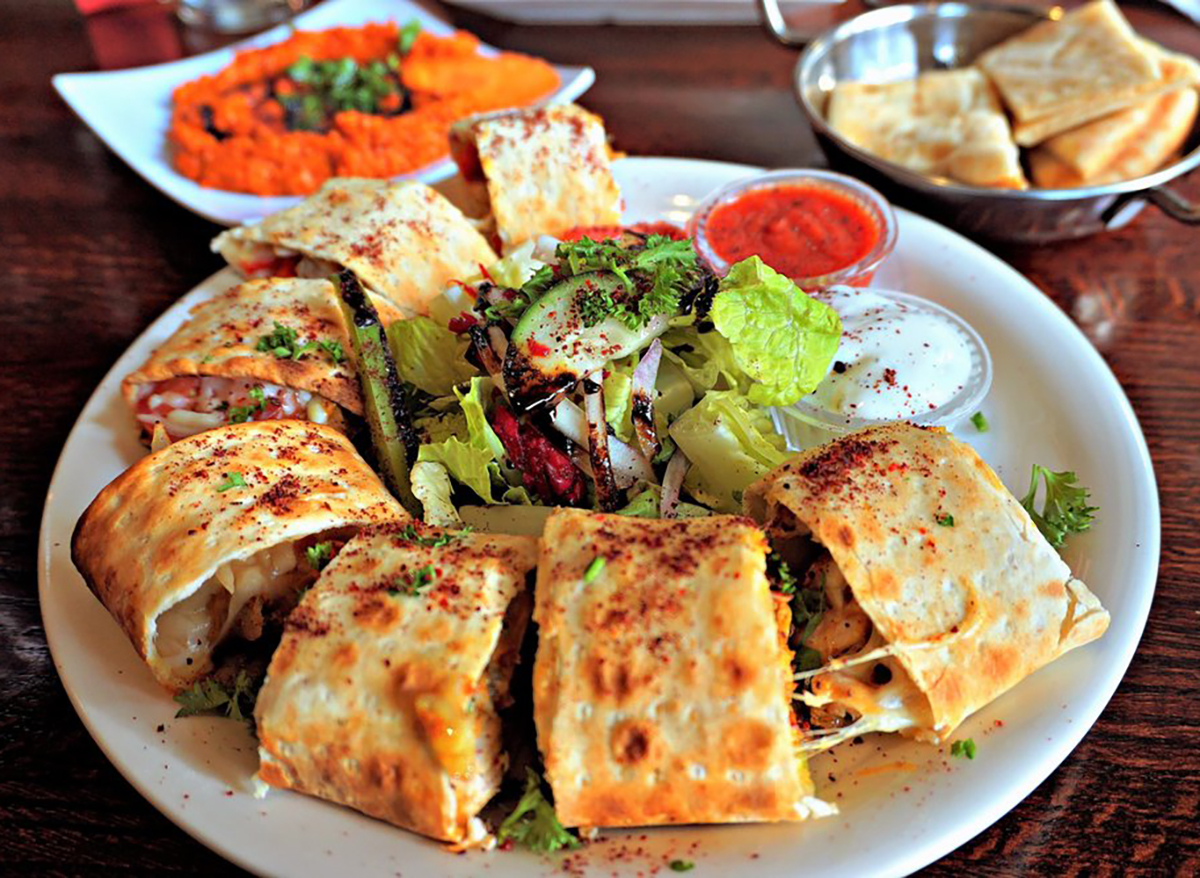 Cafe Turko, the quirky Turkish restaurant in Seattle, serves up a long list of delicious traditional dishes including everything from broiled lamb to couscous. One of the must-haves is the Ali Nazik with Chicken, which is spiced grilled chicken placed on top of a flavorful grilled eggplant sauce.
WEST VIRGINIA: Dem 2 Brothers and a Grill in Charleston
Dem 2 Brothers and a Grill started out as a roadside venture years ago, and has now grown to be one of Charleston, West Virginia's most popular dining destinations. One of people's favorite dishes is the chicken and brisket platter that you can order with collard greens, macaroni and cheese, and sweet potato casserole.
WISCONSIN: Blue Bat Kitchen and Tequilaria in Milwaukee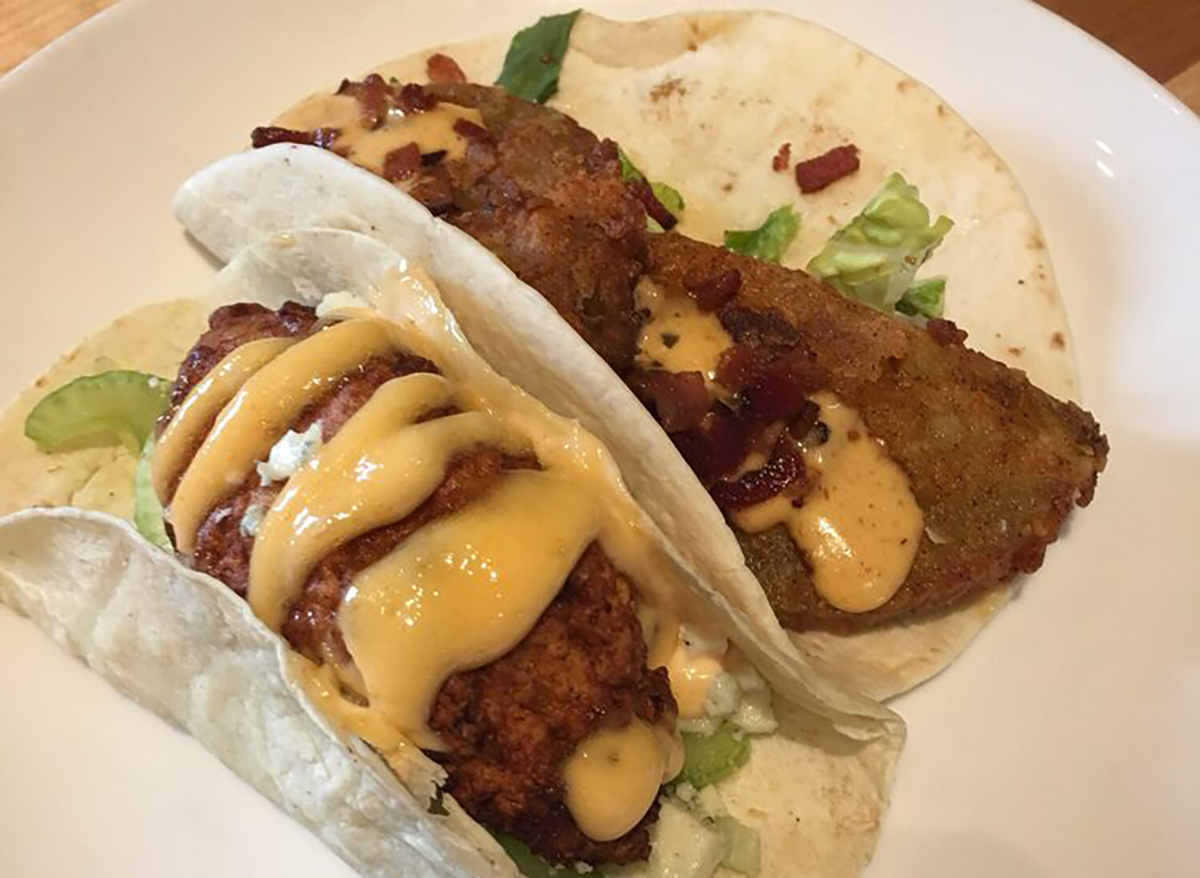 Loaded with chunks of seasoned chicken, fresh avocado, grilled corn, fried tortillas, and blistered tomatoes, this hearty bowl at Blue Bat Kitchen is bursting with flavor.
WYOMING: Korean House in Cheyenne
This classic Korean restaurant offers tons of delicious options, including steamed mondoo and beef ribs. The Spicy Chicken dish, which is chicken bulgogi made with red pepper seasoning, keeps people coming back for more.