The Best Chocolate Chip Cookie in Every State, According to Yelp
Paired with a glass of milk, there really is nothing better than a cookie. Here's exactly where you can find the best ones.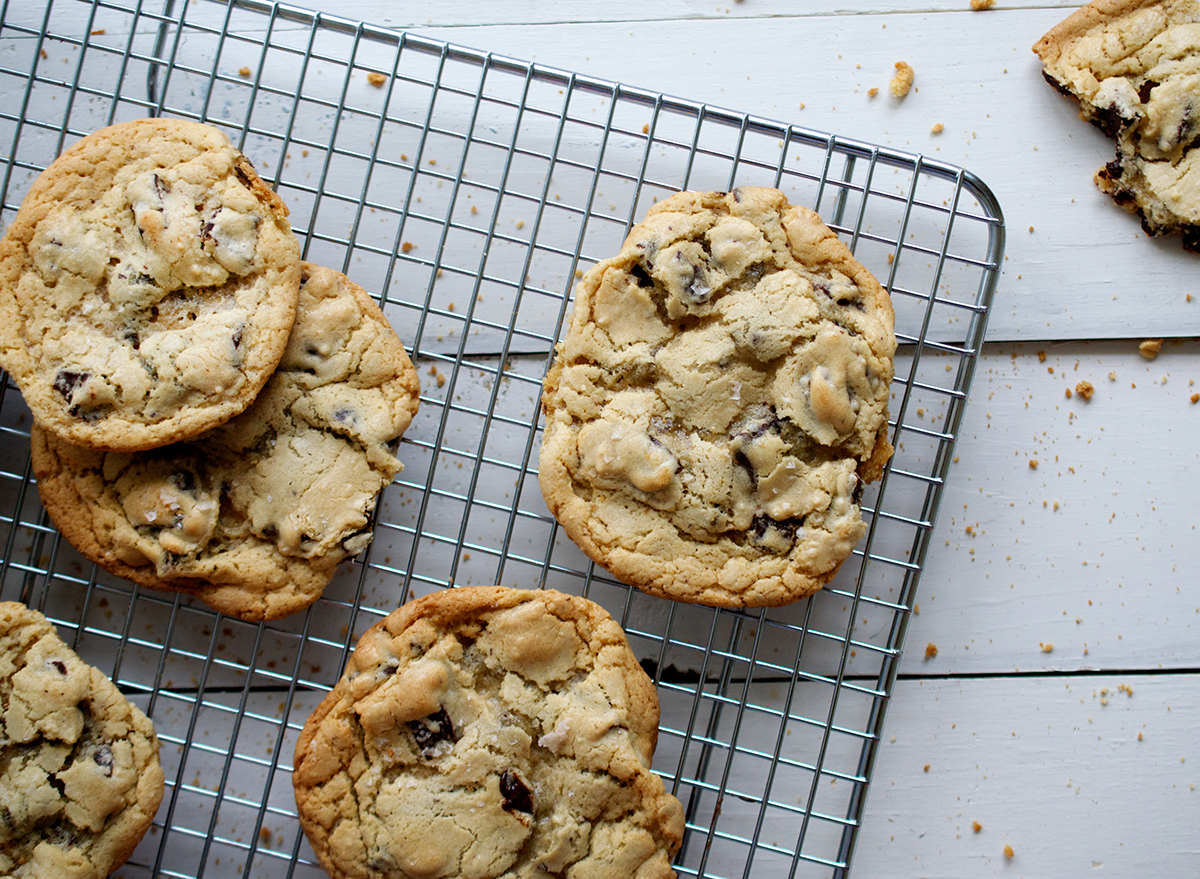 The chocolate chip cookie is kind of like the little black dress of the bakery world: It's timeless, you never tire of it, and you can always count on it to make you feel just a little bit better. While trendy treats like cronuts and cruffins may come and go, the chocolate chip cookie has been a mainstay for more than 80 years. Whether crispy, chewy, or soft, studded with milk or dark chocolate, one thing's for sure: This cookie is the epitome of comfort food, especially when served warm from the oven. That's why we decided to round up the best chocolate chip cookie in every state so you can recapture a bit of childhood nostalgia, or perhaps even discover an innovative twist on the classic confection that surprises you in the best way.
Methodology: We worked with Yelp to determine the best bakery in every state. Yelp notes, "We identified businesses in the restaurants and food categories with a large concentration of reviews mentioning 'chocolate chip cookie,' then ranked those spots using a number of factors including the total volume and ratings of reviews mentioning 'chocolate chip cookie.'"
After reviewing the top two or three businesses in every state according to Yelp's data, we selected one that amassed particularly standout reviews for its chocolate chip cookie. From hip coffeehouses to family-owned bake shops, here are the spots worth scoping out for your favorite treat. And for more, check out these 15 Classic American Desserts That Deserve a Comeback.
ALABAMA: Cookie Fix in Homewood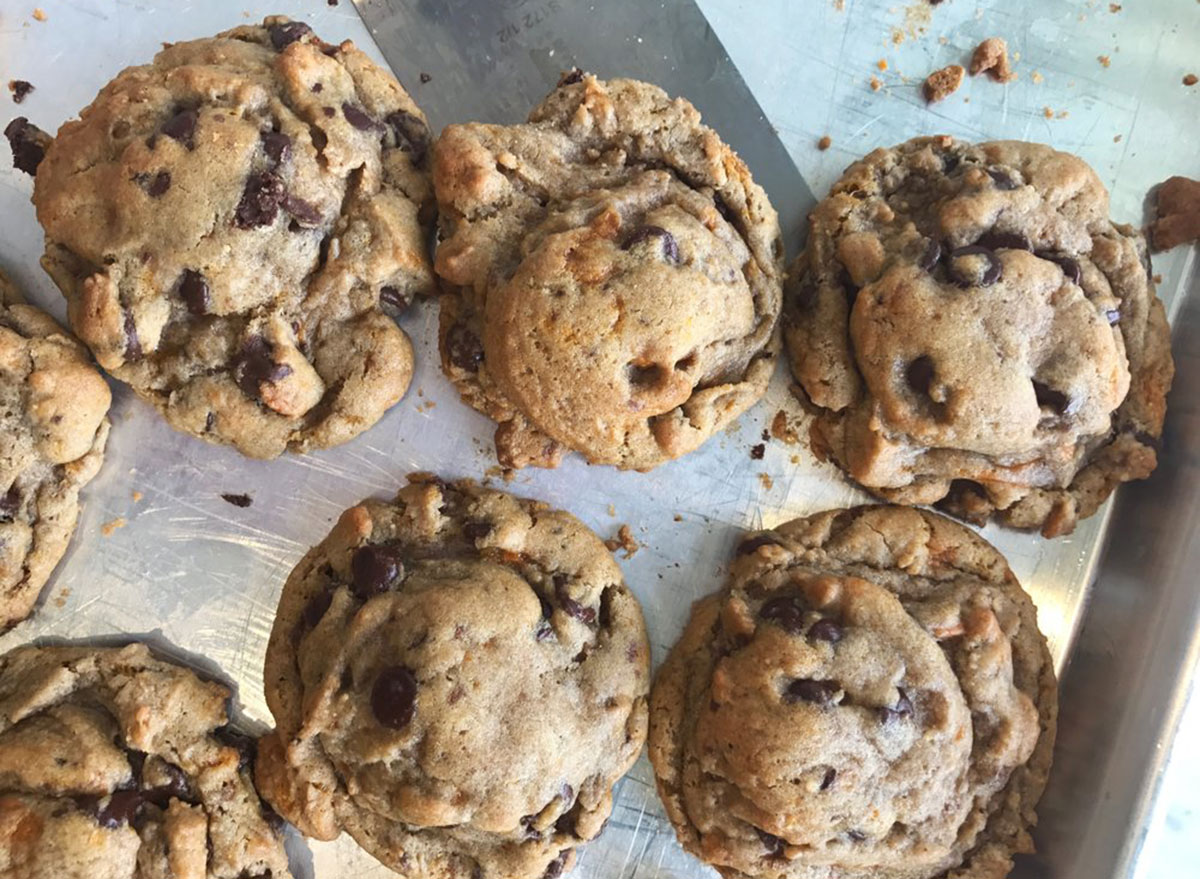 Though this small-batch sweet shop may be quite small, the cookies pack some seriously big flavor. And lucky for you, while the selection of varieties rotates, the chocolate chip cookies—which are crunchy around the edges, and soft on the inside—are always available, every day (until they sell out, that is). "The chocolate chip cookies still blow me away even though I have had them multiple times," says one Yelper. Best of all, you can even buy the cookie dough on-site, and bake a batch of your own at home.
And for more food news, sign up for our newsletter to get daily recipes and food news in your inbox!
ALASKA: Fire Island Rustic Bakeshop in Anchorage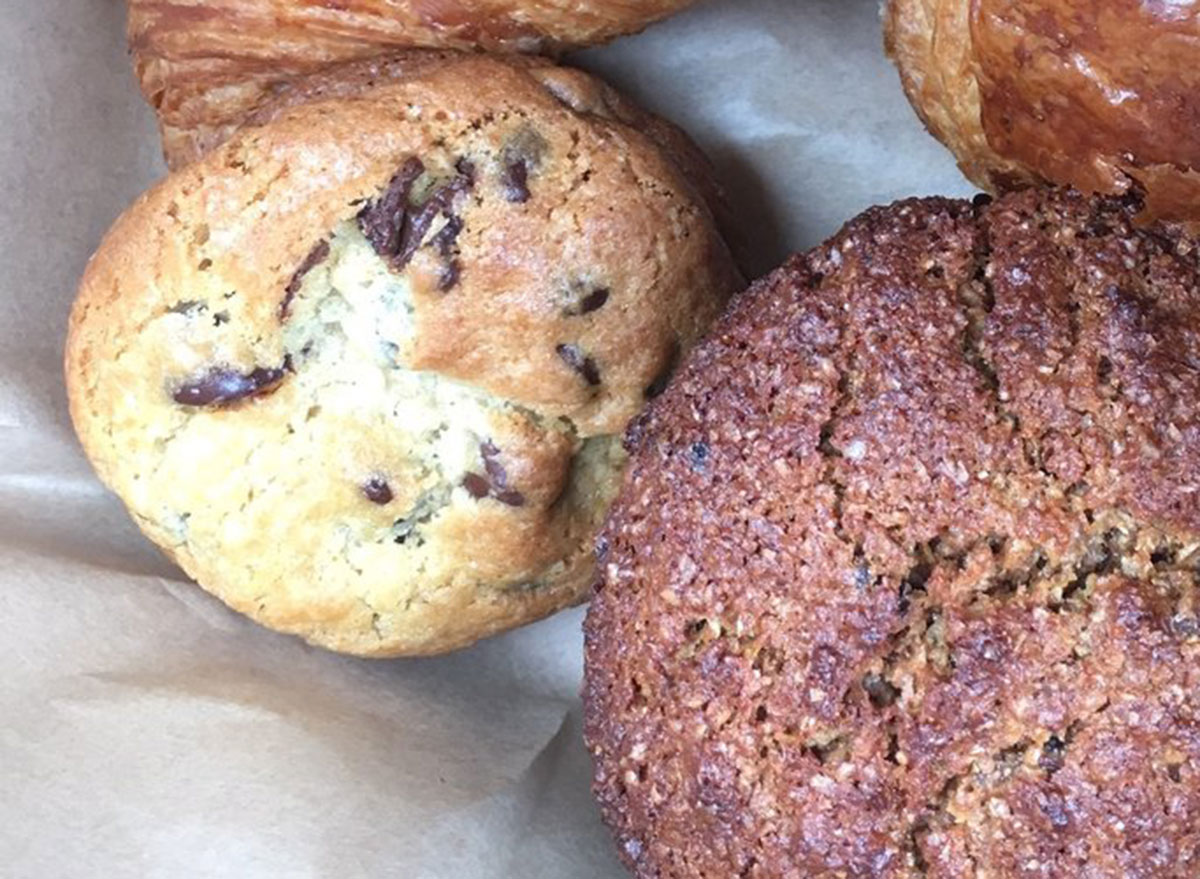 Some Yelpers say they dream about the perfectly chewy cookies loaded with bittersweet chocolate chips at this family-owned artisan bakery. They're made fresh every day—in fact, staff bakes new batches throughout the morning and afternoon. But what makes these cookies stand out is that they have a lower sugar content, which allows the butter and rich chocolate to shine. "Whatever you do, do not eat the chocolate chip cookie," says one Yelper. "It will ruin all other cookies for you."
ARIZONA: Not Your Typical Deli in Gilbert
While many patrons may initially flock to this charming deli-meets-bakery for the mile-high sandwiches, many end up coming back for the jumbo-sized chocolate chip cookies, which have won a number of accolades over the years. Some might say the cookie is big enough for two—but based on Yelpers' reviews, you may not want to share.
ARKANSAS: The Root Cafe in Little Rock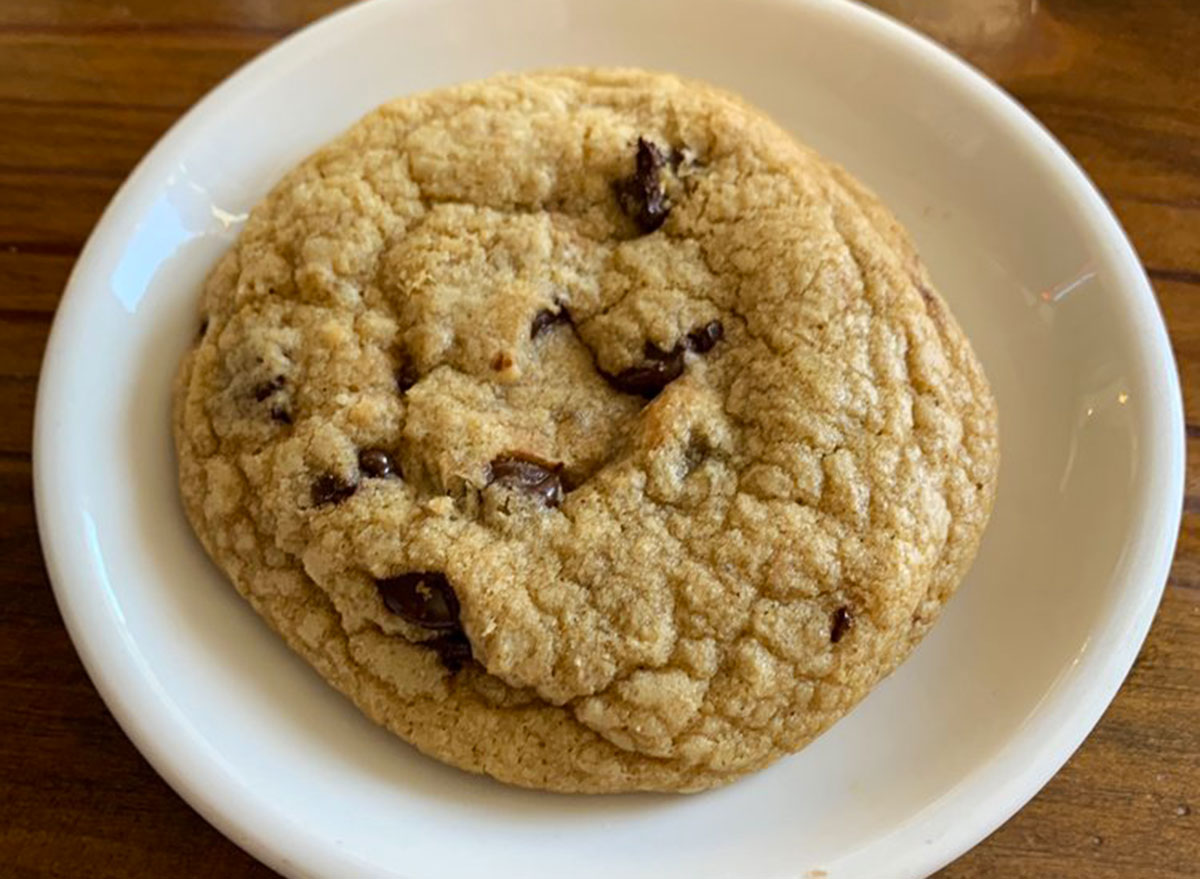 This award-winning farm-to-table restaurant isn't just known for its epic Sunday brunch, but also its homemade baked goods. Yelpers say the chocolate chip cookies are unforgettable—"perfectly balanced between chewy and crisp." Pro tip: Wash it down with a cardamom or toasted caramel iced coffee.
CALIFORNIA: B Patisserie in San Francisco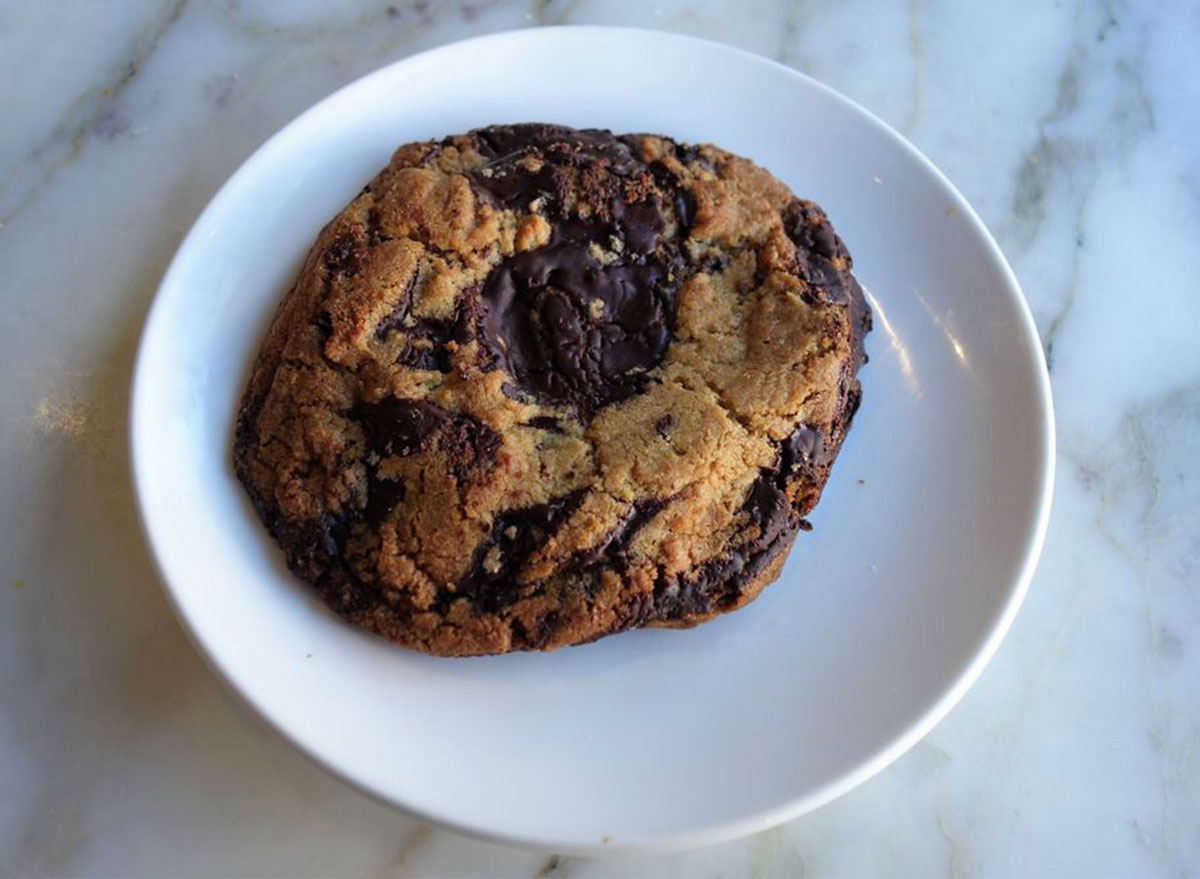 If you like your chocolate chip cookies heavy on the chocolate, then you'll definitely appreciate B Patisserie's version. Yelpers rave about these cookies because they not only feature premium Valrhona chocolate, but also a touch of sea salt, which provides some nice balance for the sweetness. What's more, customers get to watch Chef Leong in action alongside her pastry cooks as they whip up the patisserie's many delectable baked goods.
COLORADO: Santa Fe Cookie in Denver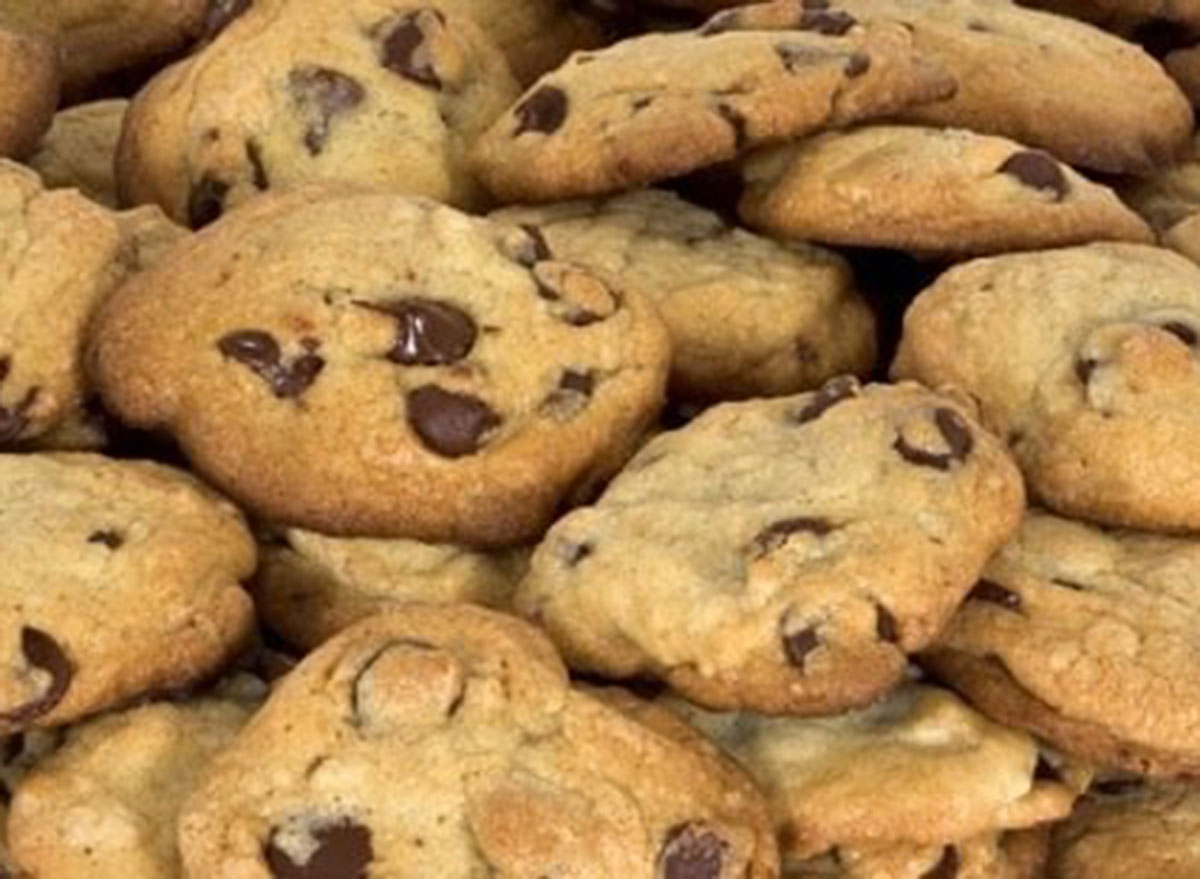 Yelpers say this bakery is a bit tough to find—but it's well worth the hunt for the chocolate chip cookies alone, which boast the perfect ratio of chocolate chips. Because new batches are baked all day long, there's always a good chance you'll get one warm from the oven, melty chips and all. One reviewer says they "put Mrs. Fields and Toll House to shame."
NOTE: Santa Fe Cookie Company is temporarily closed.
CONNECTICUT: Sift Bake Shop in Mystic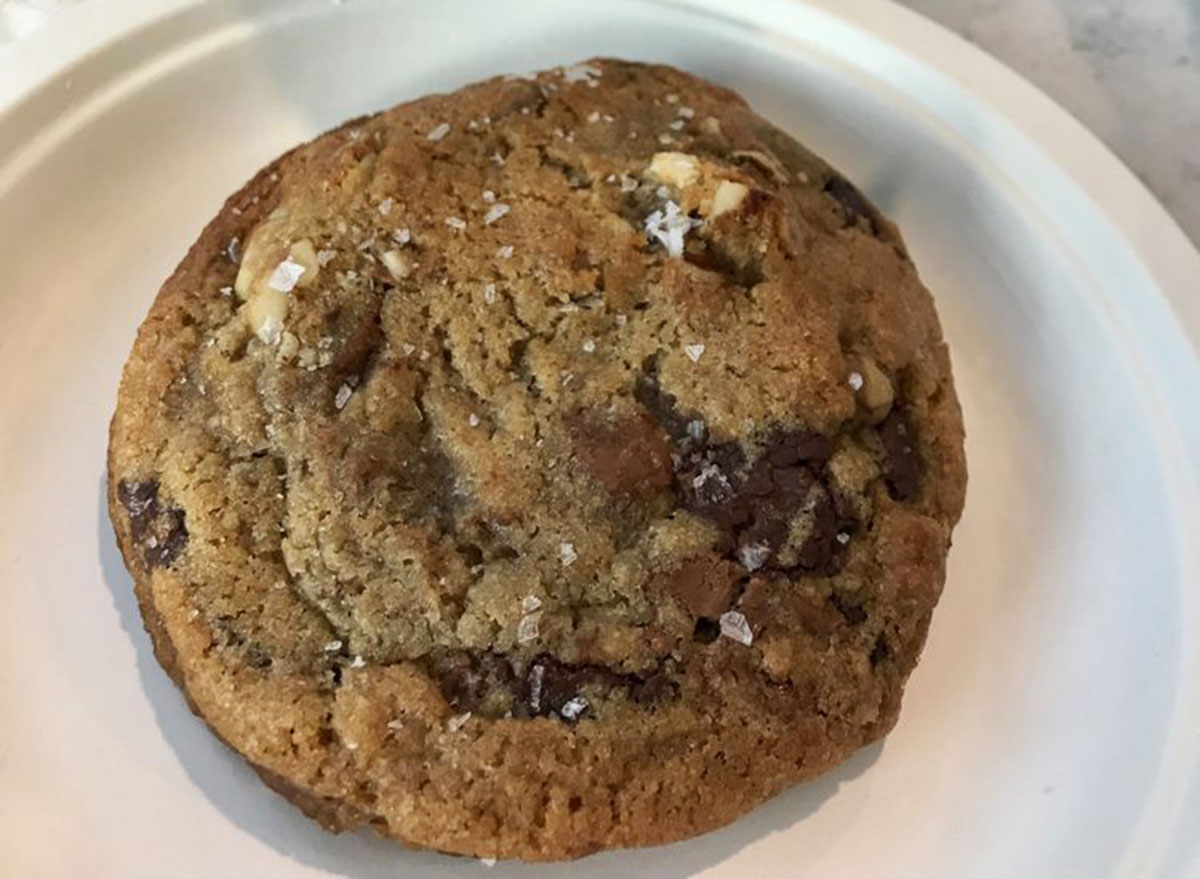 The line can get rather long at this family-owned, French-inspired bakery, according to Yelpers. But once you take one bite of their famous chocolate chip cookie, you'll understand why. It's not just enormous, it also has a sprinkling of sea salt for good measure. For an extra decadent pairing, add a hot chocolate flight to your order.
DELAWARE: Frank & Louie's Italian Specialties in Rehoboth Beach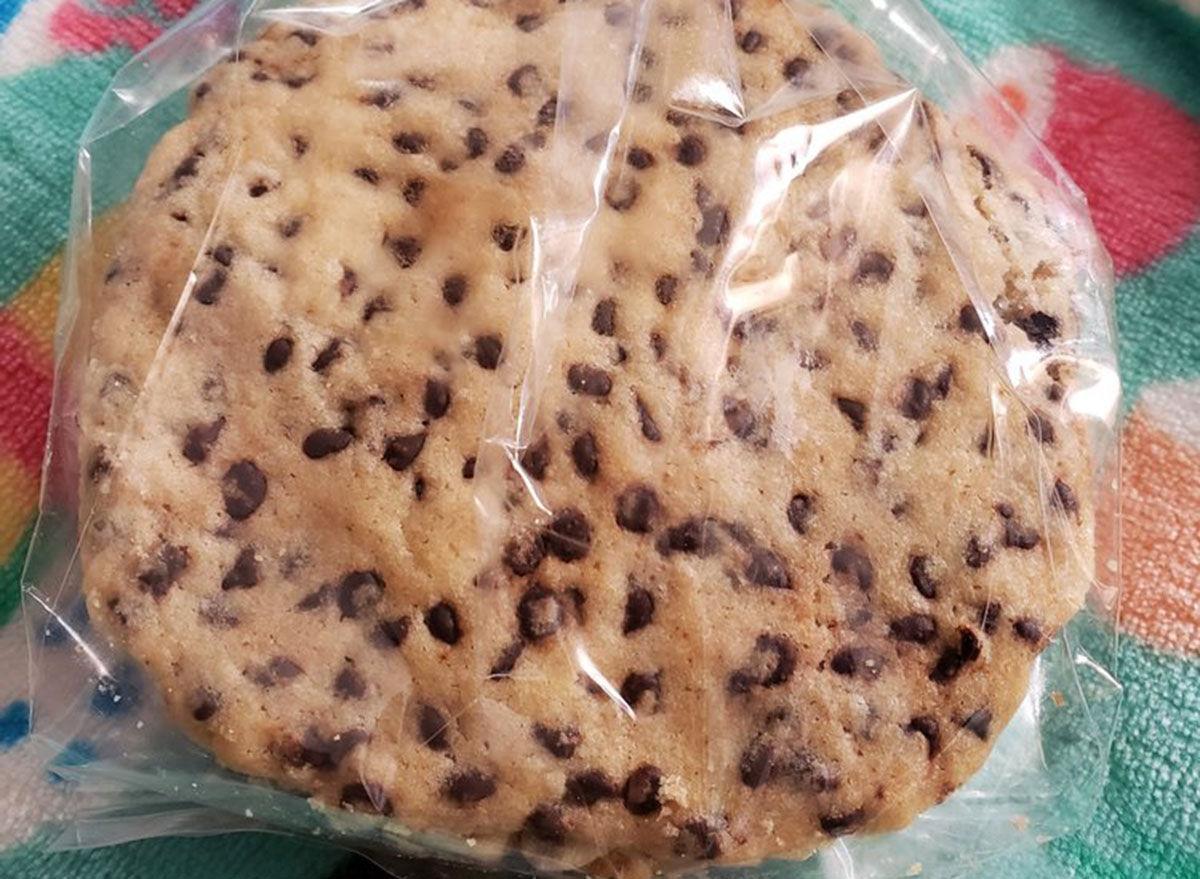 From the moment you walk into this authentic Italian deli/bakery, you'll be instantly hit with the mouthwatering aroma of freshly baked bread and sweets. And Yelpers can't get enough of the light, crisp chocolate chip cookies studded with a slew of tiny chips, which they say are "to die for." One reviewer went so far as to say that the cookies are "even better than the ones in Italy."
FLORIDA: Gideon's Bakehouse in Orlando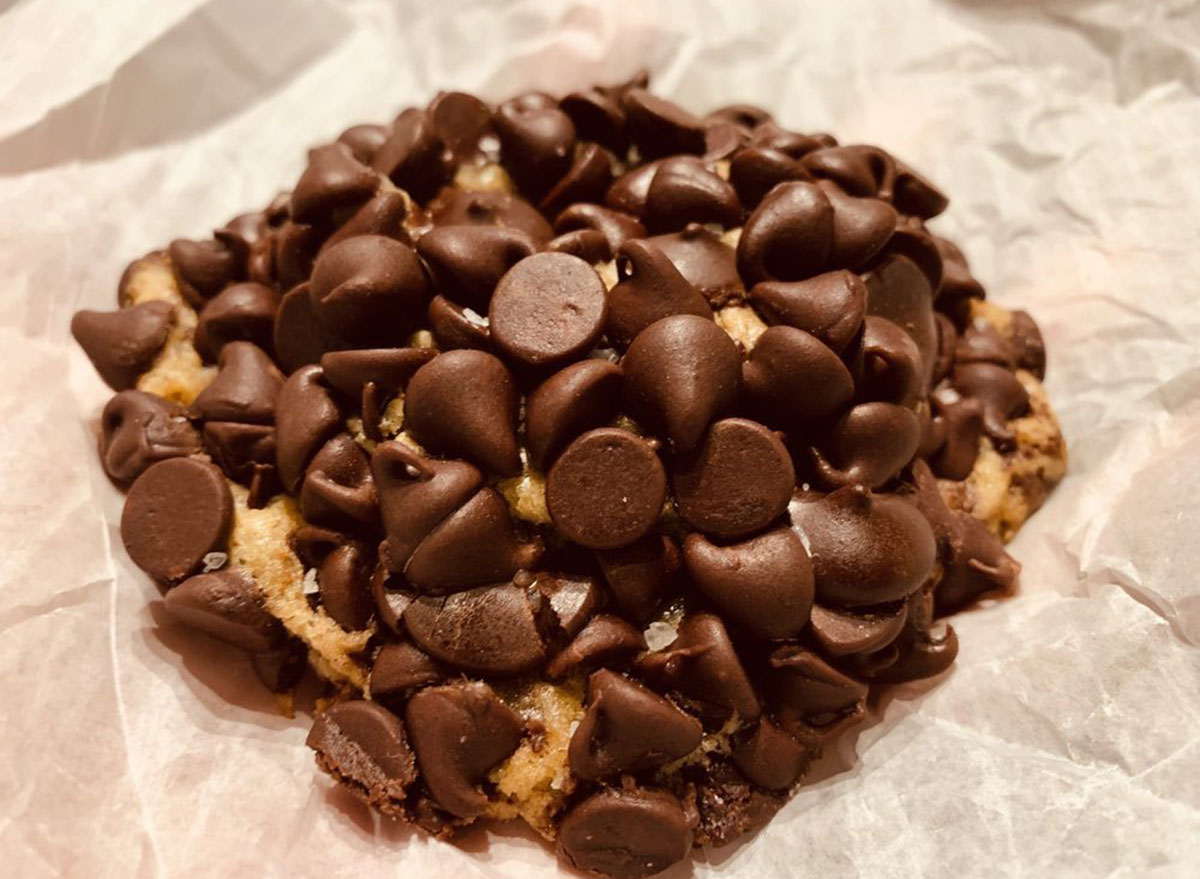 Chocolate lovers will definitely appreciate the enormous chocolate chip cookies at this warm, inviting bakeshop, as they're loaded with oversized chips throughout, with an extra smattering on top for good measure. "This isn't a cookie," says one Yelper. "This is an experience." Indeed, the half-pound cookie is large enough to share, but good luck forfeiting half. With a hint of vanilla sea salt and a pinch of sea salt, these cookies certainly aren't short on flavor. Note that Gideon's also offers a version of their classic chocolate chip cookie with double-baked candied walnuts.
GEORGIA: Back In The Day Bakery in Savannah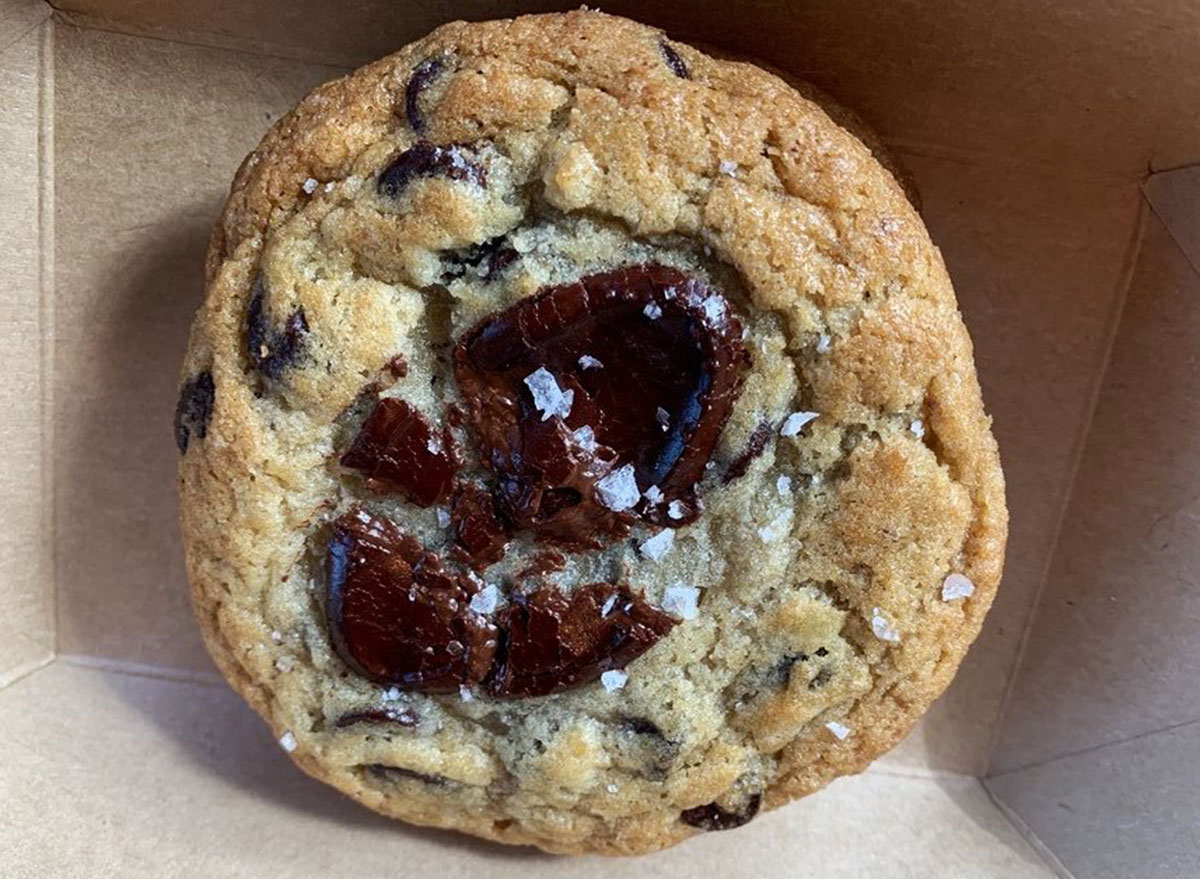 Countless Yelpers say the cookies at this nostalgic retro bakery are the best they've ever had—in part because you taste chocolate in every bite (there's even a big dollop of chocolate in the center for good measure). For the true Southern experience, wash down your cookie with some sweet tea.
HAWAII: Kalapawai Café & Deli in Kailua
This contemporary eatery is known for its friendly service, relaxed atmosphere, and out-of-this-world sweets. The secret to their salted chocolate chip cookies is the use of brown butter, which gives them an even richer flavor. For an even more indulgent twist, order the cookie warm and a la mode with vanilla ice cream. "You'll love it," says one Yelper. "If you don't, something is wrong with your taste buds."
IDAHO: Chip Cookies in Boise
It's not just the fast and friendly service and the melt-in-your-mouth cookies that have helped this bakery to earn such a loyal following. It's also the delivery service—that's right, you can order warm gourmet cookies and ice cold milk right to your doorstep. And what's not to love about their signature chocolate chip cookies, which are baked till golden brown and crispy around the edges, but still gooey in the center? Part of what makes them shine is the use of high-quality Guittard chocolate, and the fact that they're always served warm. And if the original size looks too intimidating, you can always opt for the miniaturized version.
ILLINOIS: Scofflaw in Chicago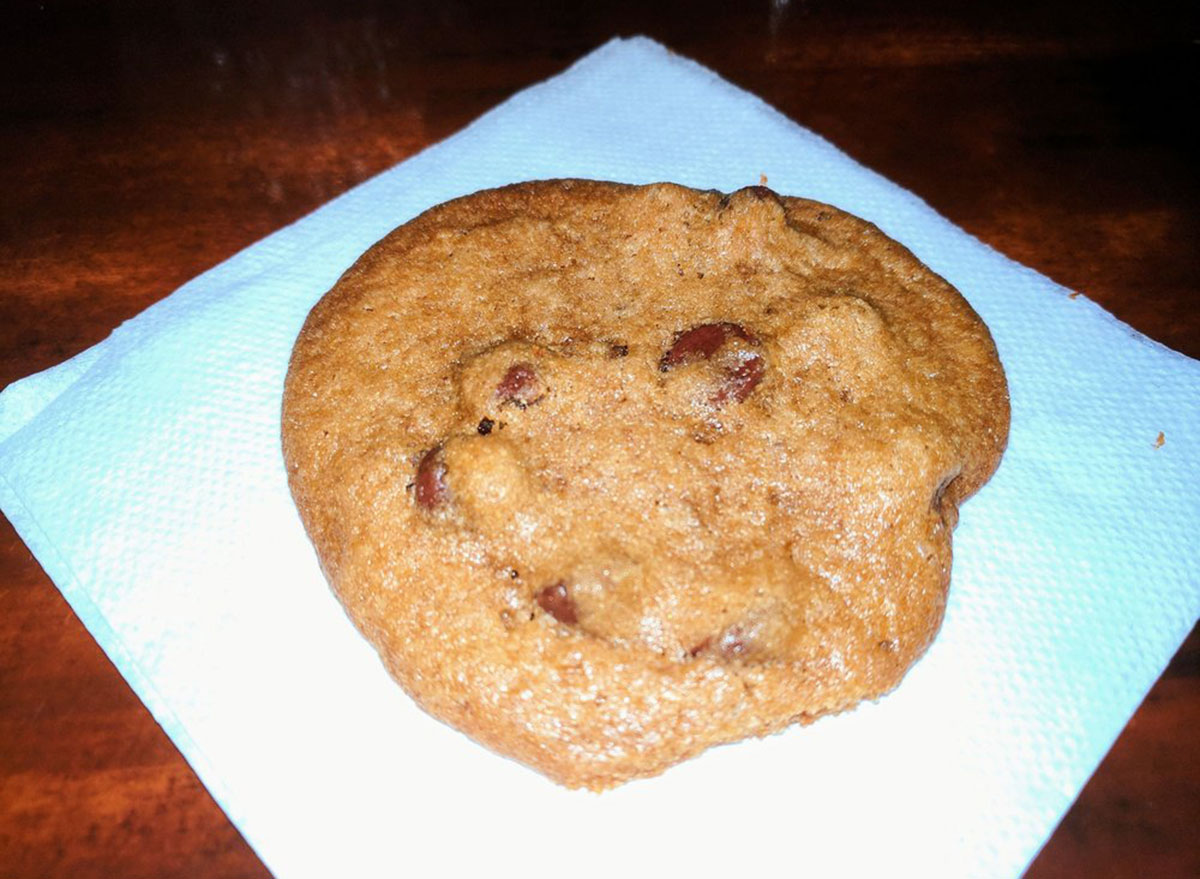 Here's a little-known secret: If you swing by this rustic cocktail bar in Logan Square in the evening and stay till midnight, you'll be treated to their scrumptious complimentary chocolate chip cookies. Or, if you aren't up to waiting around for the free treat, you can also order their ice cream sandwich dessert, which features a scoop of seasonal ice cream wedged between two of their famous chocolate chip cookies. Whichever route you go, consider one of Scofflaw's hot toddies for a particularly comforting pairing.
INDIANA: Amelia's in Indianapolis
This charming bakery may be known for its hand-shaped, hearth-baked bread—but Yelpers insist that the "dense, delish" chocolate chip cookies deserve just as much recognition. Thick, moist, and with just a hint of sea salt, they're a perfect, no-frills iteration of the classic. One reviewer said it's "the type of cookie that you drop in public, look to see if anyone saw you drop it, then you pick it up and continue to eat it because it's that good." That just about sums it up.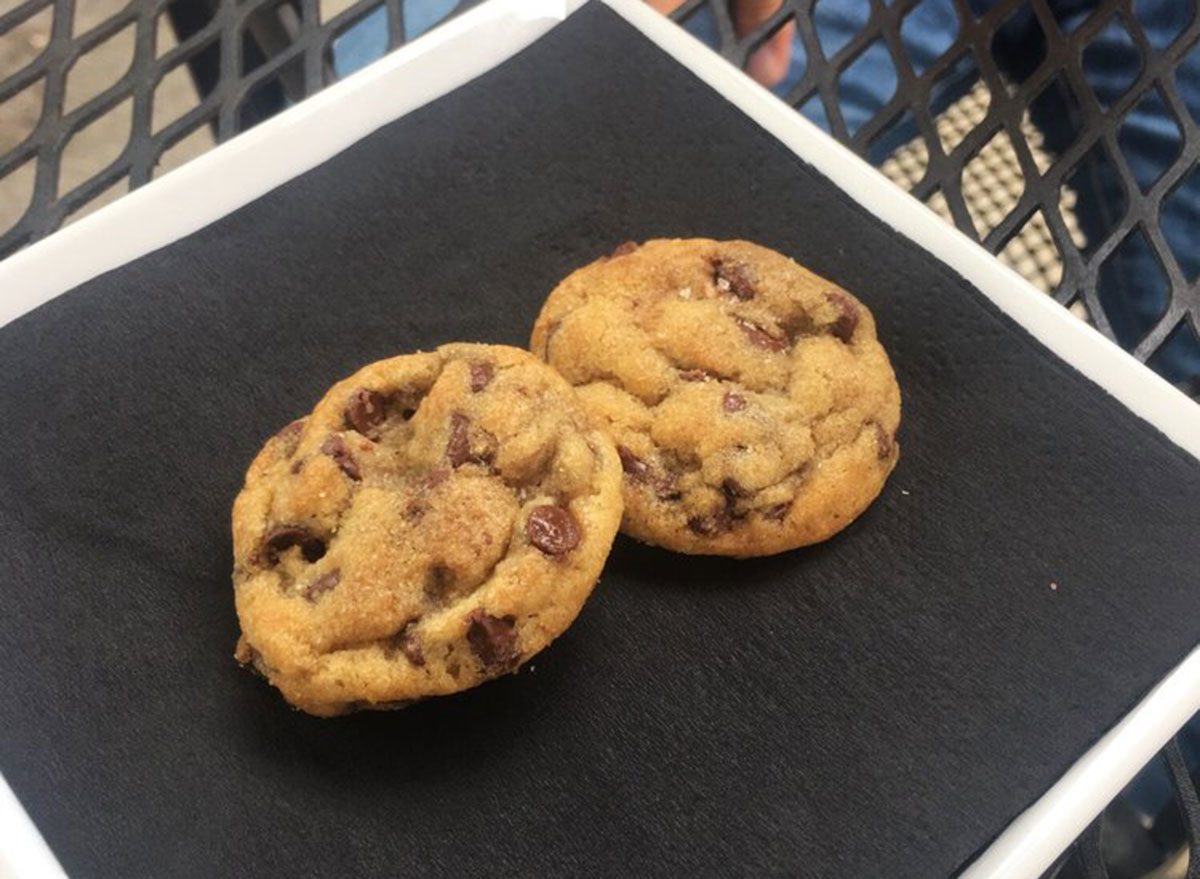 Patrons may come to this farm-to-table restaurant for the savory French-American fusion dishes, but it's the "divine" sea salt chocolate chip cookies that seem to stick out in their minds long after the dining experience is over. The best part? They're served as a complimentary sweet surprise at the end of your meal. One reviewer even claims they're "better than Mom made." Did we mention they're free yet?
KANSAS: Blackbird Espresso Bar & Bistro in Topeka
Grab a latte and a baked good at this cute coffee shop, and you'll be good to go. Don't sleep on the cinnamon rolls, either.
KENTUCKY: Please & Thank You in Louisville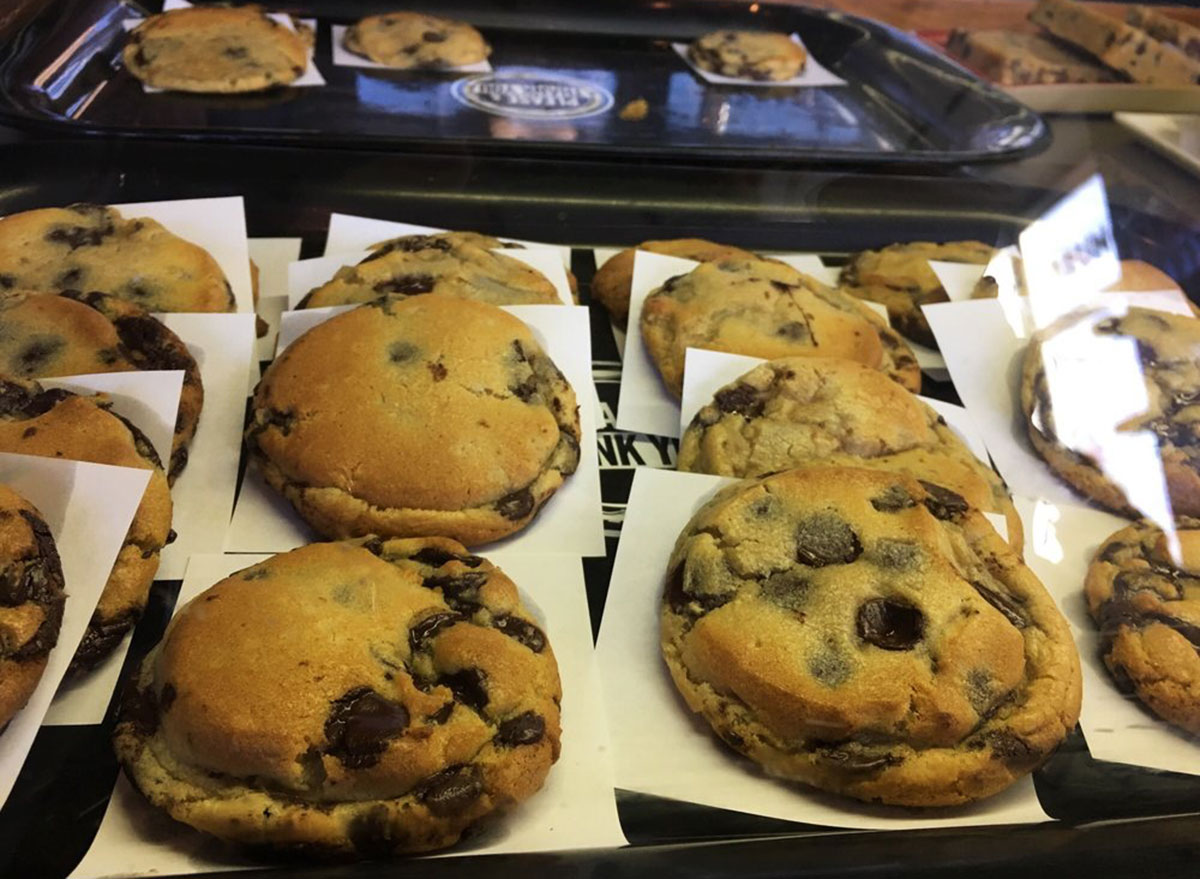 Outside the trendy small-batch Southern bakery-meets-coffeehouse is a sign proudly promising the best chocolate chip cookie in Louisville—and many Yelpers concur that it lives up to the hype. You'll likely agree if you like your cookie super soft on the inside and just slightly crisp around the edges. One reviewer helpfully advises grabbing some napkins to wipe the chocolate off your face—the cookies are just that gooey. Take things up a notch by pairing your cookie with a Honey Boy latte or a Mexican Hot Chocolate.
LOUISIANA: Willa Jean in New Orleans
There's no doubt that the real star of the show at this chic bakery and café are the chocolate chip cookies. And while you can certainly order a single cookie solo, reviewers insist it would be a shame not to order the platter, which features three warm Valrhona chocolate chip cookies, a scoop of cookie dough, and a cup of cold Tahitian vanilla milk for dunking or drinking. "This might be heaven," says one reviewer.
MAINE: Standard Baking in Portland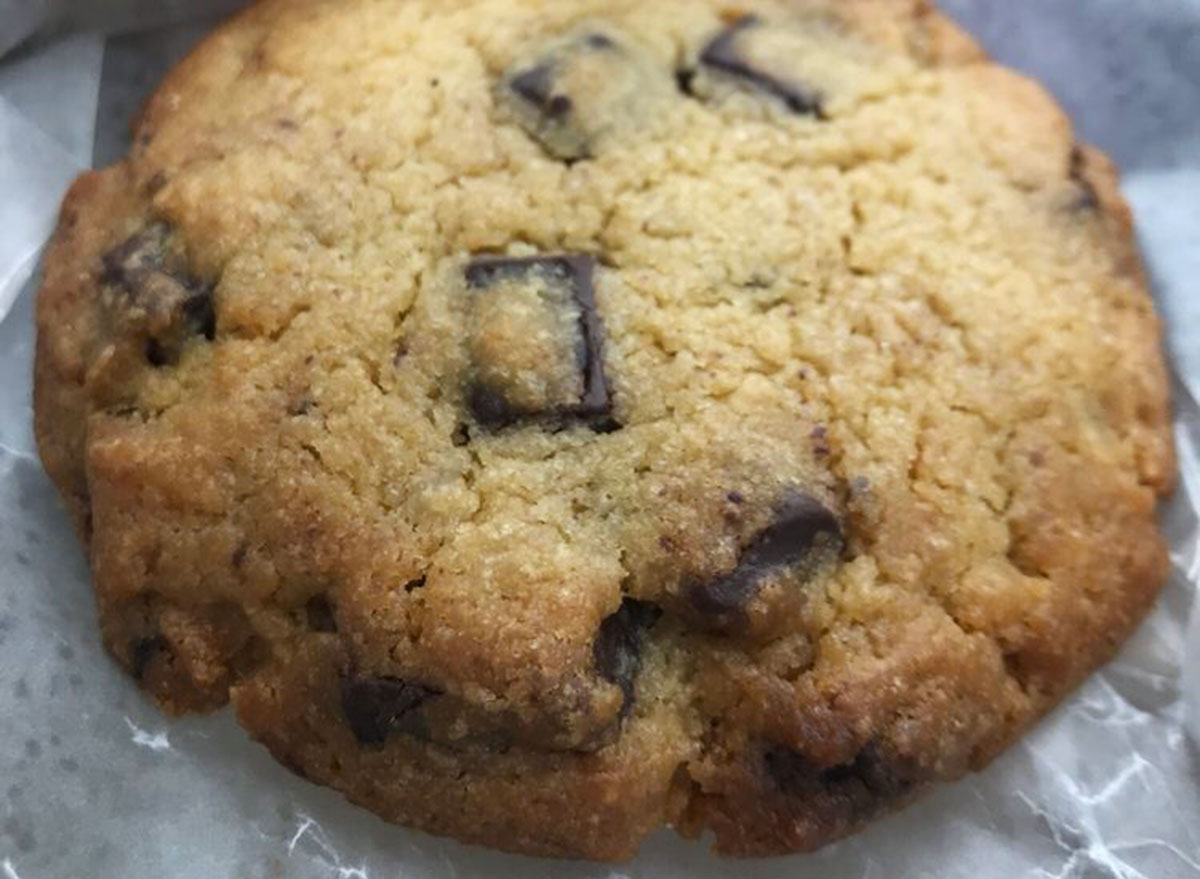 What sets the bread and sweets apart at this family-owned bakery is that they opt for organic, locally grown ingredients (including flour) whenever possible. Apparently, that effort makes a big difference, because Yelpers say their chocolate chip cookie is simply unforgettable—a little salty and a little sweet, a little soft and a little crunchy, it represents the epitome of balance. Pro tip: If you want yours warm from the oven, stop by at 1:30 p.m.
MARYLAND: The Baked Bear in North Bethesda
Order an ice cream sandwich made with fresh-baked cookies at this cozy dessert shop. There are vegan and gluten-free chocolate chip cookies here, too!
MASSACHUSETTS: Blunch in Boston
Patrons of this hip South End café keep coming back for the thick, chewy triple chocolate chip cookies, and for good reason. They're loaded with massive chocolate chunks, making them the perfect cure for any sweet tooth. Reviewers highly recommend warming these cookies up for an even softer, gooier texture.
MICHIGAN: Avalon International Breads in Detroit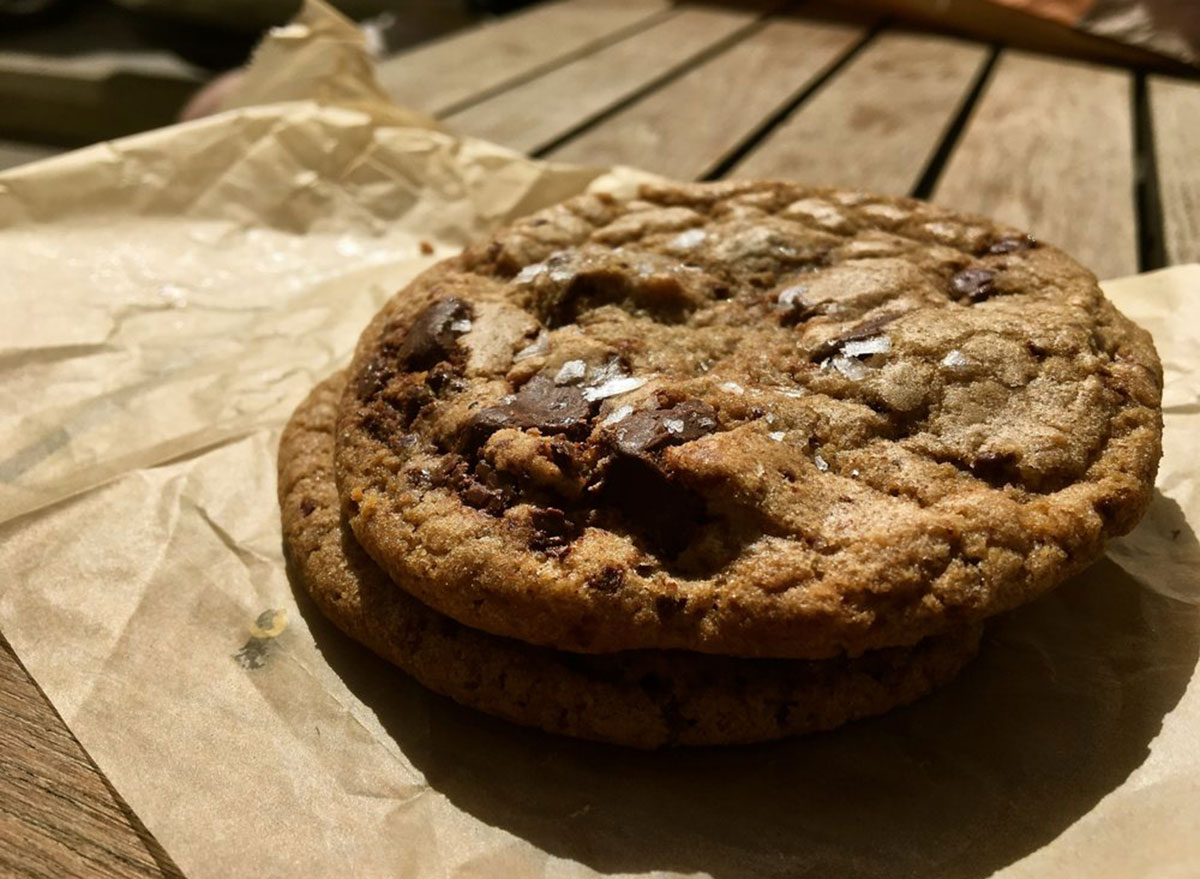 This casual midtown bakery, which uses only 100% organic flour, has a plethora of savory and sweet goods to pick from, but Yelpers insist that the chocolate chunk cookies are a must-try. Not only do they have a slightly cake-like texture, but they're studded with the finest Callebaut Belgian chocolate pieces. In addition to the classic version, there's also a chocolate chunk cookie with pecans for some added nutty crunch. Wash it down with an iced cold brew with a splash of chocolate milk.
MINNESOTA: Pizzeria Lola in Minneapolis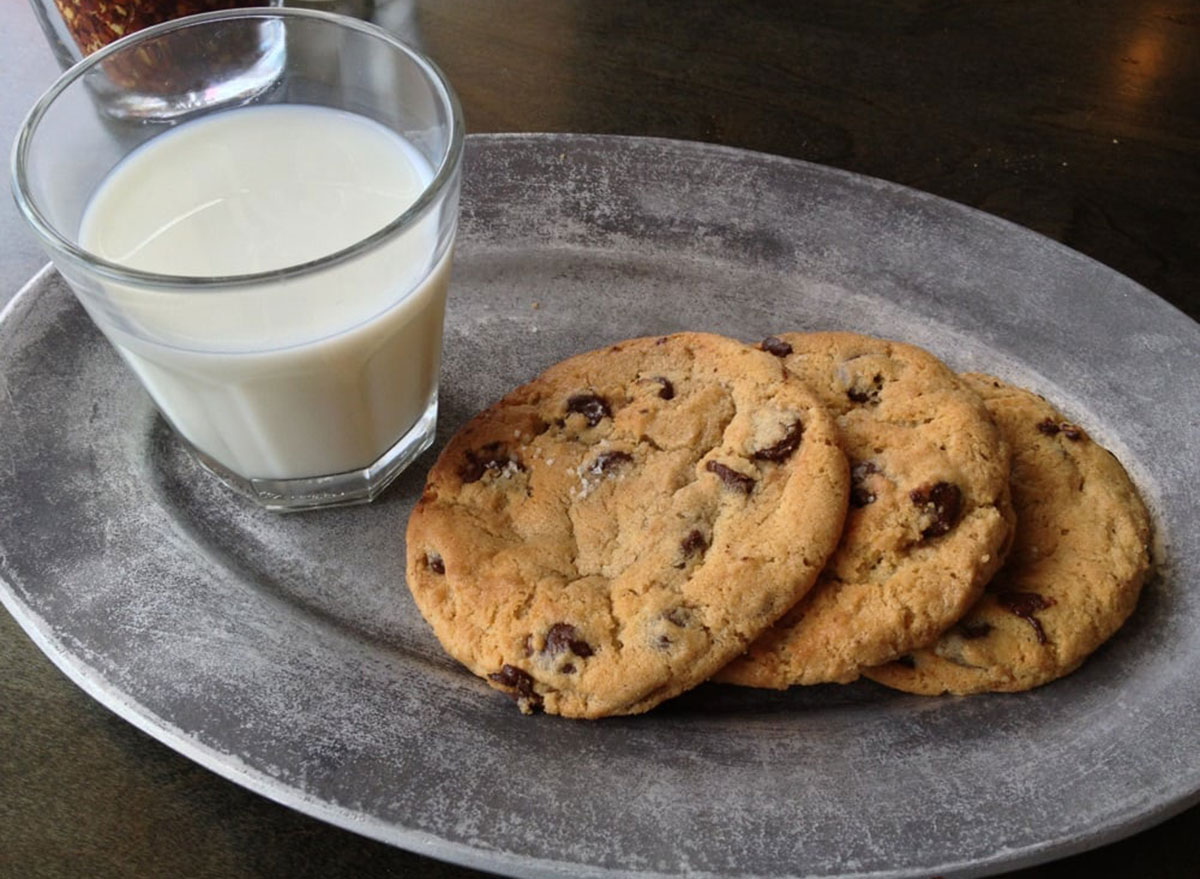 Who knew you could find phenomenal chocolate chip cookies at an artisan pizzeria? After devouring one of their famous wood-fired pies, Yelpers suggest ending the meal with Pizzeria Lola's chocolate chip cookies, which are served in a trio with a shot of milk. Craving something more decadent? Try the DIY ice cream sandwich, which includes two of their chocolate chip cookies and a scoop of vanilla ice cream.
MISSISSIPPI: Abe's Grill in Corinth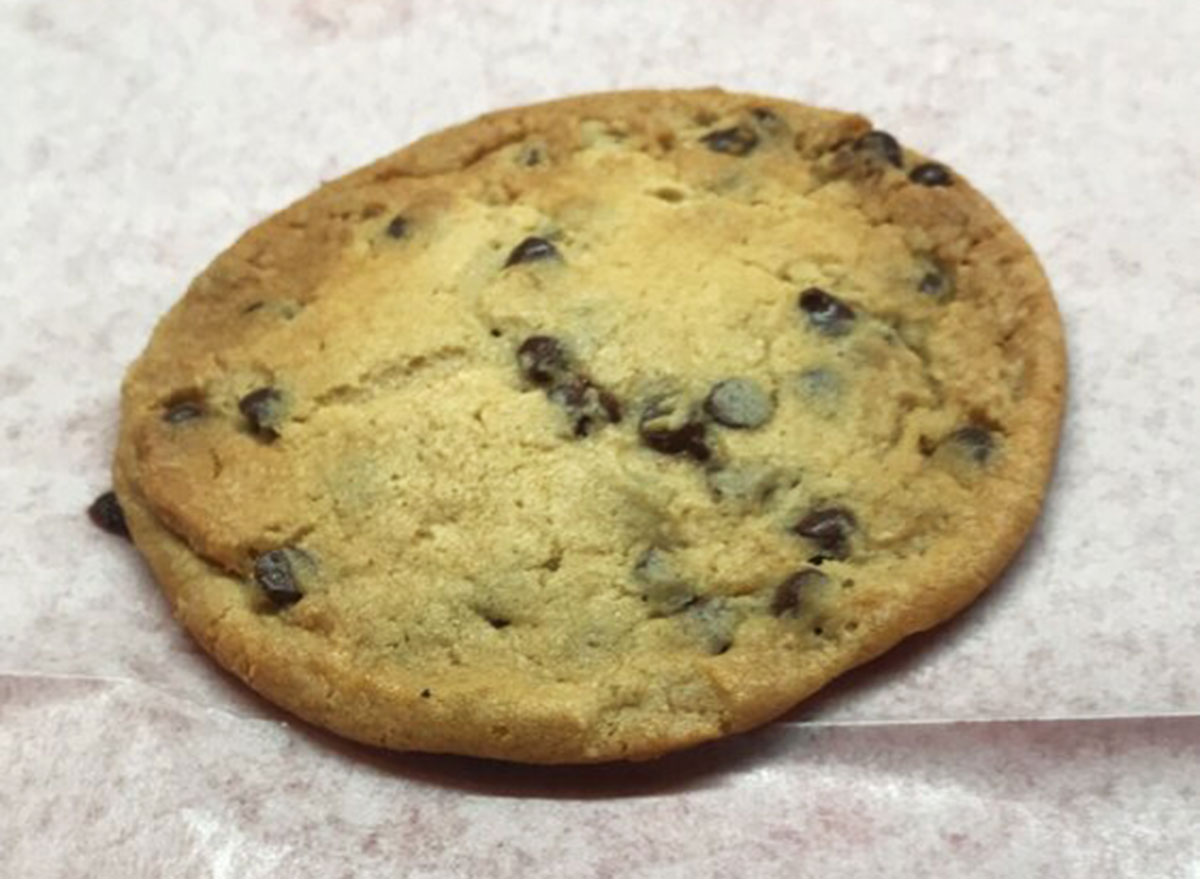 While it's easy to fill up on comfort food from this quirky family-run diner, Yelpers strongly advise saving room for the enormous chocolate chip cookies, which are baked fresh daily. They pair nicely with a mason jar full of Abe's Southern sweet tea.
MISSOURI: The Russell in Kansas City
This popular fast-casual lunch spot doesn't just serve up stellar salads and sandwiches—Yelpers say the "out of this world" chocolate chip cookies hit the spot. The secret? They're made with olive oil instead of butter, which gives them an especially rich, nutty flavor.
MONTANA: Mineshaft Pasty in Hamilton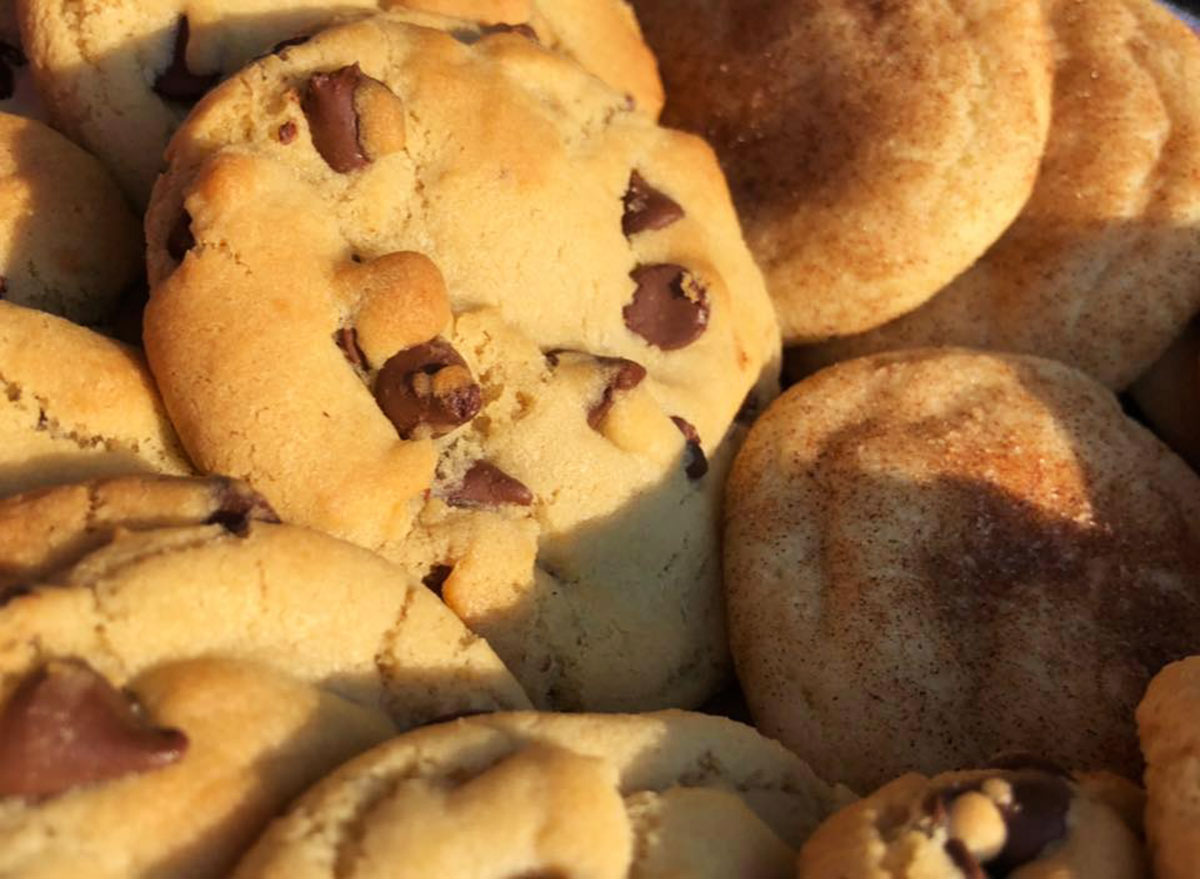 You can't go wrong with anything you order from this treasured little eatery, whether you opt for one of their mini Bundt cakes, a breakfast burrito, or a glazed scone. But it would be a mistake not to snag one of their monster chocolate chip cookies, which are as delicious as they are large.
NEBRASKA: Sweet Magnolia's Bake Shop in Omaha
This boutique bakery, located in Omaha's historic Joslyn Castle neighborhood, has something for every palate—but Yelpers agree that the cookies are the real MVP. Specifically, they highly recommend the chewy chocolate chip cookies with a hint of salt, which are as thick as can be. By the way, everything at Sweet Magnolia's is made fresh daily by hand, and it shows.
NEVADA: Zenaida's Cafe in Las Vegas
When you visit this colorful, funky, vegan-friendly eatery, you'll be treated to a delicious surprise at the end of your meal: some homemade chocolate chip cookies, on the house. And while Yelpers certainly appreciate that they're complementary, they say that's not all there is to praise about them. In fact, one reviewer noted: "If I could just come here for the cookies, I would." Did we mention that they're served with a pinch of cinnamon and a light drizzle of white chocolate on top?
NEW HAMPSHIRE: Elephantine Bakery in Portsmouth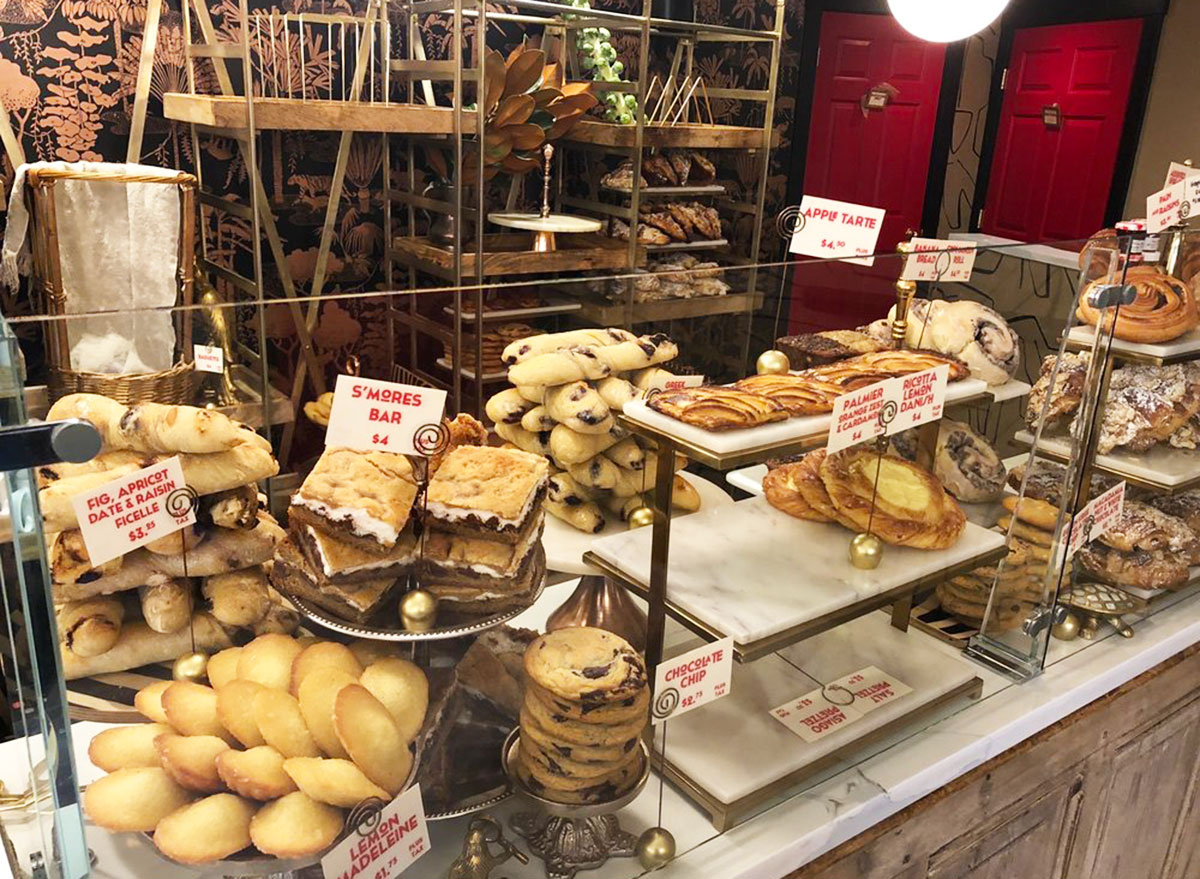 The selection may not be vast at this quaint Portsmouth bakery, but patrons say what it lacks in quantity it more than makes up for in quality. Case in point: The "indulgent," oh-so-gooey chocolate chip cookie. One reviewer urges not to pass this cookie up, and another says it tastes "better than homemade." 'Nuff said.
NEW JERSEY: The Corner in Montclair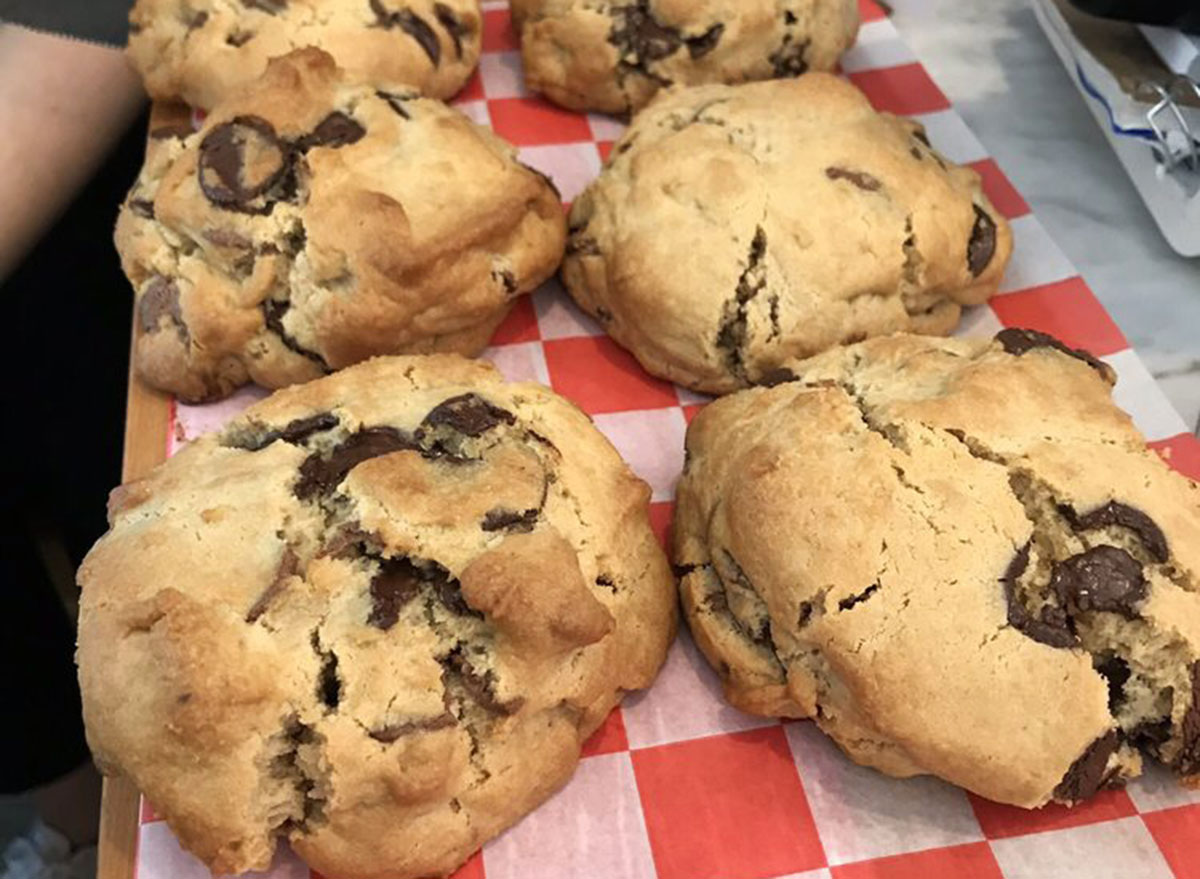 If you spot a long line at this bright and airy gourmet café in the middle of the afternoon, it's safe to say that the cookies could be the culprit. Sure, Yelpers seem to appreciate the artisan sandwiches and fresh-pressed juice, but every day at 2:30 p.m., a batch of chocolate chip cookies comes out of the oven—and understandably, patrons are eager to savor them while they're still warm. These aren't your average cookies, either—they're thick as can be.
NEW MEXICO: Rude Boy Cookies in Albuquerque
Milk and cookies are a match made in heaven—and this playful bakeshop features both. Not only that, but they bake a traditional as well as a gluten-free/vegan version of their chocolate chip cookie daily. Once you've picked your poison, pour a glass of ice-cold milk (regular, chocolate, almond, or soy) on tap and add your desired flavor (strawberry, banana, peanut butter, etc.) for dunking or sipping. Or, if you're looking to amp things up, you can turn your cookie into a sundae or Chipwich with Blue Bell ice cream.
NEW YORK: Levain Bakery in New York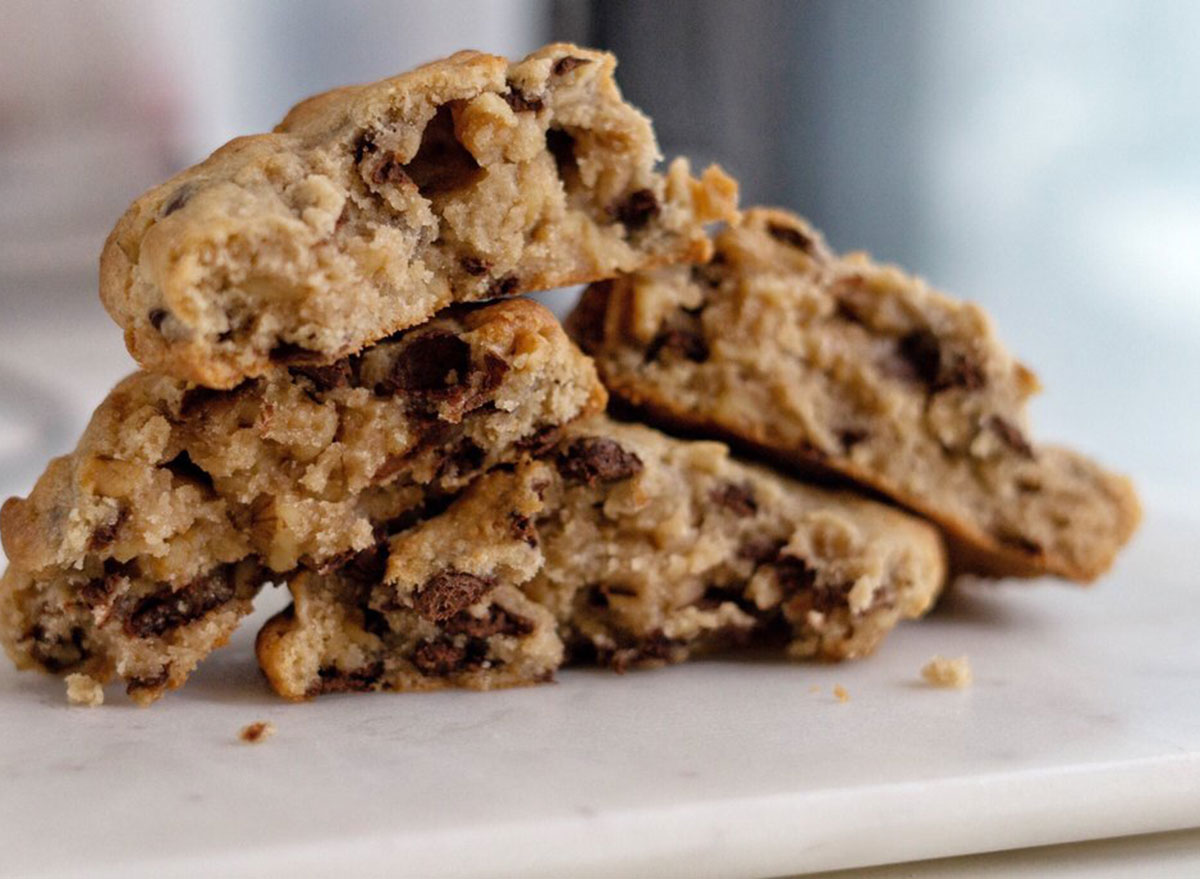 It's no contest: In the Big Apple, cookie monsters know that Levain Bakery is their best bet for satisfying a craving. These mile-high buttery treats almost taste like a cookie-scone hybrid, and Yelpers rave about the melty chocolate chips in the middle. If you prefer your cookies with a little extra crunch, go for the chocolate chip walnut version. More than one reviewer claims that this is the best chocolate chip cookie they've ever had—so, apparently, it lives up to all the hype.
NORTH CAROLINA: Bittersweet in Raleigh
Calling all salty/sweet combo fans: This sophisticated dessert, cocktail, and coffee lounge is famous for its homemade Chipwich, and you'll see why after just one bite. With vanilla ice cream sandwiched between two homemade chocolate-chip sea salt cookies and rolled in bourbon caramel corn, it's every bit as decadent as it sounds. The Chipwich is only available in limited quantities each day, so make sure to head to Bittersweet as early as possible to see what all the fuss is about. One Yelper recommends calling ahead to make sure it's still available before you get your hopes up.
NORTH DAKOTA: Insomnia Cookies in Fargo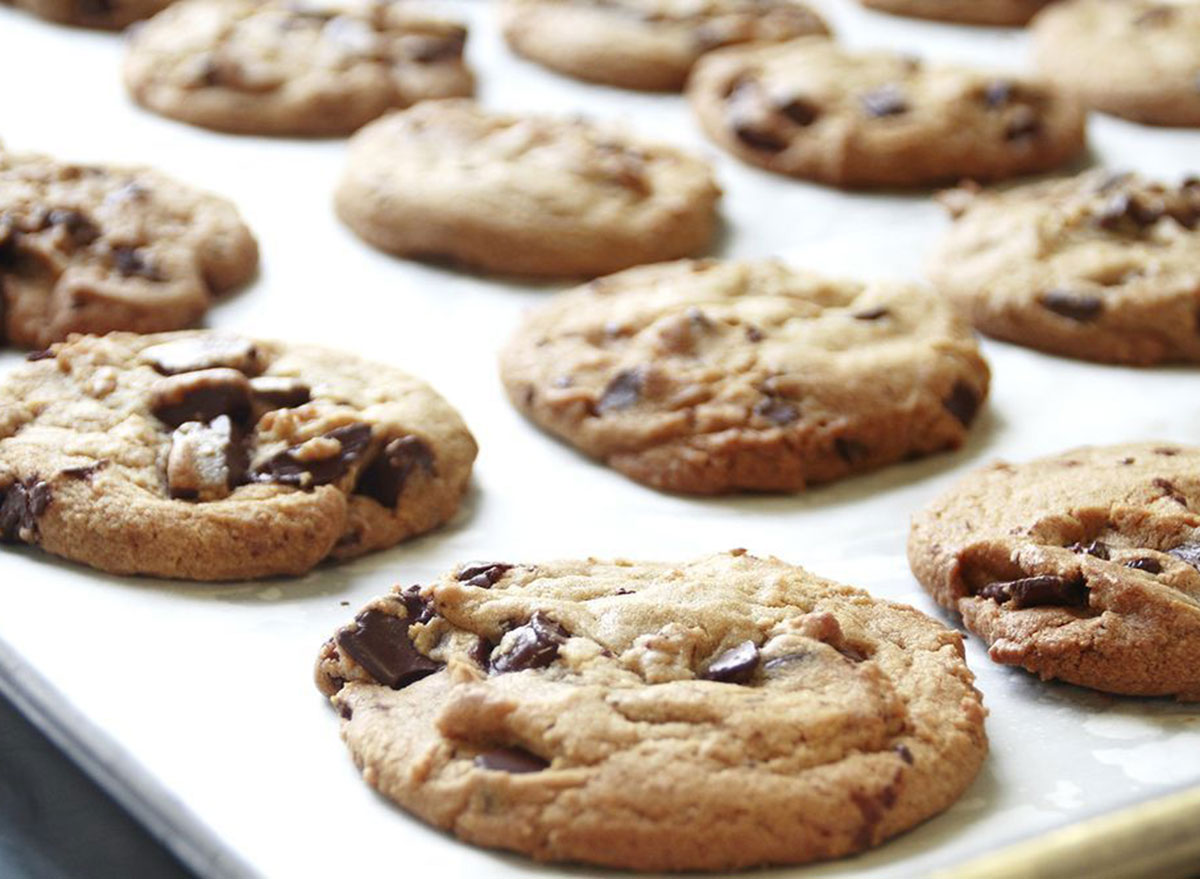 True to its name, this bakery is known for its late-night deliveries—so if you have a sudden unexpected craving for sweets, look no further. And Yelpers can't stop gushing about the warm chocolate chunk cookies, which are also available in a gigantic deluxe triple chocolate size. They suggest ordering one a la mode for the full Insomnia Cookies experience.
OHIO: Blackbird Baking Company in Lakewood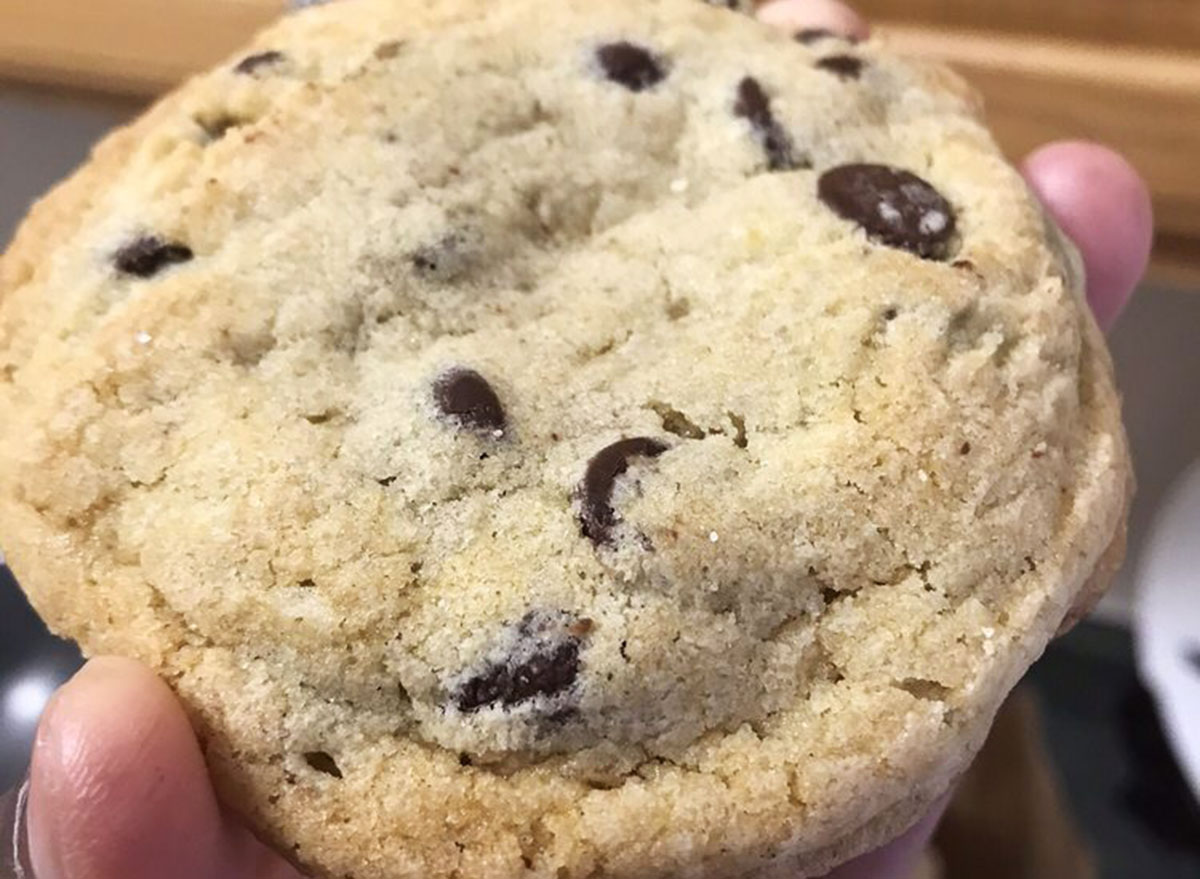 While some might say the rustic artisan bread is the star of the show at this stylish bakery-cafe, many Yelpers insist that the "magical" salted chocolate chip cookie deserves the spotlight. "They blow minds," says one reviewer. These cookies are baked from scratch every day using free-range eggs, and high-quality European butter, and you'll likely be able to taste the difference.
OKLAHOMA: Green Goodies in Oklahoma City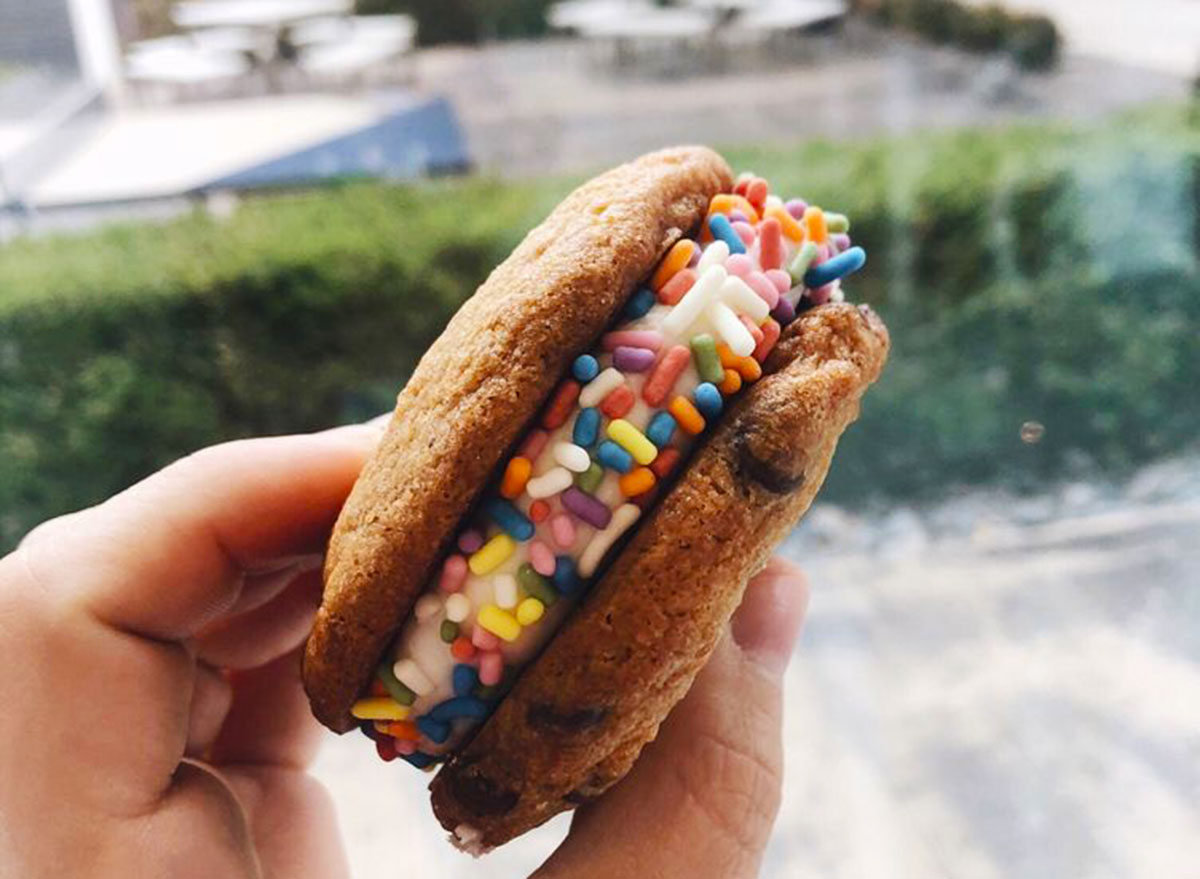 What makes this bakery, coffee shop, and espresso bar stand out isn't just its farm-to-table approach, but also its commitment to offering sweets that cater to all dietary restrictions. And fortunately, that applies to their famous chocolate chip cookie, which is also available in vegan and gluten-free versions (or one that covers both). Yelpers say it's the perfect combo of sweet and salty. By the way, while it's not available every day, you can also opt to turn your chocolate chip cookie into an ice cream sandwich for the ultimate nostalgic treat.
OREGON: Courier Coffee Roasters in Portland
Reviewers say they taste homemade and are comforting to the hilt, especially when you snag one warm out of the oven. But beware: If you arrive close to closing, they may very well be sold out. And if you are lucky enough to grab one, consider pairing it with one of the roastery's handcrafted mochas, lattes, or cappuccinos with stunning Instagram-worthy foam art.
PENNSYLVANIA: Nancy B's Bakery in West Homestead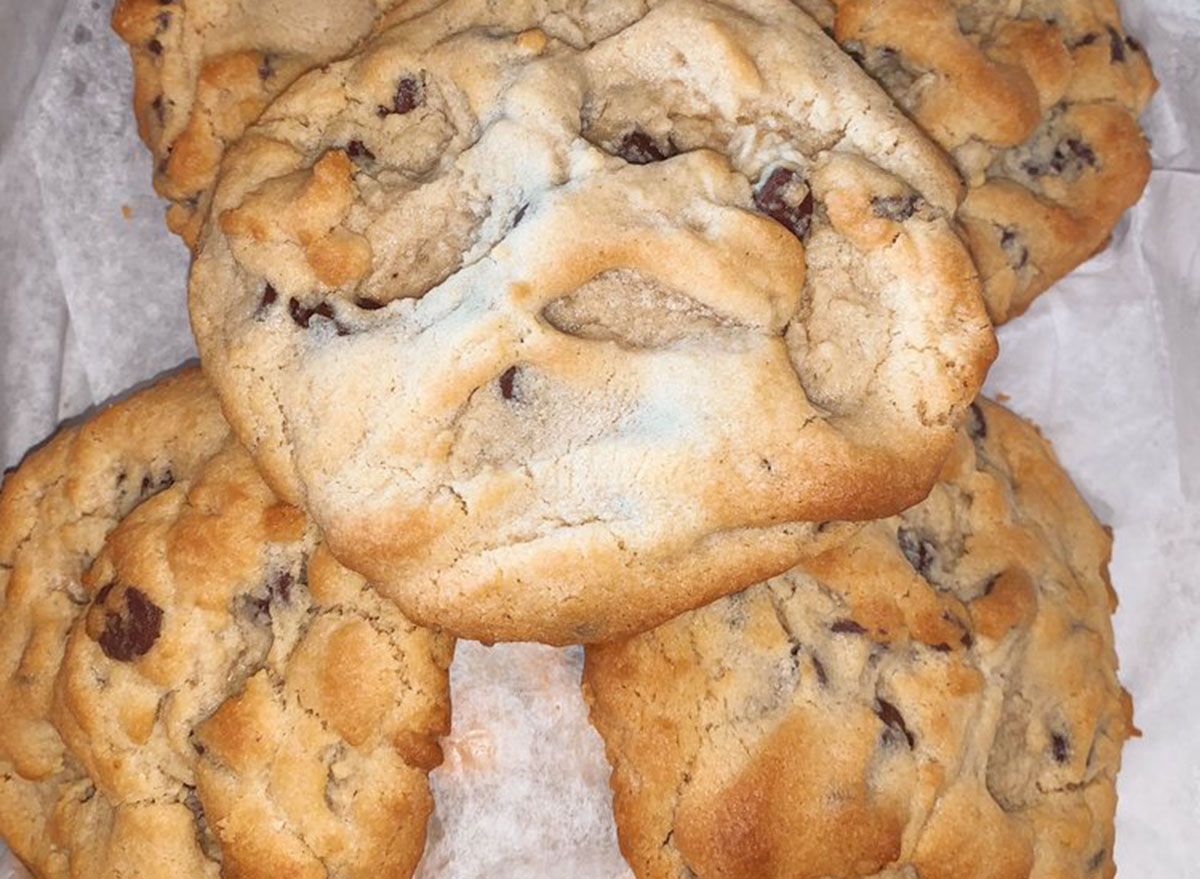 This unassuming bakeshop is the epitome of a hidden gem—in large part because of its jumbo chocolate chip cookies, which you can order individually, by the half dozen, or by the dozen. While Yelpers agree that all the cookies at Nancy B's are top-notch, it's the chocolate chip that will "keep you coming back." Not only are they huge and reasonably priced, but they're perfectly baked, slightly doughy in the center, and feature the perfect ratio of chocolate chips. Fun fact: Nancy B's also has a white chocolate chip version of their famous cookie.
RHODE ISLAND: Wildflour Vegan Bakery and Café in Pawtucket
You'll probably have a hard time believing that the chocolate chip cookie at this health-focused bakery-meets-juicery is dairy-free. Reviewers say it's not just super thick, but also moist and perfectly crispy around the edges. And for all the skeptical non-vegans, Wildflour does also offer a regular version of their chocolate chip cookie as well—which is reportedly equally tasty.6254a4d1642c605c54bf1cab17d50f1e
SOUTH CAROLINA: Dellz Uptown in Charleston
This plant-based eatery, which is located right in the heart of Charleston, is a local favorite—and not just because of the crave-worthy pizzas. There's also the homemade oversized vegan chocolate chip cookies. They're right at the cash register, and Yelpers agree it would be a massive mistake not to grab one (or five) while you're placing your order.
NOTE: Dellz is temporarily closed as the restaurant rebrands as Dellz Daughter Retreat.
SOUTH DAKOTA: Sweet Secrets Bakery in Rapid City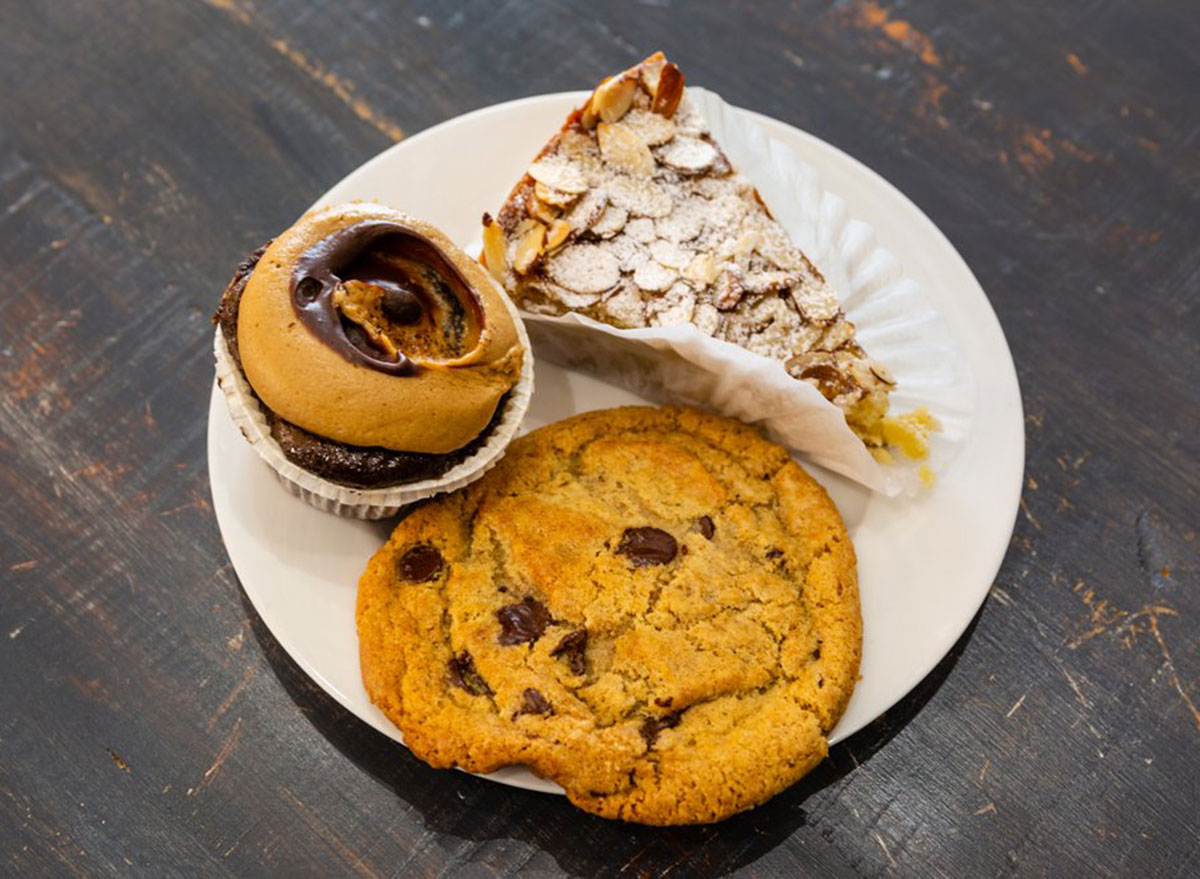 There are a wide variety of cakes, macaroons, muffins, and other sweets at this sleek bakeshop, but the sizable homemade chocolate chip cookie is definitely a highlight. In fact, multiple staff members claim it's their favorite item on the menu. There's even a gluten-free version available, too.
TENNESSEE: Baked on 8th in Nashville
This Instagram-worthy bakery is known for its gorgeous custom cakes and trendy treats (think homemade iced Pop-Tarts and Fruity Pebbles Krispie treats), but Yelpers claim that the chocolate chip cookie (also available gluten-free) is a must-have. Why? Well, it's thick, soft, and chewy, and not too sweet or salty. "It's everything a chocolate chip cookie should be," says one reviewer. And if you're seeking something a little different, Baked on 8th offers a fun twist on their chocolate chip cookie with pecans and toffee bits.
TEXAS: Tinys Milk & Cookies in Houston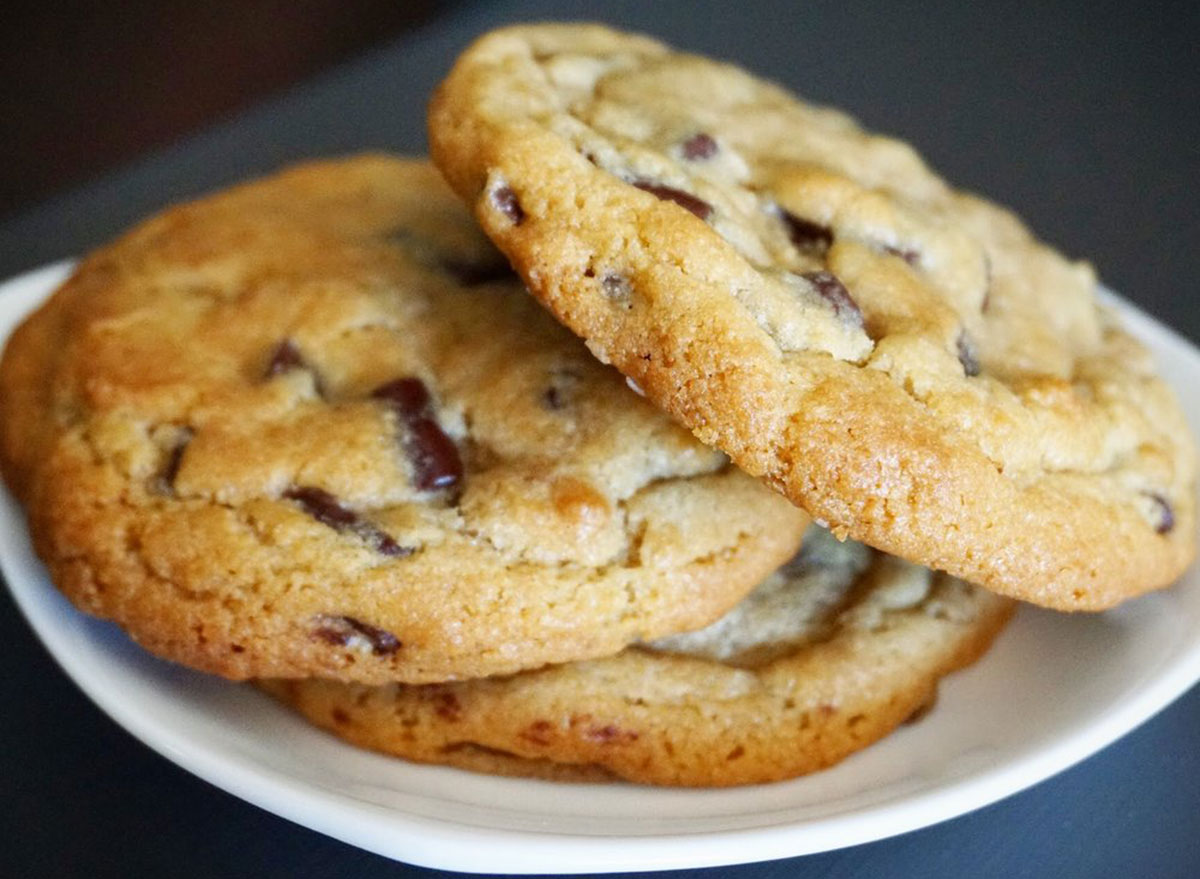 While there are a variety of cookie flavors at this walk-up bakery and ice cream shop, Yelpers say the "insanely amazing" chocolate chip can't be beaten. Not only are they always fresh out of the oven, but they boast crispy edges, a tender center, and melt-in-your-mouth chips. And numerous Yelpers commented on how they stay remarkably moist for days after purchase. Tinys also sells their frozen cookie dough, if you'd prefer to bake a batch of your own at home. There's no seating on-site to enjoy your cookie, but when you take yours to-go, be sure to order their signature mint lemonade—a refreshing accompaniment to the rich cookie.
UTAH: Buds in Salt Lake City
No matter what else you order at this laid-back vegan lunch spot, Yelpers urge you to grab a chocolate chip cookie. This isn't your average cookie, either—it's made with zucchini. So, you can feel a little less guilty devouring it knowing it's packed with veggies. Best of all, you'd never know it, according to reviewers, who say it's absolutely "divine." On a nice day, you can savor your treat outside at one of Buds' picnic tables.
VERMONT: Williston Coffee Shop in Williston
"Wonderful" and "out of this world"—those are just a couple of the descriptors that Yelpers have used to describe the chocolate chip cookie at this unassuming petite coffeehouse, which offers locally roasted java to pair with your treat. As an added bonus, a multitude of reviews mentions the fast and friendly service, which can only elevate your cookie-indulging experience.
VIRGINIA: Bakeshop in Arlington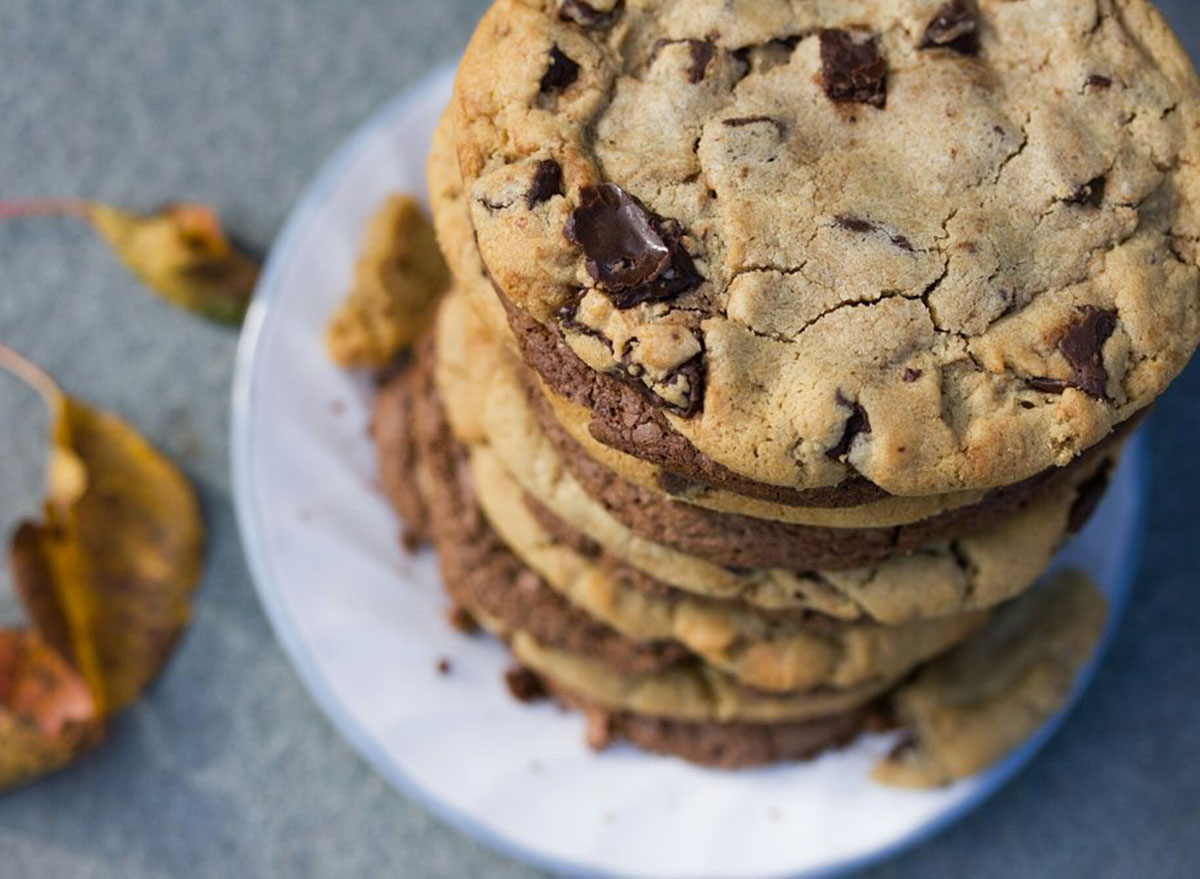 Never fear, chocolate chip cookie lovers: This beloved bakery can meet all your needs, and they have many different options to satisfy your sweet tooth. Not only does Bakeshop have a traditional chocolate chip cookie, but they also have a vegan version, an Oreo blanket version (with an Oreo stuffed inside it), and a "Brookie" (a cross between a chocolate chip cookie and a brownie). Did we mention that they also have chocolate chip cookie ice cream sandwiches? Good luck choosing—reviewers rave about all of them.
WASHINGTON: Hello Robin in Seattle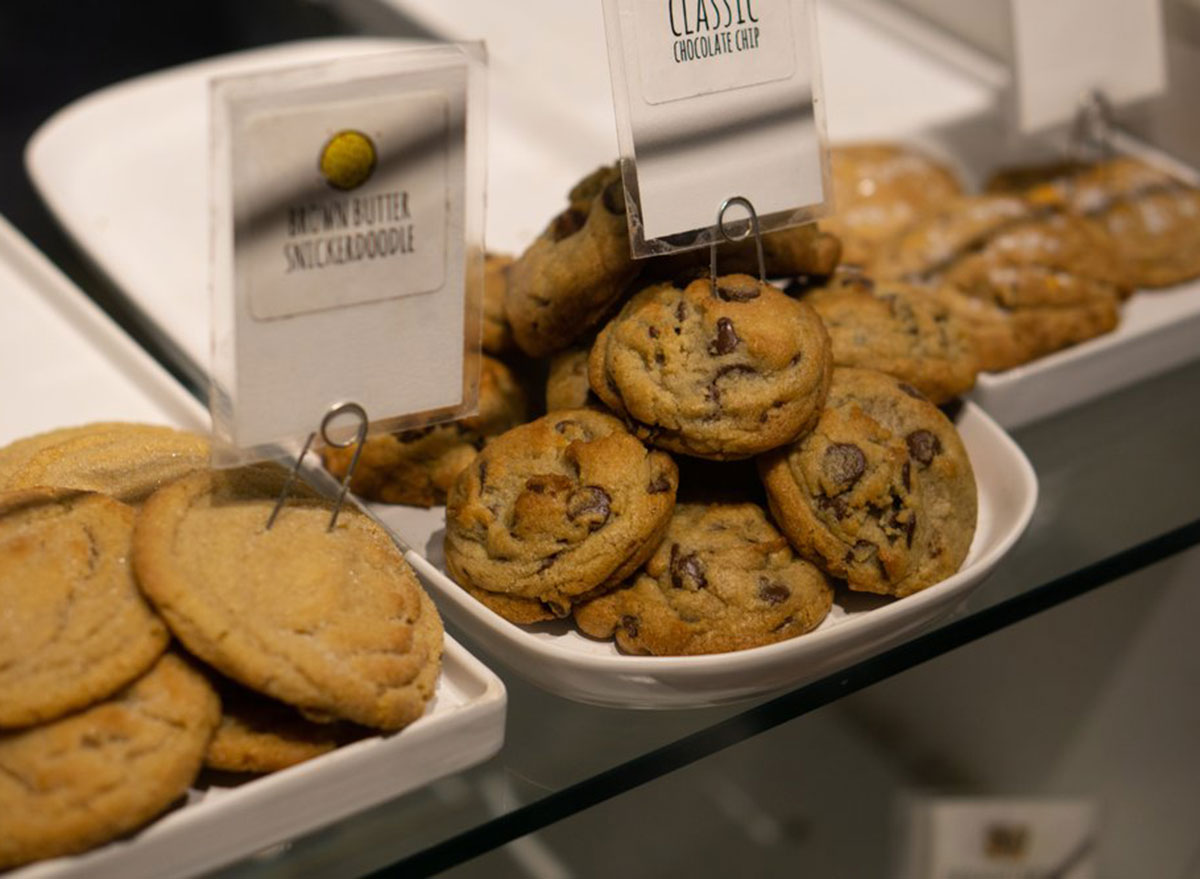 From the moment you stroll into this cheerful, cozy bakeshop, you're bound to be hit with the aroma of cookies baking in the oven—because the team is constantly making new batches throughout the day. This means your odds of getting one while it's still warm are pretty good. Traditionalists will appreciate the top-selling classic chocolate chip, while health-conscious eaters might prefer the whole wheat version with sea salt. And, if you're feeling bold, go for the citrusy, spicy orange habanero chocolate chip cookie. Kick things up a notch by making it a Chipwich with vanilla bean, coffee, or salted caramel ice cream (among other flavors).
WEST VIRGINIA: Apple Annie's in Morgantown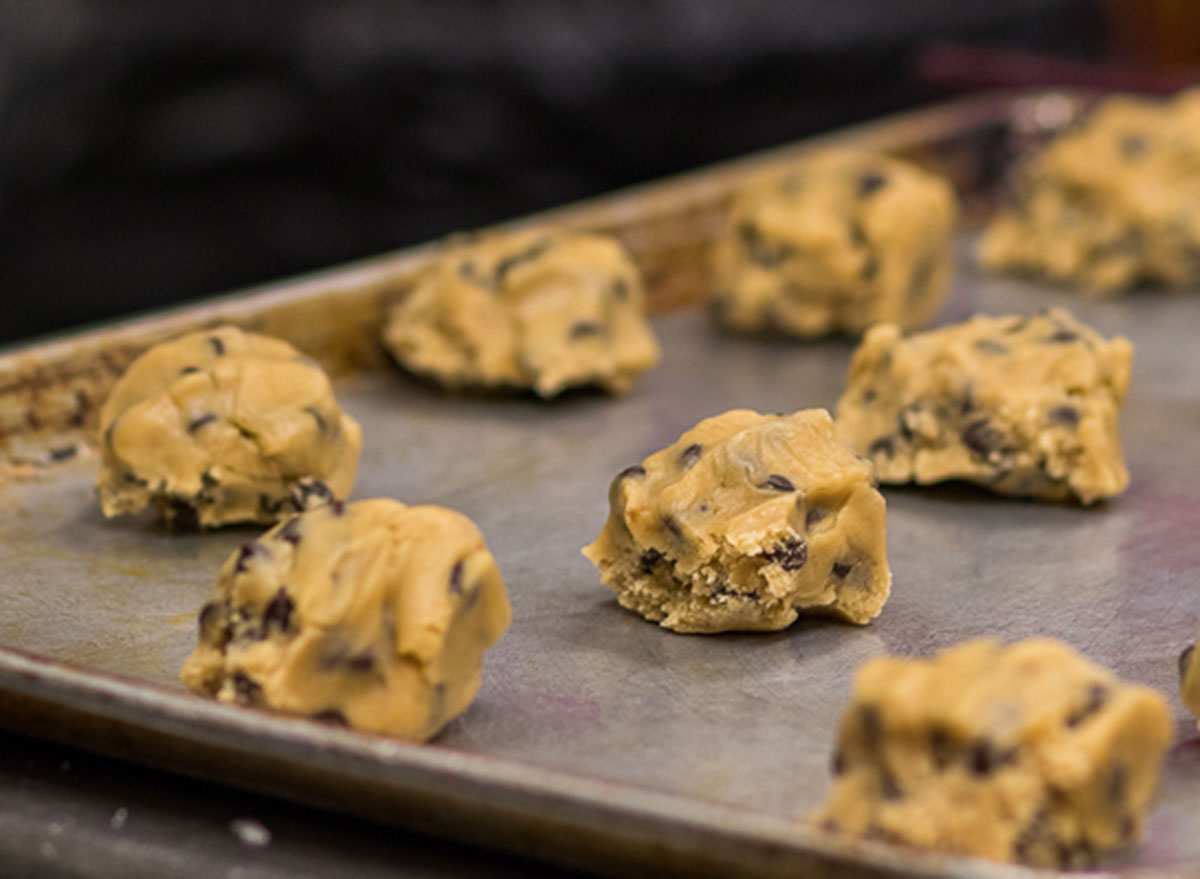 Is there anything better than a delicious homemade chocolate chip cookie? Only one that's as big as your face—and Apple Annie's delivers on that (it's worth noting that the portions of everything there are generous). Every single item at this mom-and-pop bakery is made the old-fashioned way, including their fruit and cream pies, muffins, cheesecakes, cannolis, and of course, their cookies. It's no wonder this quaint eatery has built up such a loyal collection of regulars.
WISCONSIN: Casetta Kitchen and Counter in Madison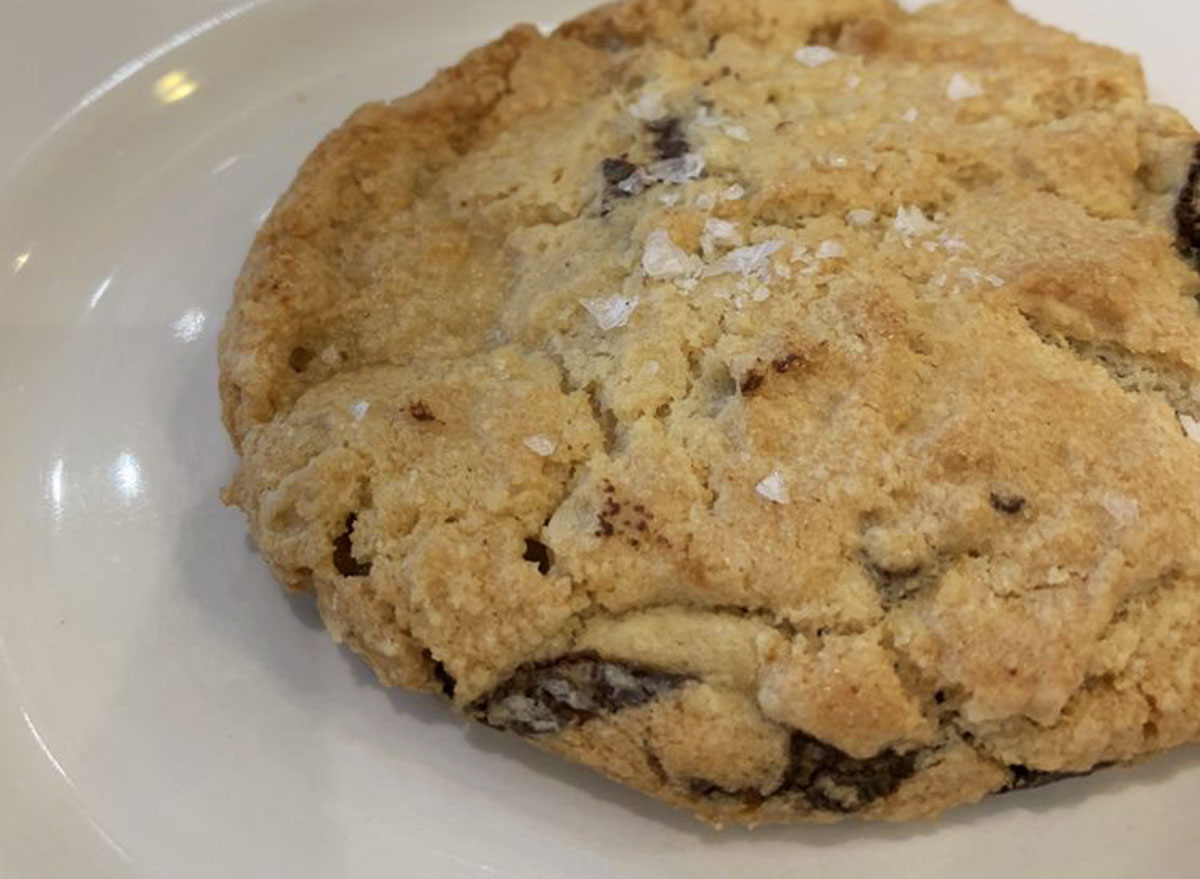 While all the savory bites are reportedly delicious at this modern Italian-American deli, Yelpers agree that it would be a mistake to miss out on the soft-baked chocolate chip cookie, which is supple on the inside and crunchy on the outside edges. What sets it apart, according to reviewers, is the flat chocolate disks that are evenly distributed throughout, so that every layer has some chocolatey goodness. FYI, the kitchen only bakes a few dozen of these cookies each day, so the earlier you go, the better your odds of snagging one of these heavenly treats.
WYOMING: Persephone Bakery in Jackson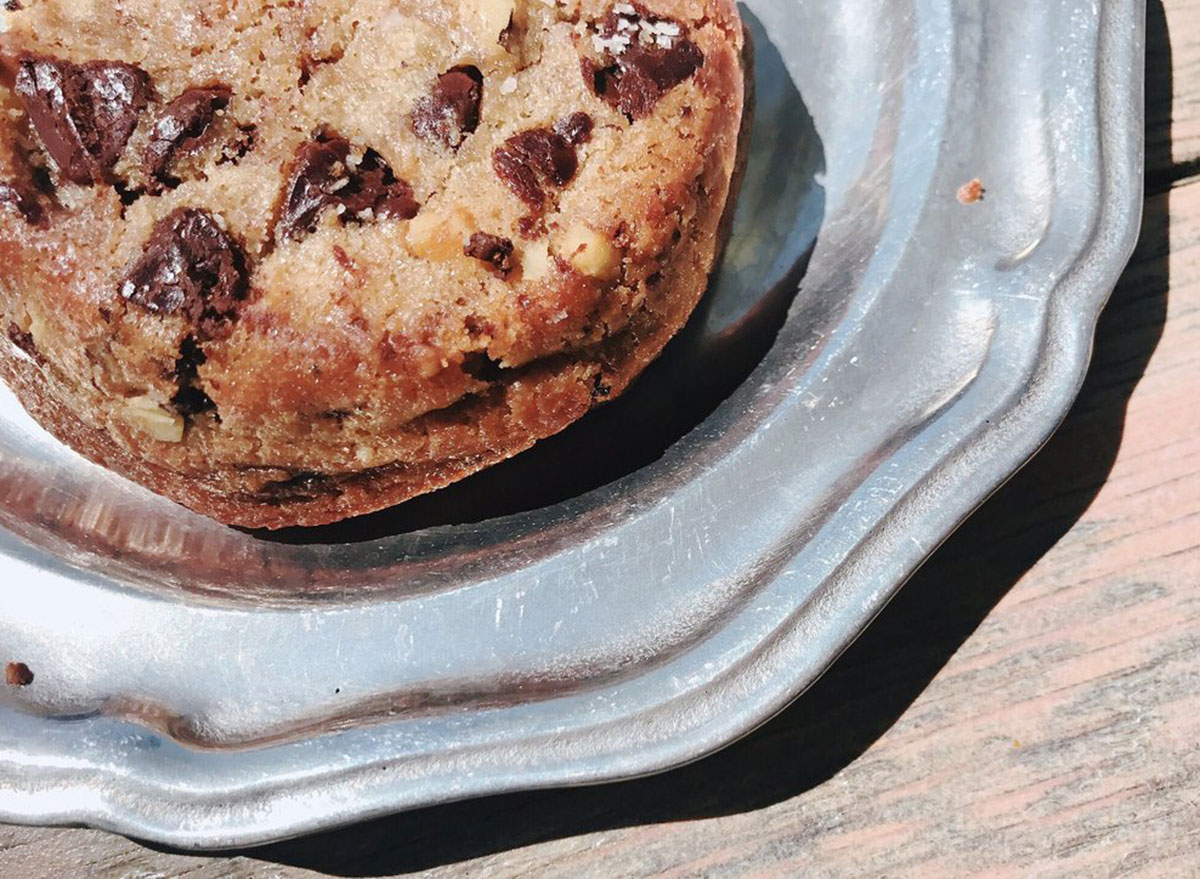 More than one reviewer went so far as to say that the "mind-blowing" chocolate chip walnut cookies at this chic French café are the best they've ever had. The pastry menu at Persephone Bakery varies day to day (and you have to get there early for a wider selection), but the chocolate chip cookies are one of the most popular items by far. Whether you opt for the "deliciously filling" original or the gluten-free alternative version, you can't go wrong. And while you're at it, you might as well snag a pack of mini chocolate chip cookies for later. Because chocolate chip cookies truly never go out of style, right?
Rebecca Strong
Rebecca Strong is a Boston-based freelance health/wellness, lifestyle, and travel writer.
Read more about Rebecca