The Best Croissant In Every State
Here's how to find the absolute best versions of this deliciously flakey pastry every state.
Unlike cronuts, croissants are one of those pastries that seem like they have been around forever. And, well, that's because they pretty much have. Perfectly baked and delightfully flaky, the croissant has roots that go all the way back to 13th century Austria. Today, this ubiquitous baked good is savored with morning coffee, used as lunchtime sandwich bread, and served as a post-dinner dessert.
Not only are croissants found in many different places (you can even pick some up at 7/11), they are also available in a whole laundry list of flavors. Forget traditional butter croissants, nowadays you can expect adventurous varieties, too, including ones that incorporate more unexpected ingredients (salami, anyone?)
To help you find tasty croissants near you, we put together a list of the best place for a croissant in every state. From ones that utilize and embrace the traditional butter croissant recipe, to others that make their croissants walk a bit on the wild side, here are our top picks. Plus, don't miss these 22 Meals to Melt Belly Fat in 2022.
ALABAMA: The Continental Bakery in Birmingham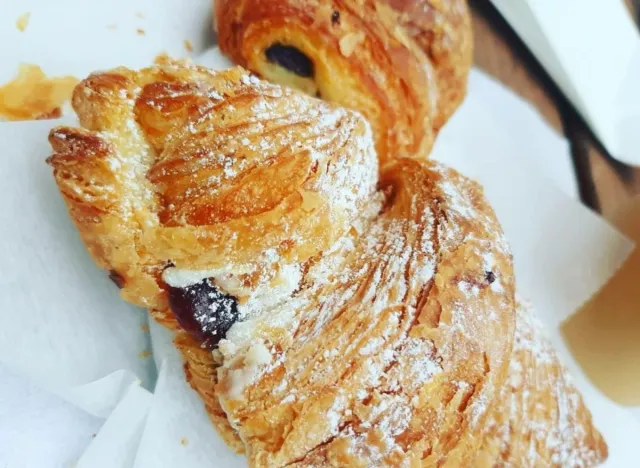 You'll feel like you are dining in Europe when you enjoy a croissant from Alabama's Continental Bakery. Soft and fresh, these delicious delicacies have quite the impact on customers. "The croissants are INCREDIBLE," shares a Yelp reviewer, "It could be easy for you to feel like you're in Europe with the quality of croissant and the ambiance."
ALASKA: The Rookery Cafe in Juneau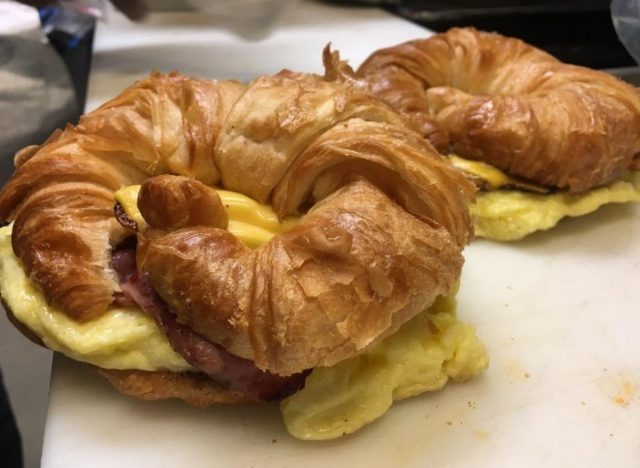 If you are not a fan of croissants, then The Rookery Cafe may just convert you. Eaten in savory sandwiches or served alone as a tasty morning pastry, this cafe's croissants will turn anyone into a croissant lover. "I don't even like croissants and I've been eating one every morning here," explains one reviewer.
ARIZONA: P.croissant in Tempe
Boring croissants? Don't know her. Arizona's P.croissant crafts croissants that are fresh, flavorful, and, most importantly, outside of the box. For instance, croissants that are stuffed with peanut butter, turkey, sausage, or Bavarian chocolate often make appearances on their menu. "I cannot get enough of their cream cheese croissants," writes one Yelp reviewer, "The best I've ever had."
ARKANSAS: Milo Coffee Co. in Little Rock
Be prepared to meet your croissant match at Milo Coffee Co. in Little Rock. The friendly coffee shop, which started as a stand at a local farmer's market, makes mouth-watering croissants that are best enjoyed with a cup of their batch brew or a maple cinnamon cappuccino. One reviewer loves their croissant so much that they posted that it was "the best croissant I may have ever had."
CALIFORNIA: Arsicault Bakery in San Francisco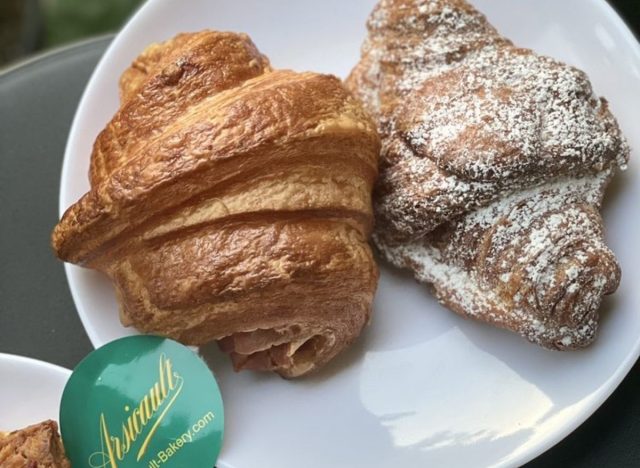 Thousands of Yelp reviewers have taken to the site to voice their love for Arsicault's fabulous croissants. One customer even likened this popular pastry to the type of things that are found in dreams. "I'm still dreaming of these croissants," they wrote, "and if I lived in the Bay Area I'd live off these bad boys at least once a week."
COLORADO: Shamane's Bake Shoppe in Boulder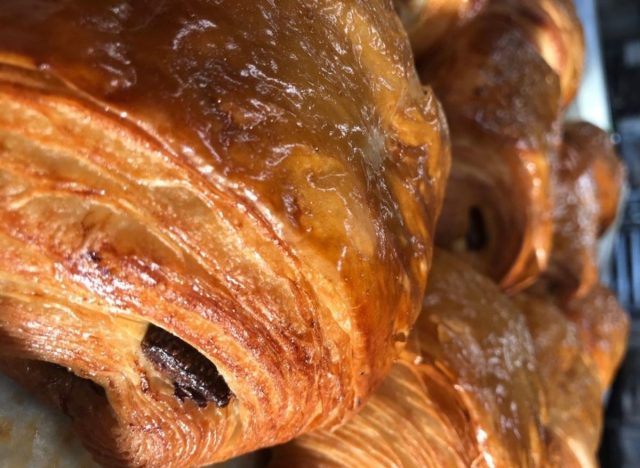 From flaky chocolate croissants to ones that are full of almond flavor, Shamane's Bake Shoppe in Colorado has a croissant that will satisfy even the pickiest of palates. "Best almond croissant ever," one reviewer raved, "I am French and always picky about croissants—I have nothing to say but good about the one I just ate!"
CONNECTICUT: Marjolaine Pastry Shop in New Haven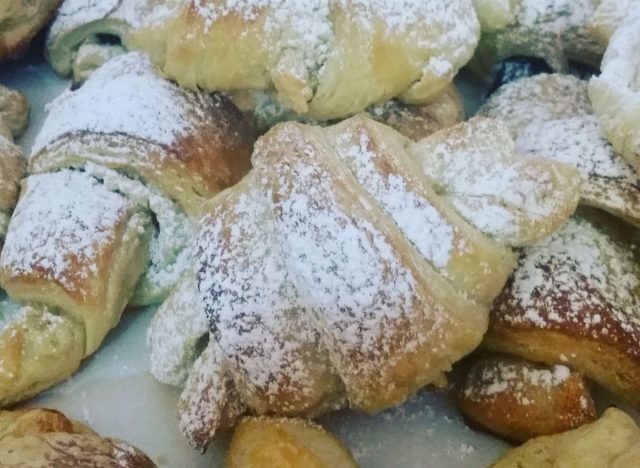 Marjolaine's Pastry Shop boasts a "Best of New Haven Award" and we can understand why. Both sophisticated and welcoming, this European-style bakery makes some of the tastiest confections in town using only the best quality ingredients. Not to mention their croissants are a must-have. "Trust me, go get a chocolate croissant," one reviewer wrote on Yelp, "When I move away from New Haven I'm going to have to arrange some kind of chocolate croissant shipping deal with them."
DELAWARE: Bread and Buttercream in Wilmington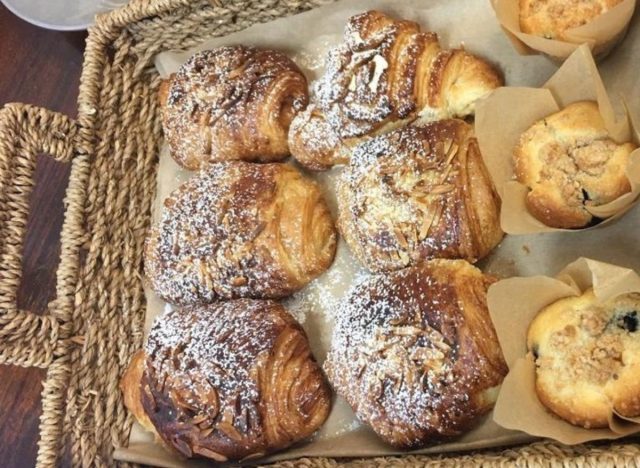 Located just a short distance from Bellevue State Park is Bread and Buttercream, the neighborhood bakery that churns out some of the best croissants in the state. One reviewer was so impressed by their croissants that they wrote on Yelp that they were the "best croissants I've found anywhere."
FLORIDA: Cote France Cafe in Boca Raton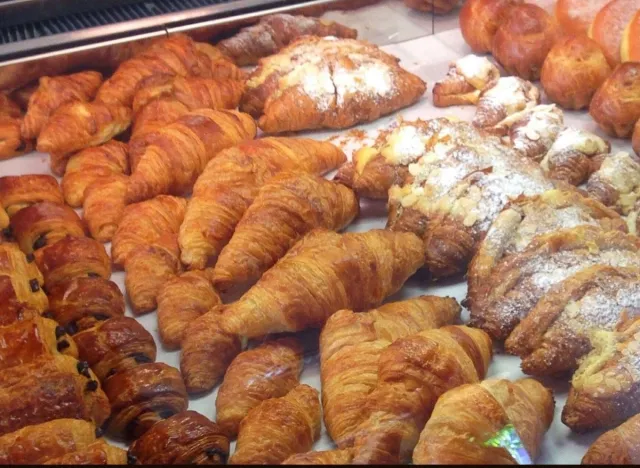 Whether you love your croissants served as a morning pastry, or spotlighted in a savory dish, Cote France Cafe in Florida is the place for you. As one Yelp reviewer puts it, the buzzy bakery's croissants are "exceptional!"
GEORGIA: The Little Tart Bakeshop in Atlanta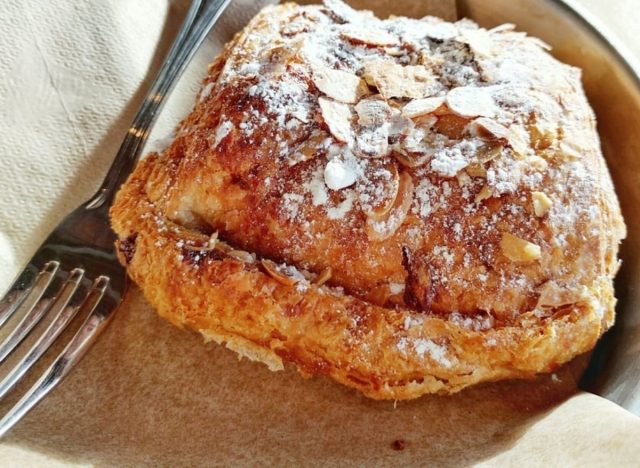 Almond, chocolate pistachio, butter, ham and cheese—all the croissant offerings at the Little Tart Bakeshop in Atlanta really hit the spot. "The croissants are incredible," divulges one Yelp reviewer, "The best I've had in Atlanta." Hint: If you are looking to pick up some croissants from here on the weekends, make sure to go early in the morning. Yelp reviewers share that the bakery often sells out.
HAWAII: Maui Bread in Kihei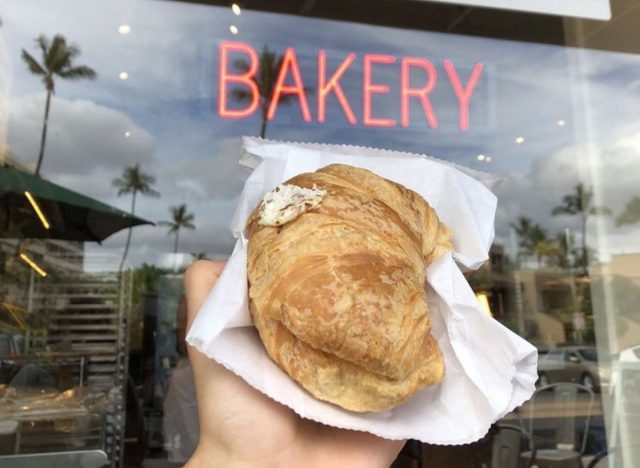 When it comes to croissants, Kihea's Maui Bread means business. This Hawaii mainstay, which is known for its Hawaiian artisan bread that is a fusion of Hawaiian, American, and Asian flavors, bakes croissants that keep people coming back for more. "My oh my, what a croissant—the best I have had anywhere on the planet," one reviewer exclaimed.
IDAHO: Janjou Patisserie in Boise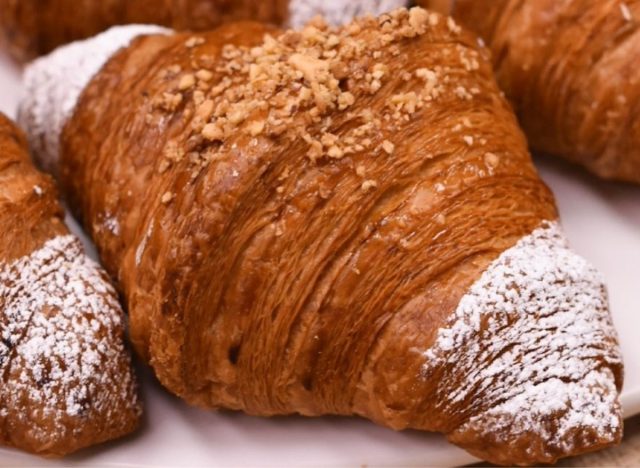 Forget the best croissant in Idaho, Janjou Patisserie may have the best croissant, period. Founded over a decade ago, this beloved shop started out as a wholesale bakery that sold to local businesses. In 2013 they decided to open up their own storefront, and the rest is history. "I've eaten many croissants in France and across the US and Janjou has some of the best croissants and pastries I've ever had," applauds one Yelp reviewer.
ILLINOIS: Hendrickx Belgian Bread Crafter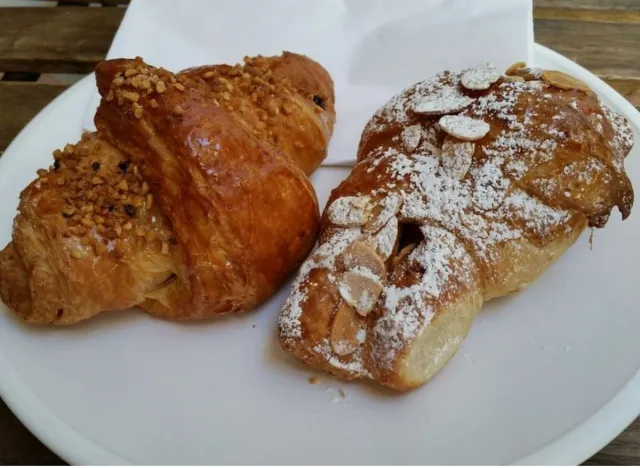 From pistachio croissants to options that combine two tantalizing flavors, hazelnut and caramel, Hendrickx Belgian Bread Crafter's croissant menu covers it all. "AMAZING! I love this little spot so very much," one reviewer shares, "The croissants are exquisite!!" If you stop by, be sure to try out their new CROIZĀNG or Zāng Zāng Bāo, which is a croissant that has three layers of chocolate, is enrobed in Belgian Chocolate ganache and then dusted with cocoa powder.
INDIANA: Amelia's in Indianapolis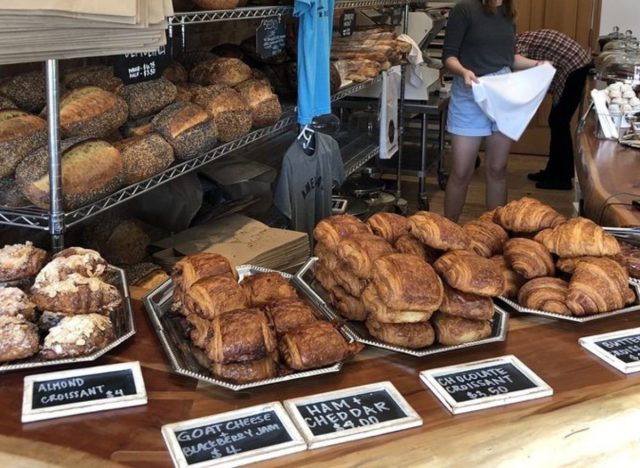 If unique croissants with unbridled flavor is more your speed, then Amelia's is a must-visit. Innovative options include croissant cinnamon rolls, spinach croissants, and twice-baked pistachio versions. "They keep coming up with innovative baked goods, a recent favorite of mine is their Bloody Mary croissant," one Yelp reviewer dishes.
IOWA: The Java House in Iowa City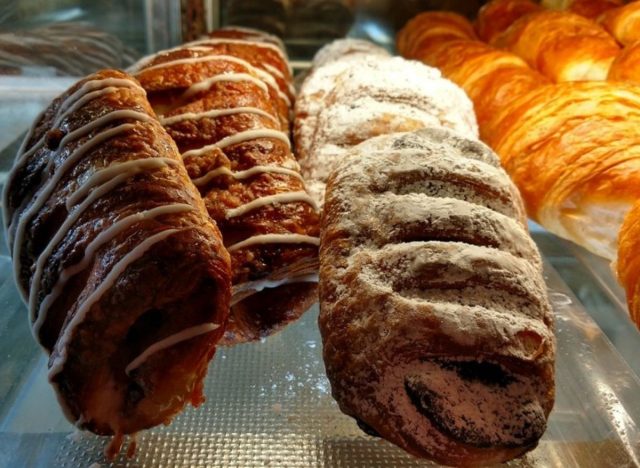 The Java House, which started out on the second floor of Iowa City's Prairie Lights bookstore nearly three decades ago, is known for its delicious croissants that customers cannot get enough of. Enjoy some of these tasty treats with an order of one of their seasonal drink offerings, which include festive options such as chocolate orange dark mocha, candy cane white mocha, and gingerbread caramel cream latte.
KANSAS: Bagatelle Bakery in Wichita
Bagatelle Bakery's mouth-watering almond croissant is what baked good dreams are made of. Enjoy one on its own or alongside one of the cafe's tasty soups or salads.
KENTUCKY: DV8 Kitchen in Lexington
Croissants take centerstage at DV8 Kitchen, Lexington's beloved bakery that acts as a place for "second-chance" employment. Enjoy some of their croissants with a mug of coffee, or served as a sandwich.
LOUISIANA: Croissant D'Or Pâtisserie in New Orleans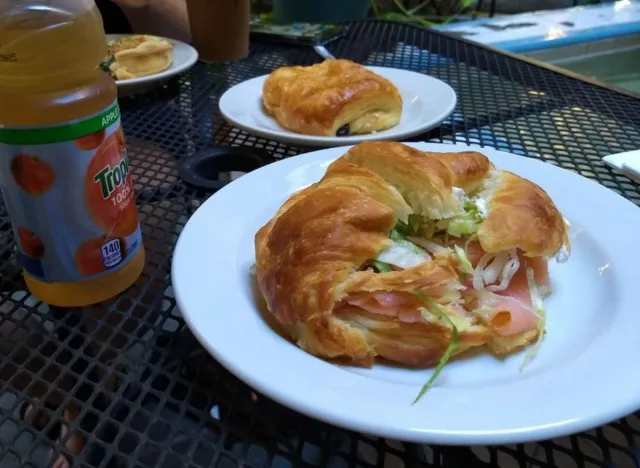 The sky's the limit when it comes to ordering croissants as Croissant D'Or Pâtisserie, the exceptional New Orleans bakery that has been making homemade pastries and cakes for years. Their extensive list of croissant flavors include yummy options such as apple, blueberry, raspberry, and ham and cheese.
MAINE: Standard Baking in Portland
Standard Baking Co., the family-owned bakery that has been serving the Portland community since the 1990s, whips up 5-star croissants that are out of this world. Some of reviewers' favorites to indulge in include the prosciutto & asiago, chocolate, and almond options.6254a4d1642c605c54bf1cab17d50f1e
MARYLAND: Sunday Morning Bakehouse in Bethesda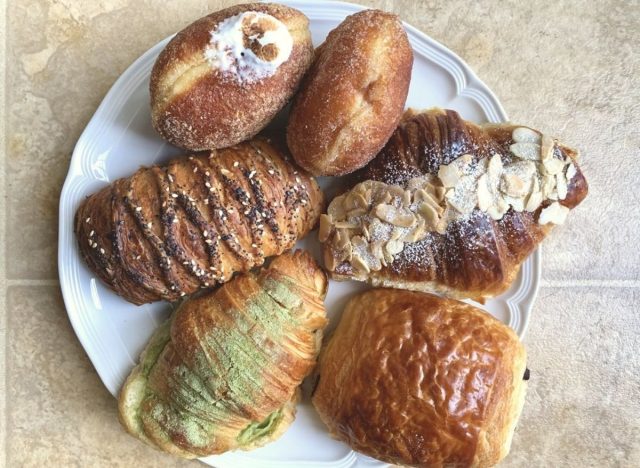 A croissant from Sunday Morning Bakehouse is the perfect treat to enjoy during any day of the week. Handmade in small batches, these delectable pastries are a great way to start your morning or have as a late-night snack. "A lovely bakery! I've never had something I didn't like here," shares one reviewer.
MASSACHUSETTS: Bova's Bakery in Boston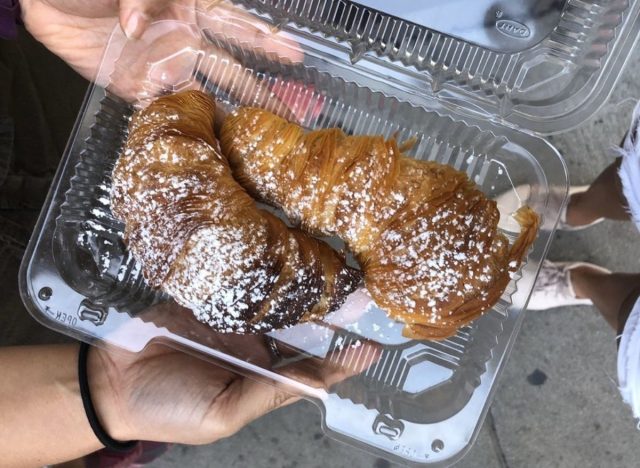 People cannot stop talking about the steak and cheese croissant served at Bova's Bakery in Boston. Featuring a soft croissant stuffed with juicy steak and mouthwatering cheese, this croissant is unlike anything you have had before. "Phenomenal. Underrated," one reviewer simply stated.
MICHIGAN: Cannelle by Matt Knio in Detroit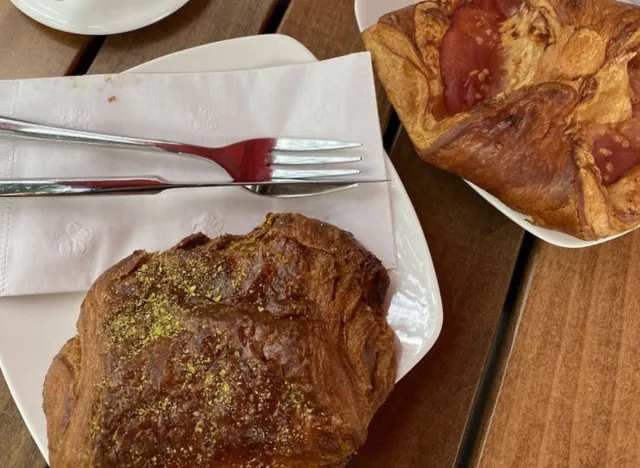 The croissant options are endless at Cannelle's in Detroit. Some menu highlights include their pepper walnut bleu cheese croissant, a simple, but delicious, apricot croissant, and a perfectly seasoned Zaatar croissant. Enjoy one of these alone or served alongside a glass of their fresh-squeezed orange juice or chilled chocolate milk.
MINNESOTA: Trung Nam French Bakery in Saint Paul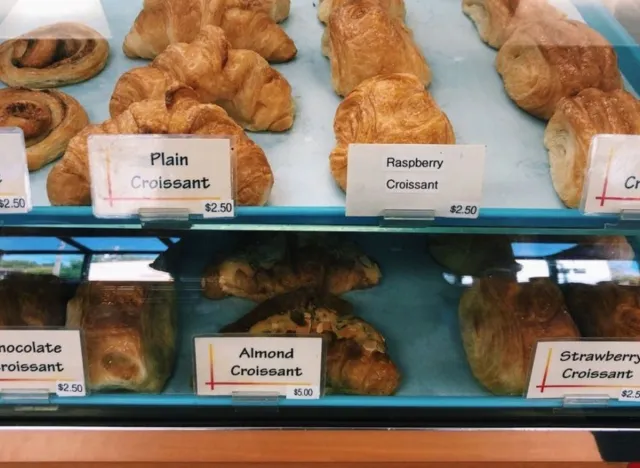 Trung Nam's croissants are fresh, flaky, and full of flavor. Available in a wide variety, including apple, butter, cinnamon, coconut, and raisin, these pastries are top tier. "Best croissants in America," one Yelp reviewer exclaims, "They're really amazing. Just make sure you get up and there early enough before they run out." Long story short—this might be the best $3 you may ever spend.
MISSISSIPPI: The Grind Coffee and Nosh in Biloxi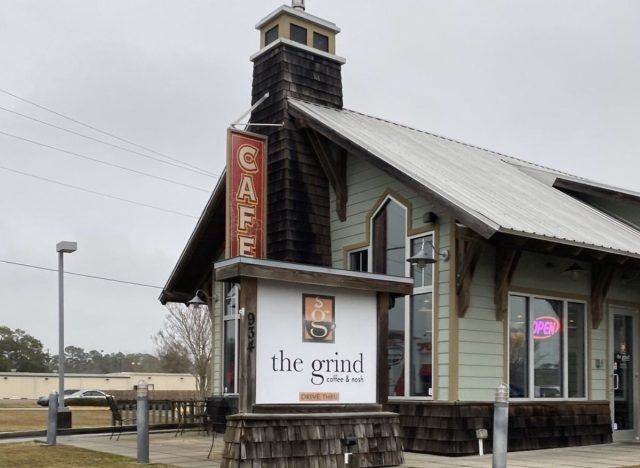 The breakfast croissant sandwich at The Grind Coffee and Nosh, which is packed with bacon, egg, and cheese, is a big fan favorite among its customers. "I LOVE their bacon, egg and cheese on a croissant!" one Yelp reviewer confessed.
MISSOURI: Nathaniel Reid Bakery in Saint Louis
Nathaniel Reid Bakery, which is a staple in Saint Louis, is an award-winning bakery that is known for its superb savory dishes and exquisite pastries, such as croissants. One Yelp reviewer loved the croissants so much when they visited that they said it was, "Hands down the best croissant I have ever had." Tip: Nathaniel Reid's menu changes with the season, so if you are looking for a specific flavor be sure to take a peek at their current selection online before you make the trip out.
MONTANA: The Annex Coffee House and Bakery in Billings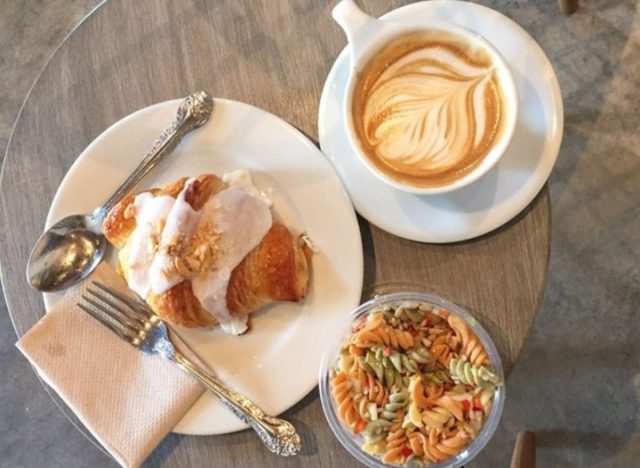 The Annex Coffee House and Bakery is the colorful Billings establishment known for its welcoming environment and incredible sweets and treats. Among some of their most talked about items is the ham and gruyere croissant, which one Yelp reviewer describes as "incredible."
NEBRASKA: Le Quartier Bakery and Cafe – Dundee in Omaha
Trained in both Paris and Montreal, John Quiring joined with his brother in 2006 to start a bakery that would go on to craft some of the best breads and pastries in Nebraska. That bakery is known today as Le Quartier. If you stop by, be sure to grab a few of their famous loaves, scones, and croissants. "The croissants are so amazing," one Yelp reviewer muses, "and I love the breakfast sandwiches that come on them, too."
NEVADA: Josef's Vienna Bakery and Cafe in Reno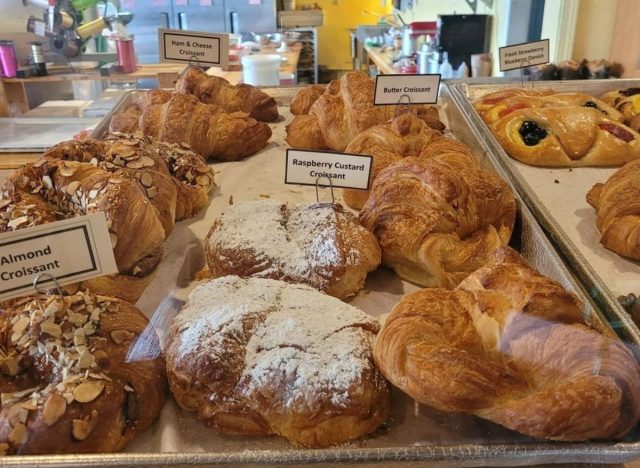 Started by Viennese Pastry Chef Josef Pasa, Josef's Vienna Bakery and Cafe has been making delicious fare for Reno residents and visitors alike for the last four decades. Stop by to enjoy one of their hearty dinner dishes (hint: they are a full-service restaurant also) or to try one of their "highly recommended" croissants.
NEW HAMPSHIRE: Café la Reine in Manchester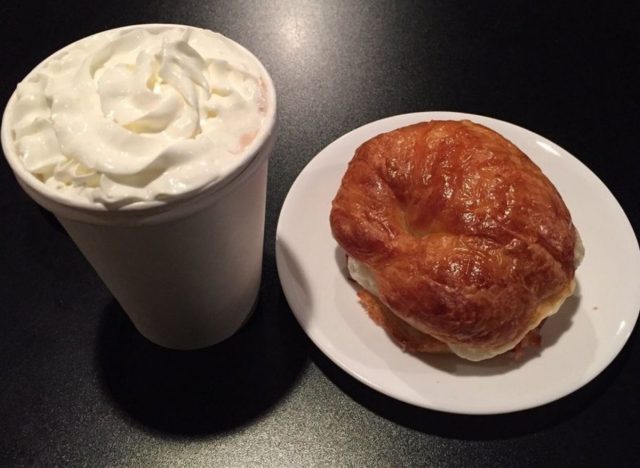 Located right in the center of downtown Manchester, Café la Reine is the neighborhood coffee shop that is popular for its open mics, fresh-brewed drinks, and savory croissant sandwiches. Here you can expect exciting options that deviate away from the expected. For instance, an egg sandwich on a multigrain croissant or a croissant sandwich made from ham, Swiss cheese, and guacamole are some of Yelp reviewers' go-to's.
NEW JERSEY: Choc O Pain in Hoboken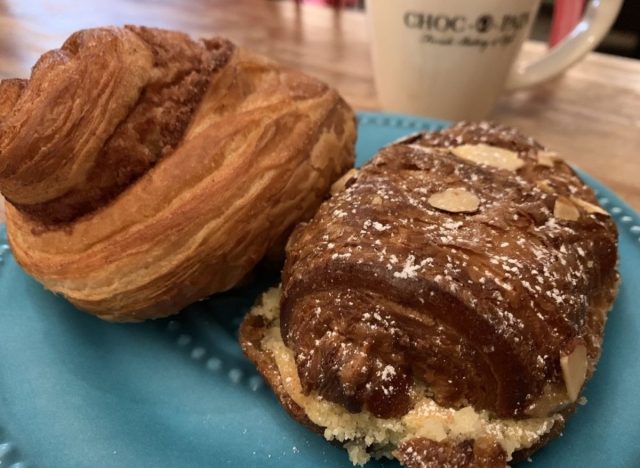 Just taking a look at Choc O Pain's menu can make you feel like you have been transported right to Paris. This European-style cafe is full of traditional French fare, such as tarte au potiron, petit kouign, and quiche lorraine. One of their most loved baked goods, however, is the croissant. "Can't go wrong with any croissants," shares one reviewer, "You can even get to-go kits for making bread or croissants which is a great family activity." Hint: The cafe also offers a "Bread Subscription" which means patrons can set up a recurring order for the shop's breads and pastries—never be without croissants again!
NEW MEXICO: Clafoutis in Santa Fe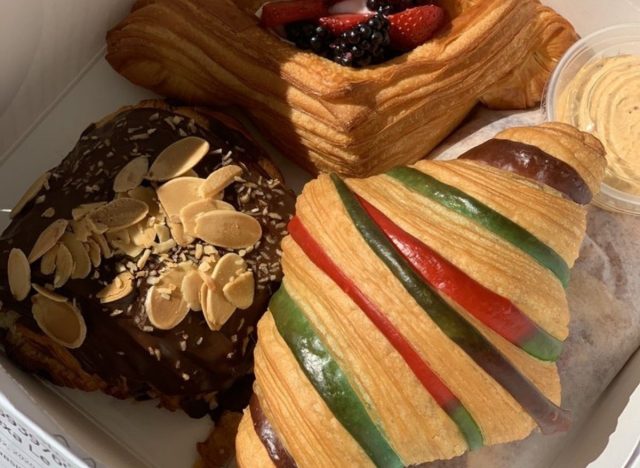 By looking at Clafoutis' Yelp page, which boasts a 4.5-star rating and has over 800 reviews, you can already tell they are doing something right. For starters, the family-owned French restaurant and cafe makes both savory and sweet croissants that are lauded by customers. They are so good that they have been described as, "outstanding," "delicious," and "amazing."
NEW YORK: Supermoon Bakehouse in New York City
Futuristic flavors and deliciously crafted designs reign supreme at Supermoon Bakehouse, the popular New York City bakeshop that is known for its extravagant croissant offerings. Their menu changes weekly, but you can expect to find fun options such as the Pumpkin Pie Twice Baked Croissant, Maple Pecan & Caramel Croissant, and Egg and Cheese Croissant, among others.
NORTH CAROLINA: Layered Croissanterie in Raleigh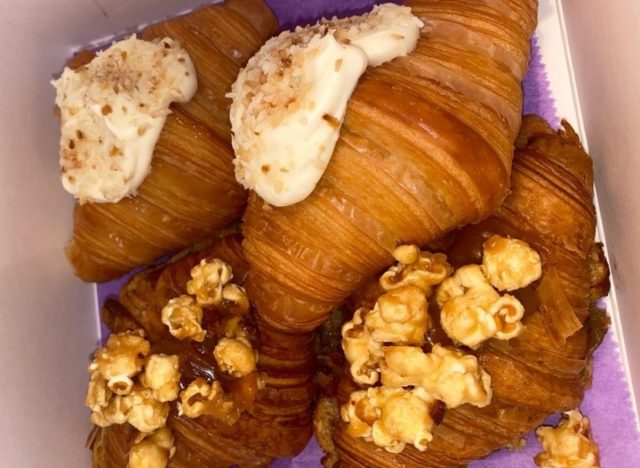 Birthday cake croissants? Check. Chocolate cake croissants? Got 'em. Almond croissants with Oak City amaretto? Yup! Croissants, of all kinds, are a specialty of Raleigh's Layered Croissanterie, so you know they are going to be good. One reviewer is such a fan that they took to Yelp to write that, "the croissants are out of this world."
NORTH DAKOTA: Nichole's Fine Pastry & Café in Fargo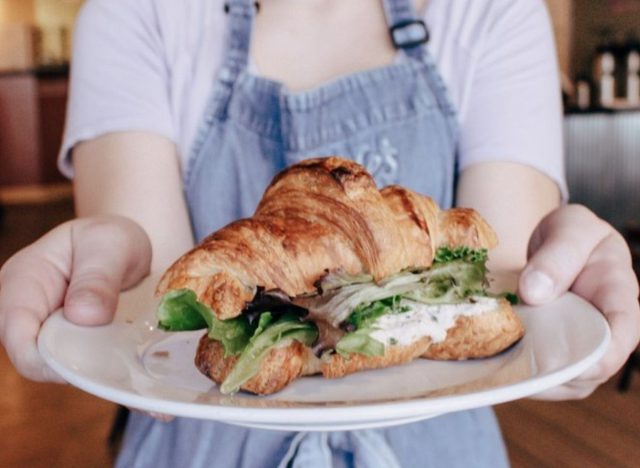 Nichole's Fine Pastry and Café, the North Dakota bakery that was featured on the Food Network's Diners, Drive-Ins and Dives, makes small-batch European and American baked goods that are a favorite among the Fargo community. For a quick (and delicious) pick-me-up, try out one of their chocolate croissants or salami and cheese croissant sandwiches.
OHIO: Blackbird Baking Company in Lakewood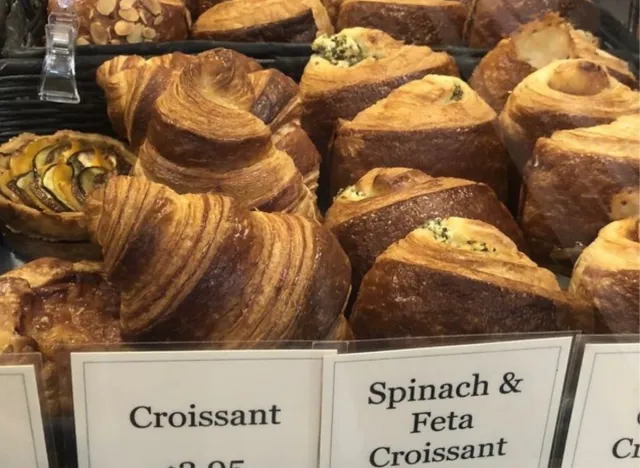 Helmed by a husband and wife team, Blackbird Baking Company is the Cleveland bakery that makes some of the best croissants in the state. Some of their most ordered items include their chocolate croissant and raspberry croissant. "I found Blackbird Baking Company in an article on the best 5 places to get a croissant in Cleveland," a reviewer wrote, "We were not disappointed."
OKLAHOMA: Ganache Patisserie in Oklahoma City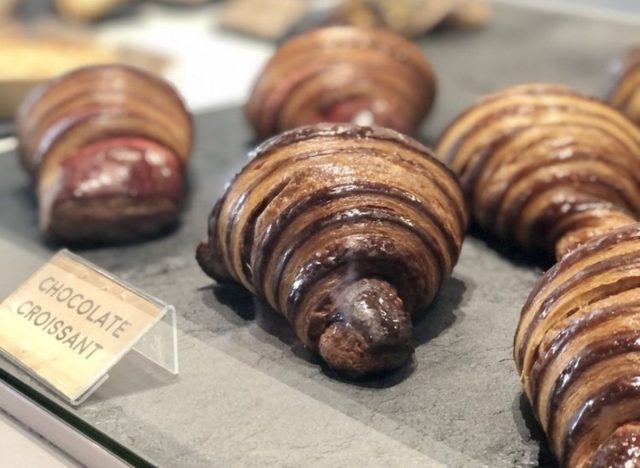 Elevate your croissant experience by taking a trip out to Ganache Patisserie, Oklahoma City's "one of a kind" French bistro that boasts an ever-growing menu full of delicious treats. Visitors rave about the croissants, which are available in unique flavors such as strawberry cream cheese and chocolate pistachio. After visiting, one reviewer went to Yelp to write that a visit here was "truly an exquisite experience."
OREGON: Petite Provence in Portland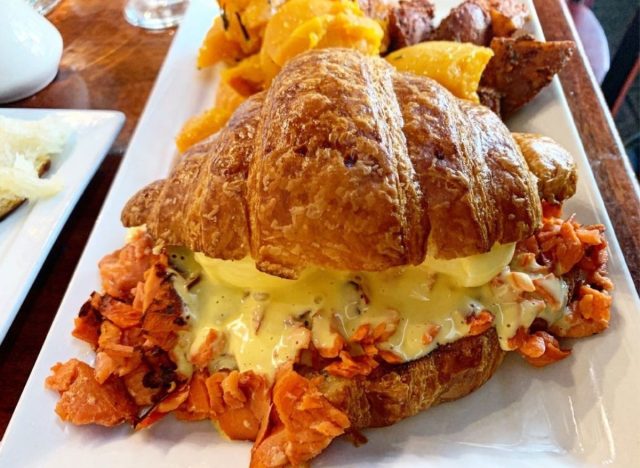 BLT croissants, warm croissants served with a sweet raspberry jam, corned beef hash plated with a croissant on the side—Petite Provence in Portland has it all. The best part? This well-known eatery also has multiple locations throughout Oregon and Washington.
PENNSYLVANIA: J'Aime French Bakery in Philadelphia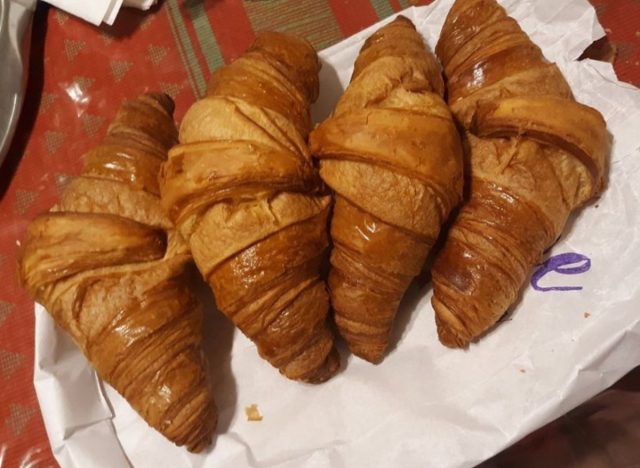 "J'Aime" means "love" in French, and that's exactly how you will feel towards J'Aime French Bakery's croissants after you give them a try. Be sure to enjoy one with a steamy latte or a warm macchiato for the full experience.
RHODE ISLAND: Ellie's in Providence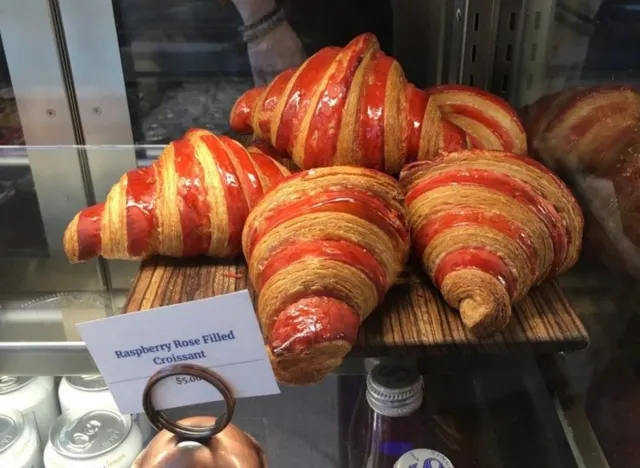 Nestled on a bustling street in Providence is Ellie's, the Parisian-inspired bakery known for its artisanal cakes and homemade pastries. Among their most popular pastries include their croissants, which have been described as "sublime," "amazing," and "delightful."
SOUTH CAROLINA: smallSUGAR in Columbia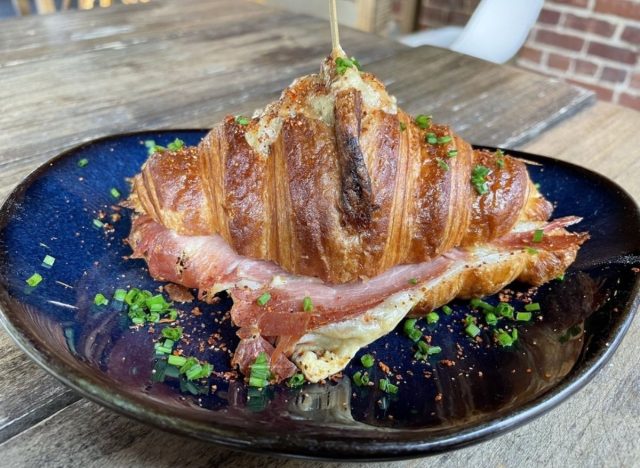 Luscious layers of buttery dough make smallSUGAR's croissants some of the best in all of South Carolina. "You also can't go wrong with any of their croissants," one reviewer writes.
SOUTH DAKOTA: Ch Patisserie in Sioux Falls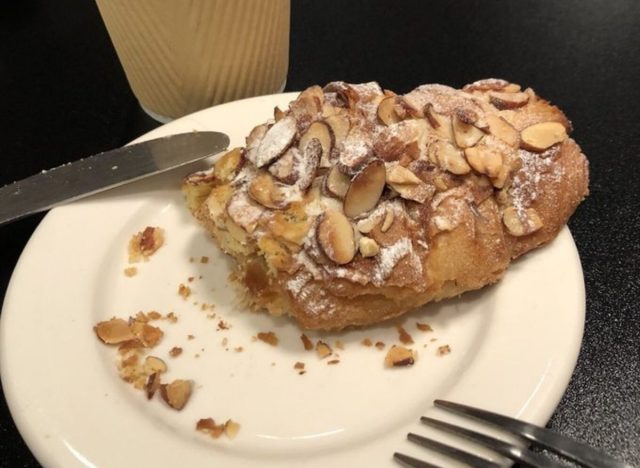 At CH Patisserie, the artfully designed Sioux Falls pastry shop, breakfast pastries, or as the French would call them, "viennoiserie", are a specialty of theirs. Carefully crafted and then baked to perfection, customers have shared that this bakery's croissants "are to die for."
TENNESSEE: The French Market in Knoxville
The French Market is known for its crepes, it is Knoxville's first and only French creperie, after all, but it also has some exquisite croissants that really take the cake. These delightful pastries are on double duty at The French Market. They are featured in the shop's savory lunch sandwiches and also are a pinnacle part of the cafe's morning menu. Whether you enjoy your croissant in a chicken salad sandwich or prefer a chocolate croissant alongside a cup of tea, you really can't go wrong.
TEXAS: Croissant Brioche in Houston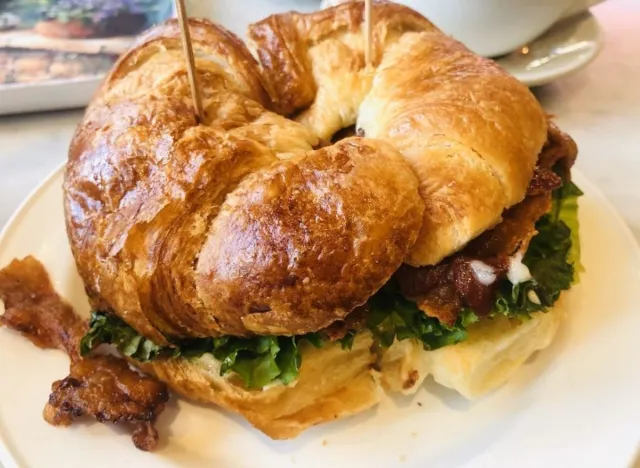 Just steps away from the city's zoo and Museum District, Houston's Croissant Brioche serves up a mesmerizing menu chock full of delicious delicacies, including their flaky croissants. Pick one up before a walk around the city.
UTAH: Les Madeleines in Salt Lake City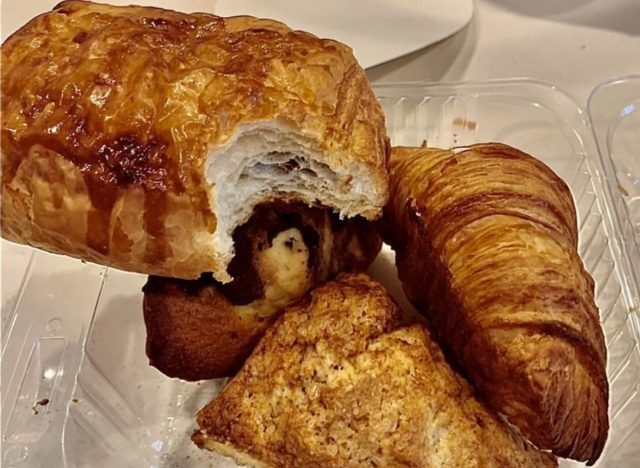 Les Madeleines's upscale croissants, which include versions such as coconut chocolate and ham and cheese, take you on a flaky foray into a world of flavor. Tip: While you are here, be sure to also try out their Kouign Amann pastry, which was named 2012 Pastry of the Year by Food & Wine.
VERMONT: August First in Burlington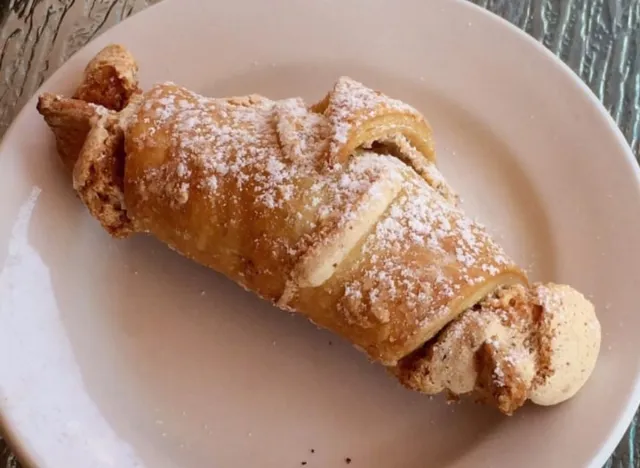 Cinnamon raisin croissants, butter croissants, croissant maple biscuits—these are just a few of the many croissant possibilities available at August First. We suggest enjoying some of these after digging into one of the cafe's tasty lunch sandwiches or breakfast dishes.
VIRGINIA: Sub Rosa Bakery in Richmond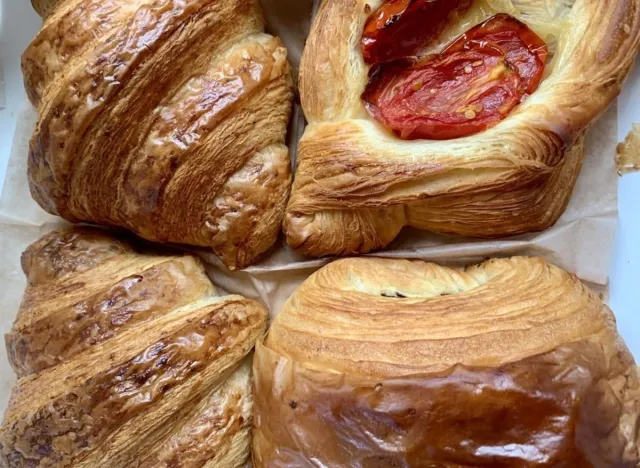 The reviews are in—people cannot get enough of the croissants available at Sub Rosa, Richmond's popular wood-fired bakery. Available in an array of different flavors, including cherry pistachio, fire-roasted poblano and cheese, and chocolate, Sub Rosa's croissants are major.
WASHINGTON: Le Panier French Bakery in Seattle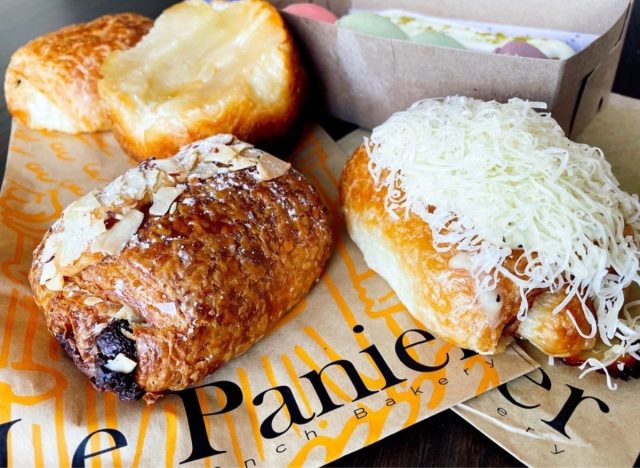 If you are looking for a croissant with a bit more pizzazz then you have to give Le Panier French Bakery in Seattle a try. They not only offer traditional butter croissants, but also boast a menu that is filled with exciting options, such as a ham and Emmental croissant with Mornay sauce, a fresh croissant filled with raspberry preserves, and a soft croissant swirled with sugared raisins.
WEST VIRGINIA: Caffe Romeo in Charleston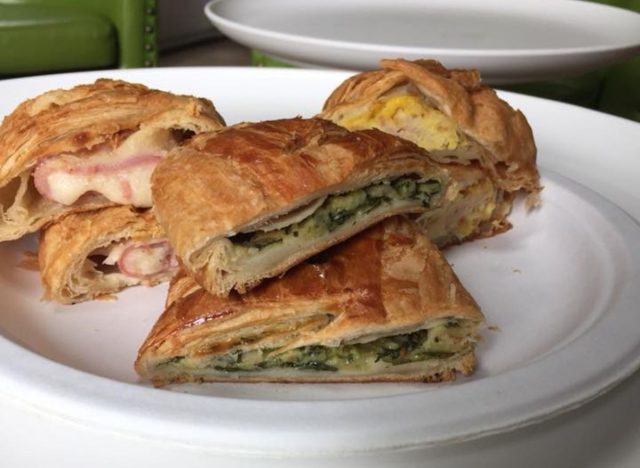 Caffe Romeo's croissants are regarded as some of the best croissants in all of West Virginia. One Yelp reviewer claims that these croissants are flown in from Italy and then baked fresh onsite daily. If you give them a try, also try their creamy gelato—it's what they are known for.
WISCONSIN: Le Rêve Patisserie and Cafe in Milwaukee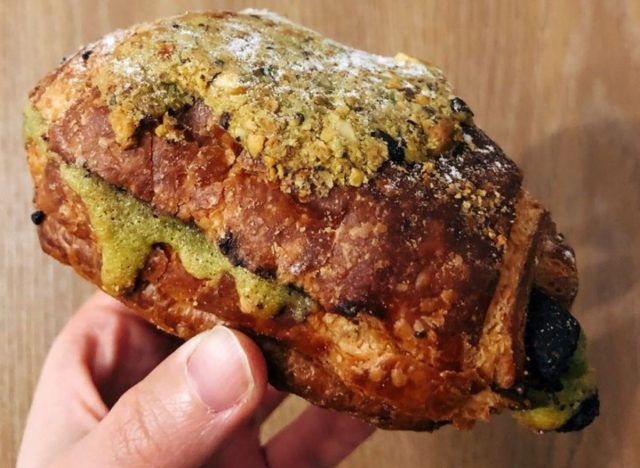 Housed in a historic bank building right along Milwaukee's Menomonee River is Le Rêve Patisserie and Cafe, a quaint bakery that has some of the best croissants in the Midwest. If you stop by, be sure to try out their Croissant Et Lox, which features a freshly baked poppy and sesame seed croissant stuffed with smoked salmon, pickled red onion, tomatoes, fried capers, and cream cheese.
WYOMING: Railyard Coffee Haus and Bakery in Cheyenne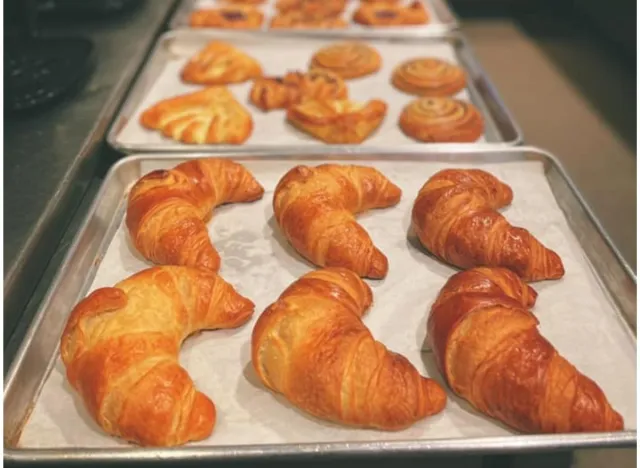 We love how at Railyard Coffee Haus and Bakery you can order any of their cold sammies on a fresh croissant. Some tasty options include chicken salad, tuna salad, egg salad, or an Italian sub version. We imagine these would taste great served with one of their specialty teas.
And if you're craving a quick dessert, check out: 76 Best Dessert Recipes for Weight Loss.