13 Best Fast-Food Burgers, According to Chefs
Top chefs in the industry share which drive-thrus they hit up for cheeseburgers.
This post contains affiliate links. If you use these links to buy something, we may earn a commission.
When you think of high-end, award-winning chefs, it's easy to imagine every meal they eat is a multiple-course affair served on the finest china. However, after feeding hundreds of people a night, many chefs crave the simplicity and speed of fast-food burgers, and they all have the one they crown the best.
If there's one thing chefs know, it's what they like and they know which fast food chain serves it up right. From the well-known burgers from McDonald's and Burger King to the numerous cheeseburgers from regional chains, top chefs in the industry shared which drive-thrus they hit on the way home. Spoiler, there are a lot of Shake Shack and In-N-Out fans and some regional chains that may surprise you.
Read on to find out which fast-food burgers tempt our best chefs and the ones they crown as the best. 
McDonald's Quarter Pounder with Cheese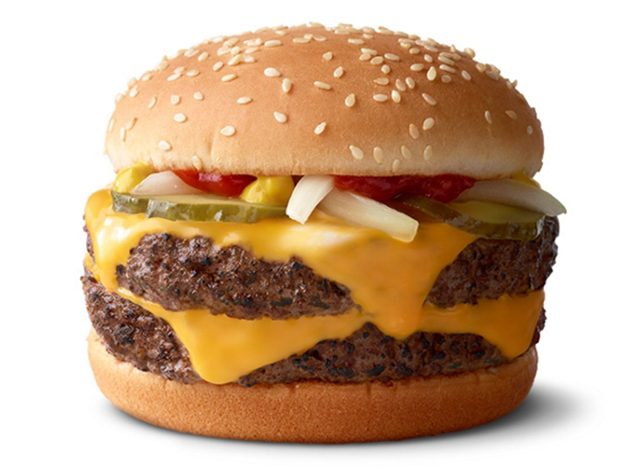 Executive Chef Nick Dixon of Capo Restaurant in Boston raves about the classic all-beef,  Double Quarter Pounder with Cheese. "I don't know what it is but it's the greatest sandwich in the world!" he says. "I don't even like to get any sides with it because the burger is absolutely perfect just the way it is. It always comes out so consistent and perfectly seasoned. I can always count on this sandwich, it never lets me down," says Dixon. We'd still say if it's been a tough day that you should splurge for those fries!
Wendy's Junior Bacon Cheeseburger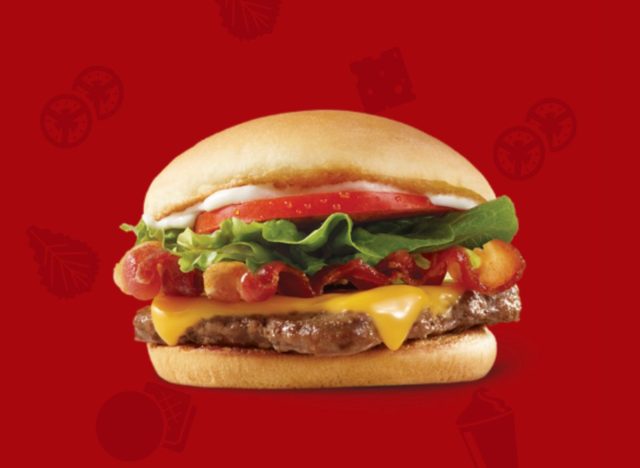 "As for fast food, it would have to be Wendy's junior bacon cheeseburger," says James Beard nominated Chef Douglass Williams, owner of Mida and Apizza in Boston. "More than just eating it, I have so many memories of making it, the touch of the bun, the pride that I took in making it, and understanding its simplicity. I can talk about this burger and just smile!"
Shake Shack's Smoke Shack Burger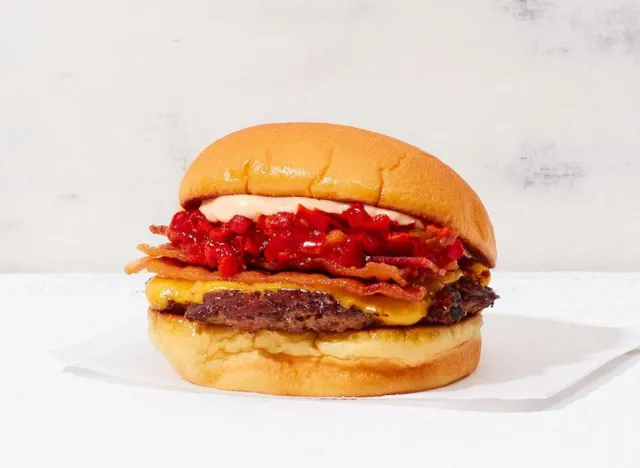 Executive chef David Standridge, who was awarded two Michelin stars with Joel Robuchon and now heads up the award-winning Shipwright's Daughter in Mystic, Conn., heads for his burger fix at Shake Shack. The chef told us, "No contest. It's the Smoke Shack Burger from Shake Shack. It's super bacon-y, and the potato bun just puts it over the top. Plus, you can get a side of Chicago-style hot dogs!"
In-N-Out's Double Animal Style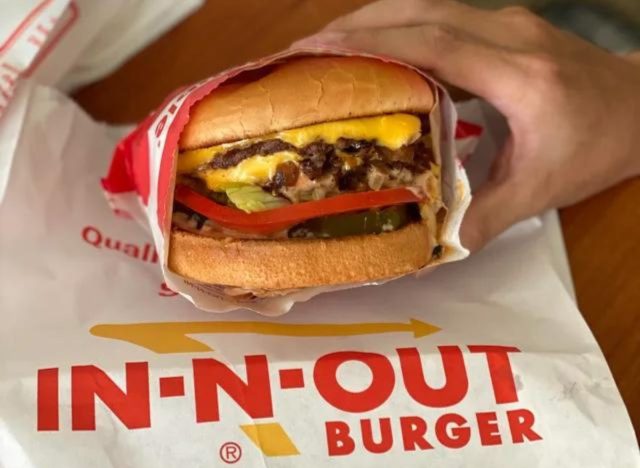 Chef Charles Withers, of C Salt on Cape Cod, is torn between two burgers (who isn't?). He loves Shake Shack's Smoke Shack burger, saying, "It has some heat and acidity from the cherry peppers, smoked bacon, and American cheese. It hits all the best notes of a delicious dish for me." However, he also loves In-N-Out, saying "The In-N-Out Double Animal Style comes in second…or tied for first." Try both and let us know what you think!
Whataburger with Cheese, Bacon, and Jalapenos
Fort Worth-based Chef Tim Love told Esquire he loves Texas chain Whataburger, saying, "It's like a fresh, clean, Texas version of McDonald's." 
Tasty Burger's Cheeseburger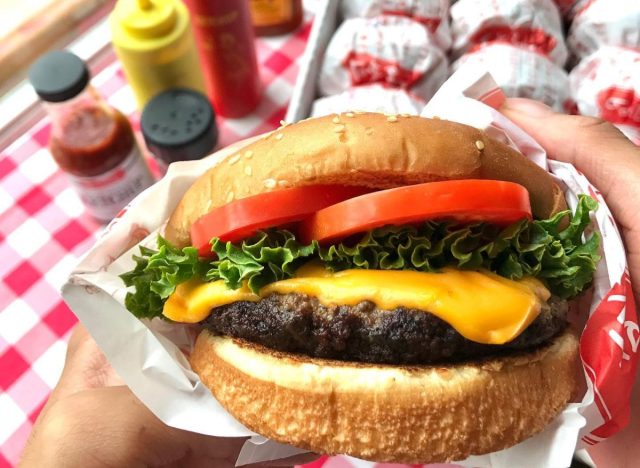 Local chains rule with Chef Michael Serpa, of Atlántico, Select Oyster Bar, and Little Whale in Boston, who says, "My favorite fast food—well counter-service—burger here in Boston has got to be Tasty Burger. The patties are super flavorful without being too greasy and their ingredients always taste fresh."6254a4d1642c605c54bf1cab17d50f1e
Serpa is also a fan of In-N-Out and Whataburger. "When I'm traveling and need to grab a quick bite, I think it's fun to try the local flavor so I'll go for places like Whataburger down south, In-N-Out out west, and other spots that are hard (or impossible) to find in New England." 
Shake Shack's Stackburger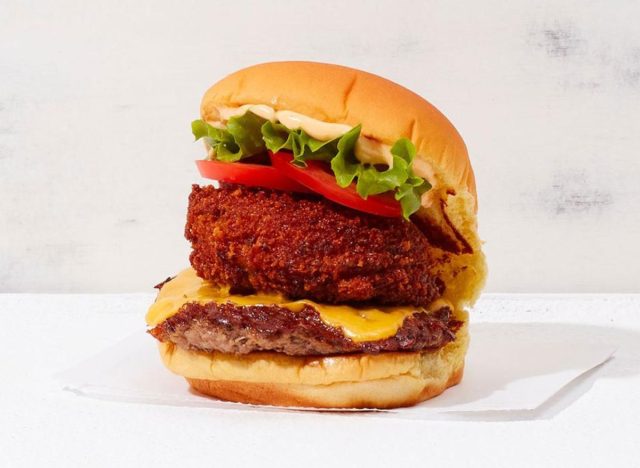 We have another Shake Shack fan in Executive Chef Aidan McGee of Boston's The Dubliner, who loves a burger after long days and nights of creating Irish favorites. He told us, "After a long day it's perfect for late-night eating," and his tip is to always order the burger "With extra cheese! Yummy!"
Culver's Butter Burger
Chef and host Andrew Zimmern dished on a Midwest fave to The Daily Meal, saying, "I have a weakness in my heart for Culver's. It's a family favorite. It's a mid-Western chain that does custard really well and does hamburgers pretty decently." We'd add some fried cheese curds to the order!
In-N-Out's Double Double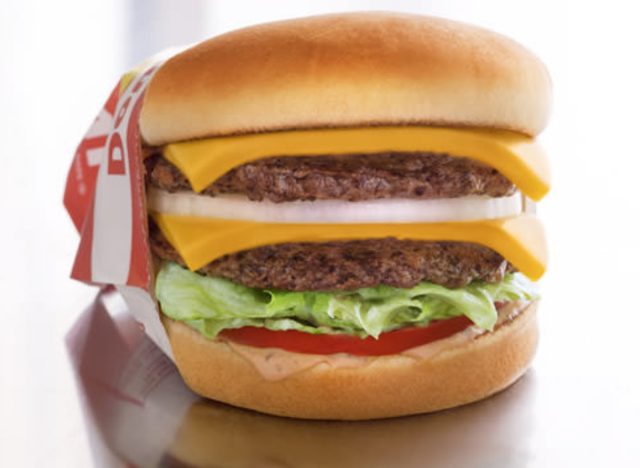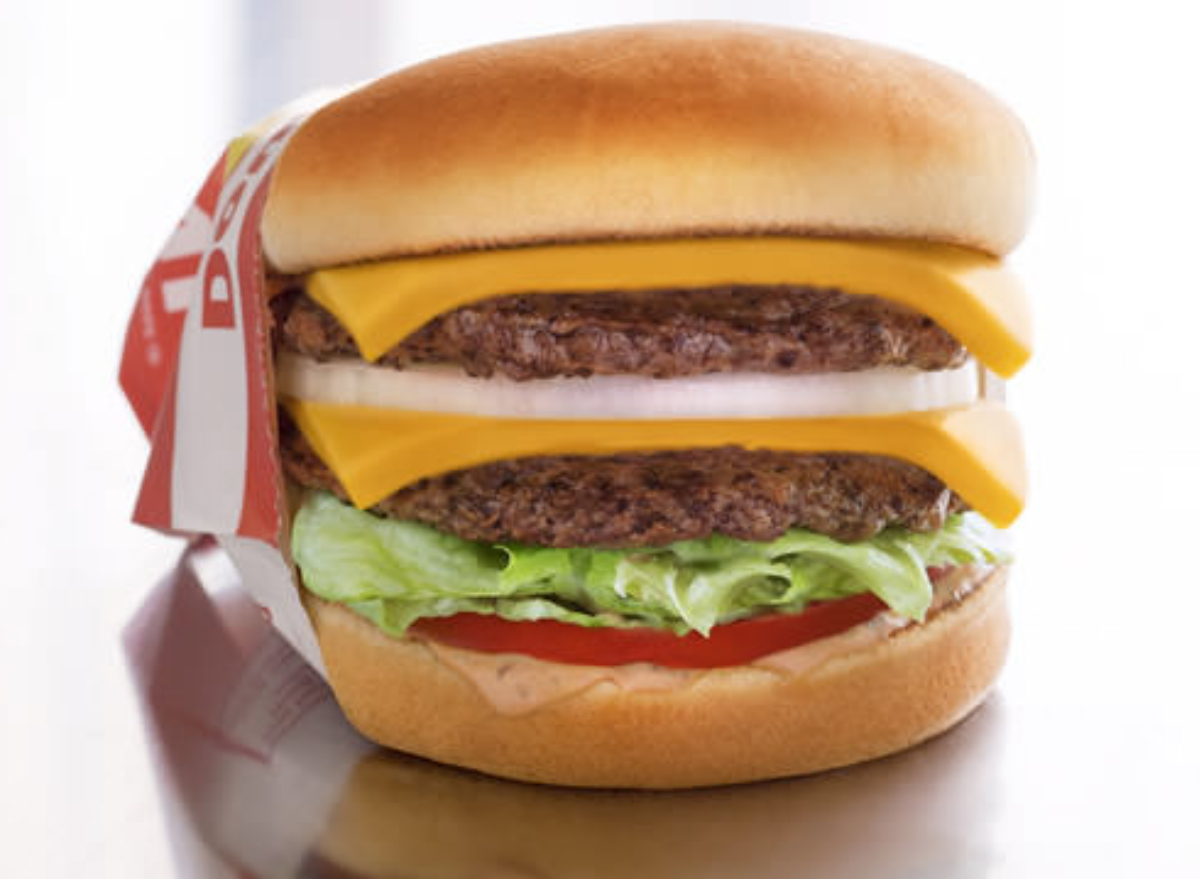 One of the more opinionated, and well-traveled, food personalities and chefs, the late Anthony Bourdain, was another In-N-Out fanatic. He told Eater the chain was his favorite restaurant in Los Angeles, and praised the bun, good quality meat, non-limp fresh greens, and the perfect "cheese-like substance" of this "brilliant" burger.
In-N-Out's Animal Style Double-Double Cheeseburger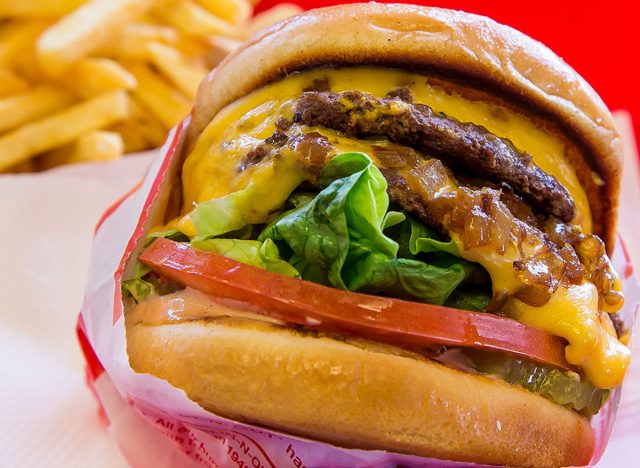 Chefs really, really like In-N-Out. Food personality Tyler Florence, whose go-to order is an Animal Style Double-Double Cheeseburger, told Delish, "I dare anyone to tell me their burgers aren't as good as any you'll find anywhere, from fast food to fine dining." 
Burger King's Whopper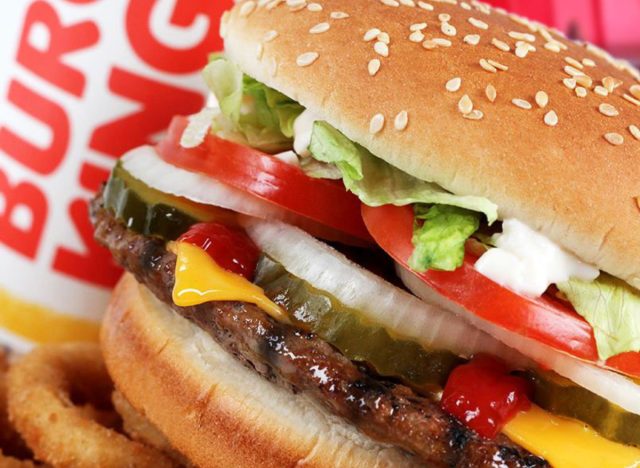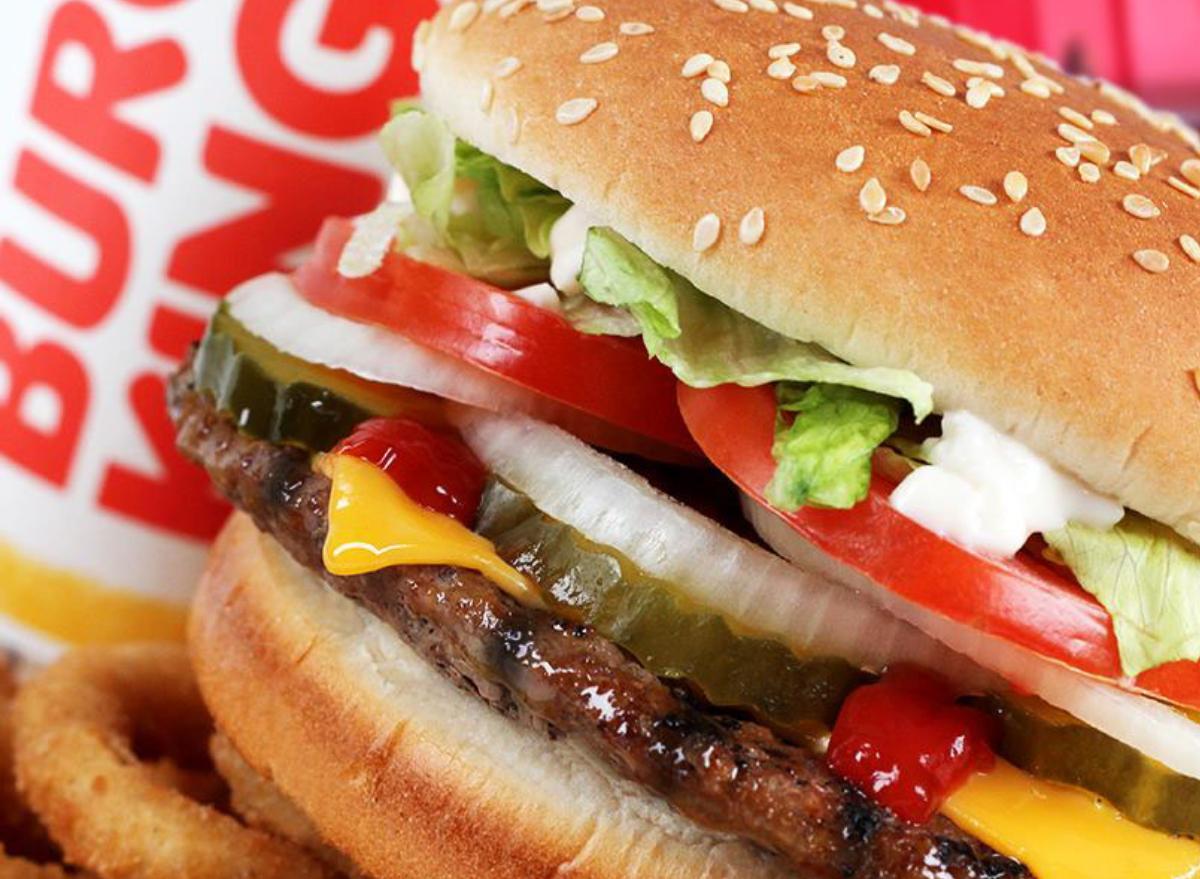 Some chefs prefer sitting down with the king when eating a burger. "Burger King is king! I think overall their fast food packs in the most flavor," said Laurent Tourondel, chef, restaurateur, and owner of BLT Steak, told Delish.
White Castle's Sliders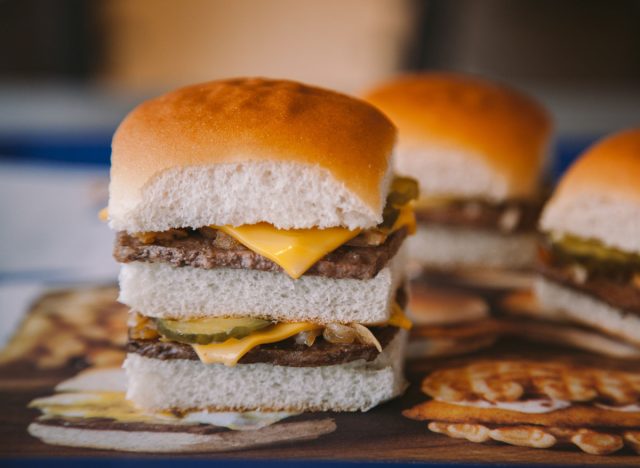 This favorite is so popular there's even a movie about getting the restaurant's famous Crave Case, and Chef Patrick Rebholz of Yardbird (multiple locations) told Insider it hits with "By far the lightest bun known to man and all those beautiful mini onions are so perfectly distributed in every bite!"
Five Guys' Little Bacon Cheeseburger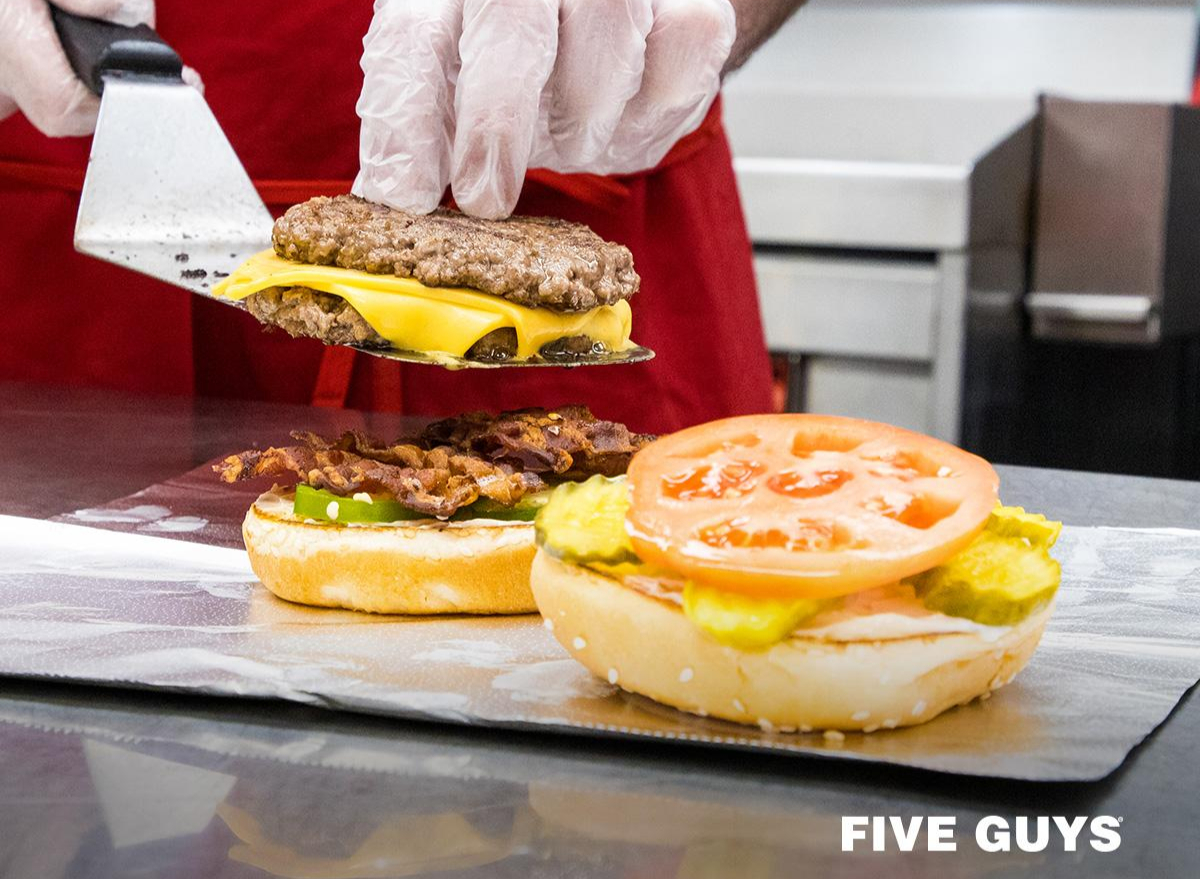 Unique Sweets host and pastry chef Zac Young is a Five Guys fan, he told Thrillist, "My favorite fast-food burger is Five Guys. I get the Little Bacon Cheeseburger." He offered a pro-tip for ordering, saying, "Since all toppings are free, I take advantage and get lettuce, tomato, onion (raw, not grilled), jalapeños, mushrooms, ketchup, relish, and mayo. There are more condiments than meat, and I like it that way."
A version of this story was originally published on November 9, 2022. It has been updated to include new information.
Jordan Summers-Marcouillier
Jordan Summers-Marcouillier was born and raised in San Jose, California and now works as a writer in New York, NY.
Read more about Jordan